Prym Health Scores 10/10 for Creative & Listing Design in Only 3 Weeks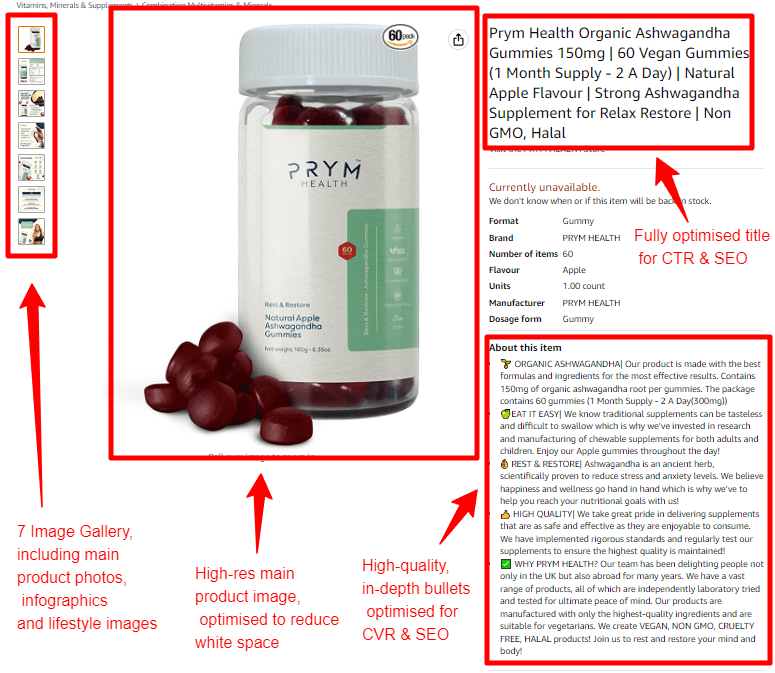 About Prym Health
Prym Health is a CBD and nutritional supplements brand that has been on the market since 2020. The brand creates a range of natural, organic supplements that are enriched in a variety of nutritional ingredients.
The founder, Aadil, reached out to NUOPTIMA to help them launch on Amazon – specifically with their Ashwahgandha gummies product. The aim was to increase sales velocity, improve brand awareness and scale faster by using Amazon as another growth channel.
Thus, Prym Health decided to go with our Amazon A-Z management package that includes full listing creation, inventory management and all the administrative work involved with launching and selling on Amazon.
Team
Responsible Prym Health Team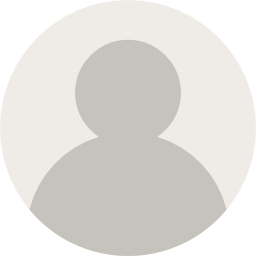 Aadil Choudhry
Founder & CEO
Responsible NUOPTIMA Team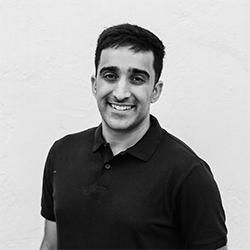 Aman Ghataura
Head of Growth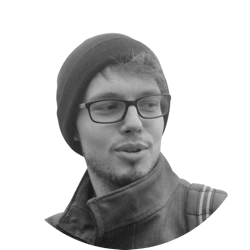 Oleg Chizhevskiy
Brand Manager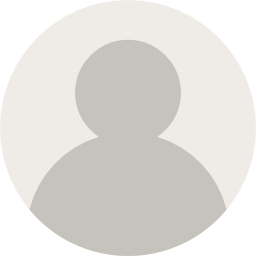 Dmitry Goliak
Amazon Listings Expert
Competitor Analysis
Before starting any work for the launch, it is imperative to do competitor and market analysis to gain a better understanding of the landscape of your niche. For Prym Health, we specifically analysed the ashwagandha market on Amazon in the UK.
We analysed the strongest competitors for the launch. We look at the whole listing including bullets, titles, A+ Content and images to see what they are doing well and what they are missing.
We determined the market share of the niche. This helped us understand who is dominating the market and if the current climate would be launch-friendly.
We determined the current trend of the niche. Again, we want to identify whether the market is launch-friendly.
We identified the most popular offers and determined the average price within the niche. This helped us understand what offers can be repeated or improved, and what price we should launch at to stay competitive.
We looked to see the average rating and no. of reviews in the niche. This lets us set targets for what we need to reach to compete with the market leaders.
All the above elements help us determine if it is worth launching in the current climate, and if it is worth it, how difficult it will be. Depending on the results of this criteria, we will make informative decisions on the optimal strategy for the launch phase.
In Prym health's case, the competitor analysis elicited positive signals for a product launch. Ashwagandha is an up-and-coming nutritional supplement that is gaining traction in the health and wellness space, and the market share was split evenly across a number of smaller brands, meaning there is still an opportunity for someone to be dominant in this niche.
SEO, Title and Bullet Creation
Title
A title is a key tool at your disposal for both SEO and improving your click-through rate. It is your opportunity to grab a customer's attention by showing off your key features and demonstrating what sets you apart from the competition.
Below is the finished optimised title for Prym Health's Ashwagandha Gummies.
Prym Health Organic Ashwagandha Gummies 150mg | 60 Vegan Gummies (1 Month Supply – 2 A Day) | Natural Apple Flavour | High Strength Ashwagandha Supplement for Relax Restore | Non GMO, Halal
We split Prym Health's title into five parts – product name, quantity/supply, flavour, use-case and misc attributes. Using a clear structure within your title improves the readability of your title. Each section is clearly spaced out with vertical dashes so that when a customer is scanning through a range of products they can easily dissect the key features of the product.
We specifically take a hands-off approach with SEO. We find that if you specifically optimise your title to include all relevant and exact keywords, you run the risk of keyword stuffing and sacrificing the readability of your title. Instead, we prioritise clear structure and readability – naturally, you will include your most prominent keywords.
Product name: Prym Health Organic Ashwagandha Gummies 150mg
Include the brand name (branded traffic) and define the product (exact keyword traffic).
Quantity/Supply: 60 Vegan Gummies (1 Month Supply – 2 A Day)
Show the customer how many gummies they can expect in a container and how long it will last them.
Flavour: Natural Apple Flavour
Let your audience know what the product will taste like.
Use-case: High Strength Ashwagandha Supplement for Relax Restore
Demonstrate why your customers should be using this product.
Misc attributes: Non GMO, Halal
Include any other important, relevant attributes.
Bullets
Bullets are key for increasing your conversion rate and improving SEO. A good bullets section should have a clear structure and should describe your key features in-depth. The writing should be high-quality, concise and avoid overly technical language.
You should also pay attention to customer psychology. Your bullets should correspond to the way your target audience thinks and why they would want to buy the product. In Prym Health's case, we wanted to leverage the quality of the ingredients, the product's health benefits and that it's a delicious alternative to regular tasteless supplements.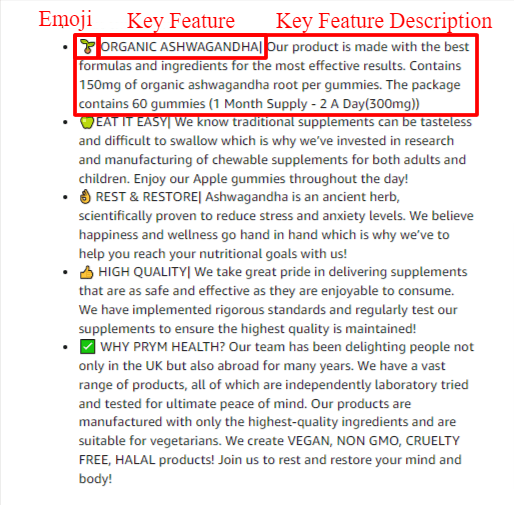 We structured Prym Health's bullets by including a relevant emoji at the start, defining the key feature and then a description of that key feature.
The emoji is a small win in that it visually attracts your audience to the bullets section. Some may find plain text bland and intimidating – using an emoji can help convey a message visually while also tempting a customer to read on.
Prefacing the main text of your bullet with the key feature in capital letters helps improve the readability of your bullets. If someone is quickly scanning through your listing, they can easily dissect the key features without reading in-depth.
The main text then accurately and concisely describes your key feature in more detail. This is where you can improve SEO by bringing in more relevant keywords and use your customers' psychology to your advantage with high-quality, persuasive copywriting.
Gallery Image Creation
Images are crucial for your conversion rate. It's your opportunity to celebrate your product while providing added value and information for your target audience. To perfect your image gallery, you need to include a range of different images, including product images, lifestyle images and infographics.
As Prym Health specialises in supplements, we wanted to show off the nutritional information, quality of ingredients and relate to the audience with 'healthy living' lifestyle images.
Main product image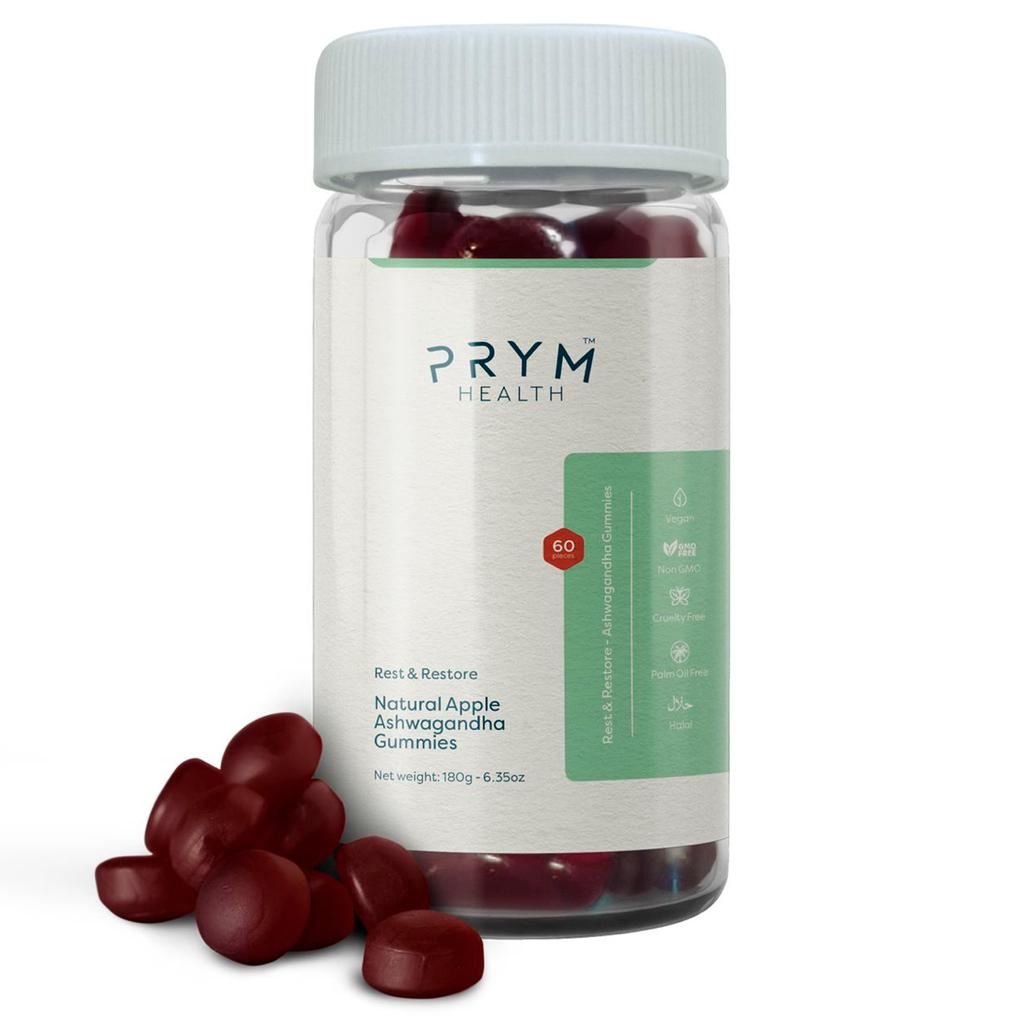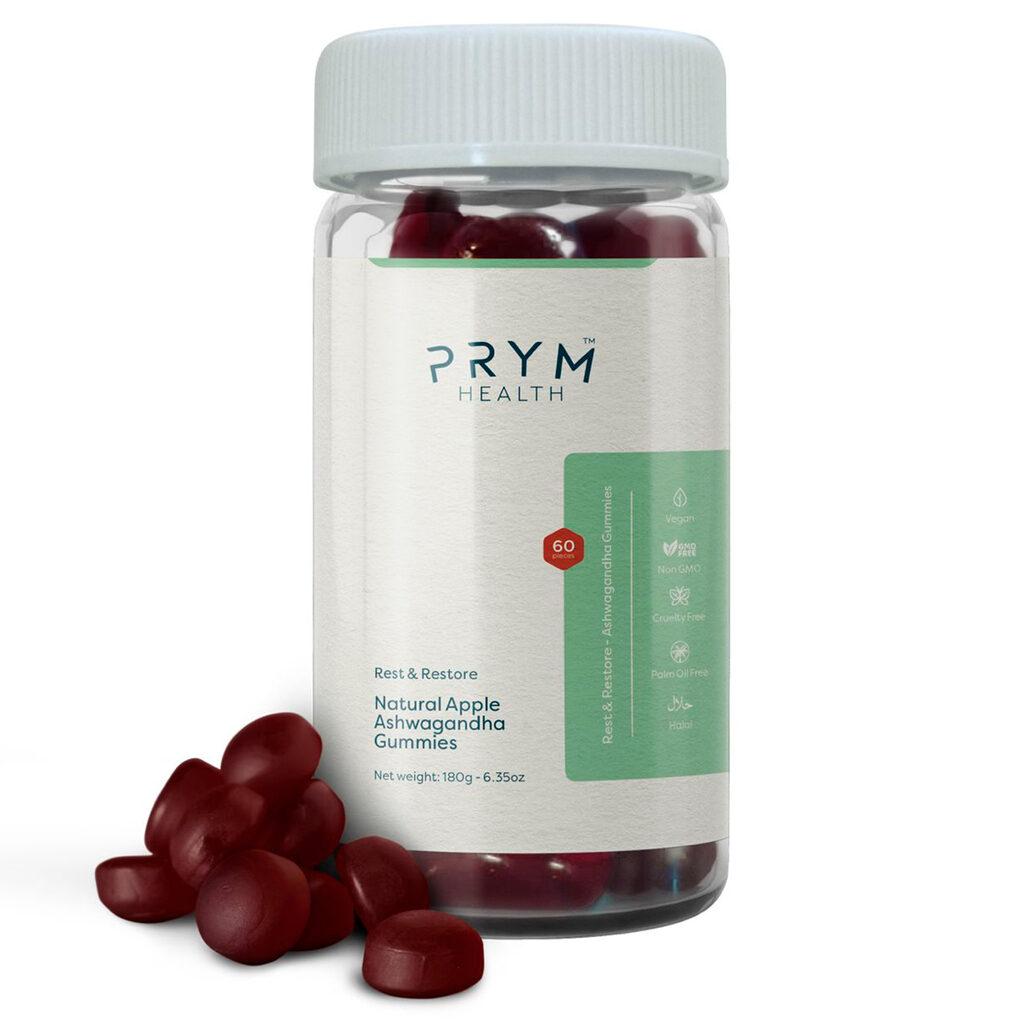 Front-on close up of the product. We ensured there was limited white space around the image to stand out when customers scroll through a range of products.
Nutritional information and ingredients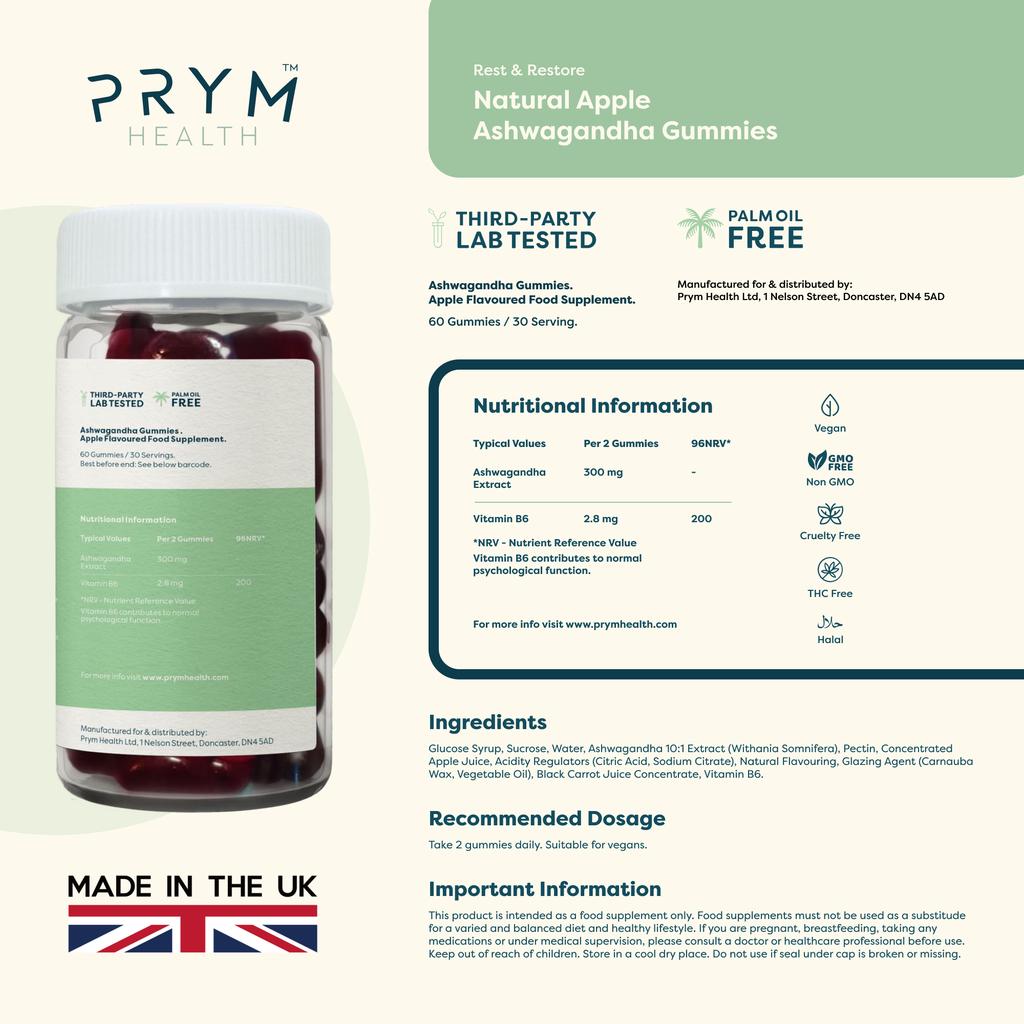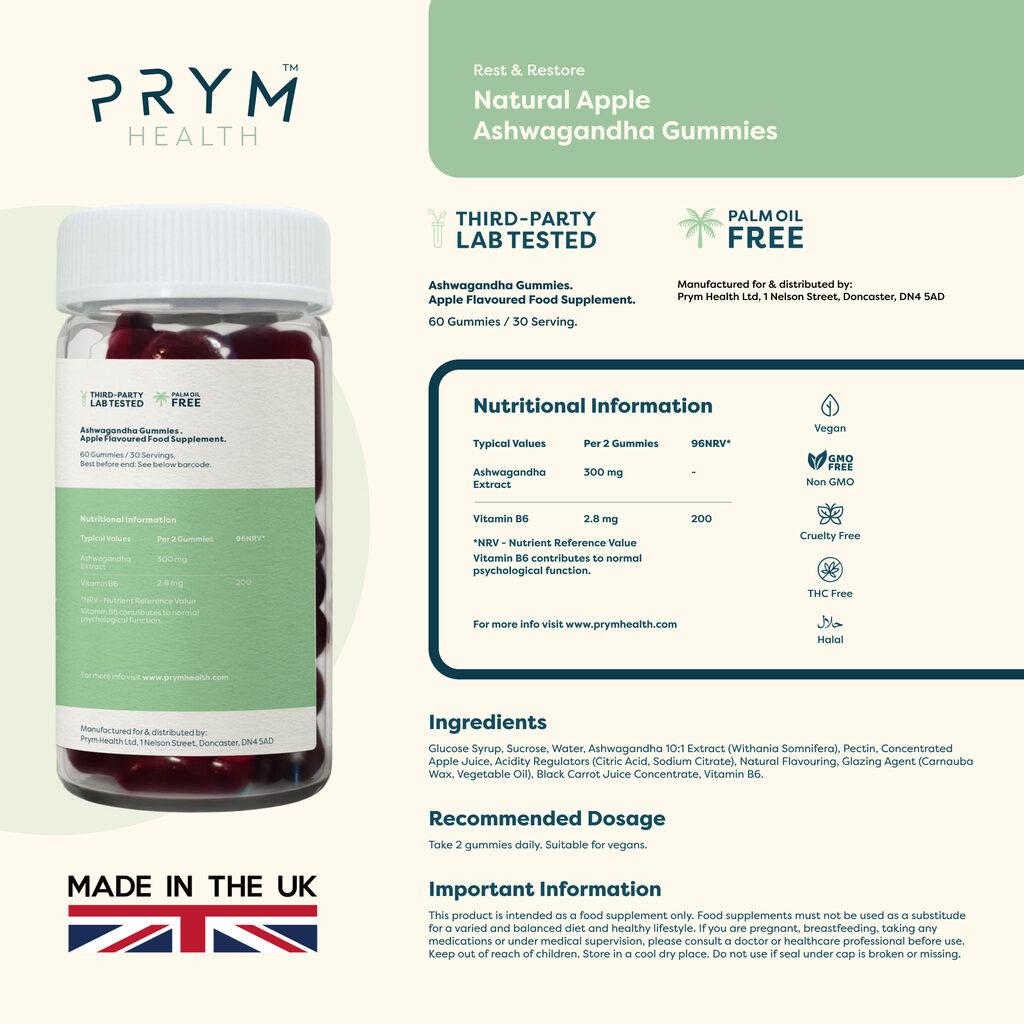 As the nutritional information and ingredients are a key selling point for the target audience, we included this image high up in the gallery.
Infographic + lifestyle image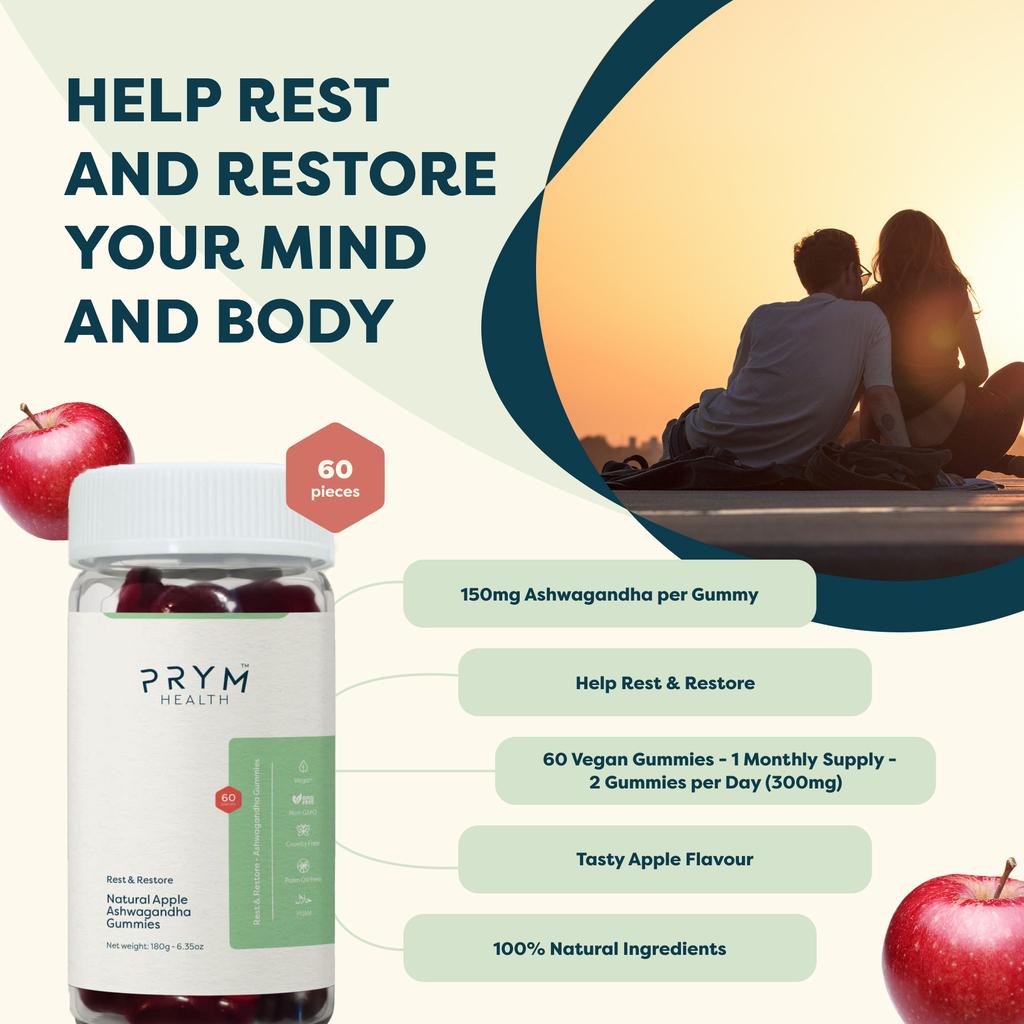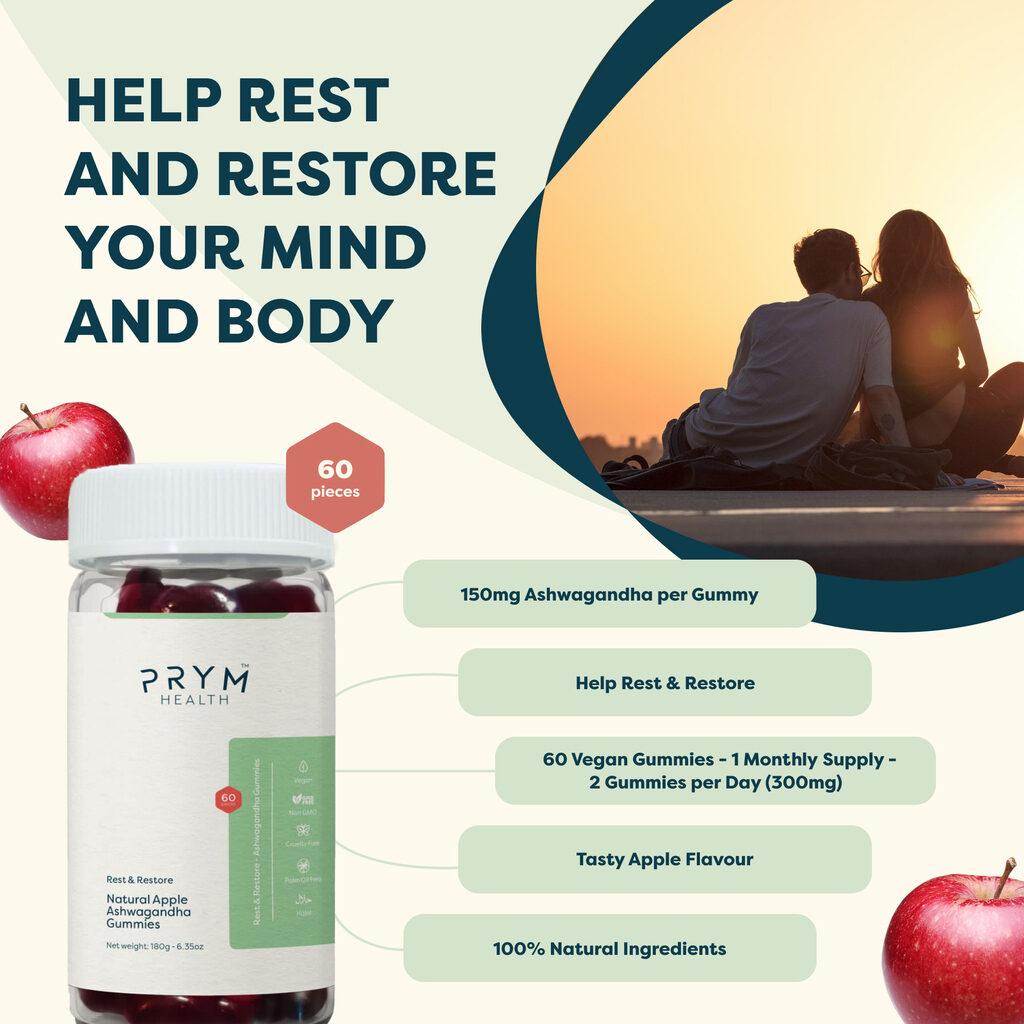 In Prym Health's third image, we highlighted the key features of the product (reiterated from bullets and title) with clean annotations and graphics. We combined a lifestyle image to help exhibit the tag line 'HELP REST AND RESTORE YOUR MIND AND BODY'.
Infographic and close-up of gummy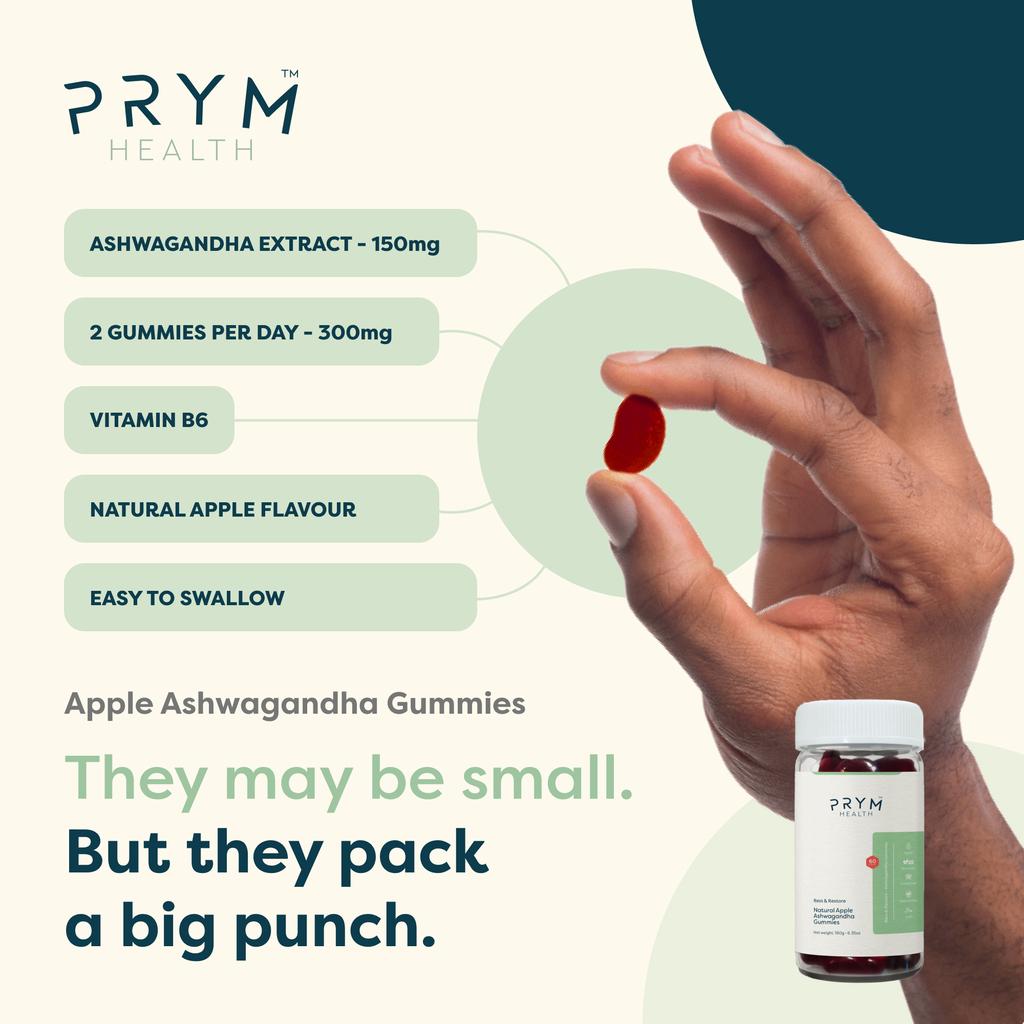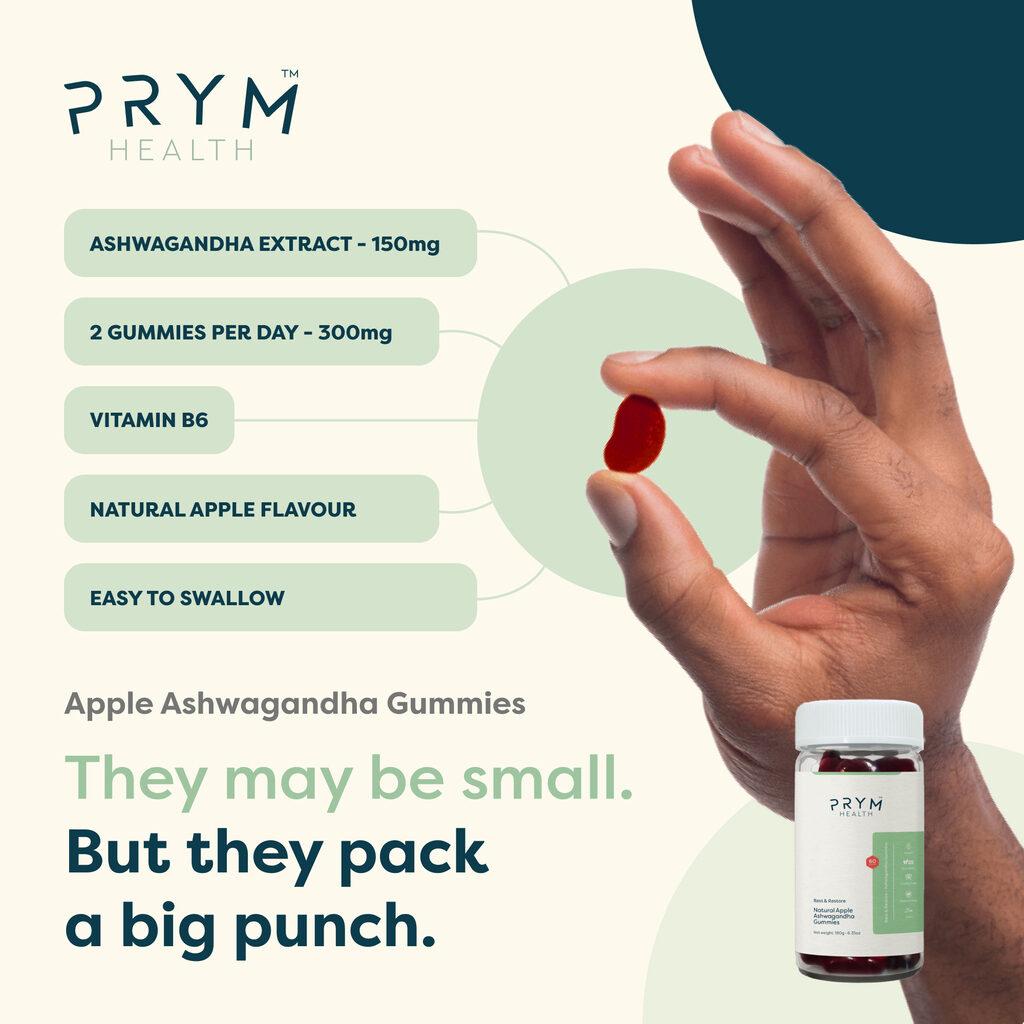 In the 4th image, we exhibited a close-up of the gummy to show off the finished product. We included annotations to show what you can expect from each gummy.
Infographic – product attributes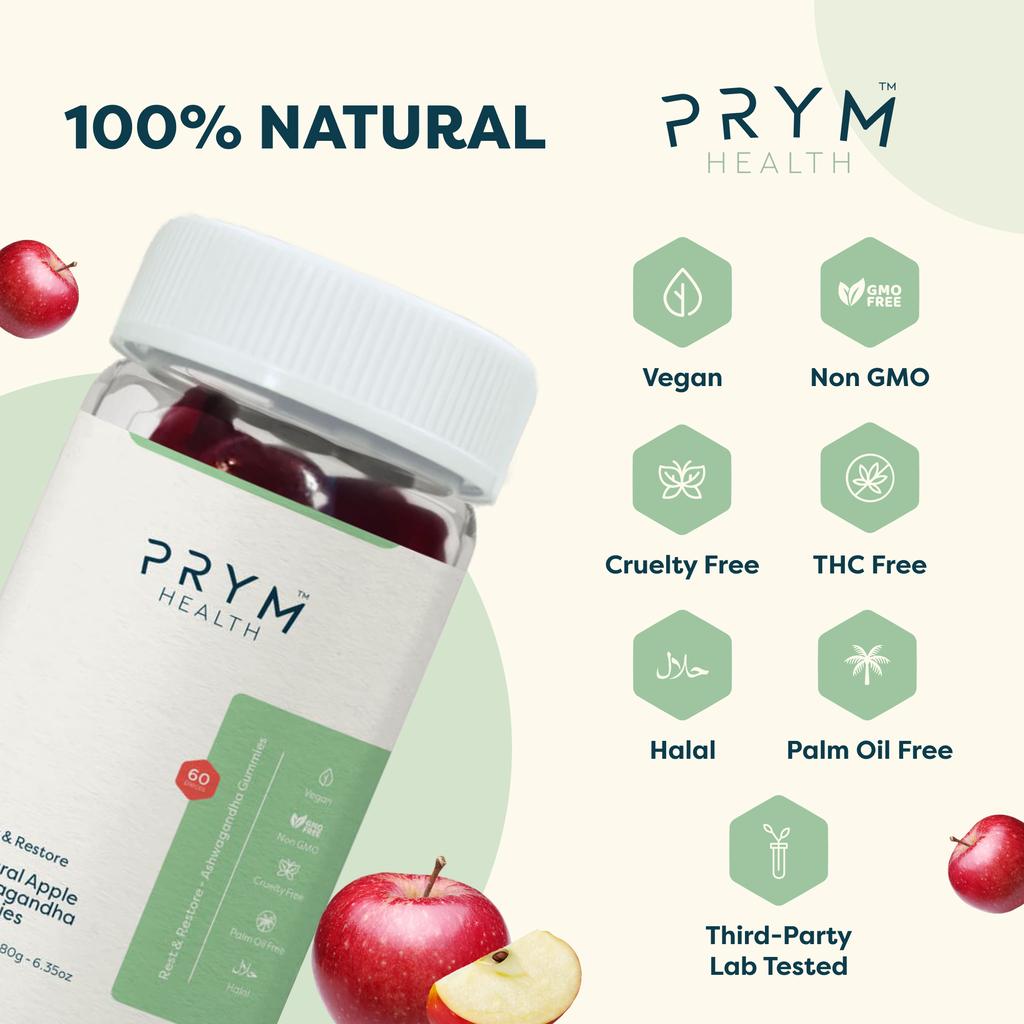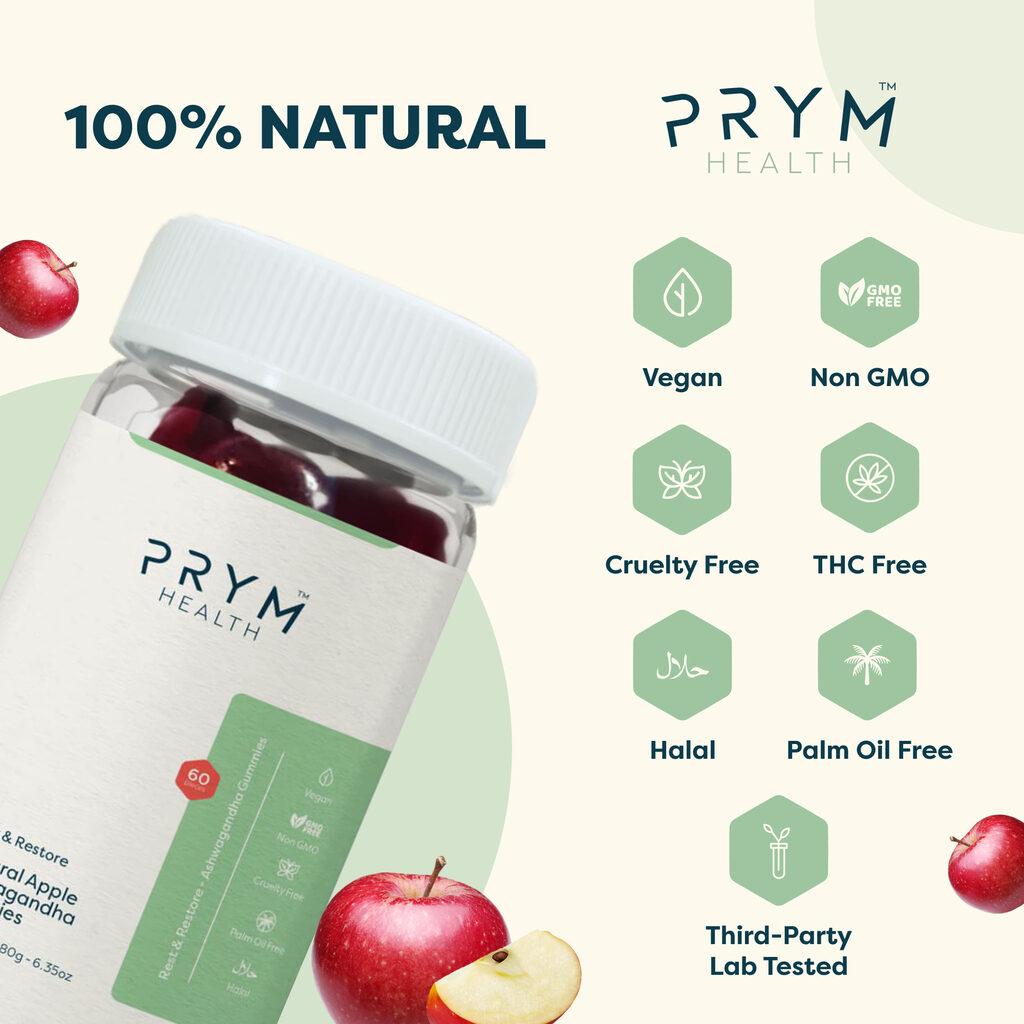 Prym Health's fourth gallery image is about showing customers the supplement can be used by anyone, regardless of their diet or product safety concerns.
FAQ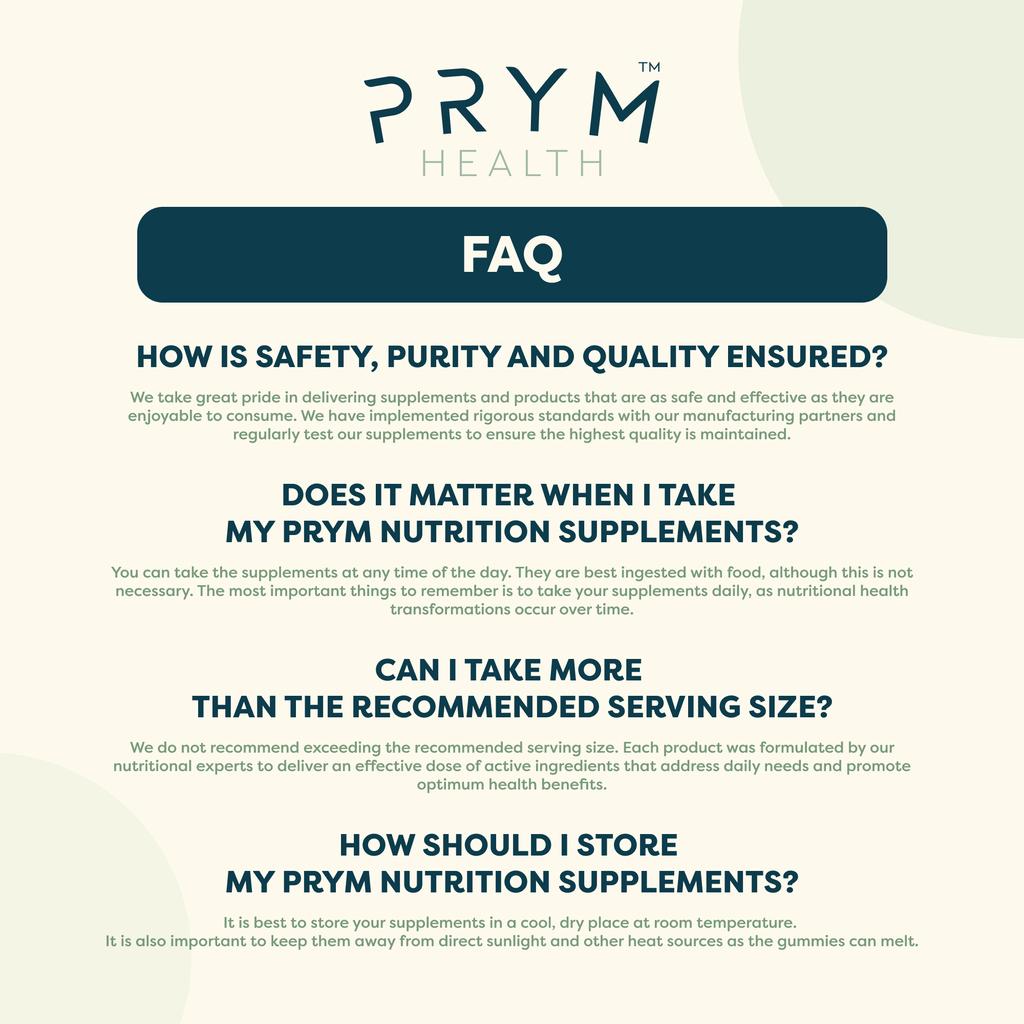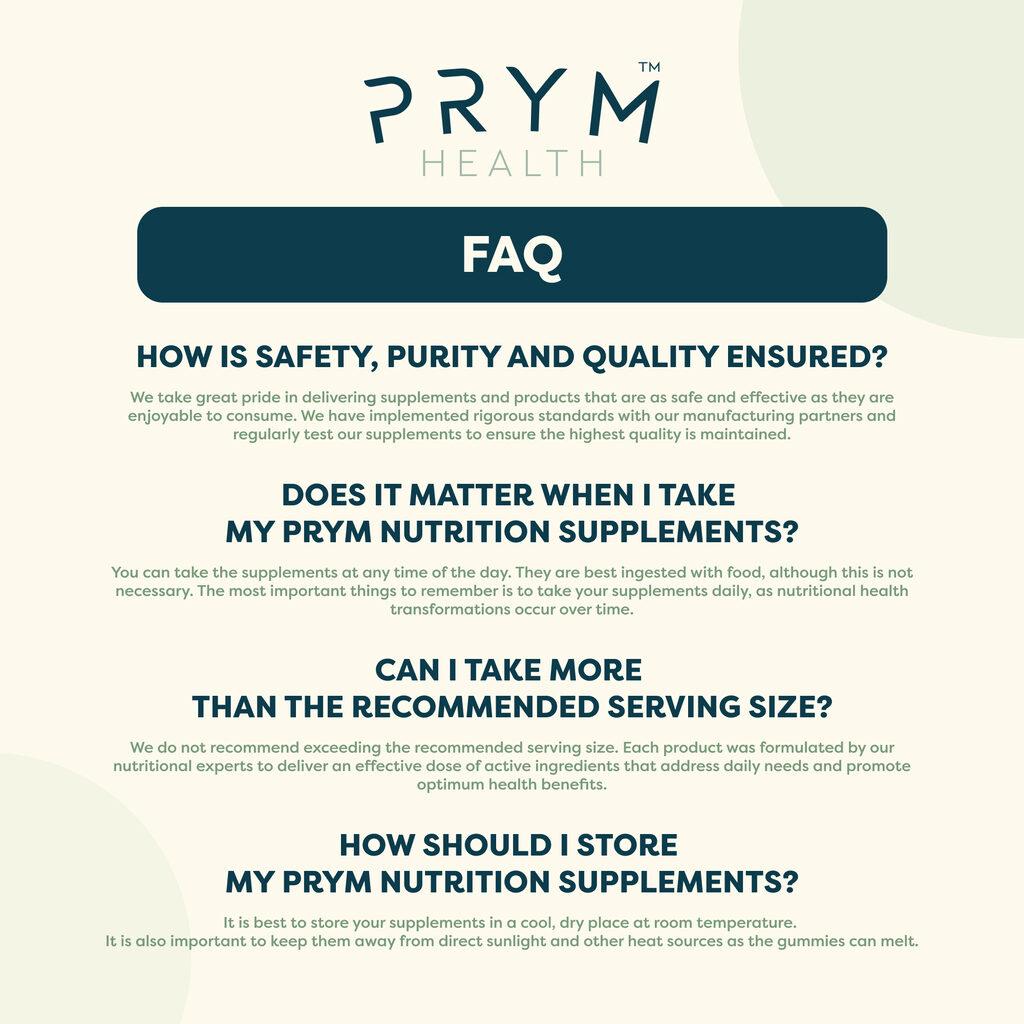 Because ashwagandha is a relatively new supplement people include in their daily routines, we wanted to highlight the main FAQs that customers may have when purchasing the product.
Lifestyle image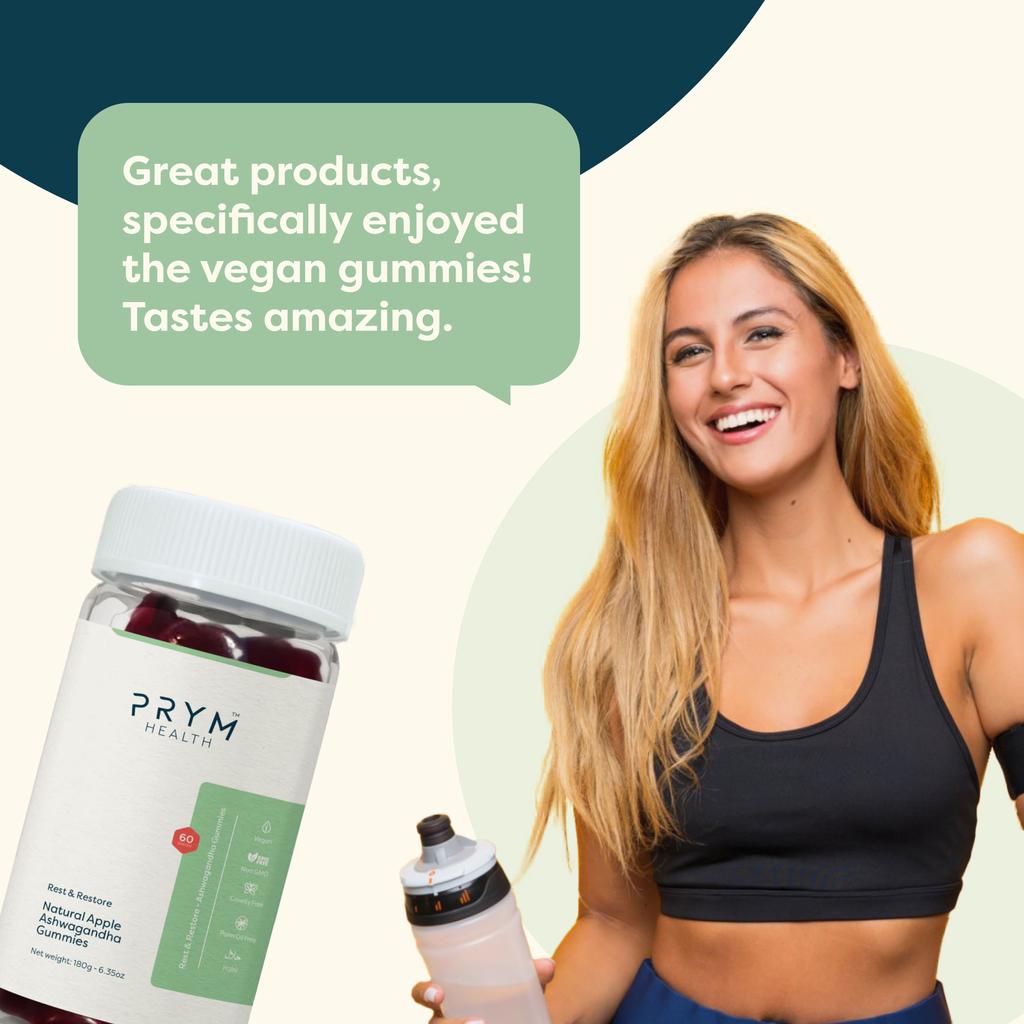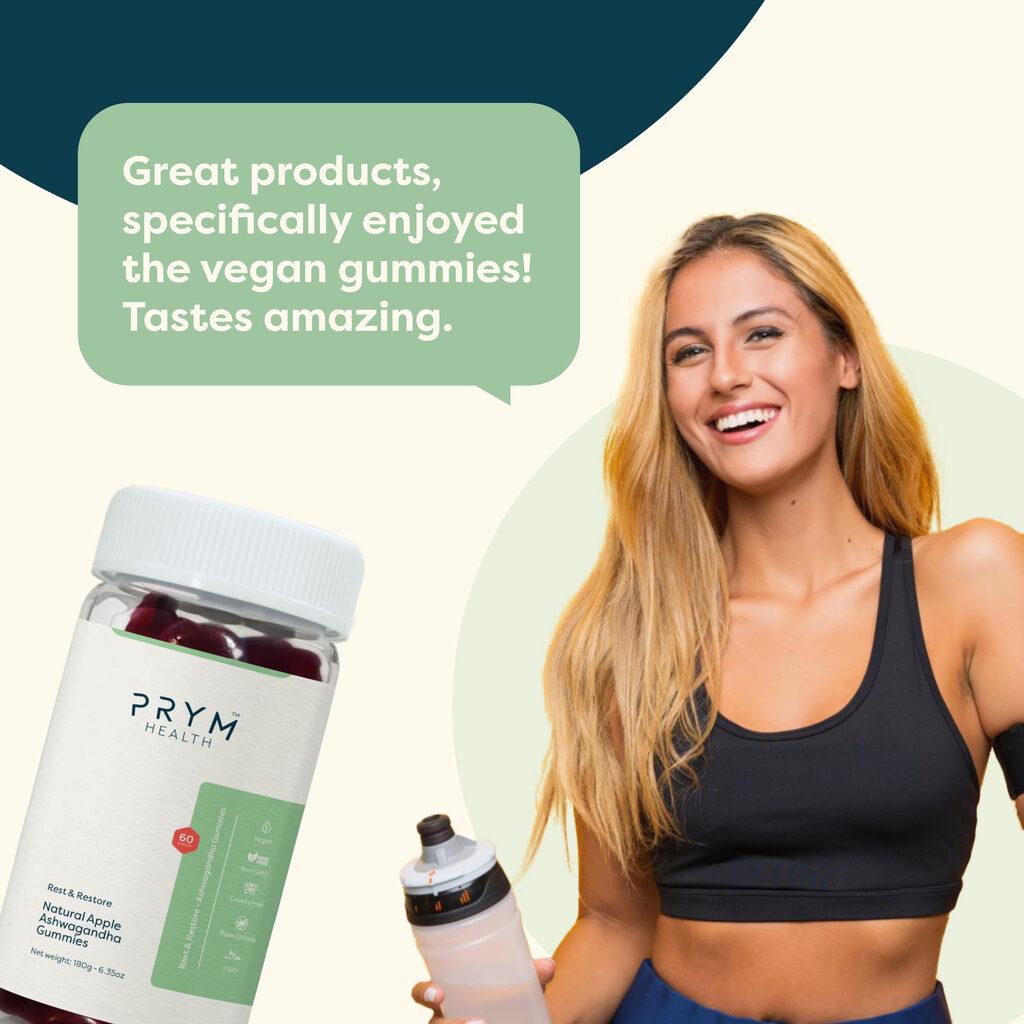 Finally, we included a 'healthy living lifestyle image of someone in gym kit to relate to the target audience. People want to use ashwagandha to help them lead a healthy lifestyle.
A+ Content
A+ content is vital for driving home your product's mission. It is your opportunity to take up more real estate on your Amazon product page and further emphasis why a customer should purchase your product.
With Prym Health's A+ content, we wanted to reiterate the key features and unique selling points of the ashwagandha gummies. We added new lifestyle images, graphics and information with a clear structure and colour scheme.

What is Ashwagandha and how does it work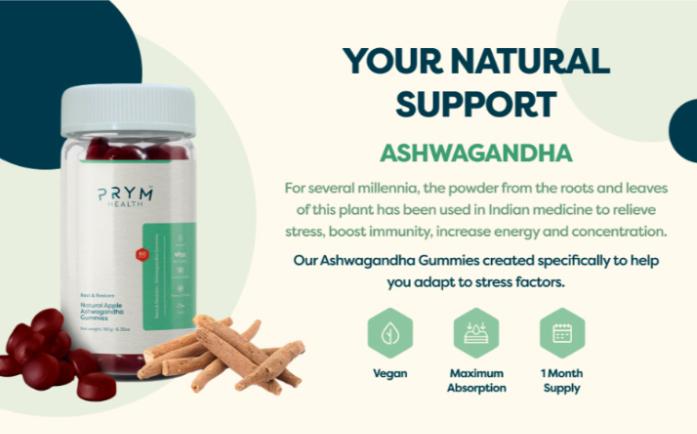 Reiteration of key features and selling points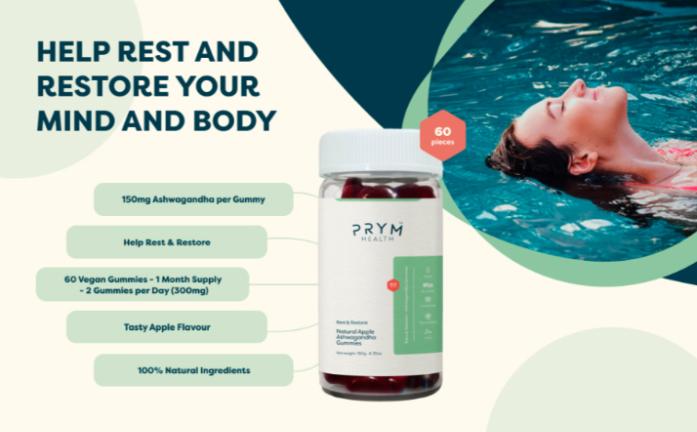 Exhibiting product attributes and showing Prym Health's Ashwagandha gummies can be used by everyone
Company blurb + made in UK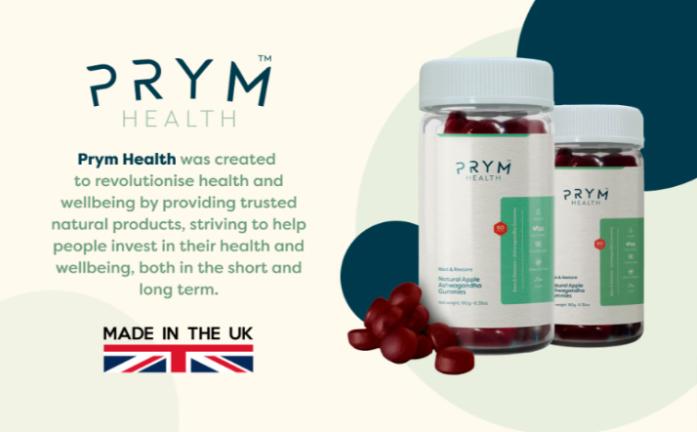 >
Prym Health Scores 10/10 for Creative & Listing Design in Only 3 Weeks