As contemporary research drives the psychedelics industry, many psychedelic companies compete for recognition in a rapidly growing sector of alternative medicine. As most people understand, everything is becoming digital (if it isn't already!). For any company to be successful, an established online presence is non-negotiable – for many, this means having a functional, attractive website. That said, what use is your website if no one knows about it?
Whether you have a customer-facing business or need funding for research, investors and potential buyers must be able to find your website easily. Consequently, SEO for psychedelic companies has become the most cost-effective way to grow your online brand over time.
There are several ways a business owner can generate traffic to their website, including SEO, PPC and social media advertisements. PPC and social media ads have the ability to attract traffic to your site instantaneously, making it an enticing option. On the surface, these ads are impressive, but they do not provide a long term strategy to grow your business. When you stop paying for them, the traffic flow ceases, and your site is in no better position than when you started.
In comparison, search engine optimisation (SEO) provides a sustainable method to increase organic traffic over time. SEO is the practice of optimising your website for a search engine like Google. While it may take a few months to see results from your SEO efforts, it boosts the site's credibility and position in search results. The better your search rankings, the easier people will discover the site and convert into paying customers or investors.
Unfortunately, the complex nature of SEO means it is increasingly difficult to get on the first page of Google. Therefore, to avoid wasting time and resources, many psychedelic companies consider hiring an SEO agency to curate and manage the SEO strategy to see significant results and grow their business.
Why is SEO for Psychedelic Companies Important?
SEO is vital for any business trying to penetrate the market and rank high on Google. The way people shop and discover services has drastically changed over the past decade. Consumers use the internet more than ever to buy goods, learn new skills and discover services, with the pandemic drastically increasing these trends. Business owners must take this into consideration as they optimise their website.
To ensure a website is useful, it needs to attract the right people, known as 'high converting traffic'. With relevant SEO research and implementation, a website can simplify lead generation by attracting people looking for psychedelic companies, products and services. An optimised website can generate high converting traffic, making these people more likely to convert into paying customers.
Furthermore, compared to other digital marketing techniques, like PPC advertisements, SEO is the most cost-efficient as it provides a long term strategy for sustainable growth. Even if you decide to stop your SEO efforts in the future, your website will continue benefiting from high search rankings.
Finally, SEO for psychedelic companies also helps boost a site's credibility. This is particularly crucial as Google holds certain websites to a very high standard to avoid misinformation. These include wellness-related websites and other categories that could impact one's happiness, health, financial stability or safety.
With this in mind, it's essential to use SEO techniques to position your business as an authoritative, trustworthy and expert source. It takes a lot of hard work and expertise to prove to Google that your site is worthy. In these cases, an SEO professional would analyse the search data to understand your audience's search intent and determine the best strategy. They would optimise existing pages and create new ones to target appropriate keywords and grow organic traffic. In this way, SEO provides longevity and security to ensure Google ranks your site high in search results and even simplifies lead generation.
Search Demand for Psychedelics on Google

Using specialist SEO software, we can view Google search data and review the search demand for numerous keywords. For instance, the above image reveals that 'psychedelic' has a global search volume of 266 thousand, indicating the average number of searches per month. In this case, the above data shows us that an average of 100 thousand people search for 'psychedelic' in the United States every month. An additional 23 thousand searches are from the United Kingdom, 20 thousand from India and 15 thousand from Canada. It's clear that search demand is high as we can see thousands of people are searching for psychedelics in your country every month.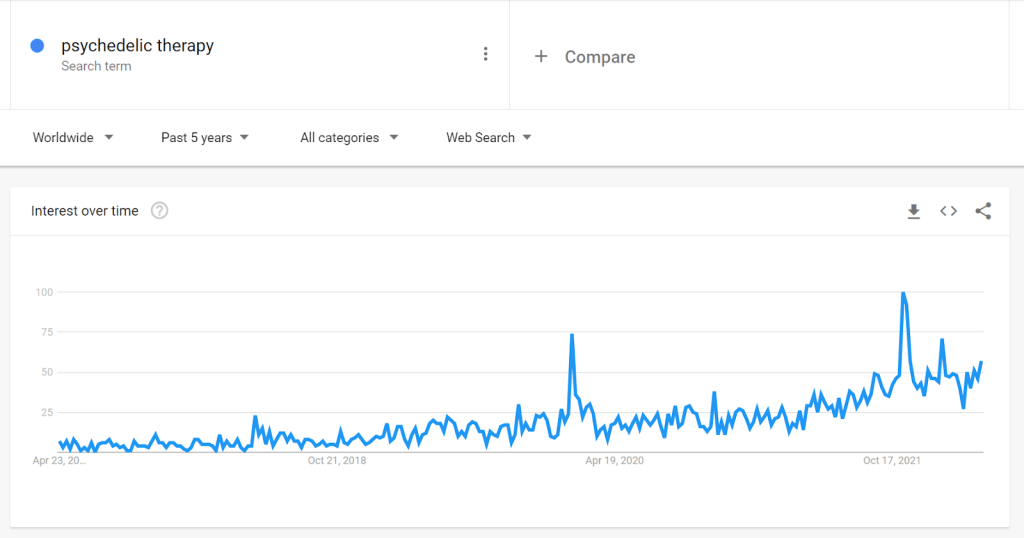 Another way to determine the search demand for topics in the psychedelics industry is by assessing the interest over time. The above data is from Google Trends and highlights how this has changed for the keyword 'psychedelic therapy' over the past 5 years. Looking at worldwide data, we see a clear incline in the interest in this psychedelic service. As this sector gains popularity, it's best to catch the interest as it rises, so as more people search for your services, more traffic flows to your site.
However, as search demand increases, so does the competitiveness of these keywords and the cost of advertisements, like PPC. In this case, it's easy to see why SEO is the best tool for long term growth. SEO provides longevity, sustainable growth, and a cost-effective solution to growing your organic traffic and getting increasingly high ROIs.
People Use Many Terms to Find Psychedelic Companies
Keyword research forms the basis of the SEO strategy as it reveals what your ideal audience is searching for, how they search for it and what phrases are suitable for your growth strategy. An SEO expert will assess the demand for various keywords and use appropriate phrases to optimise your website and generate relevant organic traffic.
People looking for psychedelic companies use many keywords to find the right products or services. Here are a few common search queries to consider:
'Psychedelic companies near me'
'Psychedelic companies in…' + location. For example: 'Psychedelic companies in New York'
Types of psychedelics or psychedelic services
Questions about psychedelics, including types, how to use them, the law, their potential effects and available services
After researching appropriate keywords, an SEO agency will not only optimise the existing pages on your website but also create new pages to ensure you're targeting as many relevant search terms as possible.
The following image shows various keywords associated with psychedelics.

As you can see, there are numerous keywords to target, including some specific search queries. For instance, if it's relevant to your business, you may use the keyword 'psychedelic mushrooms' in your SEO implementation as it has an average monthly search volume of 45 thousand. The data also highlights popular questions in this niche, which could help determine what content you create on your site. In short, if your psychedelic company ranks for thousands of relevant search terms, your website could reach millions of people.
Other Psychedelic Companies are Already Getting Results from SEO
Using SEO for psychedelic companies is already proving effective for various businesses. Below we look into two examples of websites already seeing results from their SEO efforts.

Field Trip Health provides psychedelic-enhanced psychotherapy across Toronto, New York and Los Angeles. Our data shows us that their website generates an average of 8,700 organic website visitors each month. For the website owner to achieve this level of organic traffic, they would have to spend $9,600 a month on advertising like PPC.
We can see this through the traffic value, which indicates how much the organic traffic is worth. In this case, www.fieldtriphealth.com has good rankings on Google and therefore, the website owner saves $9,600 a month that would otherwise be spent on advertising.

This SEO software also reveals what pages attract the most traffic for this site specifically. From the top-ranking pages, we can see this psychedelic company is utilising local SEO to capture traffic in their area. For example, they are ranking for 'psychedelic therapy near me' and 'psychedelic therapy Toronto', which both appear on the first page of Google. Rankings such as these can increase the flow of traffic substantially.
In short, SEO is a good investment for various size businesses. Even smaller sites can see significant results, as we will highlight in the next section. Below we take a look at compasspathways.com and evaluate its SEO potential.

This site attracts 16,900 average monthly visitors and has a traffic value of $3,900. Despite having a smaller presence, this overview shows they still benefit from implementing SEO and save thousands on monthly advertising.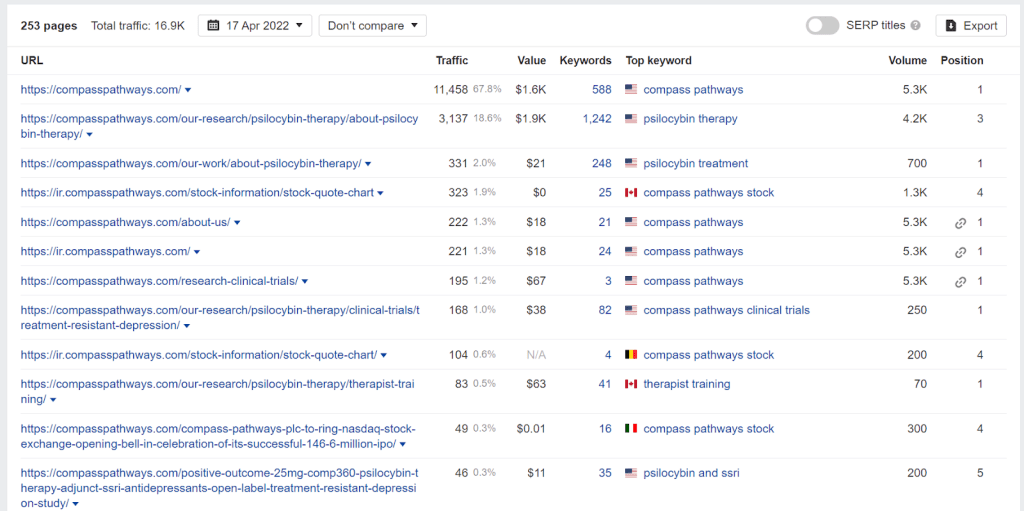 Looking at the top-performing pages, we see some high-ranking pages targeting the keywords 'psilocybin therapy' and 'psilocybin treatment'. The site owner may use these pages to educate readers or share services. Due to their high positions in search results, they are getting $3,900 worth of free Google traffic, thanks to their SEO efforts.
An experienced SEO agency will do keyword research and evaluate your site alongside your competitors. They optimise your existing pages to perform better but also create new pages, so you rank for thousands of keywords. Getting SEO right is crucial to ensure Google perceives your site as trustworthy and an authority on the subject.
Local SEO for Psychedelic Companies
Local SEO is a popular SEO technique that targets your ideal clients in a specific location. For psychedelic companies that provide in-person therapy and other psychedelic services, it's essential to implement a local SEO strategy. When a potential customer searches for psychedelic therapy in their area, Google will prioritise local businesses and websites that clearly provide local services. As we saw in one of the previous examples, local SEO can streamline lead generation as it directly targets people who can use your services in person. Local SEO is the key to showing up high in these search results, simplifying lead generation and improving your conversion rate.
What Can an SEO Company Do for Your Business?
If you're a business owner in the wellness space, it's clear that SEO for psychedelic companies is a cost-effective method to boost online presence and business. As we've highlighted, this is particularly important for brands in the wellness space as Google wants to be certain they are ranking authoritative and trustworthy sites near the top of search results.
Despite the potential SEO offers for website owners, it takes substantial time, hard work, and expertise to get it right. Consequently, many businesses consider outsourcing their marketing to increase their success potential.
A visible and functional website is vital to the growth and future of your business. When you invest in SEO, it can provide security, longevity and sustainability for your site. Even if you stop SEO efforts in future, the positive results remain as your pages continue ranking and generating traffic.
Here at NUOPTIMA, we have worked within various industries to get our clients on the first page of Google. Our team is able to adapt their expertise to curate a unique strategy to scale your digital presence and increase your ROI. We have worked with countless wellness brands, such as our sister brand Alphagreen. We are well-versed in navigating Google's strict algorithm and know how to optimise your site with this in mind.
Below are a few techniques we use to improve the Google rankings for your website and direct relevant organic traffic to your psychedelic company:
Organise links to be placed on authoritative wellness websites within your industry to link back to your site.
Curate optimised content to maximise the number of keywords your website targets.
Evaluate and optimise pages to comply with Google's regulations and best practices.
Create appropriate new pages to educate your readership on the industry and your services.
When an SEO specialist optimises your site for search engines, it can boast excellent results. A proficient SEO strategy can increase and sustain your website's organic traffic over time.
NUOPTIMA is home to SEO experts from various backgrounds. Together, we use our digital marketing expertise to get exceptional results for your website. Book a free discovery call to explore how SEO can grow your website and elevate your business.
Talk to an SEO expert
We work with 100+ businesses. Book a slot now to talk to one of our experts.