Key points
Brands making the strategic decision to go DTC need to assess what approach works best for their company. In this article we focus on the benefits and the disadvantages of listing products on popular marketplaces and the adoption of bespoke DTC models.
The implementation of a proprietary DTC channel can unlock significant value to corporations. Benefits include improved customer contact and customer acquisition journey, more insightful consumer behaviour data available and improved margins thanks to lower burden on SG&A costs.
On the other hand, joining a renowned marketplace like Amazon, Ebay or Alphagreen, lays the foundation for an incredibly asset-light business model that can lead to higher margins when considering programs such as Fulfillment by Amazon.
Selling direct-to-consumer, commonly referred to as DTC or D2C, means you're selling your products directly to your end customers. Sellers bypass any third-party retailers, wholesalers, or any other type of middlemen to deliver their products.
With an overall landscape of online sales continuing to grow — with nearly 14% of US total retail sales estimated to come from e-commerce channels by the end of 2021 – traditional brick-and-mortar retailers are making the shift to online in one of three ways:
Joining marketplaces such as eBay and Amazon.
Creating an exclusive website for selling goods and services (DTC).
Using partnerships and affiliations to increase their online brand awareness.
Many enterprises join a marketplace, such as Amazon, due to the huge online daily consumer activity – this has also brought the attention of VCs in the space, who are now financing Amazon FBA aggregators. This allows brick-and-mortar stores to reduce their physical footprint and helps increase their online presence. That said, DTC brands relying on their own storefront are also on the rise as DTC sales accounted for 24% of the total e-commerce sales in 2020 ($17.7Bn). The major benefits for building an e-commerce store and going DTC include:
Collecting more data: Removing any sales middlemen allows businesses to collect more granular user data throughout the customer journey. This helps guide marketing strategy, customer experience and understanding the business's dynamics.
Improved profit margin: With the implementation of software-as-a-service (SaaS) business models and the elimination of complex brick-and-mortar operations and logistics, companies benefit from improved operations and lower overhead costs.
Brand control: A DTC model allows brands to access the market as soon as their online channel is set-up. Having their own direct channel allows full control of the branding experience from product packaging to customer support.
The main reason's consumers continue to use Amazon over a DTC channel are due to ease of making a return, purchasing a product, and their information is already stored. Therefore, customer satisfaction is one of the major limitations of a DTC model for many businesses and overcoming this issue requires competing with the likes of Amazon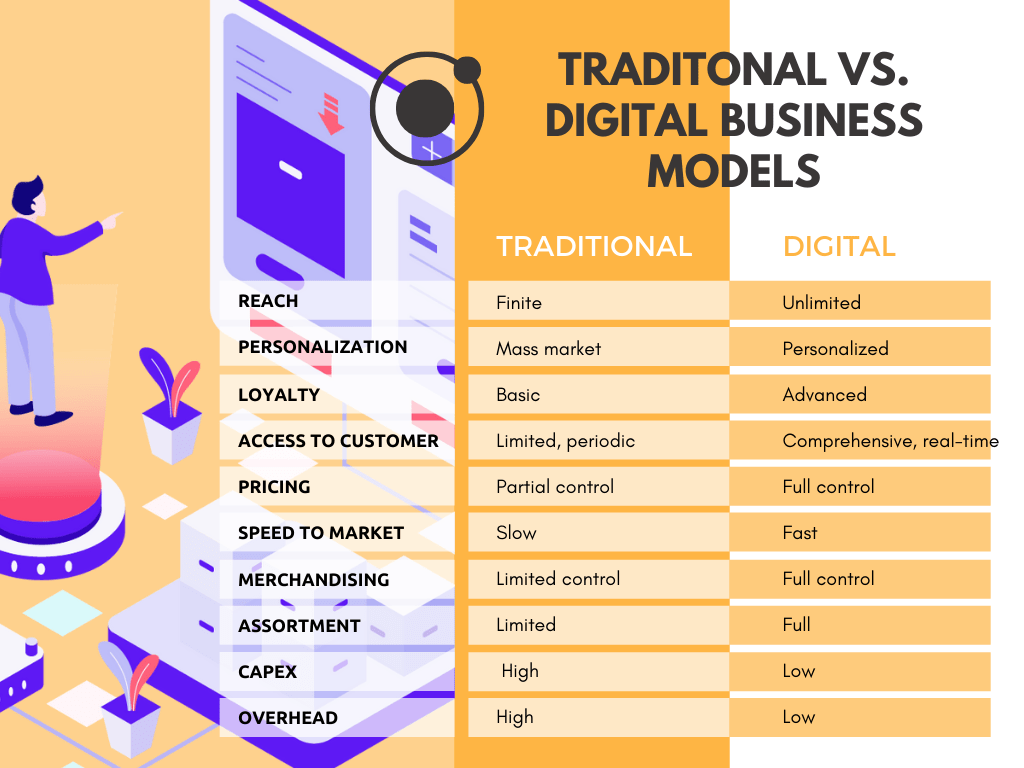 Benefits of DTC
Selling directly provides opportunities to own the end-to-end brand experience and build closer relationships with customers, as well as have greater control on products. In fact, the majority of manufacturers say that it offers greater revenue growth, a broader customer market and improved access to markets. Brands can establish their direct connection with customers, increasing engagement and conversion rates through their eCommerce channels. While retail sales have been hit during the pandemic, online sales have skyrocketed. Brands can quickly establish a presence and scale-up in higher-growth markets. Some of the benefits of offering a DTC service include:
1. Improved margins: Brands no longer have to out-spend the competition for better in-store positioning and promotions or negotiate pricing with retailers for paper-thin margins.
2. Expanded market reach: You're not restricted by geography or by your distributor's reach when they market and sell your products directly to consumers online. Now DTC bands can sell to the fastest-growing markets with the most desirable customer segments, allowing them to go global.
3. Reduced costs: Brands can reduce some CAPEX or rent costs as they don't necessarily need to develop or rent costly, cumbersome brick and mortar stores to drive growth. They do, however, need to invest in digital channels.
4. Improved customer data: Brands can leverage the incredible wealth of data generated by digital tools and platforms to better understand their customers' preferences, lifestyles, demographics, and path to purchase. High-value segments can be identified and targeted, while pain points in the customer journey can be alleviated. Traditionally, manufacturers relied on reseller partners for data. The reseller's sales figures determined the success or not of a product. While useful, this offers little insight into why one product sold better than a similar one.
5. Improved customer relationships: Developing and owning customer relationships by leveraging data-driven understanding of customer behaviour to deliver a more targeted value proposition.
6. Comprehensive product assortment: Brands can provide a full assortment line of products while not being restricted to what retailers deem as hot selling items.
DTC success stories
Many major brands have successfully implemented DTC strategies. From using advanced AI to determine customer's shoe sizes to providing a loyalty reward system, the growth of the market has boomed in recent months due to the rising challenges the Covid pandemic has brought to already troubled physical stores.
A DTC brand can exploit several unique strategies to drive growth even during a pandemic, which would not be possible with the same effectiveness for traditional business models. These include the replenishment strategy (subscriptions that offer regular deliveries at a discount), personalisation (personalised collections of products that meet each customer need) and special access strategies (exclusive discounts to subscribers). Developing a subscription model may grant one time, additional supply chain efforts, but it provides businesses with the certainty of recurring revenue, customer acquisition returns and higher customer lifetime value. Some of the most famous brands exploiting DTC strategies are:
Nike: In recent years, Nike has shifted its focus from selling through third-party retailers to giving more importance to its own DTC sales channels and e-commerce business, ultimately improving the company's positioning. Nike's new strategy translated into higher profit margins and DTC worldwide revenue from 2009-2020 has grown exponentially, thanks also to increased online presence in the European, Middle Eastern and African markets.
By cutting ties with Amazon and multiple retail channels, Nike has achieved improved relationships with its customers and sustained growth. Another opportunity unlocked by Nike by taking the choice to go DTC via its proprietary shop, is to use the untapped potential of all data from prospective customers the company now is able to reach through its social media channels, mobile app and email marketing campaigns.
Away: This luggage company has been hit hard by the pandemic. However, by expanding into lifestyle accessories, wellness and apparel, Away hopes to diversify its revenue streams. The brand successfully entered the travel segment by implementing DTC fulfilment operations, creating a narrative for their brand and for transforming the customer experience.The implementation of a DTC strategy was one of the most successful measures Away took as it allowed them to offer cheaper products thanks to the now cheaper cost of distribution. Consequently, they grew the brand through successful marketing on Instagram and attracting new customers through their posts and online blog.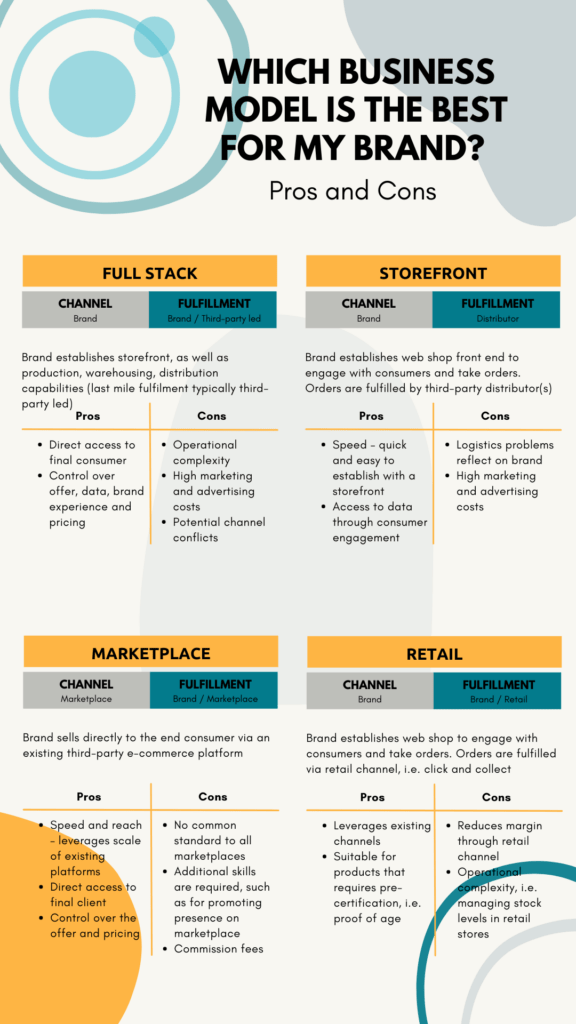 Why would a retailer limit their DTC channels exposure?
One of the main risks in the online DTC are expanding liability risk, cyber risk and more complex supply chains. Selling directly to customers exposes a business to risks that are previously or normally undertaken by other parties in the supply chain such as wholesalers and retailers. Data privacy and security has become one of the most critical priorities due to the high level of data that businesses are able to extract from individual customers. Lastly, running a DTC e-commerce program increases the complexity of the supply chain itself, which might pose additional challenges for companies.
Consumer product companies have faced operational problems when implementing online D2C channels because they significantly alter business and operating models. First, they remove the distribution intermediary – the retailer – and replace it with a complex, direct model that is oriented to serve a greater number of people. The business must deal with an omnichannel strategy, be able to forecast demand, create bespoke supply chain and delivery processes, as well as handling payments, manage returns and communication with customers. Second, it requires a shift away from marketing campaigns that are primarily designed to increase brand awareness to those that directly encourage consumers to purchase goods.
One of the most important decisions DTC companies can make when looking to scale up is whether to sell through online marketplaces such as Amazon. According to a study by Scalefast, 43% of consumers would choose Amazon over a bespoke DTC, simply because of the cheaper shipping options available. One-third of consumers would choose to shop on Amazon because of the Amazon Prime perks like shipping options, coupons and other benefits available with the subscription.
With over 2.5 million merchants selling on Amazon's marketplace, last year's Amazon Prime Day event generated $3.5 billion in sales- up 60% from 2019. However, more brands are attempting to move away from the third-party marketplaces for several reasons. These include improved customer relationships and consumer data, advertising their full product range and avoiding large listing fees.
Brands must manage every aspect of a sale: from finalizing the sale to delivering the goods or services. When a brand does not have an established relationship with its customers, this can be difficult. There are many benefits for listing on a marketplace:
Manufacturers and distributors offer their products in a platform managed by a third party, which manages the sales processes, sellers' commissions, warehousing, shipping and logistics and customer support.
Customers can rely, for the most part, on reviews to better understand if a product suits their needs.
Provides an additional channel to market and sell products.
Allows businesses to expand their sales in new geographies. Marketplaces such as Amazon carry a high degree of credibility and therefore, many customers identify Shopify, Amazon and eBay as a convenient way to compare prices and products.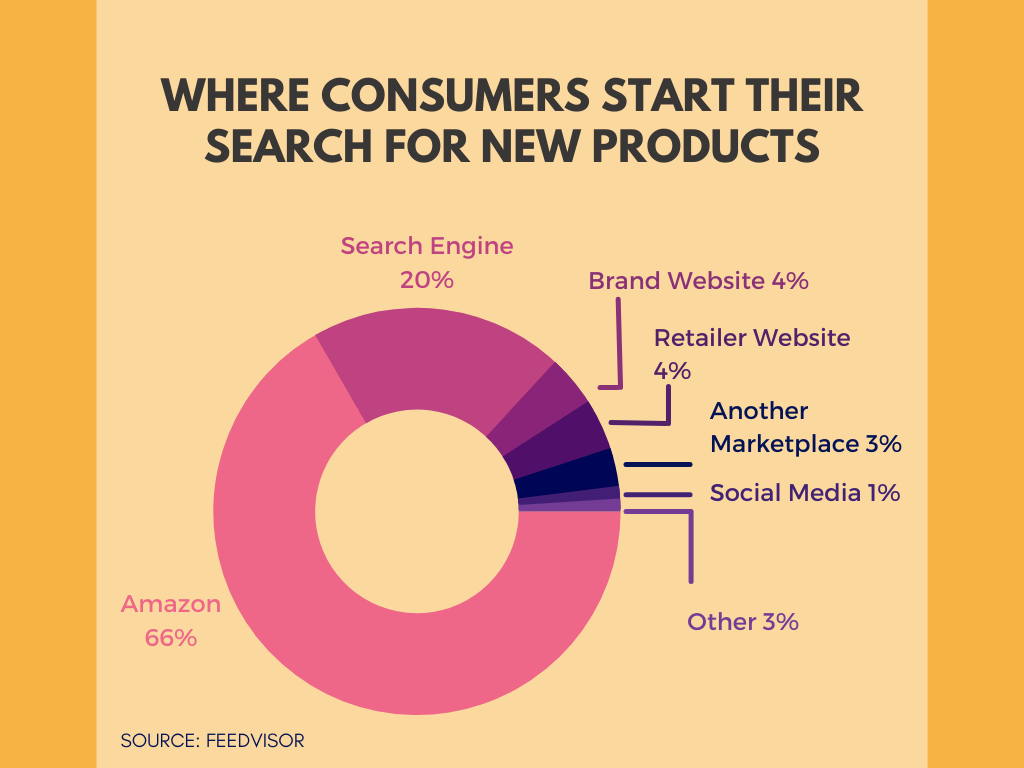 The above chart outlines the importance of a marketplace such as Amazon and why so many businesses rely on it as an alternative channel for their e-commerce activity. Brands listed on marketplaces also experience an increase in organic traffic by being listed as a research result. This also results in lower customer acquisition costs as viewers who usually visit Amazon will be prospective customers, unlike targeting customers via paid advertising (for example via Google Ads) which will reach the broader market.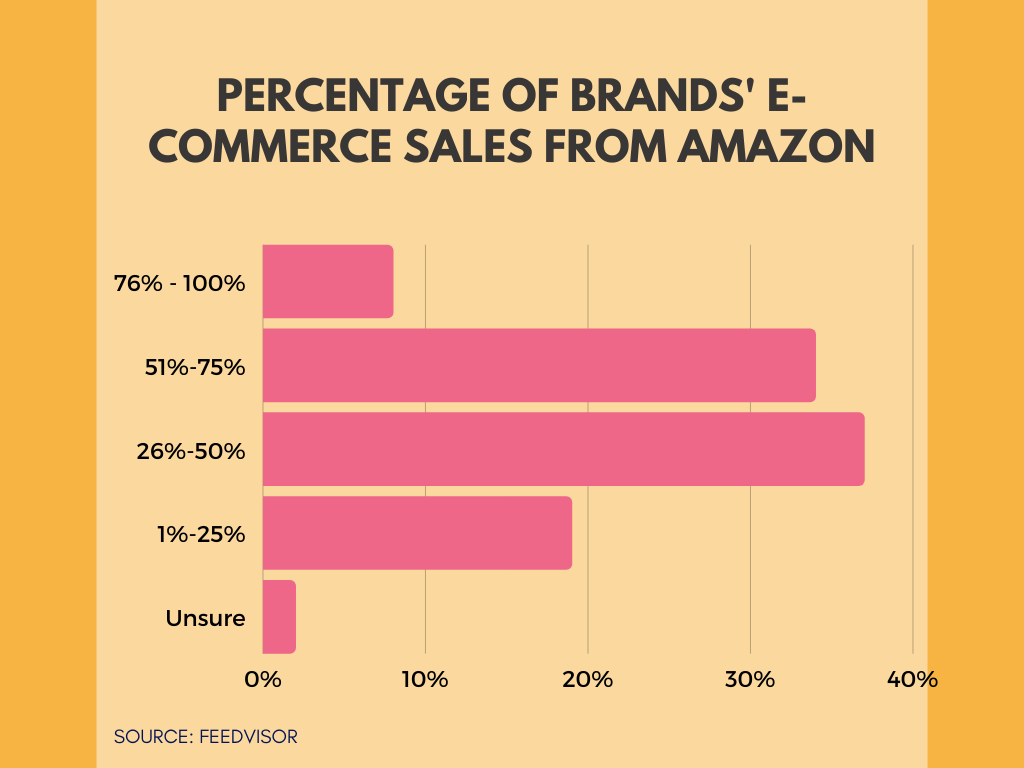 Conclusions
Among the various options available to brands deciding how to target their customer base and market outreach, two approaches stand out by popularity and business sense: listing of their products on proprietary DTC channels, or listing them on a marketplace, such as Amazon. While there can be several disadvantages of DTC and only using one channel (such as having to manage the whole purchase and delivery process, customer acquisition and ensuring customer satisfaction), brands will not only save listing expenses on third-party marketplaces but also, they can directly act upon all customers entering their site and drive conversion rates. By being closer to their target group, DTC brands have access to first-party data that can be used for bespoke marketing.
On the other hand, listing on marketplaces like Amazon, Shopify, or Alphagreen, may lead to improved visibility, higher revenue and higher conversion rates, the implementation of a multi-channel strategy and streamlined and cheaper operations ultimately leading to higher profit margins.
With retail outlets closed for protracted periods because of the COVID-19 outbreak, consumer product companies increasingly had to re-examine their online strategies. Many have sustained or increased sales throughout DTC channels, exploring fresh opportunities to create more robust, more resilient online business models that will sustain them during the economic downturns.
The current crisis has turned D2C routes to market from an opportunity to a necessity. Online sales have rocketed. The average online transaction value has risen 74% compared with a year ago. The crisis has accelerated the long-running trend toward e-commerce, with 44% of consumers expecting to do more grocery shopping online and 39% expecting to do more durables shopping online over the next one to two years.
---
FAQ
What reasons would a brand have to go DTC with a proprietary platform?
Brands can implement replenishment, personalisation and special access strategies to differentiate from competitors and drive further sales, acquire exactly the data they need as they market through their own platform and better tailor and customise the customer's purchasing experience.
What are some of the negative aspects of a proprietary DTC platform?
While a proprietary platform provides greater visibility and insights into customer patterns and needs, it also comes with the operational set-up and retraining challenges of shifting to a more online-centric strategy. This in turn may require the addition of ancillary services to maximize return on the investment made.
Why would a brand choose a marketplace over a proprietary platform?
Marketplaces such as Amazon can handle all of the operational efforts relating to logistics, storage and warehousing, delivery and customer service, therefore streamlining operations for brands. Not only that, higher visibility may be granted given Amazon's popularity.
Could a brand decide to pursue both the marketplace and the proprietary platform avenue?
Yes. However, doing so may put the company in a position where its delivery channels are mutually cannibalizing sales. This would come to the added benefit of having diversified sales channels. Given a customer base big enough on the proprietary platform, managers can also take advantage of the insights they're able to extract from it, and improve their Amazon presence with better informed product decisions.
Why is this important?
There are many businesses still heavily reliant on traditional delivery models, not appropriately taking advantage of the opportunities the digital economy offers. Those who won't be able to innovate and stay relevant, will eventually find themselves naturally pushed out of the market, increasingly dominated by immediate transactions and shopping convenience.