Read NUOPTIMA's article on franchise SEO and book a free discovery call with our experts if you wish to explore our franchise SEO services.
Key Points
Franchise SEO is a digital marketing strategy used to improve visibility for franchise companies. It helps bring more organic traffic to local web pages and helps each location rank higher within local search.
Franchise SEO is important as it can improve the search visibility of a business, as well as improve rankings for franchisees. This is essential for increasing both foot traffic and revenue. If you have a franchise business, it should be a core part of your marketing strategy.
Many strategies can be used for franchise SEO, such as adding your franchise locations to Google Maps and Yelp, checking the NAP of each branch location is accurate, using location-based keywords in website content, and developing local social content.
Performing franchise SEO can be a considerable undertaking, and for that reason, it is highly recommended you hire an expert SEO agency to assist in your efforts. Book a free discovery call today with NUOPTIMA to discover our franchise SEO services.
What is Franchise SEO?
Franchise search engine optimisation (SEO) is a term given to numerous tactics and strategies utilised to improve franchise companies' search visibility. It is a digital marketing strategy that drives more organic traffic to local web pages and helps every location rank higher within local search. This can include content creation to rank a local franchise opportunity site at onboarding brand new franchisees and involve local SEO tactics to help rank individual franchisees. A comprehensive strategy is required to create a powerful SEO campaign for a franchise company. This is because content needs to be monitored and controlled across many different platforms, such as the company's website, Google Business Profile (formerly Google My Business), social media, and any other applicable third-party review platforms in use.
Depending on the size of the franchise business, you might delegate the responsibility to an internal manager or marketing agency, or you might encourage franchisees to update their individual profiles. While franchise SEO can be undertaken on your own, performing successful long-term SEO requires extensive knowledge and skills, so many franchises opt to hire an expert SEO agency for assistance.
Why is Franchise SEO Important?
If you have a franchise business, franchise SEO should be a critical aspect of marketing. More traditional marketing approaches can still give you good results. Still, franchise SEO helps put brands in front of people actively looking for the services of the company or franchise opportunities. Here are a couple of reasons why franchise SEO is so important:
Improved search visibility: Franchise SEO works to improve the search visibility of a franchise business. This is just as key as maintaining the progress of every individual franchise. Franchise businesses compete for visibility around commonly searched keywords around their niche. Utilising a local franchise SEO strategy involves executing a content creation plan that revolves around these common keywords used by potential franchisees. By tactically focusing on these keywords, franchise companies can get a step up on their competition and make sure they have the biggest portion of top-ranking search results. The bottom line is that increased visibility means more revenue and more foot traffic.
Improved rankings for franchisees: A constant SEO franchise campaign can also help improve the success and visibility of individual franchises. Naturally, every franchisee competes within their local search engine results pages (SERPs). And simply put: the better the visibility, the better the success of the business. Significantly, improved search visibility within localised searches across many locations has a domino effect on the franchise company. It works to build trust, increase brand awareness, and draw enquiries from new prospective franchisees. Therefore, local franchise SEO is key for reaching customers and generating sales.
Strategies for Local SEO for Franchises
It is important to have a watertight strategy when performing franchise SEO. Below, we offer ten proven techniques that can be used when working on improving local SEO for franchises.
Strategy One: Add Each Franchise Location to Yelp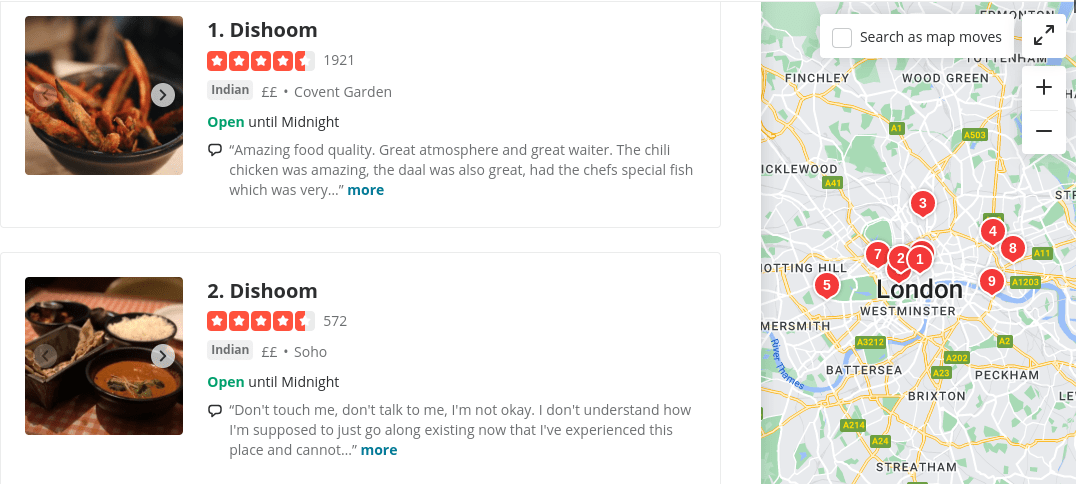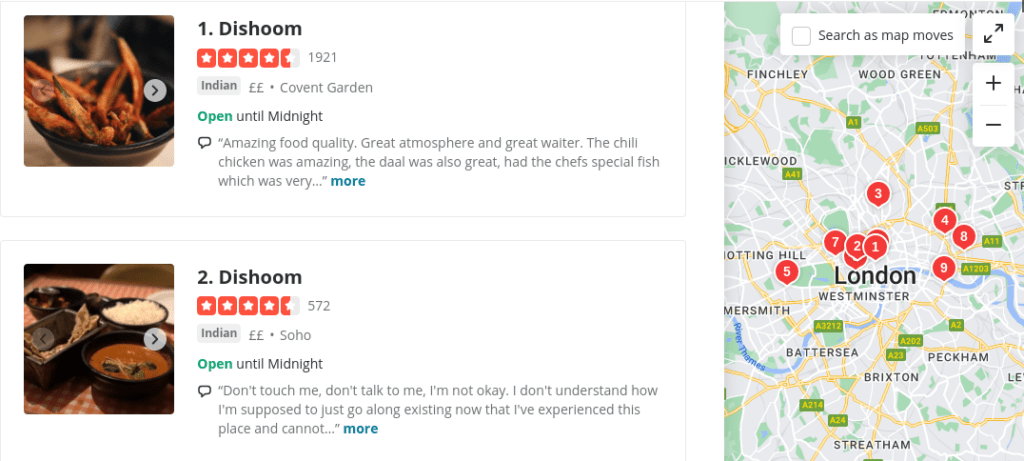 Yelp is an extremely popular review site among consumers and is highly trusted. Many people use it to find businesses and decide which one is best for their requirements by looking at user-submitted reviews and photos. It also informs users of important information, such as opening times, contact information, and depending on the business, menus and product details.
If you fail to list every location of your franchise on Yelp, you could be missing out on prospective customers (many of which are already in these areas looking for your products or services). If someone is looking for your business, but you only have listed a location on Yelp fifty miles away, they will not see you as a viable option and will look elsewhere.
Moreover, having Yelp pages for every location means that customers can review each branch. This is great for local audiences, who can view what customers did and did not like about a specific location and view accurate images of your shopfront and products.
Strategy Two: Add Each Franchise Location to Google Maps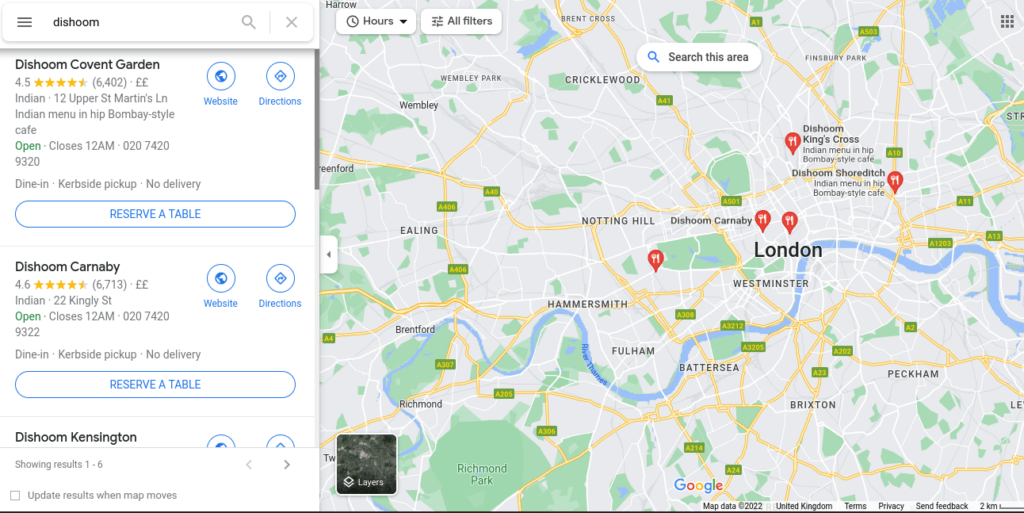 One of the most efficient ways to view a shopfront is to search for it on the search engine Google. It provides a map of options and allows visitors to load GPS directions to the branch they choose easily. Therefore, if your locations are not currently on Google's map results, it is highly recommended that you register them using Google Business Profile (formerly Google My Business). Once you have done this, on Google Maps, your shopfront will appear, helping potential customers find your franchise location much more easily. This is important because many localised services business queries draw up a localised search result on Google at the very top of the first page. This includes a map and businesses relevant to the search terms. Make sure that you optimise each local franchise profile, such as by including contact information, business hours, and images of the business.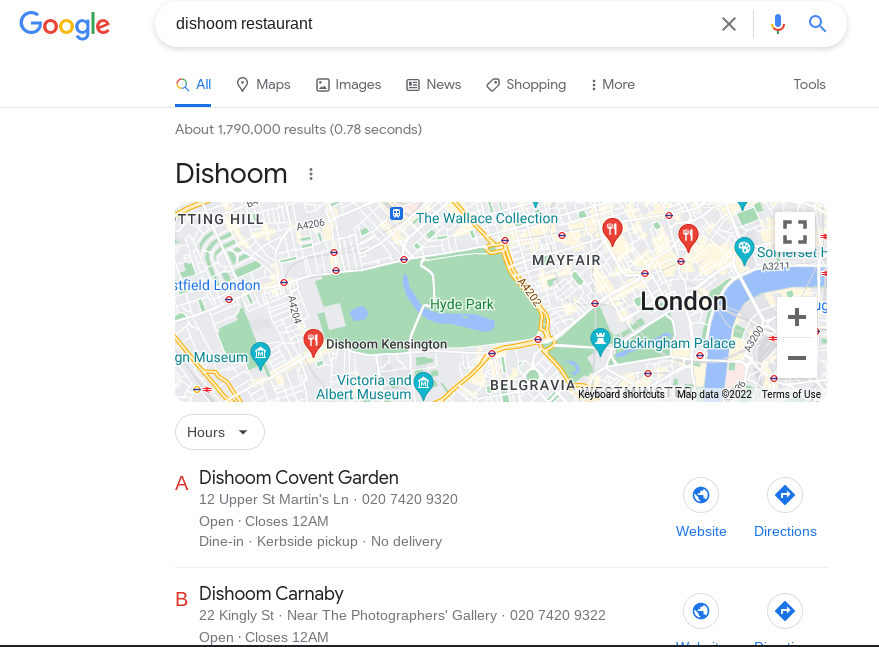 Strategy Three: Make Sure Your Franchise Locations Appear on GPS Devices
This might sound obvious, but your franchise locations should appear on all GPS devices. This means making sure that every location is registered on GPS Points of Interest databases. This is because car and GPS manufacturers (some of the most well-known being TomTom and Garmin) extract from databases to display points of interest to users when they use their GPS devices. This is a highly advantageous thing to do as by submitting franchise locations for approval, it makes it easier for drivers to find or come across a branch.
Strategy Four: Check Each Location's NAP is Correct
NAP stands for Name, Address, and Phone Number and is the most vital information about a business. This information should be identical across every website the company is on, such as social media, review websites, and business listings. Not only is this helpful to users, but it also helps Google determine precisely what your franchise location is all about. A vital factor to bear in mind is that if you let each franchisee complete their business listings, there will likely be slight differences in how NAP details are written across numerous listings. Unfortunately, this can raise a red flag for Google.
For this reason, you must stress to franchisees how important it is to keep NAP data consistent. Once this has been accomplished, it is prudent to reach out to useful and relevant local directories (these can be found with a simple Google search). This helps improve visibility within your locale and increases brand awareness.
Strategy Five: Add Location-Specific Schema for Every Franchise Location
Schema markup is also referred to as structured data and is definitive information about a page's content. This helps Google to understand and rank websites more accurately. Sometimes search results can use this information to create what is known as a rich result. As can be seen in our example, within search results, this restaurant's website features stars, the number of reviews, price range, and FAQ schema markup.

This type of information can really help your franchise stand out to customers, increasing traffic and click-through rates (CTR). Below are some go-to schema markup and properties for local franchise SEO:
LocalBusiness
GeoCoordinates
AggregateRating
Price
Product
Adding schema markup involves a lot of expertise, so to make this strategy easier, many people use Google's Schema markup walkthrough for extra assistance. Moreover, if you need to troubleshoot or fix any problem, Google has a great tool called Rich Results Test. Of course, if this all sounds very stressful, you can always enlist the help of an experienced SEO agency to do this for you.
Strategy Six: Encourage Customers to Write Reviews for Different Locations (Review Management)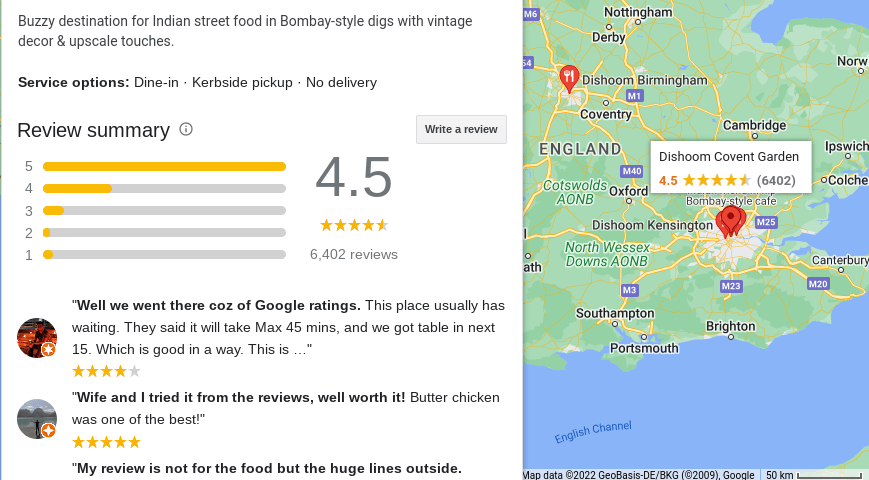 The importance of online reviews simply cannot be understated. According to statistics, a mammoth 97% of people read reviews of local businesses, and 90% read online reviews to determine if they want to purchase a product or service. For these reasons, if your shop front does not have any reviews, this could be seen as a red flag to potential customers and be a turn-off.
Reviews are important so potential customers can see what other people think of your location, service, products, opening hours, etc. They also help your business rank better in SERPs when users search for key terms mentioned in these reviews.
Every franchise SEO strategy should include review management as it helps your business encourage reviews and feedback from your local consumers. You should aim to respond to every review and use business- and location-centric keywords in these responses. You should also put in place a strategy for getting reviews. This could include follow-up emails after a purchase.
Strategy Seven: Use Location-Based Keywords in Website Content
One of the best ways to improve visibility within local search results is to ensure you include location-based keywords on your pages. For instance, if you have a restaurant based in Manchester, you will want to include 'restaurant in Manchester' in content such as title tags, headings, and body copy. You can also utilise local landmarks, regional names, and local tourist destinations as target keywords. This can be seen in the example below: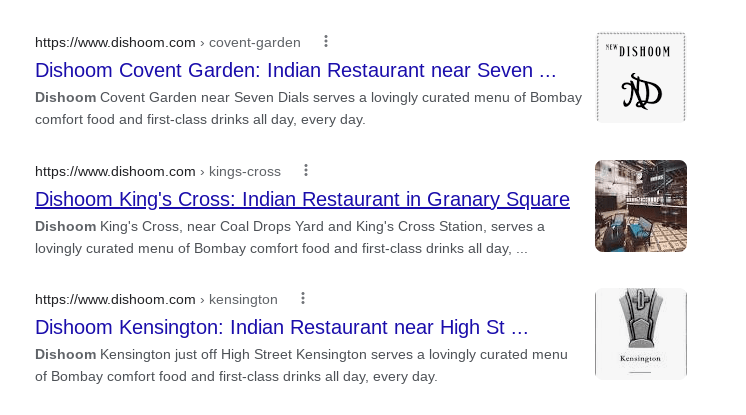 Strategy Eight: Customise Local Franchise Landing Pages
This strategy is used to help distinguish locations from one another. Every franchise should have a local landing page on the brand's website. Here are some top tips for your local landing page:
Add high-quality imagery, including keyword-rich Alt text.
Include franchise location keywords in your headings.
Ensure your call to action (CTA) is both prominent and relevant locally.
Include links to individual franchise pages.
As mentioned in strategy four, ensure your NAP is consistent with other online citations for the location.
Create content that is unique yet still provides substantial value to potential customers.
Add internal links to your franchise landing page (use keyword-rich anchor text).
Use a range of low competition, high volume applicable keywords within the content.
This is a worthwhile strategy because these pages act as a leading web presence of the franchisee (so ensure they link to Google Maps and Yelp listings). A local landing page provides a base where you can publish location-relevant content and leverage the franchisee's relationship with the local area to increase authenticity.
However, ensure that you do not deviate from the established branding. It is a prudent idea to stick to the logos and colours that the brand is identified with, otherwise, this can cause confusion and wariness from potential customers. Remember, you are still representing the brand as a whole too.
Strategy Nine: Use a One-Site Franchise SEO Tactic
There are two main options when it comes to creating a website for a franchise. You can either put all franchises together on one website, such as:
www.nameofcompany.co.uk
www.nameofcompany.co.uk/location
www.nameofcompany.co.uk/location/city
This option provides the most link equity. Alternatively, you can create a microsite for every location of your business. However, the first option is considered far better as it makes more business sense. It benefits both the consumer and Google as it makes it much easier to understand and navigate than looking for individual sites. Putting local SEO efforts for numerous locations on one website means that all authority gained by the brand is attributed equally to each franchise location. Do ensure that you include every location on this corporate website.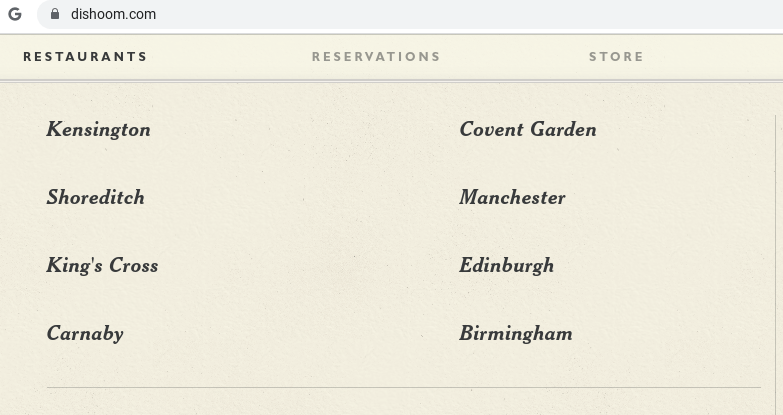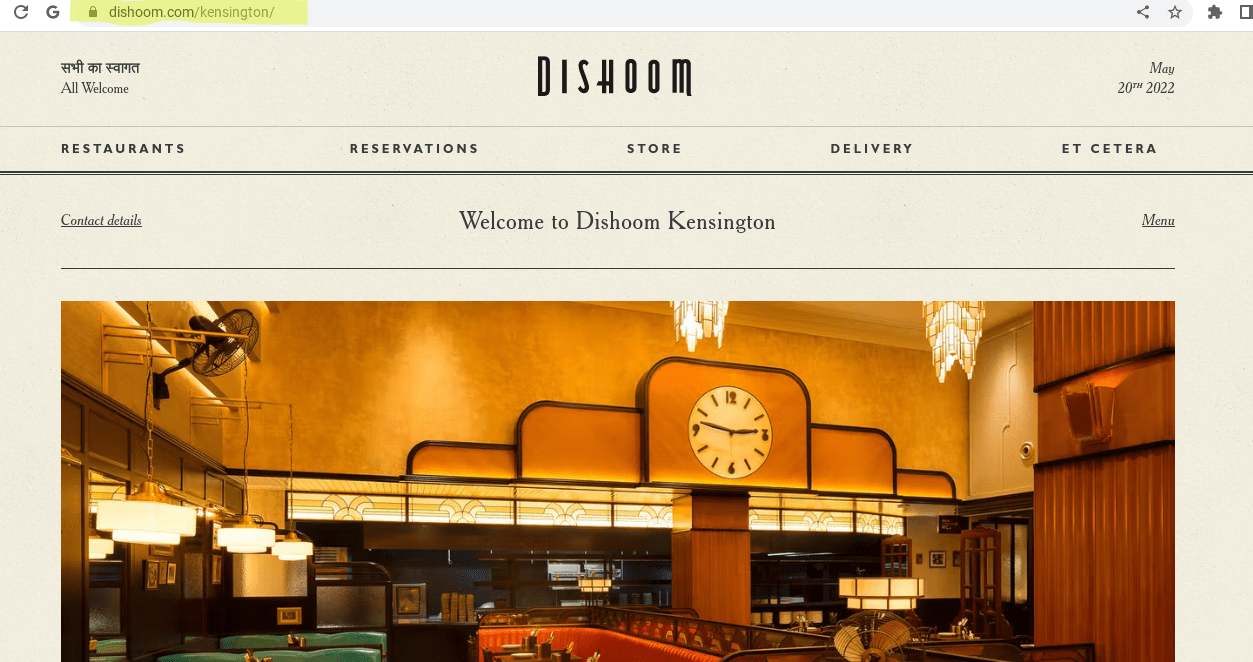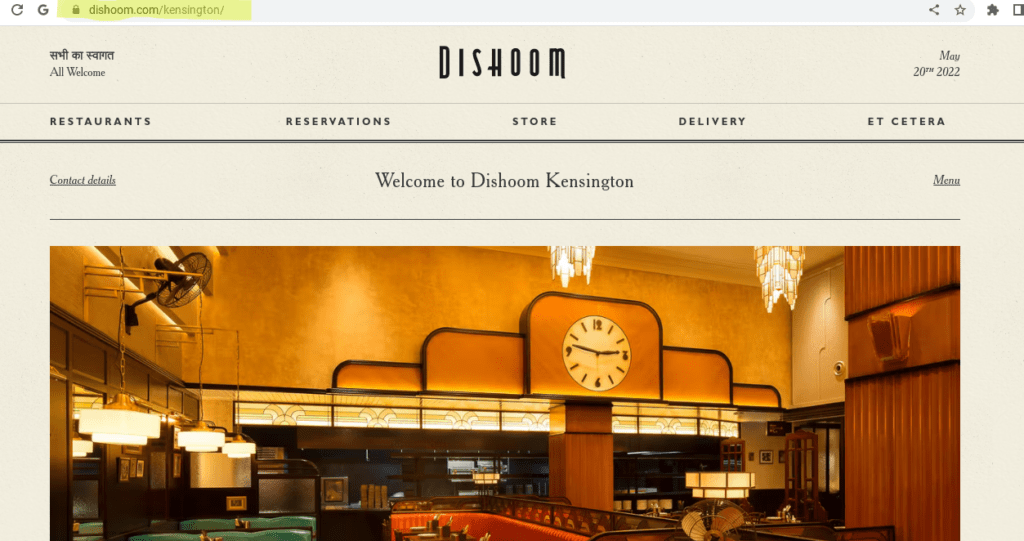 Strategy Ten: Develop Local Social Content
Our final strategy entails creating content that is locally relevant and posting them to location-specific Facebook, Twitter, and Instagram accounts. While it can be hard to maintain social media accounts in every location, it is an excellent practice. Local social content is a fantastic place to use location-specific keywords. Remember that many people now use social media instead of Google to get recommendations and locate stores. Using local keywords in your uploads increases your chance of showing up in those results.
Hire an Expert SEO Agency for Franchise SEO Services
Franchise SEO is a digital marketing strategy that helps increase the search engine visibility of franchised businesses. It helps drive more organic traffic to local websites and helps each site rank higher in local searches. It is essential for driving traffic and sales for a franchise business. Without franchise SEO, your business will not have a successful franchise marketing strategy. Take SEO expert Chad Pollitt's famous quote, for example:
"SEO is not something you do anymore. It's what happens when you do everything else right." – Chad Pollitt, Co-founder of Relevance
Creating and implementing an SEO strategy can be daunting even after we've shared ten franchise SEO techniques with you. Hiring an experienced and qualified SEO agency to help you reach your business goals faster and without costly mistakes. Schedule a free consultation with NUOPTIMA today to explore our franchise SEO services and how we can support your franchise business.
Talk to an SEO expert
We work with 100+ businesses. Book a slot now to talk to one of our experts.
---
FAQ
What is franchise SEO?
Franchise SEO is a digital marketing strategy that works to improve visibility for franchise businesses. It also helps increase organic traffic to local web pages and assists each location in ranking higher within local searches. Essentially, franchise SEO works to increase the overall success and revenue of your business.
Why is franchise SEO important?
If you have a franchise business, franchise SEO should be essential for your marketing strategy. Franchise SEO is important as it improves the search visibility of a company and improves rankings for franchisees. This is vital for improving both foot traffic and revenue.
What are franchise SEO services?
SEO agencies provide franchise SEO services to assist you with performing franchise SEO. It is critical that you find an experienced, qualified, and reputable SEO agency. NUOPTIMA has a team of experts fluent in SEO and can provide a sustainable and detailed SEO plan for your franchise. Because many businesses struggle to perform constant, painstaking, and time-consuming SEO work alone, it is a fantastic idea to enlist the help of experts at NUOPTIMA who are experienced, knowledgeable and successful in performing tailored SEO services. Book a free consultation call today to discover more.