Key Points
The way you measure traffic will differ depending on whether you're examining for any website (i.e., no access to the CMS) or your own (full access to the site).
For any website, there are 3rd party tools available, but the information may not be as accurate as if you have access to the website.
If you have access to the website, you can use tools like Google Analytics and Google Search Console to calculate traffic and get a good understanding of your visitors. 
Introduction
By measuring a website's traffic, you can learn valuable insights into the number of visitors, their behaviour, and how the site is performing overall. However, the methods for calculating website traffic can vary depending on whether it's your own site or a third-party site where you don't have access to the CMS.
When you have full access to the site, you can use web analytics tools to track and measure traffic very accurately. Online tools like Google Analytics and Google Search Console provide comprehensive data on visitor statistics, traffic sources, page views, bounce rates, and more. By embedding tracking codes into your website, these tools collect data about user interactions and generate detailed reports.
Conversely, calculating traffic on a third-party site where you lack full website access requires a different approach. For example, you will need to rely on external tools and resources like Ahrefs and SimilarWeb to estimate traffic figures. These third-party tools use various data sources and methodologies factors (such as SERPs, Keywords, backlink data, and social media mentions) to generate traffic estimations. While their calculations may not be as precise as CMS-based analytics, they can still provide valuable insights into a website's traffic and overall performance.
This guide will explore different methods to calculate website traffic for both scenarios: when you have full access to a site and when you don't. By understanding these approaches, you will be able to calculate website traffic as accurately as possible.
Website Engagement Metrics to Watch
Metrics are indicators of a website's overall performance. It is easy to get confused with numerous metrics to consider, from website traffic to conversion rate and more. However, while many are helpful, some are just vanity metrics that have nothing to do with how you make decisions for your present success or future marketing goals.
Common vanity metrics include page views, social media followers, and impressions. These metrics are not utterly useless as they are valuable in measuring brand awareness, social engagement and other non-transactional marketing goals. Nonetheless, website owners should put emphasis on metrics that directly impact their ROI. These include the following:
Organic Traffic
This metric helps you measure the average number of visitors who discovered your website via organic search results instead of display ads or email campaigns. Measuring your website's organic traffic is imperative as it helps evaluate the effectiveness of your SEO campaigns.
According to a HubSpot study, organic traffic is generally higher in quality as compared to direct or paid traffic because these people are intent-driven. Quality traffic embodies the buying persona of your target audience. That means they are more likely to buy your products or services so long as your website provides the solution or answer they need.
When tracking organic traffic and user behaviour for sites you have full access to, Google Analytics and Google Search Console are your best friends. It provides a lot of useful data and insights to help you understand how users engage with your website so you can optimise accordingly. And if you're ever unsure of what a metric means, you simply hover over the term, and it provides a comprehensive description.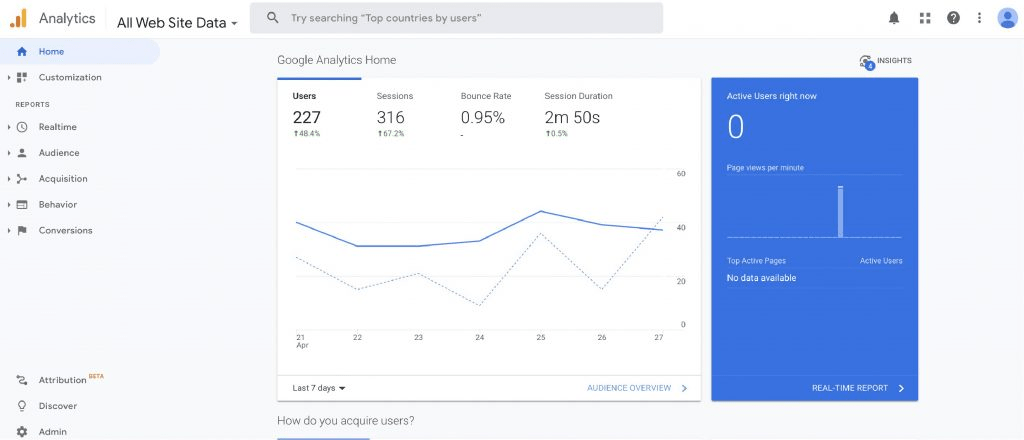 How To Track Organic Traffic
Ahrefs can give you a rough estimate of your monthly organic and paid traffic. Our SEO team uses this multipurpose tool to measure search engine optimisation strategies, such as link building, rank tracking, competitor analysis, keyword research and more. Once you have created your Ahrefs account, you will have access to your monthly traffic and other essential metrics not only for your website but also for your competitors'. You can add your website to the dashboard by creating a new project. Here's what it should look like: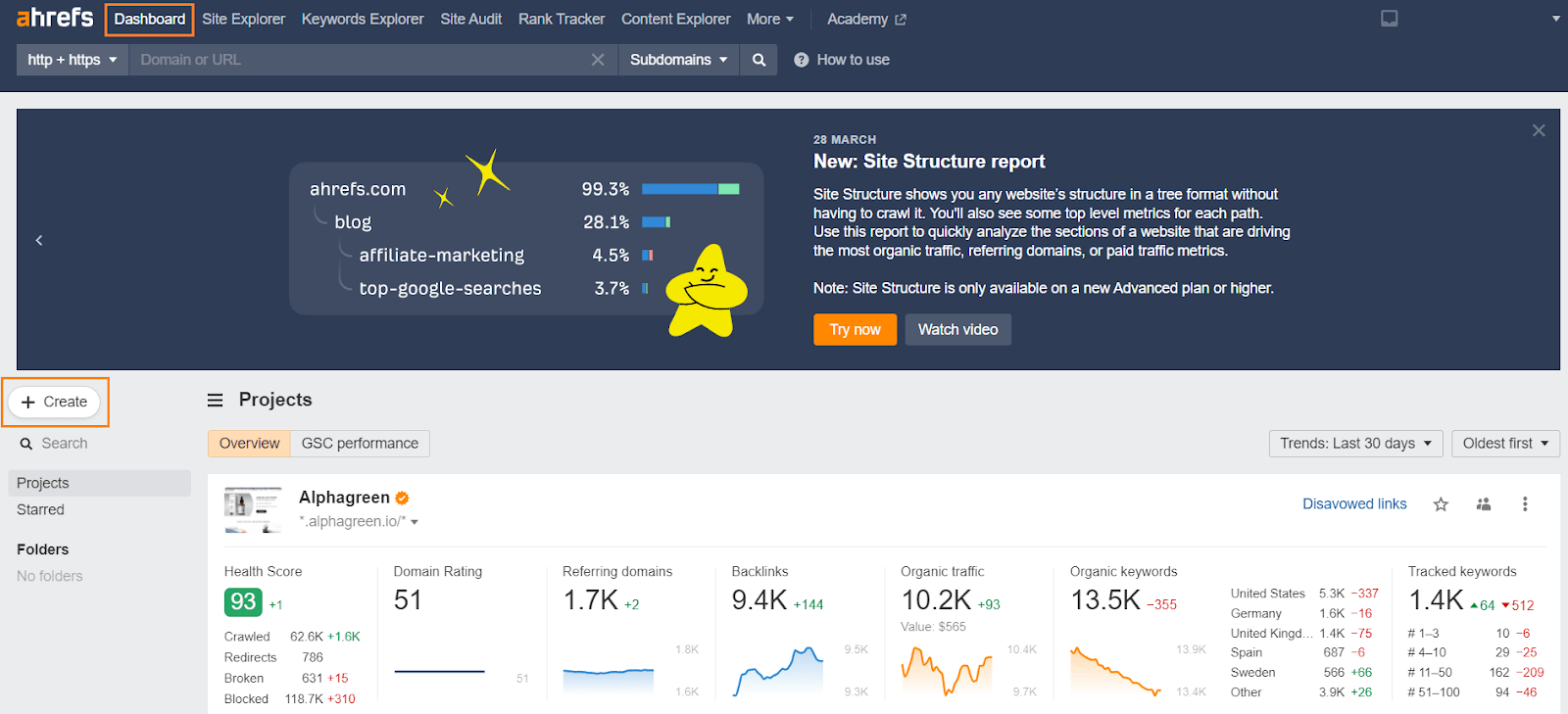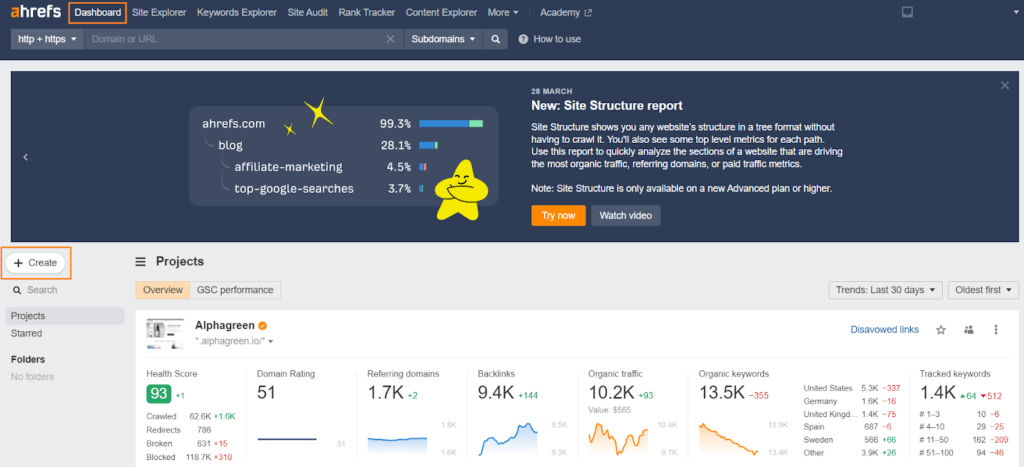 To pull up any functioning website, go to the Site Explorer tab and enter the domain or URL. The screenshot below presents a key metrics report for our valued client, https://vaay.com. According to the data, this website earns over 40 thousand organic traffic per month.


As you scroll down, you will see an interactive graph that demonstrates the change in organic traffic for this specific website over time. Those visitors come from several countries across the globe, including those from which this CBD website garners the most traffic: Germany, the United States, Austria, Switzerland and the United Kingdom.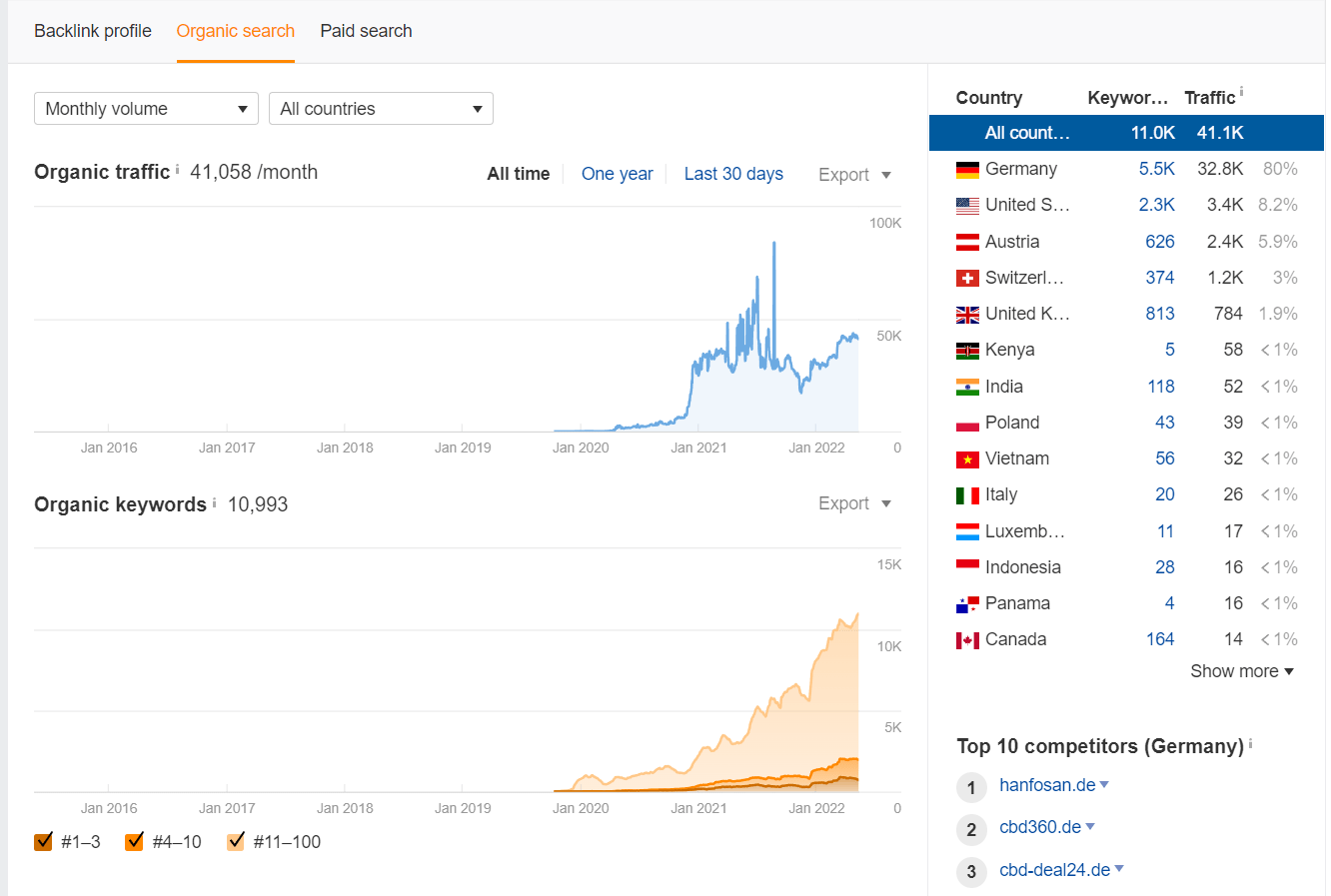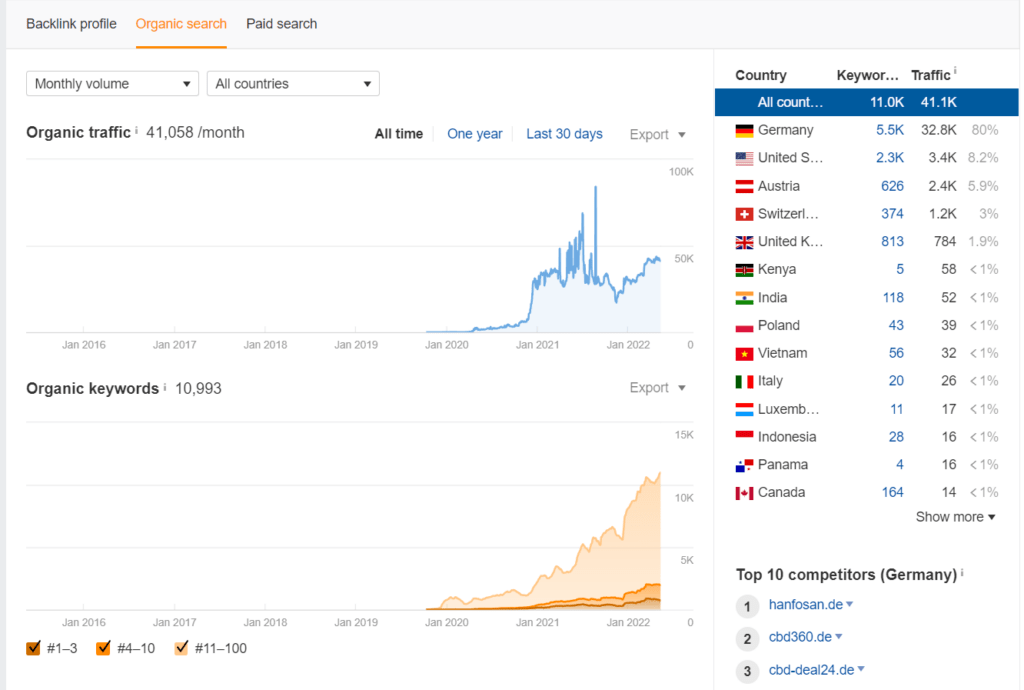 Traffic Value
The value of a visitor to your website is another critical metric to keep in mind. You can access your traffic value on the same Ahrefs page alongside organic traffic. To be clear, the traffic value refers to the amount of money it would cost your business if you pay for ads to rank for the exact keywords you use and get that similar traffic volume. Generally, the more organic traffic you have, the higher your traffic value. Take note that increasing traffic value is a good indicator of a successful SEO campaign, which often translates to a better return for your business. If VAAY accrues as much as $3,500 worth of traffic, that means the owner saves thousands of dollars on paid advertising every month.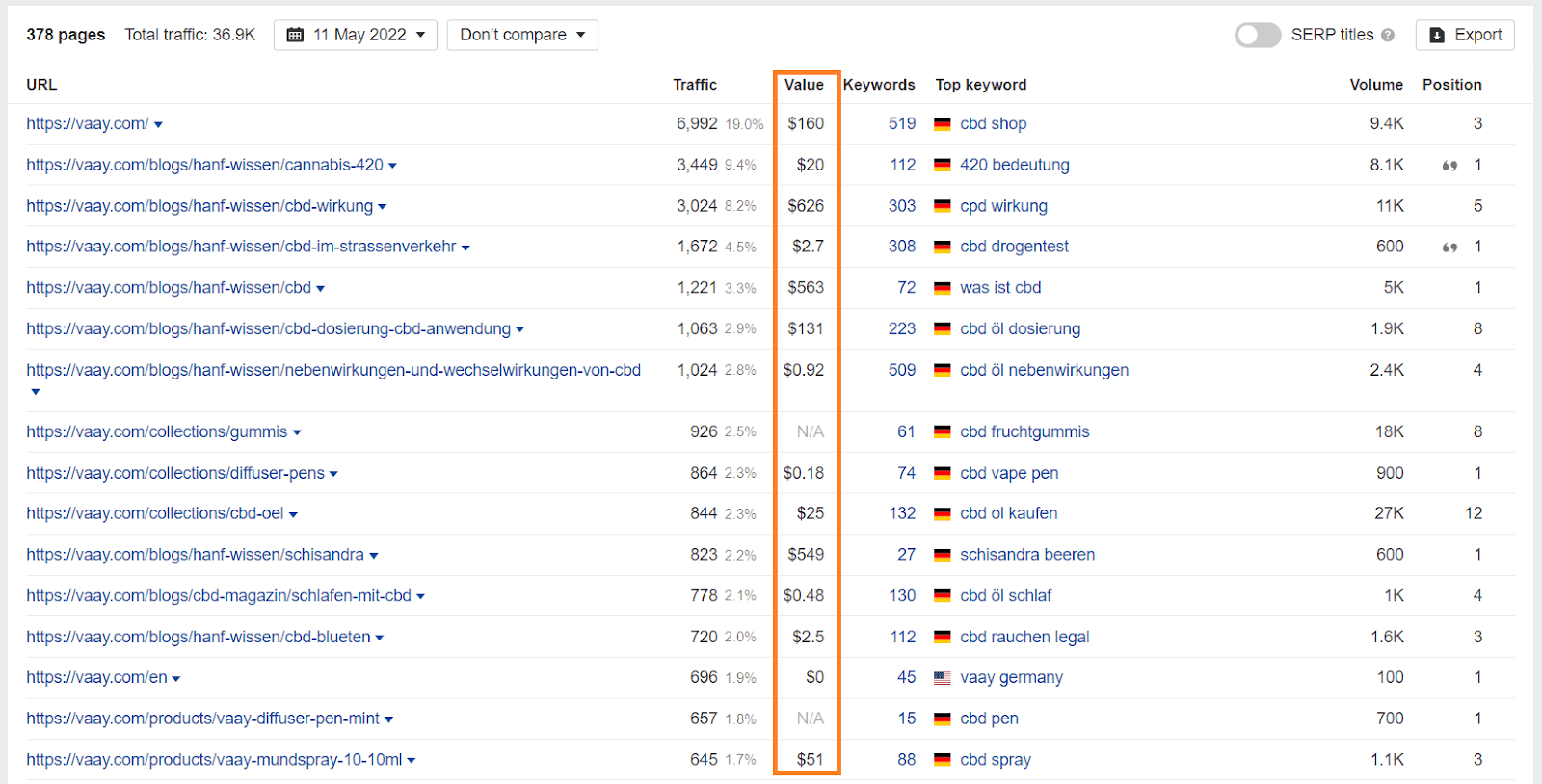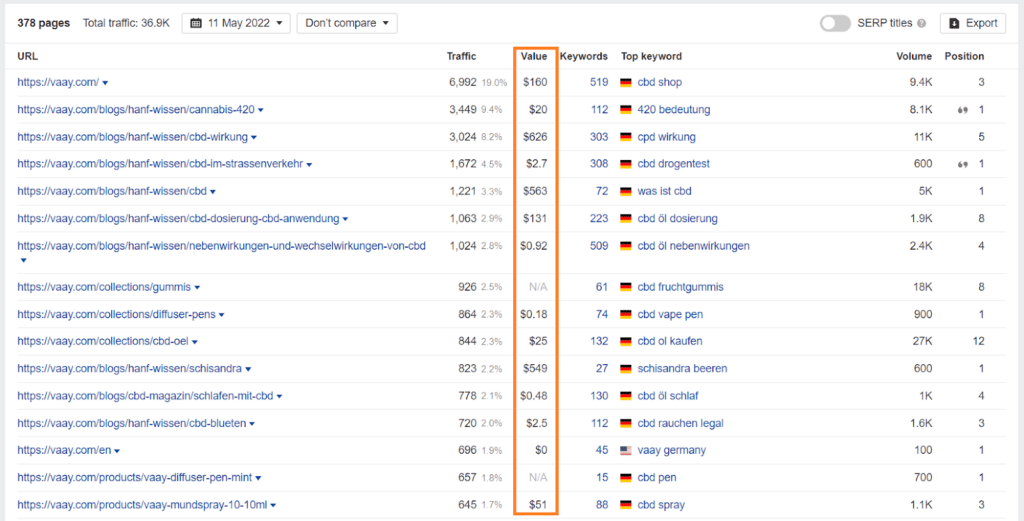 You may also check the traffic value of specific pages on your website. On the Site Explorer page, click 'Top Pages' under 'Organic Search'. Scroll down a bit to see the list of your landing pages, which should look like the above figure. You can sort them by traffic value to know which pages drive the most traffic and thus, accumulate the highest traffic value.
Conversion Rate
Tracking your conversion rate is indisputable as it measures the success of your campaign and gives you an insight into how your audience interacts with your website. Conversion is the point at which your visitors respond to your marketing message or call to action (CTA). This could be anything from purchasing an item to signing up for a free trial service or submitting a contact form.
A higher conversion rate means your marketing strategies are effective in driving the right traffic to your website and providing a smoother and more compelling experience to your visitors. On the flip side, any significant drop in conversion rates could be influenced by many factors, such as an unoptimised website, irrelevant content or unclear value propositions. Our expert SEO team at NUOPTIMA can help you achieve higher conversion rates for your website. Some of the many practices we make to boost your conversion rates include:
Optimising your website and landing pages to make them easier to navigate.
Fixing your website speed to avoid slow loading pages.
Making your website mobile-friendly.
Enhancing your web design and images to make a good first impression.
Targetting high-quality, organic traffic that converts to leads and buying customers.
How to Calculate Website Conversion Rate
Calculating your website conversion rates is relatively easy. Here's a handy mathematical formula to get your conversion rate:
Conversion rate = (number of conversions / total visitors) x 100
Let's say your page has 10,000 organic visitors with 3,000 conversions per month. If you follow the above formula, you will get 30%. That means 30% of your total visitors have taken your desired action(s).
To know your conversions and all sessions to your website, you may use tools like Google Analytics or HubSpot. Book a free discovery call with one of our SEO specialists, and we will help you track your conversion rates using those tools, so you won't have to pull out a calculator anymore!
Average Visit Duration
This metric enables you to estimate the amount of time visitors spend on each of your web pages. The average visit duration, also known as a session, is an excellent indicator of how compelling and engaging your copies are. Essentially, the longer your visitors stay on your landing page and explore other areas of your website, the more likely that they value your information and show intent to purchase your products or services. Shorter sessions typically suggest otherwise.
But, what is an ideal time on page? According to a 2021 survey conducted by Databox, the average time people spend on a certain blog is between three to five minutes. While that doesn't seem much, a few minutes is enough time for visitors to navigate your website and learn what it has to offer, as long as it is fully optimised. You can use this duration as a benchmark, but you don't necessarily have to meet it to be optimal. Aiming for more extended sessions is still paramount as it indicates more engaged visits, although it's not always the case.
For quick access to your monthly average visit duration, you may go to www.similarweb.com and type your website's URL into the search box. Similarweb is another useful tool that gives you a detailed overview of your website's monthly traffic analysis. Once you hit enter, go to the audience section to see your average visit duration.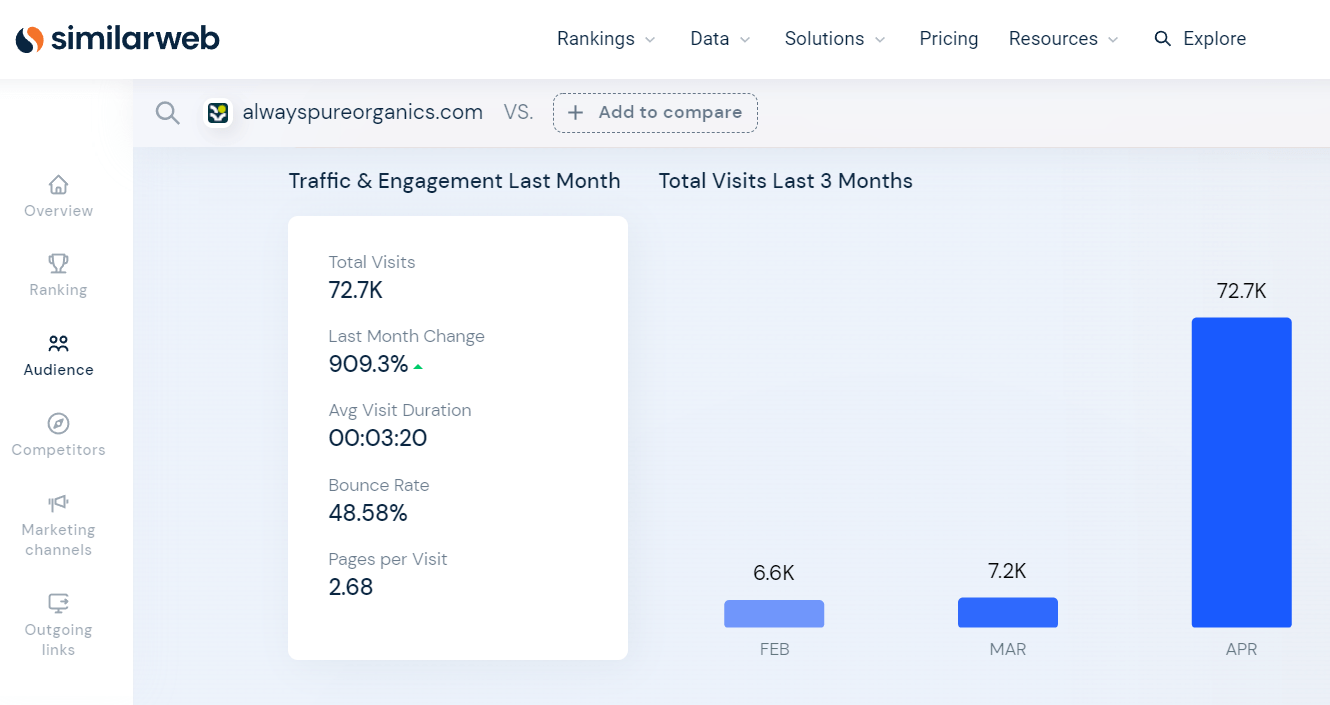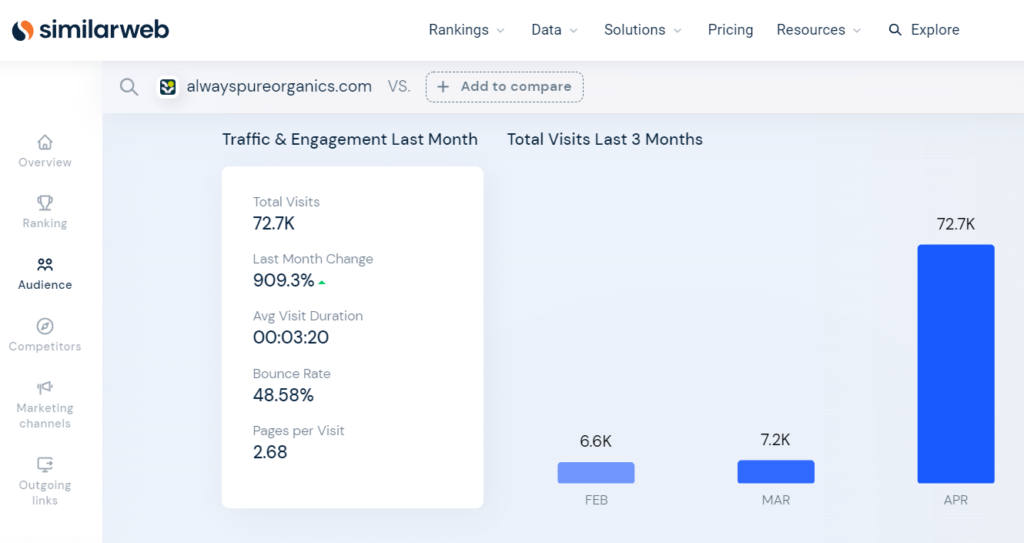 The above screenshot contains traffic and engagement data for another valued NUOPTIMA client, Always Pure Organics. We've been helping this website generate quality traffic by optimising its content marketing strategies. As you can see, it has accumulated more than 70 thousand visits over the last three months, with an average visit duration of about 3 minutes per page. We are very excited to help you achieve good results once you start investing in SEO, just like our clients. Let's keep in touch, and our expert team at NUOPTIMA will be happy to do the legwork of measuring your website traffic and analysing your overall engagement performance to see which areas of your previous marketing campaigns need some enhancements.
Final Thoughts
Analysing your website traffic and all other related metrics may seem like extra work. However, once you get started, you should see how your website is performing, what your visitors are actually doing on your website and how long they are staying on its pages once they arrive. From there, you'll have a clear insight into the methods you need to work on in order to improve your website, increase your organic traffic and reach your marketing goals.
Luckily, your search ends here if you're looking for a qualified SEO provider to do all that work on your behalf. All you need to do is sign up for a free discovery call with NUOPTIMA's top SEO specialists or drop your email, and we will reach out to discuss our services as soon as possible.
Talk to an SEO expert
We work with 100+ businesses. Book a slot now to talk to one of our experts.
---
FAQ
What is website traffic?
Website traffic is the estimated volume of people who visit a website or a landing page. There are two main types of traffic: organic traffic (visitors that come from organic search engine results pages) and paid traffic (those that come from paid search campaigns).
How do you measure website traffic?
There are several ways to track your website traffic. Analytics tools like ahrefs, HubSpot and Google Analytics are a good starting point for gauging your website's monthly traffic and overall performance scores.
How do you get traffic to your website?
SEO experts practise many different methods to help websites obtain good search engine rankings and bring in more traffic. Search engine optimisation is a lucrative way to attract high-quality, organic traffic that can convert into prospective and paying clients, providing sustainable growth for your website and business.