Icy Bear Achieves 9x ROAS and Remarketing at 17x ROAS with Facebook Ads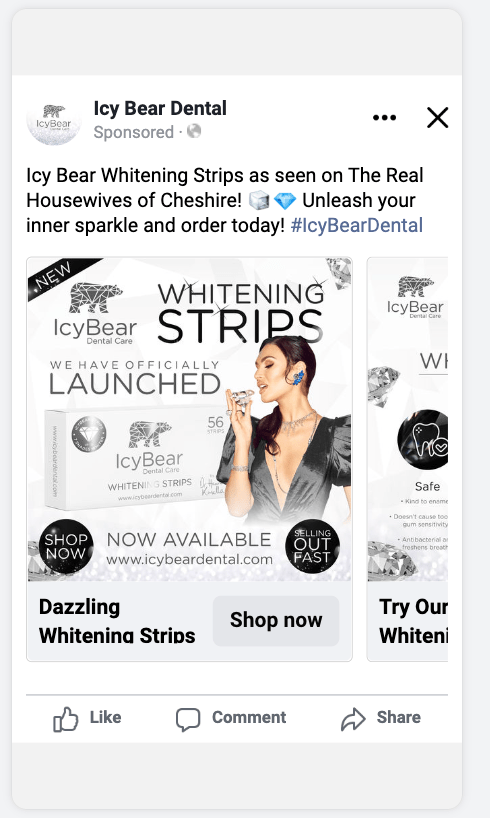 About Icy Bear
Icy Bear is a dental company that provides high-quality teeth whitening products in the UK. It was founded in 2020 by celebrity dentist Hannah Kinsella and has quickly become a popular brand in the UK market. With a focus on social responsibility, Icy Bear offers palm oil-free, SLS-free, and animal cruelty-free products that are all produced in the UK.
Icy Bear's product development is exclusively led by top dental professionals who work to keep the brand on the cutting edge of the market. The company's range of teeth-whitening products includes toothpaste, whitening strips, toothbrushes, and whitening gel kits. They have all been designed to provide customers with effective and safe teeth whitening solutions that adhere to strict dentistry guidelines.
With a commitment to social responsibility and a focus on staying at the forefront of the dental market, Icy Bear is poised to continue its success in the UK and beyond through strategic digital marketing.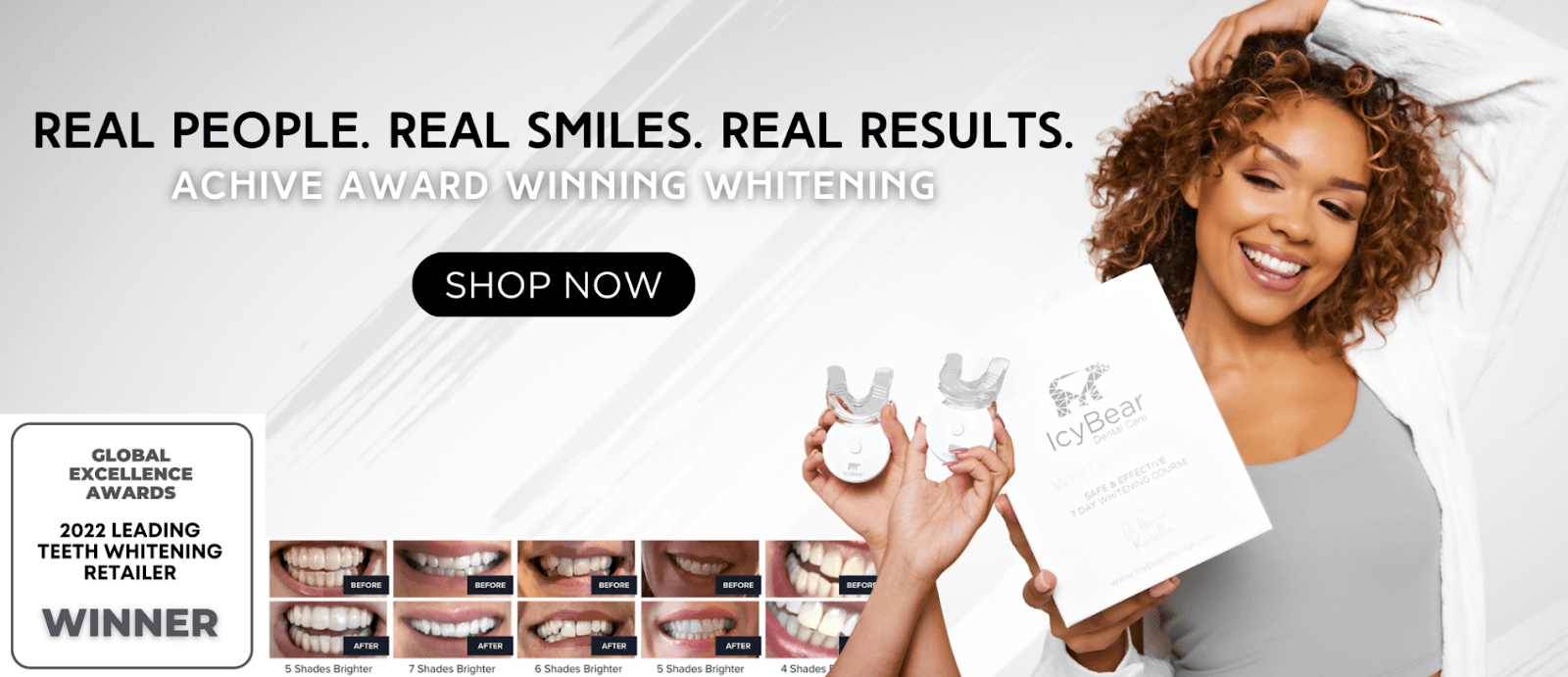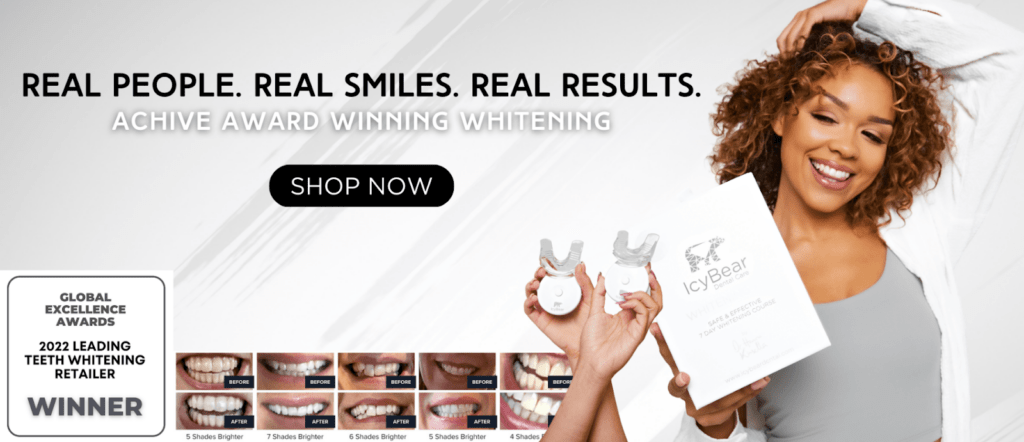 Team
Responsible NUOPTIMA Team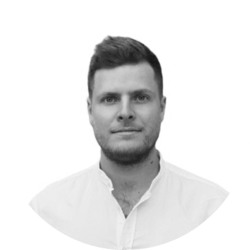 Viktor Bartak
Head of SEO
Shawon Das
PPC Manager
Icy Bear Team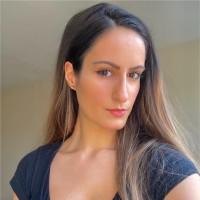 Sara H.
E-commerce General Manager
Action Plan
In order to reach and attract new customers, Icy Bear wanted to expand its presence on social media platforms and run sponsored posts on Facebook. By leveraging the power of social media, the company aimed to connect with its target consumer and build brand awareness among a wider audience.
To create a successful Facebook ad action plan for Icy Bear, we strategised around a number of key points, including the following:
Identified target audience: Mapped out the demographics, interests, and behaviours of their ideal target audience.
Developed ad content: Created engaging ad copy which featured high-quality images and videos to show off the benefits of Icy Bear's teeth whitening products.
Choose ad objectives: Selected appropriate ad objectives, such as brand awareness, lead generation, and sales, to ensure that the ads were optimised for the desired outcome.
Monitored ad performance: Regularly tracked the performance of the Facebook ads, including metrics such as click-through rate, conversion rate and ROAS.
Tested and refined the ad campaign: Continuously tested different ad copy, images, and targeting options to identify what works best for the target audience and made adjustments to improve performance.
By following these steps and continuously refining the Facebook ad action plan, we were able to reach and engage with its target audience, build brand awareness, and ultimately drive sales of its teeth whitening products.
Audience Targeting
Planning out audience targeting for Facebook is an essential part of any successful ad campaign, and it was particularly effective for a brand like Icy Bear. They have a celebrity founder known for her role in the Real Housewives of Cheshire, which means she already had an existing fan base. To take advantage of her celebrity status, we used Facebook's audience targeting features to reach audiences who show an interest in reality TV and celebrity culture.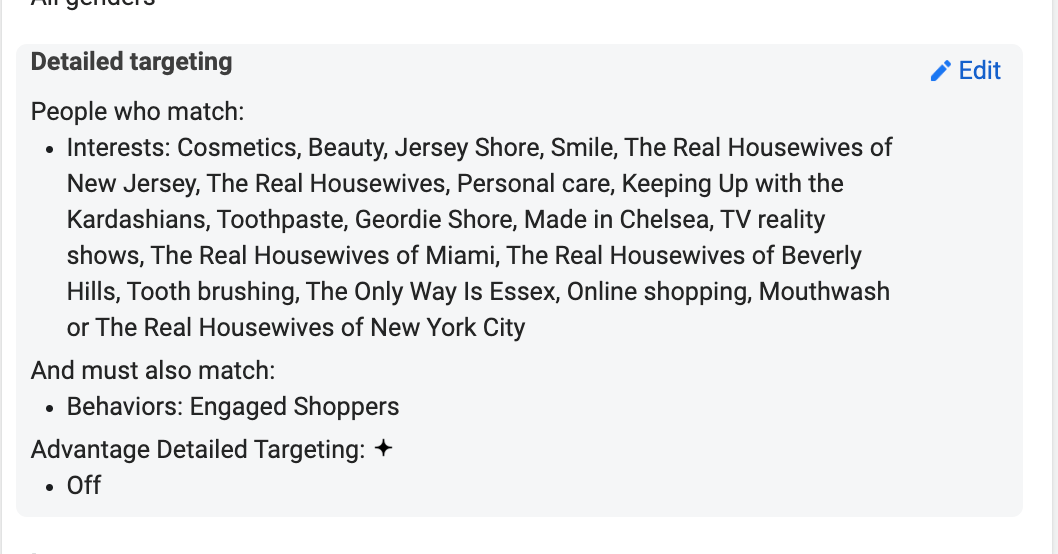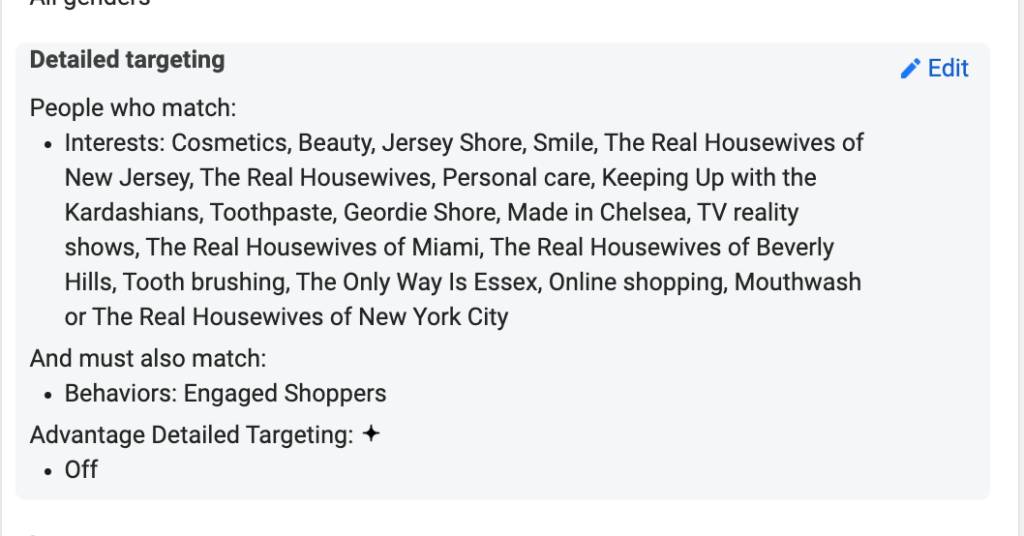 We also created a lookalike audience based on existing Icy Bear website visitors. This helped us reach new customers who have similar interests and behaviours to their existing traffic. These people are more likely to be interested in the brand and buy their teeth whitening products.
Another approach we adopted was retargeting web visitors via Facebook ads who did not make a purchase. With this method, we could get back in front of people who had already been attracted to the Icy Bear brand and try to hook them into completing a purchase.
Facebook Ad Creative
Product Images
When creating the product image ad copy, we ensured the text was engaging and contained high-quality images. The ad creative also showcased the fact that Icy Bear has award-winning products, which helps affirm the fact that they are a quality brand.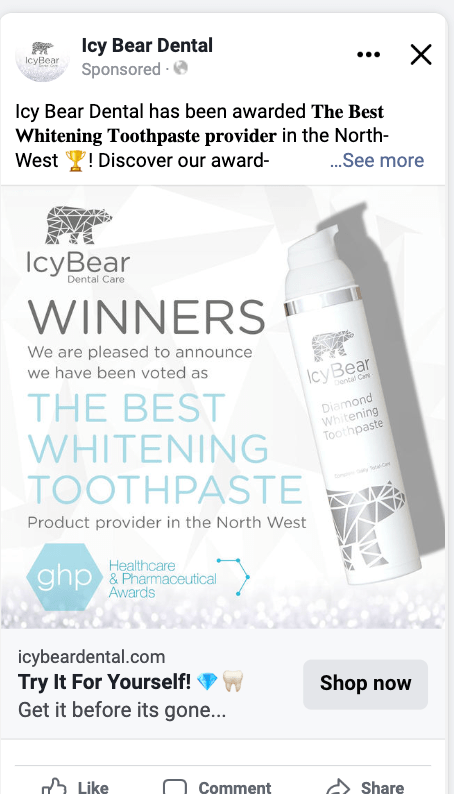 Carousel Ads
To make the carousel ads as appealing to the target audience as possible, we used models inspired by glamorous reality tv personalities. This helped the carousel ads tell a visual story while promoting the different Icy Bear products and their benefits.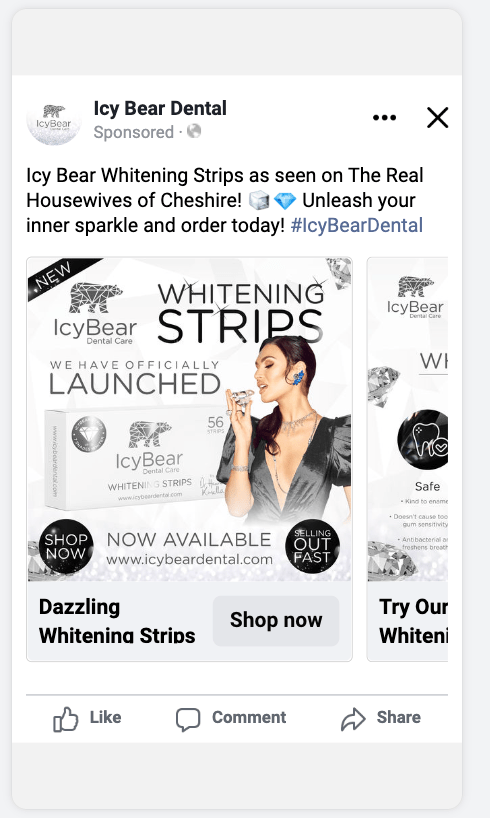 Influencer Content
We identified that Icy Bear's ideal customer would respond well to influencer content. These influencers were able to create short-form videos that appealed to their followers and helped spread awareness of the Icy Bear brand and products.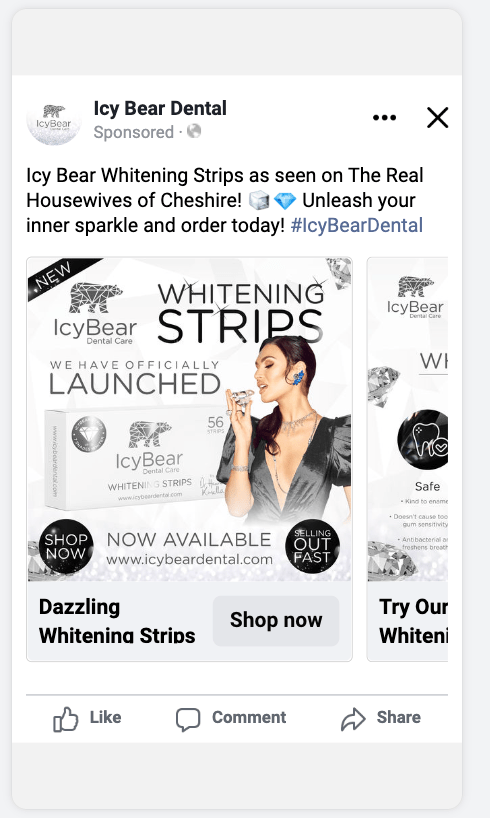 Results
£14.4K
Sales From Lookalike Ads
£6.3K
Sales From Remarketing Ads
Through ongoing monitoring and refining ad copy to appeal to Icy Bear's ideal consumer, we were able to reach new customers and retarget those that failed to initially make a purchase. They made £14.4k worth of sales in lookalike ads and a further £6.3k in sales from remarketing on Facebook. This equated to a total of 9X ROAS and 17X ROAS on remarketing with Facebook Ads.




Conclusion
The Facebook ad campaign implemented for Icy Bear was a success in increasing brand awareness and driving sales of their teeth whitening products. By targeting the right audience and using engaging ad creatives, the Facebook ads were able to convert over £20k worth of sales and a 9X ROAS.
The use of influencer marketing on Facebook also helped to increase brand awareness and reach new audiences while maintaining the brand's messaging and authenticity. In order to continue the success of the Facebook ads, it's important for Icy Bear to regularly analyse and optimise their ad targeting, ad creative, and messaging. This will help to ensure that the ads are reaching the right audience and driving the desired actions.
Overall, the success of the Facebook ad campaign showcases the effectiveness of social media advertising for small businesses like Icy Bear. By using the right targeting and creatives, small businesses can compete with larger brands and drive significant results.
>
Icy Bear Achieves 9x ROAS and Remarketing at 17x ROAS with Facebook Ads