Key Points
Performance-based SEO is a pricing model where a company pays for SEO only once they have seen certain results. While it might seem like a great idea, this technique might work initially but will prove to be detrimental to your website and your rankings in the long term.
Disadvantages to performance-based SEO include bad keyword targeting, hidden costs, use of black hat strategies, and quality content is not focused on.
While performance-based SEO is an option for your website, it is not recommended. It is far better to seek out a transparent SEO agency that has a comprehensive strategy, a partnership approach, excellent knowledge, and a realistic model. To discover how such an SEO agency can better assist your website, book a free discovery call with NUOPTIMA SEO agency today.
What is Performance-Based SEO?
Performance-based SEO is also sometimes referred to as pay-for-performance (PFP) SEO or pay-for-results SEO. Performance-based SEO is a pricing model where you pay for SEO only once you see certain results. Agencies that offer this type of service generally set goals based on traffic, revenue, or first-page keyword rankings. In theory, this sounds great; paying only when you hit particular metrics such as key performance indicators (KPIs) or target figures seems like an irresistible choice. However, despite the fact that it sounds like an excellent SEO practice, it is vital to know that tangible and severe risks are involved.
Does Performance-Based SEO Work?
While utilising performance-based SEO may initially seem tempting, the model itself involves serious risks and consequences. Companies that offer these services profit from the results and they won't be confident about earning revenue instantly as good SEO work takes time. It can often take up to 12 months and sometimes more.
Consequently, some performance-based SEO services use spammy techniques and black hat methods to gain the promised results faster so they can turn a profit. Black hat SEO techniques go against search engine guidelines and use unethical tactics to get a website ranking higher in search results. These tactics often result in a penalty from search engines and can even stop your site from appearing on search engine results pages (SERPs). The key takeaway is that while performance-based SEO may work initially, in the long term, it will be detrimental to your website and your attempts to rank high in SERPs.
Disadvantages of Performance-Based SEO Services
There are many reasons why performance-based SEO is not the best option for your website. In this section, we list some of the biggest reasons why you should avoid this practice.
1. Using SEO Rankings as a Success Metric
Naturally, a website's SEO ranking is a relevant and important aspect that should be monitored and analysed in detail. However, just tracking rankings will fail to give you total clarity of your overall return on investment (ROI). Many performance-based SEO agencies define your website SEO rankings as the desired results. It is essential to be aware that these rankings can be easily manipulated, and then the negative impact on your website will begin to unfold.
2. Using Traffic as a Success Metric
Performance-based SEO agencies tend to structure the success of a marketing campaign in terms of the increase of traffic on a site. But, while traffic does indeed play a part in a website's SEO success, there are more vital roles, namely conversion rates and experience. Plus, many companies manipulate these traffic figures using fake sources and users.
3. Bad Keyword Targeting
Performance-based SEO agencies will claim to target the top four or five keywords to drive significant traffic to your site, but this is not actually the case. Rather, they pick mid or long-tail keywords that might rank without difficulty but offer minimal value to your website. Many companies use tactics that sacrifice content quality in exchange for a fast boost in SEO rankings. If a site provides no value for its users, it simply cannot give value to your business, especially as Google considers user metrics to help dictate rankings. It is crucial to understand that Google's algorithms are constantly changing to bring websites that offer the most invaluable content to visitors. Therefore, proper keyword optimisation is a must for any marketing campaign.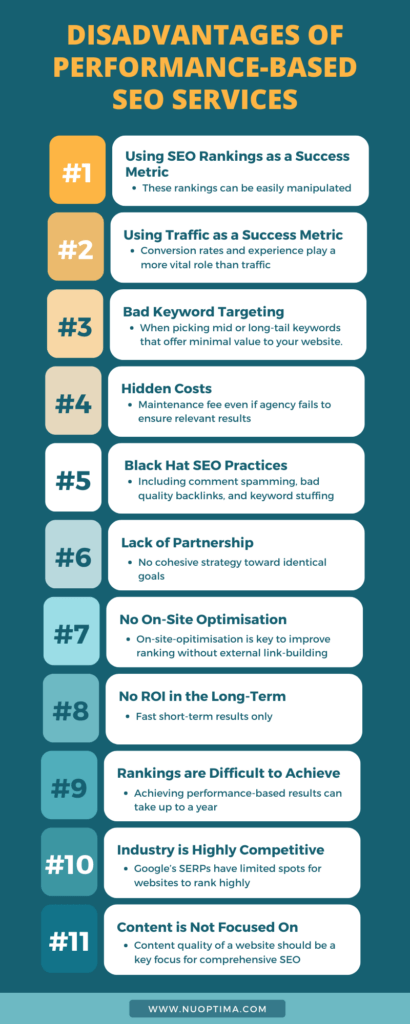 4. Hidden Costs
These SEO agencies will charge a set-up cost and investment. But, they often also charge a maintenance fee even if they fail to ensure relevant results. This means that you will be paying them an additional cost for zero return. Indeed, many performance-based SEO firms use deceptive pricing methods, leaving you paying a much higher sum than anticipated. The fine print should always be closely analysed as many of these firms also have a broad definition of the term "performance".
5. Black Hat SEO Practices
As touched upon earlier, results-based SEO companies use optimisation techniques that are unethical in order to provide the desired performance-based results to their customers (so they can charge them). These black hat SEO techniques include comment spamming, content spinning, bad quality backlinks, irrelevant directory submissions, and keyword stuffing. These practices violate Google's search quality guidelines. Even if these strategies appear to be delivering results, there is a real risk of penalisation. If your website is penalised, it is not impossible for your website to recover, but it will take time to do so, which means a loss of precious traffic.
6. Lack of Partnership
A reputable SEO agency will partner with you and your business so you can work together with a cohesive strategy toward identical goals. But performance-based SEO does not go along with this idea. These agencies will want to rank your website with minimal keywords, meaning you will not share the same goals and you will not achieve your business objectives.
7. No On-Site Optimisa
A key part of any comprehensive SEO campaign is on-site optimisation. This will help improve your website rankings on SERPs without needing to use external link-building. But, a performance-based SEO technique will fail to bring value to your site because it primarily relies on external link-building, and its focus is not on on-site optimisation.
8. No ROI in the Long-Term
A central issue with performance-based SEO services is that they do not have long-term goals for your site and instead focus on the short term. This means that they provide fast short-term results but without injecting any effort into generating an ROI in the long term. A thorough and more refined SEO strategy (involving much hard work) is what achieves continuous results and is what lets your website ranking get better over time.
9. SEO Rankings are Difficult to Achieve
Perhaps the most tempting aspect of a performance-based SEO company is that they claim they can improve your website rankings fast. But, it is undeniable that building an SEO campaign takes time. Plus, achieving performance-based results can take up to a year (often at least 11 or 12 months). This is because Google has limited spots on their very first page. Results simply cannot be achieved overnight, and any SEO expert worth their salt will be well aware it takes time for their work to display results. It is only after certain changes are made over a period of time that you will know if an SEO campaign was a success.
10. The Industry is Highly Competitive
As we have just touched upon, Google's SERPs have limited spots for websites to rank highly. There is high competition when running an SEO campaign. Therefore, it is clear that performance-based SEO agencies that make huge promises and claims are simply far too good to be true. You should not trust any such agency that makes these claims. There is absolutely no way to prove that their services will give you actual results in the long term. It is important to be aware that they might be making false claims to gain clients.
11. Content is Not Focused On
The optimal way to ensure your website is search-engine friendly is to make unique content that is of high quality, and that is relevant to trending search entries. Performance-based SEO, however, only looks at keywords and links to attain fast results. The content quality of a website should not be underestimated and should be a key focus for comprehensive SEO. Content quality is one of the most vital factors in SEO, more so than keywords.
What to Look For In an SEO Agency
While performance-based SEO is a potential option, it is crucial to know that the chances of finding a reliable agency that provides these services are low. Even if you did manage to locate a reputable performance-based SEO agency, it is impossible to know for sure if you will get a good ROI in the long term. There is risk involved, always.
For this reason, it is highly recommended that you seek out an alternative SEO strategy and agency. There are some key aspects to look for when considering an SEO agency: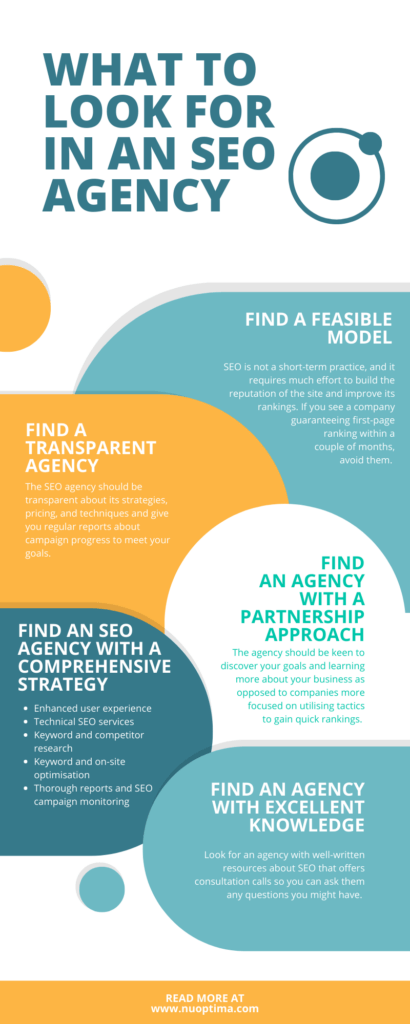 Find a feasible model. As we have mentioned, SEO is not a short-term practice, and it requires much effort to build the reputation of the site and improve its rankings on search engines. Therefore when considering an agency, look for a realistic model. If you see a company guaranteeing first-page ranking within a couple of months, avoid them. Look for an agency that is interested in long-term goals.
Find a transparent agency. It is crucial to establish a relationship with an SEO agency that is both forthcoming and transparent about its strategies, pricing, and techniques. The agency should also give you regular reports when the campaign progresses to meet your goals. An SEO agency that is both open and honest about its work is a must.
Find an agency with a partnership approach. It is key to locate an SEO agency that cares about discovering your goals and learning more about your business as opposed to companies more focused on utilising tactics to gain quick rankings. You should feel like you are in a partnership with the SEO agency that you choose, and the agency should be focused on achieving success for your website.
Find an SEO agency with a comprehensive strategy. It is far better to seek out a company with a comprehensive SEO strategy than to go for a results-based one. A complete, holistic approach should be sought out rather than one that just focuses on certain metrics and keywords. It is a great idea to look for an SEO agency that offers the following.

Enhanced user experience
Technical SEO services
Keyword and competitor research
Keyword and on-site optimisation
Thorough reports and SEO campaign monitoring

Find an agency with excellent knowledge. An SEO agency's website will inform you of how knowledgeable they are. Look for an agency with well-written resources about SEO that offers consultation calls so you can ask them any questions you might have. This will indicate the depth of their knowledge and what it would be like to work with them.
Final Thoughts
Performance-based SEO is a pricing model where a company only pays for SEO when certain results have been provided. However, while this might seem like a fantastic idea, it is not without substantial risk and will prove to be detrimental to your site and its rankings in the long term. It provides fast results but has no consideration for repercussions or consequences. There are many disadvantages associated with performance-based SEO, including bad keyword targeting, hidden costs, the high use of black hat strategies, and a lack of focus on quality content. Good SEO takes time. Ultimately, performance-based SEO is not recommended. Instead, it is better to opt for a reputable SEO agency that offers a comprehensive strategy with a partnership approach, is transparent, has excellent knowledge, and presents a feasible model. NUOPTIMA is a qualified SEO agency that provides all of these benefits. Book a free 15-minute discovery call with our expert team today to explore how we can assist your website with our reputable SEO strategies and techniques.
Talk to an SEO expert
We work with 100+ businesses. Book a slot now to talk to one of our experts.
---
FAQ
What is performance-based SEO?
Performance-based SEO is a pricing model where a business only pays for SEO once certain results have been attained, such as when target figures or key performance indicators (KPIs) have been reached.
Does performance-based SEO work?
While it may seem like a fantastic idea, it is important to understand that while this technique may assist your website in the short term, it will end up being detrimental to your website and its rankings in the long term. Furthermore, numerous disadvantages are associated with performance-based SEO, including bad keyword targeting, hidden costs, the high use of black hat strategies, and a lack of focus on quality content. For this reason, performance-based SEO is not recommended.
What should I look for in an SEO agency?
It is best to seek out a knowledgeable SEO agency that is transparent, has a comprehensive SEO strategy, has a partnership approach, and presents a feasible and realistic model. NUOPTIMA is a qualified SEO agency that offers all of the above. Book a free consultation call with us today to explore how we can use our expert SEO services to improve your website and business.