If you are the owner of an artificial intelligence company, you will be well aware that it does not only involve integrating artificial intelligence innovation. There are countless other business-related challenges that you need to tackle daily. One of the most important of these challenges is finding and gaining new customers. With society very much technology-minded, an increasing number of people are choosing to use the internet to find particular services. Naturally, AI companies fall under this category. For this reason, it is a fantastic idea to optimise an efficient website for your AI business to help secure new customers and keep your company thriving.
When it comes to attracting people to your online website, there are various approaches you can choose to take. For example, you have the option of pay-per-click (PPC) adverts, social media marketing, and search engine optimisation (SEO). Each approach has different advantages and disadvantages, which should be carefully considered.
Looking at PPC ads and social media marketing, a primary advantage is that these options will provide you with fast results because you will start to get website visitors as soon as the advert campaign has begun. However, these options are not cheap, and a primary disadvantage is that they do not provide you with benefits or results in the long run. It is important to remember that with these choices, new site visitors will only continue coming to your website as long as the advertising campaign is still being paid for.
But the third option, search engine optimisation can often take several months before results become apparent. However, by using SEO techniques and services, the positions of your website in search results will unequivocally improve and bring more organic traffic to the site. Furthermore, one of SEO's key advantages is that your website will keep these positions even if you decide to cease using SEO services in the future. Unlike PPC and social media marketing, you can continue getting free traffic indefinitely.
Therefore, if we consider the long-term, SEO services are by far a better option than dishing out large sums of money for either PPC ads or social media marketing on a yearly basis. Moreover, customers generally trust your business more if they find your website organically through search engine results instead of simply seeing an advert for your AI services. This is significant.
You might now be asking whether AI businesses are actually able to draw new customers to their online websites and services by using SEO techniques. While the answer is a resounding yes, below, we will show you just how powerful an effective SEO strategy can be for your business and its success so you can see for yourself.
Search Demand for AI on Google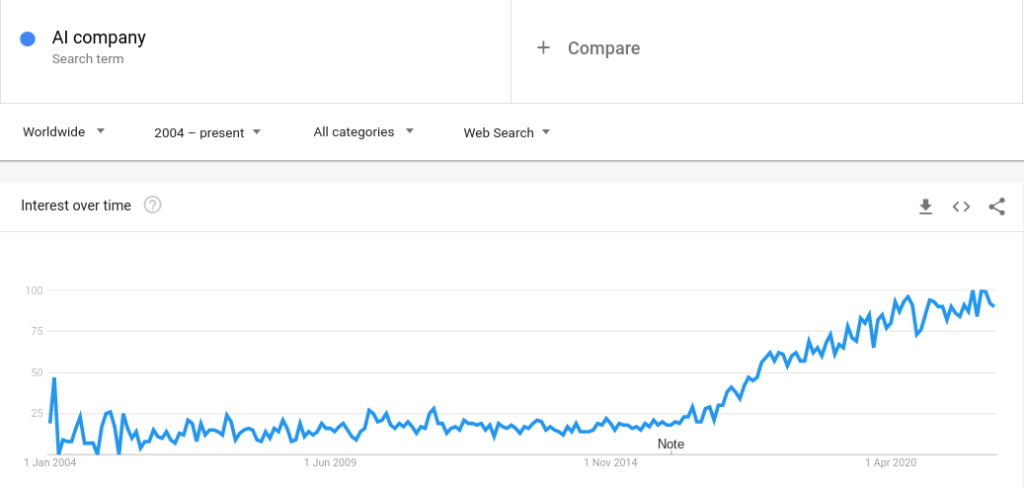 Our first screenshot above demonstrates that there has been both significant and clear worldwide growth for the search term 'AI company' from 2004 until today. This presents that an increasing amount of people are seeking out AI companies online every year, demonstrating more interest and popularity. This means that if you choose to use an SEO company to assist your AI website in search engine results, you will be in a fantastic position to keep getting an increasingly high return on investments (ROIs) for years to come. This is especially true as both PPC and social media adverts are only becoming more competitive as well as costly.

Now we turn our attention to Google search data for the term 'artificial intelligence'. The results show much encouragement. People search globally for this term on average 624 thousand times a month! An approximated 225 thousand of these searches originate from India, 80 thousand from the United States, 23 thousand from the Philippines, and 20 thousand from the United Kingdom. Therefore, it is clear that a vast amount are looking for AI services in different countries on a daily basis. This is further cemented by the above evidence that there is substantial traffic potential. By choosing to use SEO services, you can attract tens of thousands of visitors to your AI website every single month!
There Are Many Search Terms Used to Find AI Companies
A critical aspect of SEO is keyword research. SEO experts consider search queries and decide which pages need to be made and optimised on the website for keyword usage in order to attract the maximum amount of traffic. Part of this process is understanding that search terms such as 'artificial intelligence' and 'AI company' are only two possible phrases that people might use when searching for AI services. There are countless other phrases and keywords that might be used. Below, we offer several examples of search queries that people enter on search engines when looking for AI-related services:
'Artificial intelligence company in…' + location. For instance, 'artificial intelligence company in Liverpool'.
'AI…' + a particular service. For example, 'AI facial recognition' or 'AI voice to text features'.
Descriptions of various AI capabilities such as smart assistants, disease mapping, and self-driving cars.
To demonstrate further just how many search terms are used by people seeking out AI companies, we have gathered some screenshots below to show the average monthly search volume for a range of AI-related keywords. You will see that hundreds of thousands of people are searching for these keywords every single month. Therefore, if an AI website has been SEO-optimised efficiently, it can draw thousands of free visitors each month purely by showing up for these keywords on search engines.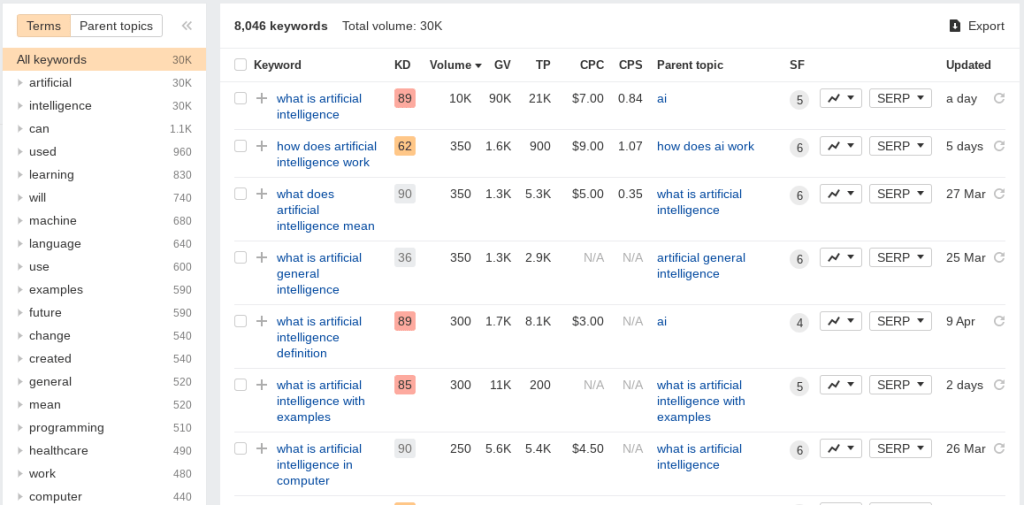 SEO is Already Providing Fantastic Results for Other AI Companies
As we have already touched upon, effective SEO can bring phenomenal results. Not only can it assist websites in showing up higher in search results, but it also has the potential to save website owners huge sums of money on advertising every month. To demonstrate just how effective SEO can be for an AI company, we present a couple of examples of AI websites that are enjoying an incredible return because of their utilisation of SEO techniques below.

The first AI website we are considering is www.livehealthily.com. This AI company uses artificial intelligence to check symptoms dynamically against health conditions and let the user know if an appointment is necessary. If we look at the average traffic value, we can see it is $288,000 per month. This is how much money the website owner would need to spend every single month to purchase the same traffic they get naturally from contextual advertising systems such as PPC adverts. In simple terms, Healthily can conserve $288,000 every month purely because their website has great positions in search results. The website also enjoys a whopping 1.3 million average monthly visitors! This number shows the amount of people who visit the website after seeing it appear in their search engine results. Let's now look at which pages for this website draw the majority of traffic: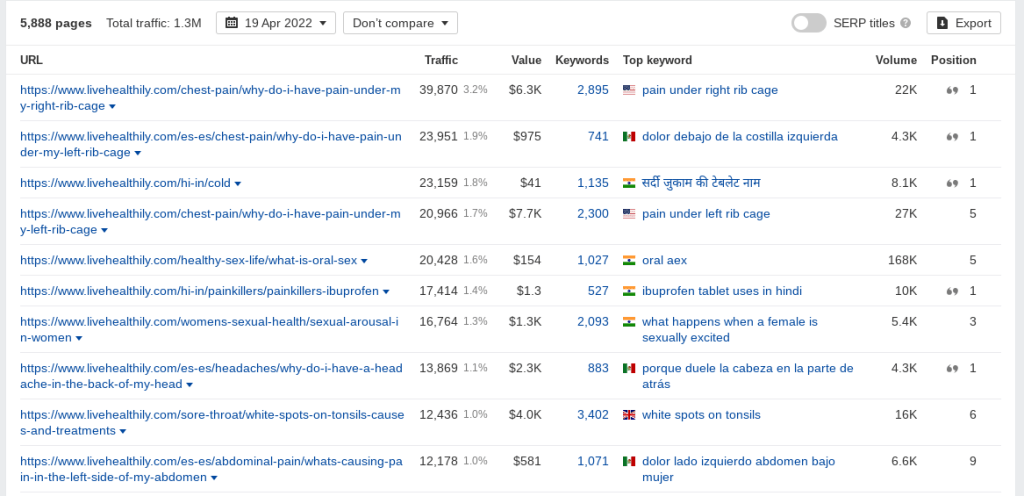 This image shows that there is a large number of different pages that collect traffic from Google, and in different countries. This is important to note. A well-versed SEO expert can look at the pages that are currently on competitor websites and your website, optimise existing pages to draw even more people to your website, and make new pages that will bring as much organic search traffic as humanly possible. While this is a vital aspect of SEO work, it is only one part of SEO agency work, and there are many other ventures that SEO experts undertake to help promote websites.
Now that we have considered this highly successful AI website, what will the results be when we look at a more recently founded AI company with a different type of artificial intelligence on offer? The results are shown below.
Founded as recently as 2017, www.synthesia.io generates audiovisual content and allows users to instantly turn an online presentation into an AI video, essentially offering enhanced virtual storytelling. And once again, the results look highly impressive. Synthesia attracts 193 thousand organic visitors to the website every month. It also ranks highly on Google for the search term 'AI companies London' as well as numerous other keywords. If we look at the traffic value, it is an eyebrow-raising $37,200. Therefore, this AI company receives almost $40,000 worth of free traffic from Google. This means that the company can save this money, which would otherwise have been spent on PPC adverts.
If you consider the concept of PPC ads, it basically involves spending money to buy traffic. Your traffic will therefore stop once you stop paying for PPC adverts. However, if you utilise SEO services, not only will you maintain your search positions, but you will keep getting traffic to your website even if you stop using SEO services. Therefore, by choosing an SEO agency for your website, you will end up saving money, keeping the traffic to your website, and boosting your site rankings on Google without the stress and cost of regularly spending money on advertising channels.
Let's look now at the pages that bring the most visitors to the Synthesia website: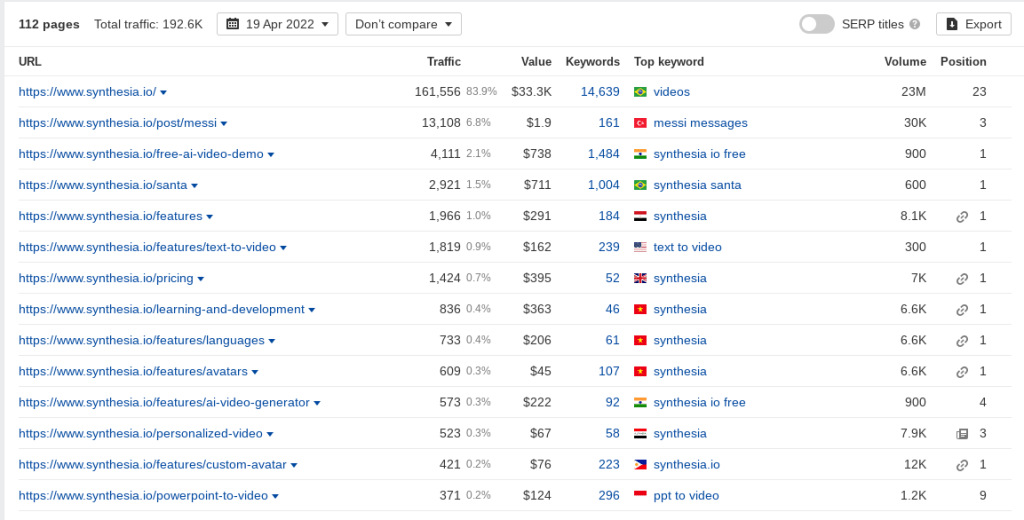 If we now consider some of the top keywords mentioned, we can see that they include 'text to video', 'messi messages', and 'ppt to video'. We bring this to your attention to demonstrate the substantial variety of keywords that can be used to collect free organic traffic on Google. Of course, every company wants more business, and qualified SEO agencies can do this by creating, optimising, and promoting pages effectively.
What Does an SEO Agency Do?
SEO is a great investment for artificial intelligence businesses, but it is important to realise that it is not easy and requires hard work, skill, and knowledge. This includes SEO for websites that provide services, such as AI. Remember, Google has very high standards to prevent low-quality websites from attaining the very best positions in search engine results. NUOPTIMA has been helping brands with SEO in various industries for numerous years, including startups, SaaS, e-commerce, and AI companies. This displays our wide-spreading capabilities. We know what needs to be done to get your website flourishing on the very first Google results page. Below we detail just a few things that we can do to improve the Google ranking of your AI company:
Create all the pages needed to help your website get as much organic traffic as possible.
Create SEO-optimised content so your website can rank for more keywords on Google.
Get link placements on reputable AI company directories.
Optimise pages that already exist to make sure that they follow Google's best practices and rules.
In conclusion, efficient SEO can bring enviable results if done both properly and correctly by suitable experts. NUOPTIMA has a large expert SEO team that helps your website get the best results possible. To explore how we can use SEO to attain outstanding results for your AI business and website, book a free consultation call with our professional team today.
Talk to an SEO expert
We work with 100+ businesses. Book a slot now to talk to one of our experts.