Obtaining new customers is vital if any business is to succeed. As a result, many businesses are working on creating and optimising their websites in order to attract more customers or clients to their company. A business-to-business (B2B) company is no different.
Once a website has successfully been made, you will want to find ways to bring customers to your website. Several methods are used to do this, and the three primary options are search engine optimisation (SEO), pay-per-click (PPC) ads, and social media marketing.
Each option has different pros and cons. For example, a core benefit of both PPC adverts and social media marketing is that you will witness results immediately. The moment your advertising campaign has begun, you will notice a distinct increase in visitors flocking to your website. However, these options do not come cheap, and they require substantial sums of money to maintain high traffic to your site each year.
Moreover, as soon as you decide to stop your advertising campaign, you will notice a drop in visitors. The benefits of PPC and social media ads only last for as long as you pay for them. Therefore, there is no long-term benefit to these options.
However, search engine optimisation has varying positives and negatives. The main con with SEO is that it generally takes several months for results to show. However, your website positions within search engine results will undoubtedly improve and draw more organic traffic to your business website by using an SEO strategy. And — unlike PPC ads and social media marketing — your site will keep these positions even if you decide to stop paying for SEO services in the future. Using a comprehensive SEO strategy means you can continue getting free traffic even if you no longer use SEO techniques, but with PPC and social media ads, this will not happen.
Furthermore, a customer will have more trust in your business if they find it organically in their search engine results as opposed to seeing an advert for your company pop up. For these reasons, SEO is seen as the superior method. But, just how effective can a watertight SEO strategy be for a B2B company and its affiliated website? This article will demonstrate how beneficial SEO services can be for your company. The following section looks at online search demand for numerous B2B niches.
Online Search Demand for Common B2B Niches
As there are numerous types of B2B businesses, below are several examples of global search demand for a handful of B2B niches.

The first niche to consider is packaging businesses. The image above presents global search demand for the keyword 'packaging'. People search for this term worldwide 261 thousand times a month. 26 thousand of these searches occur in Argentina, 23 thousand in the United States (US), 22 thousand in India, and 17 thousand in Spain. This shows impressive search demand across many different countries on a daily basis.

The second niche is healthcare. There are 77 thousand searches globally every month for the phrase 'medical supplies'. 46 thousand of these searches originate from the US, 4.4 thousand from the Philippines, 4.2 from the United Kingdom (UK), and 3.9 thousand from Canada. Once more, this displays healthy search demand across numerous countries.

The final common niche to consider is food. For the search term 'wholesale food', there are 26 thousand global searches each month. Most of these searches are from the US with 15 thousand, followed by the UK with two thousand global searches. There are numerous other countries with good global volume for this keyword.
This information, therefore, shows that SEO services can benefit your B2B business regardless of the niche that it falls under. A reputable SEO agency can examine this data and use it to increase your website's popularity and success. Remember that both social media marketing and PPC ads are becoming increasingly competitive and costly, so by choosing SEO, you can attract thousands of visitors to your site each month without pulling at the purse strings. You will also be in great stead to receive an increasingly strong return on investments (ROIs) for numerous years in the future.
People Enter Numerous Search Terms to Find B2B Companies
Keyword research is one of the core aspects of excellent SEO work. Keyword research is when an SEO agency analyses search terms before determining which pages need to be created and optimised on your website for keyword usage. This is so the maximum traffic possible is brought to your site.
Put simply, words such as 'wholesale food', 'medical supplies', and 'packaging' are just one potential search entry people might use when looking for these services. There are, of course, many more keywords people might feasibly use when seeking out a particular service or product. To demonstrate, below is a list of several examples of queries that people might enter on a search engine when looking for a B2B company:
'(Product or service) for…' + a number of employees. For example, 'wholesale food for 500 employees'.
'(Product or service) for…' + a particular reason. For instance, 'packaging for perishable goods' or 'medical supplies for a sexual health centre'.
Searches for particular products or services. For instance, 'packaging for fragile materials', 'vegetarian wholesale food', or '5ml medical syringes'.
General queries such as 'best packaging material for heavy items' or 'best food wholesaler for a medium-sized business'.
As shown, there is a significant variety of possible keywords that could be used by people looking for B2B products or services. This is displayed further below. The following screenshots show the average monthly search volume for packaging-related and medical supply-related keywords.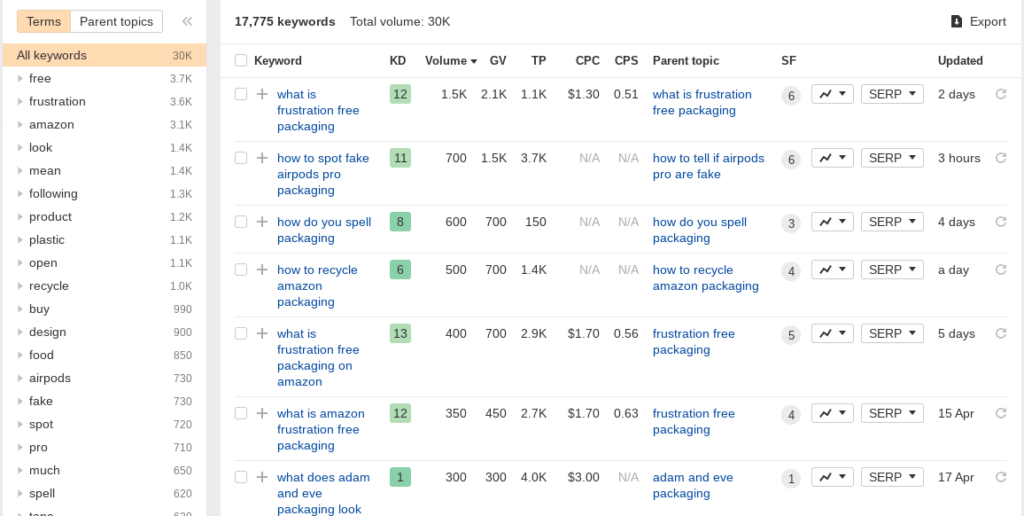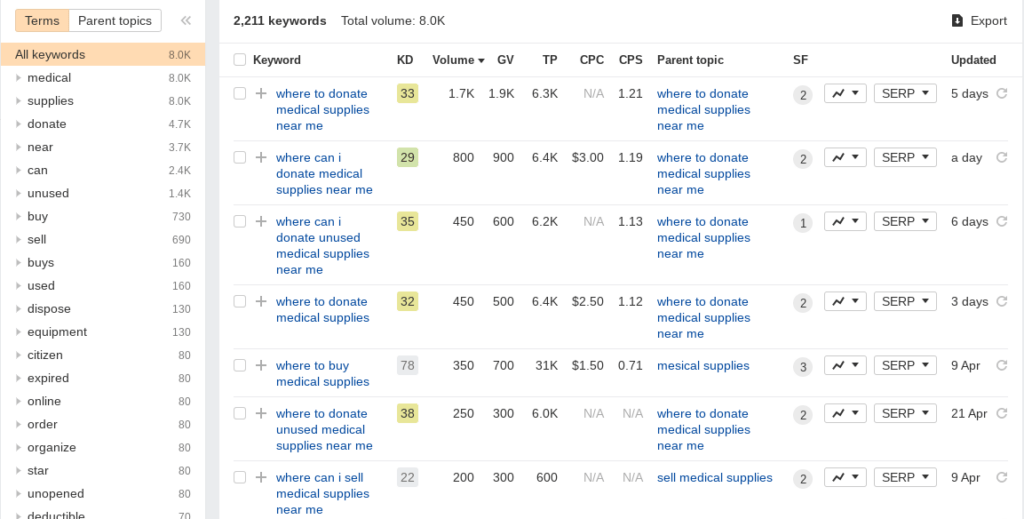 Countless people are entering these search terms every month. It is imperative to be aware that potential customers and clients can be attracted to your website if you efficiently incorporate these keywords into search engines. Therefore, it is highly recommended to utilise an expert SEO agency to optimise your website so you can take advantage of the substantial search demand.
Other B2B Companies are Already Seeing Fantastic Results from SEO
SEO is an excellent option because it can give you great results. For instance, it can assist your website in appearing higher up in search results, and it can help you save lots of money on advertising services. Consequently, this means that your site will have improved visibility without relentlessly stretching your finances. Next, we consider a couple of B2B businesses enjoying a fantastic return because they have utilised SEO techniques effectively.

The first example is a B2B packaging business called Packlane. Founded in 2015, this company allows small businesses to design and order custom packaging and boxes online. The organic traffic for the website is 44.2 thousand each month. This denotes the number of people who visit www.packlane.com after seeing it pop up in Google search results.
The traffic value is a highly impressive $125,000 a month. This number conveys the amount of money that would need to be spent each month to purchase the identical amount of traffic that the company gains naturally from contextual advertising systems (for example, PPC ads). As a result, Packlane can conserve $125,000 each month purely because its site has wonderful positioning on Google's search engine. The following image presents what pages for this business draw the most traffic: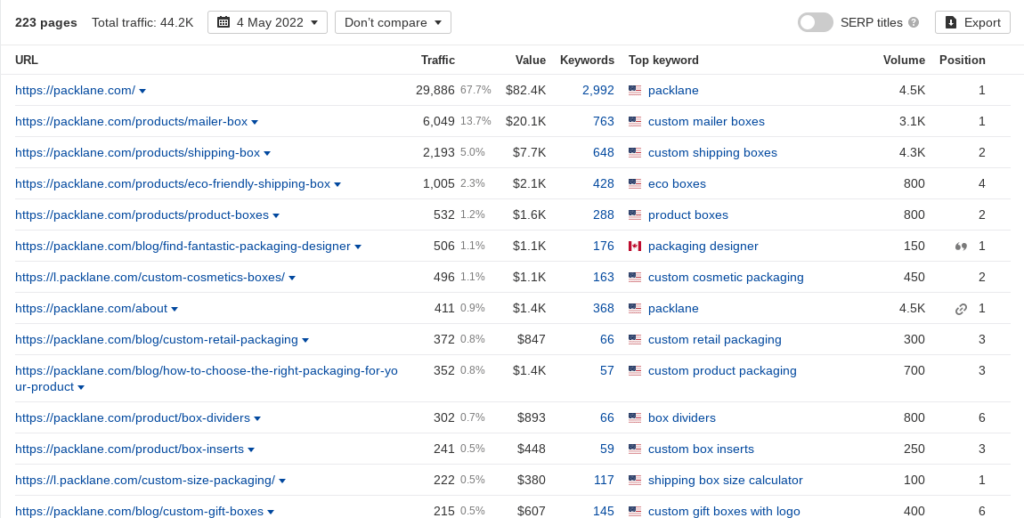 Numerous pages collect traffic from Google for this website, including blog pages. An SEO expert can look at the pages on your site (and competitor sites), optimise pages that already exist to draw further people, and make brand new pages to draw the most organic search traffic possible. This is just one aspect of SEO work, and SEO agencies use many other techniques to both promote and help websites fulfil their potential.
But what if we consider a company in a separate B2B niche? Is SEO still a viable venture? Next is data on a medical supply B2B company, and the information will prove that SEO is still very effective.

Our second example is MedicalExpo, a B2B marketplace for medical equipment, founded in 2012. The organic traffic value for this site is 188,000, which shows a high amount of natural monthly visitors to this website. www.medicalexpo.com ranks very highly on Google for the search term 'medical supplies B2B' and numerous other keywords. The traffic value for this website is $91,200. This, therefore, means that MedicalExpo gains over $90,000 of free traffic! Plus, this is money that they can save instead of spending it on expensive PPC or social media adverts.
PPC ads have a straightforward concept. You pay money in return for increased traffic. However, this means that the moment you stop paying for these adverts, you will no longer see increased traffic.
This is why SEO is seen as a better option. A great SEO strategy allows you to keep your search positioning within search engines and draw traffic to your website even after you have ceased using SEO services. Therefore, this equates to saving money, continued good traffic to your website, and boosted website rankings on Google. Moreover, this can be accomplished without regularly spending money on various advertising channels. The following image demonstrates which pages draw the majority of visitors to this website: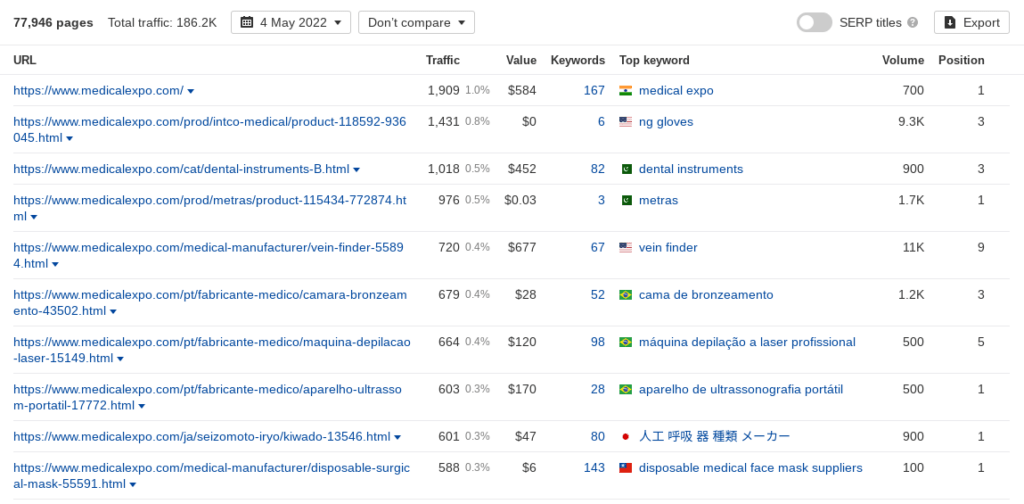 As with the previous example, many pages collect traffic for this website from the search engine Google. There are also various top keywords, including 'dental instruments', 'vein finder', and 'disposal medical face mask suppliers'. This means that a large number of keywords can be utilised to attract free traffic on Google. SEO experts collect all this information about your website (and its related pages) so that these pages can be created, optimised, and promoted effectively. All this will lead to an increase in visitors and business for your company.
The key takeaway from this is that regardless of the niche that your B2B company falls under, your website and your business can highly benefit from a watertight SEO strategy.
What Does an SEO Agency Actually Do?
Google possesses very high standards for its search engine. This is so that poor quality websites do not reach the best positions in search results. Therefore, expert knowledge and professional SEO services are required to help your website be as effective and attractive as possible.
NUOPTIMA is a highly reputable SEO agency providing SEO services to brands in a range of industries for many years. Our work has included providing services for businesses in the e-commerce, SaaS, medical industries, real estate, and much more. Therefore we have a wide variety of skills and knowledge within many business industries.
NUOPTIMA knows precisely what to do to get your website on the very first page of Google's search results. Below are several examples of what we can do to help your B2B company's Google rankings improve:
Create any pages needed to help your website draw as much organic traffic as possible.
Organise link placements on reputable and relevant directories. For instance, a medical supply business could be listed on B2B medical company aggregator websites.
Optimise existing pages to comply with Google's best practices and rules.
Create content that is SEO optimised so your website can rank for further keywords on Google.
A comprehensive SEO strategy provides outstanding results when undertaken by qualified experts. NUOPTIMA has a professional SEO team that can help your website achieve the very best results possible. To explore how we can incorporate SEO techniques to gain fantastic results for your B2B company, book a discovery call for a free consultation with our team today.
Talk to an SEO expert
We work with 100+ businesses. Book a slot now to talk to one of our experts.