Providing events with world-class buffet services is a vital ingredient of a successful catering business. However, competition for a lucrative bite of the corporate and private market is fierce. It would help to spice up your marketing efforts to stay in the game and get the ball rolling with more sales.
Today, word-of-mouth marketing is no longer the go-to method for caterers to attract more clients. The internet is phenomenally the largest and most competitive marketplace in the world. It's no coincidence that business owners are now maximising various search engines and social networks for better audience engagement.
There are several ways to get your business noticed online. Some of which include pay-per-click (PPC) ads, social media marketing (SMM) and search engine optimisation (SEO). The former involves website owners paying a fee each time their ads are clicked. Technically, it's a process of buying visits to your website. You can place ads on various networks like Google, Youtube and more. Ad placements on social media platforms are then referred to as social media advertising. That is just one of the many techniques that utilise the power of social media channels to achieve marketing goals.
PPC and social media ads mutually provide websites with instant traffic as soon as the campaign kicks off. However, traffic stops growing once these methods are halted. Thus, paid advertising can be costly over time. When not done with care, your business could suffer a negative return on investment (ROI) for pricey marketing efforts that do not deliver long-term organic results.
SEO methods give websites a better chance of being found online. Intriguingly, more people trust organic search results than spammy display ads. Thus, by investing in SEO, you can establish your website as a safe and reliable place to find information online. This results in greater visibility, ranking and traffic for your catering website and business.
Why Is SEO for Caterers Important?
SEO is a long-term marketing strategy. It often takes a few months to start seeing excellent organic results. Nonetheless, consistency with your SEO efforts is vital to get your desired positions and increase ROI for your business in the long run. Take note that you're not buying clicks in SEO, which saves you hefty sums of funds that would otherwise be invested in paid advertising just to get the same potential results.
Nevertheless, can caterers really sway more visitors to their website using SEO? It certainly can! The next portion of this article covers all the necessary information about SEO for caterers. These data will highlight the growth potential for a well-optimised catering website.
Search Demand for Caterers on Google

The above image contains Google search data for the keyword 'caterer'. In case you missed it, global search volume is simply the average number of times that a certain keyword or phrase is sought on Google every month. The United Kingdom alone contributes about 27 thousand inquiries for 'caterer', that's more than half of its monthly total search volume. So if you're based in the UK, there's a high chance to connect with a vast population looking for catering services in your area once your website obtains good positions on Google.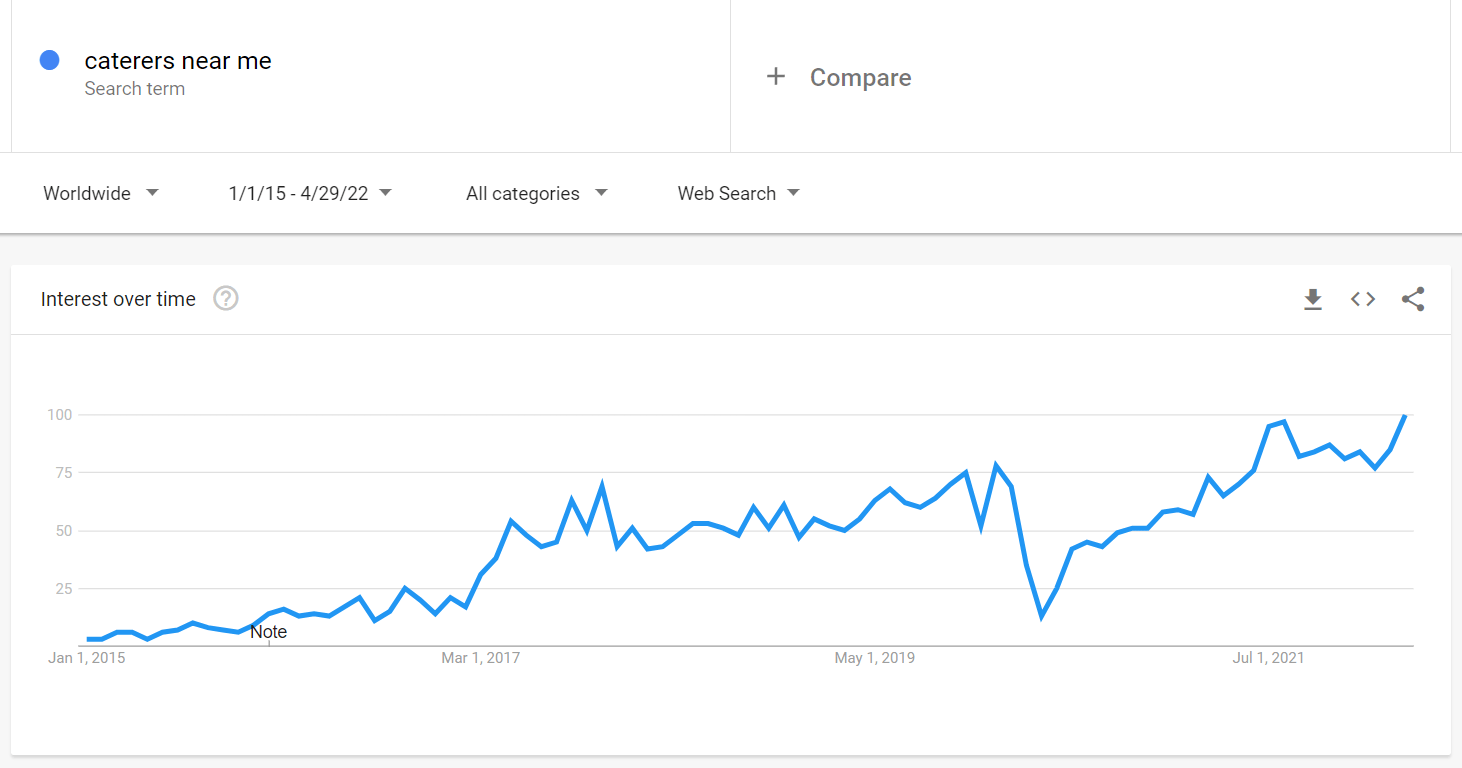 This Google Trends screenshot demonstrates a measurable growth in popularity of the key phrase 'caterers near me' over the last seven years. Starting at the bottom line, the search intent for 'caterers near me' has climbed one step at a time, reaching its highest position yet in early 2020. Unfortunately, the COVID-19 pandemic has influenced many cultural activities and events worldwide, causing the need for catering services to plummet. But, it didn't take long until the industry saw ways to recover and rise toward its current peak popularity. It's best to start investing in SEO now, as paid advertising tends to become pricier and more competitive, with search interest consistently growing every year.
People Use Bunches of Keywords to Find Caterers
Keyword research is practically the main course of any SEO campaign. This method provides SEO professionals with valuable insight into the exact terms and queries your target clients are actively searching on Google. They will then analyse the competitiveness and traffic potential of those keywords to ensure the success of your campaign. When searching for catering services, prospective clients may key in the following search terms:
'Caterer near me'.
'Caterer in…' + location: 'caterer in London'.
Caterers specialising in specific events: 'wedding caterer'.
Questions about catering services: 'how much does wedding catering cost'.
Those are just a handful of so many keywords and phrases people may use to find caterers. It's worth exploring other terms related to your business to reach appropriate audiences across the web. For instance, engaged couples may search for 'hotels', 'party supplies' or 'wedding cakes' online. Your SEO provider will harness those keywords by incorporating them into the website's existing and newly-developed pages. So when people look for hotels and reception needs, your website will likely appear on search results.
The following figures show other keyword ideas for caterers and catering services, including the average monthly search volume for each term.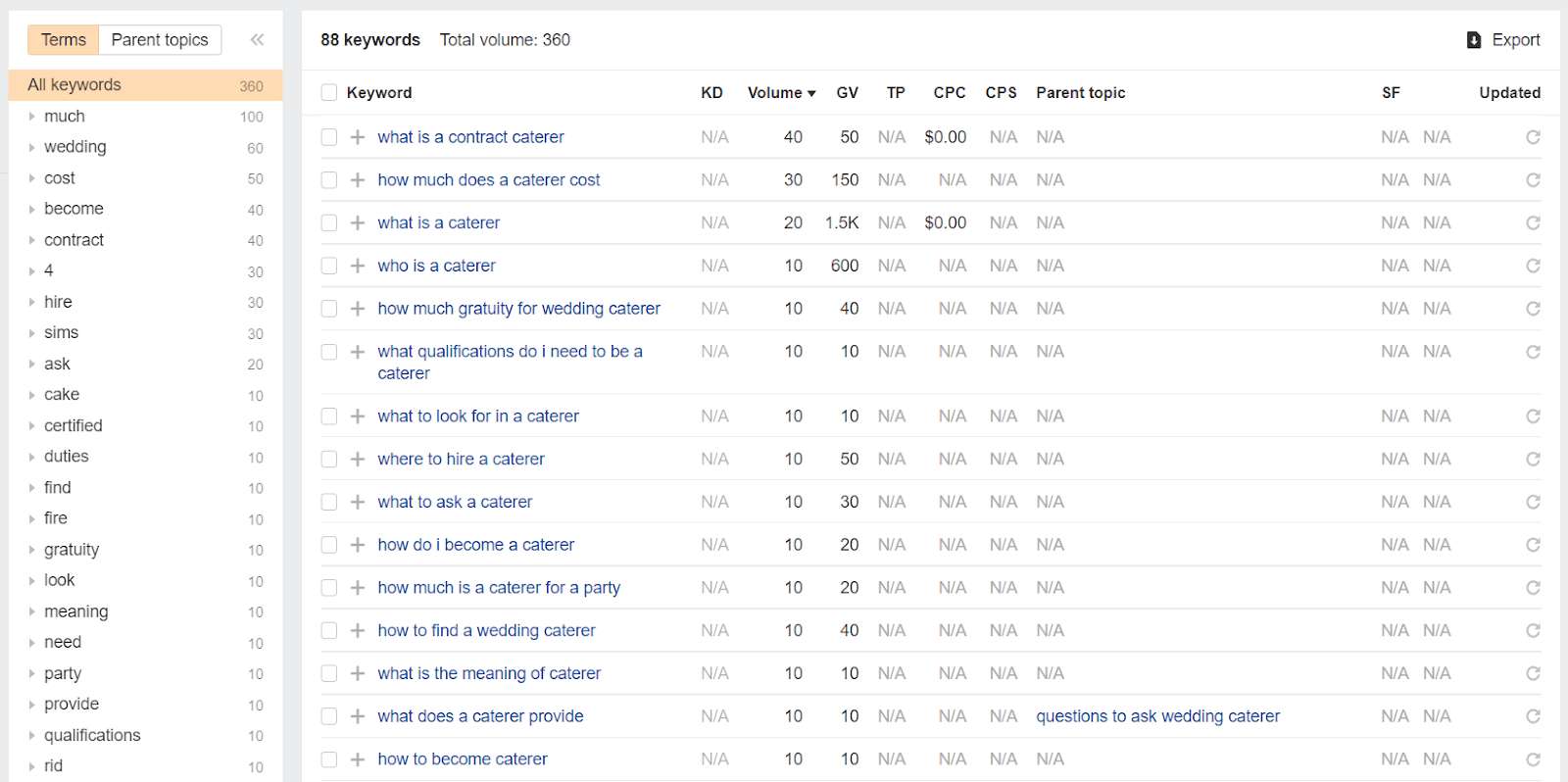 Other Caterers are Already Getting Results from SEO
SEO is a promising investment for caterers. No matter the size of your business, there are SEO methods made for you. In fact, even startup caterers can increase organic discovery and win the online market by turning to SEO. Below are just some of the many catering websites that are already seeing impressive SEO results.

Our first example is www.addtoevent.co.uk, a website that links people to a wide scope of caterers across the United Kingdom. According to the above data, the website receives approximately 61,900 visitors per month. Those people discovered the website through organic search results. No wonder it has generated a $54,000 worth of monthly traffic value. That's how much this website saves on paid advertising every month. Basically, the owner would otherwise invest that money in paid ads to generate the same number of traffic they get from SEO. This means that Add to Event saves tons of pounds by utilising SEO methods that focus on earned rather than paid traffic.
The below data reveals the most visited pages for this specific website. SEO experts access information like this to discover pages or topics where possible competitors are ranking highly. Comparing your and your competitors' pages allows them to develop effective content curation techniques that help boost your website's traffic potential.
Our next example is a smaller catering website. Let's see if SEO is equally beneficial for small-scale businesses.

Benons Catering is a small team of caterers that offer local catering services for various events. Its website, www.benonscatering.co.uk, welcomes over three thousand visitors every month through unpaid Google search results. That's roughly $3,700 worth of organic traffic that can be saved on expensive advertisements.
The following illustration contains the website's most-clicked pages and keywords. As you can see, Benons Catering ranks highly on Google through its top key phrase 'caterers near me', which has been searched more than 5,000 times.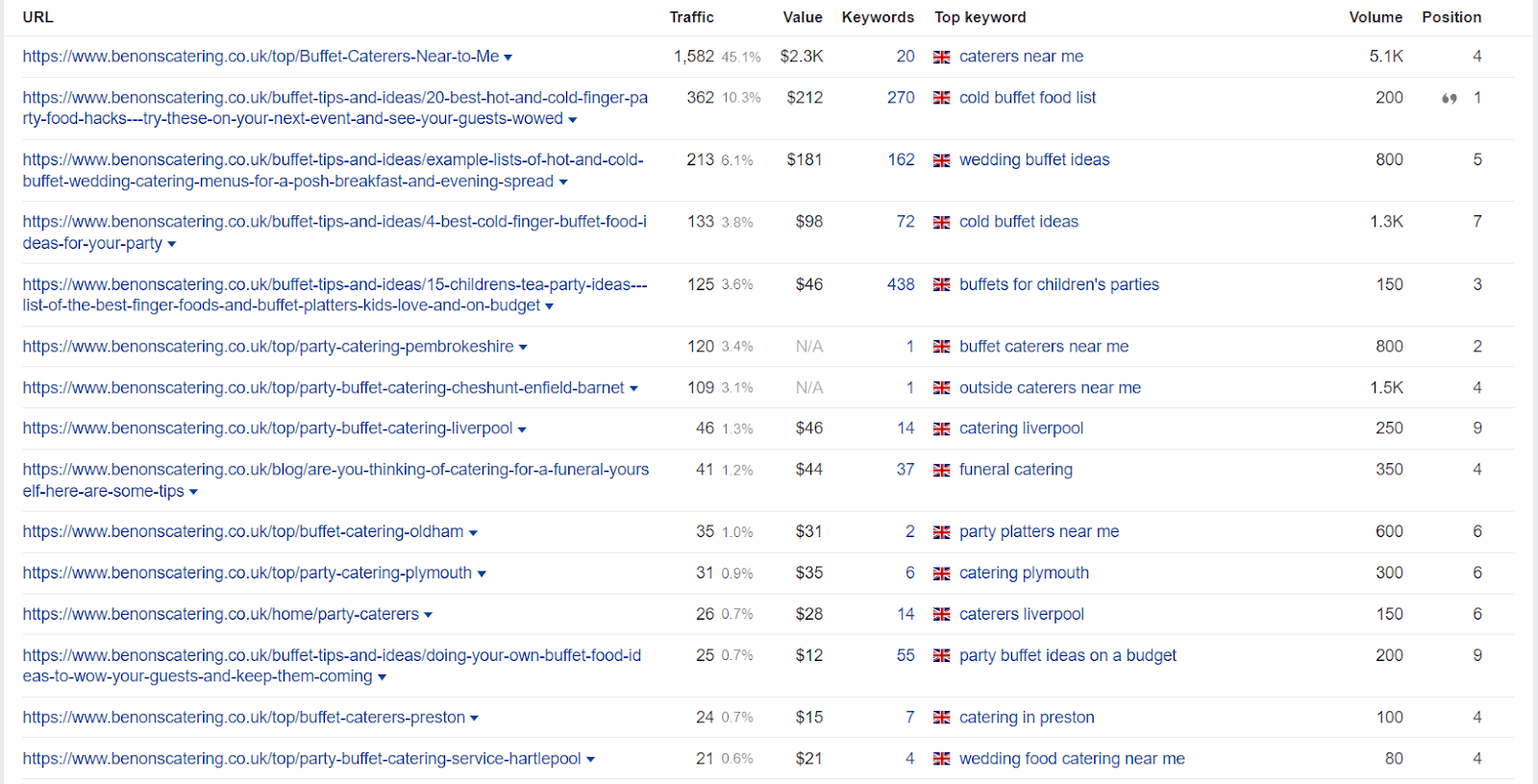 You're missing out on incredible opportunities if you haven't started building your web presence through SEO. Paid advertising may offer instant traffic, but there are smarter ways to spend your marketing funds. For instance, hiring a qualified SEO company is a more viable option for businesses looking for long-term organic results without exhausting their resources.
Local SEO for Caterers
Investing in local SEO is an ideal step toward reaching potential clients within your geographic zone. With good rankings, people can easily locate your catering website once they enter the keyphrase 'caterer near me', as search engines display results based on users' location profiles. Small businesses looking to promote their websites often start with online directories, like Google My Business. While that's the first step, only SEO methods can give promising results when done strategically by a professional.
What Does an SEO Company Do?
SEO is an excellent investment for catering businesses of all sizes in the digital age. It's important to know that any SEO campaign requires expertise, hard work and consistency. Good SEO results may take some time to build. But, all your efforts will pay off multifold because you have specialists who know how to create powerful SEO strategies that help attract quality traffic and yield a healthy return on investment for your business.
That's where NUOPTIMA can help! With several years of expertise in developing killer SEO campaigns, our experts ensure your website can top the ranks and maintain a competitive edge on Google. The following are just some of the key methods we use to improve your catering website:
Place links on authoritative catering websites.
Curate SEO-focused content to help your site position for more keywords.
Study and optimise existing pages to keep up with Google's regulations and best practices.
Create all the relevant pages to maximise the collected organic traffic.
Our well-seasoned SEO team at NUOPTIMA is here to help your website accomplish outstanding results. Book your free discovery call today to learn how our marketing strategies can help scale both your website and business to new heights.
Talk to an SEO expert
We work with 100+ businesses. Book a slot now to talk to one of our experts.