Search Engine Optimisation for Chiropractors
Your mission as a chiropractor is to help people ease problems with their bones, muscles and joints, making them feel 100% every day. Likewise, you want to ensure your clinic is in prime shape to provide your patients with quality services. However, it's not enough to have a well-equipped facility to be successful in this practice. You must level up your marketing campaigns to get ahead of the game.
Gone are the days when chiropractors rely on word-of-mouth recommendations from previous patients to acquire new customers. Now that healthcare providers are just a few clicks away, patients can search for local clinics and set a consultation appointment anytime and anywhere with an internet connection. No wonder more business owners are now leveraging digital channels, such as search engines, social media and other platforms, to help engage with existing and prospective clients.
There are several ways in which you can promote your clinic online. These include pay-per-click (PPC) ads, social media marketing (SMM) and search engine optimisation (SEO). In PPC, businesses pay a certain fee each time a prospect clicks on their page listings. This gives the website an immediate traffic boost once the ad campaign begins. The same premise works typically for SMM, where paid ads are placed on various social media platforms like Facebook. While both methods are promising, the flip side of the coin is that traffic drastically dwindles once you stop paying the platform. This makes PPC and SMM too expensive to be long-term marketing investments.
Unlike the previous methods, SEO offers consistent traffic without really breaking the bank. Of course, SEO doesn't work as quickly as online ads and website owners usually have to invest in SEO for several months before their site gets some good positions on Google. Only then can prospective patients easily discover your clinic when they type in keywords related to your service. Take note that when people click on your link in Google search results, it comes at no cost to you. This is in stark contrast to PPC and social media ads where advertisers have to pay tens of pounds for each click. This makes SEO a much cheaper option in the long run when compared to its counterparts. Plus, you will keep driving organic traffic to your website even if you decide to quit SEO. However, consistency is key to successful SEO, and many of our customers are so pleased with their website's results that they decide to keep doing SEO indefinitely.
Why Is SEO for Chiropractors Important?
Your website serves as the heartbeat of your digital marketing campaign. The more you optimise your website, the higher it will rank on search engines like Google. And the higher it ranks, the more likely that a prospective patient will click on it. A fun fact is that users often find organic results more relevant and trustworthy than sponsored ones. Hence, investing in SEO is essential if you want to flourish in the fast-changing landscape of digital marketing. Plus, organic searches reduce the cost of lead generation, translating to a better return on investment (ROI) for small-scale clinics and other businesses.
However, can chiropractors really count on SEO when it comes to attracting new patients? Absolutely! The following images will show you information about the term 'chiropractor', discussing its search volume and interest, other relevant keywords to use and some chiropractic websites that are already generating insane traffic with SEO.
Search Demand for Chiropractors on Google


The above image displays the Google search data for the keyword 'chiropractor'. Global search volume (SV) indicates the average number of times people search for a specific keyword across all countries per month. As illustrated, people around the world explore the term 'chiropractor' about 1.2 million times every month. Particularly, 686 thousand searches occur in the United States, 97 thousand in the United Kingdom and 83 thousand in Canada. This suggests a substantial amount of people looking for a chiropractor on a daily basis. So, just imagine how many valuable patients you can attract if you invest in SEO.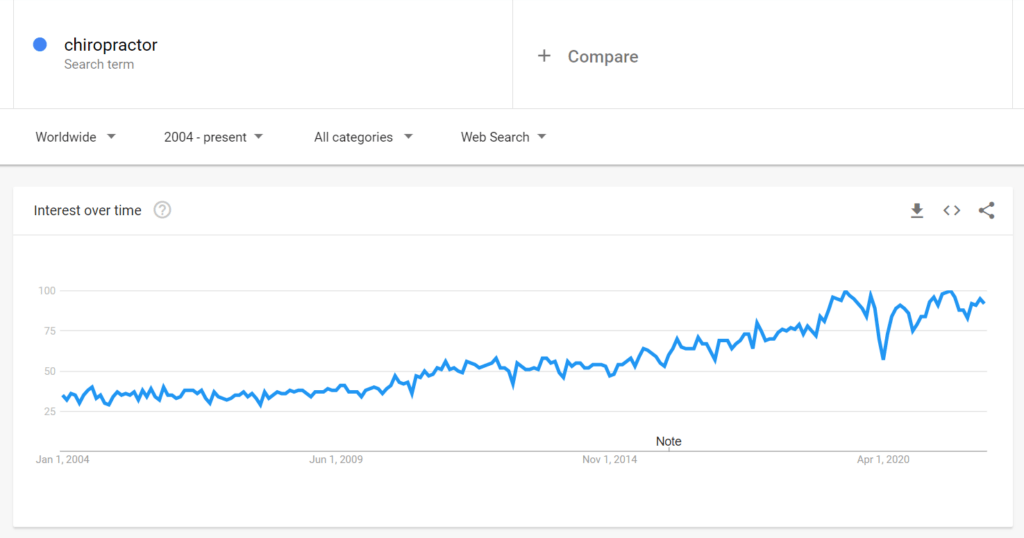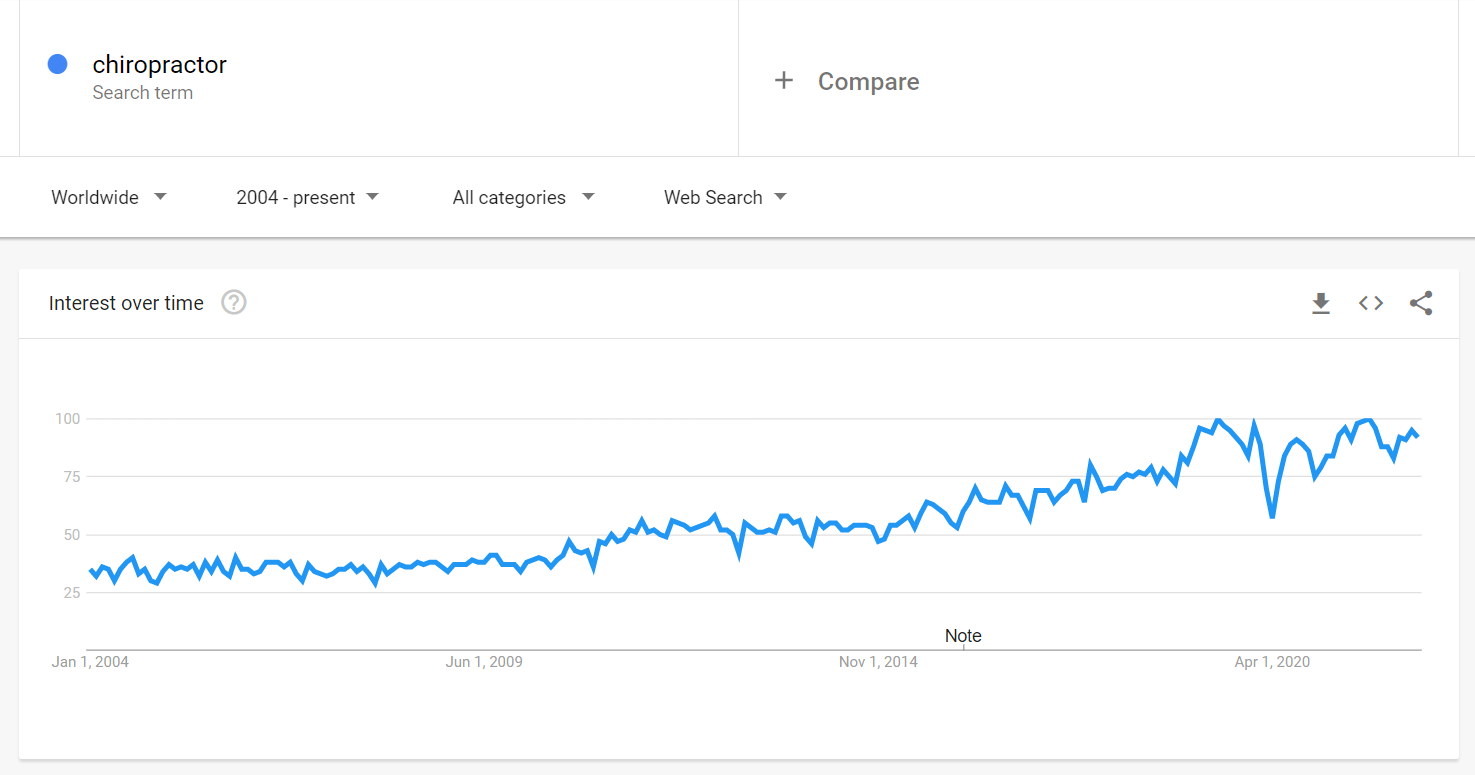 This Google Trends screenshot shows how the search interest for the keyword 'chiropractor' changed over time. The data exhibits a dramatic rise in the search for a chiropractor from 2004 to the present. The keyword's popularity is measured by scores, with 100 being the highest, 50 being half as popular and zero as the least. As you can see, The term 'chiropractor' reached its peak popularity in 2019 and experienced a dramatic downturn in the following year due to the height of the COVID-19 pandemic. Even so, you'll notice just how this keyword has managed to rise up and maintain high positions moving forward. It's worth noting that PPC ads tend to become pricier as search interest keeps climbing year after year. Thus, now is the best time to embrace SEO to take advantage of this ever-growing interest.
People Use Tons of Search Terms to Find Chiropractors
The first step to creating a solid SEO campaign is keyword research. SEO providers analyse the search demand of potential keywords people type into search engines. Finding keywords relevant to your business helps determine the interests and specific queries your target audience actively searches on Google. SEO companies will then integrate those keywords into the content to increase organic search visibility and ranking of your website. For instance, if someone is looking for local chiropractic services, they may type in a variety of search terms or phrases such as:
'Chiropractor near me'.
'Chiropractor in…' + location: 'chiropractor in London'.
Chiropractors for specific patients: 'chiropractor for athletes'.
Questions about chiropractic treatment: 'how much is chiropractic treatment'.
Remember, there's a wide range of keywords patients may use to search for a particular service they need. The above keywords and phrases are just a mere ballpark, and a qualified SEO expert can find as many relevant terms as possible. Some patients may use synonyms or more generic terms like 'physical therapist' and 'acupuncturist'. Although these terms are not exactly what you offer, an SEO specialist can make use of them to optimise existing and create new pages. This allows the right audiences to discover your services, and in turn, your clinic gets the most traction from this tactical campaign.
Below is a representation of the average monthly search volume for some keywords related to chiropractors and chiropractic services.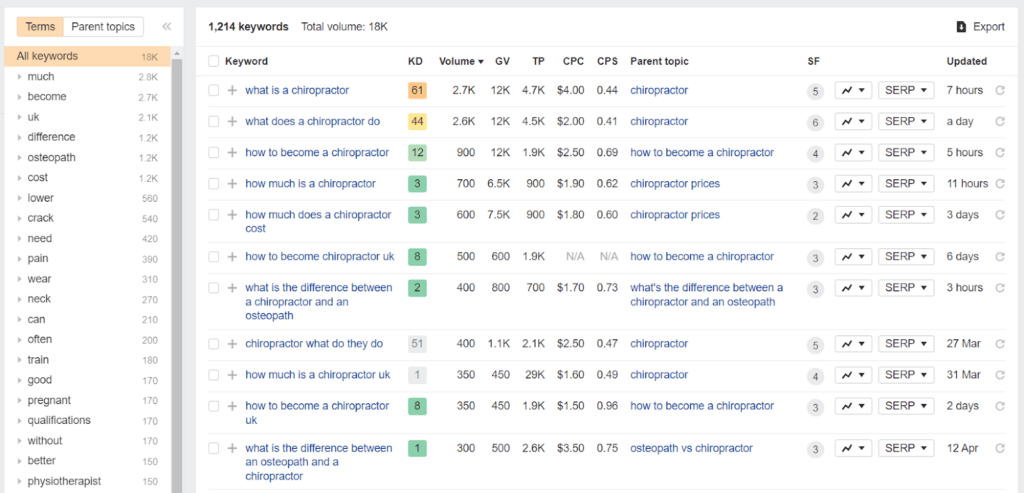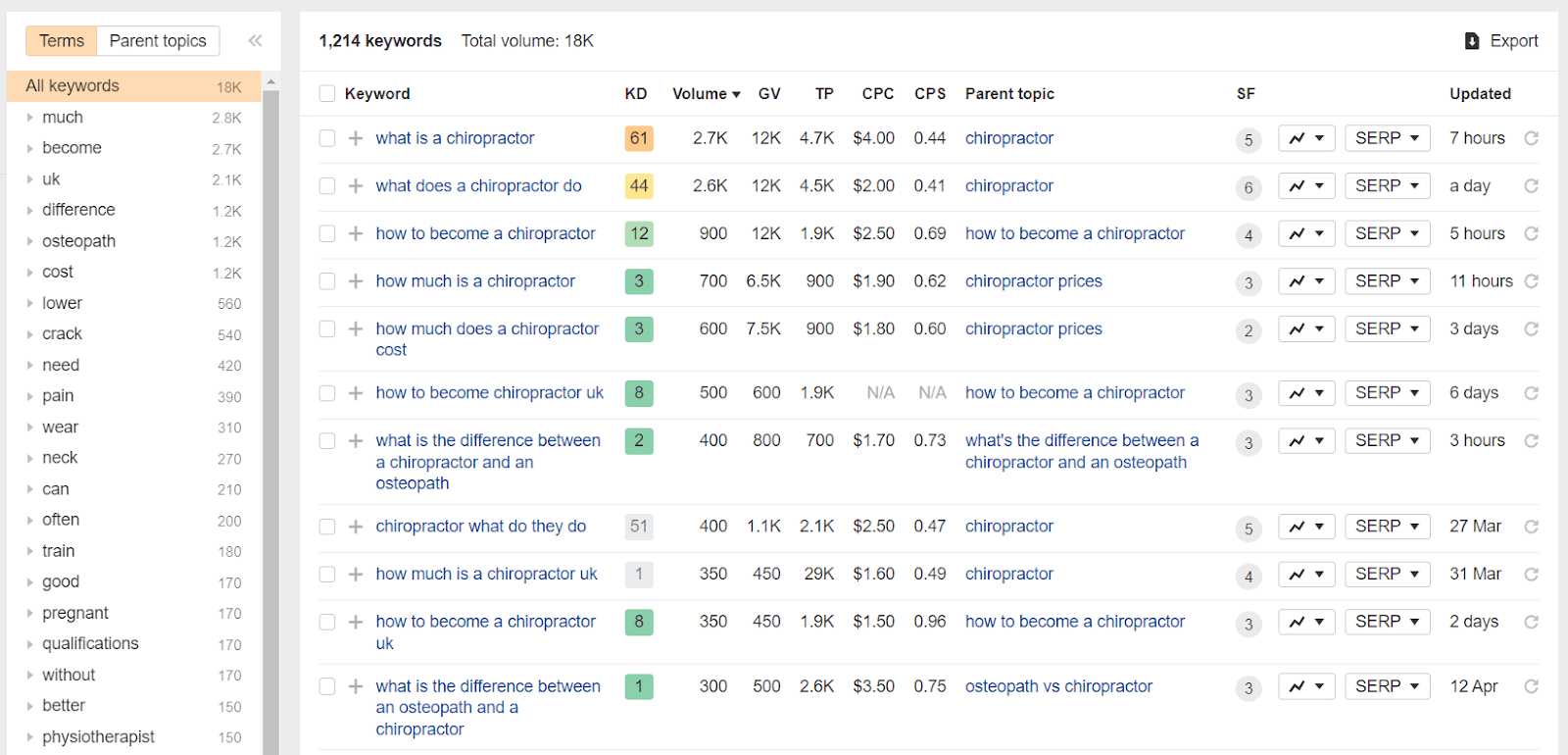 Other Chiropractors are Already Getting Results from SEO
SEO is crucial if you want to put your website in front of your audience and get more traffic organically. Higher traffic means increased brand awareness, credibility and ROI—giving your business a strategic edge over competitors. To show you just how much traffic your website can get from SEO, we have analysed some chiropractic websites that are basking in the fruits of their SEO efforts.


Let's take a look at our first example, chiropractic-uk.co.uk. This website helps patients connect with licensed chiropractors across the United Kingdom. It has an estimated 20,500 monthly organic traffic, pertaining to the number of people who visit the website after running into it over Google search results. The website has a whopping $45,500 monthly traffic value, also known as the amount of money the website owner would spend on advertising, like PPC, to pay for the same amount of traffic they receive from organic clicks. This means that the British Chiropractic Association is able to save as much as $45,500 every month by maximising their SEO efforts and aiming for good positions.
The image below shows which pages draw the most traffic for this particular website. SEO experts access this data to explore the pages, for which your potential competitors are ranking highly.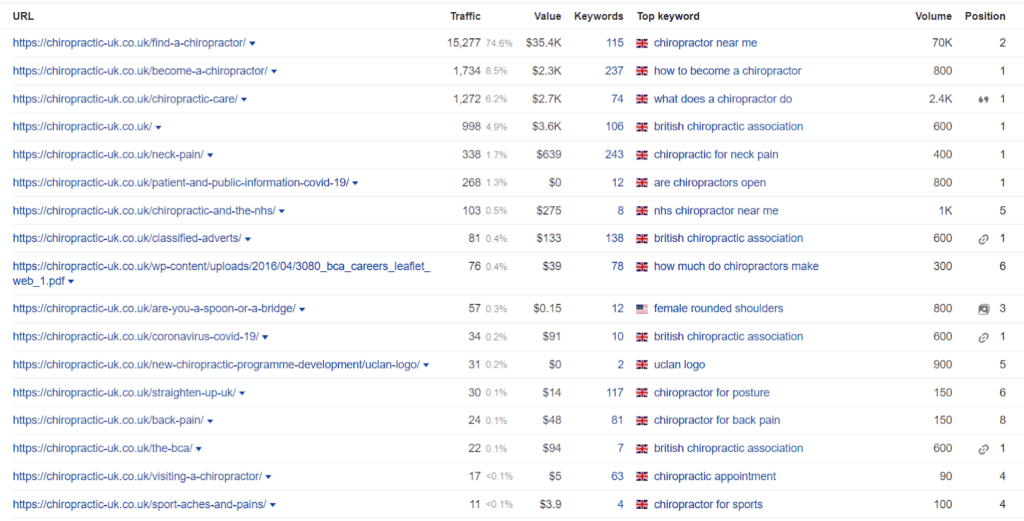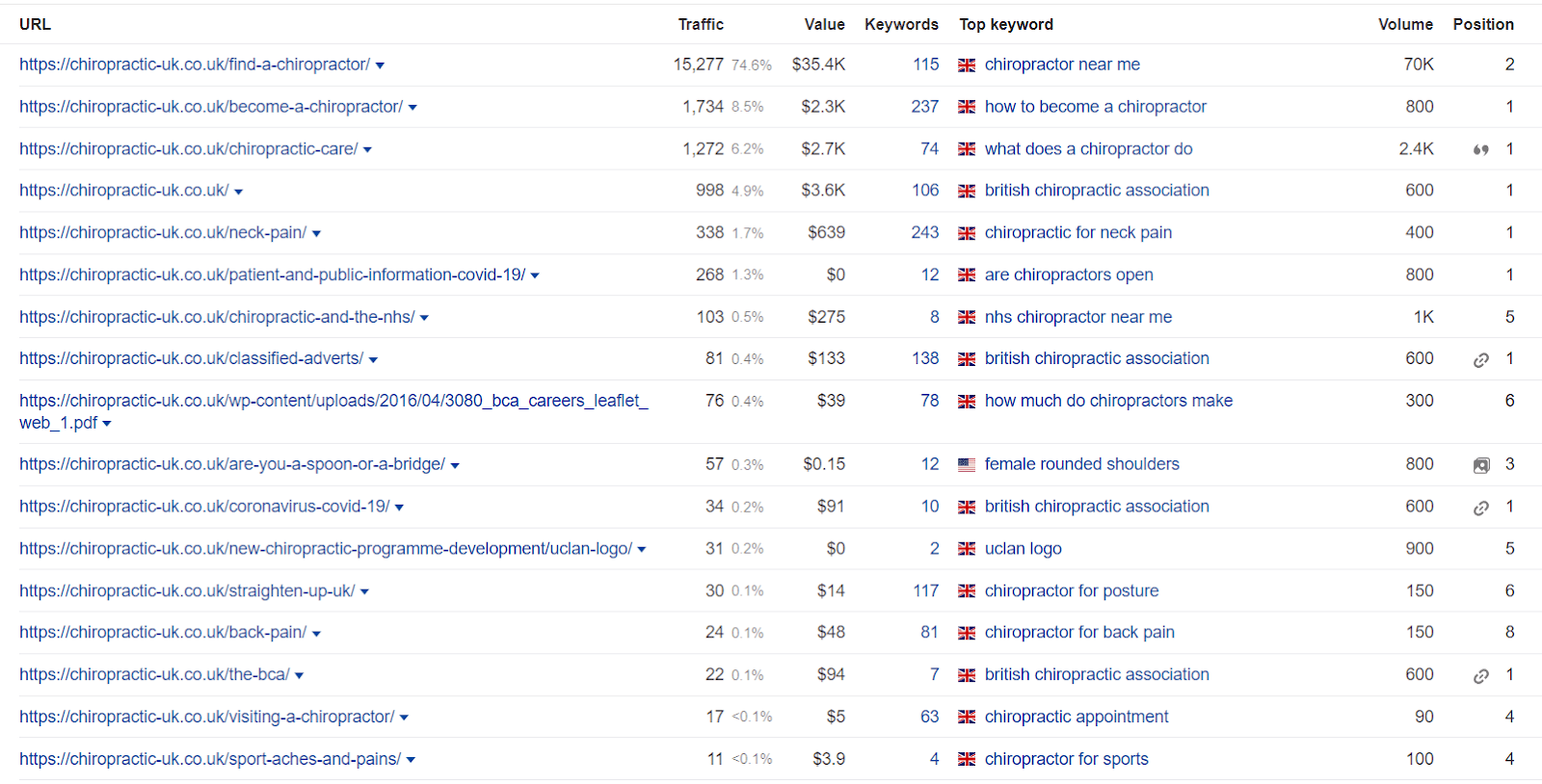 They can then compare your and your competitors' pages and utilise this information in optimising your current pages and constructing new ones to cultivate your website's organic traffic. The above website is large enough to obtain excellent results. Let's see if a smaller chiropractic website can also benefit from using SEO.
Our next example explains why SEO is still an ideal and cost-effective method for attracting more patients, regardless of your clinic's size.


The website, www.thelondonchiropracticclinic.com, is a team of chiropractors helping people with physical health concerns by providing up-to-date testing and clinical procedures. With over 800 monthly visitors through organic Google searches, it's safe to say that even smaller clinics like this can witness promising results by using different SEO methods. The website attracts about $3,000 worth of organic traffic, which the owner would otherwise splurge on expensive PPC ads.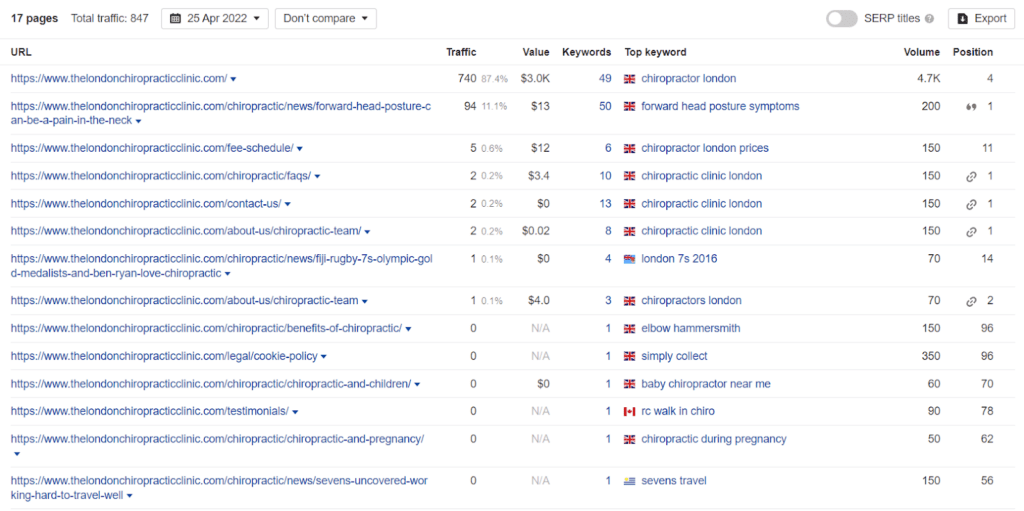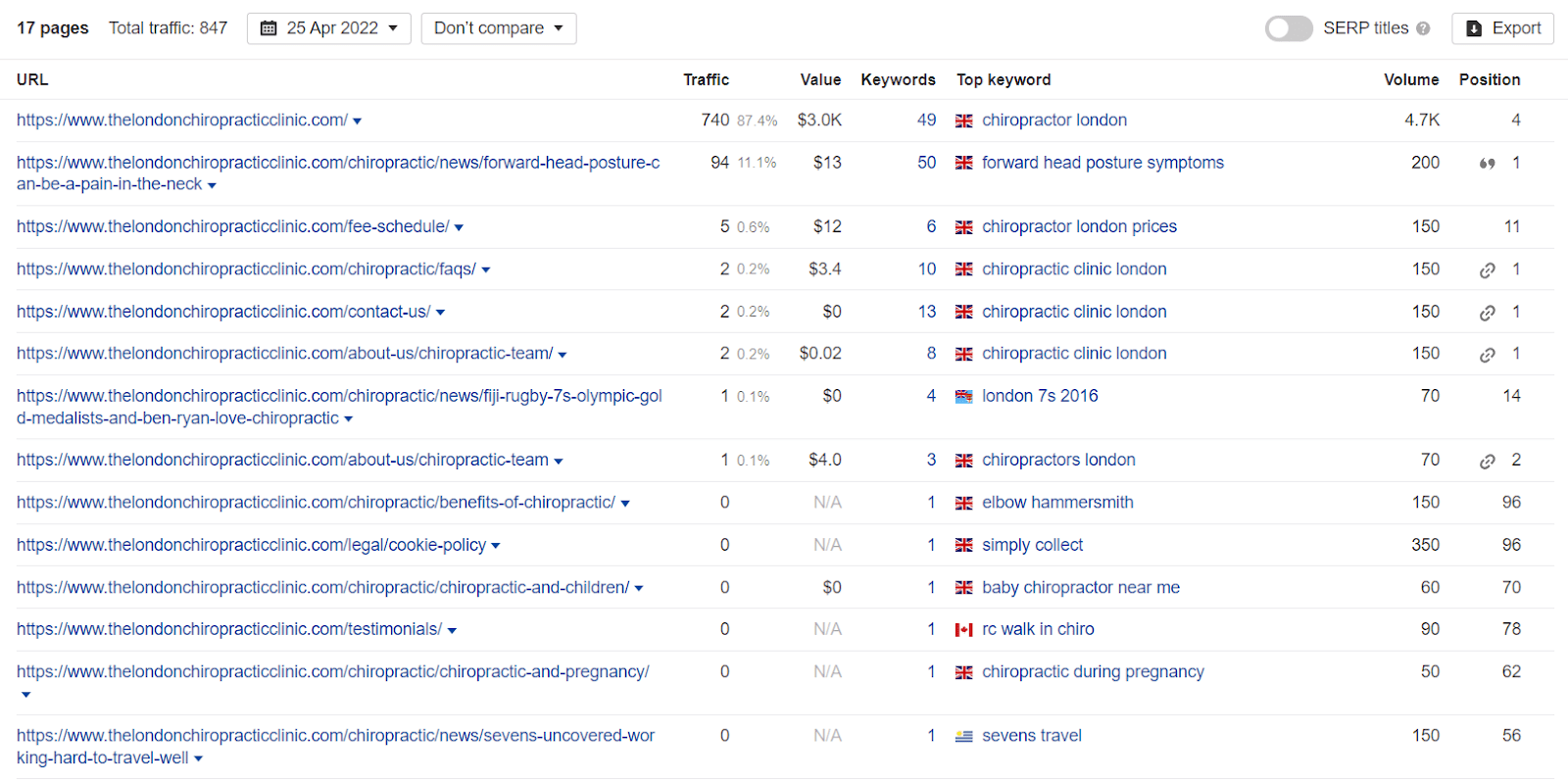 The London Chiropractic Clinic remains discoverable on Google search results through its top keyword 'chiropractor London'. Like this clinic, you can also build your website's credibility and maintain higher positions, as long as you're consistent with your SEO practices. PPC and SMM ads may give you instant results, but they are no longer useful once you stop paying for them.
This data reveals how many keywords you can focus on and, hence, how many opportunities there are to drive organic traffic to your website. A reputable SEO company can help create, optimise and promote your website, resulting in high organic traffic that saves you money on advertising.
Local SEO for Chiropractors
Local SEO for chiropractors is a great strategy to reach prospective patients within your geographical scope. If a local patient searches 'chiropractor near me', search engines will show results based on their location, allowing your website to appear on search results. Google My Business is a good place to start. But, local SEO can result in significant amounts of organic traffic only if done correctly by an expert.
What Does an SEO Company Do?
SEO is an ideal investment for chiropractors. If you think SEO sounds complicated, that's because it is. An effective SEO campaign requires expertise, hard work and a bit of creativity. With tons of chiropractic clinics entering the digital marketing scene, it can be difficult for local chiropractors to rank highly on search results and make an impression.
Luckily, NUOPTIMA has been helping various companies achieve their SEO goals for several years. With our expertise in crafting holistic search engine strategies, we can help your website achieve excellent rankings on Google. The following are just a few techniques we use to boost positions for your chiropractic website:
Place links on reputable healthcare and chiropractic websites.
Curate SEO-friendly content to help your website rank for more keywords.
Review and optimise existing pages to ensure compliance with Google's regulations and best practices.
Create all the essential pages to improve and enrich the organic traffic your website collects.
Our comprehensive SEO team at NUOPTIMA is here to help your website achieve outstanding results. Book a free discovery call with us to find out how we can help promote your website.
Talk to an SEO expert
We work with 100+ businesses. Book a slot now to talk to one of our experts.
>
Search Engine Optimisation for Chiropractors