Home and business owners regularly need the help of a qualified electrician. Moreover, currently, many more people work from home, which leads to an increase in energy consumption at home and an additional load on the power grid. Most of those looking for professional electrical services search the Internet and should therefore be able to find you quickly and easily. It means that in order to reach new customers and help them with their electrical needs, your business needs to be visible online. In a case, if your website isn't in the top organic search results when people google "electrician near me," you're losing out on more leads, jobs, and business growth.
There are several ways to stand out online and attract people to your website. The most common methods include PPC ads, social media marketing, and SEO. One of the main advantages of PPC ads and social media marketing is immediate visibility. You can give your website a quick traffic boost without waiting for organic growth. However, these options offer no longevity as the influx of leads drops off the day you quit paying for PPC or social media advertising. For many companies, this makes PPC too expensive for a long-term strategy, and they opt for SEO instead.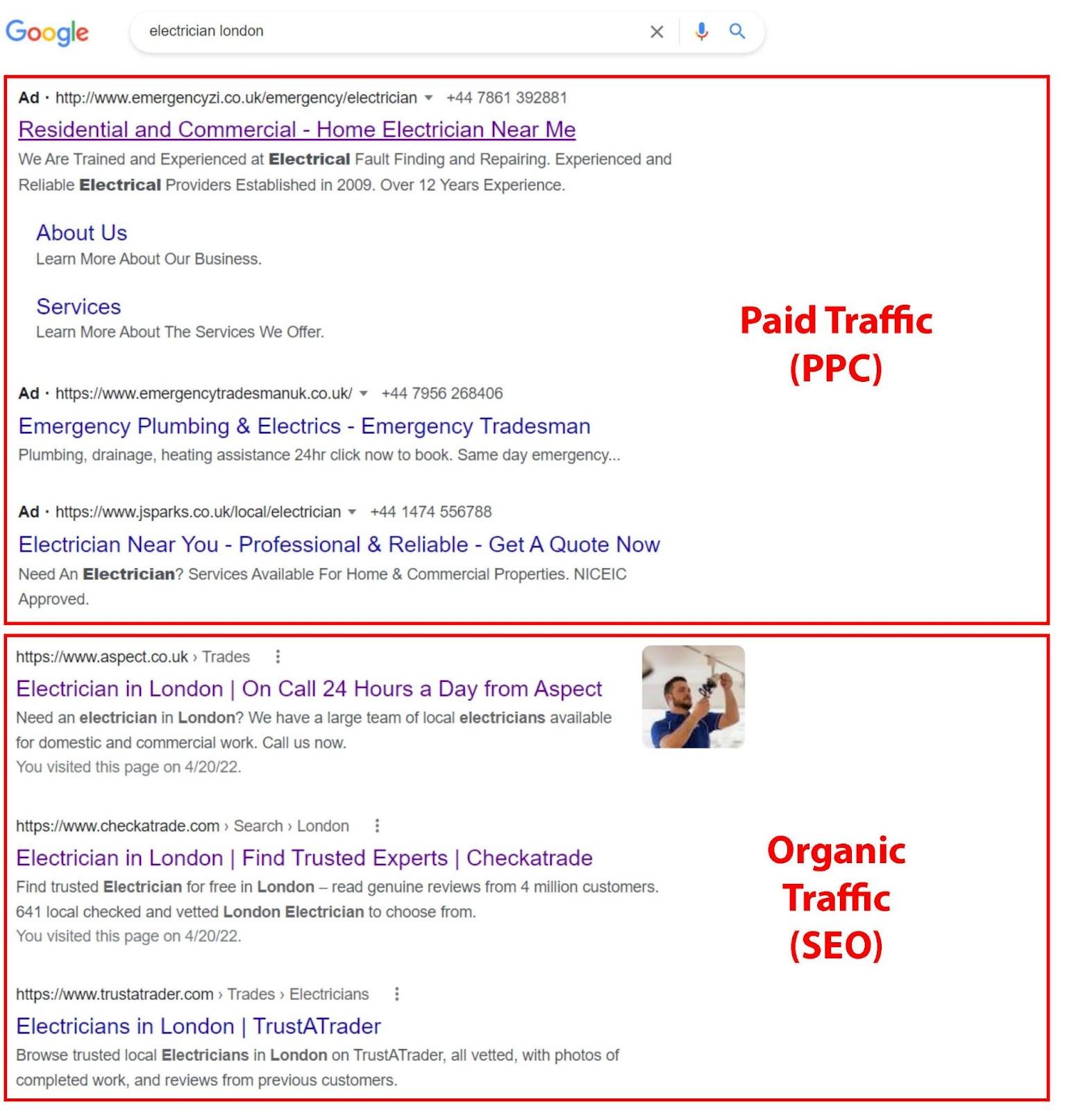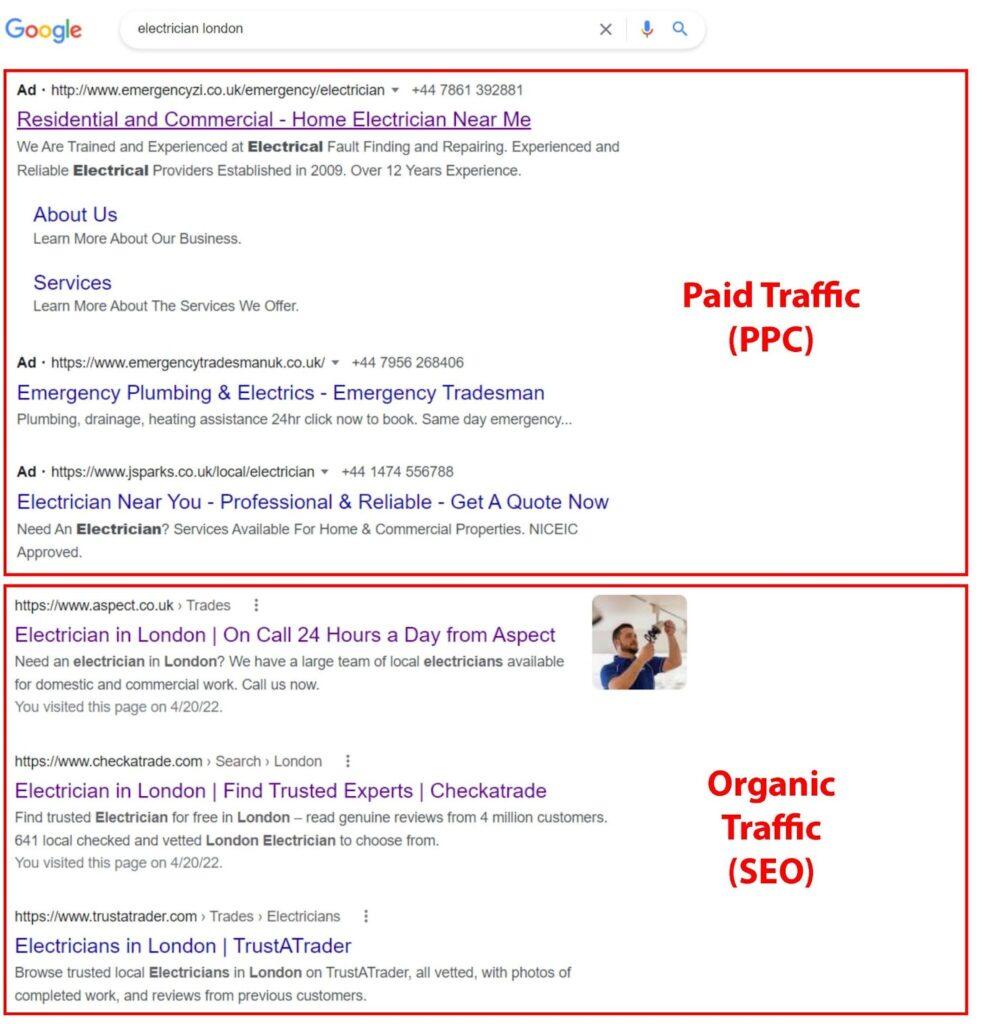 Search engine optimisation methods usually take a few months to show results, although they offer longevity. By investing in SEO, your website will improve its positions in the search results and keep them even if you decide to stop using SEO services. Using SEO to optimise your electrical contracting website can have a profoundly positive impact on your rankings. Keep reading to learn how successful your electrical business can be with professional SEO services.
Search Demand for Electricians on Google


The screenshot above demonstrates Google search data for the keyword 'electrician'. The global search volume for the term 'electrician' is 412 thousand searches per month, which means thousands of people search for this keyword across all countries. Roughly 177 thousand of these searches occur in the US, 91 thousand in India, and 33 thousand in the UK. Analysing Google Trends, we see a similar picture and evident growth of the 'electrician near me' search term popularity, with Australia, the UK, and the US representing the highest interest by region from 2004 until the present day.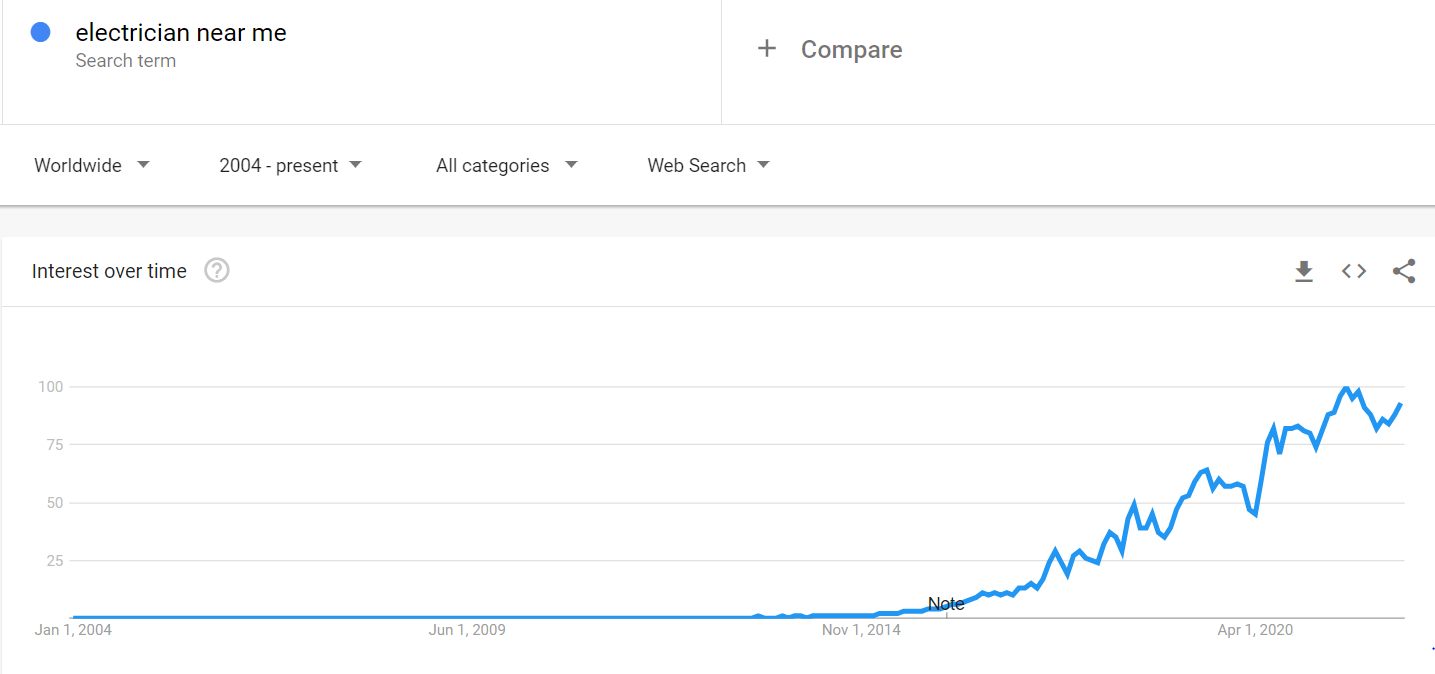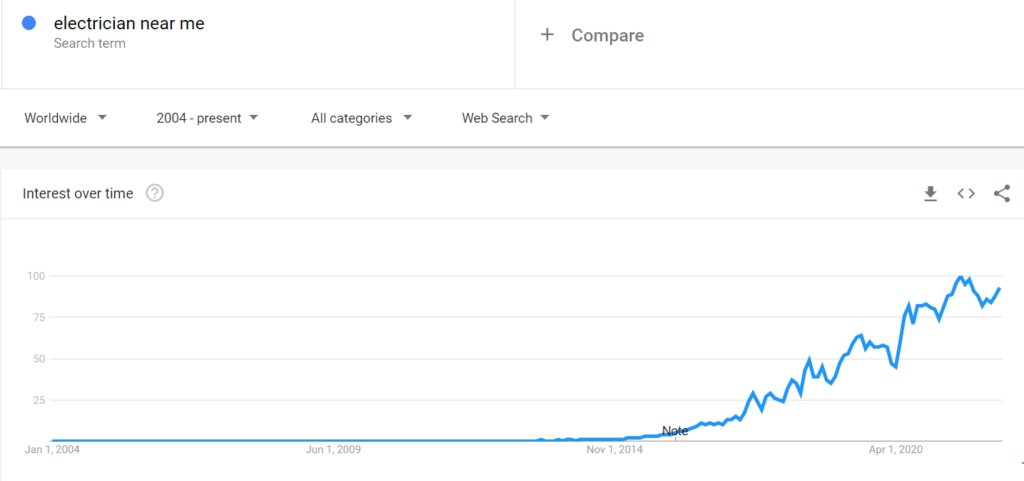 This data means that an increasing number of people are looking for qualified registered electricians online each year, and hiring an SEO agency for your website can spur further business growth and provide you with an increasingly high return on investment (ROIs) for years. Professional SEO helps you reach the people who need your services, generate new leads, and bring in more customers who need electrical services.
People Use Many Keywords to Find Electricians
Keyword research is an integral part of the SEO process. Determining the keywords and phrases your potential customers use when searching for your services plays a crucial role in your strategy and helps you find keywords you want to rank for. For example, 'electrician' or 'electrician near me' are far from all search queries people use when they need electrical services. Google searches may also include 'emergency electrician near me' or keywords including specific electrician services, such as 'car electrician near me.' Search terms may also specify 'residential electrician' or 'commercial electrician' and electrician qualifications like 'certified electrician' and 'licensed electrician.'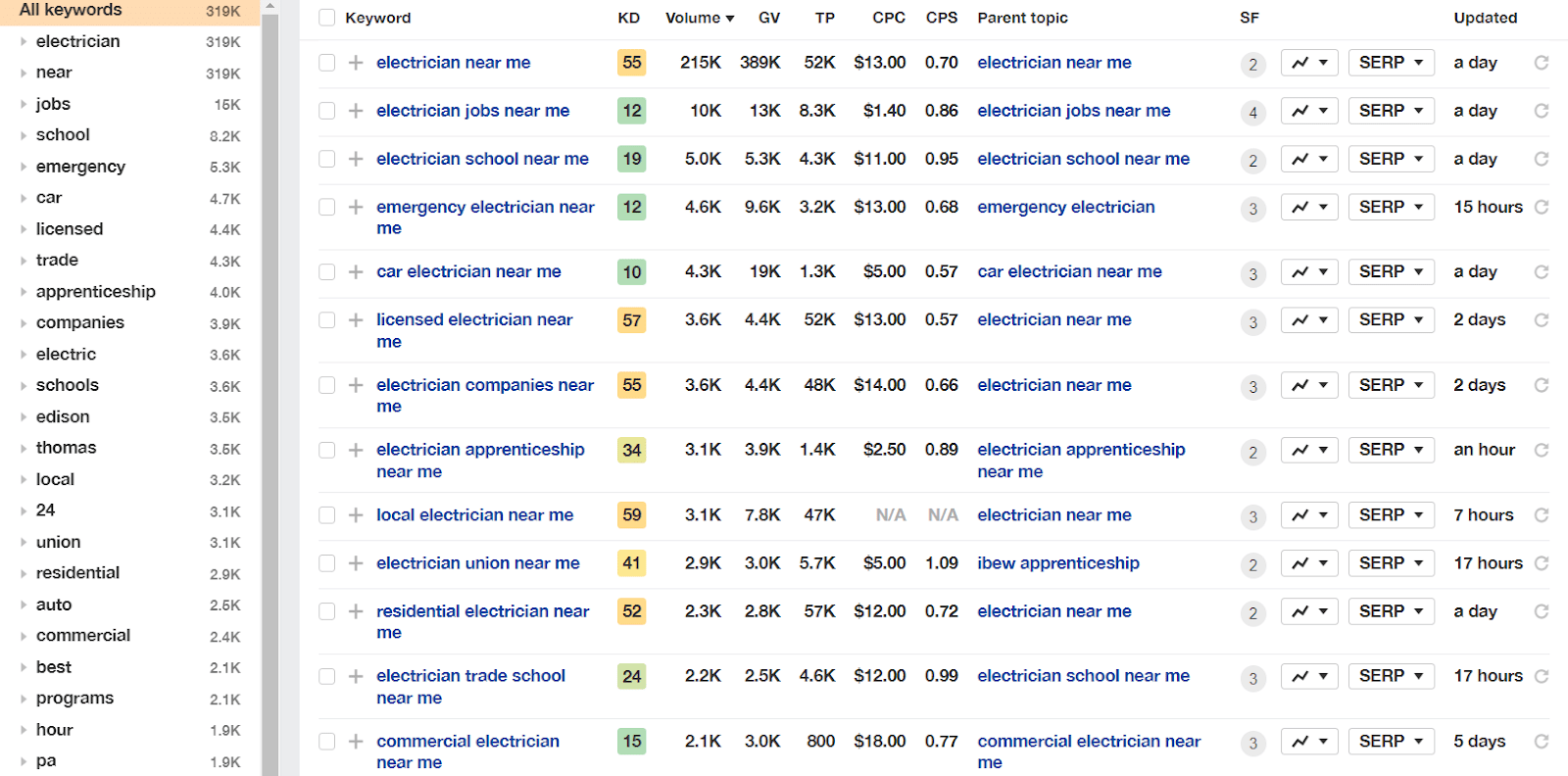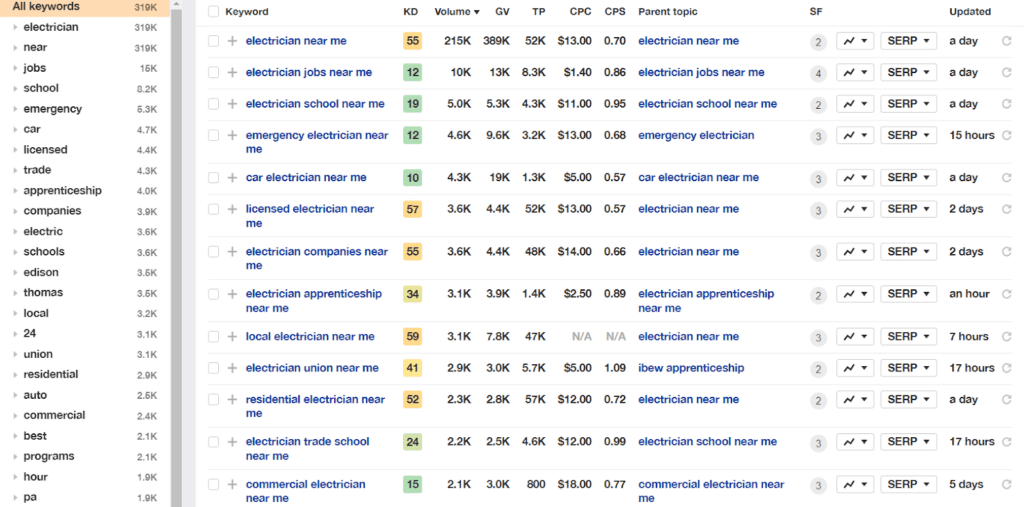 People also often search for 'electrician in…' + location. For example, 'electrician London.' The screenshot below also shows the average monthly search volume for different electrical services-related keywords.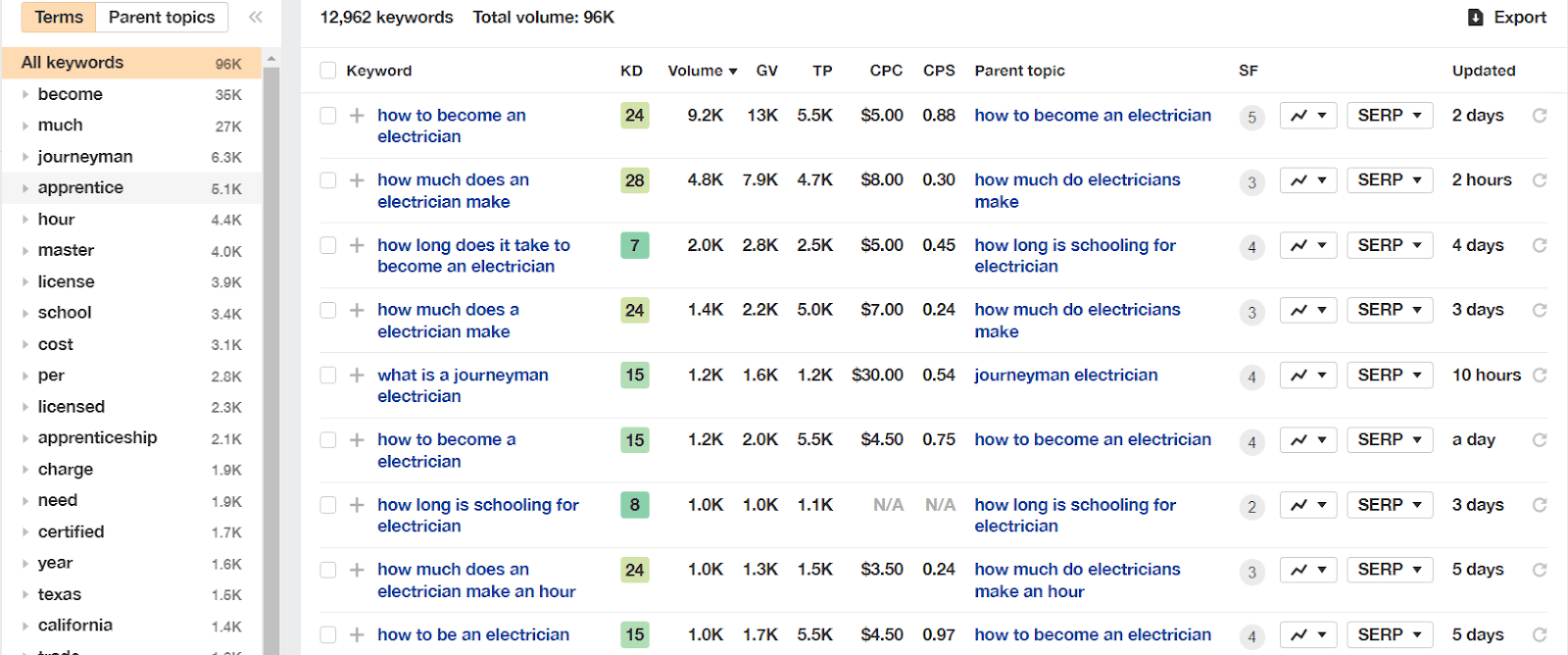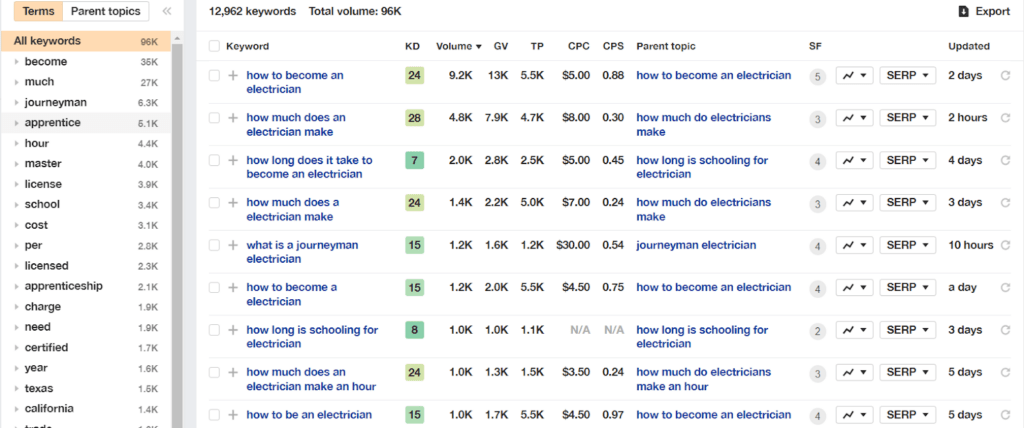 There are thousands of keyword ideas, and while there are many keyword research tools and articles on how to tag titles, you'll get better results and save hours of time by hiring an SEO specialist.
SEO Results for Electrical Contractors
By piloting your SEO strategy with a professional team, your website will rank higher in the search engines, leading to more leads and sales at a lower cost. Learn about the results of effective electrician SEO services below with our examples.


The first example is www.electricalsafetyfirst.org.uk – a campaigning charity aimed at reducing deaths and injuries caused by electricity in UK homes. Electrical Safety First works closely with the government, the electrical industry, manufacturers, retailers, and consumer safety organisations to improve safety regulations and standards. This website offers to find a registered, government-approved electrician near you and occupies top positions on Google for the search term 'electrician near me.'
You can see that this website has 160 thousand average monthly visitors who visit it after seeing the website in Google search results. The estimated value of the website's monthly organic traffic is $120 thousand, which shows how much money the website's owners would have to spend every month to buy the same amount of traffic from PPC ads. For the business owners, this number means they can save roughly $120 thousand every month as their website ranks high in Google search results thanks to effective SEO services.
The screenshot below shows which pages bring the most traffic to the website.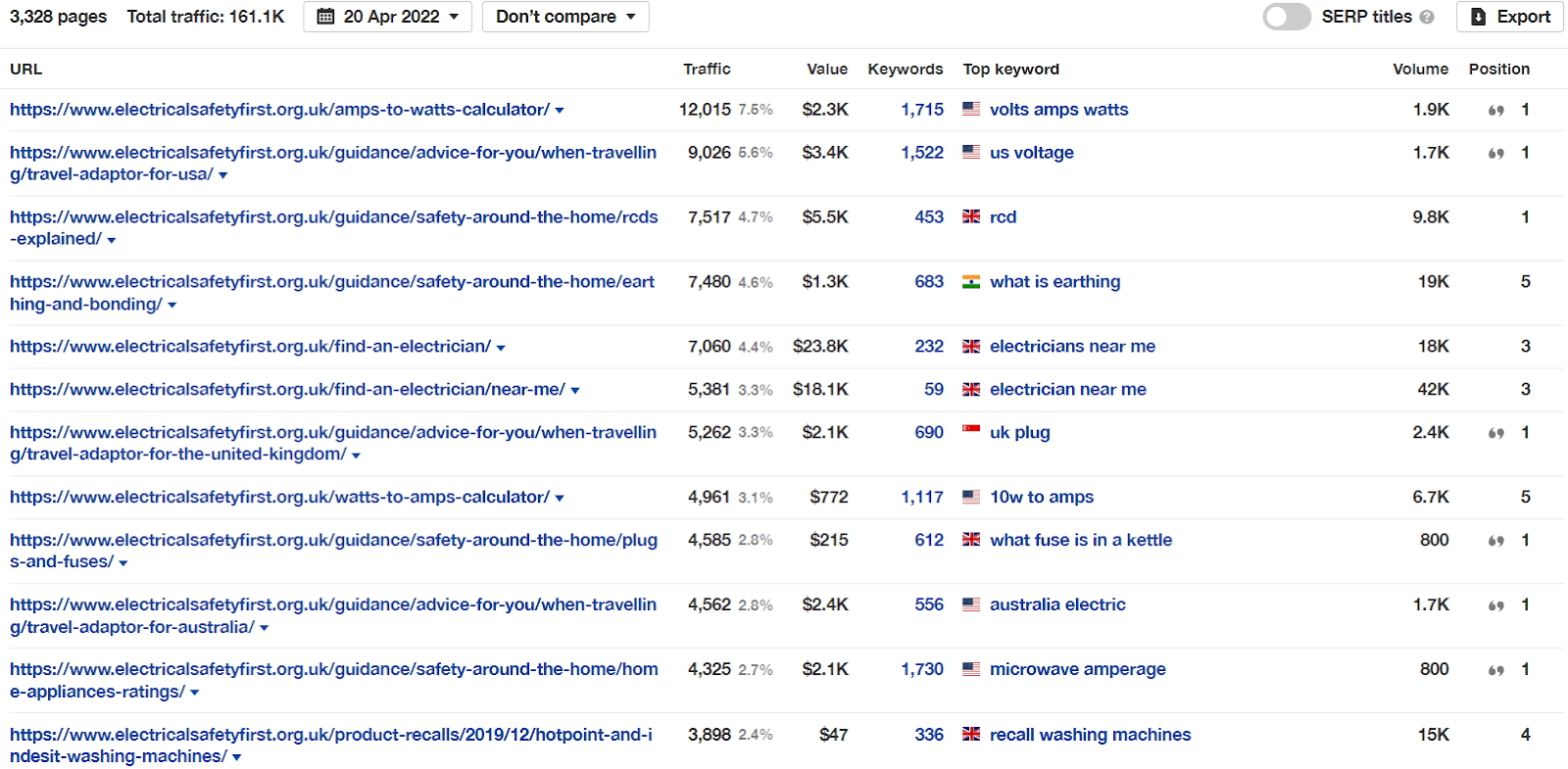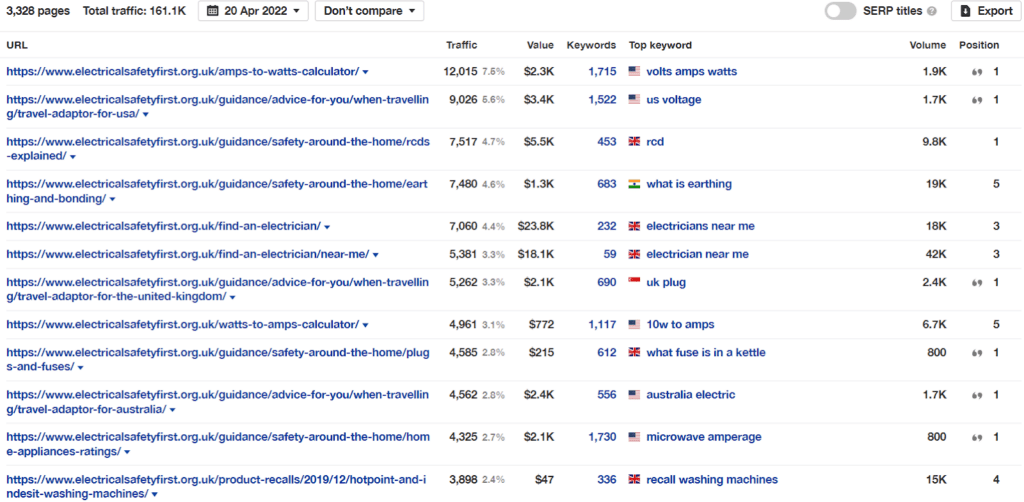 You can see that pages with 'electricians near me' and 'electrician near me' keywords collect a sizable traffic amount. A good SEO expert can evaluate the pages currently present on the website and optimise them to attract more people and, therefore, help the website to collect as much organic traffic as possible.
Our following example is the www.london-electricians-247.co.uk website, which ranks highly on Google for the search term 'electrician London.' This company provides registered local electricians in London and offers a wide range of electrician services round-the-clock.


This website is smaller than our first example, although it also has encouraging SEO results. This London company attracts a thousand monthly visitors to its website and has a traffic value of $7.8 thousand, which allows its owners to save around $8 thousand per month they otherwise would have spent on contextual advertising systems.
You can see the top pages bringing the most traffic to this website in the image below.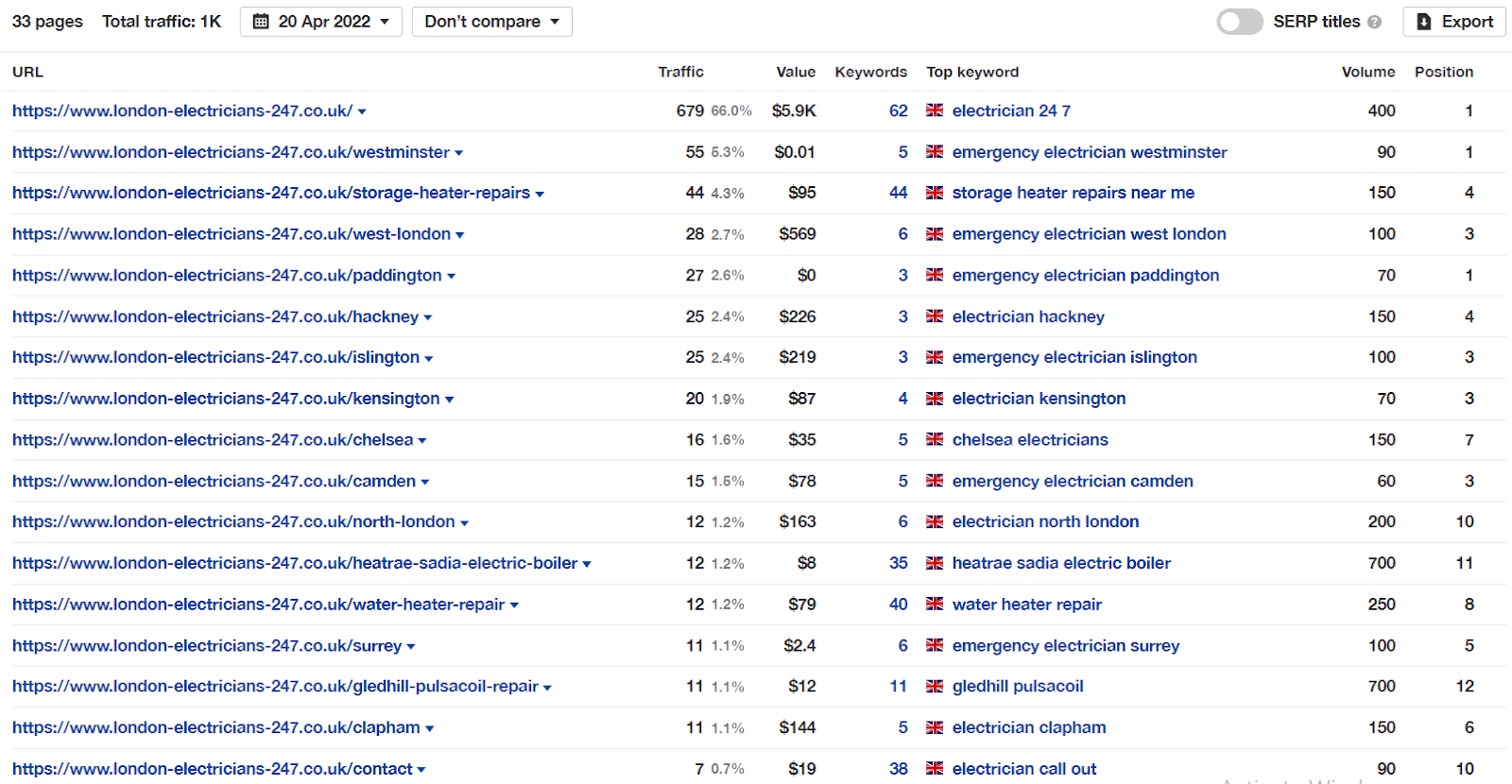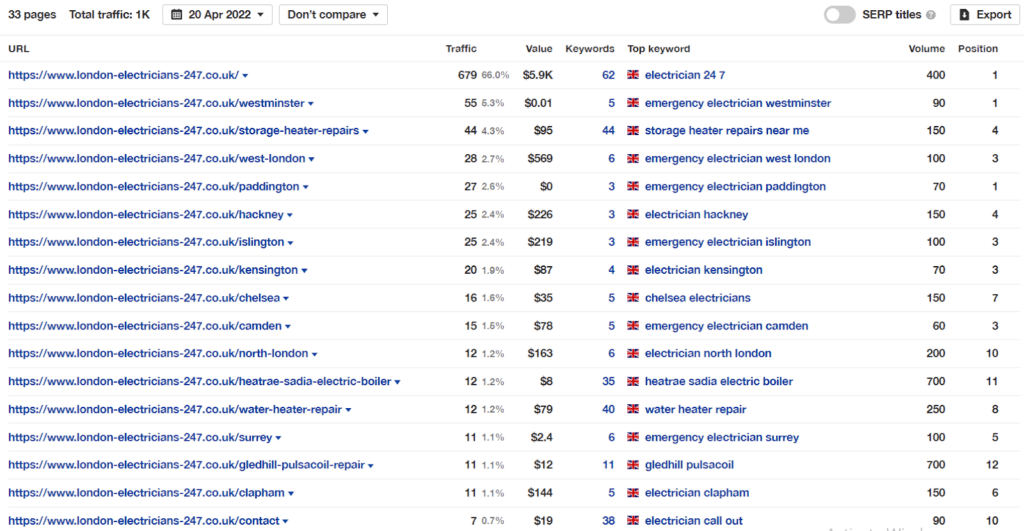 Many website pages show up for the keywords that include location: 'emergency electrician Westminster,' 'electrician Kensington,' and others. It again shows a broad range of keywords your website can use to collect free organic traffic on Google.
Local SEO for Electricians
Another SEO tool that is extremely important for companies providing electrical services is local SEO. After analysing user behaviour during trillions of searches, Google found that people searching for certain types of businesses want results from their immediate area. That's why Google's local search algorithm includes a proximity factor by taking your location into account when you search for a local keyword, even if you don't include a city name or 'near me' in your search. Local SEO is focused on ranking a website or webpage based on the searcher's location. For electrical contractor websites, local SEO is essential as people who need an electrician will need one who is nearby. Moreover, they often need it urgently. By using local SEO, you can rank your electrical contracting business in a given service area.
What Can a Qualified SEO Company Do?
In a nutshell, SEO involves making changes to pages on your electrical service's website that improve their search engine rankings. When users type in keywords in a search bar, they ask questions. Pages that answer these questions better load more quickly, securely, and without errors. They are considered more reliable by search engines and are deemed to deserve to rank higher. As a result, your website is in the top search positions, and you get significant organic traffic. Take into account what SEO expert Anna Crowe says in her famous quote:
"The slower your sites load, the more visitors and revenue you'll lose out on. Faster loading pages lead to a better overall website experience, hence Google's move toward making it a mobile ranking factor." – Anna Crowe, Assistant Editor at Search Engine Journal
As a company with over 40 years of combined experience in digital marketing and e-commerce, NUOPTIMA is the go-to solution for brands looking to reach and exceed their revenue goals. Our professional SEO team is dedicated to monitoring and improving your online presence on a daily basis, including making your website more visible in search results and making your brand stand out online. To help improve your electrical services website ranking on Google, we will:
Perform on-page optimisation by analysing electrician keywords, search terms, and monthly search volumes in your market area and matching you against local competitors with similar electrical services.
Build and manage and successful backlink profile to improve your electrical contractor website's ability to rank well.
Use technical SEO tools to help search engines index your site more effectively and help improve organic rankings.
Help with content development, allowing your potential customers to learn more about your business as many electrical services websites severely lack content.
Create new pages to help your website rank for more keywords on Google and bring it more organic traffic.
Today, consumers use the Internet to find everything they need, and electrical services are not an exception. If you want to start using SEO to attract more customers for your electrical business, NUOPTIMA can help. We'll study your business in detail and, using our industry experience, create a customised SEO strategy for your electrical company to help it achieve outstanding results.
Boost Your Electrician Service's Online Visibility with SEO
In the competitive world of electrical services, it's essential to leverage every tool at your disposal to stand out. SEO can play a significant role in enhancing your electrician service's online visibility, attracting potential customers, and establishing your brand as a leader in the industry.
At Nuoptima, we specialize in SEO for electricians. Our team of experts understands the unique challenges and opportunities in the electrical service sector. We employ proven strategies and innovative techniques to help our clients improve their search engine rankings, drive more traffic to their websites, and ultimately, increase their customer base. Reach out to us today to learn more about how we can help your electrician service excel in the digital landscape.
Talk to an SEO expert
We work with 100+ businesses. Book a slot now to talk to one of our experts.
Why is SEO important for electricians?
SEO is crucial for electricians as it helps in attracting potential customers and establishing a strong online presence. With effective SEO, your website can rank higher in search engine results, making it easier for potential customers to find your electrical services.
How does Nuoptima approach SEO for electricians?
Nuoptima uses a unique approach to SEO for electricians, focusing on keyword research, content creation, and link building. We also optimize existing pages and create new ones to attract as much organic traffic as possible.
What kind of results can I expect from Nuoptima's SEO services for electricians?
With Nuoptima's SEO services, you can expect increased traffic to your website, higher search engine rankings, and increased customer acquisition. These results can lead to a significant return on investment over time.
How does Nuoptima's SEO services for electricians differ from other SEO services?
Nuoptima's services are unique because of our specific expertise in the electrical service sector. We understand the unique challenges and opportunities in this field, and we tailor our strategies to meet the specific needs of electricians.
What types of electrician services has Nuoptima worked with in the past?
Nuoptima has worked with a wide range of electrician services in the past, including residential electricians, commercial electricians, and emergency electricians. Our experience spans various fields within the electrical service sector, allowing us to provide tailored SEO services that meet the unique needs of each client.