You can endlessly look at three things – how fire burns, how water flows, and how a food blogger creates another yummy in his blog. In 1982, the New York magazine food critic Gael Greene first used the term 'foodie' to identify a person with a particular interest in food. Over time and technological advances, foodies have evolved into another breed of food lovers: food bloggers – people who love to discuss food and share knowledge.
With the rapid growth in popularity of food blogs, food, in general, has come under the spotlight. Today, food blogging has become an increasingly innovative and commercially viable business. It becomes more and more competitive each day and remains a full-time job, requiring dedication, creativity, patience, commitment, marketing skills, etc.
With the rising number of food blogs, it's not easy to stand out and share your passion with website visitors. To get more readers to your food blog, you need to create recipes that rank, and SEO is the effective way to do this. Search engine optimisation is one of the most common types of digital marketing. Other popular methods include PPC ads and SMM. PPC refers to paid advertisements and is a short-term form of digital marketing as once you stop paying for it, the ad no longer exists. This method is costly, although it can provide you with immediate results, increasing traffic to your online business.
The primary goal of SEO is to get your business to rank higher in Google search results, increasing organic traffic to your website. The main thing that distinguishes this internet marketing method is its longevity. It can take several months for an SEO strategy to display results, although your website will keep its positions even if you decide to stop using SEO services, meaning you can continue to receive free traffic. SEO is considered a much better option than SMM and PPC, for which you have to pay a significant amount of money regularly. A professional SEO campaign drives traffic, promotes your brand, engages with customers, and directly relates to user experience. These benefits make search engine optimization an essential component of successful digital marketing for any business. This article will show you how an effective SEO strategy can change the life of your food blog.
SEO Results for Food Blogs
The main activity of food blogging is to create a source of information used by numerous readers who may be either true food connoisseurs or regular families searching for a simple yet tasty dinner for a big company. SEO services allow your website to be visible to all people typing on the Google search bar 'dinner ideas' or 'vegan breakfast for two.' With your website showing up among the first results on these queries, you'll get significantly increased traffic and more potential readers to your food blog.


Analysing the Google search data for the keyword 'dinner ideas,' you can see that the global search volume for this term is more than a million searches per month. As you can see from the screenshot, countries representing the most search volume include the US (790 thousand searches per month), the UK (96 thousand searches), and Australia (91 thousand searches). Such a significant amount of search volume demonstrates that over a million people worldwide are regularly searching for dinner ideas. What about Google Trends data?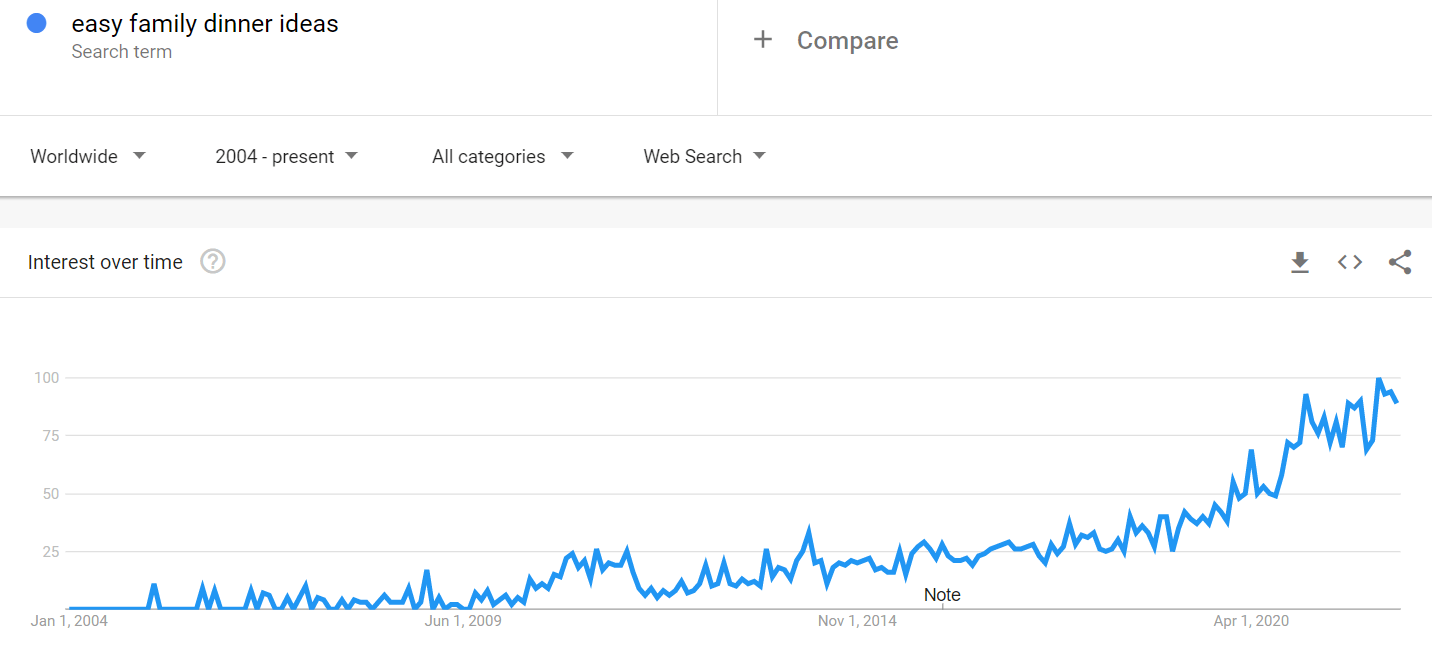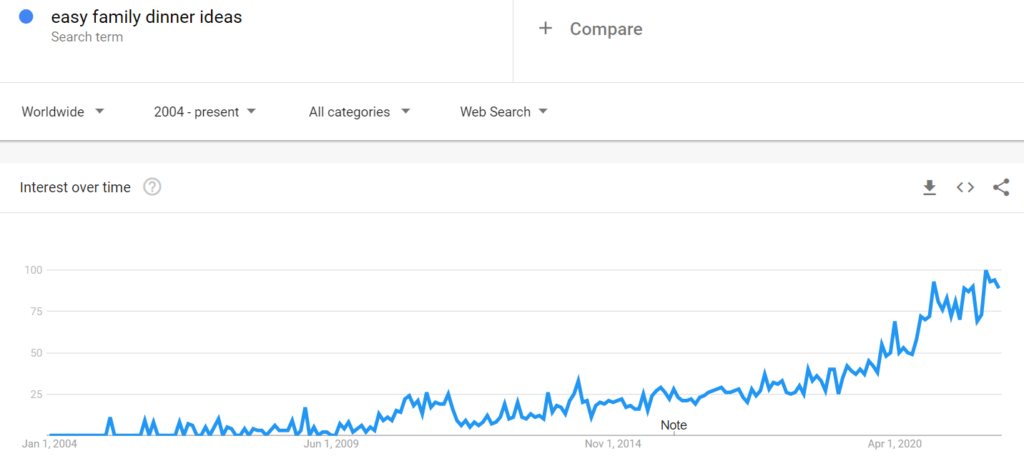 Analysing the search term 'easy family dinner ideas,' you can also see a steady increase in the popularity of this keyword around the world from 2004 to today.


The highest interest by the region for this search query is represented by New Zealand, the US, and Australia.
For each food blogger, this data means there are endless possibilities for his blog's growth as lots of people across many countries are searching for healthy and easy food recipes. With a food blog SEO, your website can become an online cookbook for them if all these people can see it in the top positions on Google.
People Use Different Keywords for Food Recipes
SEO for food blogs isn't a miracle or guesswork. It is an important way of communicating with search engines to prove the relevance of your website for users and their search queries. When searching for food recipes, people may use hundreds of various terms. They may not only search for 'easy dinner' and 'quick dinner ideas' but also use search queries like 'vegan recipes,' 'keto dinner ideas,' or 'low carb dinner.' They may also search for 'dinner ideas for two' or 'Christmas dinner for a crowd.' Your potential readers may also be more specific and need 'chicken recipes' or 'ground beef recipes,' ask 'how to cook salmon' or 'roast chicken temperature.' The images below demonstrate some common search queries people use when searching for meal ideas.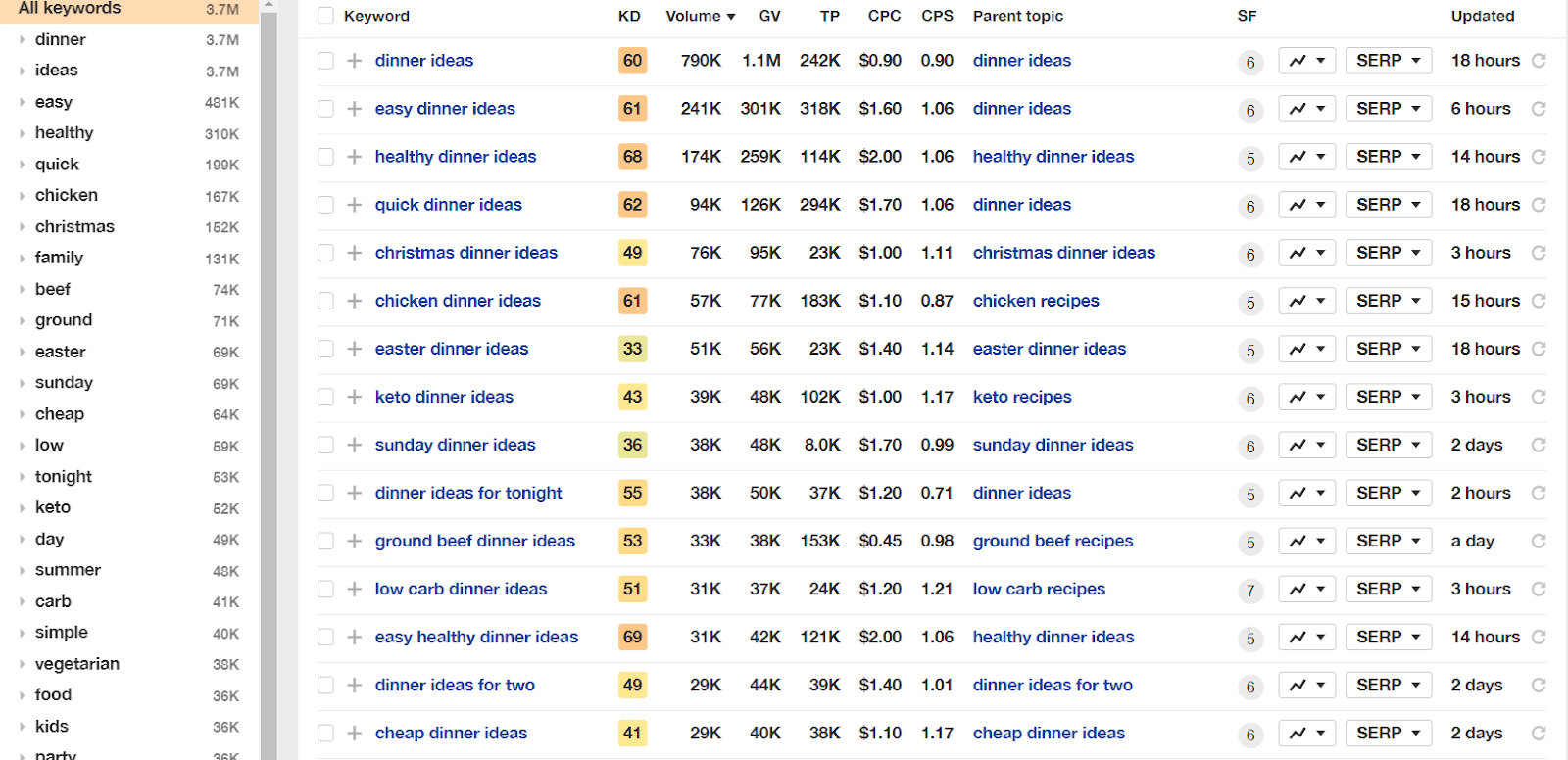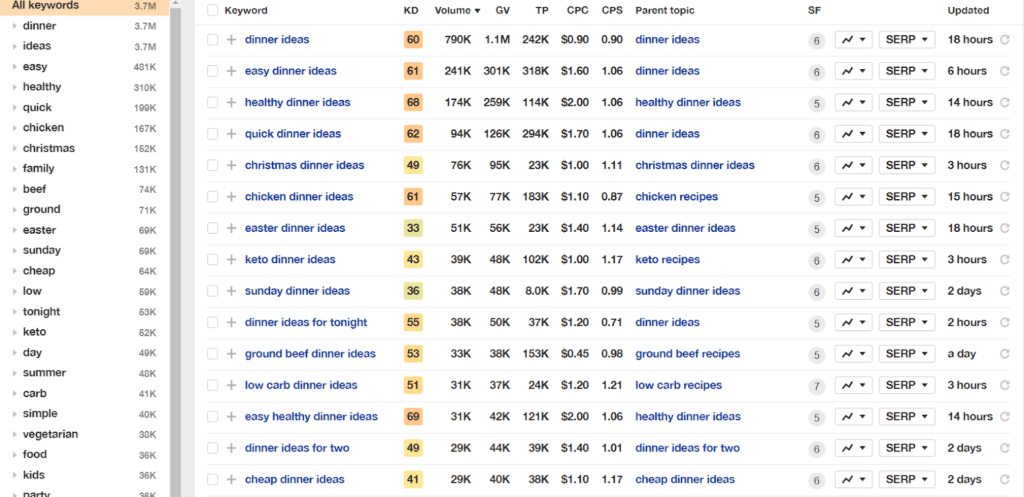 Users can also enter their queries in the form of a question: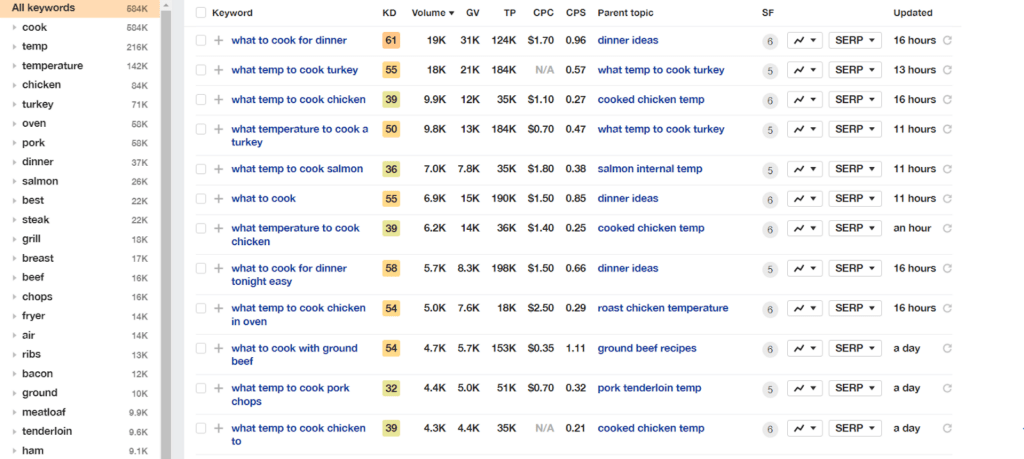 Analysing the terms people might use when searching for food recipes and integrating them into your content can help your blog rank high in the SERPs and appear in their top spot for relevant keywords.
How Effective Can SEO Be for Food Blogs?
Food blogs are considered one of the most popular types of websites. With such high competition in this niche, it's not surprising that one of the most common problems for all food bloggers is no traffic. You may create excellent content, fun videos, and brilliant photos on your food blog, but search engines can hide it from potential readers, nullifying all your efforts. The services of an experienced SEO company can help you come out of the shadows and attract lots of visitors to your website. Let's look at some examples of excellent SEO work.


Our first example is www.loveandlemons.com – one of the best food blogs in 2022, according to a range of top charts. Love and Lemons offers various recipes for breakfast, lunch, and dinner, most of which are vegetarian. The image above demonstrates the website has organic monthly traffic of 10.4 million visitors. This food blog ranks first on Google for the search term 'vegan recipes' and occupies top positions for search queries like 'dinner ideas' and 'breakfast ideas.' The estimated traffic value of this website is $13.6 million. This amount displays how much money food blog owners would need to spend each month to buy an identical amount of traffic from contextual ads. In other words, it means the website's owners can save around $14 million per month because their blog ranks high on Google due to the effective SEO strategy. The image below shows what pages bring the most traffic to this website: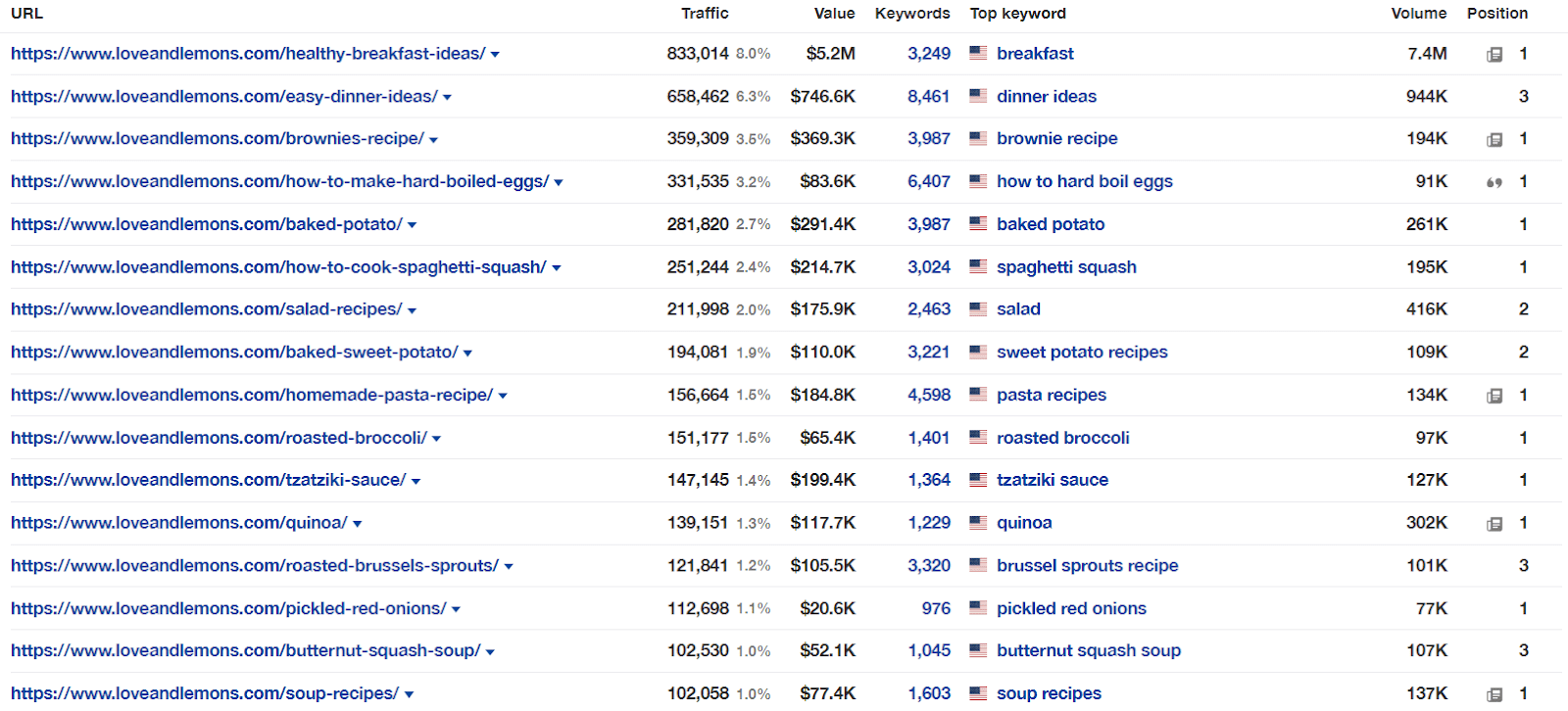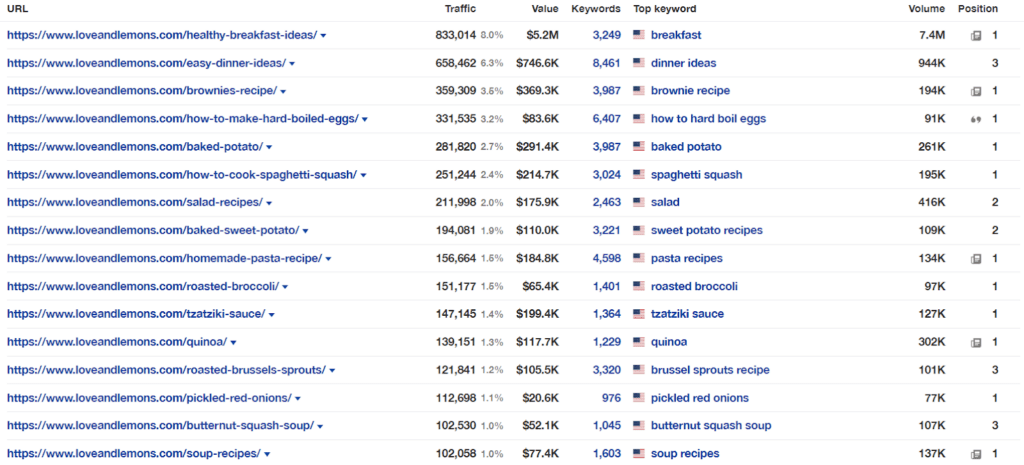 Among the top keywords, you can see popular terms like 'breakfast' and 'dinner ideas' and specific recipes such as 'tzatziki sauce,' 'baked potato,' and 'brownie.' A good SEO expert can analyse these pages and keywords and optimise the existing pages of your food blog to attract more website visitors.
The second example in our article is www.jamieoliver.com – a food blog with numerous healthy recipes, including family recipes, baking recipes, and vegetarian ideas.

The screenshot shows this food blog also has impressive organic traffic of almost 4 million monthly visitors and a traffic value of $1.6 million. Both these indicators demonstrate excellent SEO work, which allows website owners to save $1.6 million per month as they don't need to buy this amount of traffic via PPC ads. A correctly developed SEO strategy allows the website to get traffic of 4 million people organically due to the high ranking. Jamie Oliver's food blog occupies top positions on Google for the search queries 'breakfast ideas' and '15-minute meals.' Among the pages with the highest traffic are: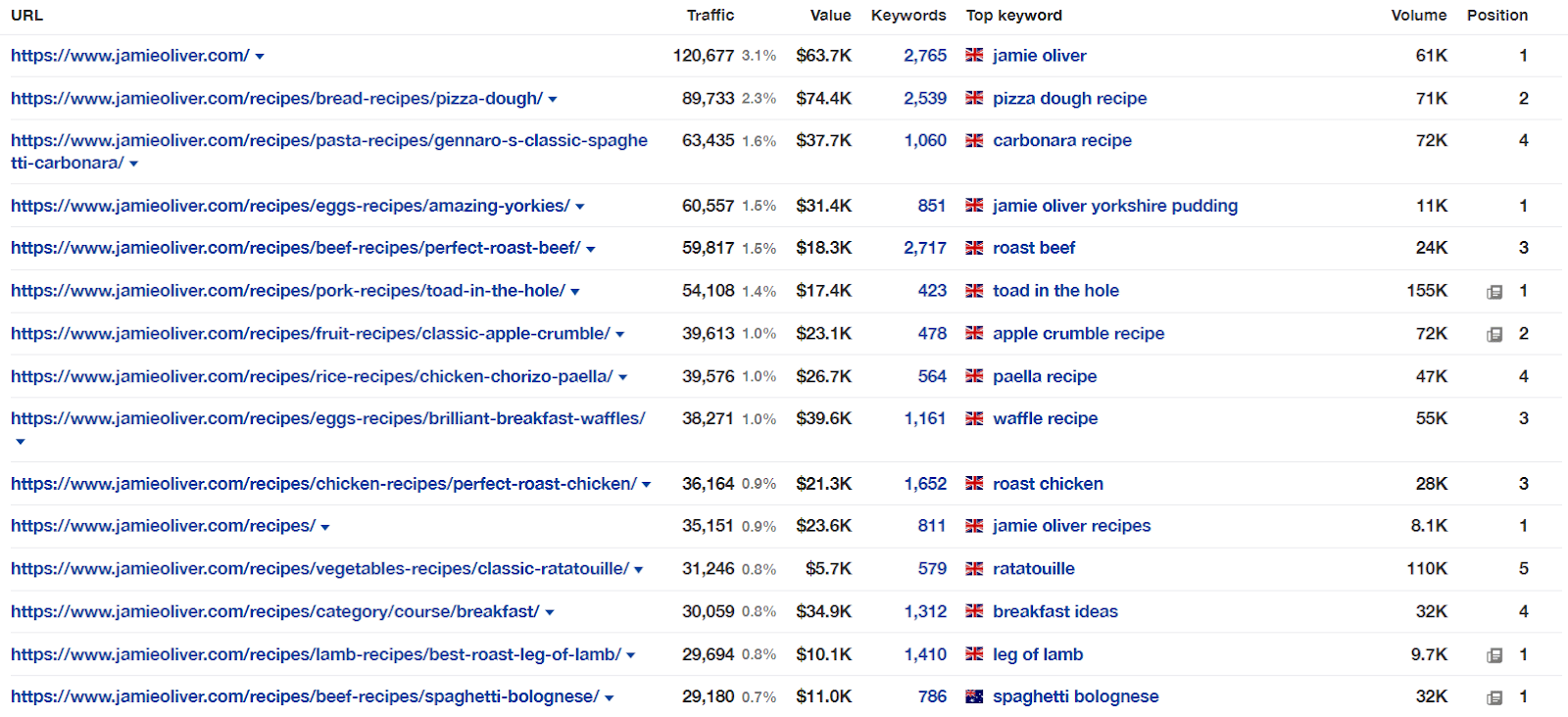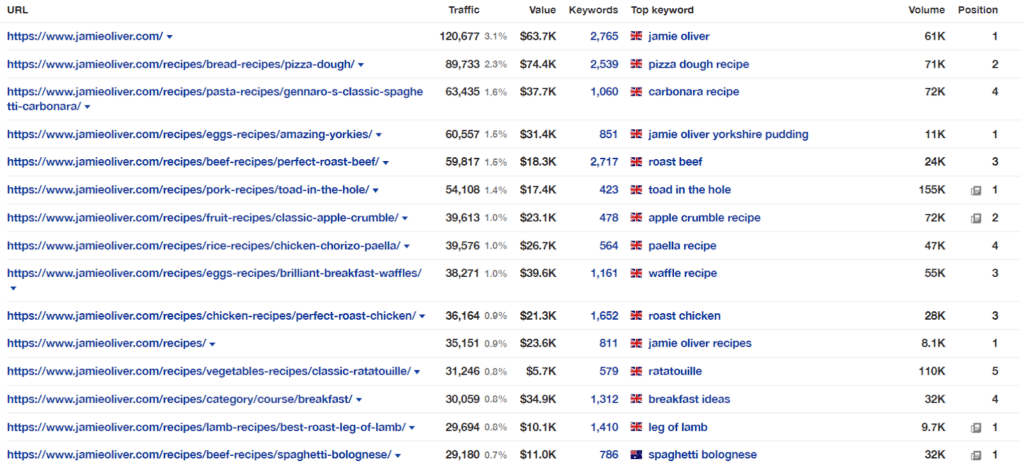 Both these examples demonstrate the effectiveness of SEO tools and significant results of the right strategy for food blogs. It confirms that even in such a competitive niche as food blogging, you can achieve outstanding results and drive millions of readers to your website with the help of a professional SEO team.
Our Approach to Food Blog SEO
With so many similar recipes, guides, and tutorial videos, the competition between food bloggers is fierce. If you are willing to use SEO to rank well in the food blogger industry, NUOPTIMA is an ideal option for you. Our company can position your blog as an authoritative source in this highly competitive sector and place it among the top results on Google search. Food blog SEO is a particular case, and we know all features of this niche. NUOPTIMA team have learned a lot from practical experiences about what works on food blogs and can do the following to improve your blog rankings:
Conduct keyword research and embrace long-tail keywords for your recipes. Long-tail keywords convert better as they are usually more specific to the user's needs and will help people find your recipe.
Optimise the existing pages of your website to make the blog attractive and easy to use.
Create high-quality, SEO-optimised content. Page content and page structure are equally crucial for food blog SEO. NUOPTIMA will help your content reinforce the topic keywords of your recipe and keep viewers engaged.
Perform backlink building to reputable sources to help your website earn credibility to your visitors and search engines.
SEO professionals at NUOPTIMA will develop an effective growth strategy for your food blog, helping it stand out in this competitive sector, attract new visitors, and achieve your business goals. Trust your food blog SEO to the experts, and you'll see the search engines love it, and each recipe reaches its full potential.
Stay Ahead in the Culinary Digital Landscape
In the bustling world of food blogging, it's essential to stay ahead of the curve. With the right SEO strategies, your food blog can rise above the rest, attracting more readers and establishing a strong online presence.
At Nuoptima, we specialize in SEO for food blogs. Our team of experts understands the unique challenges and opportunities in this sector. We employ proven strategies and innovative techniques to help our clients improve their search engine rankings, drive more traffic to their websites, and grow their businesses. Reach out to us today to learn more about how we can help your food blog excel in the digital landscape.
Talk to an SEO expert
We work with 100+ businesses. Book a slot now to talk to one of our experts.
Why is SEO important for food blogs?
SEO is crucial for food blogs as it helps in attracting potential readers and establishing a strong online presence. With effective SEO, your blog can rank higher in search engine results, making it easier for potential readers to find your recipes and culinary advice.
How does Nuoptima approach SEO for food blogs?
Nuoptima uses a unique approach to SEO for food blogs, focusing on keyword research, content creation, and link building. We also optimize existing pages and create new ones to attract as much organic traffic as possible.
What kind of results can I expect from Nuoptima's SEO services for food blogs?
With Nuoptima's SEO services, you can expect increased traffic to your blog, higher search engine rankings, and increased engagement from your readers. These results can lead to a significant return on investment over time.
How does Nuoptima's SEO services for food blogs differ from other SEO services?
Nuoptima's services are unique because of our specific expertise in the food blogging sector. We understand the unique challenges and opportunities in this field, and we tailor our strategies to meet the specific needs of food bloggers.
What types of food blogs has Nuoptima worked with in the past?
Nuoptima has worked with a wide range of food blogs in the past, including vegetarian blogs, family recipe blogs, and specialized culinary blogs. Our experience spans various fields within the food blogging sector, allowing us to provide tailored SEO services that meet the unique needs of each client.