Orthodontists are specialists whose job is not only to make your smile look great but also to make sure your bite feels good and functions properly. In 2019, there were 8.542 practising orthodontists in the United States, and this number continues to rise. At the same time, orthodontists make up the largest group of dental specialists in Australia. So, although you are a talented specialist with so much to offer your patients, you face plenty of professional competition worldwide. You need a sharp orthodontic SEO strategy if you want your website to rank at the top of search results. Professional SEO requires research, hard work, and experience, although it remains the best way to earn new patients consistently.
SEO is not the only way to stand out online and attract new visitors to your orthodontic website – other popular methods include PPC ads and social media marketing. Both these options offer immediate visibility to your website without waiting for organic growth, but the influx of leads drops as quickly when you stop paying for contextual or social media advertising. It makes PPC too expensive for a long-term strategy, so many longevity-focused companies opt for SEO for their websites.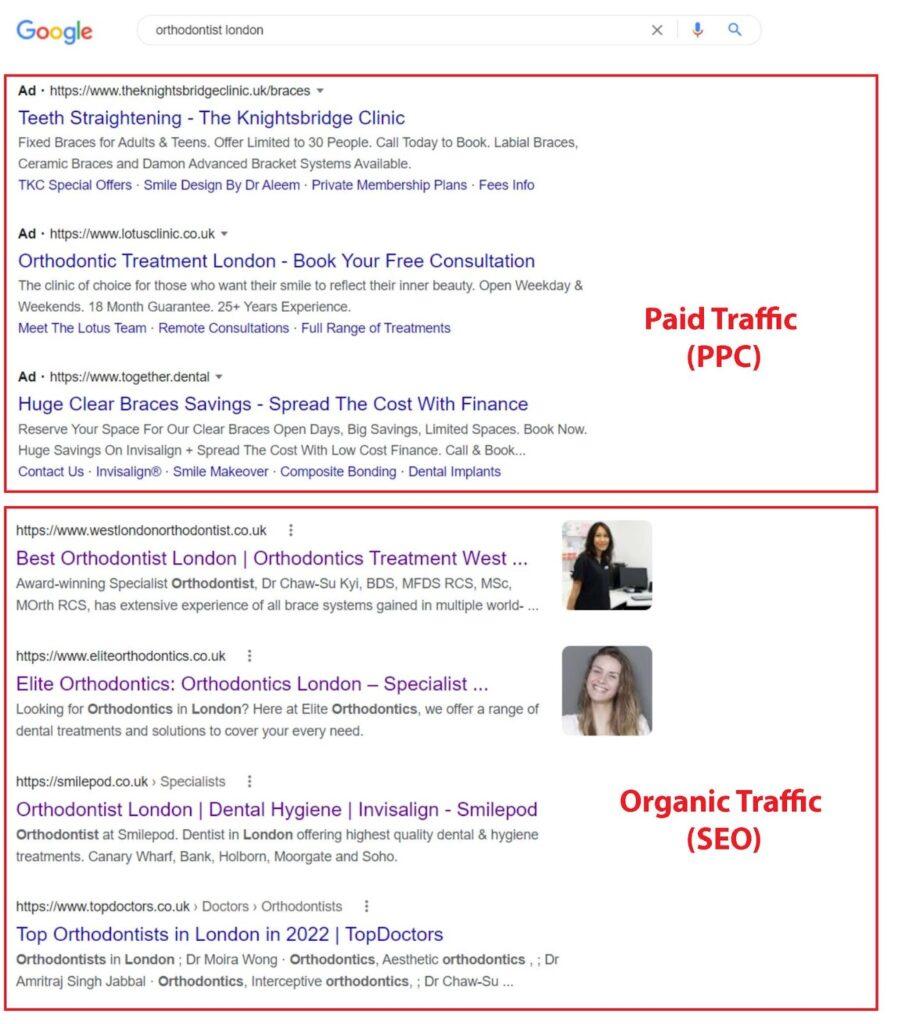 SEO methods don't provide an immediate effect and usually take a few months to show the results, although they offer longevity. Using SEO to optimise your orthodontic website can profoundly impact your rankings, and what's most important is that the website will keep the positions even if you decide to stop using SEO services. By investing in SEO, the results you get are absolutely worth it, as we'll explain next.
Search Demand for Orthodontists on Google

Our first screenshot demonstrates Google search data for the keyword 'orthodontist.' The global search volume for this term is 529 thousand searches each month, which means a significant number of people search for this keyword worldwide. The US makes up 62% of the search volume, with 329 thousand searches per month. It is followed by the UK with 39 thousand searches and Canada with 29 thousand searches.
Google Trends data shows a similar picture with evident growth of the 'orthodontist near me' search term popularity worldwide from 2004 until the present day.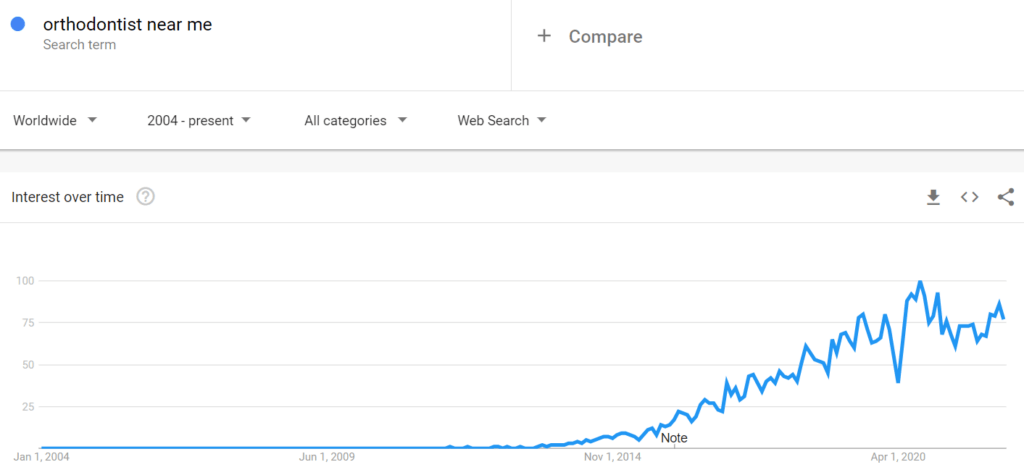 The image below shows that the highest interest by region is represented by the US, South Africa, and Canada.

For all orthodontic business owners, this data means that an increasing number of people across all countries are looking for qualified orthodontists online each year, and hiring an SEO agency for your website will help you be visible to people who need your services and get more website visitors.
People Use Different Search Terms to Find Orthodontists
Conducting keyword research is an integral part of the SEO process. Determining the most commonly used keywords and phrases for your services plays a crucial role in your strategy and boosts your website's rankings. For example, an 'orthodontist' or 'orthodontist near me' are popular keywords, although they make up just a small part of people's search queries when they need professional orthodontic services. Google searches may also include 'emergency orthodontist near me' or keywords including specific orthodontic services like 'orthodontist for braces' or 'orthodontist surgeon.' Search queries may also specify particular groups of people, such as 'pediatric orthodontist' or 'family orthodontist' and availability of services: 'affordable orthodontist' and 'cheap orthodontist.'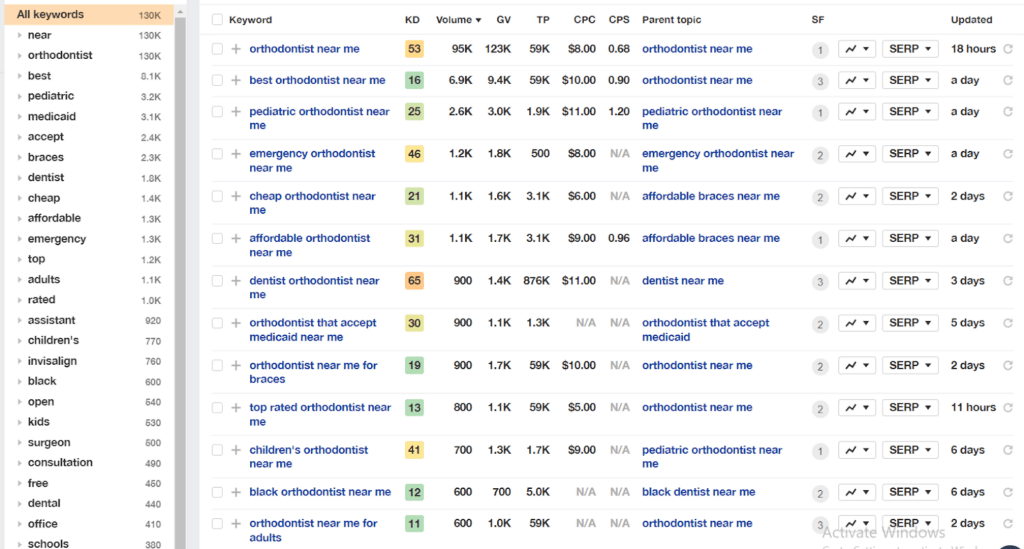 The screenshot below shows the average monthly search volume for different orthodontic services-related keywords.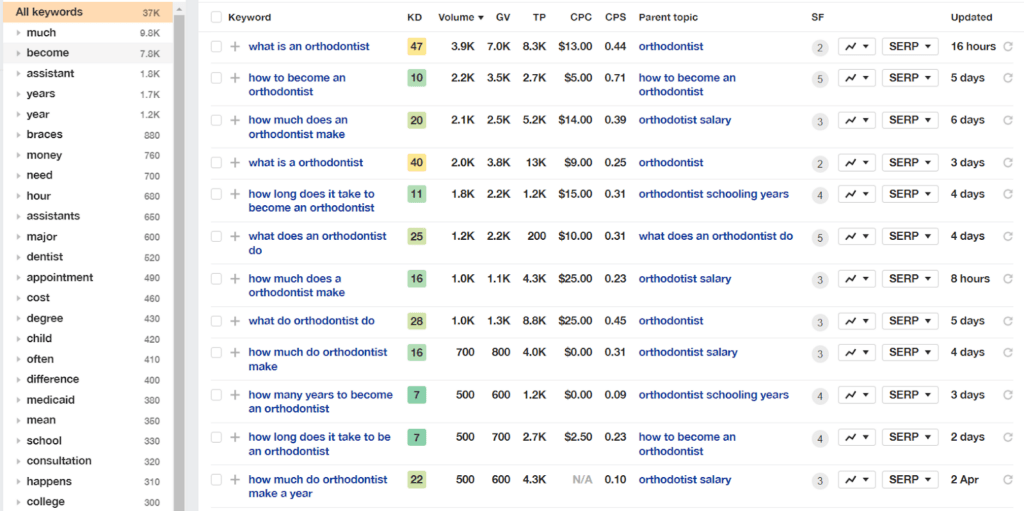 You can see thousands of keywords ideas that a qualified SEO company can use for your orthodontic website.
SEO Results for Orthodontic Websites
The most significant benefit of orthodontist SEO is ranking higher on search engine results pages. The higher the website ranks, the more people looking for orthodontists online it will attract, and the more opportunities you'll have to turn them into patients. Learn about the results of successful orthodontic SEO services with our case studies below.

The first example is https://www.dentaly.org – an aggregator website founded to provide reliable and accessible information to everyone about oral health problems, different types of dental treatment, financing dental care, and maintaining oral hygiene. Dentaly brings together dentists, orthodontists, and oral surgeons to make it easier for everyone to access dental information, and its website occupies top positions on Google for the search term 'orthodontist near me.'
The screenshot above demonstrates that this company's website has a significant organic traffic of 528 thousand visitors per month. The estimated value of this traffic is $1.1 million. It is the amount of money that website owners would have to spend every month to buy the same number of visitors with contextual advertising. For orthodontic business owners, it means they can save around $1 million every month as their website ranks high on Google due to effective SEO services.
Let's check which pages bring the most traffic to this website.

You can see pages with the keywords 'emergency dentist near me' and 'oral surgeons near me' collect significant traffic. A qualified SEO team can evaluate all the pages presented on your website and optimise them to attract more visitors, boosting the organic traffic to the website.
Our following example of effective SEO results is the www.westlondonorthodontist.co.uk website, which is smaller than our first case but occupies top positions on Google for the search term 'orthodontist London.' The West London Orthodontist offers customers professional orthodontic services provided by Dr Chaw-Su Kyi, awarded as the 2020 Specialist Orthodontist of the Year in London. Here, visitors can find various treatment services, including a range of brace systems and the latest imaging and modelling technologies available.

The website has encouraging SEO results with more than a thousand average monthly visitors and a traffic value of $7 thousand. Each of the 1.2 thousand people who make up the organic traffic to the West London Orthodontist visits it after seeing the website in Google search results. It demonstrates the benefits of SEO services and allows website owners to save $7 thousand per month that they would otherwise spend on PPC ads.
The top pages that bring the most traffic to this website are shown below.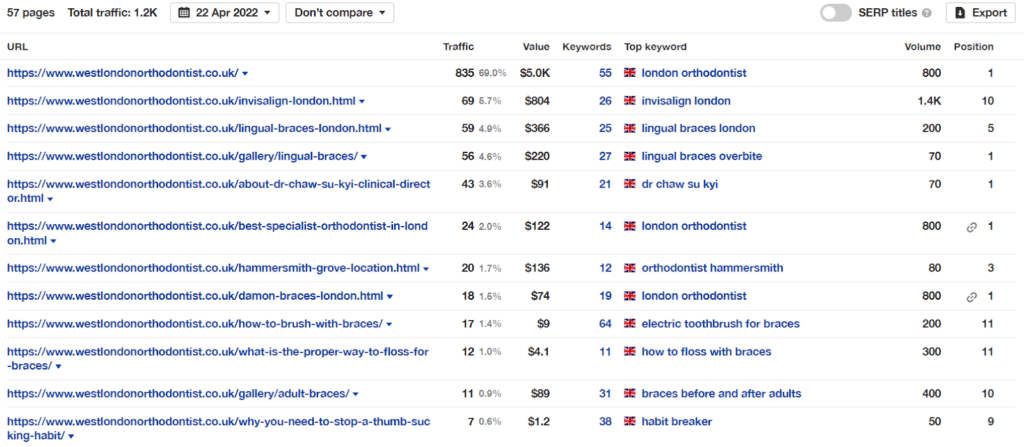 Among the top keywords on these pages, you can see the specific orthodontal services, such as 'Invisalign London' and 'lingual braces London' and the queries including location: 'London orthodontist' and 'orthodontist Hammersmith.' It once again confirms that there are lots of keywords that can be used in your website to boost its search rankings and increase free organic traffic.
How to Implement Orthodontist SEO?
Understanding the benefits of SEO services for orthodontists is one thing but applying SEO to enjoy its rewards is another. To get your orthodontic website to rank highly in search results, you need a team of qualified SEO experts that will develop a customised SEO strategy for your business. NUOPTIMA has over 40 years of combined experience in digital marketing and e-commerce. We understand the competitive nature of the orthodontic industry and will study your business in detail to improve your orthodontic services website ranking on Google and help you reach and exceed your revenue goals.
Doing SEO on your own or with the help of one in-house specialist is almost impossible. In NUOPTIMA, we have a large team of professionals, and we ensure that every step of our SEO plan delivers results making your website more visible in search results and obtaining measurable ROI. Here are the techniques we implement to improve your website's rankings:
Keyword research and local SEO. Using popular keywords optimises your content and makes your website more relevant and searchable. Local SEO is another efficient technique that experts use. Applying it to orthodontists through geo-targeted keywords allows you to concentrate your efforts on people in the community who need your services.
High-quality content creation. Search engines like Google love to rank health-related websites as they contain informative content that educates people. Blog posts that provide expert advice or describe a novel dental procedure will appeal to visitors and search engines.
Link building. High-quality backlink building is another vital ranking factor to consider if you want to increase your website's relevance and credibility. It involves adding external website links that lead to target websites and signals about your website's authority to search engines.
Technical SEO. This strategy makes your orthodontic website faster, more responsive, and more user-friendly. Technical SEO includes adjusting your page load time to reduce bounce rates, upgrading the website security, optimising meta tags, and following Google's SEO guidelines.
Implementing all of the steps in an SEO strategy can be tricky and complicated, so it's always best to leave it to the SEO professionals. At NUOPTIMA, we'll help you achieve outstanding results and optimal business growth with a customised SEO strategy.
Talk to an SEO expert
We work with 100+ businesses. Book a slot now to talk to one of our experts.