Running a business is no easy task. While your expertise may lay in pest control services, you also have to manage behind-the-scenes challenges like marketing. Promoting your business and getting new clients used to be all about word of mouth recommendations, but nowadays, things have changed. As a business owner, you must stay up to date as marketing is essential to keep a consistent client base.
To excel in their digital age, you must have a functional website. An online presence allows you to educate your clientele, display your services, testimonials and more. However, if your potential clients can't find it, your website won't generate the sales you need it to.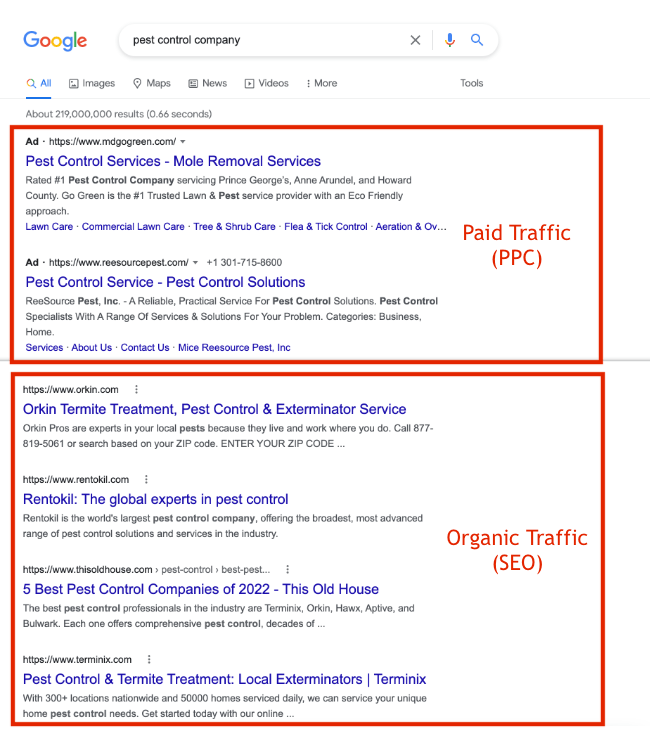 There are a few ways to boost your online presence and make use of your website. The most popular methods include SEO, PPC ads and social media marketing.
Some people favour PPC and social media ads for getting instantaneous traffic to your site. However, these options present a major flaw – they are expensive and only provide a short term solution. When you stop paying for these ads, the traffic ceases, and your website isn't in a better position. On the other hand, while SEO takes a few months to show results, it is a more affordable way to boost search ranking over time. What this means is even if you stop SEO efforts in the future, your site will continue benefiting as it maintains high search positions in Google and generates free, organic traffic.
Why Do We Recommend SEO for Pest Control Companies?
SEO refers to search engine optimisation, the practice of improving a website for a search engine, like Google. Most people searching for pest control solutions don't click past the first page. Therefore, it's crucial to optimise your website by targeting popular search terms as your site is more likely to show on the first page of Google search results.
A strong online presence is key to a successful business in this digital age, even if you offer in-person services. It is advised to use SEO for pest control companies because it builds credibility with potential clients. When they find your site through an organic search result rather than an ad, they tend to trust it more. Additionally, an SEO-optimised website can simplify lead generation. In short, while you have more time to dedicate to your services, your website becomes a powerful tool where future clients effortlessly discover your services.
Implementing an SEO strategy is a cost-effective way to make your website visible to potential clients; even if you stop SEO efforts in the future, it will continue to generate free, organic traffic.
Can pest control companies benefit from enforcing SEO techniques on their website? Yes! In the following sections, we will use real-time data to prove how this is possible for you too.
Search Demand for Pest Control Companies on Google
The above photo displays an overview of Google search data for the term 'pest control'. It's clear to see pest control is a popular topic with a global search volume of 381 thousand, indicating the average amount of searches for this term every month. Specifically, 209 thousand searches come from the United States, 48 thousand from India and 24 thousand from the United Kingdom. Our data shows that pest control companies are in demand as thousands of people search for pest control services in your country every month.
The overhead image displays data from Google Trends. Here we see how the interest in 'pest control' changed since 2004. There is a distinctive pattern occurring as people search for pest control solutions during the middle of the year as weather changes are apparent. Although overall, the demand for this term is on a steady rise, suggesting more people are looking for pest control services every year.
For a business owner, a rise in the industry is a positive outcome, but as the demand for pest control peaks, paid ads, like PPC, become more expensive and competitive. We recommend SEO for pest control companies because it is a more cost-effective solution and offers longevity.
An SEO agency can optimise your website and create relevant pages, so your site collects more organic traffic as interest grows. SEO is the more effective way to ensure you get increasingly high ROIs annually.
People Use Many Keywords to Find Pest Control Companies
When searching for solutions to pest issues, people may use various keywords to find a suitable pest control company, including:
'Pest control companies near me'.
'Pest control companies in…' + location. For example, 'Pest control companies in East London'.
Pest control companies for specific animals.
Questions about pest control and finding the right service.
An SEO company will do keyword research to identify appropriate search terms for your niche. This research is one of the most important steps in SEO strategies because it reveals your target audience's interest and the phrases they use to find your services. There are thousands of keywords to analyse, making this a potentially time-consuming process. Fortunately, an SEO expert will assess the search demand for numerous terms to find the best keywords for your specific site and ensure it collects as much organic traffic as possible.
Alongside identifying relevant search terms, a consultant will analyse the current search positions for your website. With all this information, they optimise existing pages and create new ones so your site targets as many terms as possible. In this way, SEO helps your pest control website appear in more search results, more importantly on the first page of Google, where it generates free traffic.

The above image displays the average monthly search volume for keywords associated with 'pest control'. For instance, 'pest control near me' has an average search volume of 176 thousand, while 'pest control services' has 26 thousand. From these terms, we can see that people are keen to find expert pest control services in their area.
In addition, the below data shows some common questions people ask. These may lead to content ideas and new pages that help target specific keywords related to your pest control company.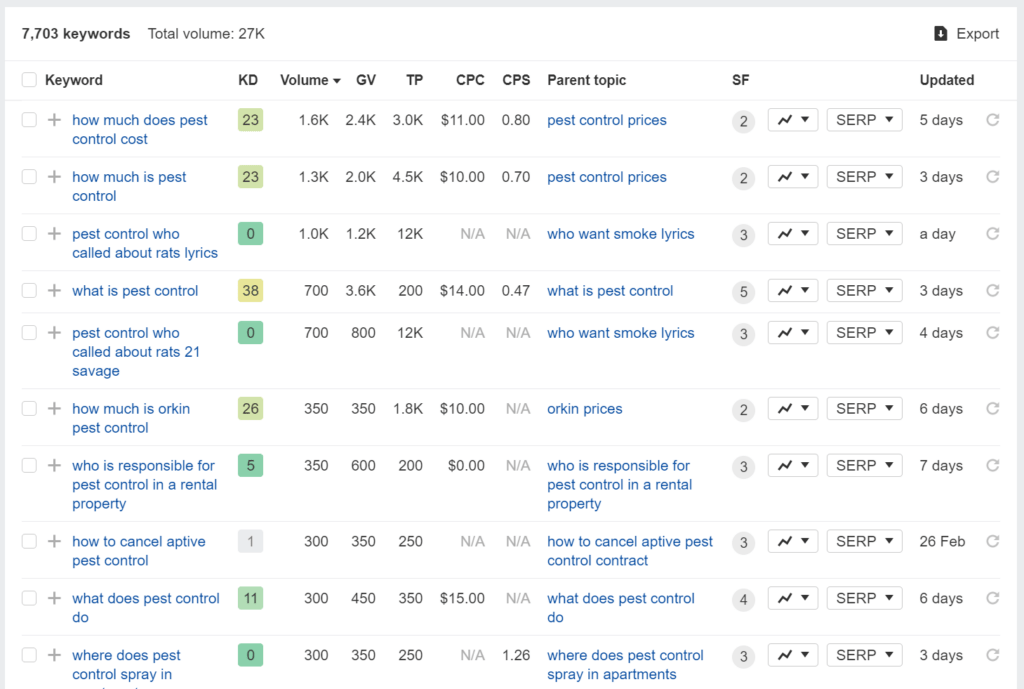 Other Pest Control Companies are Already Getting Results from SEO
SEO can elevate your website to rank higher in search results and generate significant amounts of organic traffic for free. Next, we review two pest control companies that have already seen great results from their SEO efforts.

The British Pest Control Association (BPCA) connects people with certified pest controllers in their area. From the overview above, this website has an average monthly search volume (SV) of 58.1 thousand from organic search results and a traffic value of $112 thousand.
The traffic value highlights how much the website owner can save on PPC ads. For example, this company would have to pay $112,000 per month to get the same amount of traffic that they get from organic searches. However, since they have good search positions in Google, they save this amount instead.
PPC ads have their advantages and disadvantages. From the moment you start the campaign, it instantly directs traffic to your site. However, PPC ads are expensive and unsustainable for long-term growth as traffic flow ceases when you stop paying.
The next image shows which pages specifically attract the most traffic for this website.

As you can see, this site ranks for numerous keywords, including 'pest control near me', 'booklice', and 'mouse in the house'. To improve the website's credibility and increase the chance of it ranking on the first page of Google, an SEO expert may focus on these terms, frequently asked questions or educational content.
Alongside your site, an SEO company will also analyse your competitors' sites to see how you can increase SEO efforts. Alongside their keyword research, an SEO consultant will optimise your site and create relevant new pages to increase the number of terms you target.
It is easy to see positive results from the above site because it has a significant online presence. It begs the question, can a smaller site still benefit from SEO? Let's find out.

This next example reveals that SEO can still positively impact a smaller website. www.empirepestcontrol.co.uk has 8.7 thousand average monthly website visits from organic search results. Moreover, their traffic value is estimated at $11,200.

Here we can see the top-ranking pages for this specific site, which shows that this company ranks on the first page of Google for the following keywords; 'house beetles identification', 'what smells deter foxes' and 'wasps in winter in house'. They also rank highly for various search terms such as 'pest control london'. As the traffic value indicates, this company is attracting $11,200 worth of free traffic that the website owner would otherwise spend on paid advertisements, like PPC ads. This company is a clear example of what SEO can achieve for a smaller website.
Local SEO for Pest Control Companies
Pest control companies are typically local businesses providing in-person services. Thus, most of your client base will be in your local area. Local SEO refers to using specific keywords related to your location or the region you intend to target. Sometimes these won't be the keywords with the highest search demand, but they are unique to your business and even more valuable. Adding your company to Google My Business is good but, by itself, won't produce substantial amounts of traffic.
Local search terms are popular because people want to see search results relevant to their location. For instance, if you live in New York and search for 'pest control company near me' or 'pest control company in New York', you expect the search to show local businesses. While this process can take a lot of work, it is a game-changer for attracting the right people to your services.
What Does an SEO Company Do?
If you are a pest control company, SEO is a worthy investment. Having a functional online presence is crucial to building and sustaining a business in this digital age, but SEO is the secret to making your website work for you. When it is optimised correctly, more people will find your services without you doing the extra legwork. In short, it simplifies lead generation, giving you more time to focus on your clients.
Implementing SEO takes a lot of time and expertise. Fortunately, at NUOPTIMA, we have an experienced team who have worked with service providers, like yourself, for years. We know how to tailor our SEO strategies to your niche to find the right approach for you. With our proven experience, we have helped various brands get to the first page of Google while also increasing the credibility of their site.
Below we have outlined a few strategies to improve the Google rankings for your pest control site and attract the right clients to you:
Arrange links to be placed on credible pest control websites that will link back to your site.
Create expert SEO-optimised content unique to your industry to target numerous keywords and increase your website rankings.
Research and analyse relevant keywords to optimise pages to comply with Google's regulations and best practices.
Develop appropriate, new pages to increase search result positions and sustain your website's organic traffic.
An SEO-optimised website can bring outstanding results to help position you as an expert in your field and simplify lead generation. The expert SEO team at NUOPTIMA will curate an SEO strategy unique to your website that will elevate your online presence. Book a free discovery call today to discuss how SEO can positively impact your business.
Talk to an SEO expert
We work with 100+ businesses. Book a slot now to talk to one of our experts.