Plastic surgery is a competitive business as you strive to help people gain their confidence through cosmetic surgery. Although, operating those procedures isn't the only challenge plastic surgeons face. In fact, establishing a successful practice comes with various hurdles, including marketing your talents.
When considering cosmetic procedures, clients may choose a company based on recommendations or social media. However, many people still find it challenging to select the right plastic surgeon for their specific needs. Thankfully, there are ways to identify your ideal client and create a magnetic online presence that attracts the right people to your business.


In this digital age, it's crucial to have a functional website if you wish to succeed in your industry. For plastic surgeries, a website can educate your potential clients, show off testimonials, before and after photos, or even success stories. However, no matter how beautiful your website is, your potential clients must be able to find it so you can convert leads into sales. As the famous SEO expert, Luisito Batongbakal says:
"For people to discover your website, you need to build pathways and big, flashing signs that lead them there. In digital marketing terms, this means you need links, links and more links." – Luisito Batongbakal, founder, editor, and chief content strategist at FilipiKnow
There are numerous ways to elevate your surgery's online presence, including SEO, PPC ads and social media marketing. Paying for marketing advertisements, like PPC or social media ads, is a good way to instantly direct traffic to your website. However, these ads are not a sustainable, long-term method for attracting clients because they are expensive and only benefit you while the ads are running. Put simply, when you stop paying for the ads, the traffic stops too. This is why we recommend SEO for plastic surgeons.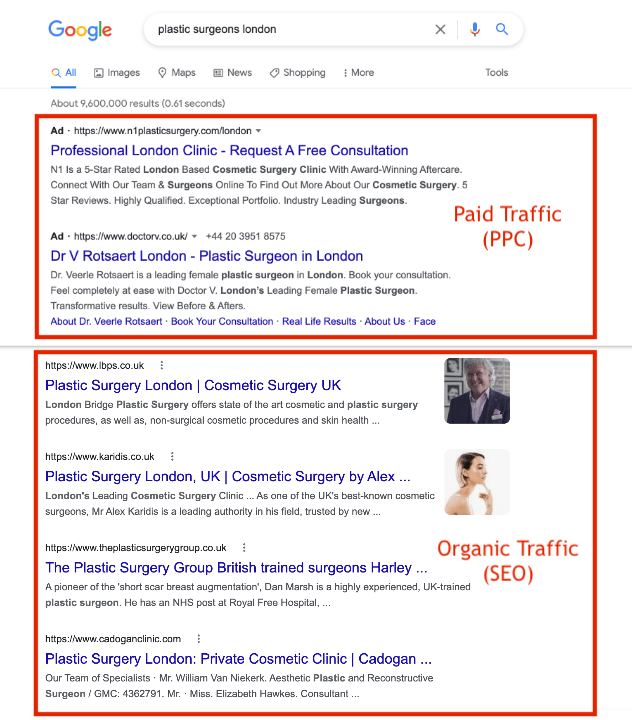 SEO, or Search Engine Optimisation, is the process of optimising a website for a search engine, such as Google. Integrating SEO into your marketing strategy is an excellent way to simplify lead generation as it offers security and longevity.
A good SEO associate will analyse search data for your industry and optimise your cosmetic surgery site, so it appears higher in search results. The majority of people searching for cosmetic procedures don't click past the first page of Google, so it's essential to increase your search rankings. Although SEO takes a few months to show results, it is a cost-effective way to generate free, organic traffic, even if you stop SEO efforts in the future. SEO for plastic surgeons is a worthy investment if you intend to save money, attract new clients and ultimately build a thriving business.
Why is SEO for Plastic Surgeons Important?
Investing in SEO will improve your site's position in search results over time. For plastic surgeons who want to focus on their profession and help each client reach their specific goals, SEO is a sustainable and long term solution to attracting new clients. An SEO agency will optimise your website, so it does all the hard work for you, saving you money and allowing you more time to focus on your clients.
While word of mouth recommendations may have been sufficient years ago, now, businesses must pivot their strategies to keep up with the ever-changing world. As most people use the internet to discover service providers, it's crucial to have an online presence that attracts and converts them into paying clients. SEO is a cost-effective method to build your online presence and future-proof it, so even if you stop SEO efforts someday, they still prove effective. In contrast, paid advertisements, like PPC or social media ads, require the website owner to pay day after day. Therefore, marketing solutions, like SEO, offer longevity, essential for building a successful practice.
An SEO expert can maximise your client leads by improving your site's positions in search results. Increasing these rankings will generate free, organic traffic to your website and improve site visits. Building trust with your clients is essential, especially for plastic surgeons. That's why SEO is an effective solution, as potential clients are more likely to trust your brand if they find it organically rather than on an ad.
Search Demand for Plastic Surgery on Google


The above photo displays an overview of Google search data for the term 'plastic surgery'. It has a global search volume of 248 thousand, indicating the number of people searching for plastic surgery services around the world each month. In the United States, there is an average monthly search volume of 122 thousand, while India has an average of 36 thousand searches every month. Google search data gives us an insight into how many people are searching for your specific surgery services in your country every month.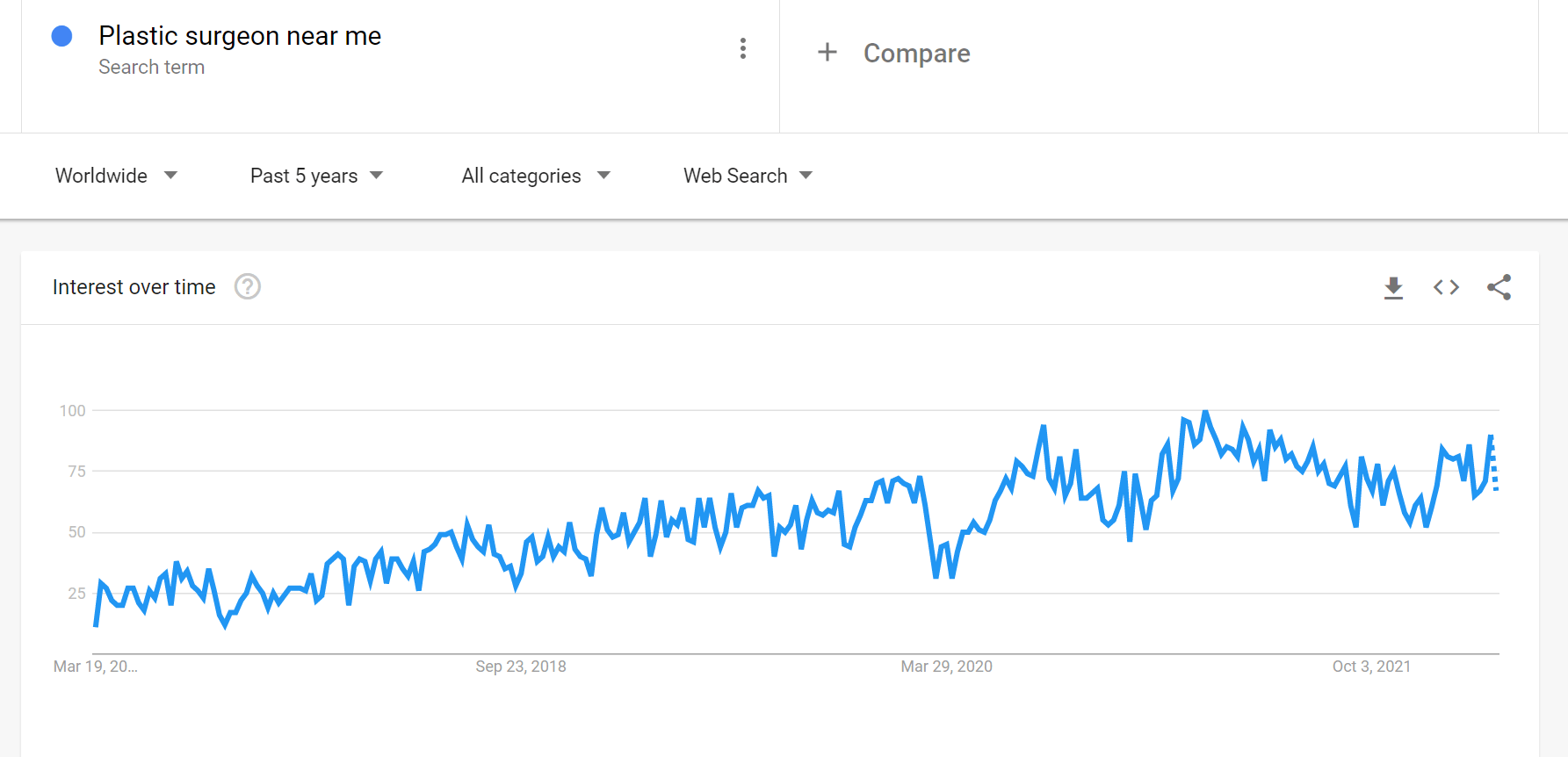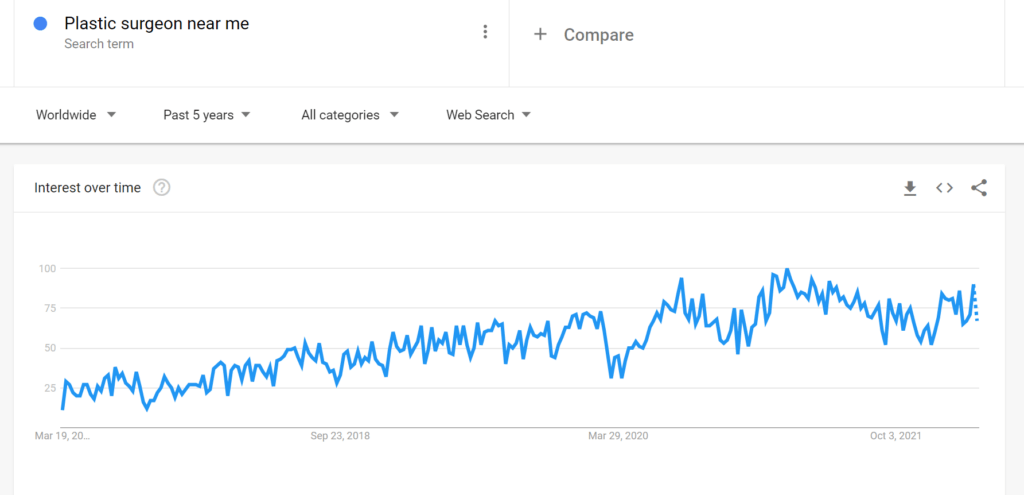 Google Trends allows us to see how interest changes over time for various topics. The above data shows the interest in the term 'plastic surgeon near me' is on an upward trend. What this means is that more and more people worldwide are searching for cosmetic surgeons in their area. As the interest increases, PPC ads become more competitive and expensive. That's why we recommend SEO for plastic surgeons because you can make the most of this rising interest with a more affordable, long term solution.
An SEO company can help optimise your website so more people find your cosmetic services as interest increases and you get increasingly high ROIs year on year.
People Use Many Terms to Find Plastic Surgeons
Keyword research is one of the most crucial steps of SEO. Identifying relevant search terms for your industry reveals what your ideal client is interested in and what search terms they use to find cosmetic services. Through this process, an SEO expert will research your target audience and evaluate the search demand for various keywords to update your website and get it near the top of search results. After extensive research, an SEO company will optimise existing pages and create new ones to maximise your website's organic traffic.
When a potential client is considering plastic surgery, they may use diverse keywords, including some of the following search queries:
'Plastic surgeon near me'.
'Plastic surgeon in…' + location. For example, a Plastic surgeon in New York.
Specialist plastic surgeons. For instance, Plastic surgeons for breast reduction.
Questions about cosmetic surgery and how to find a plastic surgeon.
When creating new pages for SEO, the consultant will look at popular searches like the ones above. They will use these keywords to ensure your ideal client can easily find your services.
In the next photo, you can see the average monthly search volume for a few keywords associated with 'plastic surgeon'.


Assessing various keywords lets us see what your clients are interested in. For instance, these searches suggest people want to find a local plastic surgeon in their area or someone with specific certifications. Specifically, the search term 'plastic surgeon near me' has an average monthly search volume of 31 thousand. If your practice ranks for thousands of keywords relevant to your niche, your website has the potential to reach millions of people.
So, how can plastic surgeons use SEO to grow their online presence and benefit their business? Let's look at some cosmetic surgery websites to demonstrate how their SEO efforts generate free, organic traffic.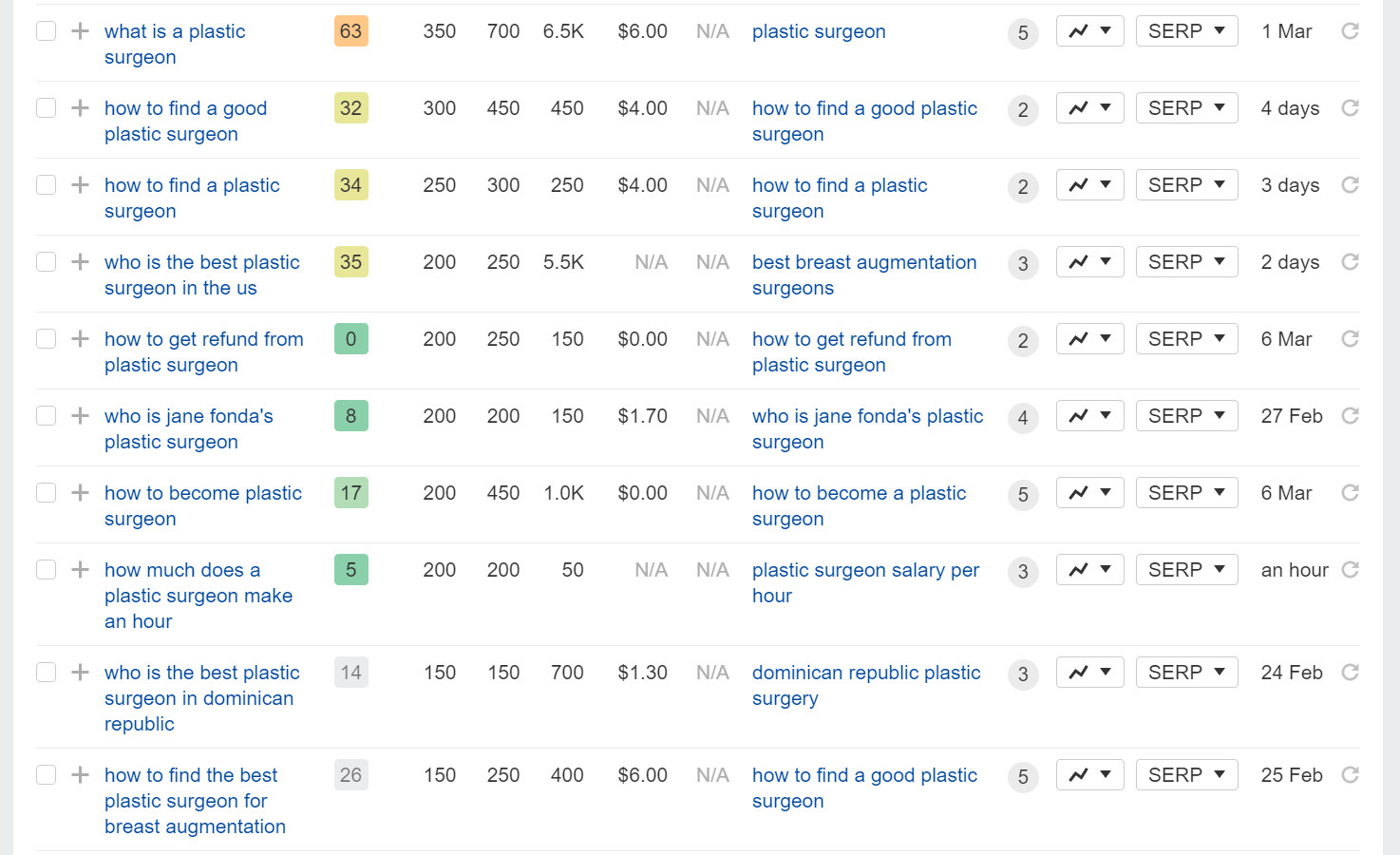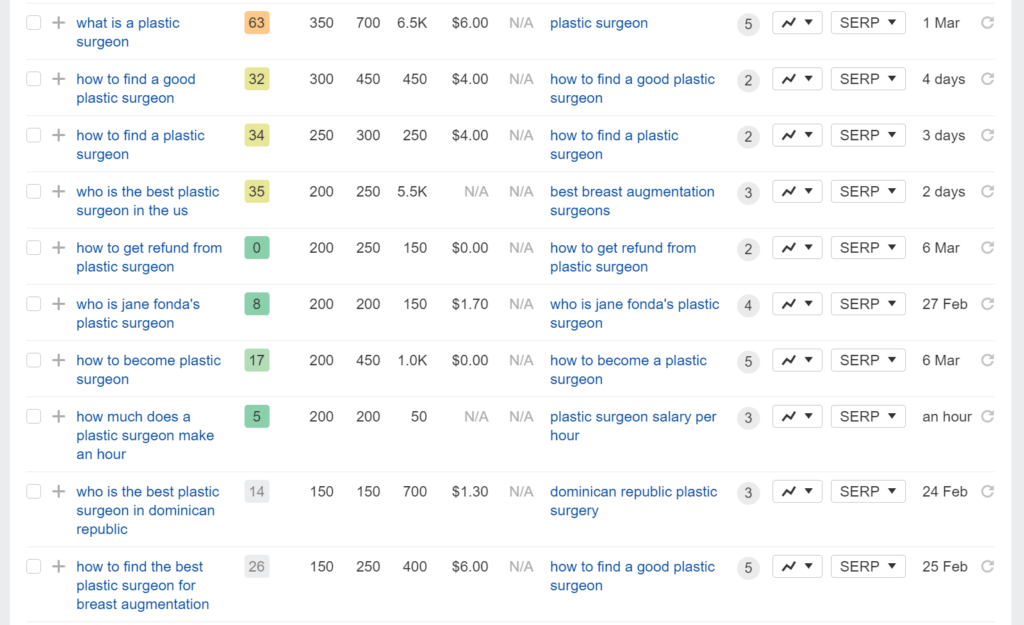 Other Plastic Surgeons are Already Getting Results from SEO
To put it simply, SEO can improve your website's rankings in search results, its credibility and even save the website owner thousands of dollars in advertising every month. We have reviewed a couple of plastic surgery sites that are already getting fantastic results from SEO.


The American Society of Plastic Surgeons, www.plasticsurgery.org, educates people on cosmetic surgery and connects them with an accredited plastic surgeon. Google data reveals their site has an average of 1.6 million monthly website visitors from organic search results. Their average traffic value is estimated at $5.1 million per month. Therefore, the website owner would have to spend this much on advertising to get the same amount of traffic they attract from organic searches.
To clarify, the traffic value is how much one could save on PPC advertisements. While these types of ads allow you to buy traffic, they only benefit you as long as you are paying for them. When the ad stops, the traffic stops. Thankfully, SEO is a much more cost-effective way to, firstly, improve search positions in Google and, secondly, sustain them over time.
Since www.plasticsurgery.org has good positions in Google search results, the website owner saves over $5 million each month, which they would otherwise spend on paid advertisements, including PPC and social media marketing ads.
Furthermore, Google search data shows which pages specifically attract the most traffic for this website. For instance, the below image shows a page optimised with the keyword 'tummy tuck' generates over 48 thousand site visits on average every month.


A proficient SEO company will evaluate your and your competitors' websites. By assessing where organic traffic comes from, they can optimise the right pages and create new ones to target relevant keywords for your website.
The American Society of Plastic Surgeons is a large website, meaning it's natural to see positive results. However, we want to show you why we recommend SEO for plastic surgeons who own smaller businesses. The following example shows why SEO is still an excellent investment, no matter the scale of your website.


The following example comes from www.nyplasticsurg.com, an experienced, certified surgeon based in New York. The above overview shows that a smaller website can still get promising results from its SEO efforts.
This surgeon attracts an average of 3 thousand monthly visitors to their website through organic Google searches and has an average monthly traffic value of $11,500.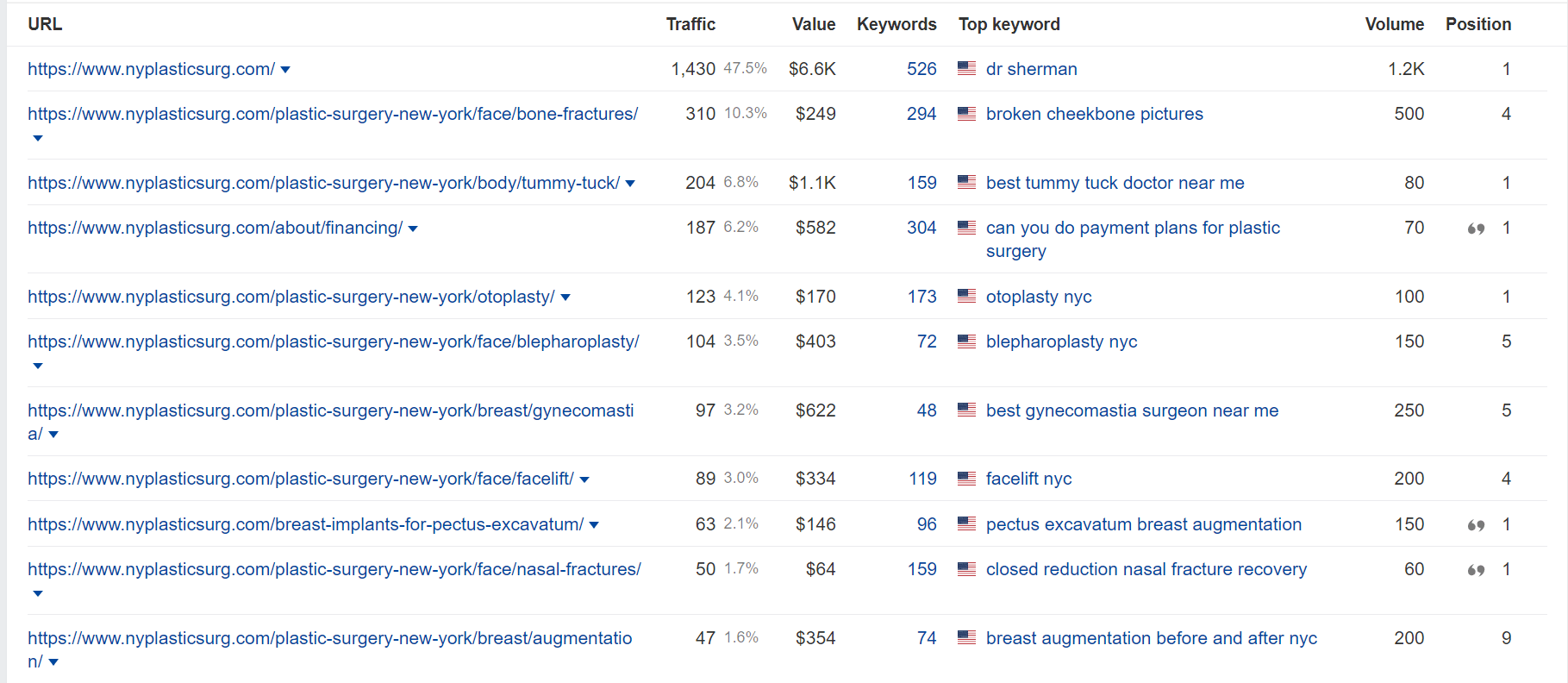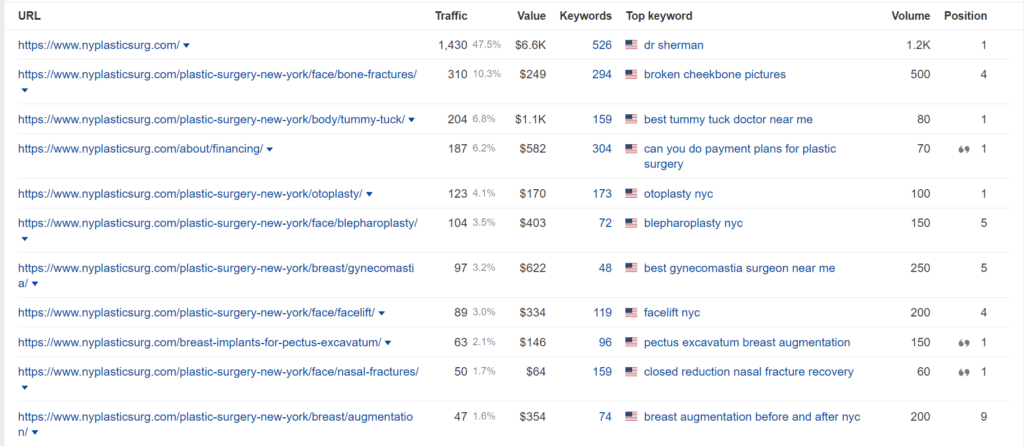 www.nyplasticsurg.com ranks highly on Google for various search terms, as seen above. Interestingly, this surgeon's site focuses on something called local SEO by targeting many New York-related keywords, such as 'facelift nyc', 'otoplasty nyc', and 'blepharoplasty nyc'. These search terms not only attract organic traffic to the site by targeting a specific location but may also direct the reader to an educational page on various services. This company is attracting $11,500 worth of free Google traffic by implementing SEO techniques.
Reviewing other cosmetic surgery sites indicates how many keywords you could target. When you target numerous search terms and have an SEO expert optimise your website for these, you increase your website's opportunities to generate organic traffic. A qualified SEO agency will create, optimise and promote your pages. With their help, your website has the potential to generate free traffic and save you money that would otherwise be spent on advertising.
Local SEO for Plastic Surgeons
Our above evaluation saw how one New York-based business used local SEO techniques to optimise its website. We advise local SEO for plastic surgeons because they provide in-person services. Therefore, as a service provider, most of your clientele will be local to your place of work.
In many cases, your potential client will be searching for surgeons in their area. This is the perfect opportunity to use local SEO methods to ensure your website shows at the top of search results when someone is searching for cosmetic services in your area. Adding your website to Google My Business is a start, but it won't attract significant traffic to your site. If you want to tap into your local client base, you must target keywords like 'plastic surgeon near me' or 'plastic surgeon in (your location)'.
It takes a lot of work to get local SEO right, but it can bring in substantial amounts of organic traffic when you do.
What Can an SEO Company Do for Your Business?
If you are a plastic surgeon or own a surgery, using effective marketing strategies is key to building your online presence and, thus, your business. However, choosing a cost-effective and long-term solution that works is even better. SEO is an investment that offers precisely that.
To get SEO right, you need time, experience and hard work. Unfortunately, managing your clients and sustaining a business leaves little time to market your skills. An SEO company can provide the necessary skills, equipment and expertise to oversee your SEO strategy and save you money.
Here at NUOPTIMA, we have an expert team that has worked with service providers from numerous industries all over the globe. With years of specialist SEO experience, we have helped countless brands get on the first page of Google. With additional challenges for health and wellness websites, including plastic surgeries, we know how to optimise your site, so it complies with Google's strict algorithm.
Here are just a few methods we use to improve the Google rankings for your website and attract the right clients to your surgery:
Arrange links to be placed on reputable legal websites and link back to your site.
Create SEO-optimised content to maximise how many keywords your website ranks for in your area of expertise.
Analyse and optimise pages to comply with Google's regulations and best practices.
Develop relevant, new pages to increase and sustain your website's organic traffic.
When an SEO specialist optimises your site for search engines, it can boast excellent results. The SEO team at NUOPTIMA are experts in digital marketing and helping your website get exceptional results. Book a free discovery call to explore how SEO can elevate your website and benefit your business.
Establishing Your Online Presence with Nuoptima
In the highly competitive field of plastic surgery, it's crucial to establish a strong online presence. With the right SEO strategies, your practice can increase its visibility, attract more potential clients, and establish itself as a leader in the industry.
At Nuoptima, we specialize in SEO for plastic surgeons. Our team of SEO experts understands the unique challenges and opportunities in this industry. We use proven strategies and innovative techniques to help our clients improve their search engine rankings, drive more traffic to their websites, and grow their businesses. Contact us today to learn more about how we can help your plastic surgery practice succeed in the digital landscape.
Talk to an SEO expert
We work with 100+ businesses. Book a slot now to talk to one of our experts.
Why is SEO important for plastic surgeons?
SEO is crucial for plastic surgeons as it helps in attracting potential clients and establishing a strong online presence. With effective SEO, your website can rank higher in search engine results, making it easier for potential clients to find your services.
How does Nuoptima approach SEO for plastic surgeons?
Nuoptima uses a unique approach to SEO for plastic surgeons, focusing on keyword research, content creation, and link building. We also optimize existing pages and create new ones to attract as much organic traffic as possible.
What kind of results can I expect from Nuoptima's SEO services for plastic surgeons?
With Nuoptima's SEO services, you can expect increased traffic to your website, higher search engine rankings, and increased client bookings. These results can lead to a significant return on investment over time.
How does Nuoptima's SEO services for plastic surgeons differ from other SEO services?
Nuoptima's services are unique because of our specific expertise in the plastic surgery industry. We understand the unique challenges and opportunities in this field, and we tailor our strategies to meet the specific needs of plastic surgeons.
What types of plastic surgery practices has Nuoptima worked with in the past?
Nuoptima has worked with a wide range of plastic surgery practices in the past, including cosmetic surgery clinics, reconstructive surgery centers, and more. Our experience spans various fields within plastic surgery, allowing us to provide tailored SEO services that meet the unique needs of each client.