If you run a therapy business, you will know that it is not all about providing first-rate care to your clients. While this is a critical part of the company, you also have to tackle numerous daily business challenges that accompany building a successful therapy practice. One of these challenges is getting new customers. Looking back to the past, many therapists attained new patients simply through word of mouth. However, in today's digital age, more and more people are instead using the internet in search of healthcare professionals, therapists included. Therefore, many therapists are now creating websites for their practices and services and seeking ways to find new patients online.

There are many ways that a therapist or any other business owner can attract people to their website online. Popular methods include pay-per-click (PPC) ads, social media marketing, and search engine optimisation (SEO). These options are quite different concerning their advantages and disadvantages. For example, social media marketing and PPC will give you results immediately because you will start getting visitors to your website as soon as you start the ad campaign.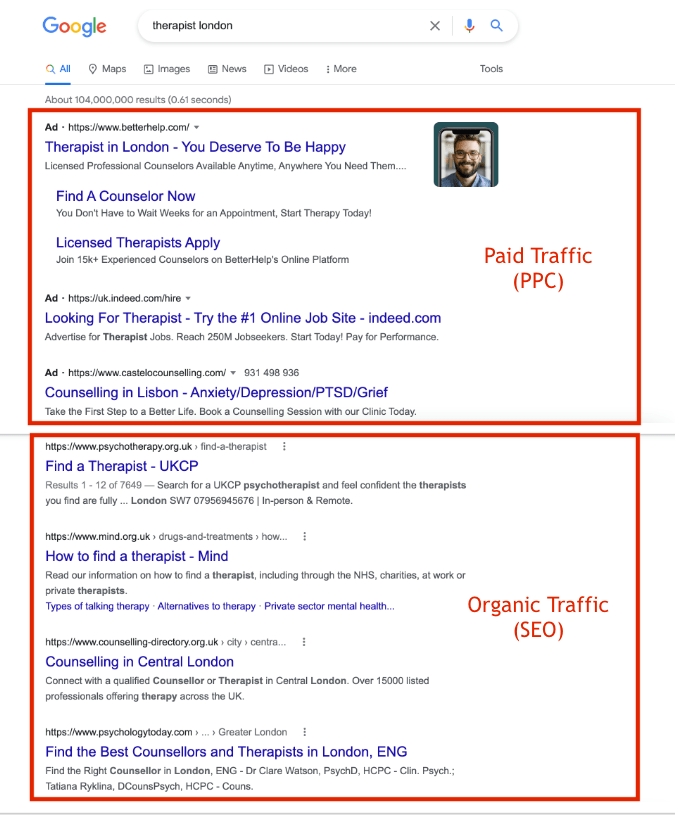 But, they are also very pricey and don't provide any long-term results. You will only keep attracting new visitors to your website as long as you keep paying for ads. On the other hand, search engine optimisation methods generally take several months to start showing results. But, if you invest in SEO, not only will your website improve its positions in search results, it will also keep these positions even if you stop optimisation efforts further down the road. This means you can continue getting free traffic indefinitely.
In the long run, SEO investment is a much better option than spending large sums of money on social media ads or PPC month after month. Moreover, people will trust you more if they locate your website through organic search results rather than seeing an advert for your services.
But the key question is, can therapists actually attract new customers to their businesses and websites by using SEO? Categorically, the answer is yes! Let's now look at how successful your business can be if you employ an effective SEO strategy.
Search Demand for Therapists on Google

The screenshot above shows Google search data on the term 'therapist'. As we can see, worldwide, people search for the word therapist on average 435 thousand times per month. An estimated 259 thousand of these searches are in the United States, 44 thousand in the United Kingdom, and 17 thousand in Australia. This demonstrates that there is a considerable amount of people looking for therapy services daily in your country. Consequently, effective SEO can help you draw in tens of thousands of visitors to your website each month.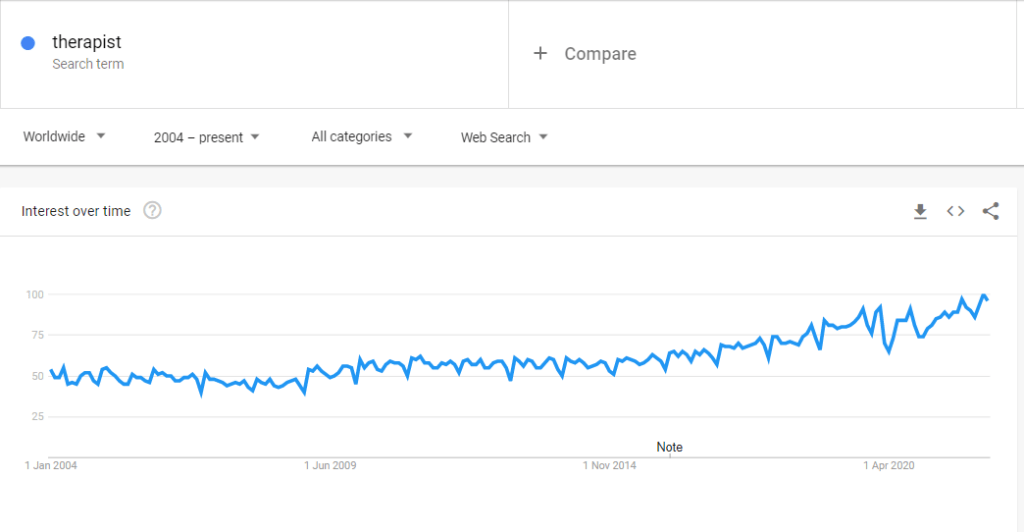 And here, we can see that Google Trends displays a similar picture. The above screenshot demonstrates evident growth in the popularity of the search term 'therapist' from 2004 until the present day. This means that more and more people are looking for therapist services online every year. As a result, if you decide to hire an SEO company to promote your therapist website in search results, you will be in fantastic stead to keep getting an increasingly high return on investments (ROIs) for years to come, particularly as social media ads and PPC become more costly and competitive.
People Use Lots of Search Terms to Find Therapists
It is important to note that 'therapist' is only one possible keyword and that there are many other terms people might use when searching for therapy services. One critical part of SEO is keyword research, where experts examine search queries and substantiate which pages need to be created on the website and optimised for keyword usage to attract maximum traffic. Here is just a short selection of examples of search queries that people enter on Google when looking for therapy services:
'Therapist near me'
'Therapist in…' + location. For example, 'therapist Manchester'.
Searches for particular types of therapists, such as 'physical therapist', 'massage therapist', 'counselling', and 'respiratory therapist'.
'Therapist for…' + issue, such as 'mental health therapist' and 'sexual therapist'.
Below, the screenshots show the average monthly search volume for a range of therapist-related keywords. As you can see, there are millions of people searching for these keywords every month, meaning that a great SEO-optimised therapy website can attract thousands of free visitors every month purely by showing up for these keywords on the search engine Google.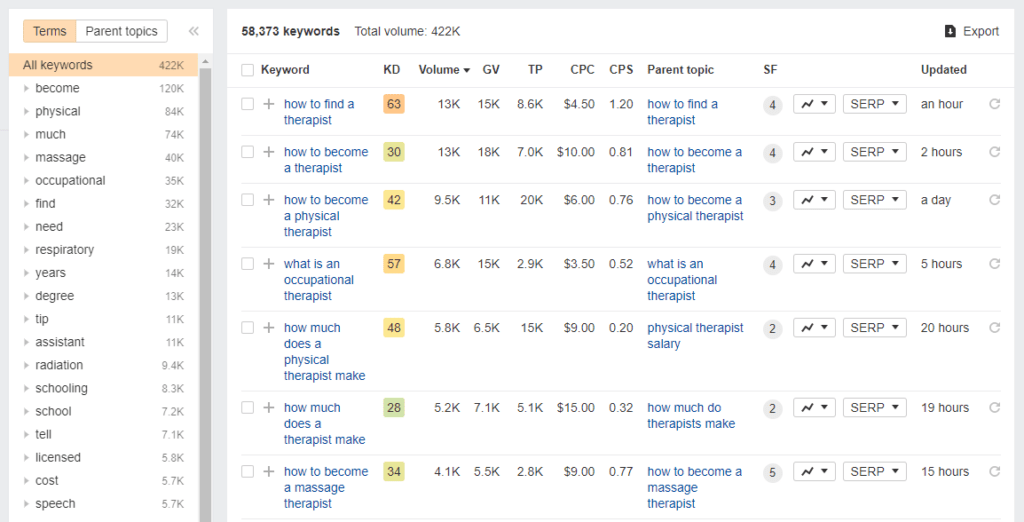 Other Therapists are Already Getting Results from SEO
Effective SEO can bring excellent results, helping websites appear higher in search results and potentially saving website owners thousands of dollars on advertising every month. But, instead of just reading about it, let's show you. Below, we consider several examples of therapist websites witnessing a great return from their SEO efforts.

Our first example is www.psychotherapy.org.uk, an aggregator website that gives information about therapists working within the UK. This website has 30.9 thousand average monthly visitors. These are people who visit the website after seeing it pop up in Google search results.
Meanwhile, the website's average monthly traffic value is roughly $53,200. This amount shows how much money the website owner would need to spend every month to purchase an identical amount of traffic they get organically from contextual advertising systems, such as PPC ads. As a result, this means that the website's owner can save over $53,000 per month because their website enjoys fantastic positioning in Google's search results.
The screenshot below shows which pages bring the most traffic for this website: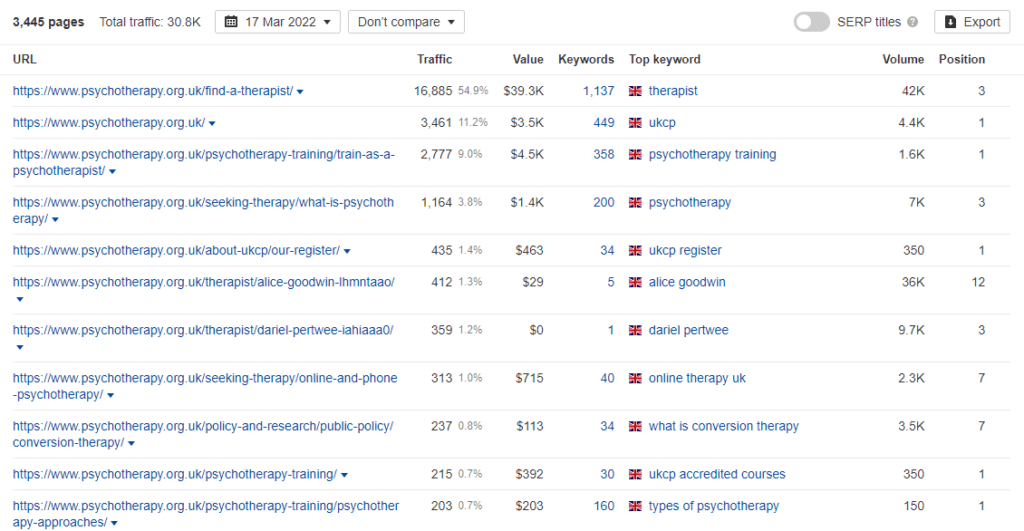 s we can see, the pages in the list above draw impressive traffic from a selection of pages. An excellent SEO expert can analyse the pages currently on both your website and competitor websites, optimise existing pages to help attract even more people, and create new pages that will collect as much organic search traffic as possible. Of course, this is only one aspect of SEO work, and there is a range of other things that SEO agencies do in order to promote websites.
You might be thinking that it is hardly unusual to see impressive results with a big therapist aggregator website, but what about a smaller, more humble website? Is SEO still a worthwhile investment? Our screenshot below will clearly demonstrate that it definitely is.

Clearly, even for a smaller website, the results look encouraging. This London based therapy business illustrates a far more modest example than the aggregator website mentioned above. The Mind Works attracts roughly 1.4 thousand organic website visitors each month and has a traffic value of about $2,500. This website ranks highly on Google for the search term 'therapist practice London' and numerous other keywords and attracts desirable traffic. This website gets $2,500 worth of free traffic from Google, meaning that they can save this money that would have been spent on PPC ads.
The main factor to keep in mind is that PPC ads consist of buying traffic in exchange for money. So it makes sense that as soon as you cease paying for these ads, the traffic stops. But, with SEO, you will keep your search positions and keep getting traffic even if you decide to no longer use SEO services. By hiring a qualified SEO agency and boosting your website's rankings on Google, you can conserve money and keep your website's traffic without the need to spend money on advertising channels such as PPC.
Let's now consider the pages bringing the majority of visitors to this website: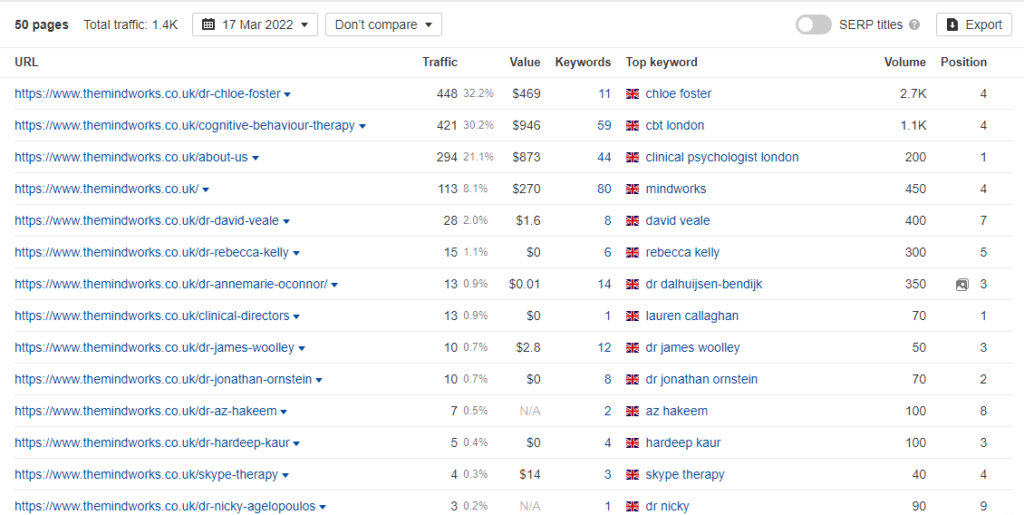 Some keywords that bring the most traffic to these pages include 'cbt london', 'clinical psychologist london' and names of various therapists such as 'chloe foster'. This again shows that there is a significant variety of keywords that your website can utilise to gain free traffic on Google. A great SEO agency can create, optimise, and promote those pages effectively, bringing more business to your company.
Local SEO
Local SEO techniques are used to make sure that a website is displayed to people who search for certain services locally. For example, if you were to enter 'therapist near me' on Google, you will find websites run by therapists in your local area. Therefore local SEO is critical for businesses offering services in-person, such as therapy. But, just adding your website to Google My Business and adding your location on Google Maps will fail to bring as much traffic as you might like. Only comprehensive search engine optimisation of websites can actually lead to tangible results and assist your website in rising in search engine rankings.
What Does an SEO Company Do?
While SEO is a prudent investment for therapists, achieving outstanding results takes much expertise, hard work, and skill. This is particularly true for websites that operate in the health and wellness fields. Google sets very high standards for websites selling products, providing services, or having content related to health and wellness to stop low-quality websites from attaining the top positions in search results.
But, NUOPTIMA has been working with brands in a range of fields, including the health and wellness industry, for numerous years. Our experts have bundles of experience doing SEO for medical providers, clinics, companies selling supplements, and more! We, therefore, know precisely what to do to get your website to appear on the first page of Google. Here are just a handful of things we can do to help improve your therapist website's Google rankings:
Arrange the placement of links on reputable medical and health and wellness websites.
Create SEO-optimised content to help your website rank for more keywords on Google.
Optimise existing pages to comply with the rules and best practices of Google.
Create all the relevant pages to help your website gain as much organic traffic as possible.
Effective search engine optimisation can provide outstanding results if done correctly by qualified professionals. At NUOPTIMA, we have a large SEO team packed with a lot of expertise that can truly assist your website in achieving desirable results. Book a free discovery call today to uncover how we can use SEO to achieve great results for your business and website.
Talk to an SEO expert
We work with 100+ businesses. Book a slot now to talk to one of our experts.