Key Points
Wix is a well-known website builder and is highly suitable for beginners, including startups and small businesses.
SEO is important because it can drive massive amounts of traffic to your website without crippling your finances, unlike marketing and ad campaigns.
Wix SEO has come on in leaps and bounds in recent years. You can utilise many top tips to do Wix SEO, including using long-tail keywords, submitting a sitemap, obtaining more backlinks, and using Wix SEO Wiz.
SEO requires much effort, hard work, and experience. It is a fantastic idea to consider hiring a qualified SEO agency to help your website rank as highly as possible.
Do you want to increase the traffic you draw to your Wix website? The best way to drive more organic search traffic is through Search Engine Optimisation (SEO). SEO is a digital marketing skill that can drive high converting traffic straight to your website. In this article, we consider Wix, its pros and cons regarding SEO before offering some top tips on how to do Wix SEO.
What is Wix?
If you have built a website or have been looking for a suitable website builder, you will have heard of Wix. Wix is a popular website builder that hosts over 160 million websites! Many small businesses enjoy it because of its low cost — it is possible to even launch a Wix site for free! — and also because of its drag-and-drop interface. It is seen as highly suitable for beginners. For these reasons, it is fantastic for both small businesses and startups looking to venture onto the internet for the first time and for those who wish to build their website themselves. Wix offers hundreds of different starter templates, making it easy to launch a site quickly, and also offers eCommerce functionality for those wishing to launch their first online store. Moreover, it also includes a whole range of apps to assist you in doing more with your website.
However, Wix is not suitable for everyone. While it serves the purpose of aiding small businesses gain a web presence and is often referred to as the best free website builder, it does not offer extensive customisation options. It may also not be suitable if you are an experienced developer. But, if you are a small business, it could well be an appealing option.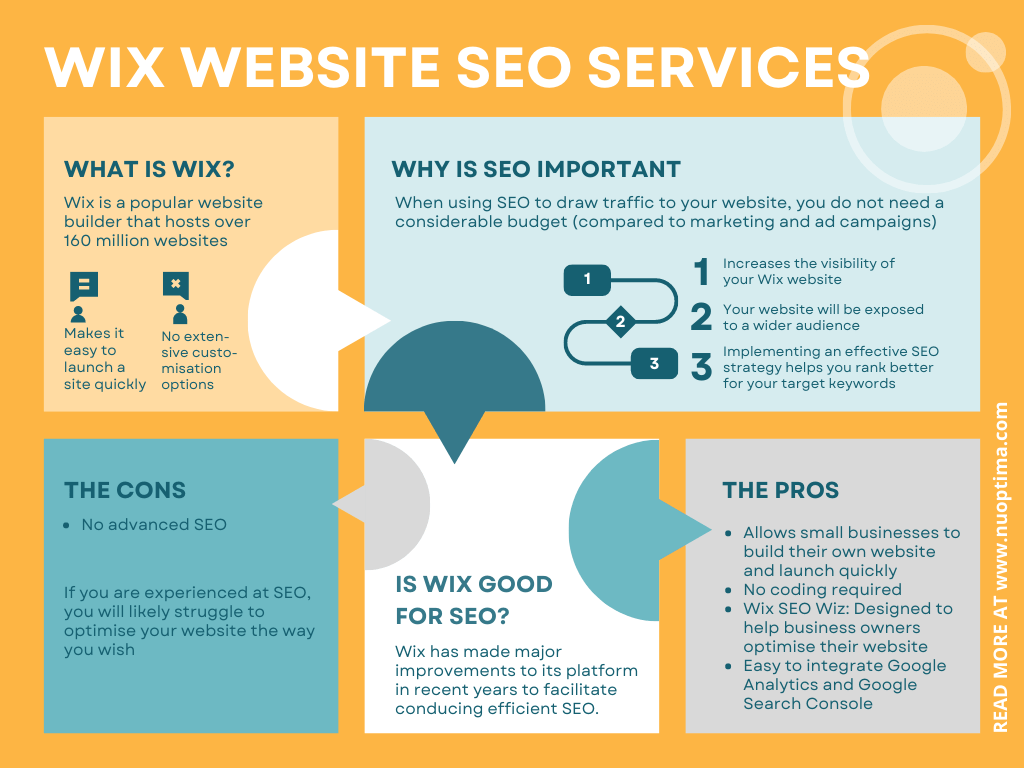 Why is SEO Important?
SEO is important because you do not need a considerable budget to increase your traffic. Unlike paying for marketing and ad campaigns, which can pull on the purse strings, SEO can draw significant amounts of traffic to your website for free. Implementing an effective SEO strategy increases the visibility of your Wix website by helping you to rank better for your target keywords. By ranking better, your website will be exposed to a wider audience. Ranking high in search engines is very important as most people do not click past the first page of search results. While SEO takes much time and effort, the result is more than worth the wait. Using the right SEO strategy is one of the best ways that websites can grow their traffic while keeping their costs low. SEO is by no means an easy avenue, which is why we highly recommend using a reputable SEO agency to help.
Is Wix Good for SEO?
In the past, Wix has been criticised as being a problematic platform that will not rank on Google. This criticism originates from Wix's SEO issues in the past, such as its inability to allow you to add alt tags to images and its inability to optimise title tags and meta descriptions for blog posts. However, these issues have all been resolved, although Wix's SEO reputation still suffers somewhat unfairly due to its past problems.
In terms of SEO, Wix has made major improvements to its platform in recent years and has come a considerable way in a short space of time. Therefore, if you are a small business launching a relatively small site, you should have no problems ranking just because you are using Wix. If you conduct efficient SEO, Wix should in no way be a hindrance.
The Pros of Wix for SEO
Wix allows small businesses to build their own website and launch their online presence quickly.
There is no coding required. Indeed, you do not need to know any code at all to optimise your Wix website. Any SEO that you can do through Wix can be accomplished through the builder, so no code is needed.
The platform includes the 'Wix SEO Wiz' tool. This is designed to help business owners optimise their websites. You can answer questions relating to your website, location, and keywords, and then you will be given a plan for your website's SEO. This is particularly appealing to beginners of SEO.
You can easily integrate Google Analytics and Google Search Console with Wix, two essential tools. There will be more on these tools in our top tips section.
The Con of Wix for SEO
You will likely struggle to optimise your website the way you wish if you are experienced at SEO. There is no advanced SEO.
How to Do Wix SEO: Our Top Tips
This section provides you with invaluable top tips to assist you with doing Wix SEO on your website.
1. Use Wix SEO Wiz
Wix has developed a free and intuitive tool to help you improve your ranking: Wix SEO Wiz. This tool is a personal SEO assistant and guides you through each step. It can be found in the dashboard of your Wix account. As aforementioned, you answer some basic questions and fill in your keywords, and then the Wiz provides you with a personally tailored plan, including a checklist of tasks. This plan informs you of all the actions you need to take to rank higher on search engines. The Wix SEO Wiz helps SEO beginners to start optimising their website in minutes.
2. Set Up Google Analytics and Google Search Console
It is simple to connect Wix to Google Search Console and is invaluable in gaining insight into the data that it gives you about your website's SEO performance. If you are on a premium plan, simply click 'connect to Google', and you can integrate with Google instantaneously. If you have a free plan, you will need to do this manually. To verify Google Search Console:
Go to Google Search Console, then enter your domain name into the URL prefix box.
Click continue, and you will see the option to verify using an HTML tag.
Copy this tag, go to the settings in your Wix site's dashboard, and go to the SEO tab. Here you will see advanced SEO settings and the option to add header code meta tags.
Paste the code copied from Google Search Console here.
Publish your website and head back to the Search Console and click verify.
You can only add Google Analytics tracking to your website when using a custom domain, and you need to sign up for this platform and get the tracking code. Go to the 'Marketing Integrations' menu, and you will see an option to connect Wix to Google Analytics. Once you have connected, you will notice your statistics tracking in the Google Analytics dashboard.
3. Choose the Correct Domain
Through Wix, you can easily get your free domain name and connect it to your website. This is an SEO best practice and will help give your business a professional look to compete online. However, owning a domain is not enough, so you need to choose the right one. To make this choice:
Keep your domain short and catchy to persuade Internet browsers to click when they see your name.
Include your business name or area of expertise, so visitors clearly comprehend what your business does.
Include your main keyword if possible, as it may increase your chances of coming up in search results for your chosen word.
4. Use Long-Tail Keywords
Long-tail keywords are keywords that have more terms than average. Keywords are two to five-word phrases that a searcher types into a search box to find a business online. For example, if you owned a hairdressing salon, you would want the searcher to enter 'best hairdressers' and find your website. But, this can be very difficult as shorter keywords can generate millions of results, making them more competitive. But, using longer and more precise keywords, such as including your location and speciality, you can more easily attract the right audience. So, you could write 'Afro-Caribbean hairdressers in Manchester' if that was the sort of salon you owned. The more targeted your keywords are, the more likely you will increase the chance of searchers clicking on your website from search results, and the more likely you will attract the right audience.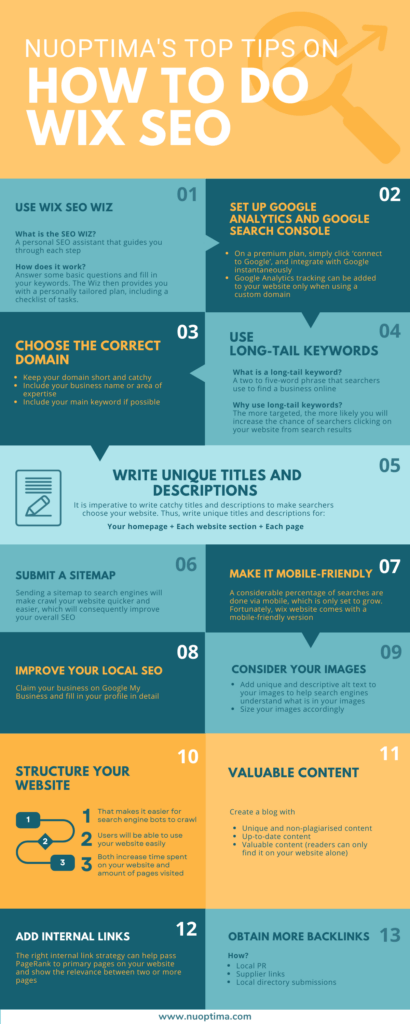 5. Write Unique Titles and Descriptions
To maximise your optimisation, you need to write unique titles and descriptions for your homepage as well as for each website section and page. This is because using the same metadata may seem like your website contains duplicate content and is looked down upon by search engines as they do not know how to rank your pages. It is also imperative to write catchy titles and descriptions to make searchers choose your website over any others. Of course, the more people that click on your website, the better, as this is associated with a better ranking. This tip is crucial as it informs both users and search engines what your page is about and can be a deciding factor in what makes a potential customer click on your site over a competitor. You can edit the title tag and the meta description on the 'SEO (Google)' tab.
6. Submit a Sitemap
A sitemap is basically a plan of your website, put in simple terms. It displays how your various pages are connected to each other. It is important because it is useful to send a sitemap to search engines so they can crawl your website quicker and easier, which will consequently improve your overall SEO. Although this can be relatively technical, you can submit a sitemap through Google Search Console. Another easier way is to submit your sitemap using Wix SEO. All you have to do is connect your domain and then, in a click, submit your sitemap.
7. Make it Mobile-Friendly
It is important to remember that a considerable percentage of searches are done via mobile, which is only set to grow. Therefore, if you wish to succeed online, you have to have a mobile-friendly site. Fortunately, your Wix website already comes with a mobile-friendly version. Plus, it is possible and straightforward to implement AMP so that your blog posts load fast on mobile devices when clicked on from search results.
8. Improve Your Local SEO
If you are a local business owner, you will want to attract people in your surrounding areas. Therefore, you need to improve your local SEO. The best way to do this is by claiming your business on Google My Business and filling in your profile in detail. This way, your business can be found when searching on Google Maps. Plus, you will have a chance to win some attention in Google's local pack, which is the boxed result that appears at the top of the results page and includes a map and a list of three businesses. Wix also offers a Site Booster App that makes it easy for you to sign up to as many local directories as possible.
9. Consider Your Images
Rich media can enhance your website's user experience. However, it is essential to add text to images to help Google and other search engines understand what is in your images, as they do not see images the way we do. Adding little text descriptions will enable your images to be found on Google Image Search, helping you get even more traffic. Search engines also see websites with optimised images as more polished and reward them with better overall rankings. It is important to add unique and descriptive alt text to every one of your images. Unoptimised images are one of the primary reasons for bad site speed. It is also sensible to size your images accordingly. This means if you are showing an image at a maximum width of 800px, use an 800px wide image, not 2400px.
10. Structure Your Website
A great site structure is essential for your SEO. Not only does it make it easier for search engine bots to crawl and comprehend hierarchy, but it is also paramount for users to be able to peruse your website freely. This can be significant in increasing metrics such as time spent on your website and amount of pages visited. These are key elements that search engines consider when determining your ranking. Luckily, Wix website templates provide you automatically with an optimal structure for your website as all templates come with an intuitive menu, making navigation on your website both intuitive and simple. Furthermore, heading tags (headlines and titles) are formatted attractively to give a hierarchy to your page, so it is organised. Ensure you customise your menu to include all sections clearly so that all your website content can be found and clicked on with ease. Bear in mind a visitor shouldn't have to click more than two times to reach any other of your website pages.
11. Pen Valuable Content
Content is considered one of the most vital ranking signals in relation to your website. To make great content, it must follow these three conditions:
It must be unique and not plagiarised.
It must be fresh and therefore regularly updated.
It must be valuable so readers can only find it on your website alone.
The best way to achieve this is to create a blog. The Wix Blog contains advanced capabilities that are integrated into the platform.
12. Add Internal Links
Internal links are one of the most underused SEO tactics. They point from one page to another on your website. The right internal link strategy can help pass PageRank to primary pages on your website and show the relevance between two or more pages. Links are mainly navigational and assist users in navigating through your website to find what they are seeking. To add internal links to your content, select the text you want to use as your 'anchor text' and select 'page' from the pop-up. Then you can choose the page you wish to link to.
13. Obtain More Backlinks
In order to excel in SEO, you need backlinks to your website. These are links from external websites to your own. This can be challenging because it is the most powerful ranking signal and acts as votes of quality for Google. Backlinks indicate to the search engine that a website should have a prominent position. Tactics for link building for small businesses can include local PR, supplier links, and local directory submissions. This is one of the most challenging tips, so we recommend using a great SEO agency to assist you with this. If you take the time to increase your website's authority, you will see a significant impact on your website's SEO performance.
Another way to attract attention online is social media. Engagement on these channels is an indirect way of improving your SEO. Wix makes your links automatically shareable on social media and gives you total control when choosing the image that is shared with your link on social media platforms. The image can be changed from inside the editor.
Final Thoughts
Wix can be a fantastic resource if you are seeking to build your first website and is a great first step for learning about SEO. If you are experienced in SEO, however, Wix is probably not the place for you as it is not the most advanced platform in terms of SEO. Wix is a solid option for small businesses and startups, and it is well worth taking the time to learn more about SEO basics. There is absolutely no reason why you should not see significant increases to your Wix website's organic traffic and witness consequential sales if you put in both the time and effort. However, if you would like further advice or support with your website's SEO, we recommend booking a free discovery call with one of our SEO experts at NUOPTIMA today.
Talk to an SEO expert
We work with 100+ businesses. Book a slot now to talk to one of our experts.
---
FAQ
Is Wix good for SEO?
Wix SEO has not always had a brilliant reputation, but it has improved hugely over recent years. It now offers a good selection of free tools to assist your SEO efforts. Furthermore, Wix websites include customisation features that allow you to increase your Wix SEO.
Is Wix SEO free?
Yes. Wix offers free as well as paid plans, but obviously, the paid plans offer more features. This is worth considering if you have the budget and need your website ranked higher. Usefully, Wix provides SEO tips and techniques for users to build their website and also offers a customised SEO plan for free!
Do Wix sites manage to rank on Google?
Yes. Research on Ahrefs demonstrates that Wix does well in terms of organic traffic.