( this is included in our total brand management package)
Amazon is not a "set it and forget it" platform. Even for sellers using FBA, there are a number of tasks that need to be done on a regular basis to ensure you are maximizing your sales. After a product launch, there are several things to watch, including your account health, seller feedback, inventory levels, performance alerts, not to mention sales trends and unexpected changes.
Ignoring any one of these can make a product launch go bad. Poor seller health metrics, going out of stock or missing changes in Amazon policies can quickly kill your sales, or worse, it can get you suspended. Many sellers find that as their business grows, they have less and less time to focus on these tasks, especially if you are still a one-person operation. Outsourcing management of your Seller Central account is a great way to free up your time to do what you do best, find great new products to sell and grow your business.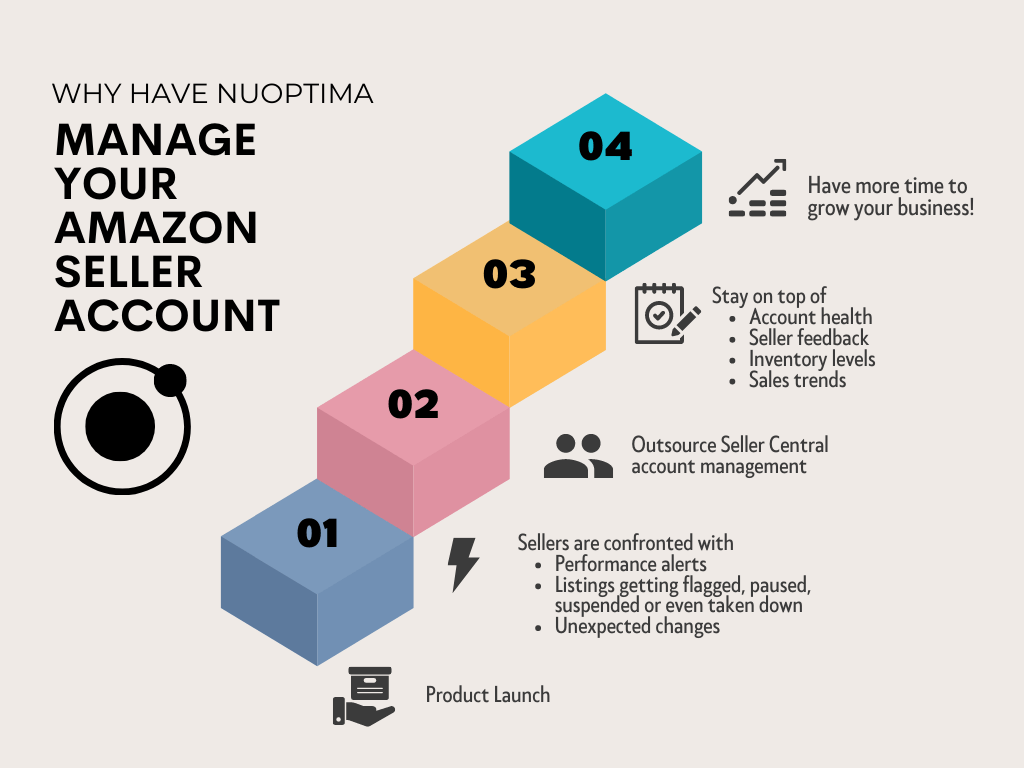 Having an Amazon agent means they provide best practice guidance and sort out the occasions when a listing gets flagged, paused, suspended or even taken down. We can open the support ticket and handle ongoing communication to resolve any issues.
Our Seller Central management services include:
Opening and Managing Cases
Opening support cases ASAP when needed (often)
Emailing back and forth daily to get things resolved ASAP
Getting on the phone with them when necessary
Escalating cases when necessary
Dealing with Seller Support (email and phone)
Replying to SS emails
Dealing with Seller Support
Emailing them back-and-forth to resolve issues ASAP
Implementing what they ask
Getting on the phone with them when necessary
Troubleshooting Issues
Troubleshooting issues
Listing violations and suspensions
When there are technical errors
Other random issues
Customer Service
Replying to reviews daily
Replying to listing questions daily
Replying to messages daily
Sending replacements
Issuing refunds
Product support
Asking happy customers for a review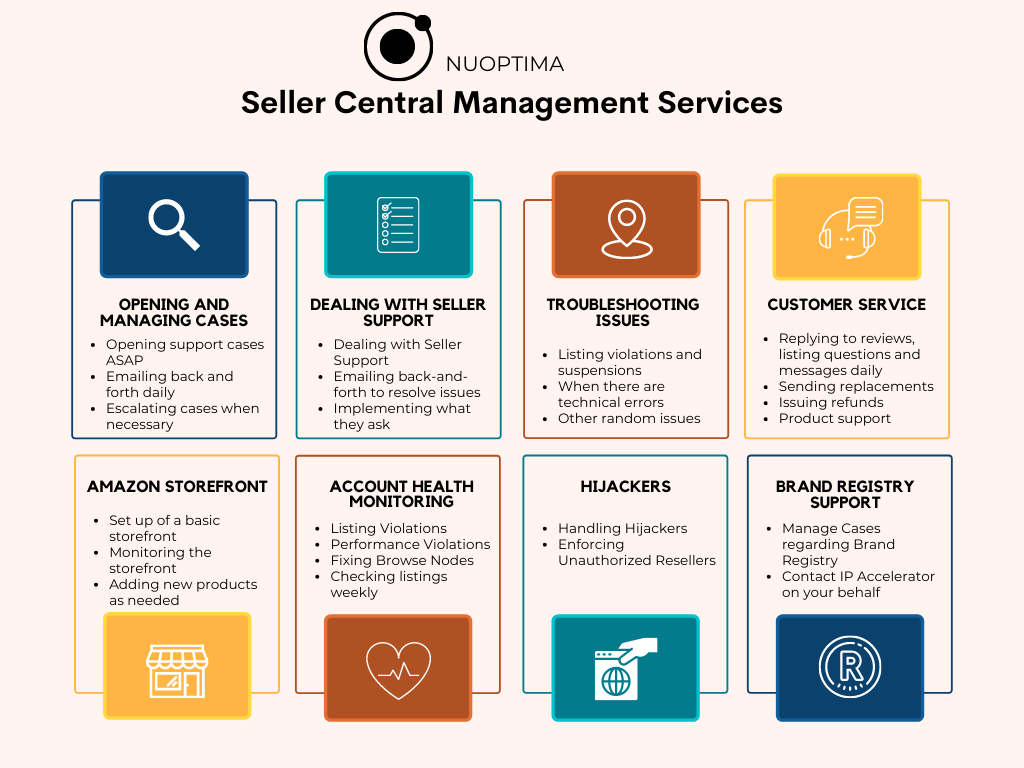 Amazon Storefront
Set up of a basic storefront
Monitoring the storefront
Adding new products as needed
Account Health Monitoring
Listing Violations
Performance Violations
Fixing Browse Nodes
Handling Hijackers
Enforcing Unauthorized Resellers
Checking listings weekly to make sure everything is active and optimized
Hijackers
Handling Hijackers
Enforcing Unauthorized Resellers
Brand Registry Support
Advising on how to Apply for Brand Registry (brand owners must do this yourself)
Deal with Brand Registry Support
Manage Cases regarding Brand Registry
Contact IP Accelerator on your behalf
Book Your Free Growth Consultation Call