B2B SaaS websites play a crucial role in the digital age, as they serve as the primary platform for businesses to showcase their software-as-a-service offerings to potential customers. They are designed to convert visitors into leads and, ultimately, into paying customers. In this blog post, we will explore the 10 best B2B SaaS websites that have aced design and are primed for conversions. By understanding what makes these examples successful, you'll gain insights into effective conversion and UX/UI tactics and learn how to apply them to your landing pages. Ready to dive in?
10 Best B2B SaaS Websites That Have Nailed Design and Functionality
We considered several criteria to select the top 10 software sites, including the design, user experience, messaging, call-to-action (CTA) placement, and overall optimization efforts. After careful evaluation, we have identified the following as the best B2B SaaS websites:
1. Slack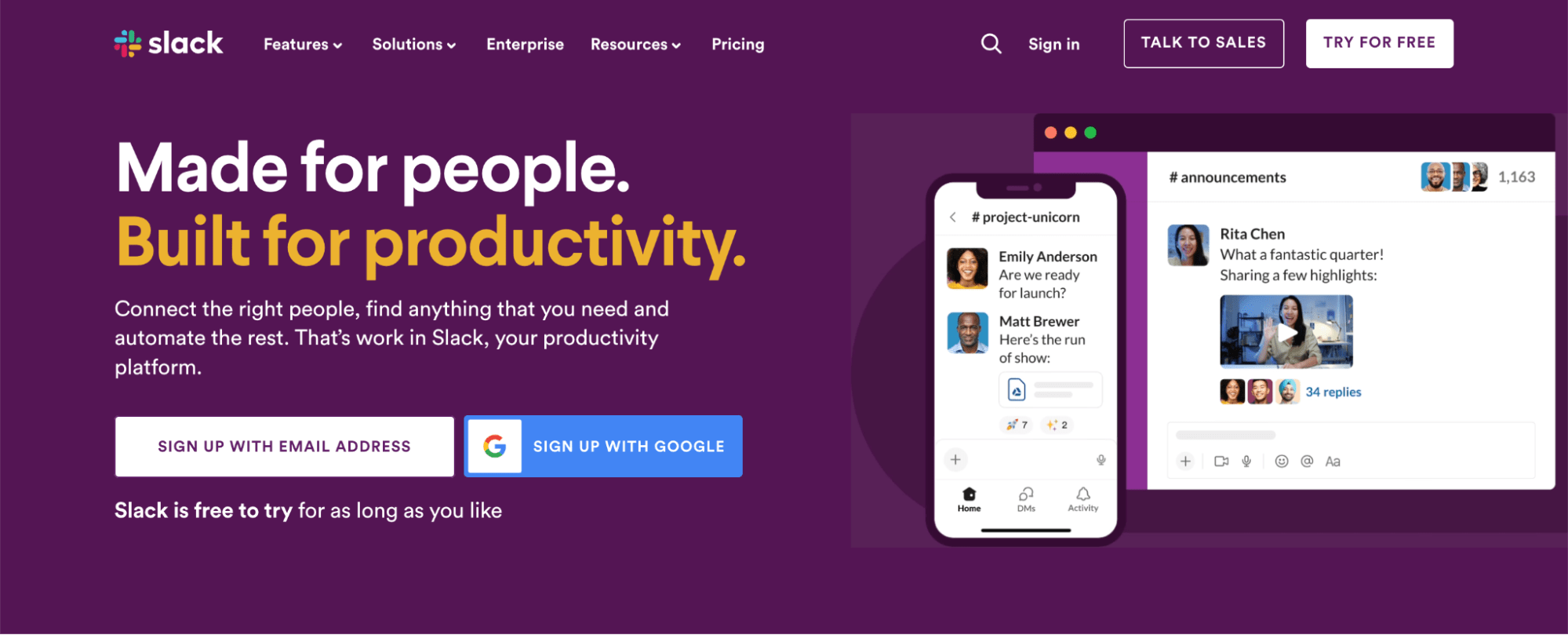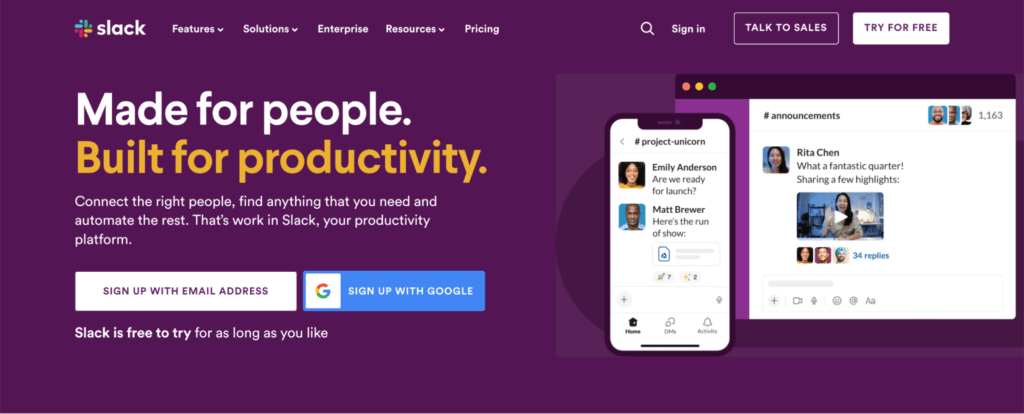 Though it rarely needs an introduction, Slack is a popular team communication and collaboration platform. From the moment you land on their homepage, you'll see simple, direct messaging and a cohesive design. Thanks to the prominent sign-up buttons, they've made it super easy for visitors to understand the product's value proposition and take the next steps.
The website, as a whole, effectively showcases the features and benefits of the platform, highlighting its ability to streamline communication and improve team productivity. Using customer testimonials and case studies further reinforces the credibility of the product. For example, their 'slack vs. email' landing page not only complements their viral marketing campaign but guides the reader through a strong narrative about the brand and its solution.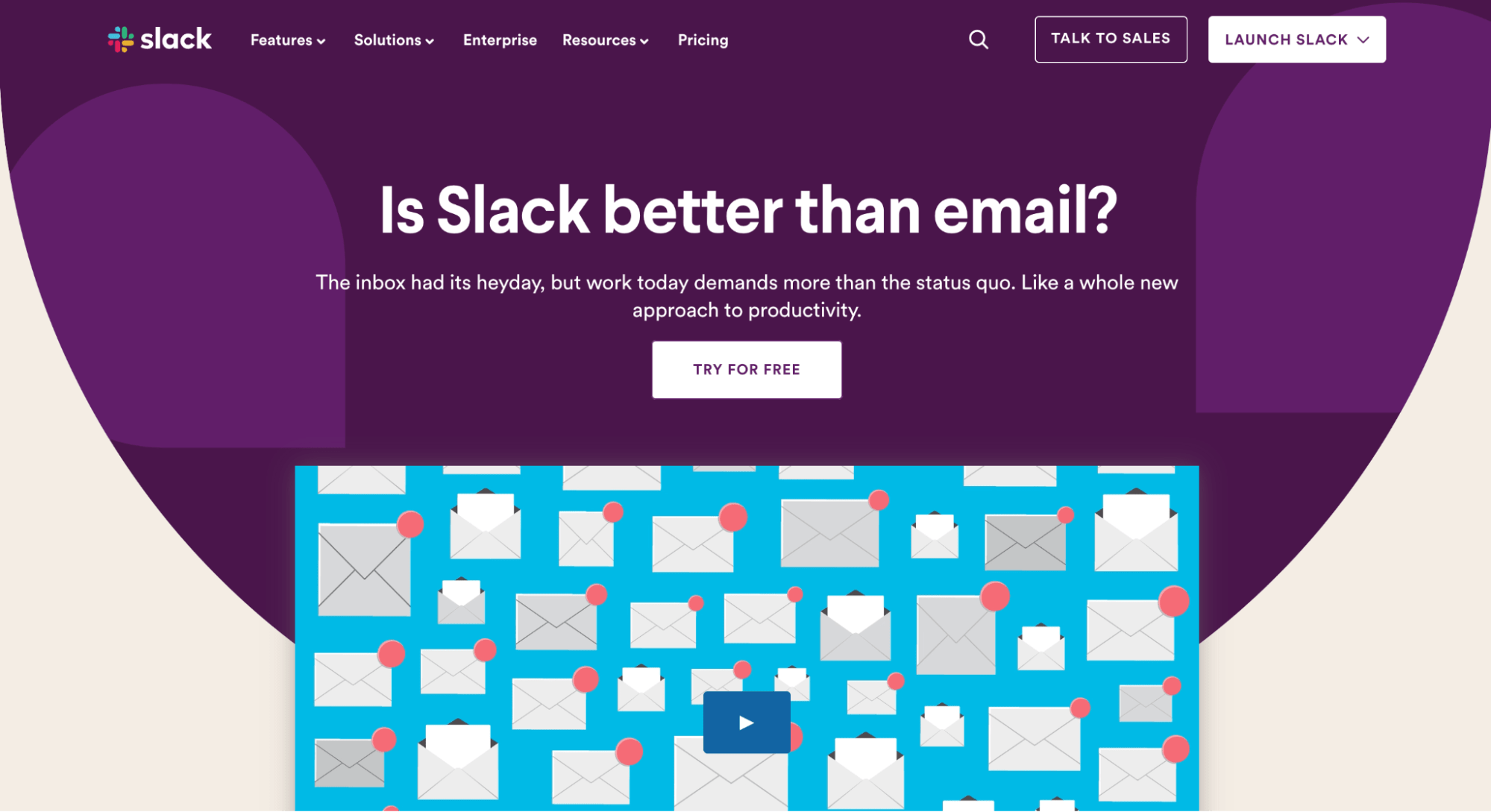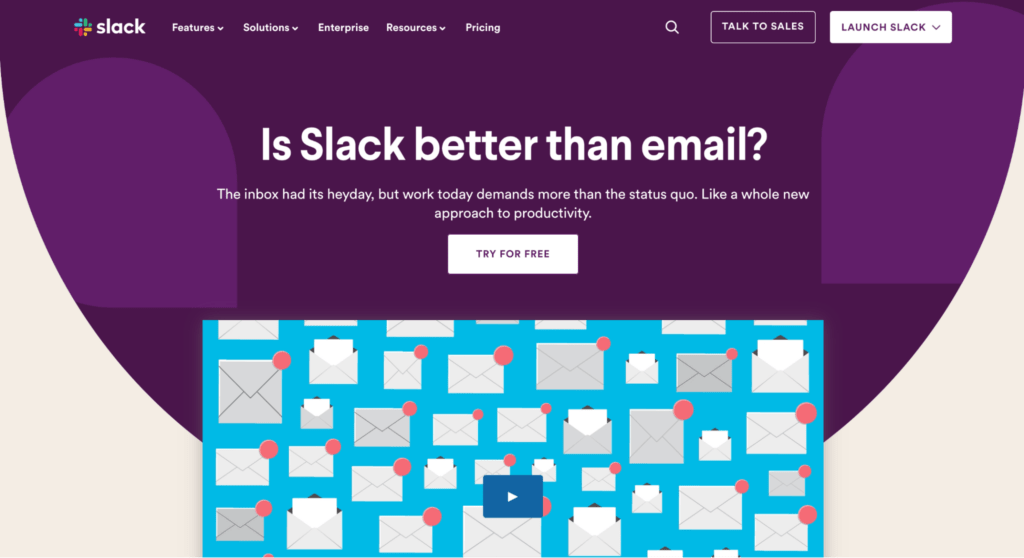 As you can see in the image, they keep the text short and engaging above the fold, including an enticing CTA and dynamic video. However, if the visitor scrolls further, the page encourages them down the funnel with clever design. For instance, they highlight the common pain points with using traditional email, then naturally position themselves as the obvious alternative. They complement this with a compelling client review and an easy step-by-step guide to show visitors how simple it is to adopt Slack as part of their operations.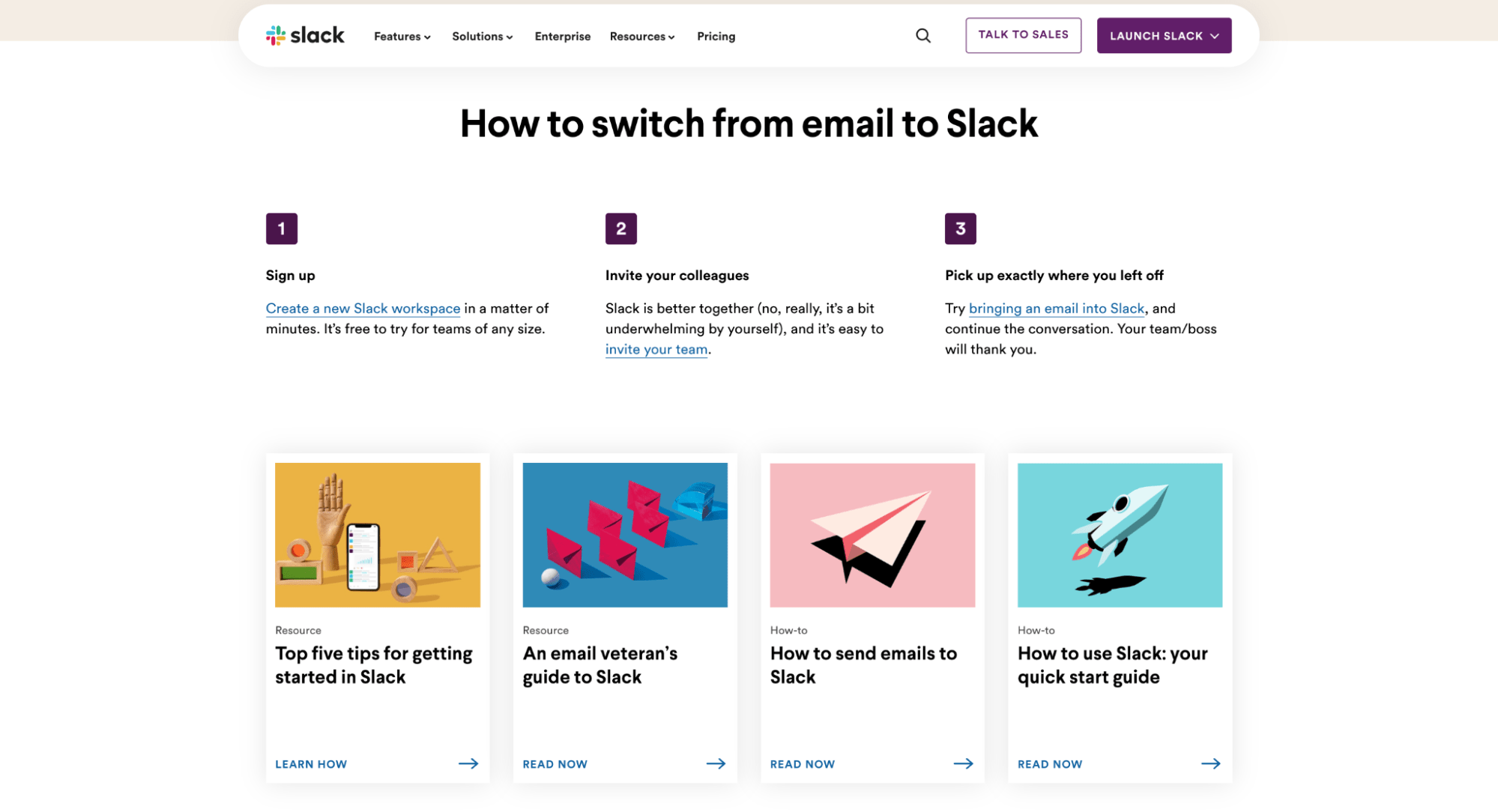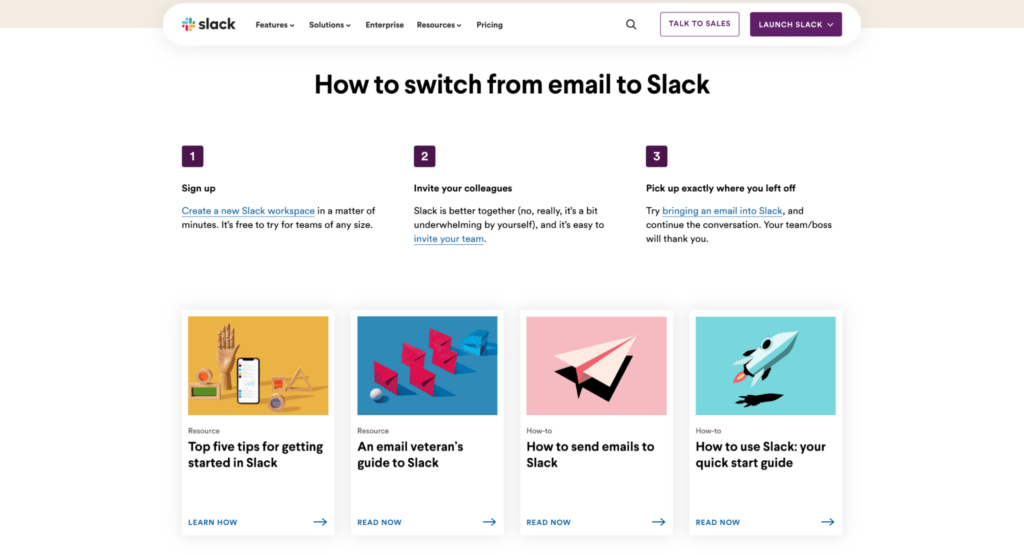 Throughout their efforts, Slack's tactics include clear CTA buttons, free trial offers, demo videos, and other helpful resources. They have designed their B2B SaaS pages to eliminate friction and prioritize simplicity.
Key features
Clear, cohesive messaging.
Makes the value proposition apparent through the freemium model and narrative style.
Distinct CTAs to encourage sign-up or to talk with a team member.

2. Typeform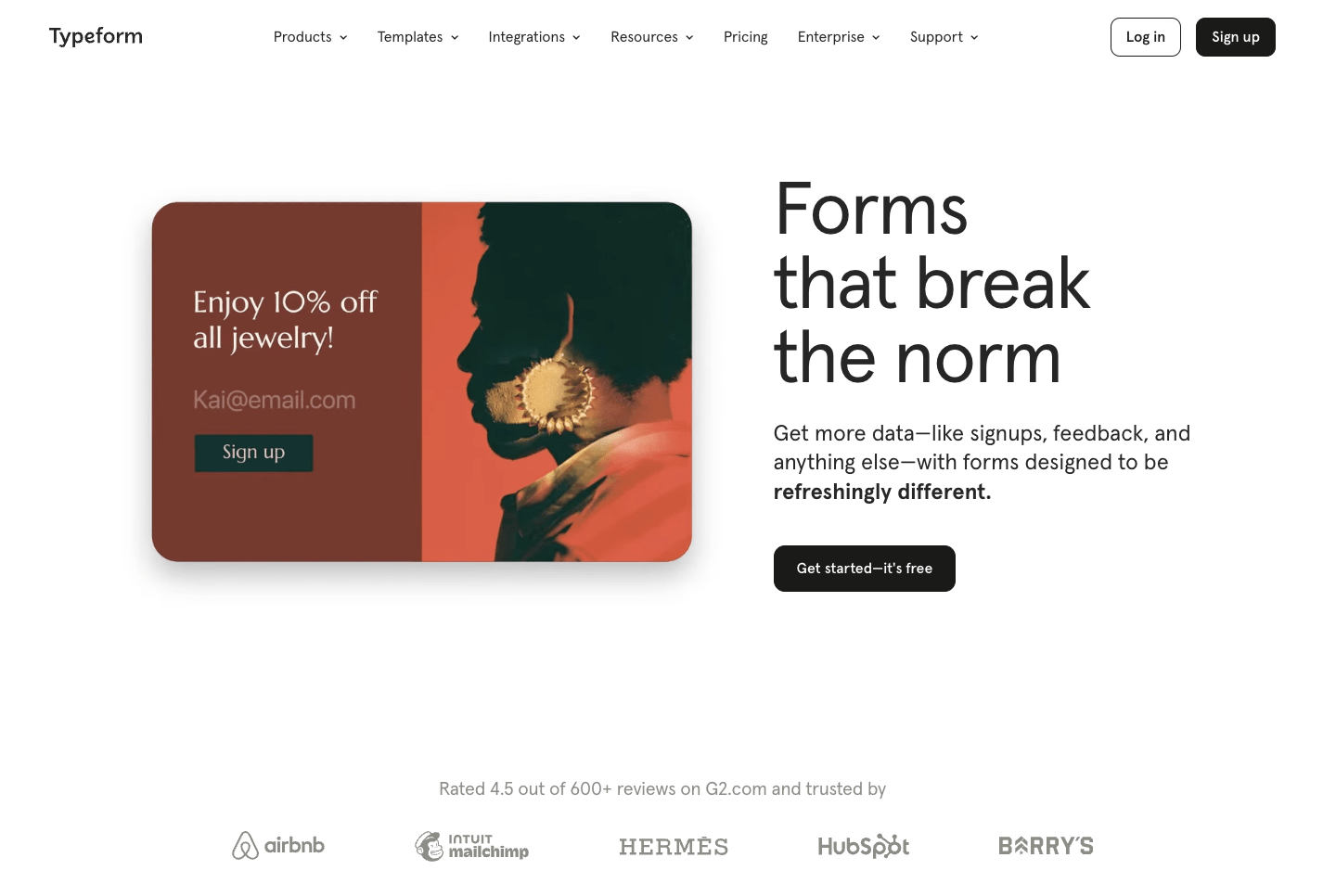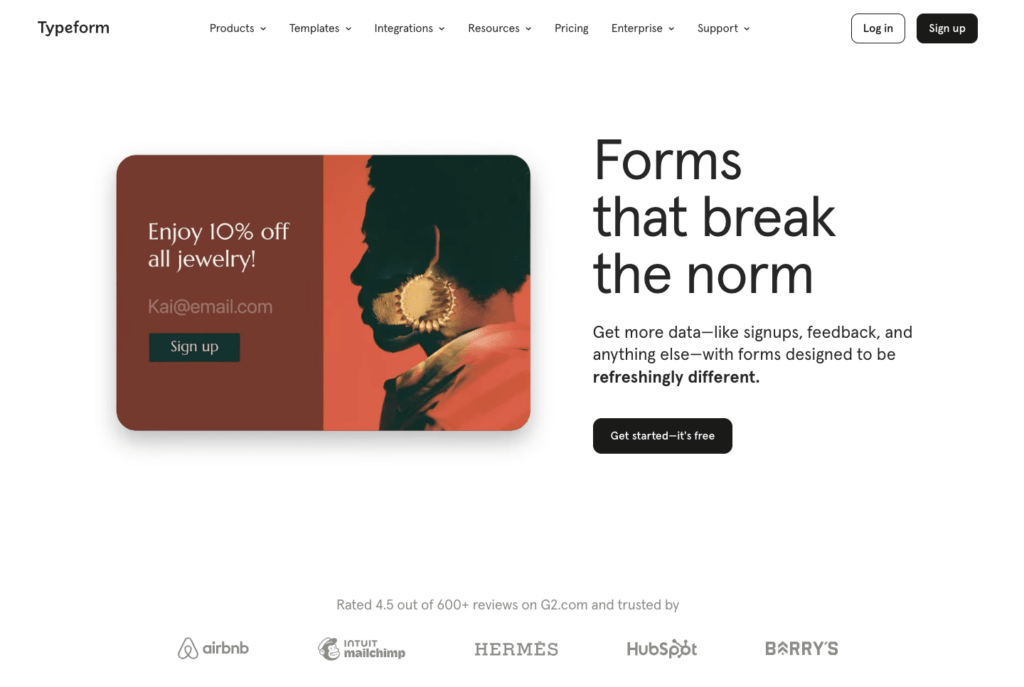 Typeform is a versatile online form builder that allows businesses to create interactive and engaging surveys, quizzes, or forms. Their landing page displays a visually appealing design and reflects the product's focus on user experience. They effectively communicate the benefits through concise and compelling messaging, but also a dynamic video. This visual plays on a loop and displays various scenarios in which Typeform can help different businesses, from collecting emails and doing market research to simplifying the product review process. 


As visitors explore their minimalistic page, they'll also see a list of well-known brands that use their services, boosting the solution's credibility. In addition, the site highlights the unique selling points (USPs) clearly by listing the software integration capabilities and the capacity to embed forms smoothly.
Key features
Clean, minimalist design.
Showcases the standout features.
Demonstrates various use cases for their product.
3. Monday.com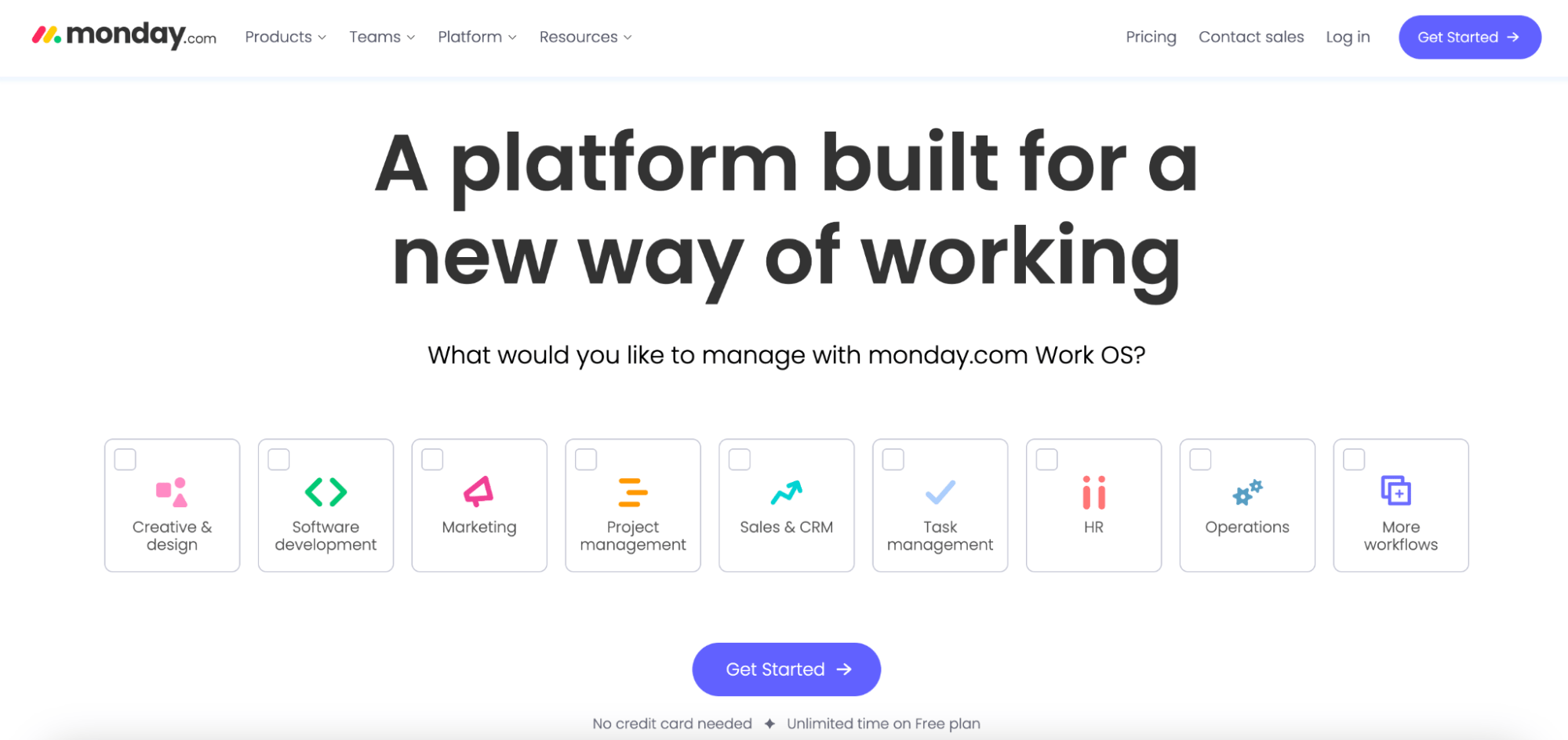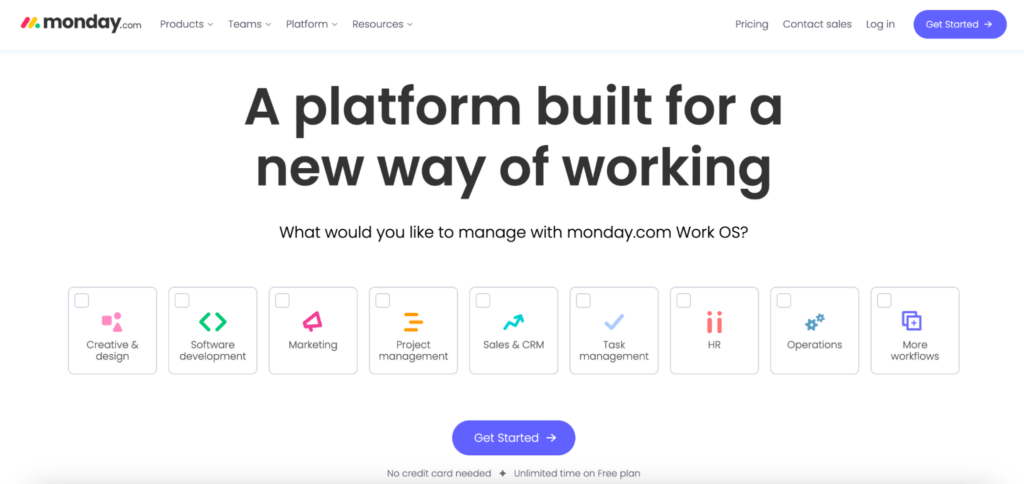 As project management tools go, Monday.com is a top player in the industry, helping teams cooperate and stay organized. Upon visiting their homepage, visitors are greeted with an interactive quiz inquiring about the intended use of the software. Immediately, it segments the audience and opens up opportunities to tailor messaging to the individual's needs. This way, the company can better target the person viewing their site with specific use cases and examples, further enhancing user engagement and conversion.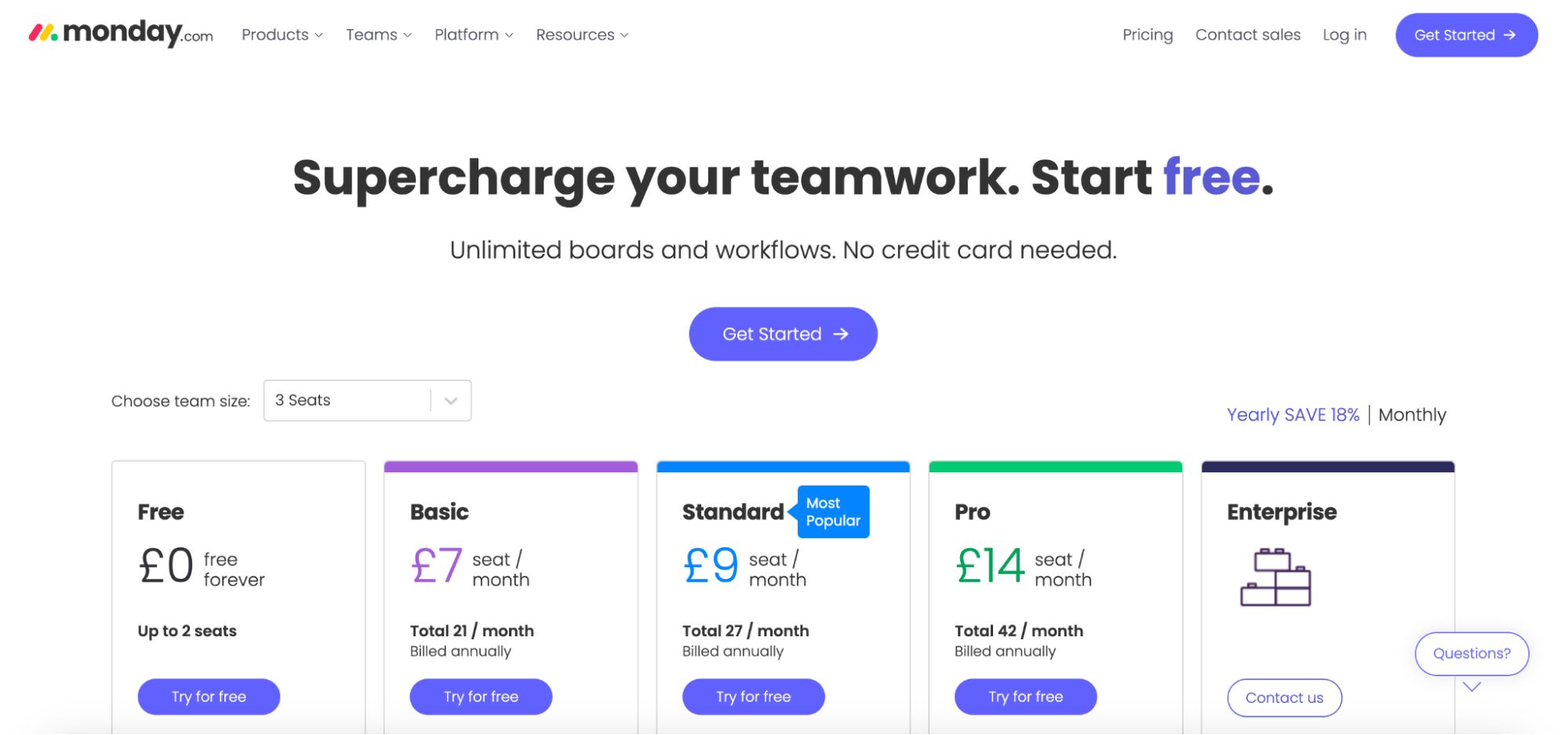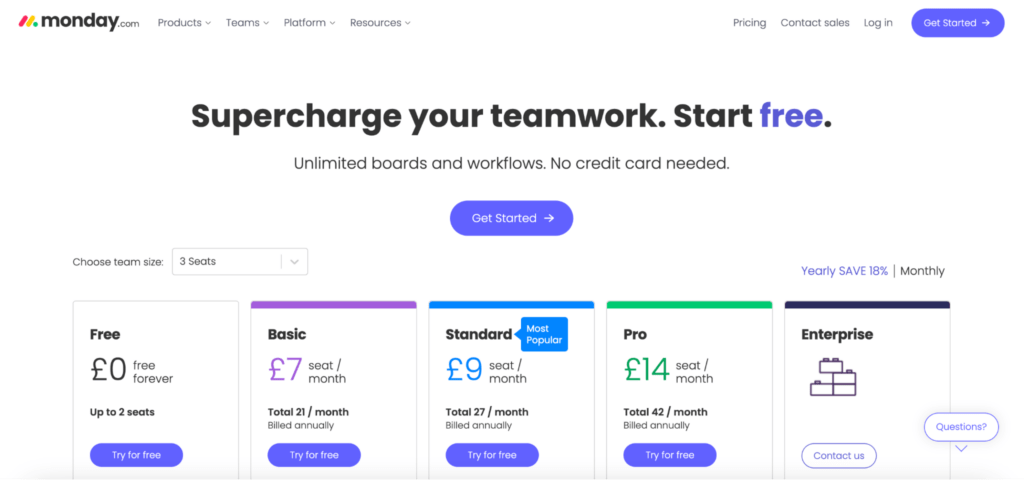 Overall, the website is modern and aesthetic, with colorful nods to its vibrant logo. It expresses the advantages of Monday.com through concise messaging, which is apparent on the pricing page. You'll notice they lay out distinct pricing tiers and include several CTAs nudging the visitor to try the service for free. Alongside clear cost information, an extensive feature list helps to facilitate the decision-making process. It's transparent and straightforward for potential customers. Plus, the page also details customer testimonials for further credibility.
Key features
Interactive elements lead the way for audience segmentation and a customizable user experience.
Social proof to boost trust.
Free trial sign-up to eliminate hesitation and time-to-value.

4. Dropbox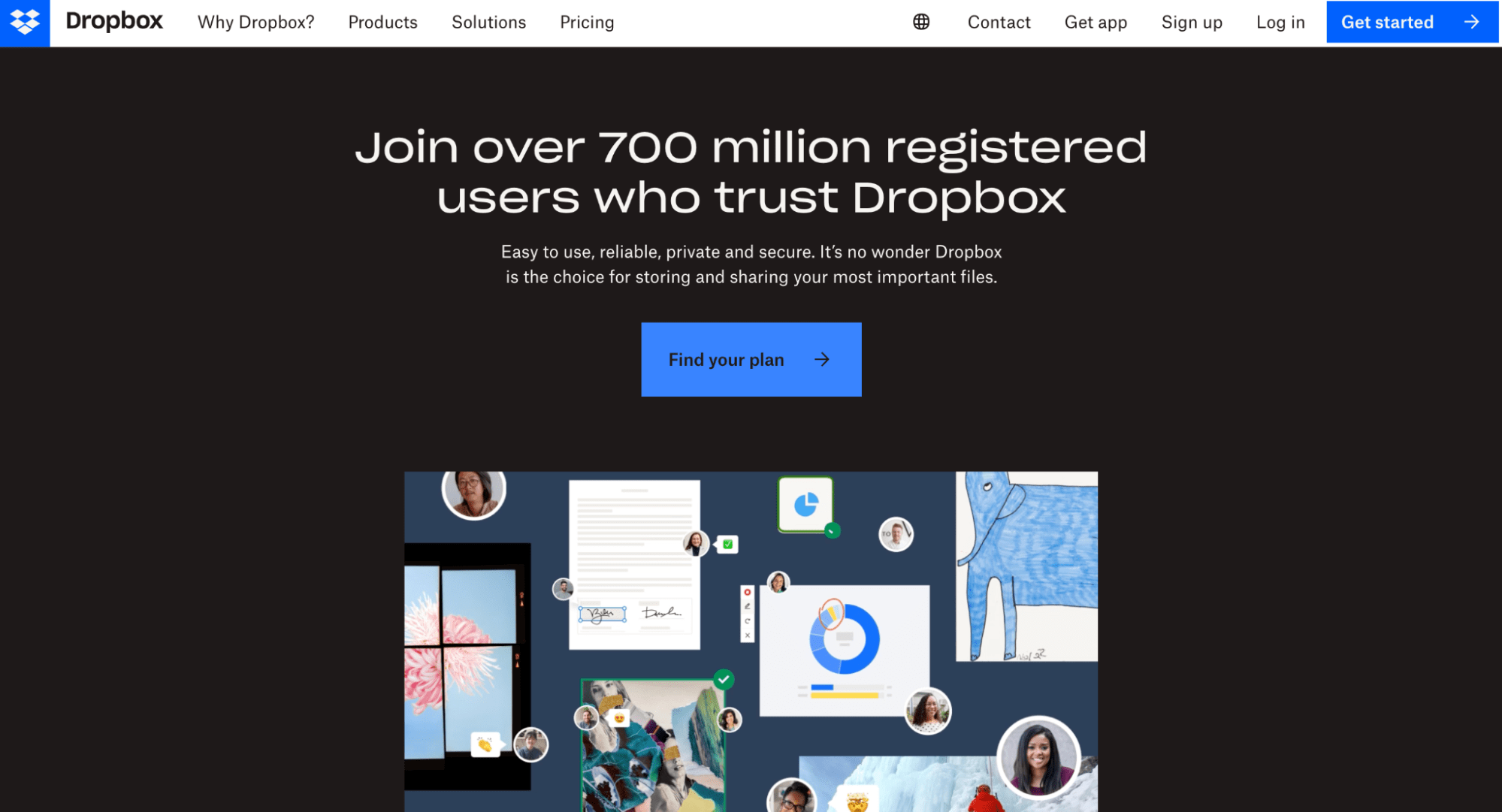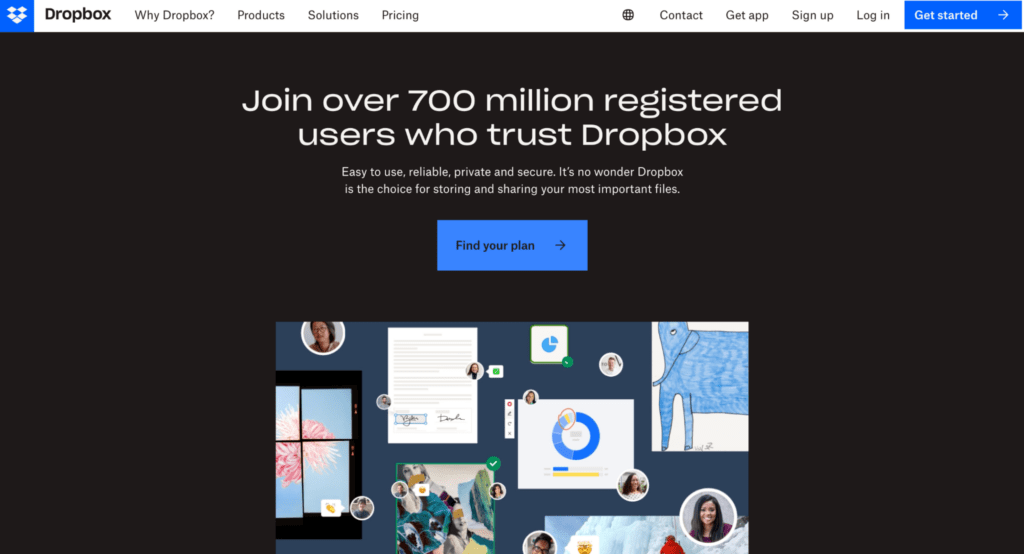 The cloud storage and file-sharing platform Dropbox has become synonymous with online storage. Their website showcases their popularity from the get-go with a bold heading that tells the visitor how many people use the service. This choice of messaging does a few distinct things.
Firstly, it is solid social proof. They have included a significant figure and specifically used the word 'trust' to drive home the reliability of their service. However, there is another effect of having a headline that almost 'brags' about its large user base. It creates urgency. With the tech world constantly shifting, businesses or consumers don't want the 'fear of missing out' (FOMO), or in other words, be left behind. Therefore, Dropbox has crafted this homepage to tell the viewers they need to be part of that statistic and see what they are missing.
To top off the clever messaging, the company uses a direct CTA to encourage visitors to jump straight to the pricing page. This works significantly well for Dropbox as they already have an established presence, meaning many people know what they offer before landing on the site. Therefore, when someone reaches this point in their customer journey, it usually means they are further down the funnel and already educated on the brand.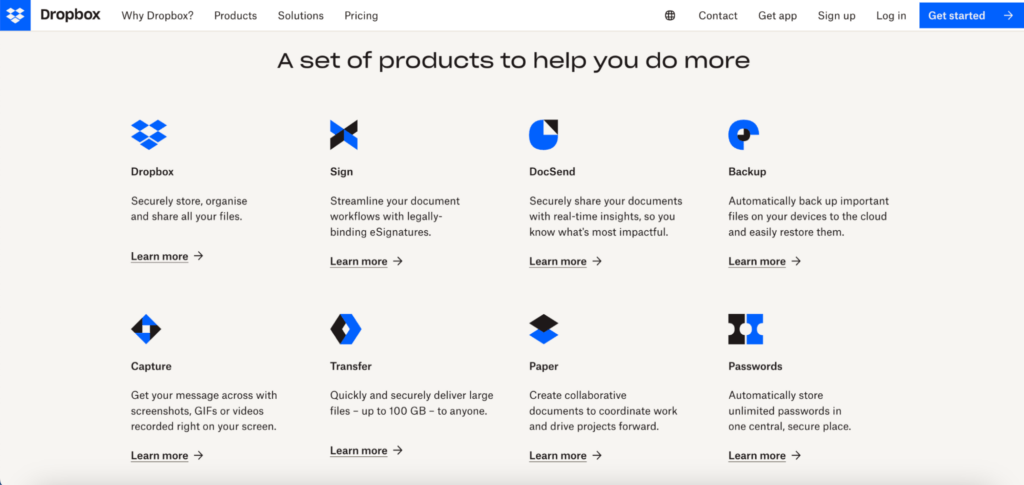 However, any strong B2B SaaS company knows that education is paramount for boosting conversions, retention, and, ultimately, revenue. Thus, those who scroll through the site engage with various tidbits describing the benefits of Dropbox and other services they offer. Each component provides CTAs if the visitor wants to learn more, taking them further down the sales funnel and identifying the product they need. In short, Dropbox effectively communicates its product variety through straightforward messaging and visuals.
Key features
The number of users is great social proof to verify their reputation.
Successfully creates urgency and a sense of 'FOMO' through careful messaging.
Educates users on lesser-known services.

5. MailChimp


Minimizing the time-to-value is what MailChimp's site is all about. The email marketing platform uses strategic copy, banners, and visuals to demonstrate how their service helps businesses automate email campaigns and then some. For example, on the home page, the value proposition is clear, with the direct promise of generating revenue. Plus, the CTA button and banner encourage users to start a free trial, an enticing offer from the start.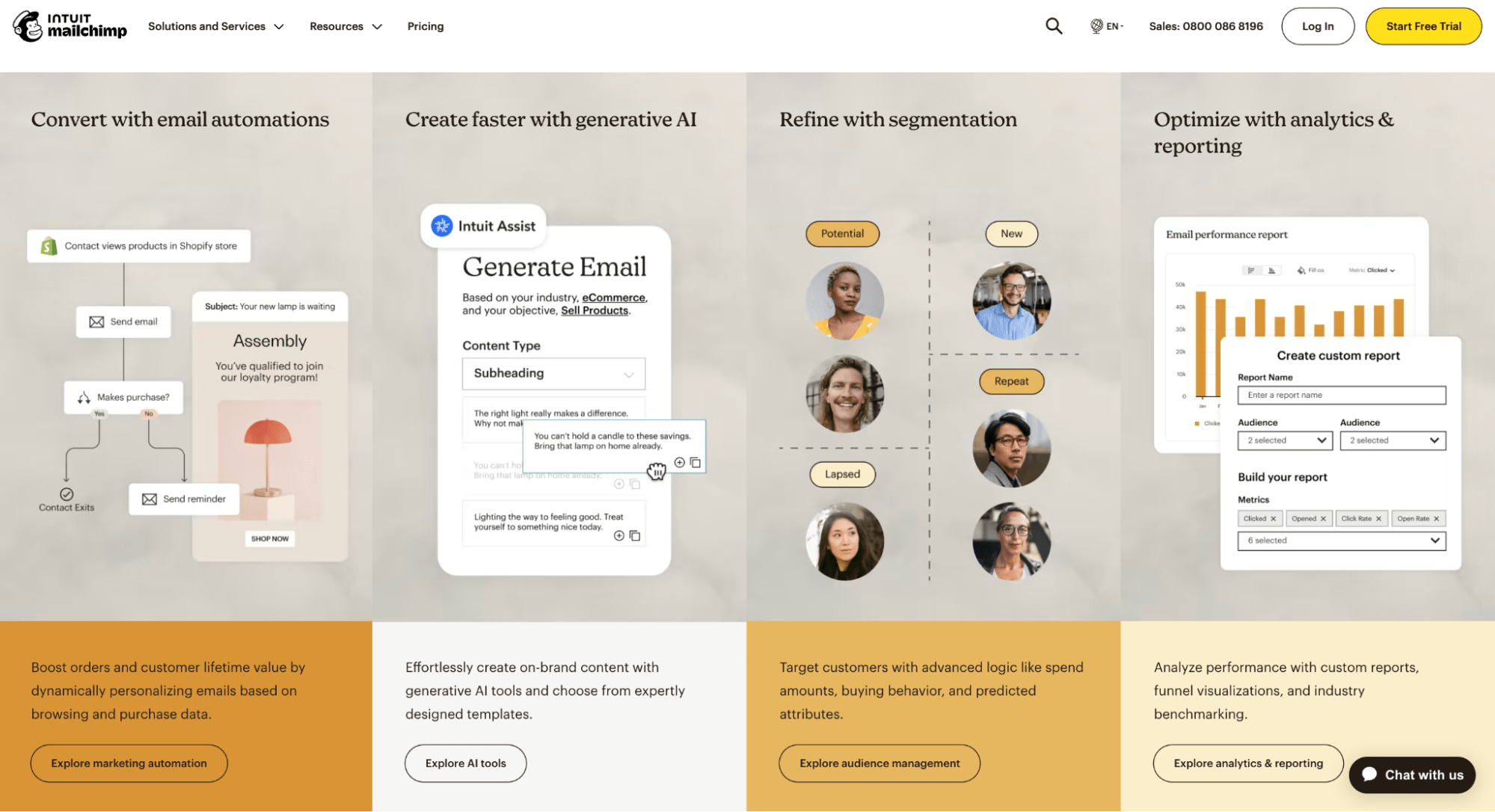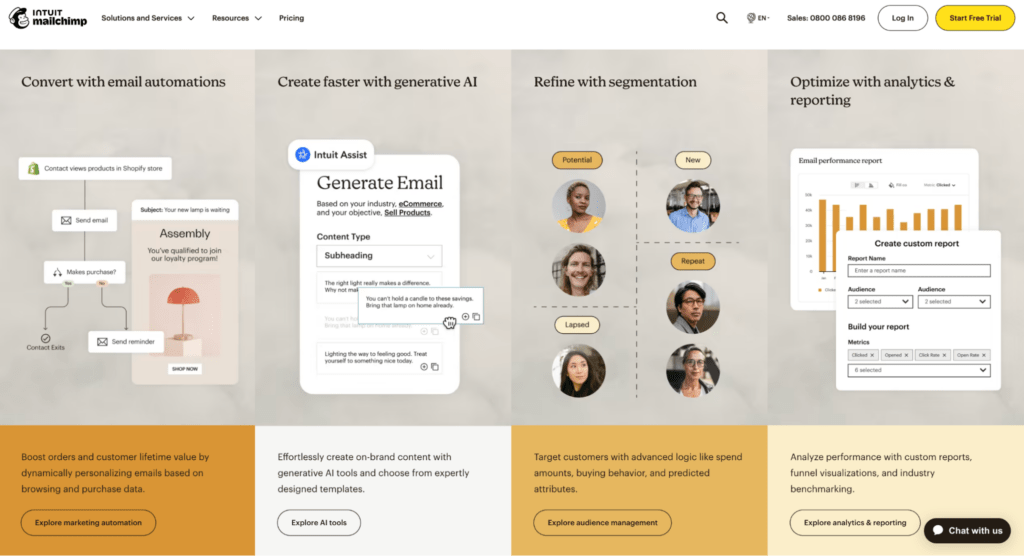 Diving in further, you'll see the company uses engaging visual components to educate its audience on the benefits and features of the software. They offer helpful links to encourage further learning and lead visitors towards the desired solution. Plus, scrolling through the site will activate a series of mini demos showcasing the various uses and functions one can expect from subscribing to Mailchimp. These semi-interactive and dynamic elements really make this stand out as one of the best B2B SaaS websites.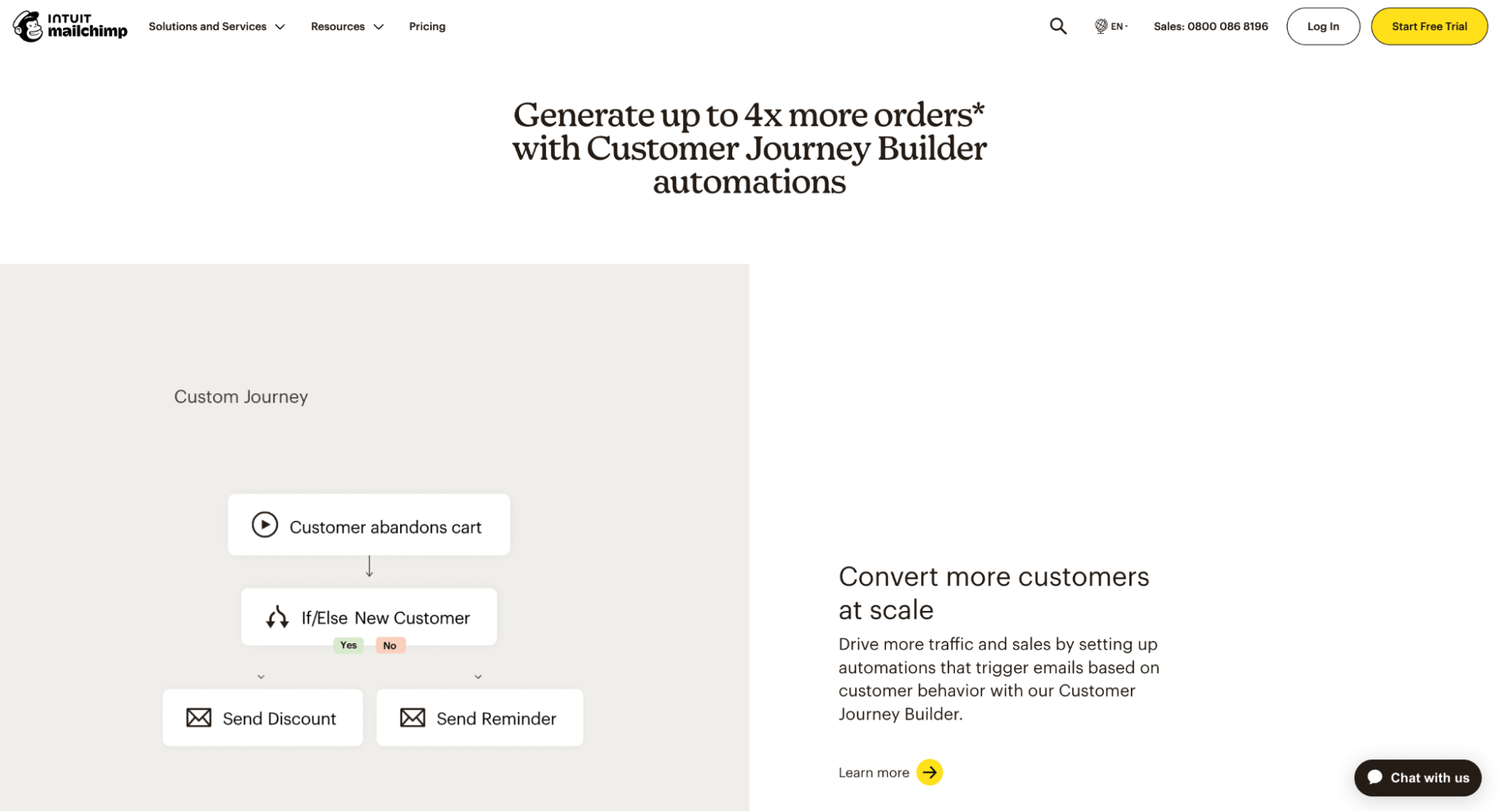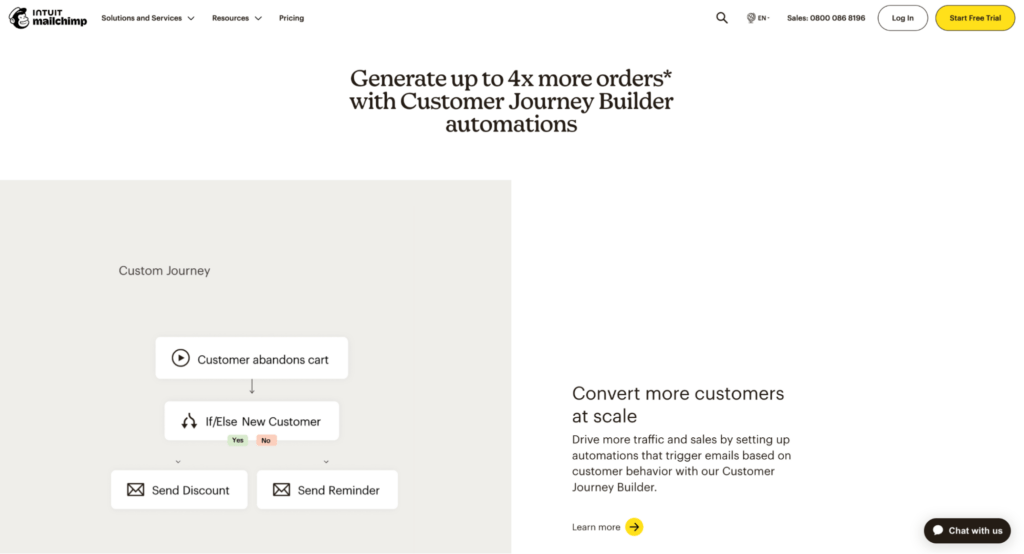 Additionally, they use a clean, modern design focusing on ease of use, echoing the straightforward user experience people can anticipate from their software. In all, the site effectively depicts how to use the platform and why people should sign up for a free trial.
Key features
Product demos minimize the time for visitors to see the value of the software.
A functional design makes it easy to navigate.
Several CTAs direct visitors to different solutions.
6. Zendesk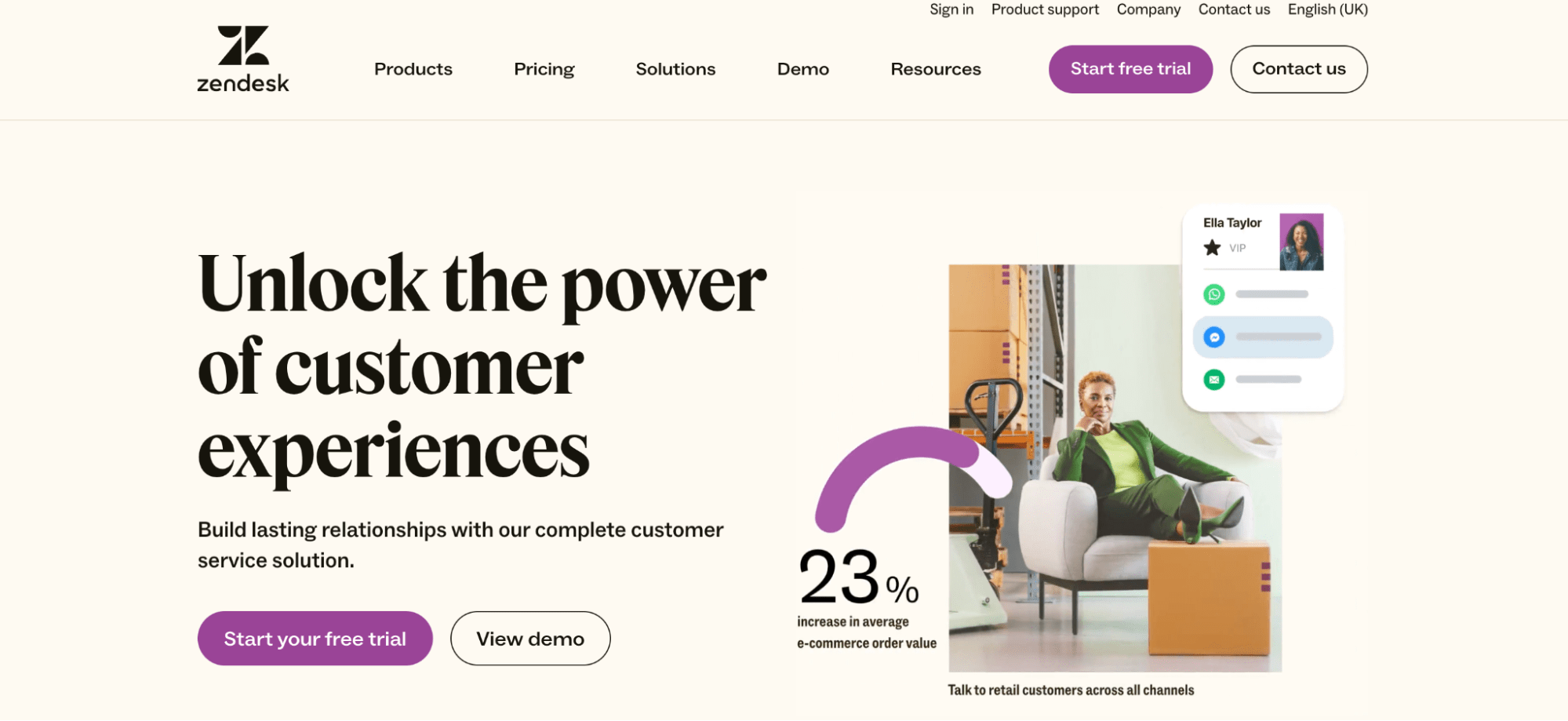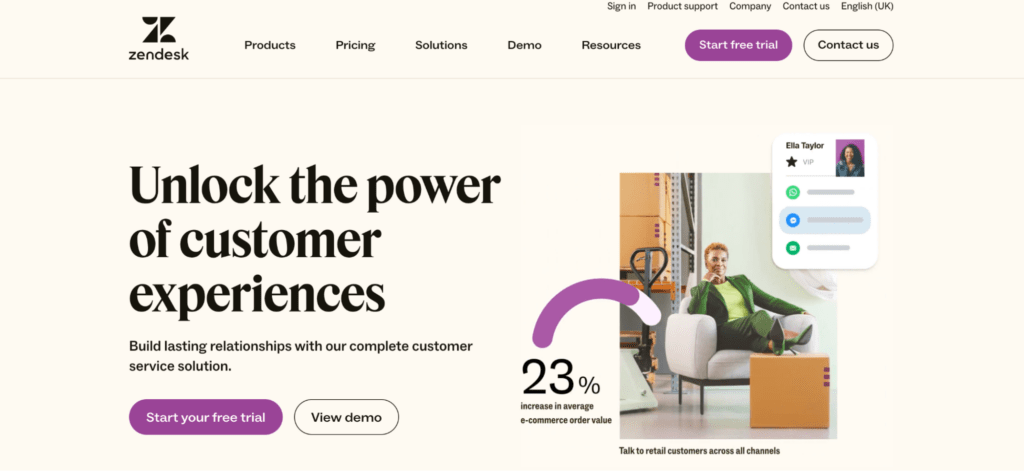 Zendesk is a customer service and support medium that helps companies manage customer inquiries and provide timely support. But what makes their B2B SaaS design a success? Firstly, their landing page shows value. Instantly, you'll see a statistic about increased e-commerce orders, which outlines the direct impact of using this software. However, what truly sets them apart is the emphasis on starting a trial or watching a demo.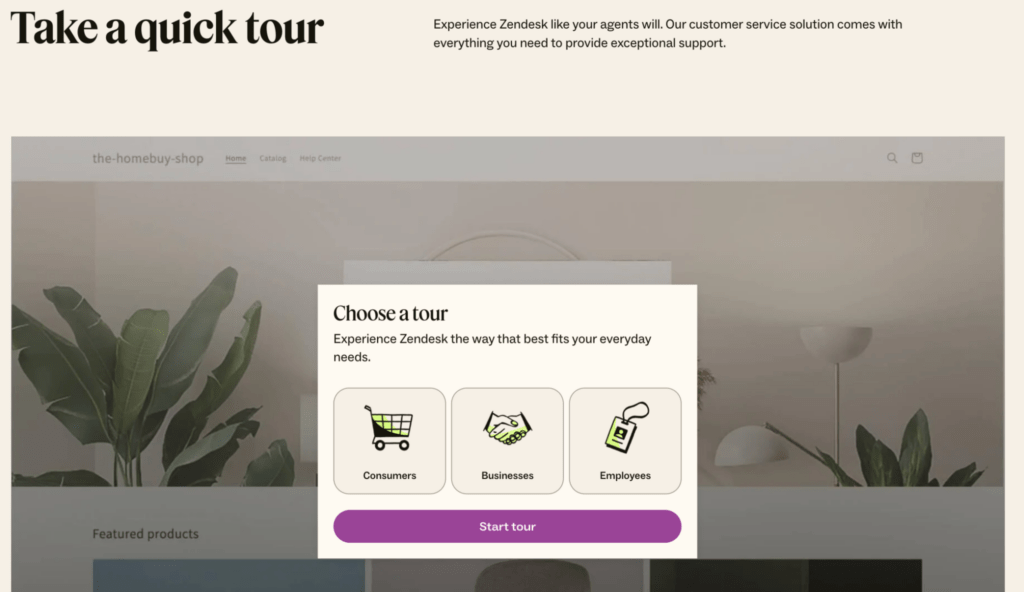 There are a few notable ways that Zendesk encourages users to try their platform. Firstly, they have distinct CTAs on every page, pushing the visitor to try for free. Secondly, they use pop-ups to briefly interrupt the scroll and get the free trial offer directly in front of them. Lastly, and perhaps most interestingly, is the live embedded demo. As you can see above in the image, visitors can select an audience, be it consumers, businesses, or employees, and start a tour within seconds of being on the site. It's another excellent example of a B2B SaaS brand minimizing the time-to-value and improving the chances of leads converting into subscribers.
Key features
Segmented software tour embedded into the landing page gets visitors using the tool immediately.
Compelling statistics demonstrate potential ROI.
Consistent messaging that drives more free trial sign-ups.

7. Asana


If you're looking for the best B2B SaaS websites that excel in developing use cases, check out Asana. The project management software site features a visually appealing experience with its soft color palette and immersive components. They do a great job of illustrating how the platform works and what benefits users can predict. For example, when the visitor scrolls, the action activates an engaging video that shows elements of the software at play. From analysis to task tracking, it shows various ways to use Asana.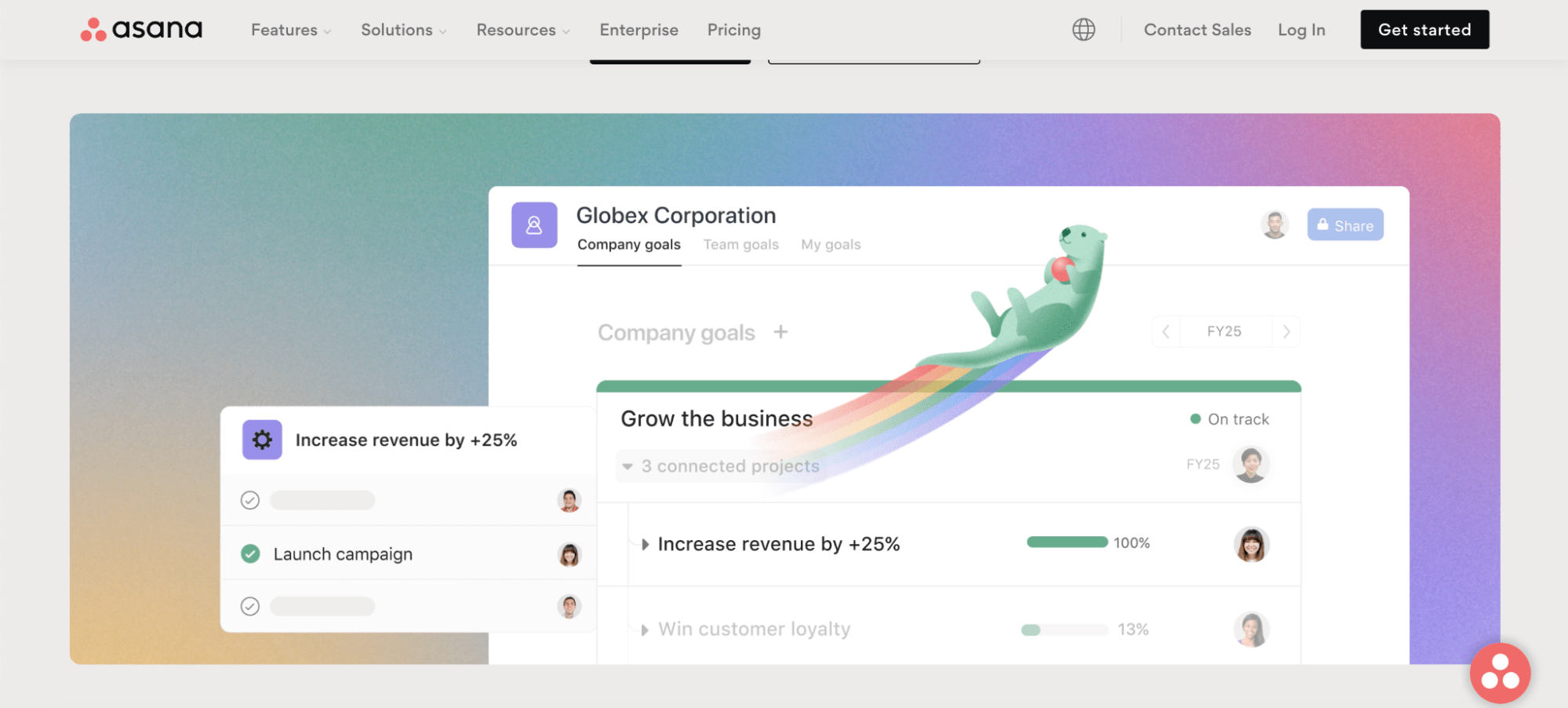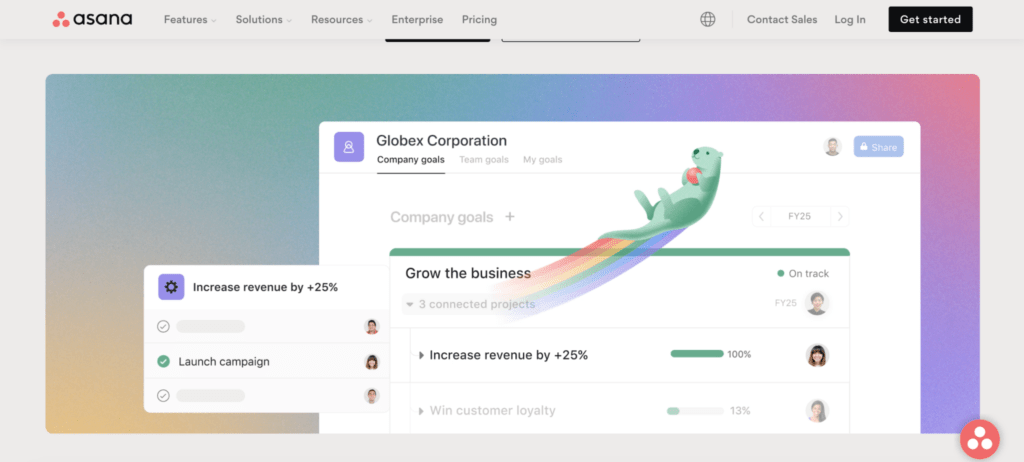 If this wasn't enough, the company delved further into demos and examples with use cases. They offer five models of teams that might harness the software. Then, under each category, they show specific benefits and ways of interacting with it. Not only does this help potential customers see the value in the solution, but it also helps to segment the audience and lead them down the sales funnel as they can click on the relevant links for their team.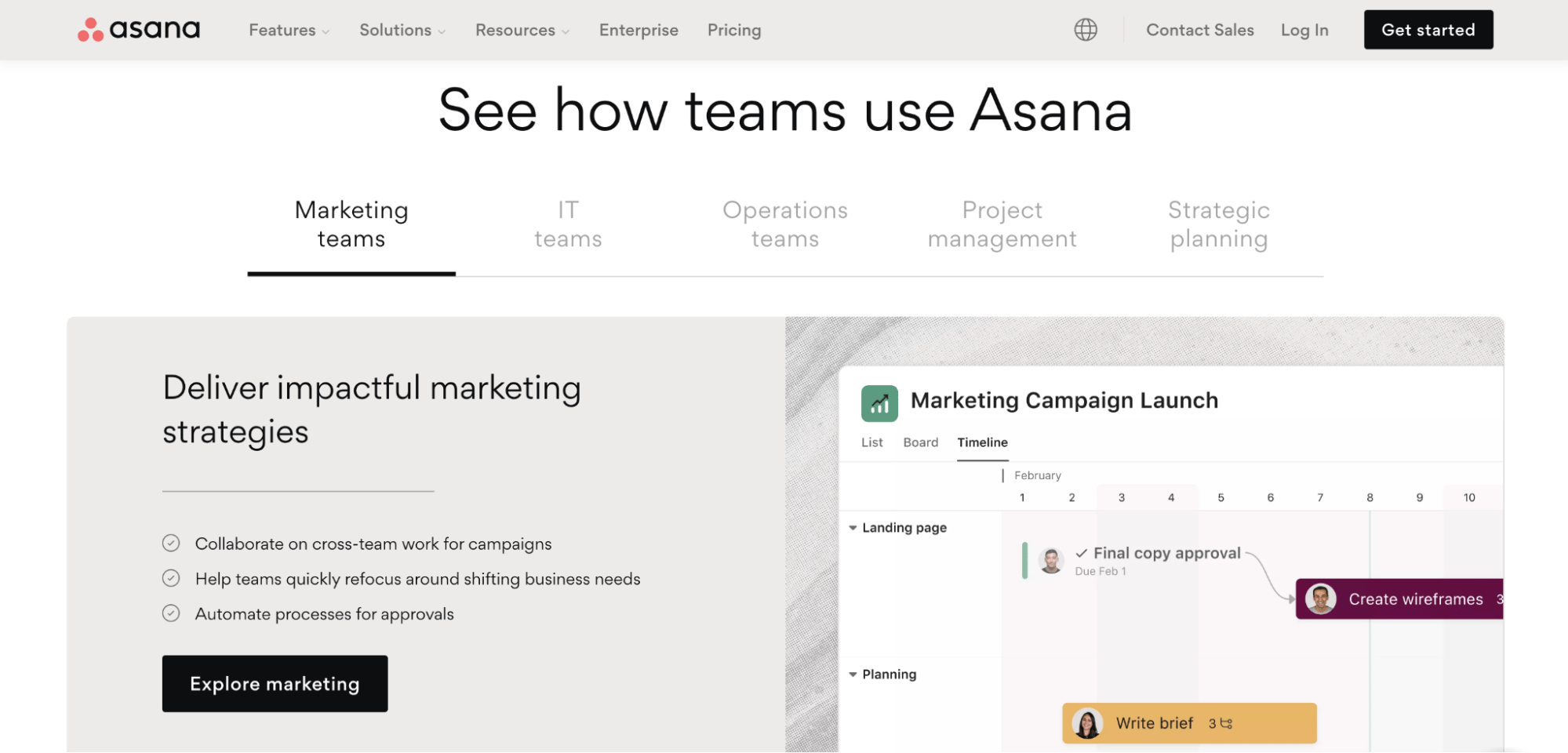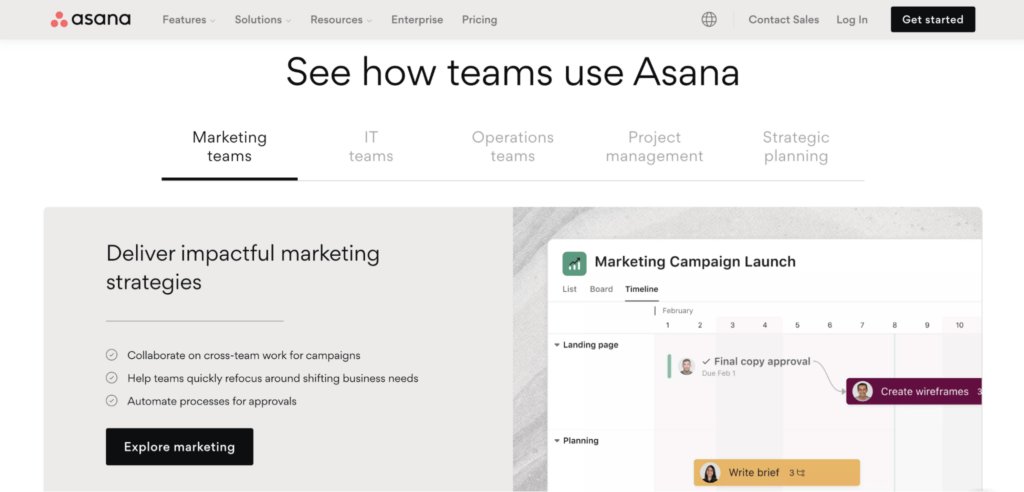 Furthermore, as a B2B SaaS brand, they make sure to highlight the essential features that might otherwise be a deal breaker if they didn't have them. For example, software integration is vital for enhanced team productivity, and they display this across their pages.
Key features
Indicate USPs and essential elements.
Engaging demo video.
Specific examples of how different teams can use the software.

8. ClickUp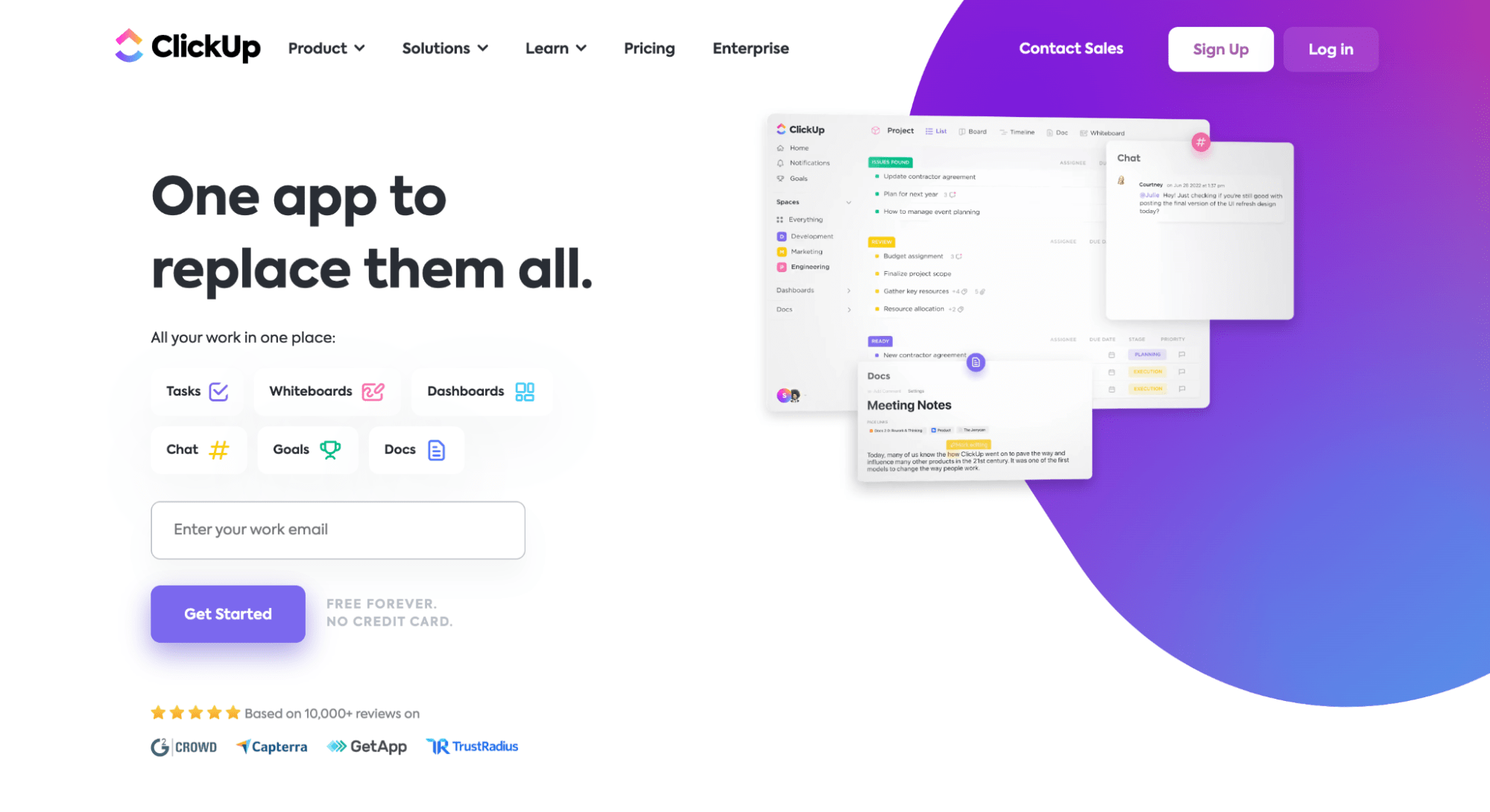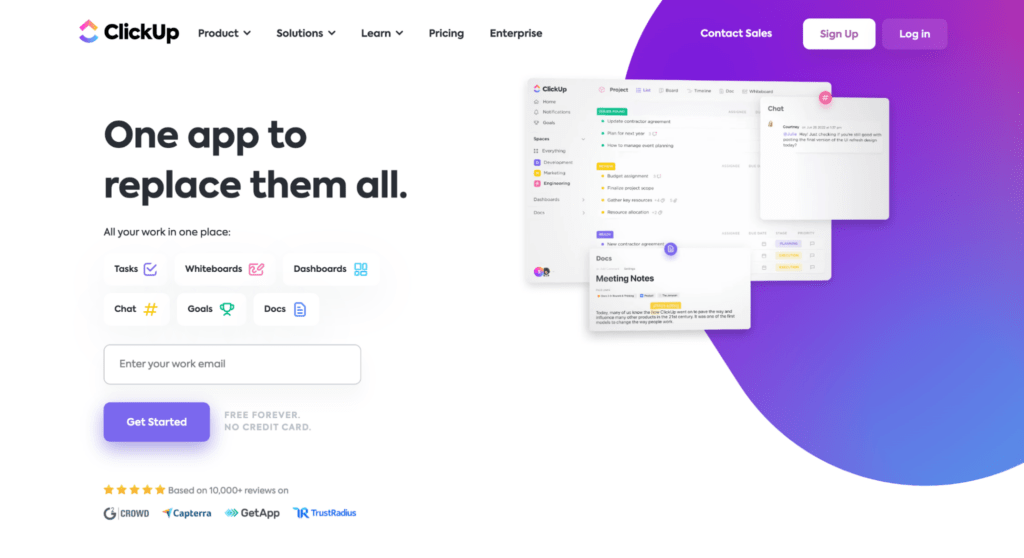 As another project management tool, ClickUp really has to stand out amongst the fierce competition. That said, their home page is doing a lot of the legwork in terms of communicating its value proposition. Instead of opening with a line about enhancing productivity, the landing page immediately addresses a common pain point with competing apps: the lack of integration, which can lead to significant challenges in customer experience and retention. While some of the other best B2B SaaS websites on this list mention their integration capabilities, ClickUp uses it as the foundation of their value proposition. They use a clean, modern interface to, essentially, bullet point the elements they simplify, such as tasks and documents. 


Moreover, an understated banner showcases their solid social proof in line with their simple yet striking design choice. From the statistics to the high-profile users, this additional feature positions them as a more authoritative and reliable option in the eyes of any leads.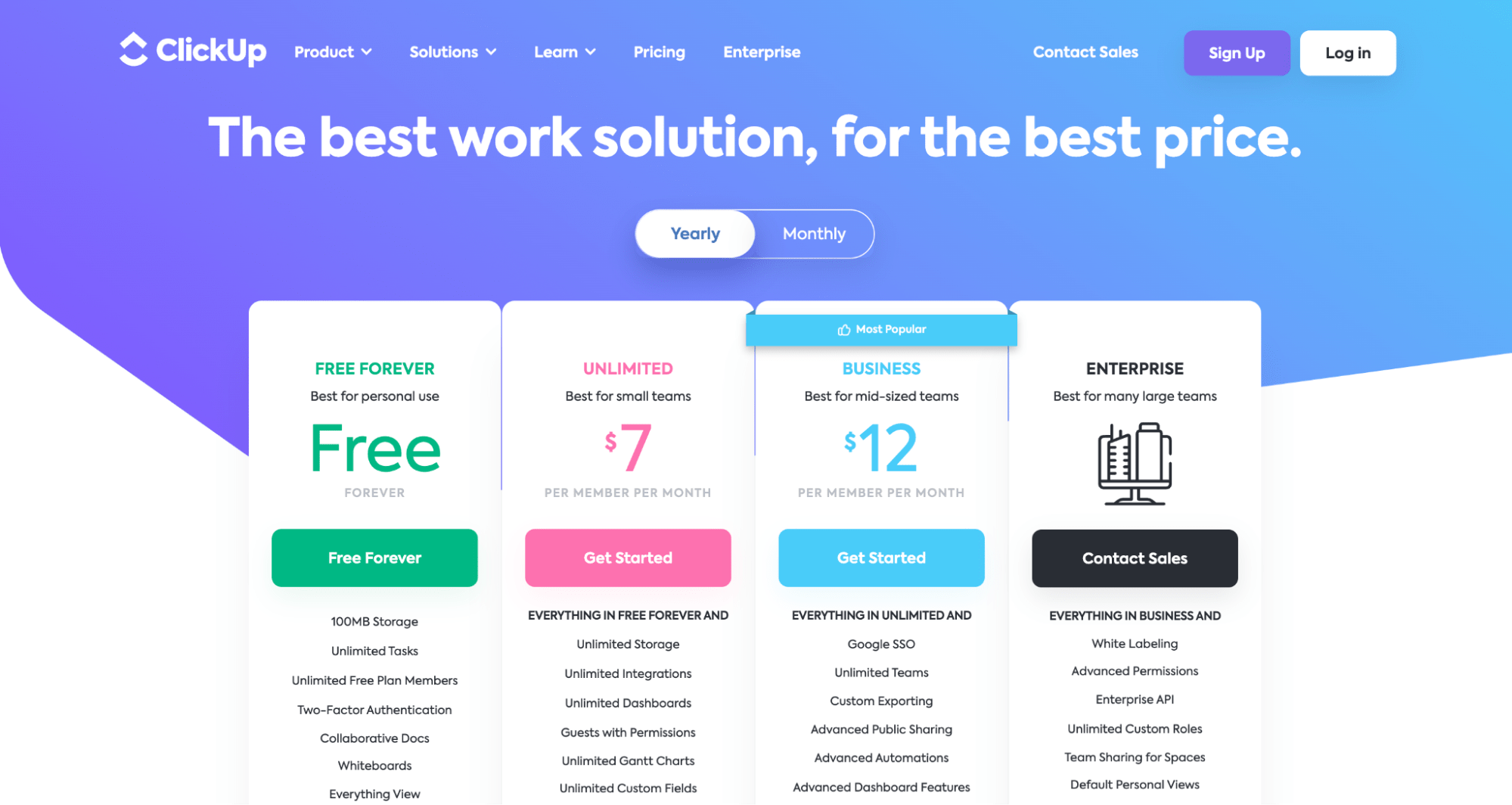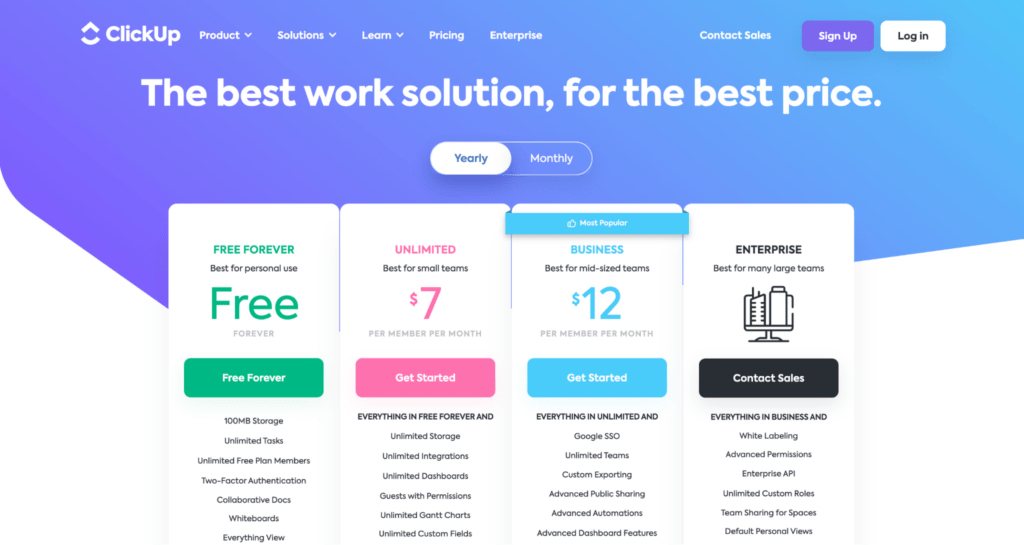 However, their efforts don't stop there. ClickUp uses consistent wording across its site to drive home the compelling offer of a free account. In fact, from the home to the pricing page, they state that it's 'free forever,' eliminating any hesitation one might have about signing up. It minimizes the investment risk and gets the visitor on the platform as quickly as possible.
Key features
Uses a freemium subscription model to entice people who might hesitate to invest.
Strong value proposition and consistent messaging.
Clean design with minimal distractions.

9. Buffer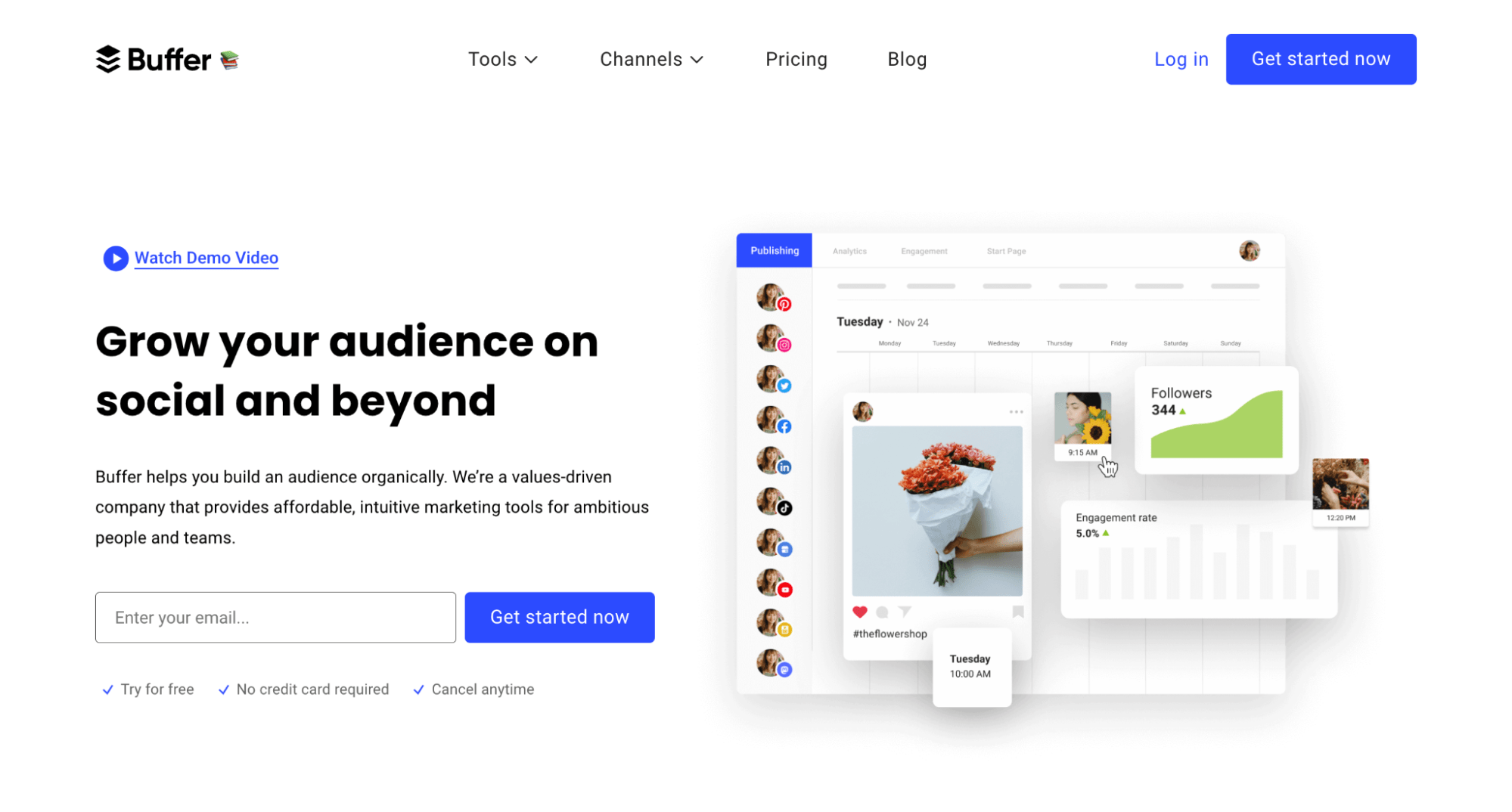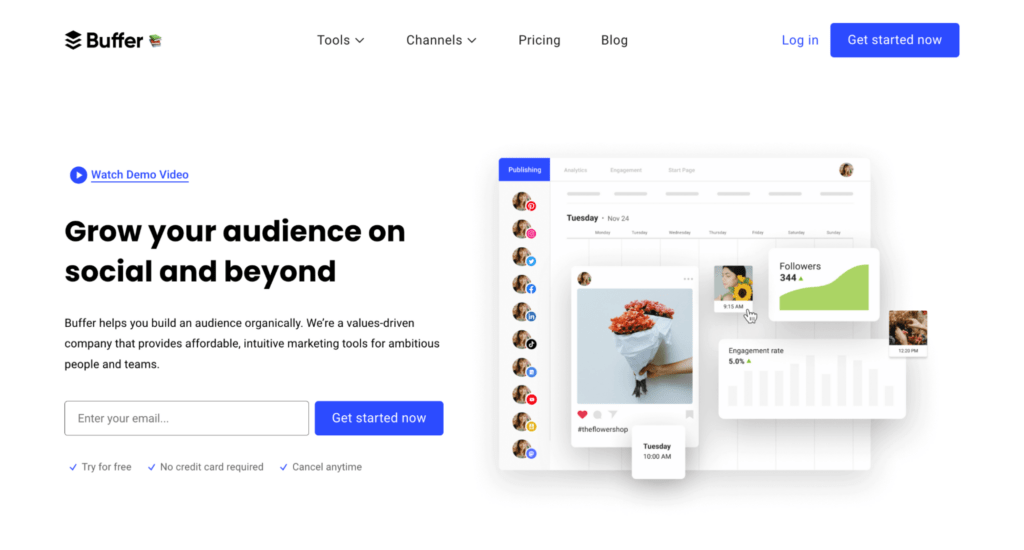 Social media is the epitome of trends coming and going in a heartbeat. It's a platform that requires businesses to act quickly, experiment, and make decisions from data. Buffer is a social media management platform that empowers businesses to take a more strategic, proactive approach.
So, how does their site showcase this? Firstly, they remove the hurdles someone might jump through to sign up. They indicate that the free trial doesn't require a credit card and allows users to cancel anytime. This transparency can build trust and eradicate friction at this early stage. Remember, the goal is to get potential customers on your free trial, where they can see the direct impact of your software. Hence, reducing the effort and time it takes them to get there is paramount.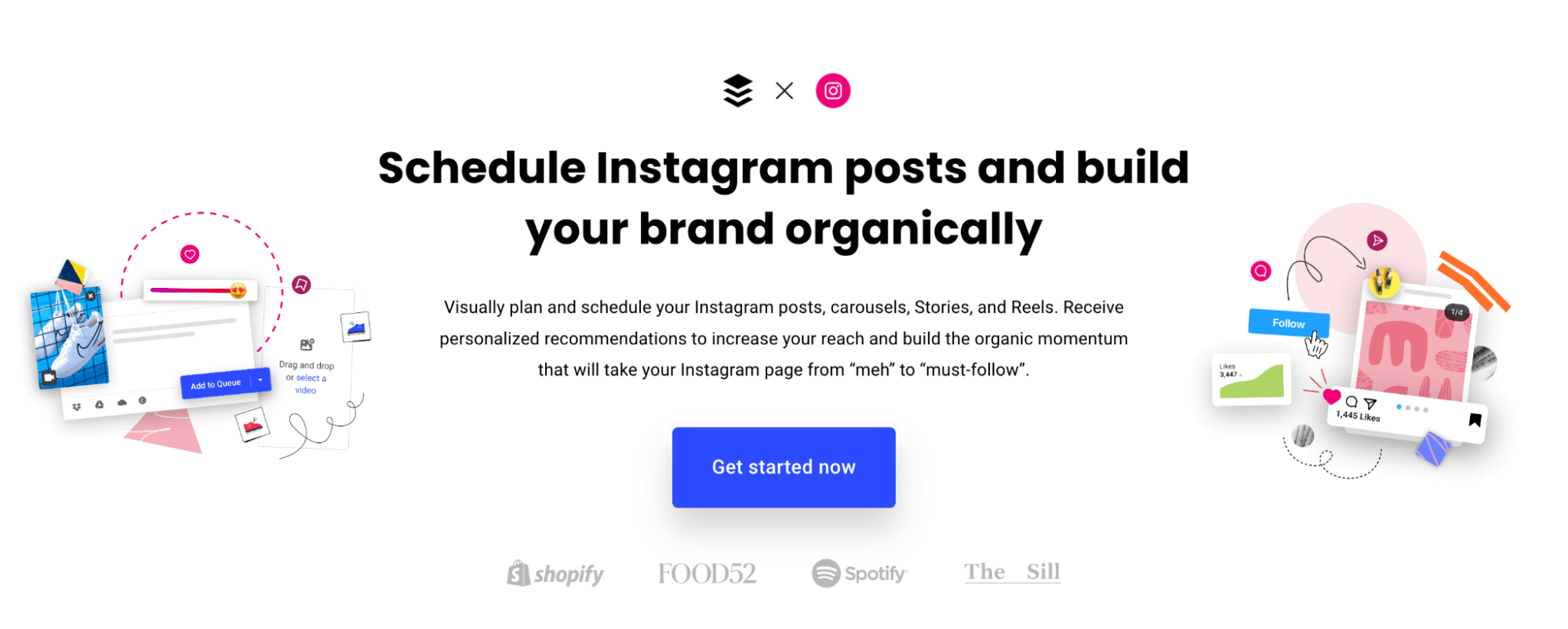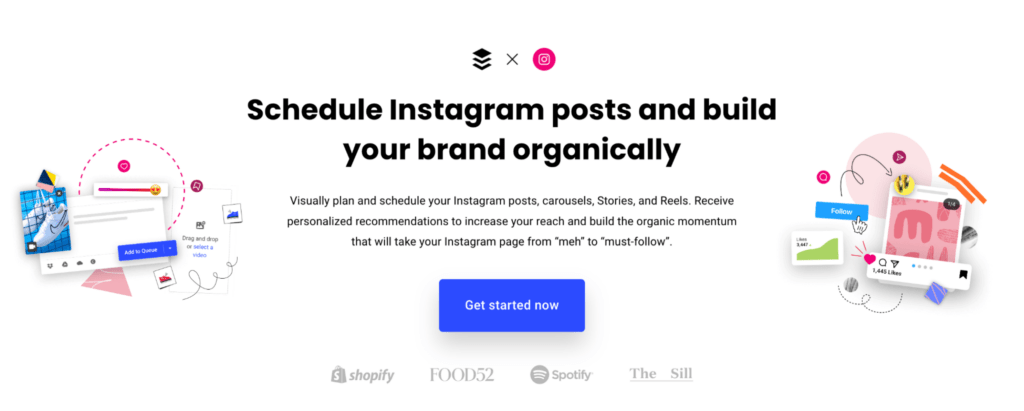 They have created excellent category pages within their design, highlighting the various channels with which Buffer is compatible. Not only does this produce a unique opportunity to target higher-intent keywords, but it also helps to capture leads more intentionally. For example, people looking for an Instagram scheduling tool will land on this page and see endorsements from top brands. Across the page, the language is relevant to the visitor and the platform they are discussing, highlighting the potential benefits of using this software. 


Moreover, they also use concise components to establish their USPs. For instance, users can use automation features, add a first comment, and optimize their posting schedule with smart insights. It's purposely simple to guide the users through primary benefits and closer to making a conversion.
Key features
High-intent category pages to target specific audiences.
Reduce friction at the sign-up stage by removing the need for a credit card.
Uses industry-specific language and pain points.

10. Stripe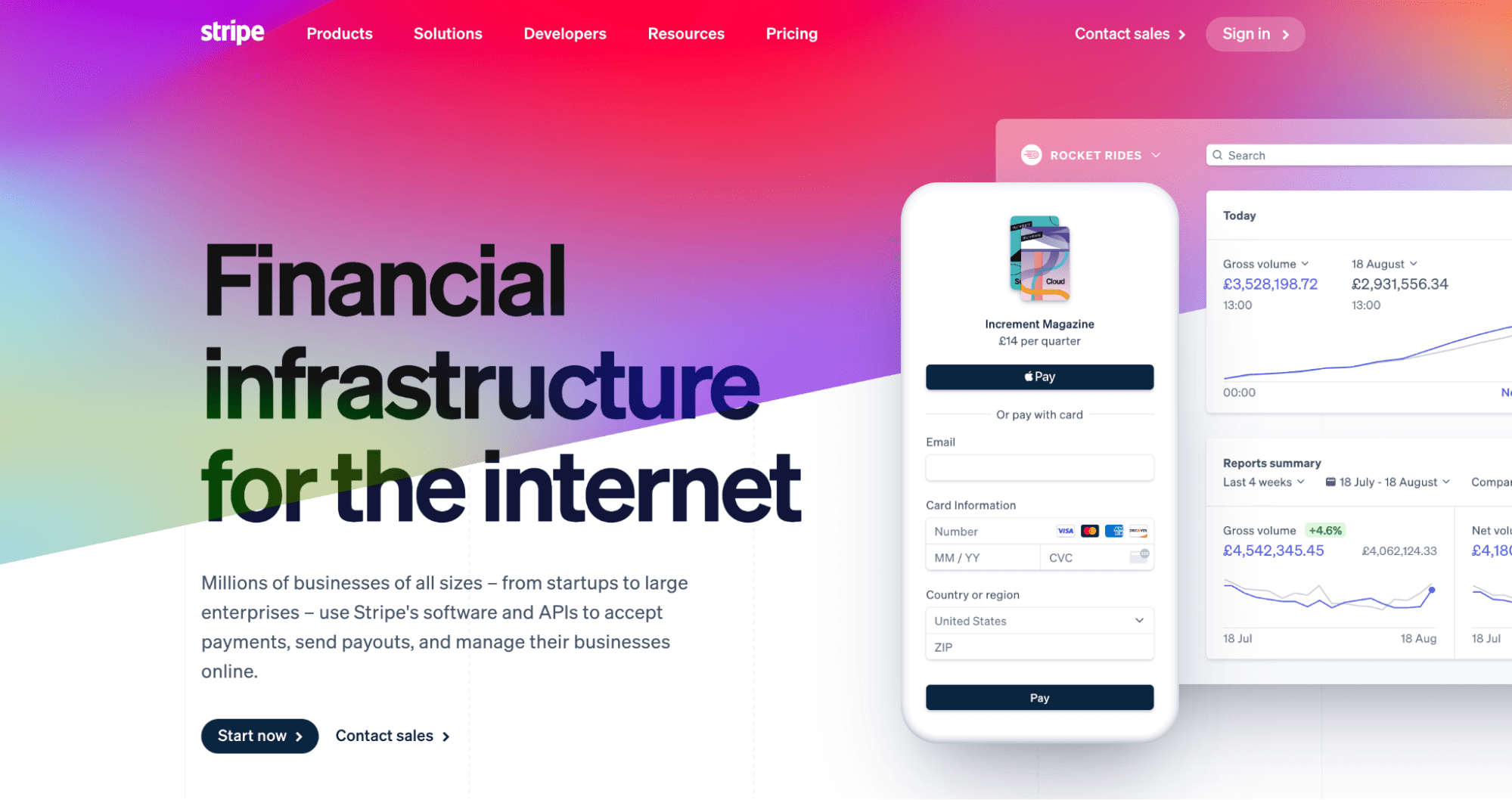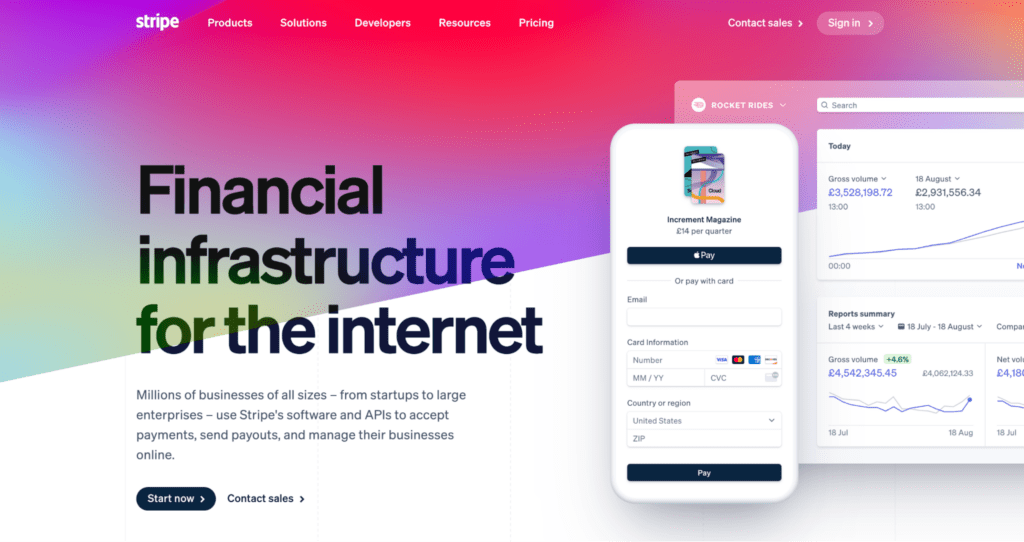 Stripe is a payment processing platform that helps companies accept online payments. The purpose of their offer is to provide a safe, secure, and user-friendly way to facilitate monetary transfers. What drives this vision home is their use of imagery on the home page. By showing a checkout example, businesses see exactly what their end-user will experience.
Moreover, the CTAs effectively direct the visitor to the next stage of their journey. For instance, someone further down the funnel might click 'Start now' and sign up within a few minutes. On the other hand, businesses in the decision phase might need to 'Contact sales' to ask questions or get more information before committing.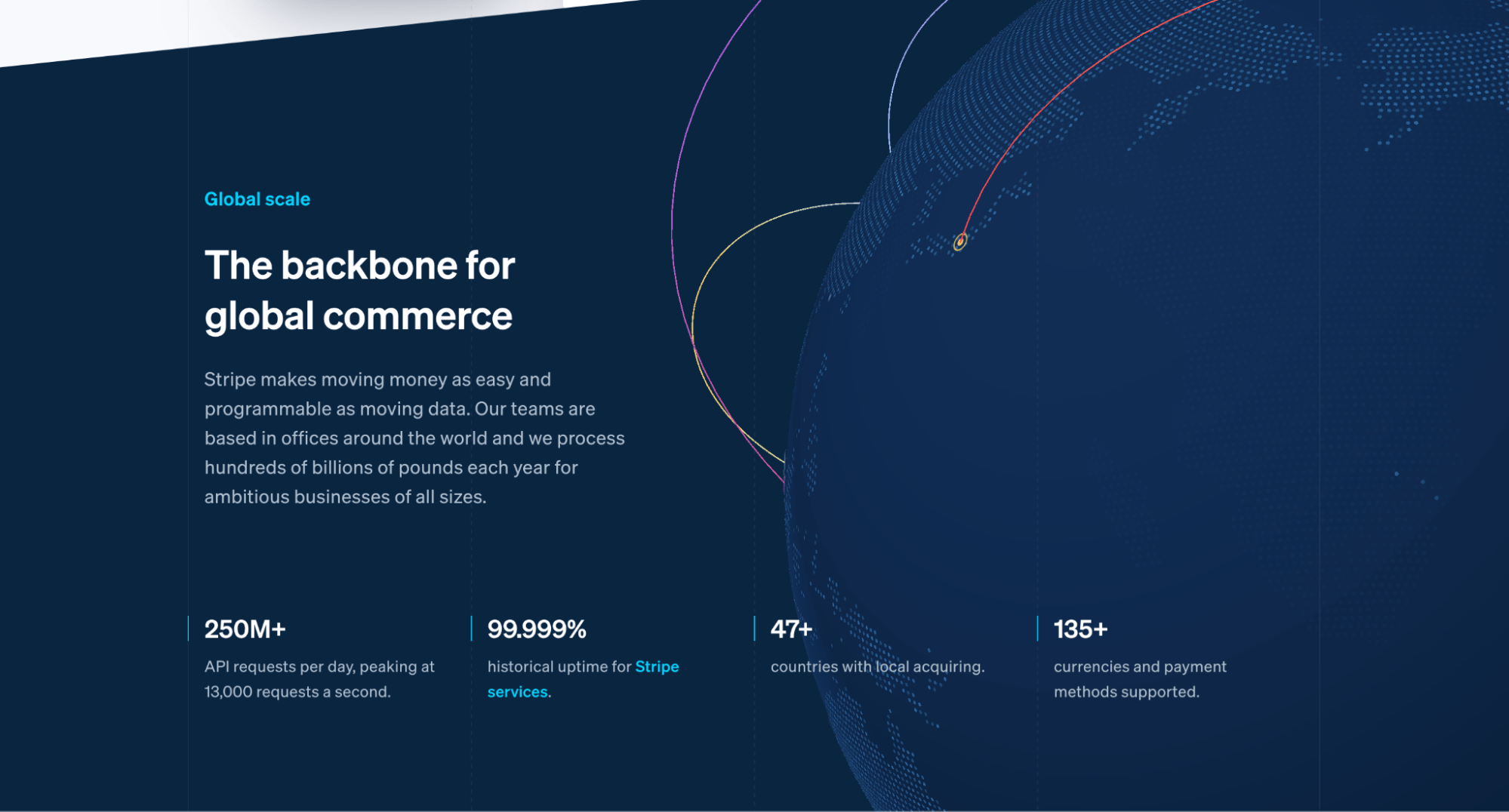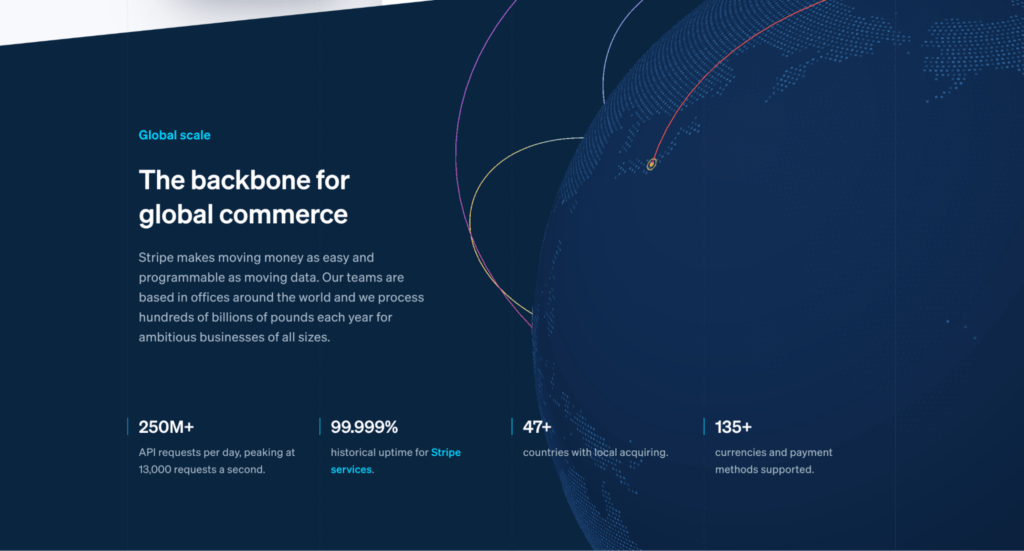 While they, too, have educational elements and a dynamic interface, it's Stripe's use of social proof that makes this one of the best B2B SaaS websites. This extra panel truly demonstrates their global presence and their impact on existing clients. With various statistics proudly on display, it positions them as an industry leader that cuts the hassle, no matter if you're a small or large enterprise. However, that's not all. Stripe also utilizes impactful case studies from high-profile clients, further convincing prospects of the type of ROI they can expect.
Key features
Compelling social proof such as case studies and statistics.
Clear imagery to show how they create a seamless user experience.
Educational resources for different audience segments.
What Makes the Best B2B SaaS Websites Stand Out?
These top 10 examples are designed to drive conversions and increase revenue. Every choice has been made to nurture and guide the viewer to a desired action, whether they land on a blog post or pricing page. So, to summarize what the best B2B SaaS websites have gotten right, here are several common characteristics that contribute to their success:
| | |
| --- | --- |
| Aspect | Description |
| Clean Design | Prioritize simplicity and functionality for easy navigation and understanding of value proposition. Ensure quick page loading and relevant button placement. |
| Targeted Messaging | Craft concise, engaging messaging to resonate with the target audience. |
| Social Proof | Display testimonials, case studies, and ROI statistics to build trust and authority. |
| Clear CTA Buttons | Have clear CTA buttons guiding visitors to desired actions like signing up for a free trial or contacting sales. |
| Free Trial Offers | Offer free trials to allow software experience before purchasing, aiming to increase sign-ups. |
| Pricing Transparency | Provide clear pricing information to reduce buying friction and assist in informed decision-making. |
Benefits of an Effective B2B SaaS Website
Taking time to optimize your pages for SEO, user experience, and conversions can make your SaaS business stand out from the crowd. But why is this? Well, there are numerous benefits of a well-designed B2B SaaS website; let's dive into a few:
| | |
| --- | --- |
| Aspect | Description |
| Strong Online Presence | Establishes a solid brand presence, making it easier for potential clients to find and engage with your company. Without an optimized site, there's a risk of losing a significant market to competitors. |
| Build Trust and Authority | A professional layout builds rapport and credibility, showing that the business takes its online presence seriously. Utilizing tools like case studies can prove reliability and lower the perceived risk of investment. |
| Streamline the Sales Process | A well-designed site provides essential information, streamlining the sales funnel. This reduces the time and resources needed for sales teams to engage with individual leads, allowing them to focus on high-value activities.  |
| Improve Customer Retention | The landing page should cater to both new leads and existing users, offering easy access to support, updates, and relevant information. This demonstrates value for the user's time and experience, which is crucial for customer retention and sustainable growth. |
| Limit the Time-to-Value | Intentional design reduces friction and quickly demonstrates the product's value, impacting conversions and user experience. Features like demo videos, interactive elements, and specific use cases can efficiently illustrate how the software works and its benefits, driving straight into the solution it offers. |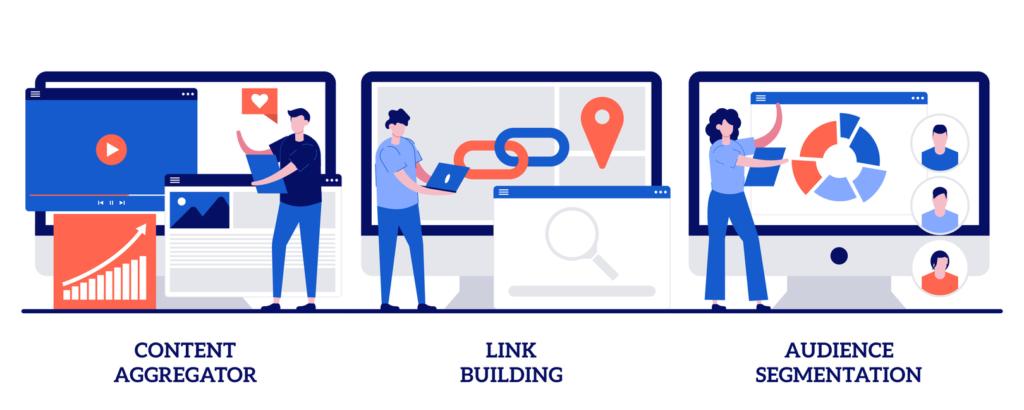 Grow Your B2B SaaS Website Organically With NUOPTIMA
Here at NUOPTIMA, there's nothing we understand more than the role your website plays in your marketing and sales funnels. It sets the foundation for your brand but also plays a crucial part in your ability to generate leads. Thus, optimizing your pages is a must. 
This is where SEO comes in. From the compelling CTAs and the informative blogs to the interactive elements and high-intent category pages, SEO is the glue that binds this all together. However, it's no easy feat. Implementing effective organic optimizations takes time, resources, skill, and investment. So, if you're looking for a cost-effective, low-risk way of scaling your B2B SaaS operations, consider partnering with NUOPTIMA.
As a B2B SaaS SEO agency, we understand the complexity of building a high-converting site. Thankfully, with us by your side, you'll gain access to experts across our technical, SEO, and content teams, who work together to develop a holistic strategy for your SaaS solution. Whether your goal is customer retention, acquisition, or brand awareness, we craft a bespoke plan that caters to your target audience and the search engine.  
Rather than spending valuable capital, resources, and time learning to do it yourself, consider outsourcing to a team of friendly professionals with tried and tested techniques. It's like taking the fast lane in business; avoid the awkward learning curves and cut straight to the path to success. If you're still not convinced, check out our stellar case studies. These are the results we achieve regularly for our clients, and we want to help you get there, too.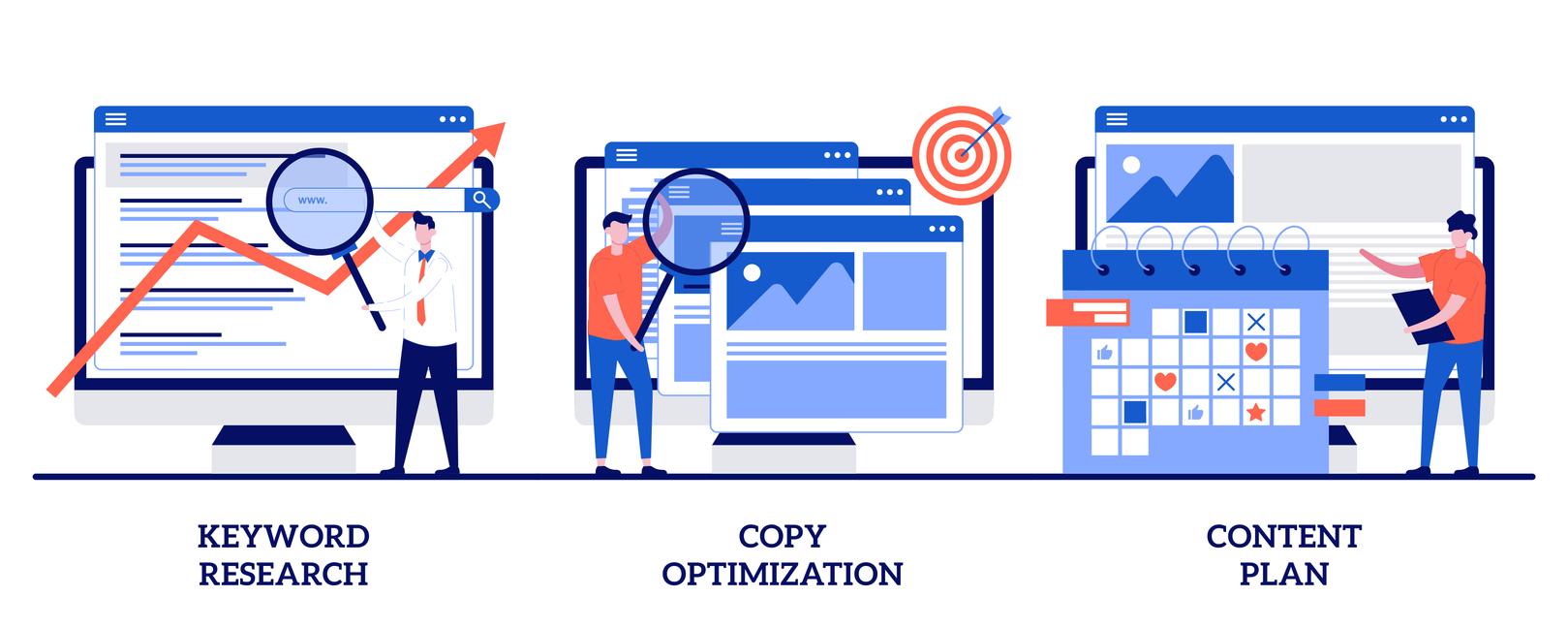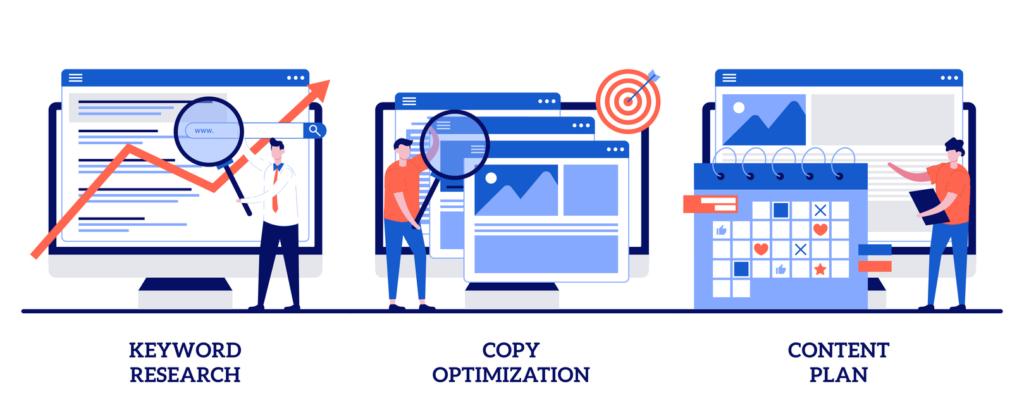 Final Thoughts
In conclusion, the best B2B SaaS websites prioritize education, user experience, and transparency to convert visitors into leads or customers. By analyzing the top 10 B2B SaaS companies, you gain valuable insights into effective conversion tactics and can apply them to your own companies. Hence, by developing a cohesive design, compelling messaging, social proof, distinct CTAs, free trial offers, and pricing transparency, you'll position your domain as an industry leader.
Additionally, if you need support growing your B2B SaaS online presence, consider NUOPTIMA. Alongside our experienced team, we have the necessary resources, network, and infrastructure to help you scale organically. Want to find out more? Book a free call with our growth specialists and discover how NUOPTIMA can build you sustainable, predictable revenue.