Key Points
The iPhone is a series of high-end smartphones designed and introduced by Apple Inc. It works like a mini portable computer with extensive features, cloud computing capabilities and a touchscreen interface.
Due to its innovative functionality and configuration, the iPhone has evolved from an everyday smartphone to a powerful device for SEO and internet marketing. From HootSuite to SEO Pro, there's a wide variety of software applications you can download from the AppStore and install on your device to help with your SEO.
Search engine optimisation is a critical and long-term practice that can only be accomplished with in-depth SEO knowledge, experience and powerful tools. Hiring a dynamic SEO agency is not just a good idea but also a requirement for amateurs or skilled business leaders.
What Is Search Engine Optimisation?
SEO is a pack of methods designed to improve the appearance and performance of a website to rank well in search results. At some length, your website receives organic traffic when someone arrives at one of your pages after running a search query that is related to your products or services. The more visitors you get, the higher your conversion rates will be. That's why appearing on top of search engine rankings has become a major ambition for many businesses. But as with any goal, the process of reaching your desired position is not a walk in the park.
Google keeps rebuilding its search algorithms to filter search results and help users find exactly what they are looking for. SEO strategists use their understanding of these algorithms that evolve all the time to create and execute SEO techniques that keep up with search engines' and users' ever-changing behaviours.
Is iPhone Good For SEO?
Mobile phones have become more innovative over the years. One superior device that has revolutionised the smartphone ecosystem is the iPhone series. It is a flagship of the tech behemoth, Apple, making it one of the most influential and widely-used smartphones on the planet.
At first glance, the iPhone line-up looks just like a typical smartphone, but its feature-rich operating system can actually do so much more than just FaceTiming, web browsing or taking high-resolution selfies. The integration of cloud computing technology into iOS results in a more prolific smartphone that can manage any online and/or offline aspects of a business. SEO is not an exception.
While Apple is very particular and rigorous about the apps it enables, a vast spectrum of SEO apps is accessible to iPhone users in order to help manage and promote their websites from anywhere in the world. We will dissect each of our favourite SEO apps for iPhone shortly!
Why Is SEO For Mobile Phones Important?
Modern-day bloggers and webmasters are counting on devices that can help them fulfil various SEO activities anytime and anywhere. Thanks to the evolution of mobile technology, you can now create a content piece or track your site performance without being tied to your office desktop. So the next time you travel for work, there is no reason to carry around your laptop because you can do all the work from your smartphone as long as the right SEO apps are installed.
The Best SEO Apps For iPhone: NUOPTIMA's Top Picks
After scouring the App Store and running some trial-and-error methodologies, we have come up with seven of the best website SEO analysing iPhone apps for web admins and business owners like yourselves.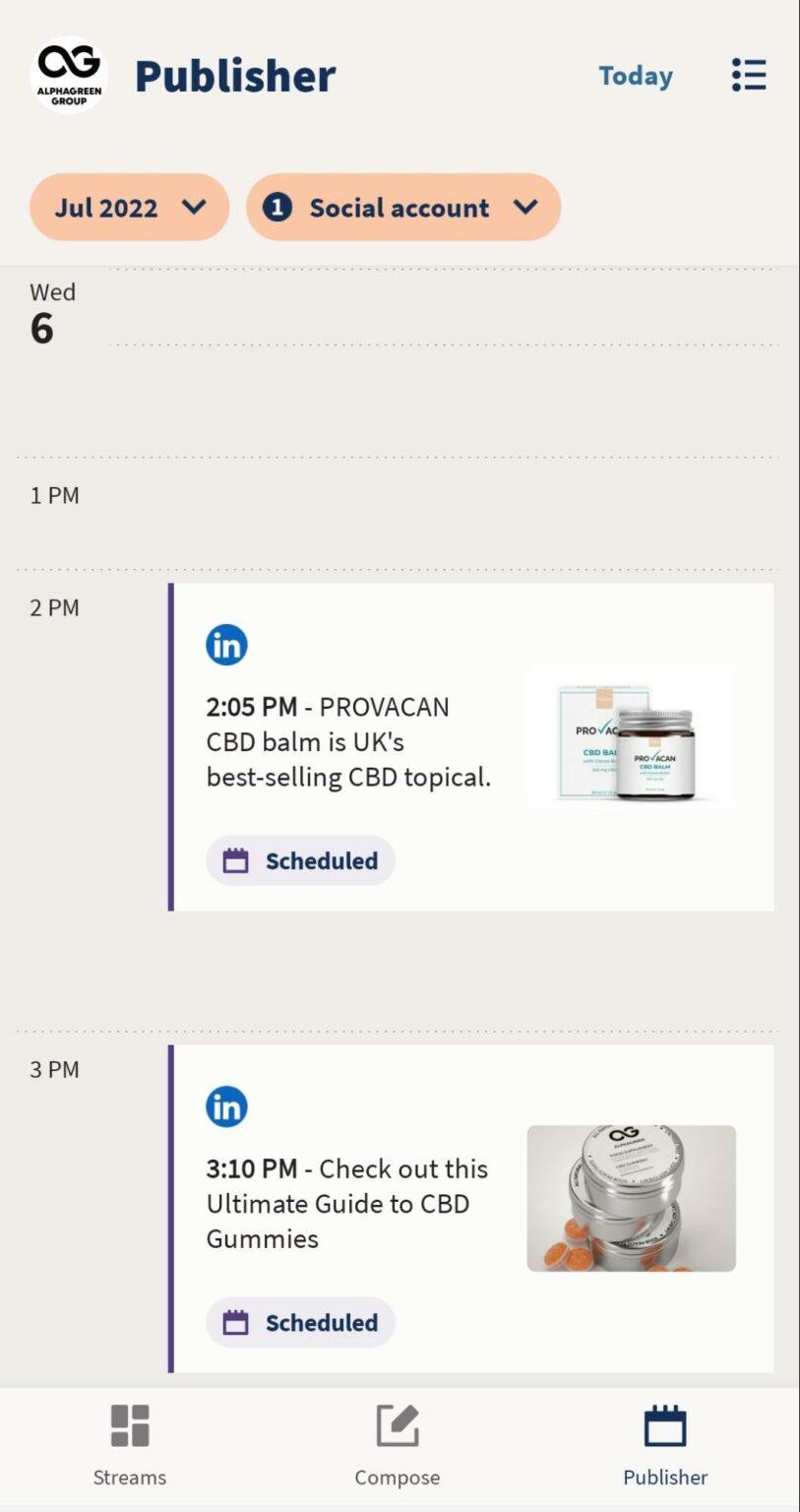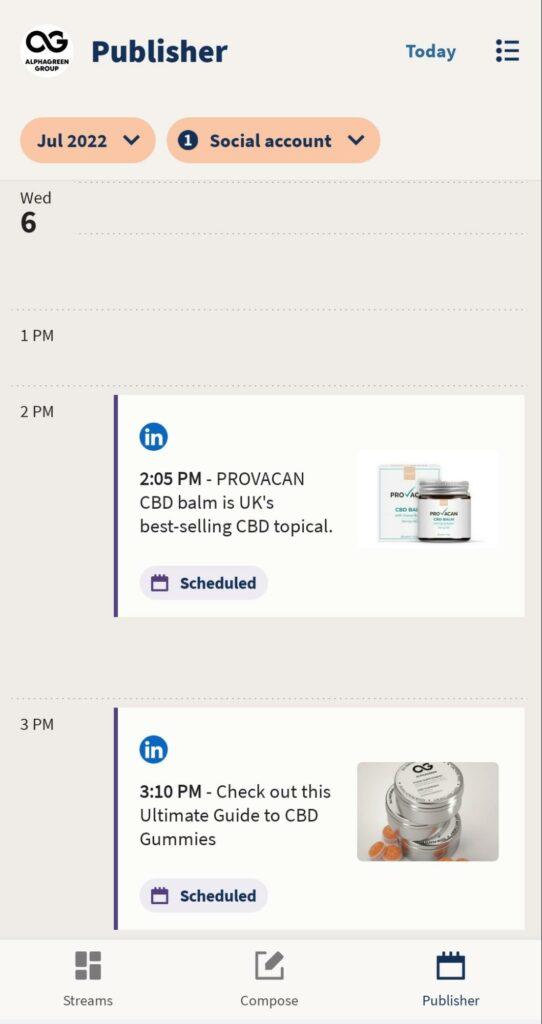 HootSuite
First on the list is a leader in social media marketing. HootSuite is a social media app that allows you to manage multiple social profiles on one extensive dashboard. From scheduling posts to monitoring social engagement, this iOS app practically encircles every aspect of a social media manager's role.
Note: Social media does not directly affect SEO rankings, but vast content distribution across social networks helps improve brand exposure. Information can disperse very quickly through social media, making it an excellent place to get backlinks. So if someone finds value in the content you posted on social, there is a possibility that they will share it with their friends and followers or use the link in their own blogs for other people to see.
Analytics Pro
Data plays a very important role in SEO. It helps you assess your SEO campaign and ensure it goes in the right direction. When it comes to monitoring those data, Analytics Pro can be your professional audit tool. It gives you real-time visualisation of essential ranking metrics, such as page views, bounce rates, average session duration and more. You can save those data reports from Google Analytics to your dashboard so you can easily share them with your team members and clients. The Google Analytics app is free to download, but if you'd like to get the most out of this SEO analysis app, the Pro version is priced at only $1.49 for a month-long subscription.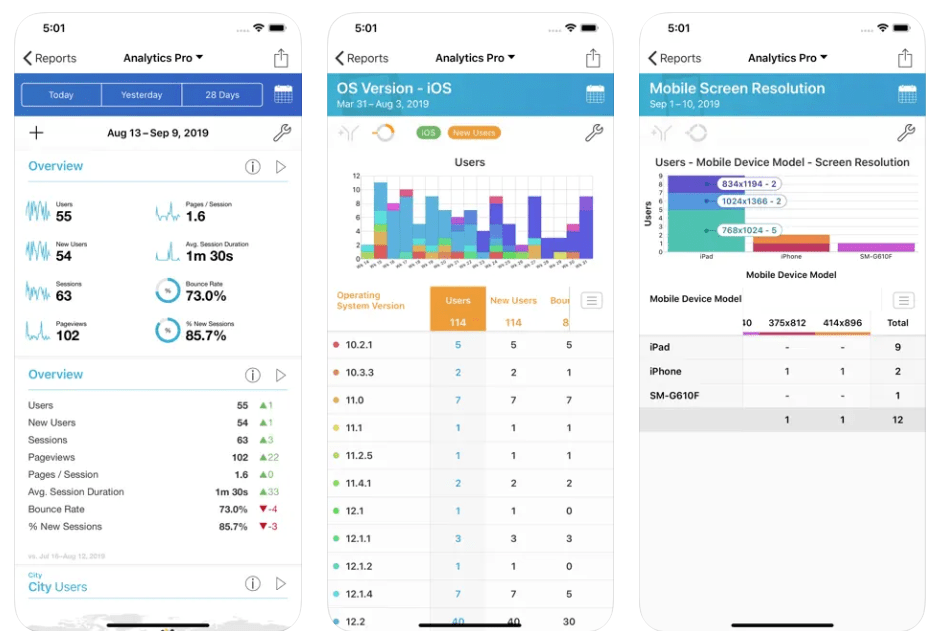 SEO Pro
This app can help you achieve almost any SEO-related task in just a few taps. Whether you need to find keywords for your content, check your site speed or keep tabs on Google Page Rank, you name it, SEO pro can make that happen. The app comes with a free subscription package with limited feature availability. You can enjoy plenty of additional tools and SEO capabilities, such as comprehensive SEO analysis, keyword research and savable data reports, if you opt for the premium version, which starts from $29.99 per month.
SEO Edge
You'll want to install SEO Edge on your iPhone if you need to keep track of multiple websites simultaneously. It serves the purpose of finding the most accurate keywords because it uses actual Google search results. Any updates in keyword rankings are colour-coded, so you can easily recognise the best keywords to use. What makes this SEO app stand out is its ability to track your competitors and export the keywords they use into a table structured format. Unlocking its Pro pack version allows real-time service for up to five iOS devices through iCloud data synchronisation, making SEO Edge the perfect app for sharing SEO performance data with clients and colleagues.
HubSpot
HubSpot is an all-in-one app that does not only help with SEO and analytics but also with social media management. With that, you can easily check and publish content across all your digital channels through your iPhone. These are just some of the many features this app provides to help increase productivity and run your business on the road.
WordPress
If trips are a big part of your profession as a blogger, you'll understand the importance of having a WordPress app installed on your iPhone. This essential blogging instrument allows you to write, edit and publish content right in the palm of your hand. The best thing about WordPress is that it offers various SEO plugins to let you accomplish extra tasks that involve designing a new page, uploading photos and videos, checking stats and even responding to blog comments. So there should be no more excuses to leave your blog unattended while you're out there travelling to different places.
SE Ranking Pro
The Pro version of the SE Ranking app is among the best analytics apps for iPhone. It delivers up-to-date site audits and provides instructions on how to resolve potential errors that keep you from ranking highly. So if your goal is to enhance your website's overall performance, this one is a must-have app. While it's not free, you can enjoy a 14-days trial to discover unlimited features, from on-page audit to backlink monitoring and keyword research.
Final Thoughts
The App Store SEO and analytics app section offers an abundance of great choices. What we have here are just some of the most useful SEO apps for optimising and overseeing your website with the comfort of using your iPhone. While Apple and other tech giants are working so hard to ease the process of online marketing, it's still a great idea to work with a team of professionals that can handle your SEO needs and walk with you towards success.
---
FAQ
What Is SEO App?
An SEO app is a software program designed to help users execute different search engine optimisation activities using a smartphone. Similar to any traditional app, a user can download and install an SEO app on a mobile device.
What Is The Best SEO App?
Some of the best SEO apps include the ones featured in this article, including Hootsuite, SEO Edge, Analytics Pro, and the list goes on. Note that SEO is a collection of different methods, so there is no one-size-fits-all app for SEO. You may use more than one SEO app for better results, depending on the actions you want to pursue.
Does SEO Work On Mobile?
While it's best to undertake more complex and comprehensive SEO operations on a working desktop or laptop, there are many decent SEO apps you can run on a smartphone. Some may even give you equally impressive results.