Key Points
The best downloadable SEO software for Mac users include Screaming Frog SEO Spider, Rank Tracker, Website Auditor, SEO Spyglass and LinkAssistant.
Many SEO tools are now browser-based, and although these are not specifically designed for Mac, you should still check out Ahrefs, Semrush, Google Search Console and Google Analytics.
Pricing for SEO software does vary, with some tools being completely free (like those offered by Google), with others costing up to $499.95 per month.
Introduction
Having the right tools is a must if you want to succeed at SEO. For Mac users, there is a wide range of SEO software available, both as downloadable desktop applications and cloud-based solutions. Although the price range varies hugely from software to software, we have collated a list to provide options for whatever your budget.
SEO Software For Mac
Screaming Frog

The Screaming Frog SEO Spider is a site crawler and a complicated desktop tool with many features. It has been around for quite some time (launched in 2010) and is known as an impressive marketing tool.
Screaming Frog SEO Spider, while not as costly as some SEO software, is still fairly expensive. There is a free version with a limit of 500 crawls and around half the capabilities available in the paid version.
Screaming Frog's key features include:
Finds broken links, redirects, and errors
Spell checks and grammar checks your site in more than 25 languages
Analyses page titles and metadata
Audits hreflang attributes
Javascript rendering
Discovers exact duplicate pages
Reviews meta robots and directives
Generates an XML and image sitemap using SEO Spider
Evaluates URL structure
Structured data and validation
AMP crawling and validation
Custom robots.txt
Crawl comparison
Saves crawls and reuploads
There are a few cons to Screaming Frog SEO Spider. One is that it is very complicated, so it is not recommended for beginners who may struggle to utilise the tool to its potential. Secondly, users have reported performance issues when using this tool to study large websites. Thirdly, it is a tool where you can only perform technical SEO. However, it is still deemed one of the best SEO tools for Mac (especially if you want a desktop application and are experienced in SEO). Prices for the paid version begin at $209 per licence per year.
Rank Tracker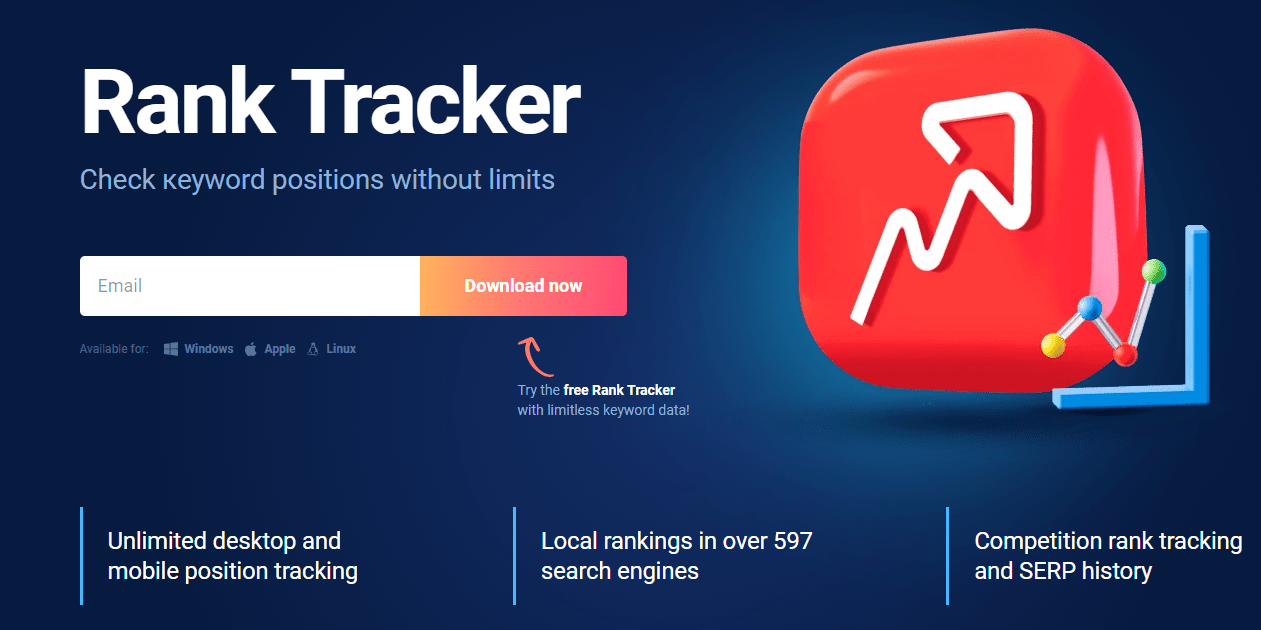 Rank Tracker by SEO PowerSuite is a comprehensive and powerful software designed to track keyword rankings and provide insightful SEO reports. Trusted by over 20,000 monthly users, it has become an essential tool for monitoring search engine rankings on a daily basis.
With Rank Tracker, you can customise your rank-tracking dashboards and reports according to your needs. This flexibility allows you to tailor the software to your preferences and streamline your SEO workflow.
Key features of this software include:
Advanced keyword position tracking
Desktop and mobile tank tracking
Local SEO rank tracking
SERP features analysis
Keyword research tools
Historical tank tracking
Competitor analysis
Customisable reports
Rank Tracker provides an intuitive and user-friendly interface, making it suitable for both beginners and experienced SEO professionals. The software offers a free version with unlimited keyword tracking, making it a cost-efficient solution for tracking your website's rankings. Otherwise, premium features can be unlocked with an SEO PowerSuite subscription which starts from £249 per year or as a standalone product starting from £129 per year.
Website Auditor

Website Auditor is another fantastic bit of software by SEO PowerSuite used by SEO pros to run in-depth audits of webpages. It gives you a clear picture of how well a page is performing and how you can improve technical and on-page optimisation.
Key features include:
On-page auditing, technical SEO guidance, and reporting tools
Powerful SEO spider that crawls and audits all resources on the website
Core Web Vitals module for assessing and improving site speed and performance
Thorough technical website audit to identify crawlability issues
Robots.txt and sitemap generator for managing search engine crawling and indexing
Intelligent on-page SEO audit with keyword-specific optimisation advice
Site structure visualisations for analysing internal linking and architecture
In-app content optimisation with WYSIWYG interface and HTML editing
TF-IDF analysis tool for improving topical relevance and keyword usage
Customisable and white-label SEO reports for clients
Automation of site audit tasks for efficient and regular monitoring
Like the other SEO PowerSuite software, you can download this tool to your Mac for free. However, some of the features are only available on the Enterprise version, but they do let you test them out with a free trial. This software can be bought as a standalone product starting from £109 per year.
SEO SpyGlass

SEO SpyGlass is a powerful desktop tool that can be used on your Mac to analyse backlinks. This software prides itself on being the fastest new backlink checker on the market. It crawls an incredible 7.1 billion web pages every day!

Key Features of SEO SpyGlass include:
Access to the most up-to-date backlink database with 2.7 trillion backlinks
Backlink quality audit and penalty recovery features
Analyses linking history, quality of referring domains, backlinks quality, and more
Granular backlink analysis and lists properties of individual backlinks
Monitores competitor backlink profiles through the Domain Comparison module
Offers bulk backlink analysis to analyse multiple domains at once
Tracks the historical backlink data
Collects data from multiple sources, including its own backlink index, Google Analytics, and Google Search Console
Helps discovers and index backlinks that have not been discovered by Google yet
Provides unlimited data and exports
API access to integrate the backlink index into your own dashboard
Option to download SEO SpyGlass data in CSV format
They offer a free version for unlimited evaluation and paid versions for different user needs. Pricing starts from £79 per year for a professional licence. Unlocking all the software's reporting features will cost you £169 per year. SEO Spyglass is also available as part of the SEO PowerSuite software package.
LinkAssistant

LinkAssistant is a link-building software designed to automate SEO outreach. This is a must-have software for your Mac if you're on the lookout for link-building opportunities for your site. It now has over 2 million users and is fast becoming one of the most popular SEO tools out there.
This software can save you time by automating your link-building campaigns and sending out personalised emails without the hassle. Other key features include:
Provides quality backlink suggestions
Offers 10+ methods to find link-building opportunities, along with contact info and automated pitches
Automatic backlink tracking
Custom link builder reports
Shows relevant link suggestions based on your content marketing strategy
Finds competitor backlinks to discover prospects and establish partnerships
Prioritise link suggestions based on SEO quality factors
Provides an internal browser and Feed View to understand websites
Automates backlink outreach and tracks sent emails and replies
Verifies backlinks with one click and handles issues like wrong anchor text or broken links
Customised link-building reports and automated reporting
As with all software found in the SEO PowerSuite, LinkAssistant has a free version which will give you access to a handful of features. However, if you want to schedule SEO tasks, save projects, and print off reports without watermarks, you will need to purchase a software licence starting from £79 per year.
Cloud-Based Software
Although some SEO software for Mac users is still required to be downloaded and installed, many popular SEO tools are now accessible online. Although the following tools have not been specifically designed for Mac, we couldn't leave them off the list of best SEO software.
Ahrefs
Ahrefs is a popular premium all-in-one SEO platform. After Google, it is the biggest online crawler. This tool provides valuable data for search engine results pages (SERPs) analysis and keyword research.
Ahrefs is viewed as one of the most dependable and comprehensive SEO solutions available. Many people prefer Ahrefs to other SEO tools as it has a content explorer and link database and is kept up to date. Ahrefs actually updates its index with fresh backlinks on the web every 15 minutes!
Key features of Ahrefs include:
Above-average website auditor and site crawling capabilities
Easy-to-use interface
Rank tracker
Analyse competitor's search engine rankings
Perhaps the best keyword research tool available
Vast and fresh backlink data (historical and new backlink indexing)
Analyse what your customers are searching for
Simple to export reporting functionality
Domain analysis (and domain versus domain comparison)
As with many quality SEO platforms, it comes at a cost. Ahrefs prices range from $99 to $999 per month, depending on the features required. Unfortunately, the developers know how good their tool is and don't offer free trials.
Semrush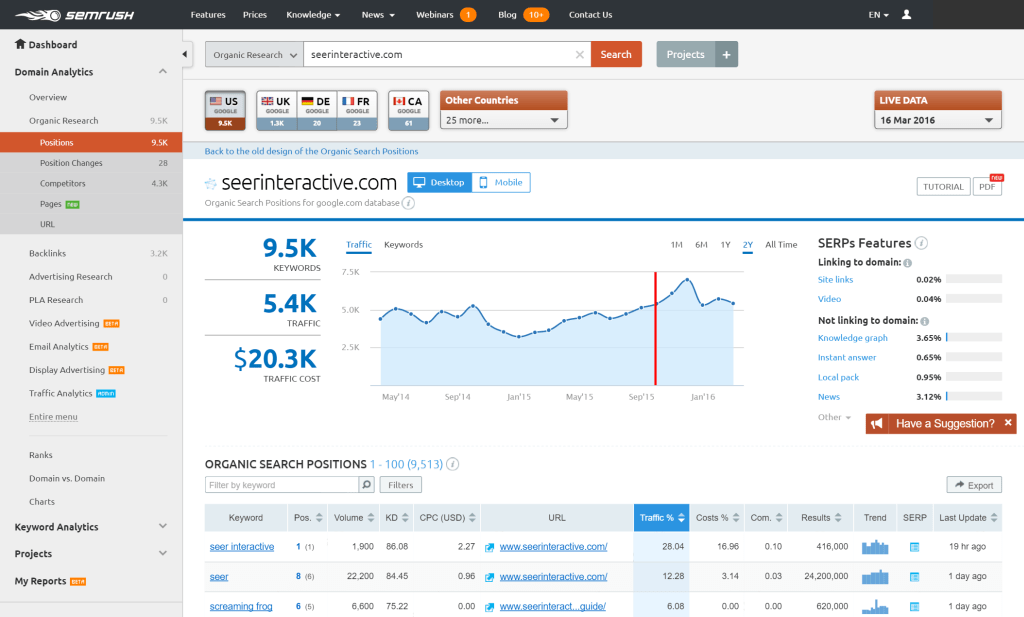 Semrush is another popular SEO tool and is used by millions worldwide. It offers over 40 SEO and social media tools to help grow a brand's online presence and traffic. Unlike Ahrefs, Semrush is a premium SEO tool that offers a free plan (with limitations) and a free trial to explore its premium features.
If you are new to the market, this tool can make it straightforward for you to edge over your competitors and get the majority of traffic from search engines. Some of its key attributes include:
Keyword research
Backlink analysis
Website SEO audit
Domain vs domain comparison
Brand monitoring
Backlink audit
Competitor analysis
Social media posting
Backlink building
Lead generation
Vast keyword database of over 20 billion keywords
Analyse traffic of any site
Improves local SEO
There are currently three paid versions available: Pro, Guru, and Business. Unfortunately, they are all a bit pricey, starting from $129.95 per month to $499.95 per month. With that being said, the revenue you can generate from optimising your site as a direct result of the insights this tool provides could make the cost worthwhile.
Google Search Console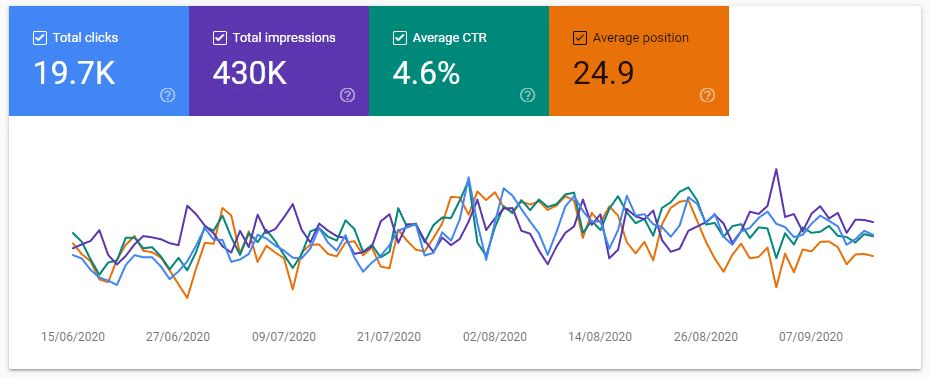 Google Search Console is an essential SEO tool provided by Google that offers valuable insights and data to optimise website performance and increase visibility in search engine results. It provides site owners and SEO professionals with a range of features to monitor and enhance their website's presence in Google search results.
Key Features of Google Search Console include:
Search performance analysis, including search queries, impressions, clicks, and SERP position
Indexing status to ensure Google properly indexes pages
XML sitemap submission to help Google discover and crawl websites more efficiently
Mobile usability testing to identify compatibility issues and ensure websites are mobile-friendly
URL inspection to identify crawling and indexing issues, plus reindexing requests if needed
Security issues detection for potential security issues, such as malware or hacking attempts
Backlink analysis to assess the quality and identify opportunities for improvement
Structured data testing to validate and troubleshoot structured data markups
Monitors key metrics related to page speed and user experience
Provides recommendations for improving website performance
Google Search Console is a must for anyone wanting to improve their site's appearance on Google SERPs. What's more, you don't need to understand HTML or coding to set it up, and the tool is completely free.
Google Analytics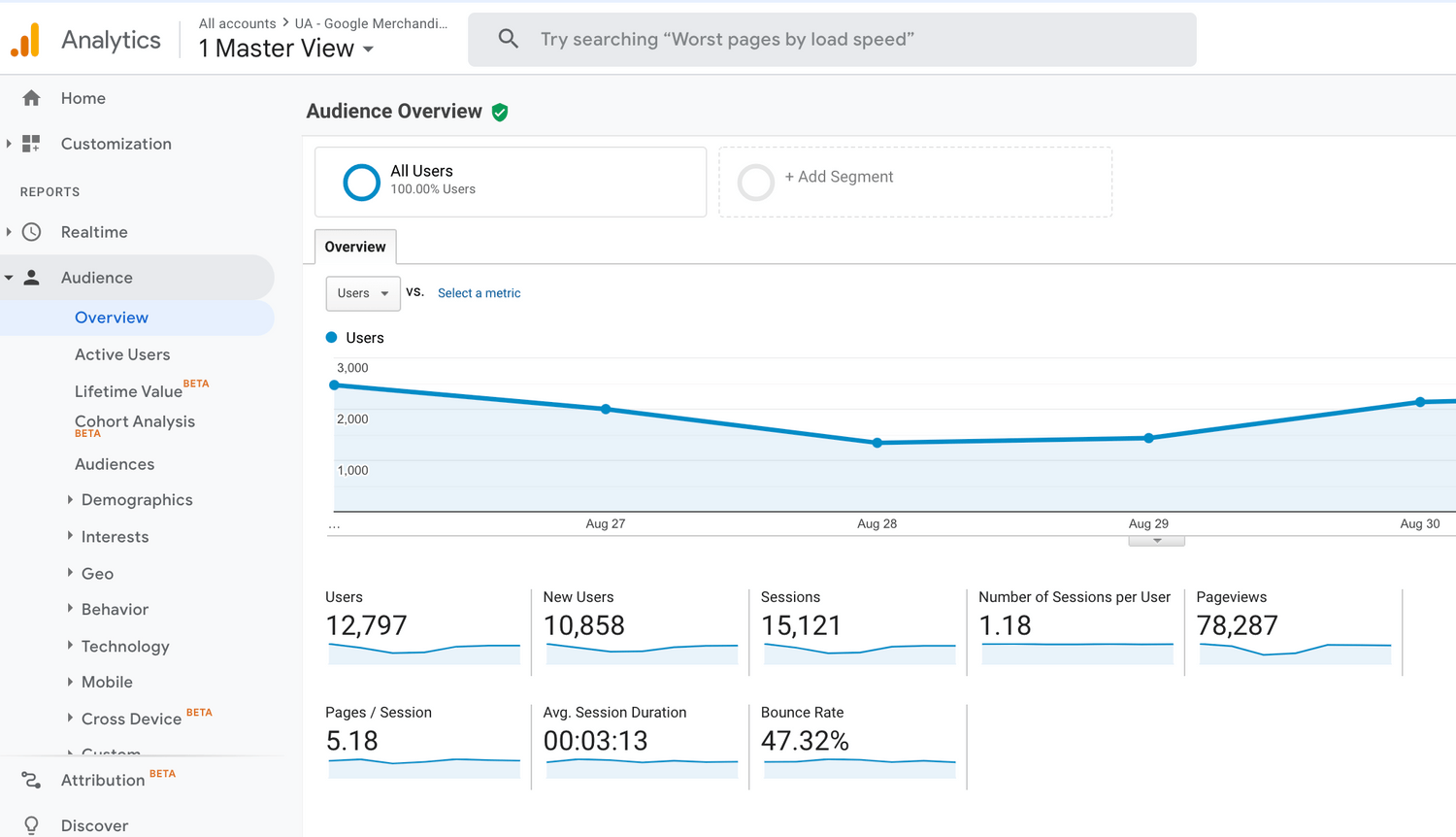 Another fantastic SEO tool from Google is Google Analytics. It is a comprehensive and free tool that gives you valuable insights into how users connect with your website and how you gain and lose traffic. Google Analytics is particularly useful for tracking SEO metrics and generating SEO reports, but it also comes in handy if you're running PPC campaigns simultaneously and want to compare the two channels.
Key features of this must-have SEO platform include
Traffic analysis, including identifying channels like organic, referral, direct, and social
Monitors keyword performance, such as the number of organic searches and CTRs
Tracks conversions to check the effectiveness of SEO efforts in driving desired actions
Measures page load times
Maps out user journey, highlighting the common paths, popular pages, and potential drop-off points
Insights into mobile traffic, device types, and user behaviour
Customisable reporting features for in-depth SEO analysis
Integration with Google Search Console
Although Google Analytics is a browser-based tool, there is also an app so you can keep track of analytics while on the go. Similar to Google Search Console, it's easy to set up, and all features are free to access.
Final Thoughts
Explore the SEO software available for use on your Mac and unleash your website's potential. With the help of the tools we've explored in this article, it is possible to use the SEO performance metrics to optimise your site, outperform competitors and bring in revenue. However, even with all the information on hand, undertaking SEO can be a massive headache. If you need some guidance, book a free consultation call with NUOPTIMA, and we'll explore how we can help grow your business and improve your SEO efforts.
---
FAQ
Are SEO tools worth it?
SEO tools inform you of any issues or problems with your website, which can be critical to your site ranking and will need to be resolved fast. Consequently, an SEO tool can help you fix issues with your website to keep it functioning efficiently and can help improve your site ranking.
What is the best cheapest SEO tool for beginners?
There are numerous free simple SEO tools that you can use. Recommendations include Google Analytics, Google Search Console, and SEOquake.
Should I hire someone for SEO?
You should hire an SEO agency if you are seeking long-term success. The majority of SEO involves building long-term successes and value, and there is nobody more experienced in this than a qualified SEO agency. NUOPTIMA has a vast team of experts well-versed in SEO within a substantial number of industries. Book a free 15-minute call today to explore how we can assist your business.