Key Points
Keyword research and understanding Google keyword rankings is an important aspect of SEO because it can help you attract more visitors to your site that are highly targeted. Essentially, it can reveal crucial information on how to grow your business.
There are three main ways to check your keyword ranking: manually, using third-party tools, or using Google Search Console with Google Analytics.
Undertaking SEO work is not easy and requires much due diligence and skill. To explore how hiring a qualified SEO agency can optimise your website further, book a free consultation call with our experts today at NUOPTIMA SEO agency.
Why is Keyword Research Important?
Regardless of whether you have a brand new website, or a more seasoned one, learning how to check keyword ranking in Google is crucial. There are three main ways to do this, and we will go through each in this article. You can check ranking manually, with third-party tools, or with Google Search Console and Google Analytics.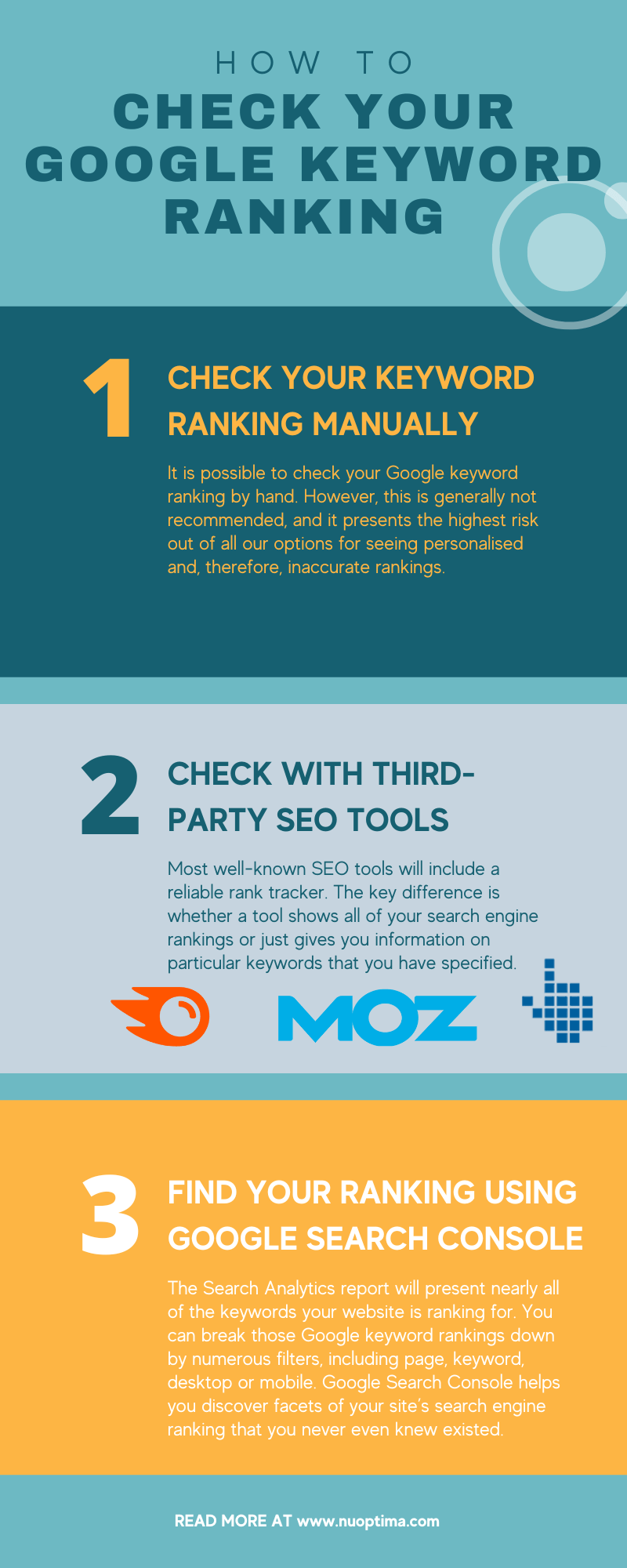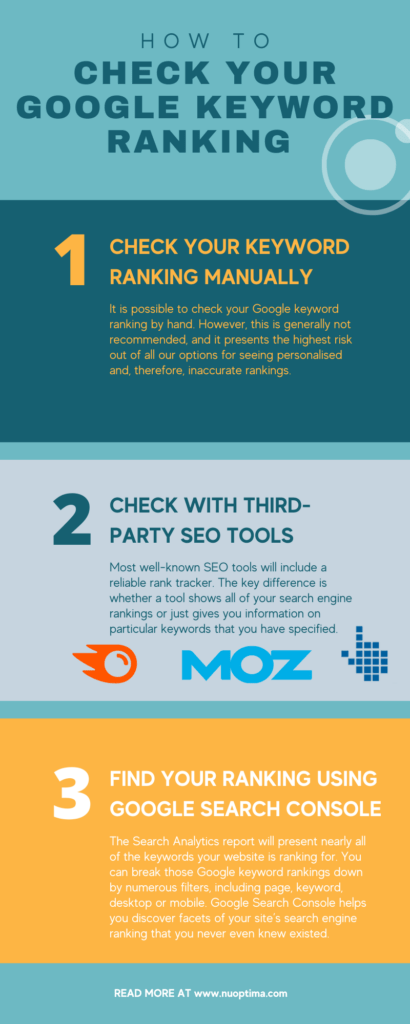 If you are interested in a certain group of keywords or a single keyword, understanding your current organic search engine ranking is the beginning stepping stone to achieving your goals. Learning how to undertake keyword research, as well as how to SEO your website, can mean increased organic traffic of well-targeted visitors. But, before we delve into the three main ways of checking your keyword ranking, there is one main obstacle to be aware of that can affect your research.
A Note on Personalised Search
Personalised search was launched in 2005 by Google and is when search engine results are individualised. This is generated by filters that consider relevant information such as a user's prior searches, social interactions, geographical location, and more. It was launched in an attempt to provide users with more meaningful results. Personalised search brings difficulties to a website owner, digital marketing provider, or operator that gains an advantage from reporting standardised results. The issue is that it can be hard to comprehend your ranking because you might appear to rank exceptionally highly within your personalised search results, but this may not actually be the case universally. For this reason, it is essential for website owners to have a strong understanding of how to check their Google keyword ranking without their results being affected by personalised searches. Below are several options on how to accomplish this.
Option One: Check Your Keyword Ranking Manually
It is possible to check your Google keyword ranking by hand. However, this is generally not recommended, and it presents the highest risk out of all our options for seeing personalised and, therefore, inaccurate rankings. This is the best course of action to avoid search personalisation:
Open a Private Browser. This step varies depending on which browser you have. If you have Google Chrome, open up the menu in the top right of the browser, and click "New Incognito Window" to start a private browser. If you have Safari, open up the file menu, and click "New Private Window". If you have Firefox, open up the menu in the top right of the browser and click "New Private Window".
Search for the Target Keyword. To check your website position on Google, simply type in your target keyword and click "Search". Then, take a look at the URL bar. The universal part of the URL says: https://www.google.com/search. After this will follow "?q=" and the keyword you typed in. This is a URL parameter. You can adjust how your search is conducted by adding various parameters to this URL. For example:

Add "&pws=0" to the end of the URL for non-personalised results.
Add "&gl=us" to adjust the location of your search nationwide in the United States and "&gl=uk" in the United Kingdom (the last two letters are the country codes)
Each results page will have ten organic links. Do not count the results with green "Ad" labels next to them, as your web page won't show up here unless you have an active campaign in Google Adwords (Google Ads).

Start Afresh If you Want to Search for a Second Ranking. Open another private browser if you want to search for more terms. Google personalises search results based on progressive searches, so reopening a private window helps you avoid that.
This approach may be the best option for smaller websites, but it is generally not deemed to be the best choice.
Option Two: Check Your Keyword Ranking with Third-Party SEO Tools
The second option is using third-party SEO tools, and generally speaking, most well-known SEO tools will include a reliable rank tracker. The key difference is whether a tool shows all of your search engine rankings or just gives you information on particular keywords that you have specified. Below we provide a list of some popular SEO tools that can be used to check keyword rankings, along with their pros, cons and cost.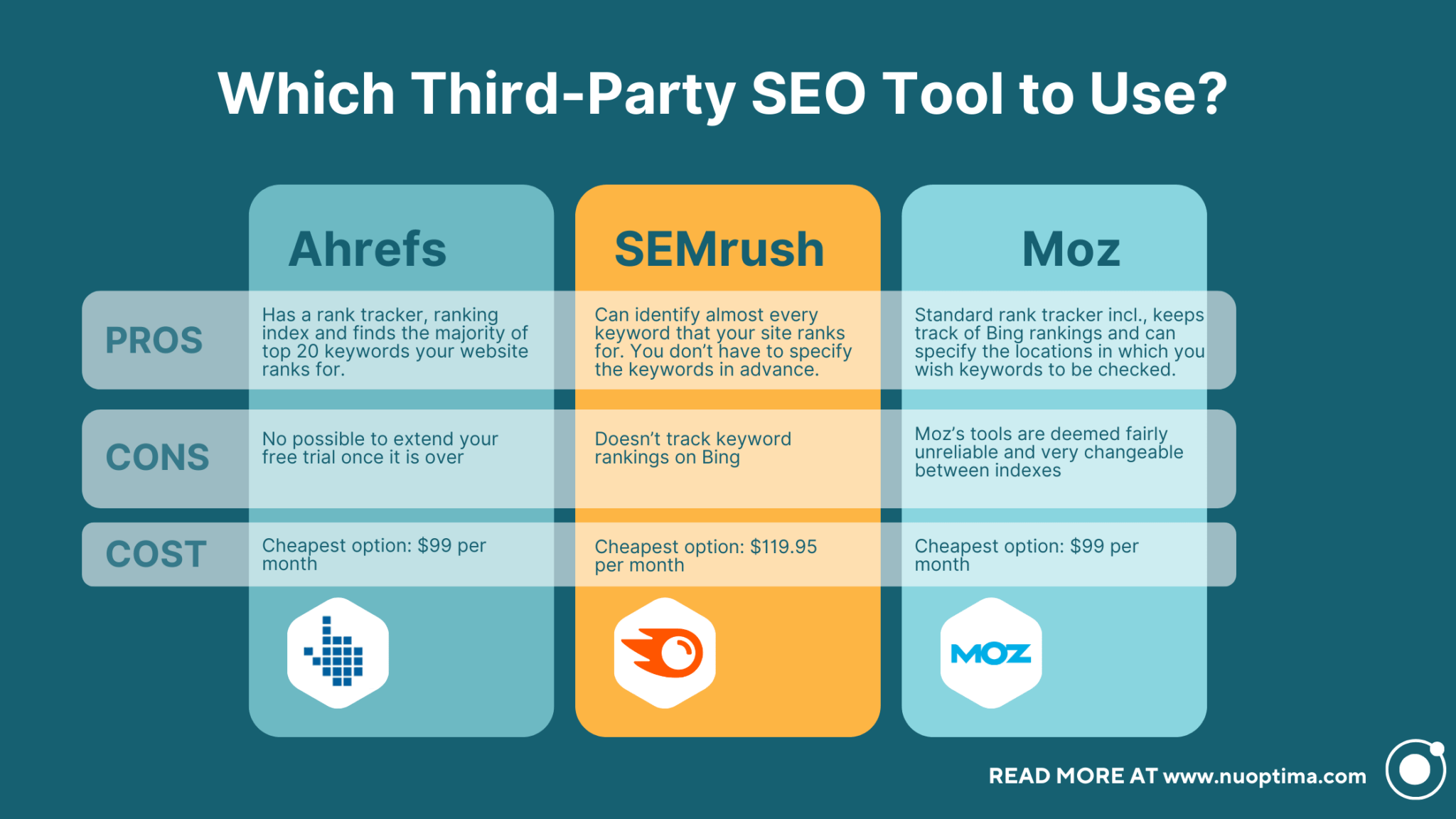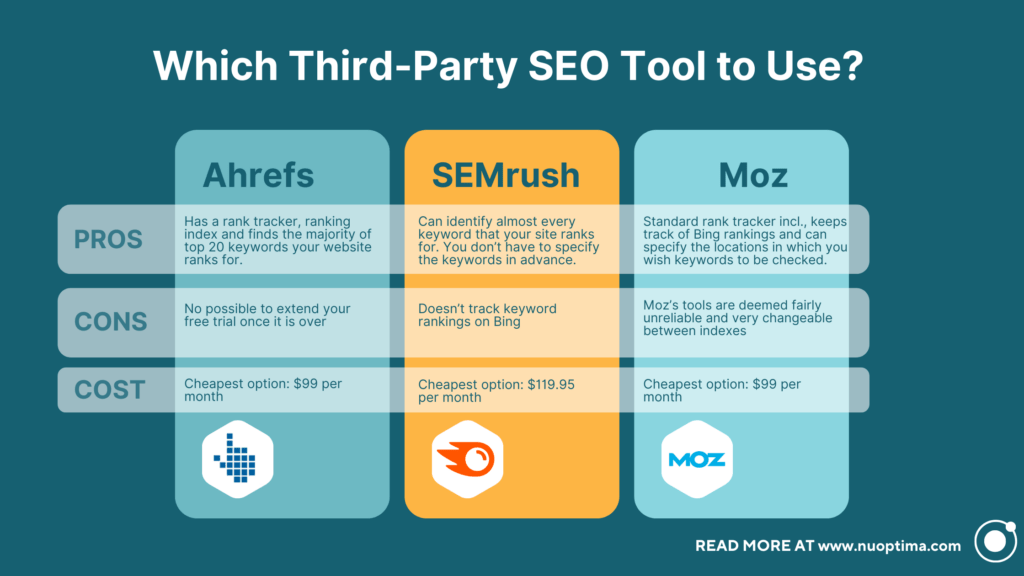 Ahrefs
Pros: Ahrefs has a rank tracker. You can specify up to 300 keywords you want to keep track of (the positions are updated on a weekly basis). Ahrefs also has a ranking index and finds the majority of keywords that your website ranks in the top 20 for.
Cons: They do not extend your free trial once it is over, so you can only enjoy it for no charge for a limited time.
Cost: The cheapest option for this product is $99 per month.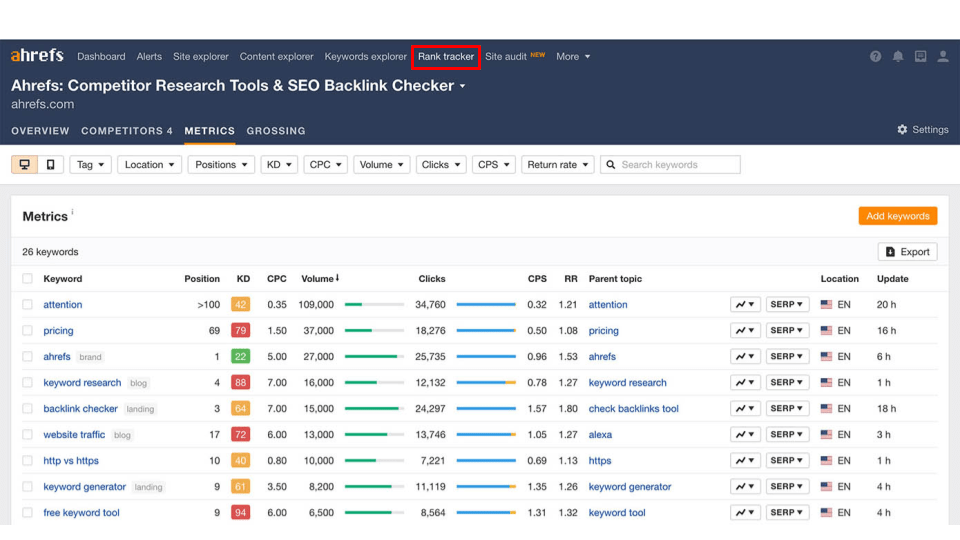 SEMrush
Pros: SEMrush can identify almost every keyword that your site ranks for, and you don't have to specify the keywords in advance. You also have the choice of compiling a list of hand-picked keywords you want to check Google rankings for regularly.
Cons: SEMrush doesn't track keyword rankings on Bing.
Cost: The cheapest option will cost $119.95 per month.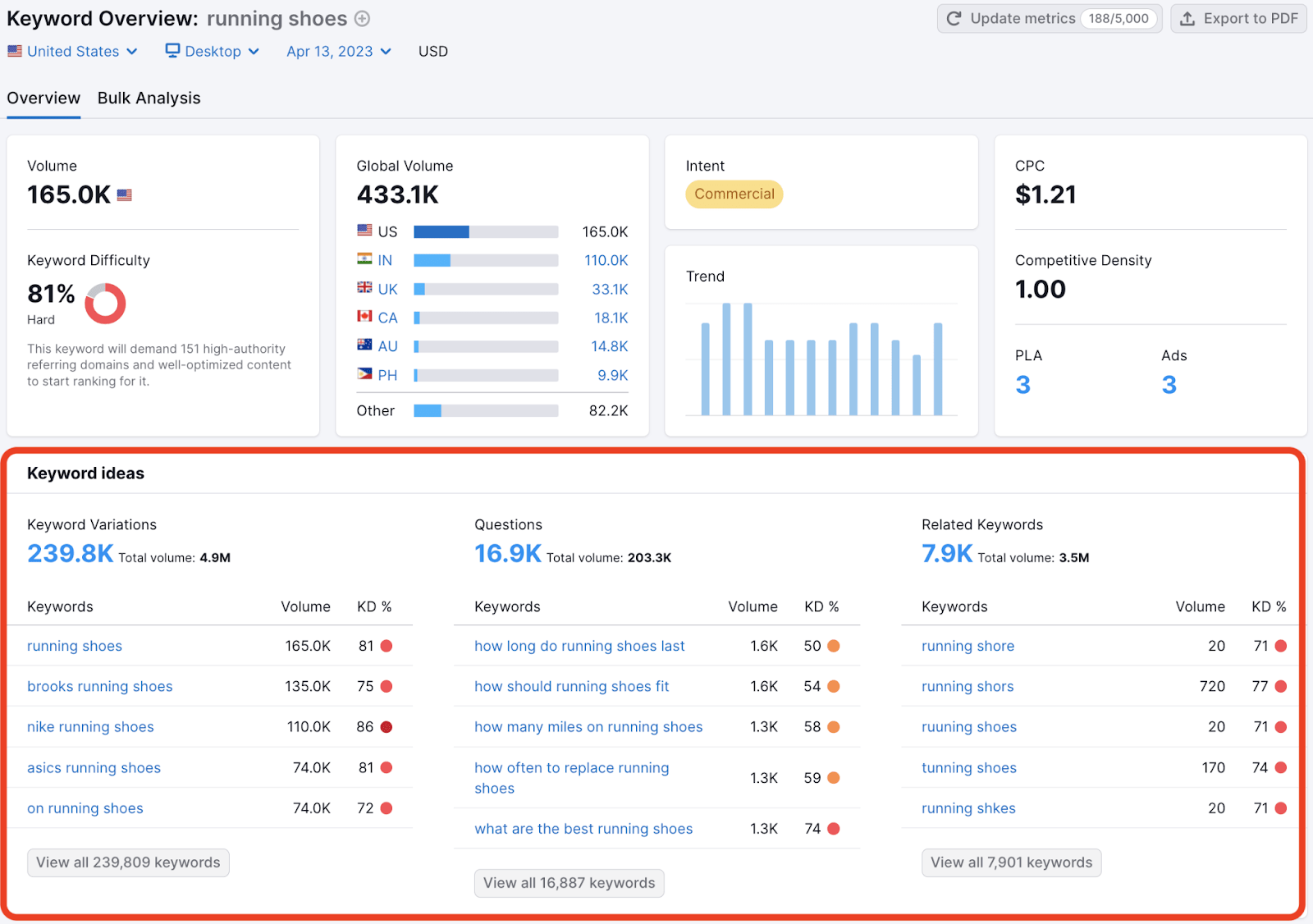 Moz
Pros: Moz has a standard rank tracker included. The lowest tier available allows you to track 300 keywords. You can also specify the locations in which you wish each keyword to be checked. Moz also keeps track of Bing rankings.
Cons: While you get 300 keywords, checking various locations for a single keyword counts as a separate keyword, so you can eat into your 300 keyword limit very fast. Plus, the rest of Moz's tools are deemed fairly unreliable and very changeable between indexes.
Cost: The cheapest option will cost $99 per month.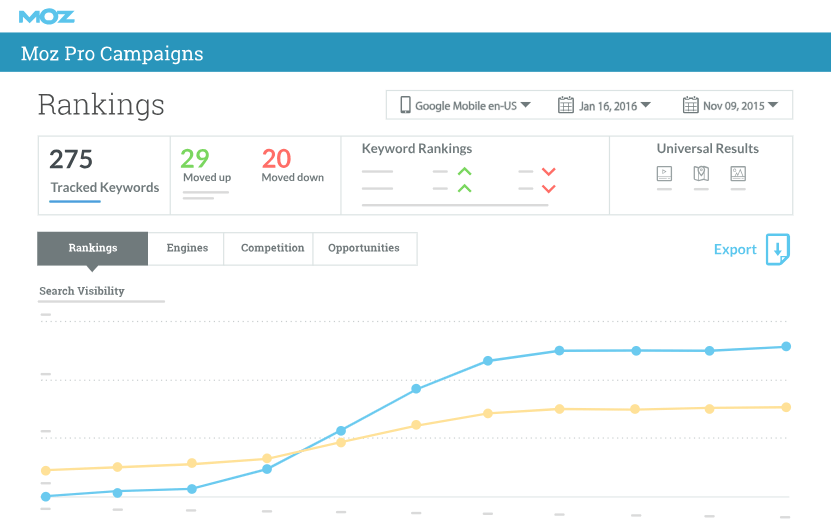 Option Three: Find Your Google Ranking for Keywords Using Google Search Console
This final option requires setting up Google Search Console for your website. Google Search Console is a free web service. If you do not already have an account on Google Search Console, you will get some directions to verify your new account once you have clicked on the above link. Once it has been verified, you can access the Search Analytics report. Please note that it can take roughly two days before this report displays data. The Search Analytics report will present nearly all of the keywords your website is ranking for. Usefully, you can break those Google keyword rankings down by numerous filters, including page, keyword, desktop or mobile, and more. Google Search Console is a brilliant way to view virtually every keyword your website ranks for. Essentially it helps you discover facets of your site's search engine ranking that you never even knew existed.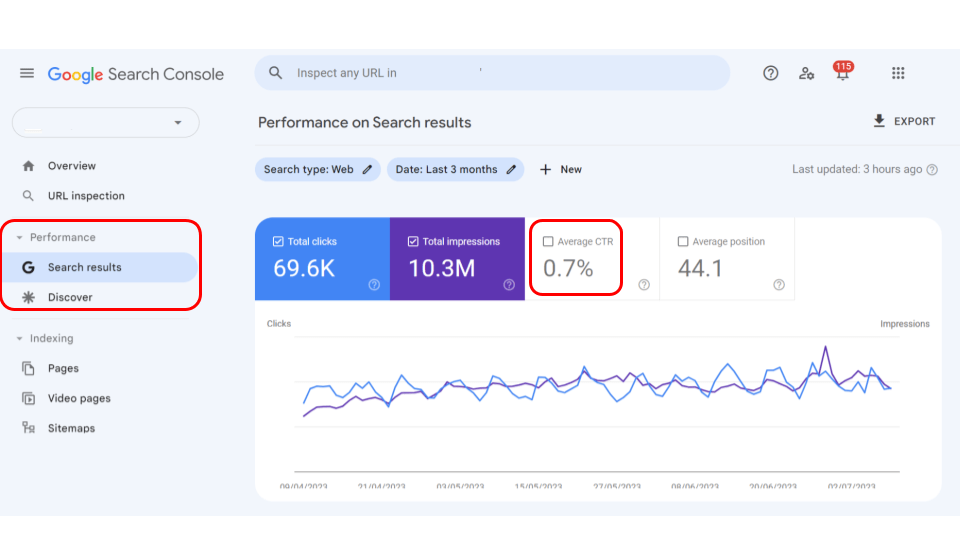 One of the pitfalls of this web service is that it doesn't show you how often people actually search for those keywords. This is also referred to as search volume and could be highly useful if you wish to make any alterations to a page based on its ranking.
A solution to the search volume issue is to use the Keywords Everywhere browser extension. There is a free option as well as a paid one, but only the paid options provide information regarding search volume. It is a Chrome or Firefox browser extension that can show keyword volume on the Google search engine results pages (SERPs) in Google Search Volume, Google Analytics, eBay, Amazon, and more. This information is based on aggregate data from several SEO tools. Therefore, if you pair Keywords Everywhere with Google Search Console, you can consider your Google keyword rankings next to the search volume of every keyword. This helps you understand the overall picture of where your website stands naturally.
Check Keyword Rankings in Google Analytics
If you wish to keep track of your analytics and organic search data in the same place, you need to link Google Search Console with your Google Analytics account. Here is how to connect them:
Go to the Google Analytics admin panel (click the little gear icon in the lower-left corner of any report within this web service).
To connect Analytics with Search Console, navigate to the tab "Property Settings" within the middle column titled "Property".
Scroll down and click "Adjust Search Console".
Click the "Add" button.
This will then display a complete list of Google Search Console properties that your current Google Account has access to. Pick the relevant property.
Google Search Console will then open, and you will be asked to associate your property.
Click "Continue". Then you will see a screen asking you to confirm your associations. Click "Associate".
Go back to Google Analytics and refresh the page. You should see your Google Search account. Click "Save".
Following these steps means that when you go on to Google Analytics and select "Acquisition" > "Google Ads" > "Search Queries", where you can see a list of keywords that users type to find your website on Google.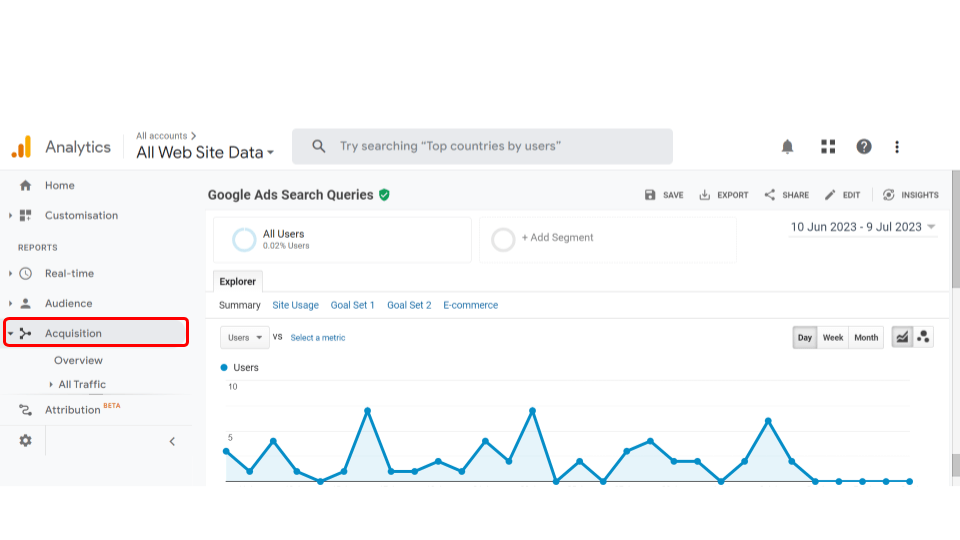 Final Thoughts
When determining the best approach for you, you should consider your budget and the number of keywords you need to track. This will help you decide your best option for checking search engine rankings. Whether you choose the manual, third-party tool, or Google Search Console avenue, keyword research and checking your keyword rankings can be highly beneficial for your SEO efforts.
Conducting SEO of a website is no easy feat and requires a lot of knowledge and skill to undertake efficiently. Keyword research is just one aspect of SEO, and there are many other parts to this work. For this reason, many website owners find search engine optimisation both difficult and time-consuming. SEO agencies such as NUOPTIMA are therefore popular choices for those who do not wish to spend hours every day struggling to improve their SEO efforts alone. By hiring an agency such as NUOPTIMA, you can leave the SEO to the experts and instead focus on actually running your website. Book a free discovery call with our team of SEO experts today to discover how we can use our expertise to propel your website to increased success by using acclaimed SEO techniques.
Talk to an SEO expert
We work with 100+ businesses. Book a slot now to talk to one of our experts.
---
FAQ
How long does it take for Google to rank your page?
The average time it takes Google to rank a page is between three to six months. An established website with high authority may rank in just one day, while a new site with little authority may take a minimum of four months to rank for a keyword. Sometimes, it can even take up to 12 months. This is because it takes Google time to gather sufficient data on your site to give your pages deserved rankings. If you publish a page for the first time and SEO work has been conducted on it properly, it can rank immediately if your site has a high authority and domain rating within its niche. Remember that focusing on well-optimised pages will lead your content to be ranked for the keywords that you wish on Google.
Why are keyword rankings important?
Keyword research and understanding keyword rankings are highly important, as they can give you invaluable information. This includes where you rank for keywords and which keywords are easy to rank for. Keyword research can inform you of what people are looking for instead of what you think they are looking for. This provides you with the knowledge that can help grow your business further.
How do I check my Google keyword ranking?
There are three different methods: by hand, using third-party tools such as SEMrush or Ahrefs, and using Google Search Console. The best method for you depends on your budget, the number of keywords you wish to track, and personal preference. There is no wrong option. Consider this article carefully to choose the best course for you. To learn how hiring an SEO agency can help grow your business even further, book a free 15-minute call with our expert team at NUOPTIMA.