Key points:
Every SEO specialist needs to know how well his websites rank for their target keywords and keep track of competitors' rankings to analyse and improve SEO efforts.
A manual search in Google can provide inaccurate results considering your physical location and browsing history.
SEO tools like Ahrefs or Ubersuggest can help you inaccurate personalised results and understand how well your website ranks for target keywords.
Besides checking your position on Google, with SEO tools, you can also find keywords you don't know you rank for and review which of them are currently bringing you traffic.
Search engine optimisation is an integral tool for any business which aims at a significant online presence. A single keyword or catchphrase can determine whether or not a customer finds you when searching on Google and clicks on a link to your website. The primary task of SEO is to optimise your online visibility and allow more people to see your website. The more users will be able to find your website among others, the more your online traffic increases, and the higher your chances are to provide your services or product to a greater number of people.
According to Statista, 2.14 billion people worldwide purchase goods online, while e-commerce sales worldwide are expected to grow to $6.4 trillion by 2024. Professional SEO services allow you to make your website visible to these users and not miss the opportunity to satisfy their needs with your product or service. SEO has everything to do with quality and quantity – the better your website is on the front and back ends, the better traffic you will get, and the more search engines will increase your rankings. But how to check your rankings on Google, and what are the best SEO tools to do it? We've put together three free SEO tools allowing you to easily and quickly check where you rank on Google and evaluate the results of your SEO campaign.
Why Shouldn't You Search On Google to Check Your Rankings?
The simplest way to check where your website ranks among competitors is to conduct a standard Google search by typic the keywords you want to rank for in the search bar and then scroll and scroll, looking for your website. Because of its manual nature, this method is not the best option to check where you rank on Google. Moreover, Google results aren't static, so this method can only provide you with a general idea of your website position.
When you decide to search for yourself on Google, you may not see accurate results, and even if you find yourself on Page 1, it doesn't mean that everyone else does. There are two primary reasons for this:
Your physical location;
Your browsing history.
Physical Location
More and more often, Google considers the searchers' location to tailor search results to show businesses near them. Due to this, if you type a general query in the search bar without a location included, you'll likely see results for businesses near you, and there is a high chance of seeing your website rank better than it might for other searchers if you are near your office.
Browsing History
To give users the most helpful results, Google prioritises websites they've visited before in their search results. So, as you most probably visited your website before, Google will show it higher in the search results if you're looking for it again. Similarly to the previous reason, it doesn't mean other users will see your website at the same position in SERPs.
To avoid looking at inaccurate personalised results, it's better to use SEO tools to check your website rankings. Let's look at the most popular free options to do this.
Ahrefs Keyword Rank Checker
Keyword Rank Checker is one of the free SEO tools that help you understand how well your website ranks for target keywords and keep track of competitors' rankings. While entering the keyword you'd like to see if you rank for, Ahrefs Keyword Rank Checker scans Google's results and shows you your position. With the help of this optimisation tool, you don't have to scan Google search results manually, and no personal information distorts your results.

This tool gives you a number for where you rank in the Google organic search results. For example, checking the pizzeriaregina.com position for the keyword "best pizza Boston," you see that the website is in the #16 position:

Taking this position into account, you can re-run this tool in a month and see whether you've improved for the keywords. You can also use Keyword Rank Checker to check different keywords.
Ubersuggest
Another SEO tool to check your rankings on Google is Ubersuggest. The tool tracks search results for millions of keywords and which websites rank for these keywords. With Ubersuggest, you have three free lookups per day, allowing you to find many new keywords that your website ranks for that you may not even know about.
With this tool, you enter your website's URL, choose your language and country in the drop-down, and wait for results.
In the Keyword column, you'll see keywords you rank for on Google, and in the Position column, you'll be able to check the position of your website in this search engine.

With the help of this free tool, you'll be able to check your position on Google and realise there are lots of other keywords you could rank for to bring you traffic. By using Ubersuggest, you can also find keywords with decent volume where you're ranking in Position 10+ and improve your content with using these keywords, so that Google might move you up to Page 1.
Google Search Console
If you want to know what keywords people are currently searching for when they click on your website, you can use the Google Search Console tool. This free tool can show you keywords you're ranking for and getting clicks for. Once you have the Console set up for your website, go to the Performance tab and click the buttons at the top to check the following info:
Total Clicks;
Total Impressions;
Average Click-thru-Rate;
Average Position.
After that, you'll see a list of keywords and several columns of data. The Position column will also show where your website ranks in the search results. Additionally, Google Search Console is the only tool that can show you which keywords brought real people to your website with its Total Clicks tab. While other similar tools can show you where you rank, Search Console demonstrates what actually brought you traffic.
You can also keep scrolling down to see keywords with a high number of Impressions that you aren't getting clicks for yet. It can be helpful for your further SEO efforts.
Paid Tools
Besides free SEO tools allowing you to check your rankings on Google, several paid options are also available. These services can also help create a list of keywords you're targeting or track the rankings of these keywords over time to see how your website is improving. With paid options like SEMRush's Position Tracking or Mangool's SERPWatcher, you will have a much better idea of how your website ranks for dozens of different keywords and be able to find out who competes with you for the target keywords, as well as get rank updates on a daily basis.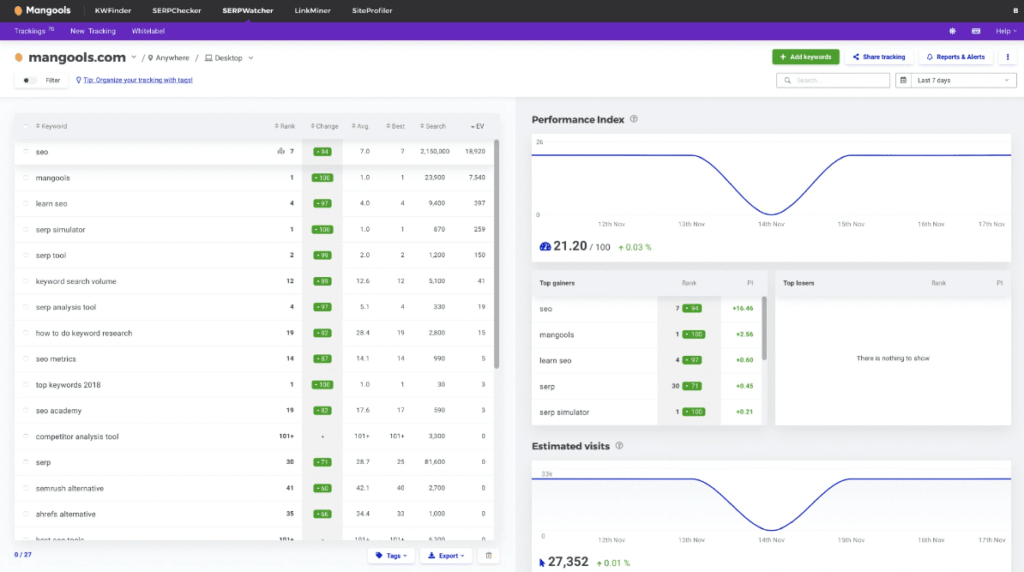 How to Choose SEO Agency to Improve Your Rankings?
The primary goal of checking your rankings on Google is to understand the results of your SEO efforts and determine the vector for further growth and development. By choosing professional optimisation services, you will not be disappointed with your ranking results and be able to see the positive effects of your SEO campaign.
At NUOPTIMA, we provide quality service and results for our clients, helping them achieve their business goals by building lasting and effective organic rankings for their websites. With over forty years of combined experience in digital marketing and e-commerce, NUOPTIMA delivers professional SEO services, meeting all clients' needs. Here is what we will do to grow your website:
Keyword research and strategy. Our SEO experts utilise the most effective keyword strategies to help the clients get on the first positions in SERPs.
Link building. Building backlinks is an essential part of any successful SEO campaign. At NUOPTIMA, we create link profiles from reputable and trustworthy websites helping you build awareness and trust for your brand.
Content writing. We help our clients achieve significant results in the SEO ranking by creating high-quality content that will be recognised by search engines and increase the organic traffic to your website.
On-page SEO. Our SEO experts will analyse and optimise every page of your website to ensure it performs at the highest level and outranks the competition.
Local SEO. For companies providing local services or selling products in your local area, the NUOPTIMA team will develop and utilise an effective local SEO strategy.
Technical SEO. By applying innovative and effective technical SEO strategies and techniques, we will help your website rise in search engine rankings.
E-commerce SEO. With vast experience working with e-commerce brands, NUOPTIMA will develop a customised SEO strategy for your brand, taking into account all the peculiarities of your business.
Franchise SEO. Our SEO professionals know how to set up effective franchise SEO strategies and help all franchise locations thrive.
If you're interested in NUOPTIMA services to improve your brand's online visibility and increase the number of leads, book a free discovery call to learn more about our services and start growing your brand.
Talk to an SEO expert
We work with 100+ businesses. Book a slot now to talk to one of our experts.