Enjoy NUOPTIMA's article about DTC brands on Amazon and book a free discovery call with our experts today if you are interested in using our professional services to grow your Amazon brand.
Key Points
A direct-to-consumer (DTC) brand sells its products directly to its customers through its own physical shop and/or site. It involves engaging directly with the customer, fulfilling product orders, and giving customer service. It is a brand that bypasses the middleman.
Amazon has developed a system that lets distributors and DTC brands create an online store and sell on its platform.
Pros of a DTC brand selling on Amazon include lower customer acquisition costs, cheaper advertising costs, it is easier to reach customers, and boosted sales and increased awareness. The cons of a DTC brand selling on Amazon include pressure to lower prices, copycat sellers, and the pressure of customer care.
To be a successful DTC brand selling on Amazon, our tips include being the first to market your own brand, being the first product that shoppers see, and monitoring your product's performance.
Being a successful DTC brand on Amazon entails much hard work and skill. For this reason, many businesses enlist the help of growth agencies to assist them in their efforts. Book a free discovery call with Amazon-specific growth agency NUOPTIMA to explore how we can help your DTC brand on Amazon.
What is a Direct-to-Consumer Company?
A direct-to-consumer (DTC) brand sells its products to its customers directly through its own website (and potentially via its own physical shop). In other words, the producer is the distributor, marketer and seller. It involves engaging with the customer directly, completing product orders, and giving customer service. DTC brands generally have lower costs compared to traditional retailers that partner with numerous third-party vendors to sell to customers
There are some limitations associated with selling exclusively DTC, and the primary one is the method of distribution. Because a DTC brand has to manage every aspect of a sale and customer experience, there are difficulties, especially when a customer lacks an established relationship with the brand and has high expectations. This can mean that potential customers are hesitant about entering private mailing or financial information onto websites they are unfamiliar with. They may also have reservations about uncertain return policies or shipping times.
Conversely, Amazon — the most popular e-commerce platform globally — acts as a middleman between the brands offering items on its website and its customers. Plus, customers overall trust Amazon and understand how the platform works as it is a more familiar shopping experience. As so many people have used Amazon, many have their shipping and payment information stored, meaning all they have to do is click to make their purchase.
If a brand exclusively sells through their website and/or a physical shop, they could miss out on sales from people only willing to buy on Amazon. Luckily, Amazon has developed a system that permits distributors and DTC brands to sell on its popular platform. Amazon lets retail brands (such as distributors, drop-shippers, and DTC businesses) create an online store on its platform. This sales model accommodates hobbyists as well as large-scale retailers. There is a choice of two types of accounts you can open:
Individual Account – favours low-volume sales.
Professional Account – assists companies in growing their online reach.
You will probably want to select a Professional Amazon Seller account for your DTC company.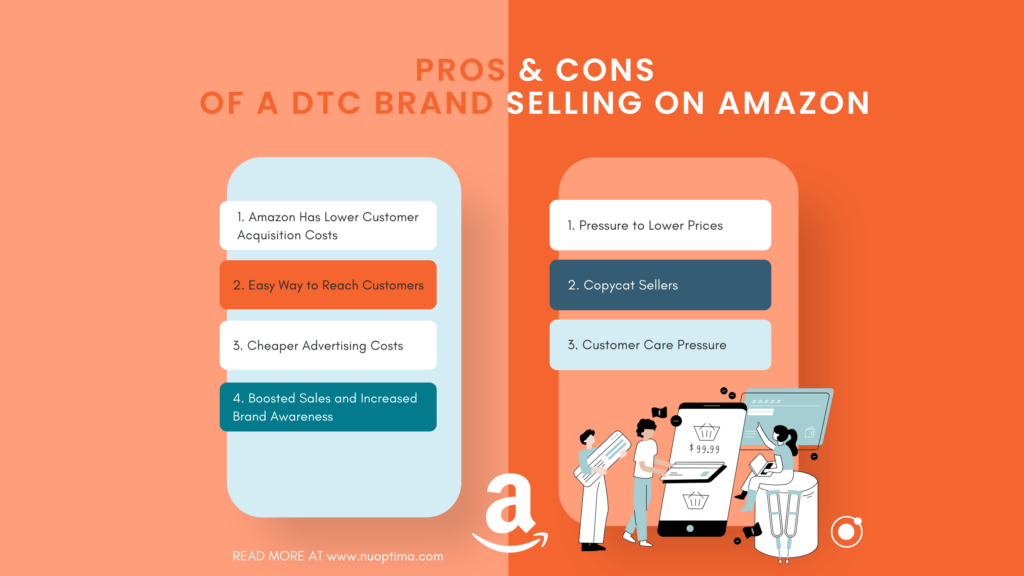 Pros of a DTC Brand Selling on Amazon
There are numerous benefits for a DTC brand joining Amazon. Here are a handful of our top pros.
1. Amazon Has Lower Customer Acquisition Costs
Compared to DTC brands, Amazon usually has lower customer acquisition costs. This is because DTC brands are closer to the top of the purchasing funnel, while Amazon is closer to the bottom. The nearer a shopper is to the purchasing step of the funnel, the less it will cost for a company to draw in that buyer and complete the sale.
For instance, if a shopper searches for a specific brand or product on Amazon, they are probably all set to purchase that item straight away. This is because their intent to buy is so high already, making it much simpler to convert their browsing into an actual sale. On the other hand, DTC brands advertising on channels like Google mean that their adverts are being viewed by those in the middle of the purchasing funnel (so the intent to buy is not as powerful). Although Google and other platforms might have lower cost pay-per-click (PPC) adverts than Amazon, the customer acquisition cost is virtually always higher because they are more competitive.
Because Amazon is closer to the bottom of the purchasing funnel, a DTC brand's paid campaigns on Amazon will reach customers ready to buy. Furthermore, most traffic that an established DTC brand gets on Amazon should derive from organic traffic, which costs nothing. This is a consequence of appearing in many search results (such as shoppers entering the specific brand's name) and being ranked well in their affiliated categories.
Selling on Amazon can also contribute to a brand's bottom line. For many companies, Amazon's platform accounts for much of their online revenue.
2. Easy Way to Reach Customers
This is perhaps the most obvious benefit to a DTC brand listing on Amazon. No other online store competes with Amazon, and this platform has replaced Google when it comes to people searching for products. Amazon's staggering popularity means Amazon Prime Day sets sales records and beats this record yearly. By expanding your brand onto Amazon, you can join the e-commerce giant and participate in Amazon Prime and Prime Day sales. In a nutshell, selling on Amazon will help your DTC company reach more customers.
3. Cheaper Advertising Costs
As mentioned in our first pro, advertising on Amazon can be more cost-effective. Amazon's advertising costs can be much cheaper than a DTC brand's advertising costs. You will want to enjoy a healthy profit margin, which can often come down to organic versus paid traffic. DTC website traffic is generally paid as shoppers are directed to their sites by seeing and clicking on adverts on platforms such as Google or Facebook. Brands enjoy increased organic (or free) traffic on Amazon, meaning that selling on Amazon can help DTC brands meet healthier profit margins.
4. Boosted Sales and Increased Brand Awareness
As many people use Amazon to conduct product research, they pay close attention to the reviews. These reviews impact whether a customer decides to buy a product. Shoppers often also read product reviews on Amazon before buying from a physical retail store. This is important because buyers may not have heard from you before buying, so by selling on Amazon and having public reviews, consumers are more likely to trust you. Essentially, Amazon is another way to connect with your audience, and selling on Amazon gives you increased visibility and can boost sales, including on your own website.
Moreover, it can be challenging for customers to buy something from you if they see an advertisement for your products as they may not remember your brand name to search for you on Google. Amazon's product pages, however, are all searchable. This means that customers can easily find you and are less likely to forget your name afterwards. Customers have records of their favourite purchases, which can help extend the lifetime value of customers.
Cons of a DTC Brand Selling on Amazon
While there are numerous pros to selling on Amazon, some cons for DTC brands should be mentioned.
1. Pressure to Lower Prices
Because Amazon's business model revolves around the customer, many DTC brands experience pressure to sell at lower prices, offer substantial discounts, or pay more in shipping costs to deliver faster. Therefore, if you sell at a small margin on Amazon, you might have cash flow problems. And many customers will buy from you on the e-commerce platform before they purchase from your own website.
However, this issue can be managed by closely monitoring your margins, lowering production costs where you can, and sticking resolutely to product price points.
2. Copycat Sellers
Dishonest sellers can copy images and post false product descriptions that can confuse customers about which brand is the one for them. Unfortunately, there are many copycat sellers out there on Amazon. But, this can be tackled. If you become a Prime Seller with excellent customer reviews, this can protect you from copycats in most cases. Plus, if you sell a product that is trademarked, copyrighted, or legally protected, you can report an infringement to Amazon, and the platform will take disciplinary action on your behalf.
3. Customer Care Pressure
Even if a customer buys from you, Amazon owns the customer relationships. If there is a customer dispute, Amazon will likely take sides with the customer. Unfortunately, you get customer care pressure from both Amazon and the customer. Having this pressure from two directions can cause more stress on both your fulfilment and refund teams. On the other hand, customers nurtured on your other channels will deal with you directly, and you have increased flexibility when settling disputes and ensuring the customer is satisfied.
Considerations Before Deciding to Sell on Amazon
There are several considerations to bear in mind when thinking of selling on Amazon. Remember, while you will probably enjoy boosted sales and increased brand awareness, fast growth offers fresh challenges. Plus, the Amazon Marketplace works differently from your own store.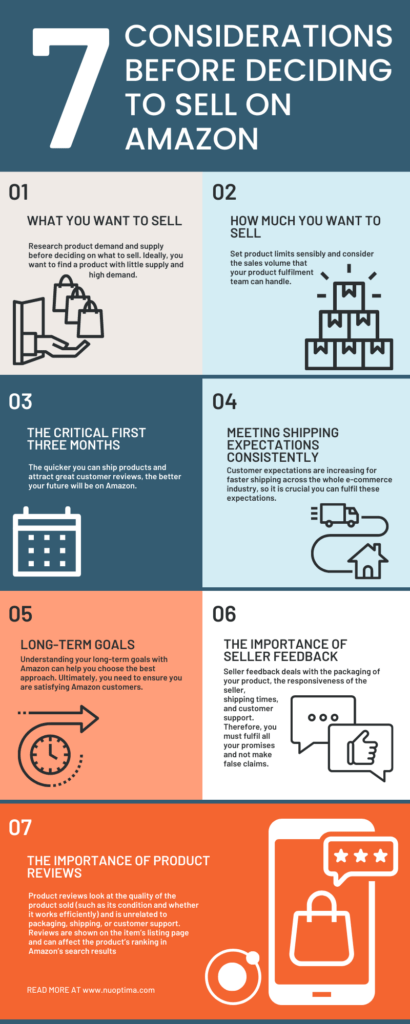 What you want to sell: The demand and competition for products can affect your Amazon performance. It is prudent to search for competitors on Amazon and consider the customer reviews, as these can reveal how popular products are as well as whether customers like or dislike a certain product. You can also note how many sellers within your category have sold out or cannot fulfil product orders in a timely order. This can indicate product demand. These factors suggest that there is not enough supply, so your product can perform well straight away.
How much you want to sell: When selling on numerous platforms, you need to keep apprised of inventory. If you overcommit to buyers, it can prove detrimental to your brand image and customer goodwill, and too many negative reviews on Amazon can damage your brand's reputation. Therefore, set product limits sensibly and consider the sales volume that your product fulfilment team can handle.
The critical first three months: Establishing your brand on Amazon in the first few months is imperative. The quicker you can ship products and attract great customer reviews, the better your future will be on Amazon.
Meeting shipping expectations consistently: Amazon shoppers have great expectations for receiving their orders promptly. You might get bad reviews if you cannot ship an order fast. Customer expectations are increasing for faster shipping across the whole e-commerce industry, so it is crucial you can fulfil these expectations.
Long-term goals: You need to be decisive and determined to foster a long-term relationship with Amazon. As mentioned, Amazon's standards revolve around the customer, but if you are prepared, you will do great and grow your brand as desired. Some DTC brands initially feature just a few products at a time on Amazon to determine whether selling on Amazon is in their best interest. Understanding your long-term goals with Amazon can help you choose the best approach. Ultimately, you need to ensure you are satisfying Amazon customers. Undertake careful planning, and your business can grow on — and off — Amazon.
The importance of seller feedback: This is related to the brand's performance. Seller feedback deals with the packaging of your product, the responsiveness of the seller, shipping times, and customer support. Therefore, you must fulfil all your promises and not make false claims. For instance, if you claim your product is organic, ensure you provide the relevant certification. If you tell shoppers you never fail to respond within 24 hours, make sure you honour this promise. If you make claims that can be disputed, negative seller feedback can be the result. To avoid this, understand customers' complaints prior to launching and alter your Amazon listing content accordingly. It is vital to understand your customers' pain points to guarantee the best possible shopping experience on Amazon.
The importance of product reviews: Unlike seller feedback, this is focused on product feedback. Product reviews look at the quality of the product sold (such as its condition and whether it works efficiently) and is unrelated to packaging, shipping, or customer support. Reviews are shown on the item's listing page and can affect the product's ranking in Amazon's search results. Negative reviews are perhaps the biggest risk when launching on Amazon. If a negative comment is upvoted as helpful, potential customers might click away before finding your positive reviews. To counteract this, ensure you're selling a product of high quality that has already received positive feedback from customers. Plus, you need to comprehend and address any problems your current buyers have with your product before selling it on Amazon.
How To Create a Seller Account on Amazon
This section offers a brief step-by-step guide to listing a DTC company on Amazon.
1. Go to https://services.amazon.com
2. Go to the tab called 'Pricing' and click on 'Compare selling plans'. This lets you see a comparison page between an Individual and Professional seller account.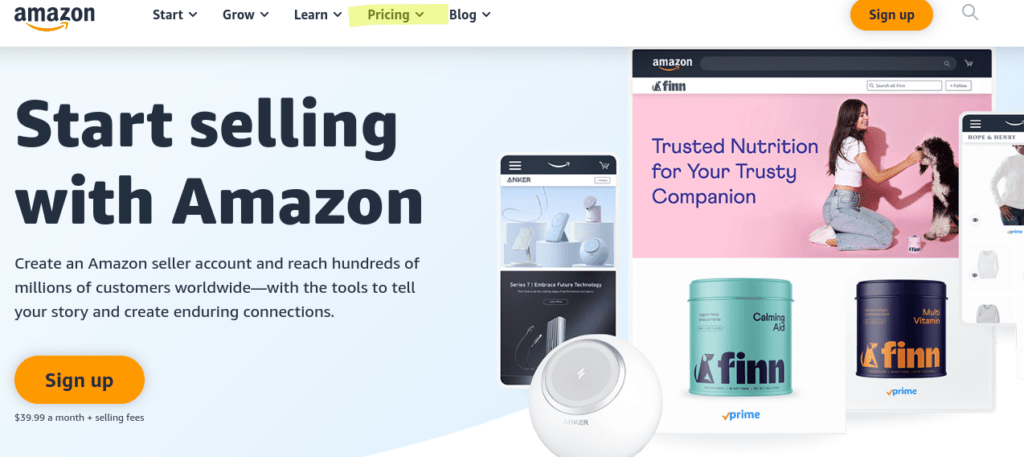 3. Choose between an Individual and Professional seller account. You will more than likely wish to choose the latter. If you will sell more than 40 products per month, you should sign up as a Professional. Bear in mind that choosing Individual means your products are not eligible for the Buy Box, and you cannot advertise your products on Amazon.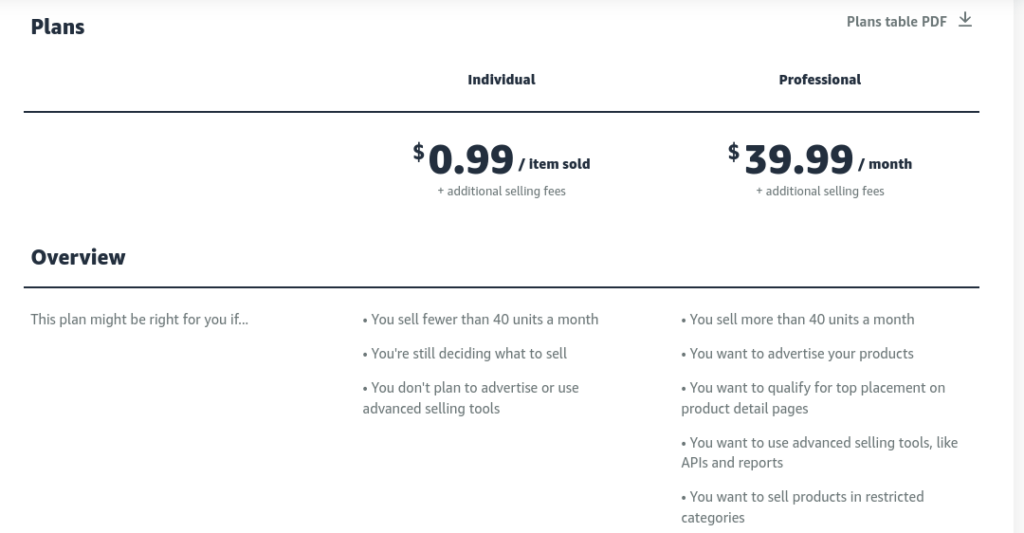 4. Once you have selected the type of account you want, enter your email address and create a password for your account. Then, click 'Next'. You will be taken to a second screen asking you to verify the email you entered. Look out for an email from Amazon and approve the notification through the provided link.
5. Next, you will be asked to provide your business location, business type, and full name. Click the 'Agree and continue button'.
6. You will be asked to enter your personal information on the next screen, including proof of identity, date of birth, and address. Once complete, click 'Next' at the bottom of the page.
7. You will then need to provide your billing information, such as a valid bank account and credit card information. Before proceeding, click on 'I Understand'. You will need to verify your bank account and then enter your credit card details on the next page.
8. After this information has been validated, you will be asked questions about your store and the products you intend to sell. You will need to answer questions such as the name of your store and whether you have UPC codes and/or diversity certifications. Then, click 'Next'.
9. Then, you need to verify your identity by uploading images of your official ID and a bank statement. Once done, click 'Submit'.
10. Finally, you will be asked to confirm the business address previously provided. Once you click the 'Confirm' button, a new screen will appear, explaining that you will get a postcard sent to that address with a verification code. Once you receive the postcard, enter the code into the 'Enter code below' field and click 'Next' to finish the verification process.
How DTC Brands Can Sell Successfully on Amazon
If brands have popular products that people want but do not manage their presence sufficiently on Amazon, someone else will sell their products on the platform and will probably not do it well. A third party seller might offer products at an increased price without the consumer being aware that the listing does not represent the DTC brand. Or the third party could make false claims and cause dissatisfied customers who leave negative seller feedback on their listings. These high prices and negative feedback could be detrimental to the DTC brand's reputation and affect the brand's ability to get distribution elsewhere. For these reasons, DTC brands need a defensive tactic regarding Amazon. Here are some ways to be a successful DTC brand on Amazon.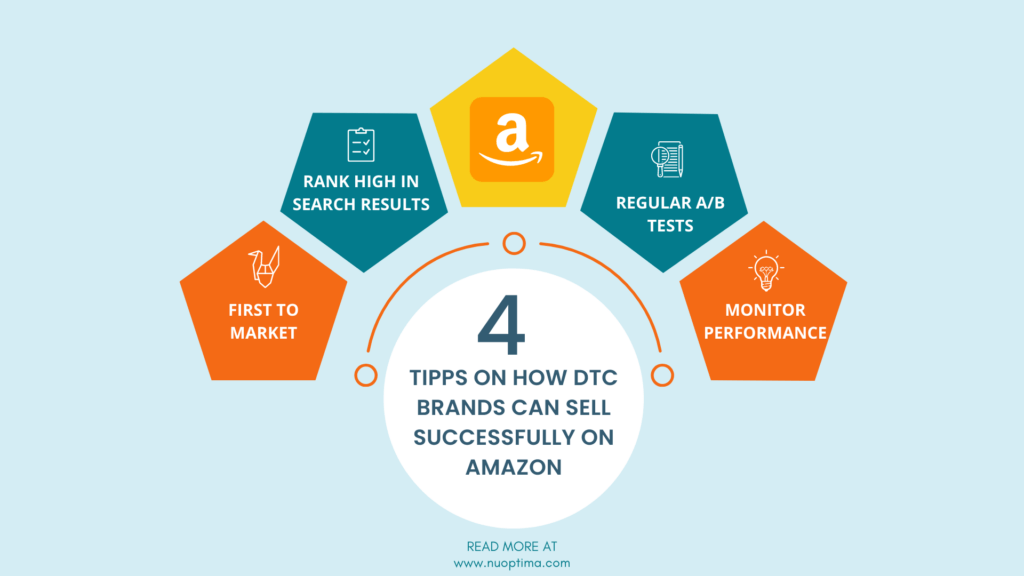 Be the first to market for your own brand – If brands do not embrace the Amazon channel and own their brands on the platform well, it can be very challenging to fix the messes that other sellers have made of their brands. If you are the first to market, it is much harder for sellers to play around with you.
Be the first product that shoppers see – Ensure your listing is the very first one shoppers see when looking for a product. You will want your item to appear high within search results above others selling your brand's product. Then inform the potential buyers that your product is the genuine branded item they seek. Your content should clearly demonstrate the authenticity of your company. You should have a strong keyword strategy by updating content often to keep keywords relevant and your product at the top of the results. Test the adjusted listing copy to ensure it is assisting conversions. Keyword research is part of any strong company strategy, and this is something an expert SEO agency excels in.
Ensure you are regularly testing – It is important to know what does and does not work on your listing. You can split-test or A/B test your product page and use the resulting information to decide what content stays. It is good to split test areas such as prices, titles, bullet points, the main feature image, and any other images shown on your listing. Once you have got a winning variant, set it and move to the next test (or test the winning variant against a fresh alternative).
Monitor your product's performance – Monitor the traffic going to your Amazon product listings and storefront and the conversion rate for shoppers visiting those pages. If you see a decline in traffic and/or conversions, find out why. Ask questions such as 'Do I still have Amazon's Best Seller badge?', 'Does my product still appear on the first page of search results?', 'Is another seller trying to sell the exact same product?' and 'Has the brand been overly elaborate with content?' Once you have found the cause, fix it immediately.
The Takeaway
A DTC brand sells products to customers directly and bypasses any middlemen. Amazon has created a system allowing DTC brands to create an online store and sell on it. There are many pros to a DTC brand selling on Amazon, such as cheaper advertising costs, boosted sales, and increased awareness. Cons include much pressure to lower prices, the risk of copycat sellers, and the stresses of customer care. You can use many tips to be a successful DTC brand on Amazon, such as being the first to market your own brand, ensuring you are the first product that shoppers see, and regularly conducting tests. Many brands on Amazon choose to get additional help from growth agencies, and it is a fantastic way of further expanding your business. Book a free 15-minute discovery call with Amazon-specific growth agency NUOPTIMA today to learn how we can help your DTC brand on Amazon grow and be successful.
Talk to an Amazon expert
We work with 100+ businesses. Book a slot now to talk to one of our experts.
---
FAQ
What is a DTC brand?
A direct-to-consumer (DTC) brand sells products to its customers directly through its own physical shop and/or website. It is a brand that bypasses the middleman.
Should my DTC brand sell on Amazon?
Before your DTC brand sells on Amazon, you should make several considerations, such as what you want to sell, how much you want to sell, your long-term goals, and whether you can consistently meet shipping expectations.
How can I ensure my DTC brand is successful on Amazon?
To make sure your DTC brand is successful on Amazon, be the first to market your own brand, be the first product that shoppers see, ensure you test regularly, and monitor your product's performance. You can also hire an Amazon-specific growth agency to help you further and more thoroughly with your efforts.