Key Points
SEO is a collection of methods that aim to improve a website's online visibility and create a successful organic traffic pipeline.
You cannot just set up an SEO campaign without measuring its performance; otherwise, how will you know if it's working or not?
Measuring the effectiveness of your SEO activities is made easier with several analytics tools offering a comprehensive summary of SEO metrics that describe how well your website is functioning.
Search engine optimisation, also known as SEO, is one of the most coveted marketing initiatives today. This practice involves various methods, such as link building, keyword research, content optimisation, etc. When done right by a professional, it should drive high-quality traffic to your website from free, organic search engine results instead of paid ads. In other words, people who search for your keywords will "naturally" go to your website if they find it on search engine results pages. Hence, the goal is to rank highly and keep good positions to become more visible to your target audience.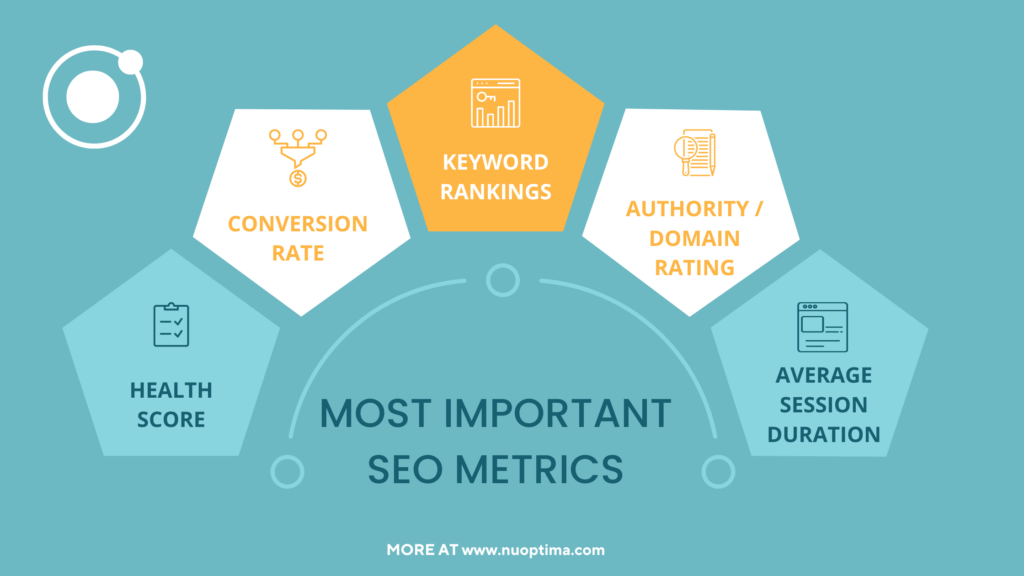 An integral part of SEO is measuring its results, as it helps you understand whether your SEO efforts actually make sense. But, how do you assess outcomes in a digital world? SEO experts can measure everything from a website's health score and search visibility to keyword rankings. However, with thousands of data points at your fingertips, it can be challenging to determine just which metrics are valuable and which are not. This article will discuss some of the most critical SEO metrics to watch and a few tips to help maximise the strategies that are already generating the best results for your website.
Why SEO Metrics Matter
One of the biggest reasons SEO is so popular among marketers is that there are many realistic ways to track a website's SEO journey. Whether you want to know how much traffic you get each month or what keywords rank for your website, an SEO professional can provide the necessary data you need by using digital analytics tools.
As the saying goes, progress is made where it is measured. Metrics are a great way to monitor the progress of your SEO activities. These indicators reflect the work you put into developing your website. You can leverage them to see which among your strategies are compelling and what specific refinements you can make to boost your website's performance.
It is worth noting that search engines' algorithms and systems constantly change. Google alone is estimated to make around 500–600 updates to its algorithm every year in order to give users the most accurate answers to their queries. While these changes do not necessarily influence the SEO landscape, massive updates may impact a website's ranking or the traffic it receives, thereby suggesting a need to fine-tune search engine optimisation strategies. With that in mind, it's best to keep a close eye on your SEO metrics to ensure your website always aligns with different search engine trends and best practices.
Not All Metrics Are Equal
There are multiple ranking factors in search engines' algorithms, but some are more critical than others. SEO professionals know all too well which metrics deliver the greatest impact and which are just considered "vanity". To understand the importance of looking at the right data, you need to know what sets those metrics apart.
Common vanity metrics include impressions, followers, page views and more. They are often used in social media advertising or PR marketing to measure the results of a company's digital engagement campaigns. Vanity metrics may appear impressive as far as numbers go, but the lustre on these numbers fades when it comes to defining critical business outcomes like return on investment (ROI). Simply put, the number of page views or visits does not always translate to the number of products sold.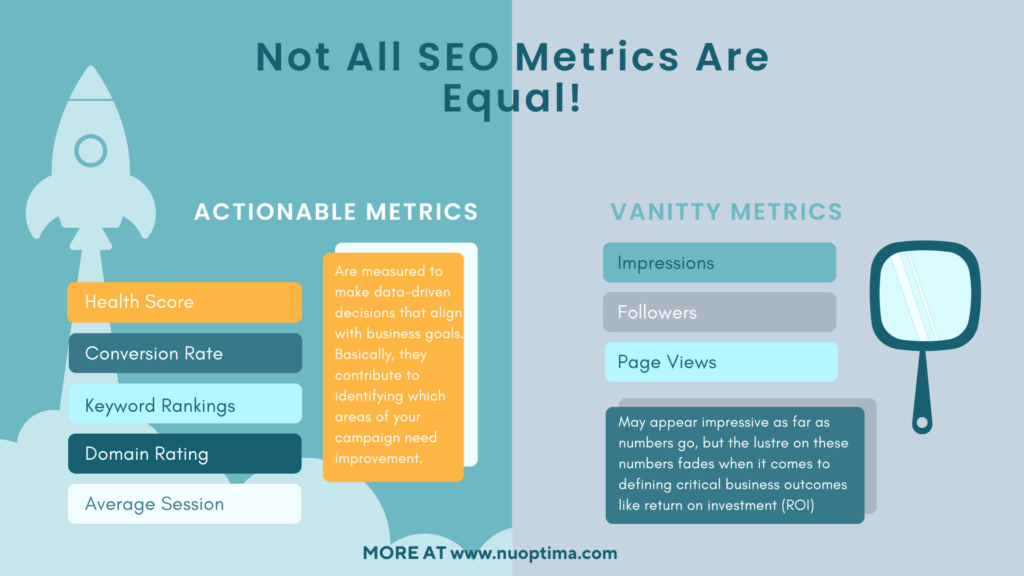 One way to consider metrics is if they tell you whether your marketing activities are making money. That's where actionable metrics come in. Unlike vanity metrics, actionable metrics are measured to make data-driven decisions that align with business goals. Basically, they contribute to identifying which areas of your campaign need improvement. If metrics do not help keep your SEO strategies in constant progress and deliver better returns, what's the use of tracking them? The following are actionable SEO metrics you should be watching on a daily basis.
Health Score
It's surprising to know that many business owners are still clueless about how healthy their websites are. They seem not to know because they don't bother measuring their health scores anyway. A qualified SEO specialist can perform a site audit to help analyse the status of a website. Take note that just because a website is beautifully designed does not mean it is healthy. Search engines are not ranking websites based on appearance alone. Aside from aesthetics, they also consider whether these websites are fully optimised and show relevance to specific search queries.
Health score is an essential SEO metric that determines the degree to which a website is optimised. To get that, you need to measure the number of internal URLs or pages with errors on your website. Divide it by the total number of web pages you have, and multiply the answer by 100. Your website's health score is, therefore, presented as a percentage, indicating the ratio between pages with and without technical errors. This suggests that the higher a website's health score, the better.
It pays to know that common website errors, such as broken links, missing alt text tags and more, often lead to a negative user experience and impression, affecting a website's search engine rankings in a bad way. Again, optimising your pages is an effective strategy to improve your position on Google. Otherwise, you are missing out on a lot of great opportunities to rank highly on keywords that prospects are searching for to find your products or services.
Conversion Rate
If you ask an SEO expert what's the most important metric to monitor, they will likely answer organic traffic. While measuring the number of visitors a website gets each month is a no-brainer, this can mean nothing unless those people convert into leads and will soon become paying and returning customers. Instead of focusing on organic traffic, try to deep dive into its most essential facet: conversion.
Measuring your website's conversion rate gives you a more straightforward answer to whether your SEO efforts are actually paying off. Conversion occurs when visitors complete any desired action(s) on your website, such as making a purchase, reading your blog posts or filling out a contact form. Basically, it refers to any activity that demonstrates a visitor's interest in your products or services and willingness to buy them. Whatever action it may be, you must track it to see what SEO strategies are working and what aren't. This enables you to allocate your marketing efforts and budgets better based on what drives your audience to convert most.
Keyword Rankings
The idea of search engine optimisation might seem complicated at first, but it all comes down to one main thing. Keyword rankings. Experts agree on the utmost importance of organic keyword rankings when it comes to SEO. It's not a secret that the basic goal for any SEO campaign is to get higher positions on SERPs (search engine results pages). Google typically displays at least ten organic results on each page. According to a 2014 click-through rate or CTR analysis conducted by MOZ, more or less 70% of web traffic clicks on the first page of Google. And in recent years, the population has been reported to increase up to 92%. The first five search results get roughly 67% of clicks, whereas only 3% goes to the remaining five. Thus, obtaining higher positions means being closer to the top result on the first page.
When someone searches for keywords related to your page's subject matter, the spot on the SERP in which your landing page is shown indicates your keyword ranking. Ideally, the more relevant a keyword is to your business, the more likely that your website will rank highly for it. Keyword rankings are a critical metric because it directly relates to the success of your SEO activities. Once you obtain higher search positions, you're bound to achieve other fundamental objectives of your SEO campaign, such as enhanced organic traffic, leads and conversions.
Domain Rating/Authority
Domain rating, also known as domain authority, is a metric that foretells how likely a website is to appear on SERPs. Similar to a website's health score, domain authority is also built on a logarithmic scale, ranging from 0 to 100. Apparently, domains with higher ratings have a higher probability of ranking better than those with lower scores.
Just to be clear, domain authority is not an official ranking factor of Google. Still, it makes sense to track this metric because it is calculated based on several important factors, including the number of backlinks, search traffic and the quality of referring domains. These elements play an essential role in most search engine algorithms. Hence, working towards improving your website's domain authority is imperative if you want to outrank your competitors and earn optimistic results.
Average Session Duration
We're down to our last but definitely not the least important metric to watch. Average session duration refers to the amount of time a visitor spends navigating your website. Among all metrics we've discussed, this one gives you the most valuable insight into your power to drive visitors deeper into the conversion funnel. Generally speaking, a longer visit duration means that the user finds your content very compelling and wants to try out your products to solve their problems.
As suggested earlier, acquiring more traffic is just the first step in driving sales and revenues. Your next move is to persuade these people to add your products to their cart and hit the place order button. But remember, not all visitors are ready to buy from you the first time they see your website, regardless of how well optimised it may be. That's why monitoring session duration is a must. It helps estimate how engaged your audience is with your website. If it only takes a few seconds for users to visit and leave your fully-optimised website, something else could be missing. Perhaps, you need to add more features or implement significant changes to your site structure. The point here is to always give your audience more reasons to stay.
Final Thoughts
Metrics are absolutely valuable in measuring the success of any SEO campaign. While many are useful, not all SEO metrics will provide actionable data that enable you to make better decisions to reach your bottom line. It's essential for business owners like yourselves to view these metrics as benchmarks that help point your marketing strategies in the right direction. When in doubt, feel free to arrange a discovery call with our top-notch SEO specialists here at NUOPTIMA, and we will be delighted to discuss your options.
Talk to an SEO expert
We work with 100+ businesses. Book a slot now to talk to one of our experts.
---
FAQ
What is SEO?
Search engine optimisation, also known as SEO, is a set of methods that improve the quality of a website to increase search engine visibility and generate more revenues organically. The more optimised a website, the more likely it will rank highly on search engine results pages.
What are SEO metrics?
SEO metrics are critical indicators of a website's search engine optimisation performance. Some of the most important SEO metrics include a website's health score, conversion rate, keyword ranking, domain authority and session duration.
Why is measuring SEO performance important?
SEO professionals monitor different metrics to see the value of their SEO efforts. Accurately evaluating your SEO performance and progress, you can identify strategies that give good results and divert your priorities if something is not working.