Key Points
A backlink is a link from a page on a website to another and is a strong ranking factor used by search engines. To build your website's authority and surpass your competitors in SERPs, you need to build high-quality backlinks consistently.
Our top tips include link reclamation, replicating competitors' best backlinks, guest blogging, broken link building, and creating infographics.
Performing SEO on a website can be a laborious and complex process. For this reason, it is a fantastic idea to hire an expert SEO agency to assist with your SEO efforts.
What Are High-Quality Backlinks?
A backlink is a link from one page on a website to another and is also known as an 'inbound link' or 'incoming link'. They are essentially a vote of confidence. When another site links to yours, they trust you with their traffic and visitors. They are informing their valued audience and Google that you are a good source for a certain subject, topic, or particular service. Backlinks are a huge ranking factor for most search engines, and therefore, it is considered highly valuable for search engine optimisation (SEO).
Despite multiple algorithm updates, link building is still one of the strongest ranking indicators used by search engines. If you wish to perform SEO for your website and obtain relevant organic traffic, building backlinks should be a priority. This is because the more backlinks that your website has from domains of high authority, the better the reputation your site will have from Google's perspective. Plus, it will improve your positioning on search engine results pages (SERPs).
Unfortunately, link building does not have the best reputation as it is affiliated with link spamming. But this should not be the case. Backlinks can be built using clever strategies without spamming other websites.
Getting backlinks of high quality can be difficult. To increase your website's authority and surpass your competitors in SERPs, you need to build powerful backlinks consistently. In the following section, we present numerous ways that you can build high-value links effectively using reputable strategies and SEO tools.
How to Get High-Quality Backlinks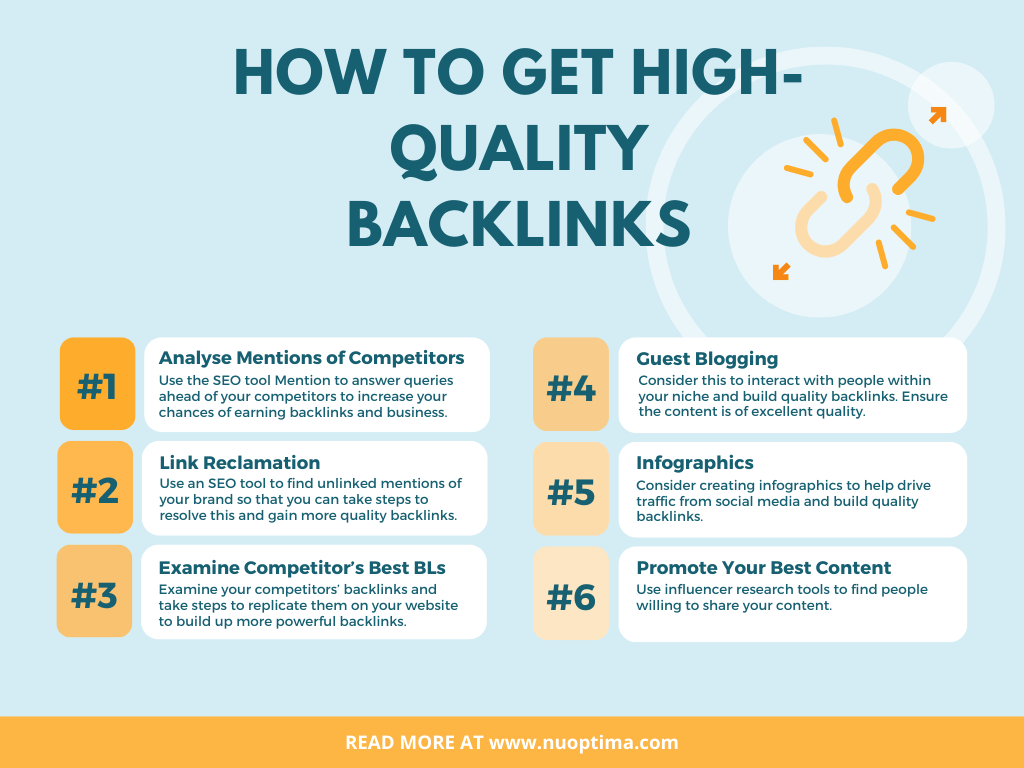 Analyse Mentions of Competitors
A prudent technique is to know when a competitor's brand name is mentioned on the internet, such as on social media, a website, or a forum. This can be achieved by using the social listening web application called Mention. This is an intelligent technique because if you notice that a competitor's client has asked a question, and you are the first person to reach out and extend help, there is a good likelihood that you will create a sturdy relationship with that client. And, if he has a website, you might even get a backlink if he wishes to endorse you. Mention is also useful for setting up alerts for your targeted keywords. This means that when someone writes a post or article featuring your keywords, you can contact them and ask them to consider or include your website as well.
Takeaway: Use the SEO tool Mention to answer queries ahead of your competitors to increase your chances of earning backlinks and business. Mention can also be used to set up notifications for your targeted keywords.
Link Reclamation
This strategy involves finding mentions of your brand that are not accompanied with a link to your website so that you can take steps to rectify this. Numerous SEO tools allow you to find unlinked brand mentions, including Google Alerts, Ahrefs, and Buzzsumo. Once you have found a site that mentions but fails to link to your brand, you can reach out and request them to add a link to your website. Link reclamation is a straightforward yet effective way of obtaining quality backlinks for your site.
Takeaway: Use an SEO tool to find unlinked mentions of your brand so that you can take steps to resolve this and gain more quality backlinks.
Examine and Replicate Competitor's Best Backlinks
You can quickly obtain a list of your competitor's backlinks as this information is readily available. Once you have this list, you can work to replicate their best backlinks. It is a smart way of discovering new link building opportunities and can significantly improve SEO. The first step is to select your primary competitors (websites that rank in the top five positions for your main keywords). If they are above you, this means that they possess a superior link profile and that they have better quality backlinks. Once you have chosen the competitors, you need to analyse their backlinks.
Again, numerous SEO tools can be used, and an excellent option for this strategy is Monitor Backlinks. You add your main competitors into the tool and then use the metrics they provide to see what links are worth replicating (do not try to copy all of them as all sites have weak links). Focus on links that have great authority. Generally speaking, the more challenging it is to get a backlink from a site, the higher its value. You can also analyse the value of a domain by using Ahrefs Domain Rating and Moz Domain Authority. If the metrics look great for you, discover how those sites link out to third-party sites.
You should also be aware of the two different types of backlinks when considering links:
Dofollow backlinks: These are the most common and valuable backlinks in SEO. When you add this type of link to your website, you are telling Google that the link is organic (the target website did not buy the link). You are also vouching for content accuracy at the other end of the backlink. It informs search engines that the content on the other end is vital and should be acknowledged.
Nofollow backlinks: These are both less common and less valuable. They tell search engines to ignore a certain link.
After locating websites with good metrics, ensure the websites are related to your site. For every competitor backlink, try to work out how your competitor obtained that link. For instance, if it was a product review by a blogger, contact them and offer a tempting deal in exchange for a similar review.
Takeaway: Examine your competitors' backlinks and take steps to replicate them on your website to build up more powerful backlinks.
Guest Blogging
Guest blogging is a fantastic way to stand out on the internet. You can tap into audiences that are already established so you can interact with other people within your niche. Guest blogging can be great for increasing your followers on social media, building quality backlinks, and driving traffic.
However, if you do a guest post, it must be high quality. Avoid writing spammy or badly written posts, as this could instigate a penalty from Google. Guest blogging content needs to be at least as good as what you are publishing on your own website. This method is not successful for everyone, but if you work hard on it, you will witness great benefits. A great way to find guest blogging opportunities is to use these key terms in Google:
Your keyword + become a contributor
Your keyword + contribute
Your keyword + guest posts
Your keyword + write for us
Takeaway: Consider guest blogging to interact with people within your niche and build quality backlinks. Ensure the content is of excellent quality.
Infographics
Over recent years, infographics have become one of the most common link building methods. The demand for infographics has catapulted in recent times. Not only are they fantastic for building backlinks, but they are also great for driving traffic from social media (this is due to the highly shareable quality of infographics). Even if you are not a designer, this does not have to stop you from creating infographics. For example, you can hire someone on Fiverr or even Dribbble if you want something more professional.
Once you have an infographic published on your website, you can then submit it to popular infographic directories. Another great technique is to use Twitter to locate people that have shared similar infographics in the past, so you can reach out to them and ask them for feedback. They might even share your infographic on social media and link to it if they like it.
Takeaway: Consider creating infographics to help drive traffic from social media and build quality backlinks.
Reach Out and Promote Your Best Content
There is no point in having great content if no one knows it exists, as you will not get backlinks. Therefore you have to find people who would be interested in linking to your content and sharing it through social media avenues. It is a great idea to use influencer research tools, such as MozBar, Hey Press or BuzzSumo. Then you can find people who are willing to share your content. Naturally, the more bloggers you speak to, the better the chances of your content being shared. It is also highly recommended to create several sturdy relationships with famous bloggers within your field to make things a lot easier.
Takeaway: Use influencer research tools to find people willing to share your content.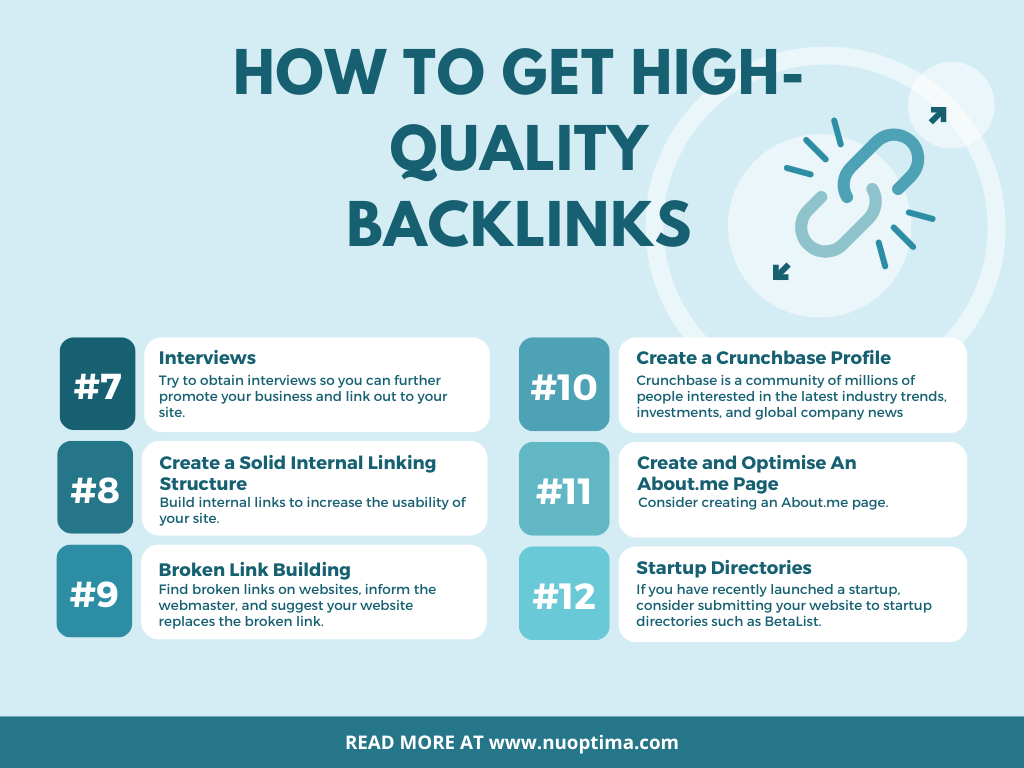 Interviews
Websites in practically every niche hold interviews with experts. If you are not established or well-known enough to get an invitation, you should reach out and convince the interviewer why they should select you to be interviewed. Websites that run interviews are always on the lookout for excellent content, so there is a fair chance you will get accepted. Along with your answers in the interview, you can also link out to your website.
To locate websites that run interview roundups, you can search for these terms on Google:
Your keyword + interview
Your keyword + roundup
Takeaway: Try to obtain interviews so you can further promote your business and link out to your site.
Create a Solid Internal Linking Structure
Internal links will not give you a massive SEO boost, but they will assist you in increasing the general usability of your site. Plus, it is a smart way to build links using your preferred anchor text. However, do not go overboard and create over 100 internal links, or this might make your website look suspicious and could be detrimental to your search engine rankings.
Takeaway: Build internal links to increase the usability of your site.
Broken Link Building
A less well-known way of building backlinks is broken link building. This strategy involves finding 404 errors or similar problems on a blogger's site and informing them about it politely. As you are essentially doing them a favour by telling them, they might return the favour and link out to your website. Such backlinks are often found on resource pages where bloggers link to third-party websites.
To find broken links easily, you can use the Google Chrome extension Check My Links. Once you have found broken links, you can reach out to the webmaster and inform them of the problem. Ensure you give clear instructions to help them quickly fix the mistake. Then you can take the initiative and suggest your website replaces the broken link.
Takeaway: Find broken links on websites, inform the webmaster, and suggest your website replaces the broken link.
Create a Crunchbase Profile
Crunchbase is a community made up of millions of people who wish to stay apprised of the latest industry trends, investments, and global company news. This extends from startups to the largest companies in the world. It is a great place to connect with users you share similar interests with, but it is also a wonderful resource for building high-quality backlinks to your site.
Simply by creating an account on Crunchbase and linking to your website, you will receive a backlink from a website with a domain authority score of 91. You should also create a profile for your business if you are an entrepreneur or small business owner. This is a straightforward way to generate a backlink from a high domain authority site, and it only takes minutes to achieve.
Takeaway: Consider making a Crunchbase profile.
Create and Optimise An About.me Page
Another website to consider creating an account on is About.me. This site allows you to create a free, one-page website in minutes. A simple way of getting a dofollow backlink for your site is to create a profile on About.me, enter a link to your blog within the section 'Spotlight Button', and include additional links in your bio too. This profile will get you an authoritative backlink (it has a domain authority score of 92) in just a few minutes.
Takeaway: Consider creating an About.me page.
Submit Your Website to Startup Directories
This tip applies if you have just launched your startup. The good news is that there are countless directories you can submit your website to. A popular option is BetaList, which is a directory focused on early-stage internet startups. It has free submission, but you can pay a small fee to expedite the process and ensure your startup is listed. If your startup is not eligible for submission at BetaList, do not panic. Many other startup directories with a high domain authority will accept your submission request.
Takeaway: If you have recently launched a startup, consider submitting your website to startup directories such as BetaList.
Final Thoughts
Building a good backlink profile is a challenging task. It requires much due diligence and skill to get the best high-quality backlinks to help build your website's authority and rise in SERPs. There are many strategies you can use, and this article listed 12 clever techniques you can utilise to get powerful backlinks for your website. They include link reclamation, broken link building, and guest blogging. However, it is an excellent idea to hire a qualified and expert SEO agency to assist you further with your SEO efforts to help maximise the optimisation and overall success of your site. Book a free consultation call with our experts today to explore how we can assist your website effectively using numerous SEO techniques, including link building.

Talk to an SEO expert
We work with 100+ businesses. Book a slot now to talk to one of our experts.
---
FAQ
What are backlinks?
A backlink is a link from a page on a website to another. It is a strong ranking factor used by search engines, and obtaining backlinks is key for efficient SEO of a website.
What makes a backlink high quality?
A high-quality backlink is very relevant, highly reputable, and natural. When performing SEO, you want to avoid links that are of low quality or spammy. It is vital to find high-quality backlinks to increase your website's authority and improve your rankings in SERPs. This will ultimately enhance the popularity and success of your website.
How do I get high-quality backlinks for my website?
Many strategies can be used to build quality backlinks. This article listed 12 verified techniques, such as link reclamation, broken link building, creating a solid internal linking structure, and guest blogging. However, obtaining powerful backlinks is highly time-consuming. For this reason, it is wise to consider hiring an SEO agency to assist you with your SEO efforts.