Key points
Online-based Direct-To-Consumer (DTC) delivery models are driving growth in the e-commerce retail industry, and operators are growing increasingly reliant on SaaS enterprise solutions to manage their operations, logistics and data analysis capabilities.
We analyse key areas that deliver the best results when applied to an online DTC strategy: data services, digital marketing, warehousing and translation services. Thanks to demographics, consumer demand, and secular tailwinds, all verticals will witness sustained growth in the years ahead.
Companies running online DTC programs with lean operations will benefit exponentially when compared to businesses that have not made the switch yet. Efforts revolve around customer-centric strategies, outsourcing operational headaches to third parties, further maximising efficiencies and returns.
Direct-to-consumer (DTC) is the promotion and sale of products directly from the manufacturer to new customers — removing any intermediate channels like marketplaces, intermediaries, brick-and-mortar stores, and third-party retailers. Although DTC brands can be found in any vertical — from vehicles (Tesla) to fertility tests (Modern Fertility), the DTC model is most commonly used in fashion, consumer goods, and houseware verticals.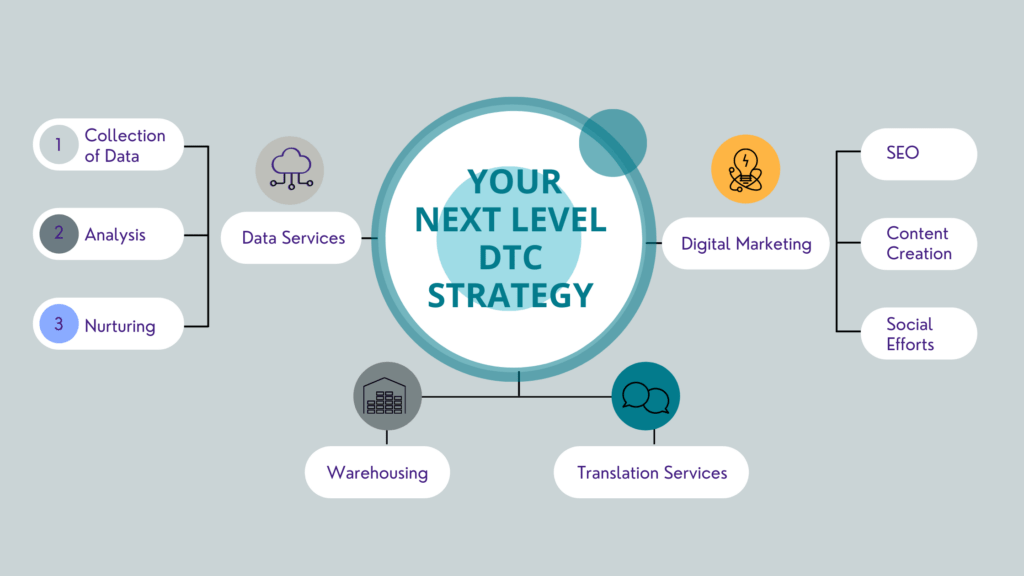 The DTC model is one of the many reasons for the rising predominance of e-commerce in the retail market: since 2016 has accounted for more than 40% of US retail sales growth. With less reliance on third-parties, fewer contract negotiations, and less limitations on branding and fulfilment, the DTC model is an attractive avenue also for up-and-coming brands who need an easy entry into their market.
Many businesses continue to invest in their online branding and DTC e-stores heavily. The principal advantage of the direct-to-consumer model is its focus: providing good relationships with customers, identified as a necessity to increase customers' loyalty and keep high customer retention levels. DTC brands are also working more and more closely with SaaS providers, as they need a complete suite of enterprise management tools, from digital content to warehousing services, to manage their online operations and to cut the costs associated with the conventional business models sides of their businesses.
SaaS business models provide valuable data on customer behavior that aids up-selling and helps improve the product. Leadership teams adopting DTC platforms create an opportunity to achieve sustainable growth and can potentially unlock significant value to their customers and shareholders. Several are the verticals within the DTC industry essential for its success: digital marketing, customer services, translation services, and creative content and warehousing, to name a few.
How to take your DTC strategy to the next level
There are many ways businesses can improve contact with their customers, spanning from better online presence, improving operations, improving existing customer experience or reaching a broader audience. Below we analyse few of the areas we consider key for businesses to have effective DTC strategies: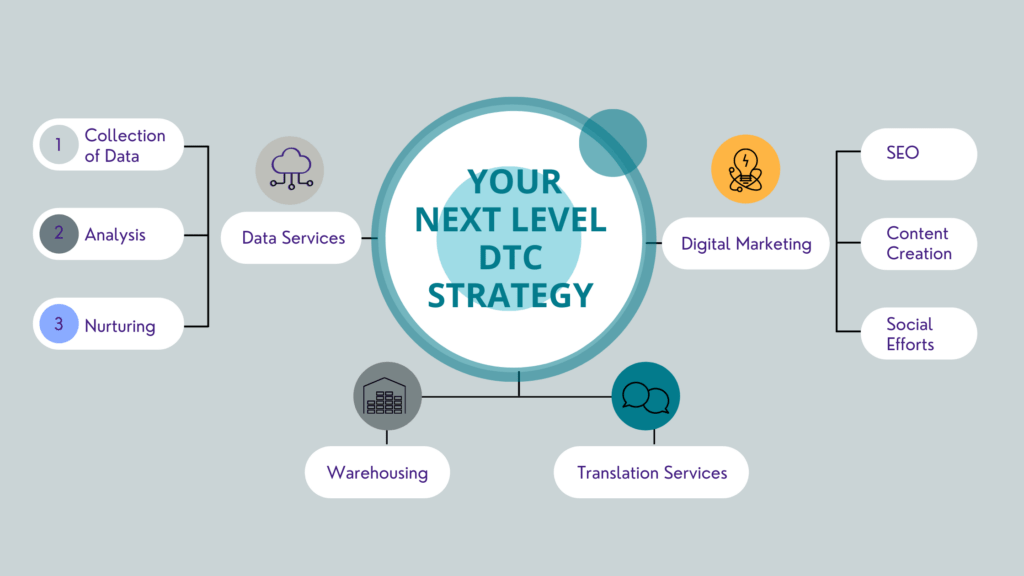 Data services
The most successful brands in the e-commerce industry are approaching growth as an ever-expanding cycle, cutting ties with the linear growth model that characterised businesses from the past. Instead of focusing on moving customers along a clear path to purchase, companies are rethinking their e-commerce marketing strategies to promote exponential growth via exceptional customer experiences driving recurring or high repeat revenue.
This new growth model grounds its foundations in three key stages carried out on an ongoing basis:
Collection of data – Gathering raw data, feedback, and content of all types from your customers
Analysis – Using the data to inform customer-centric experiences at every touchpoint by displaying the content effectively across channels.
Nurturing – Using the channels, content, and data to foster relationships, improve customer retention, and build brand loyalty.
Each of these phases relies enormously on the relationships that brands build with their customers through the experiences they create. At a time when price and functionality are so easily replicated, the connection that brands can form with their customers will define the trajectory of their growth. DTC businesses must combine their actionable insights with the other management tools available to provide a more efficient customer journey throughout their sales process, improving their companies competitive advantage and ultimately their revenue generating capabilities.
Collection of data is all about the establishment of an initial relationship with your customers: they come to you for the products they love, and you work to understand their needs by tracking feedback, data, and their experiences with your products. While most brands already collect, review and analyse data, businesses should aim to deliver advanced customer analysis models by predicting future consumer behaviour, allowing an enterprise to respond to changing demand patterns even before they happen.
Digital Marketing
Digital marketing software allows companies to build and strengthen their customer relationship using several channels: email, web analytics and automation software. In general, there are three areas of digital marketing that can drive incremental sales:
SEO: In today's world, internet presence is equiparable to real estate, and search engine optimisation is one of the most effective digital marketing tactics. A few core fixes can have a significant impact on organic search traffic, reducing  potentially the need to invest in paid advertising to drive sales. Long-tail keywords will help define which products are most in-demand and how competitors are competing for a share of the audience's attention. The idea is to use the most market-defining keywords possible.
Content creation: Digital marketing focused on informative content is a great way to drive incremental revenue because it helps build stronger customer relationships. Instead of relying on paid outreach, content marketing is about starting with what the customer is interested in. There are many ways to develop and foster customer relationships through relevant content. Keeping them updated through email marketing content, or educating them on important topics via a blog, are effective strategies to this end. 
Social efforts: Social platforms can be turned into powerful sales platforms. Social is no longer just about conversation and content; it's now an established channel for customer acquisition, remarketing, engaging existing customers and re-engaging lost ones.
Customers have an inherent bias for companies with a strong social presence. Over 70% of consumers are likely to buy an item based on social media referrals, and 74% rely on social media when deciding whether to buy online.
The digital marketing industry is worth roughly $400Bn worldwide and is expected to register a 17.6% CAGR over 2021-2027. While the North American region contributed to 28% of the global market, Asia Pacific is expected to grow at the fastest rate due to the increased penetration of smartphones, internet and digital advertising investment. Growth can also be attributed to video, social media and location-based advertising. Consequently, the industry is highly fragmented and is characterised by intense rivalry.
Warehousing
Outsourcing your e-commerce operations also provides a wide range of benefits. It's much more cost-effective to partner with a platform with existing infrastructure like warehouses and supply chains than to build these functions internally (Amazon FBA is an example of this very concept – more on its benefits vs a traditional fulfilled by merchant model can be found here). Allocating part of an in-store budget into a comprehensive e-commerce platform will also ensure the delivery of the best experience possible to consumers.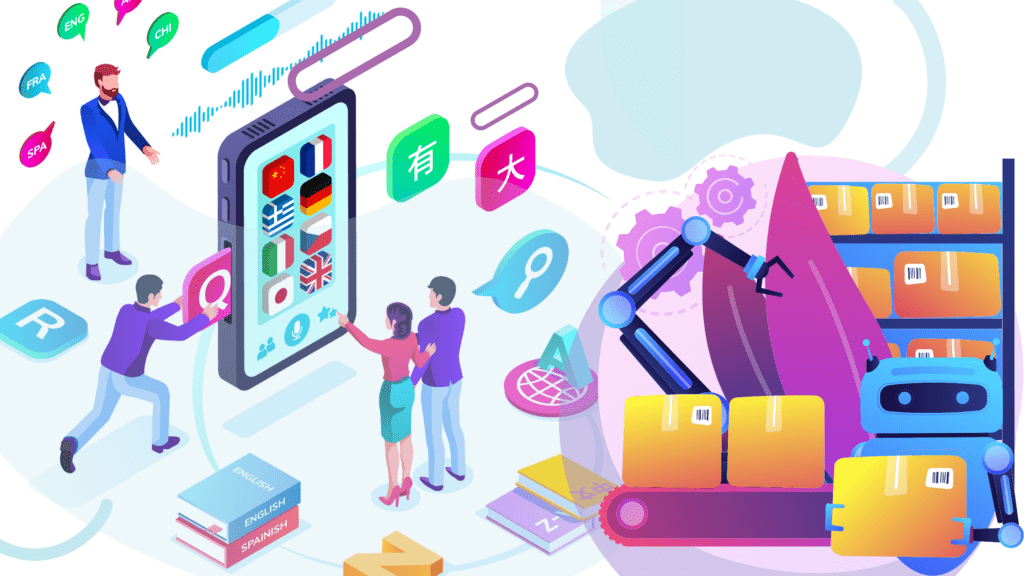 Warehousing and storage services market is expected to register a 10% CAGR between 2021-2026. There has been an increased demand for the omnichannel retailing model, especially as the COVID pandemic has forced shippers to rethink their supplier networks and stage inventory to balance demand fluctuations. Many warehouses have been busier than ever – Amazon plans to hire an extra 100,000 new warehouse workers; the supermarket chain Asda also reported the need to modulate their operations to better serve the surge in demand.
The warehousing vertical however, is very competitive, with few local players dominating the market. Further, competition is expected to intensify due to the low barriers to entry and the high investments in warehouse management software.
Translation Services
As more companies offer their services online, the need for translation services will continue to grow in order to reach a broader customer base. Businesses however, are not the only ones needing such services: Individuals regularly need translation services, whether it's for legal documents or to communicate in foreign environments. As demographics drive the demand for translation services, emerging countries offer a huge opportunity for business, partially also due to the industry saturation in the North American and European markets.
This vertical is heavily fragmented but with several key players leading the space (Globe Languages Services, RWS Holdings and SDL, to name a few) in the Medical, Banking & Finance and Travel & Tourism niches. The market is expected to be worth over $55Bn by the end of 2021 and it is forecasted to grow at a 7.5% CAGR between 2021-2026.
Conclusions
In today's world direct-to-consumer brands can simultaneously strive to both improve their operations and to achieve a leaner and more effective user experience, driving further sales. There are many tools available to business owners and CEOs alike to take advantage of the continuous opportunities the digital economy offers. Outsourcing certain functions, such as warehousing and logistics, can be crucial in determining the sustainability and success of a new business trying to find its space in the market. Similarly, digital marketing is becoming an increasingly predominant way for businesses to gain a long lasting competitive advantage, and the ability to gather, interpret, and collect actionable insights from data is increasingly becoming a requirement, rather than an asset, to remain competitive.
Brands having an expert and valuable partner in their corner will not only be able to remain relevant, competitive and profitable, but will also be able to achieve higher degrees of customer satisfaction, retention, loyalty and ultimately reduced churn.
---
FAQ
What is DTC and why is it important?
Direct-to-consumer (DTC) is the promotion and sale of products directly from the manufacturer to new customers — removing any intermediate channels like marketplaces, intermediaries, brick-and-mortar stores, and third-party retailers. Its importance is shaping the way consumers interact with businesses and make informed decisions on the purchase of products and services. It is one of the drivers behind the staggering growth of e-commerce in the retail industry.
What are some of the most effective tools businesses can use to improve their DTC strategy?
Among the many, we recommend: data services, digital marketing, warehousing services and translation services. Data services allow businesses to better understand their customers and what drives them, ultimately maximizing retention rates; digital marketing allows to effectively reach out to broader audiences and stand out against competitors; warehousing services streamline a company's operations by outsourcing the function. Lastly, translation services are an effective way to reach even broader audiences and establish a relationship with potential customers not yet targeted by competitors.
Why can data services be a competitive advantage for businesses?
Brands able to extract the most reliable, precise, and insightful information in a timely manner will be able to intimately understand their customers, and to quickly identify their evolving needs more accurately. This, in conjunction with the adoption of digital marketing strategies, will quickly deliver long-lasting results.
What are some of the most critical tools of digital marketing?
Digital marketing services rely on three main interconnected levers that drive value to brands: SEO (the ability to effectively drive organic traffic to a company's website), Content Creation (a successful strategy to drive more traffic to one's website), and Social Efforts (generate consistent engagement via social media platforms).
Why are outsourced warehousing services so important?
They significantly reduce overhead costs, allowing both monetary and human resources to be deployed in other key areas of the business. Furthermore, brands with an established reputation and global presence, such as Amazon FBA, are likely a better solution than an in-house operation, and may offer greater visibility to the products sold should the Seller's brand not be that well known.