Key points:
Local SEO practices help businesses improve organic traffic from searches performed by customers in nearby areas.
Nearly a half (46%) of all Google searches are looking for local information, so with your business optimised for local search, you get potential customers ready to shop in your area.
Local SEO includes a number of unique ranking factors like NAP citations, Google Business profiles, reviews, and on-page signals.
With the help of the NUOPTIMA SEO agency, you can develop a local SEO strategy for your business that will ensure high conversion rates and lead to a significant increase in the number of local leads willing to make a purchase.
Search engine optimisation is an integral tool for any business regardless of its type and size. It gives you the power to be the answer to potential customers' questions. SEO increases your online visibility and organic flow to your website and contributes to your authority in your field. The authority, in its turn, leads to the increased trustworthiness of your brand, which ultimately leads to brand loyalty. When asking whether SEO is good for your business, the answer is that search engine optimisation not only attracts new visitors to your company website but also allows you to deepen business relationships with these potential customers through the trust you've established with them.
What Is Local SEO, and Why Is It Important for Your Business?
To date, 46% of all searches on Google are looking for local information, whereas 97% of search engine users are searching online to find a local business. What does it mean? These statistics show that local SEO is a powerful tool for generating leads, and if your business isn't optimised for local search, you may be missing out on lots of potential customers willing to use your products or services in your area. In fact, local SEO is essential if you want your business to stay relevant.
Local SEO is a practice of improving your online presence to increase traffic, leads, and brand awareness from local searches. Common tasks associated with this type of SEO include finding local keywords, optimising a Google My Business profile, and building "NAP" citations. By following local SEO practices, businesses can boost organic traffic from searches performed by customers in nearby areas. According to Google, 76% of people searching for something nearby on their phones visit the businesses within a day, which again demonstrates that local searches are a huge part of the SEO world.
When you get your local business in front of all those local searches, the chances are high that these customers will be walking through your door in a few minutes.
How Does Local SEO Tactics Work?
When implemented correctly, local SEO works like a "regular" Google search, which means when a user performs a search, Google crawls its index to provide the best results for that search term. However, what is unique about local SEO is that Google uses a different set of ranking factors to rank local search results. These ranking signals include:
The location from which the user is searching;
NAP (name, address, and phone number) citations;
Presence of a Google Business Profile and keywords used in it;
The tone of online reviews and the keywords used in them;
Number of "check-ins" on the location and its shares on social media;
Google Maps star rating.
Local SEO is always a game of two halves as Google shows two types of search results for local search – "map pack" results and organic "blue link" results. You can rank on both of them. The "map pack" (or the local pack) is a Google SERP feature showing the top local business listings and a map. Map pack results appear at the very top of search results for local searches. As for organic or "regular" search results, they include the "10 blue links" that usually appear below the "map pack" results and which we're all familiar with. Ranking factors typically vary depending on where you want to rank, but some are important for both.
According to BrightLocal's survey, 36% of SEOs think your Google Business Profile is the most critical ranking factor for the map pack results.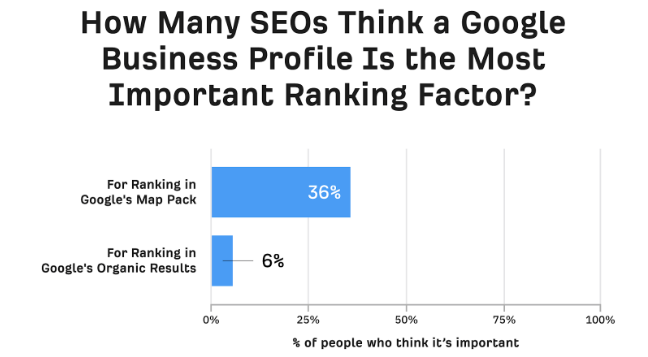 At the same time, BrightLocal's research shows that links are the most important ranking signal in organic search. It's not a surprise for many SEO experts as, according to Google, backlinks are one of the top three ranking factors for organic traffic.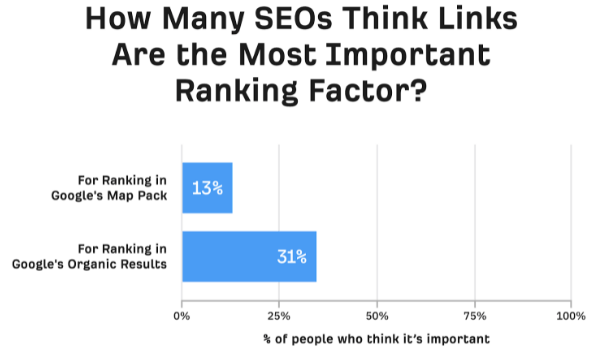 Local SEO Tips for Your Business
Analysing the Google Trends data, we can see significant growth in "near me" searches in the 2004-present period, demonstrating the rapidly growing popularity of local businesses. It also indicates that in today's competitive market, the success of your local business largely depends on the success of your local SEO strategy.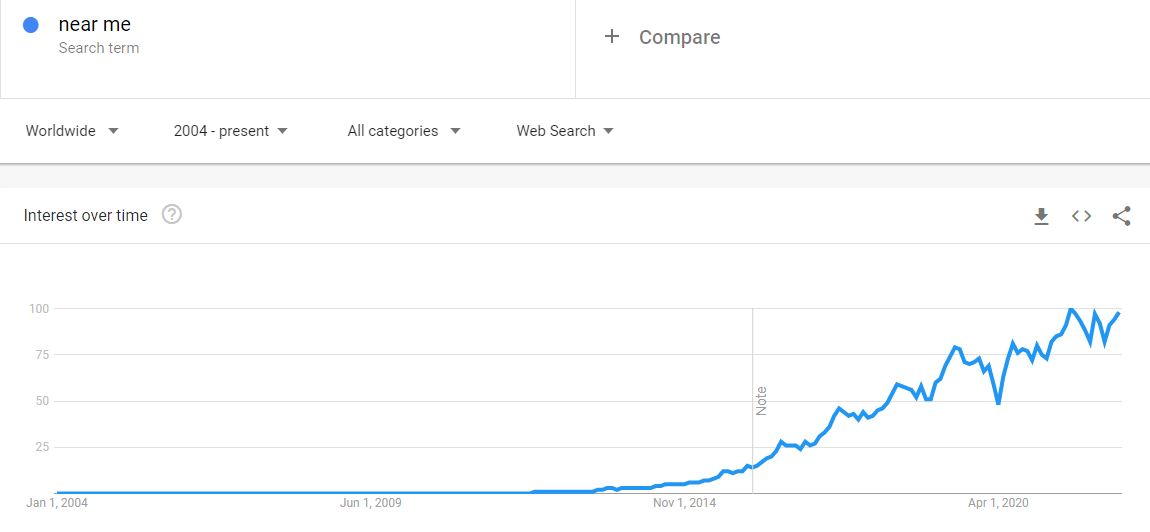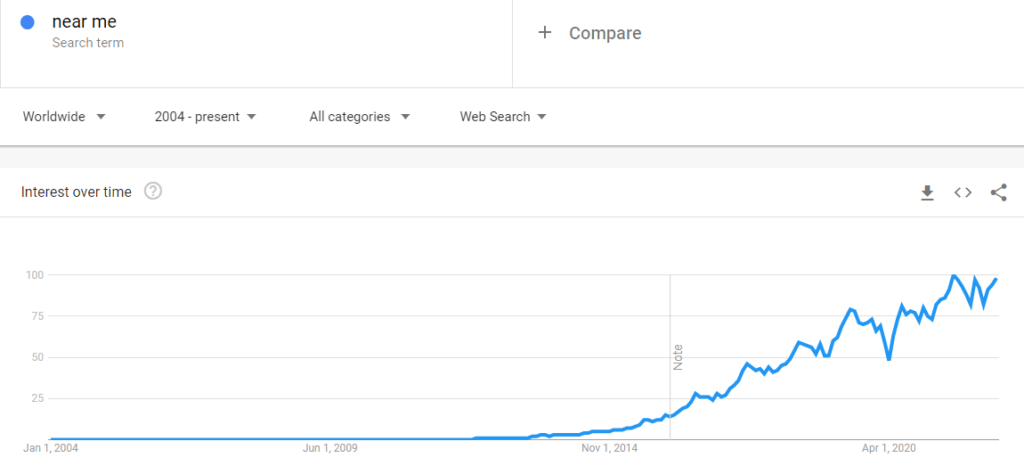 We've put together local SEO tips that will help you create an effective local SEO campaign and improve your business rankings.
Optimise Google My Business
Google Business profile (formerly Google My Business) is an essential component of an effective local SEO campaign since Google feels more comfortable sharing content it can support and verify. In a case, if Google verifies your business as authentic, this search engine could potentially reward it with a coveted sidebar spot in Google's local search.
Engage on Social Media
After creating a Google My Business page for your brand, share it on social media as the Google algorithm considers content hosted on social media platforms more important than ever before.
Set Up Your NAP
Set up your name, address, and phone number to make it easy for people and search engines to find you. NAP should be included as crawlable HTML text on your website.
Perform a Local SEO Audit
After making the primary steps, perform a comprehensive audit to see where your website is and what you need to work on to reach your goals. A local SEO audit may include such points as:
Google My Business audit. How does your Google My Business page appear in the SERPs?
Google Search Console audit. Is your website crawlable?
On-page SEO audit. Does your website have all the on-page SEO elements that help rank?
Citation audit. Are all your citations correct in leading business directories?
Competitor analysis. How does your website match up with competitors in terms of content, design, links, and positioning?
Website audit. How well is your website performing?
Improve the Internal Linking Structure
Besides adding external links pointing to your website, adjusting your internal linking structure can also boost your SEO rankings. Internal linking supports website navigation, distributes page authority and ranking power, and assists with information architecture and website hierarchy.
Optimise the On-Page SEO
You need to optimise every piece of your geo-targeted content for search engines by using high-volume keywords in the URL, title, header, meta description, and body.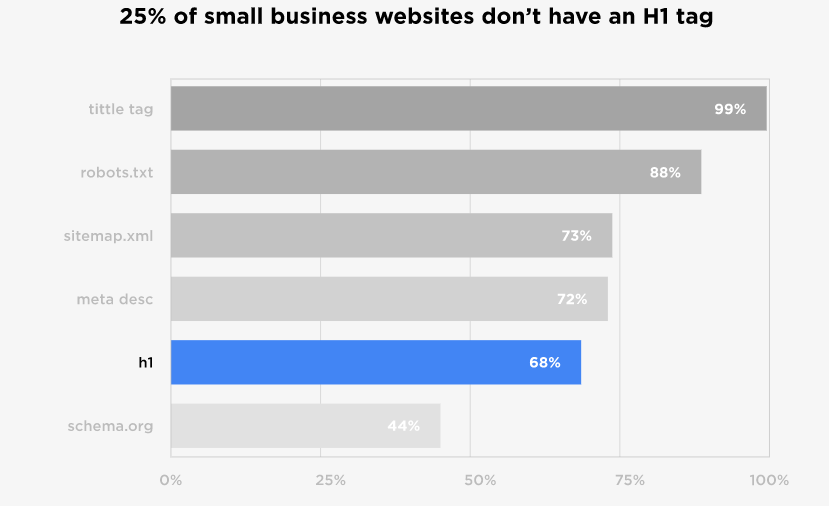 Create Local Content
When creating the content for your website, try to write about local or industry news to attract a local audience. You can also be the local authority by promoting local news or industry gatherings.
Make the Website Mobile-Friendly
According to the latest statistical data, 63% of all Google searches are performed on mobile. People can use their mobile devices to check reviews, find directions to your location, and search for contact information. Make it easy for your potential customers by making your website mobile-friendly.
Get Inbound Links
Inbound links are another opportunity to boost your local SEO. They raise your domain authority and tell Google you are a legitimate company. You can get inbound links through:
Guest Blog Posting;
Sponsorships or Partnerships;
Scholarships.
Professional Local SEO Services for Your Company
Local SEO services aim to increase your local search engine presence and connect your business with a local audience. Today, more than 86% of customers use search engines to connect with companies in their area, and, with the help of a professional SEO agency, your business websites can take a significant advantage on geo-specific search terms.
NUOPTIMA is a full-stack SEO agency, providing a whole spectrum of SEO services for companies of all sizes, including local SEO. We know how essential it is to develop and utilise an effective local SEO strategy, so we spend 100% of our time, effort and resources to understand the intricacies of your business and create a successful local SEO campaign for it. Our approach to local SEO includes:
SEO audit;
Local keyword research;
Local competitor analysis;
Local content;
On-site optimisation;
Local link building;
Content strategy;
Reporting and tracking the results.
Book a call with NUOPTIMA's SEO team and start growing your website with a local SEO strategy to drive new organic traffic and leads to your brand.
Talk to an SEO expert
We work with 100+ businesses. Book a slot now to talk to one of our experts.
---
FAQ
What is local SEO?
Local search engine optimisation is a strategy for improving search engine visibility for local businesses. With local SEO practices, businesses can drive organic traffic, leads, and brand awareness from local searches.
What is the difference between local SEO and SEO?
The primary task of traditional SEO is to improve your website's visibility on a national or global scale. At the same time, local SEO allows you to cover local search territory to connect with searchers in your area.
How to do local SEO?
To get started with local SEO: Optimise for Google My Business; Engage on social media; Build NAP citations; Perform a local SEO audit; Optimise the on-page SEO; Improve the internal linking structure; Build backlinks from relevant and authoritative websites; Create local content; Ensure your website is mobile-optimised.
Why is local SEO important?
Lots of people use search engines to find local businesses, whereas 76% of users searching for services or products nearby on their phones visit the companies within a day. If your website appears in the SERPs for local searches, there is a good chance that website visitors will walk through your door a few minutes later.