Read NUOPTIMA's article on Magento SEO and book a free 15-minute consultation call with our experts if you wish to enlist the help of our professional and reputable SEO services.
Key Points
Magento is a CMS that has more than a quarter of a million users worldwide. It is an e-commerce software with open-source technology and is a notoriously versatile platform.
Search engine optimisation is a process that improves your online visibility to both users and search engines for increased revenue and company growth. Magento SEO is when you optimise your Magento site using SEO techniques to improve your company's success.
You can use many tactics for Magento SEO, such as ensuring your site is mobile-friendly, including a sitemap, revising your metadata, and optimising images.
Undertaking Magento SEO alone can be a highly stressful and time-consuming process. For this reason, many people decide to get help from an expert SEO agency to assist them. Book a free discovery call with highly qualified SEO agency NUOPTIMA to explore how we can assist your website and business today.
What is Magento?
Magento is an open source content management system (CMS) written in PHP. It is a powerful and leading US-based e-commerce software that enjoys more than 250,000 users worldwide and has also partnered with numerous well-known businesses, such as Puma. Magento is an Adobe company that varies from other CMSs as it is an open-source technology that has the capability of growing with a company. Consequently, many developers are making add-ons to its already gargantuan features list. Even if there is no add-on currently available for your unique requirements, a trusted developer can make one for you. This demonstrates how versatile Magento is. This flexibility also applies to your Magento website's look, content, and functionality.
What is Magento SEO and Why is it Important?
SEO — an abbreviation of search engine optimisation — is a process that improves your visibility online to both users and search engines, leading to increased revenue and company growth. SEO involves a multitude of strategies, such as keyword research, link building, and content creation, to improve your rankings within search engine results pages (SERPs). Magento SEO is therefore optimising your Magento website using SEO strategies.
The aim of any business is conversions. You might have the highest quality products with an impressive website design, but this might not mean much if you do not have the corresponding traffic and sales.
SEO's goal is to help you ensure that all your efforts pay off. Here are some ways that performing Magento SEO can assist your website and company:
SEO boosts visibility and website traffic.
SEO improves the authority of your product, category, and other website pages to both customers and search engines like Google.
SEO makes your website discoverable and linkable by other websites with high authority.
SEO helps you improve your Magento store positions in SERPs.
SEO improves your conversion rates by matching customer intent.
A Note on Magento 2
Magento 2 is an upgrade to Magento 1. It is believed to be superior to Magento 1 in terms of security, performance, speed, ease of use, and SEO. A few of the SEO-related features in Magento 2 include:
Mobile-Friendly – Magento 2 is optimised excellently for mobiles (which is a ranking factor).
Meta Title, Meta Description, and Meta Keywords – Magento 2 enables meta tags for individual pages.
Duplicate Content – Magento provides a Canonical tag, which prevents problems caused by duplicate content appearing on numerous URLs.
For these reasons, you may wish to opt for Magento 2, especially in terms of its SEO benefits. However, in this article, we speak on Magento in general (unless otherwise specified).
Our following section offers proven strategies to help you perform effective Magento SEO.
Top Tips for Magento SEO
Ensure Your Magento Site is Mobile-Friendly
An important SEO factor is mobile responsiveness. The number of mobile users has dramatically increased in recent years. Therefore, you should be concentrating on ensuring that your website is optimised for mobiles to cater for this increasing audience. Moreover, as of March 2021, Google switched to mobile-first indexing for every website. This means that Google predominantly uses the mobile version of your content for both indexing and ranking. Consequently, you must ensure your website is mobile-friendly if it is not already.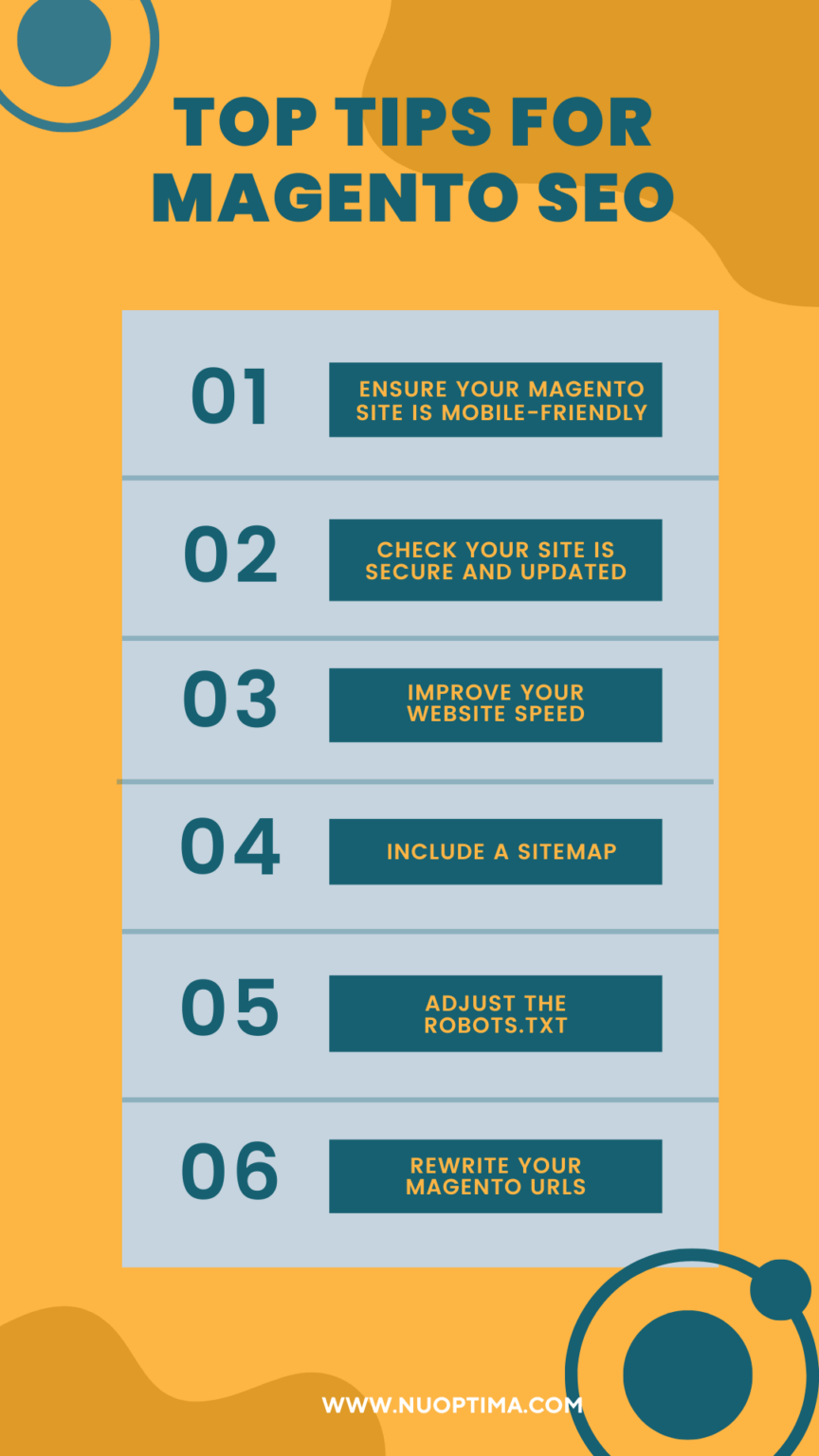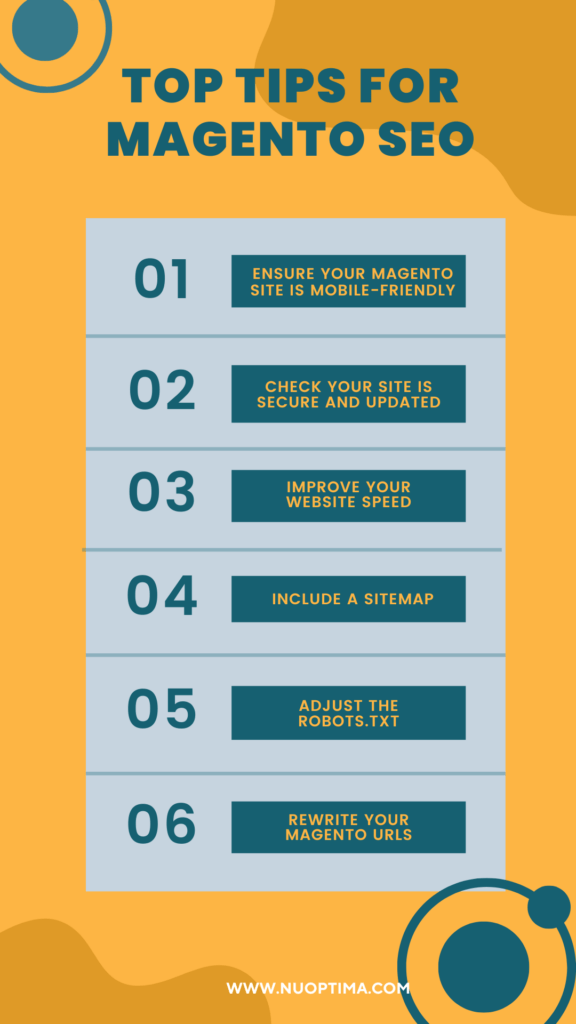 Check Your Site is Secure and Updated
The security of your website is of high importance. If your website lacks an SSL certificate, customers will be hesitant to leave information such as their card details on your store (which is highly problematic when running a store). Moreover, Google penalises websites that do not provide secure connections and that compromise users' data. Therefore, ensure that you keep your website secure and update it to the latest version.
Your website should be updated to the latest version as soon as possible. Otherwise, some SEO features may become unsupported or conflict, having a detrimental effect on your ranking. You can manually update through System Upgrade, but this can be complicated and time-consuming. Therefore, getting help from a third party is a popular option for many Magento website owners.
Improve Your Website Speed
Slow load times will impact your SERPs positions negatively. It is crucial that you ensure your site runs as efficiently as possible. If you and a competitor's website have similar relevant content, Google will favour the website with faster loading speeds. Not only can website speed benefit your customers' shopping experience, but it can also benefit your ranking in SERPs.
Include a Sitemap
Search engine crawlers reference an XML sitemap when they are exploring your website. Therefore, a sitemap is like a map that can help crawlers find all your webpages. It is essentially a quick way of seeing what your website is about, how your site is displayed, and everything included. An XML sitemap is a crucial crawling and indexing factor.
Magento allows you to create a sitemap.xml file. While you can configure sitemap settings on Magento, most of these settings should be okay as is. Once you have set up sitemap.xml, make sure you submit it to Google Search Console so search engines can discover your sitemap.
Adjust the Robots.txt
Your website is composed of thousands of pages, each with its own purpose. But, while visitors can navigate all pages of your site, search crawlers do not necessarily need to. Robots.txt file is an important SEO feature that helps you define what pages search crawlers should index. You can block certain pages, such as customer accounts and checkout pages, from indexing as you have no need to rank for those. The key is to block pages considered low-value (that are not indexed) and allow the crawling of high-value ones. A great aspect of Magento is that you can configure this feature from the Admin Panel. Some pages you might wish to block in robots.txt include:
Login pages
Your website's internal search pages
The user's shopping cart.
Rewrite Your Magento URLs
One excellent SEO feature of Magento is that it lets users edit their product's URL freely. You can alter all the links associated with category, product or CMS pages, so it is more SEO-friendly. Magento will then automatically redirect the original URL to the new one (so you do not need to worry about 404 errors or missing content after you have made changes).
It is also wise to remember that Magento automatically generates code to your products' URLs. To get rid of this code for a cleaner link go to: Store > Configuration > General > Web > URL Options. Then, in the Add Store Code to URL box, change the setting to No. This will stop Magento from adding redundant code to URLs.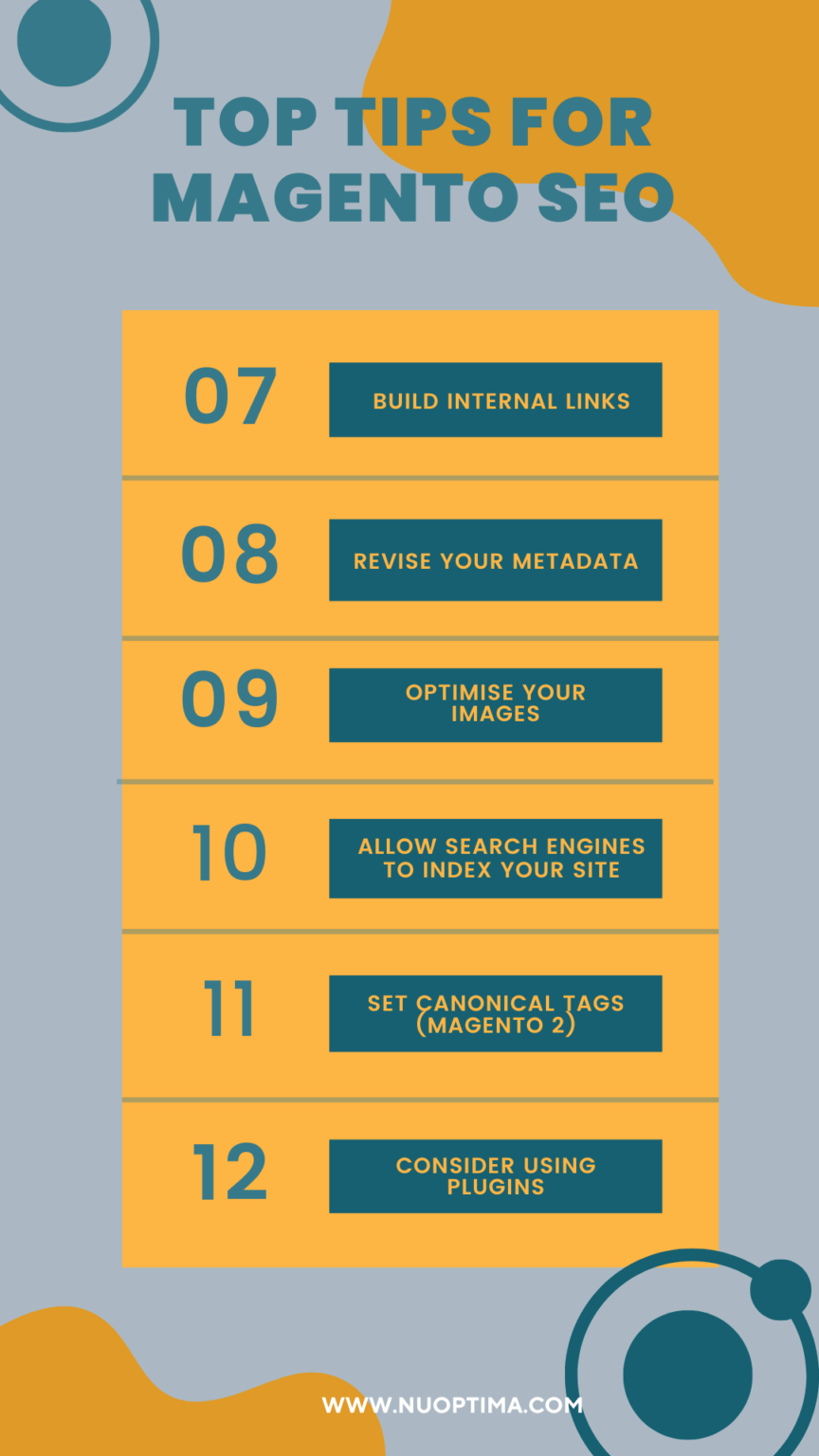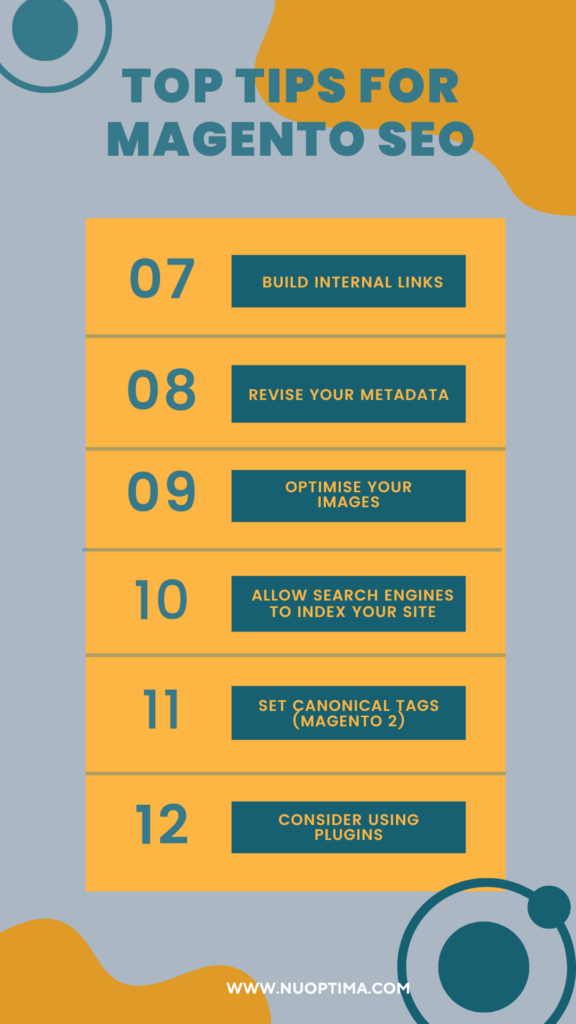 Build Internal Links
Crawlers will strive to find a relationship between pages when they crawl your website. They use internal links to navigate your store and determine what type of products you are selling. You can build internal links on Magento with the Related Products feature. Here you can add related items to each of your product pages so search engines can better comprehend what type of products your online shop sells and how they relate to each other. There are also Magento extensions available that assist with related products.
Revise Your Metadata
Metadata includes the meta title, meta description, and meta keywords. A website with keyword-rich metadata is more likely to be indexed by search engines. It is essential to avoid using identical metadata for every page. Google shows the metadata description beneath the link in SERPs, and while the description is not a direct ranking factor, you should revise it to provide users with extra information about your website. In these descriptions, also include the keyword you are targeting, as it will appear bold in SERPs. Bear in mind that a description relevant to the keyword searched for is likely to convince a potential customer to click on the link. To do this:
Enter the Admin Panel (System > Configuration > Design > HTML Head) to give generic rules for the whole website. To set the title and metadata for each page, go to the individual category and product pages in the Catalogue section of the Admin Panel.
Ensure that you pen short and snappy yet eye-catching descriptions that include relevant keywords. Do this for categories, products, and services to help search engines match a user enquiry with your product link.
Create a URL key, so URLs are specific for the product keyword.
Optimise Your Images
This is a fantastic SEO tip for Magento. There are two aspects to pay close attention to: image file names and alt text. With the former, rather than using the default name (no doubt full of meaningless numbers and words), the file name should explain what the image is about. This makes it easier for search engines to access, comprehend and recommend your products on SERPs. With the latter, it should be optimised as, if managed wisely, alt text can improve your traffic through Google Image Search. It acts as a modifier to explain the appearance and function of an image on a webpage, not just to the visually impaired but to crawlers. Alt text is displayed to Google when it cannot scan the image on your site. Ensure you add keywords to your alt texts (but be sensible as otherwise it could be tagged as spam by search engines).
It is prudent to remember that Magento website images can contribute to the slow loading speed of your site. For this reason, you may wish to use the Lazy Load extension for Magento 2. This delays the loading of your images to optimise the user experience. It loads the images as you scroll down the page instead of loading them all simultaneously. This extension also ensures that crawlers can index these images.
Allow Search Engines to Index Your Site
There is no point in optimising your website if search engines cannot index it, so you have to ensure your shop is both crawlable and indexable. To check your indexing status, go to Google Search Console > Index > Coverage to see the number of valid pages. If the two figures are 0, then Google is having issues indexing your site.
Set Canonical Tags (Magento 2)
A lot of stress for online merchants occurs when numerous URLs point to the same content. Indeed, this can prove to be a big SEO issue. For instance, if you have one product applicable to several categories or have pages with similar content and URL keys, they could be considered duplicate content. This means each of the pages will have to compete for the attention of search engines (and if crawlers cannot determine which to display, both may be ignored). To deal with this, you can use the Canonical Tags feature in the Magento 2 Admin Panel. Canonical tags inform search engines of which page takes precedence and should be given attention. You can set the URL to use the canonical meta tag on a specific page, and Google will disregard all other identical content on your website.
Consider Using Plugins
It may be worthwhile to use various plugins or extensions to assist you in your SEO efforts. Below we list three of the most popular for SEO for Magento 1 and 2:
Super Easy SEO by Magenest: This option is free. It can be an excellent option for those managing up to 10,000 stock-keeping units (SKUs). Features include SEO templates, duplicate content, and content quality analysis.
The Advanced SEO Suite by Mirasvit: This is a premium SEO plugin designed to help store owners get better rankings. Its features include an XML sitemap generator, robots.txt manager, canonical URL support, and automatic sitemap submission to Google, Bing, and Yandex Webmaster Tools.
Magento 2 SEO Extension by ReloadSEO: This plugin includes custom meta tags, title and meta description editor, automatic sitemap generation, and canonical URL support.
Final Thoughts
In this article, we have provided 12 strategies for performing Magento SEO, but there are many more tactics that can be used. Our listed strategies include making your website friendly for mobiles, including a sitemap, revisiting your metadata, and optimising any images. Needless to say, conducting Magento SEO is a lot of work and can be highly time-consuming and stressful. For this reason, many website owners enlist the help of qualified SEO agencies to assist them in their SEO efforts. Book a free consultation call with expert SEO agency NUOPTIMA today to discover how we can help your company grow and your revenue increase.

Talk to an SEO expert
We work with 100+ businesses. Book a slot now to talk to one of our experts.
---
FAQ
Why is SEO important?
SEO is important because it makes your website more visible, which leads to more traffic and increased opportunities to convert prospects into customers of your shop.
Is Magento good for SEO?
Magento is built well for SEO. Because it is open source, website owners have much control over SEO elements such as robots.txt, sitemaps, and metadata. It comes with a lot of SEO-friendly features embedded. While some of these are enabled by default, users need to tweak some settings to enjoy the best rankings and conversion. For this reason, hiring an SEO agency is a smart move.
What is the best Magento extension for SEO?
There are over 1000 Magento extensions available, including those for SEO. Some of the most popular include Super Easy SEO by Magenest, The Advanced SEO Suite by Mirasvit, and Magento 2 SEO Extension by ReloadSEO.
How can I optimise my Magento website?
You can employ numerous tactics to optimise your Magento site, such as optimising images, making your website mobile-friendly, and revising your metadata. However, this is a huge and stressful undertaking, so it is a fantastic idea to hire an SEO agency instead to do this for you.