Key Points
OpenCart is a free e-commerce platform where online products can be purchased and sold. OpenCart SEO is an effective marketing strategy for drawing traffic and increasing sales.
While OpenCart's SEO features are seen as fairly limited by many, there are numerous manual tactics you can utilise to make your Opencart e-commerce store better for SEO.
Our top tips for conducting OpenCart SEO include: ensuring you have effective link-building, a fantastic technical performance, and high-quality content marketing.
SEO requires a lot of hard work, effort, and experience. It is a sensible idea to consider hiring a qualified SEO agency to assist you in getting your OpenCart website to rank as highly as possible.
What is OpenCart SEO?
OpenCart is a free and open-source e-commerce platform where online products can be bought and sold. It is home to tens of thousands of websites full of countless products for Internet shoppers to peruse and purchase. Search engines supply a huge proportion of e-commerce traffic, and so consequently, OpenCart store owners are starting to turn more and more to an extremely effective marketing strategy for drawing traffic and, therefore, sales. This is known as OpenCart SEO.
SEO stands for search engine optimisation and is a digital marketing strategy utilised to improve the visibility of websites in search engines. OpenCart SEO is, therefore, a strategy to enhance the visibility of OpenCart websites. There are numerous tactics involved with SEO, such as keyword research, link building, and content marketing. These techniques assist websites in appearing higher on search results.
Other tactics, such as pay-per-click adverts (PPC), can also be used to increase traffic to your website. But while these can provide immediate results as soon as you start paying for advertisements, they are expensive and do not provide you with long-term benefits or results. SEO methods, conversely, usually take several months to start showing results, but your website's positions will improve and maintain these positions meaning that you can indefinitely continue to get free traffic. SEO can also compound return on investment (ROI) with little maintenance required. As a result, SEO is deemed a far superior option.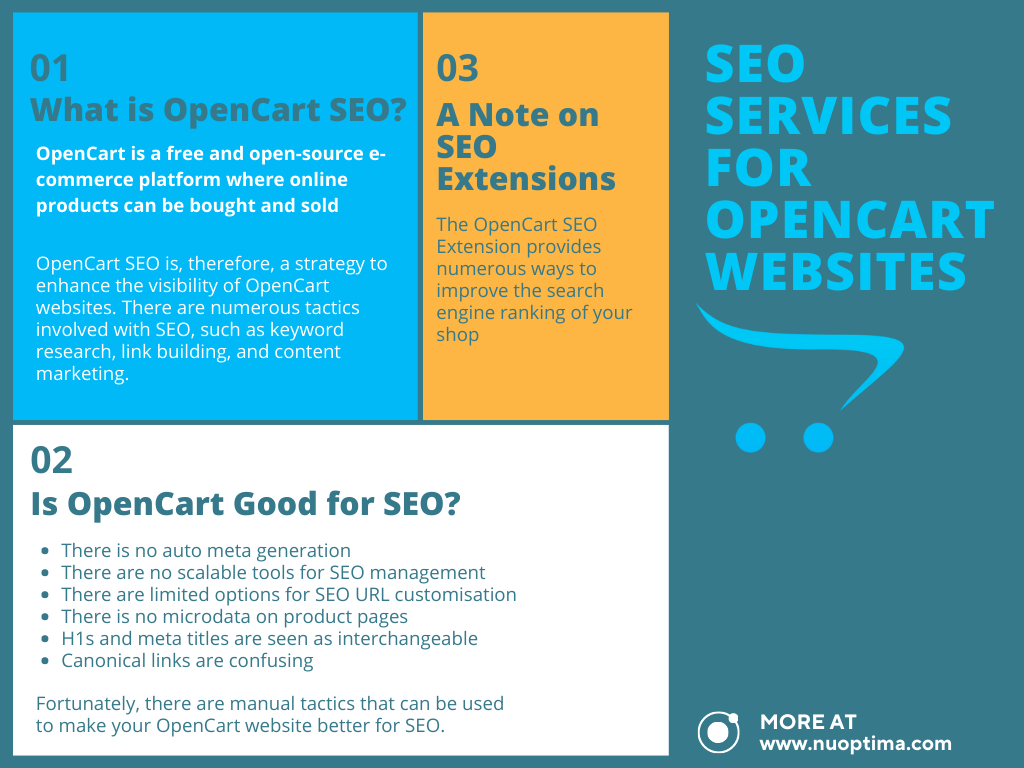 Is OpenCart Good for SEO?
When it comes to e-commerce SEO, there are a variety of pros and cons depending on the platform in question. This remains true for OpenCart. While there are SEO tactics you can utilise on OpenCart, there are also some deficiencies on the platform concerning its built-in SEO capabilities. Let's consider a few:
There is no auto meta generation. This means that time is therefore lost manually writing meta titles and descriptions.
There are no scalable tools for SEO management. This means that much time is spent on monotonous optimisations.
There are limited options for SEO URL customisation. This equates to less SEO-friendly URLs for both users and search engines.
There is no microdata on product pages. This translates to less engaging search listings and pages that are challenging for search engines to crawl.
H1s and meta titles are seen as interchangeable.
Canonical links are confusing.
Therefore, many users of OpenCart see its SEO features as relatively limited for those who seek to improve their website's visibility in search engine results. Fortunately, there are manual tactics that can be used to make your OpenCart website better for SEO.
A Note on SEO Extensions
OpenCart offers extensions or add-on programmes that provide added functionality to your website. It also allows you to further customise your e-commerce store using extensions. One of the extensions available is OpenCart SEO Extension. This extension provides numerous ways to improve the search engine ranking of a shop. For example, the admin can create search engine friendly (SEF) URLs on all pages of the website. Plus, it can also provide SEO URLs for every language in the store. While this is an option to consider, our focus returns to how you can use manual tactics to perform OpenCart SEO.
How to do OpenCart SEO: Our Top Tips
Generally speaking, your SEO success will be determined by the strategies you use to make your website more user-friendly. Below, we offer some of the most effective SEO strategies for your OpenCart website.
1. Ensure you have effective link-building
One of the most important ranking factors that Google uses to determine the SEO strength of your website is backlinks. Backlinks are links from other websites to yours. Google deems backlinks somewhat as signs of approval. This is because when another website links to you, they are essentially vouching for your content. Consequently, the more backlinks you have (of high-quality), the better you will appear to Google. There are a few ways to generate backlinks. Here are a few popular methods:
Social media marketing: Research has shown that the more social links your website generates through social media platforms such as TikTok, Facebook and Twitter, the more backlinks you tend to have. Social media links do not count as backlinks, but they do assist in promoting your content. Plus, it is beneficial to bear in mind that the more your content is read and shared, the better the chances of it generating a link back to your store.
Technical link-building: Some strategies are used solely for the purposes of generating backlinks. These can include finding unlinked mentions of your brand, creating digital coupons, and reviving dead links.
Strategic partnering: One of the great advantages of being an e-commerce brand is that there are many avenues you can proceed down to promote your product. For example, you have the options of publishers, vendors, bloggers, influencers, related brands, and more that have an interest in sharing your content. Therefore choosing to partner with businesses in any of these aforementioned categories will provide you with a good chance of generating backlinks.
2. Ensure you have a fantastic technical performance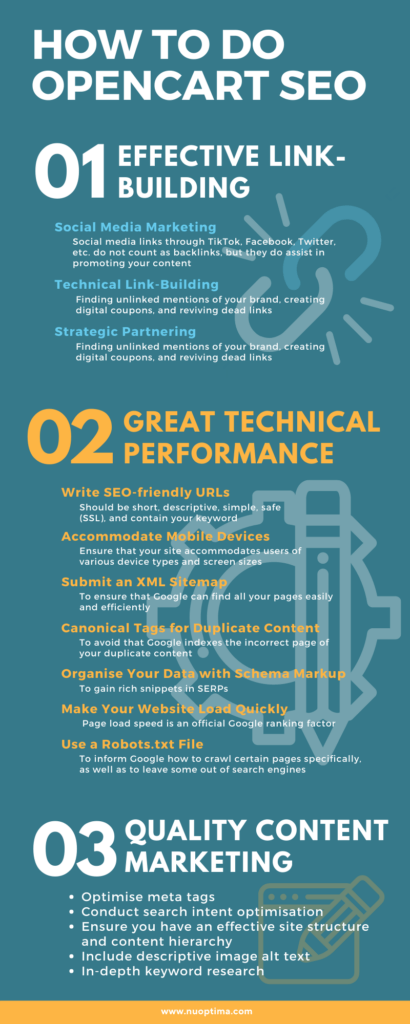 While high-quality backlinks is a key tactic to putting your website on Google's good side, it is not enough to get you ranking at the very top of Search Engine Results Pages (SERPs). For this to happen, you need a store that performs as well as it appears. Therefore, on OpenCart, you will need to do the following:
Write SEO-friendly URLs: It is a well-known fact that the best URLs are ones that are easy for both your users and Google itself to understand. They should be short, descriptive, simple, and safe (you should use Secure Sockets Layer — SSL), plus they should contain your keyword. Essentially, visitors to your website should know what the page is about based on its URL.
Accommodate mobile devices: Google's algorithm ranks content to a substantial extent based on how mobile-friendly it is. It is therefore wise to prioritise mobile devices. Indeed, the algorithm will rank the mobile version prior to the desktop one for newer websites. Ensure that your site accommodates users of various device types and screen sizes. If this precaution is not observed, your mobile experience will most likely hurt your search ranking.
Submit an XML Sitemap: An XML sitemap is a map to all of your pages for Google's crawlers. Ordinarily, Google locates all your pages through internal links, but they can sometimes be missed, resulting in your pages being excluded from search engine results. Therefore by submitting an XML sitemap to Google, you are ensuring that Google can find all your pages easily and efficiently.
Utilise the canonical tag for duplicate content: For OpenCart websites, duplicate content can be made by pagination (separating digital or print content into discrete pages) and when the same product content is in two separate parts of the website. You do not get penalised for creating duplicate content, but you should be aware that Google only indexes one of these pages, and if it is the incorrect one, it can impact your rankings negatively. When you use the canonical tag, Google will index your canonical tag. However, Google does reserve the right to index the page it believes to be the most relevant.
Organise your data with schema markup: Schema is a type of labelling language that assists search engines in better processing your website. This can lead to rich snippets in SERPs. These are more robust search listings that allow you to include things such as images and reviews.
Make your website load quickly: An official Google ranking factor is page load speed. However, many websites take some seconds to load, which significantly increases the bounce rate (percentage of people who land on a page and then leave). Therefore, key ways to speed yours include compressing large images or removing ones entirely that aren't necessary, minifying JavaScript, and building pages with AMP (Accelerated Mobile Pages).
Use a robots.txt file: A robots.txt file lets you inform Google how to crawl certain pages specifically, as well as to leave some out of search engines. This can include checkout and admin pages.
3. Ensure you have high-quality content marketing
Content marketing is key to great on-page SEO. On-page SEO is related to improving the physical content on your website. For this tip, we have the following methods:
Optimise meta tags: Both meta titles and meta descriptions are the text that comprises search engine listings. Despite the fact that these are not official ranking factors, they still contribute to SERP click-through rate (CTR), and SEO experts see this as a significant ranking factor.
Conduct search intent optimisation: Not all Google searches are identical. By this, we mean that some people will be searching for products, some will be searching for information, and others will be attempting to get to a certain page or site. To understand what sort of content to create for a certain search term, you need to understand search intent. For example, is a searcher looking for a blog post or a product page? This can be accomplished by searching a query and investigating what Google provides as the top results. Through testing, these are the results that Google believes to be the most relevant and suitable for users. You should use the results to guide your own content creation.
Ensure you have an effective site structure and content hierarchy: In order for your content to be easy to consume, it should be organised with effective internal linking and structure. Pages should follow a structure that is logical and organised, from broad content to more specific, so that visitors can locate specific products from broad ideas. For example, you may wish to structure your pages like this: homepage > product category page > product subcategory page > product page > product variation page, and so on. Similarly, your content should also be organised with one HTML page title and H1 header on every page that describe the overall page's theme. Then H2s, H3s, etc., should mould into a hierarchy depending on the relationship of content from broad to specific.
Include descriptive image alt text: Images are simple to optimise in terms of boosting your SEO. You just need to create effective image alt text and filenames. Alt text is a short sentence that describes your image. It helps people who suffer from visual impairments to better understand your content. It is intended for screen reading software to read aloud, and it also assists search engines in understanding and consequently ranking your page. Penning effective image filenames can also assist with SEO. When you go about naming your image files, use a few words to title your image and ensure you put dashes between each word. Both filenames and alt text benefit if you include your focus keyword. However, do not overdo it, as Google may perceive it and flag it as spam.
In-depth keyword research: Conducting keyword research helps you discover what terms visitors are using to find your products. When you find these out, you can utilise them (as well as related search terms) in your content to attract traffic when someone searches them on Google.
Final Thoughts
OpenCart is a free and open-source e-commerce platform where you can buy and sell online products. OpenCart SEO is an effective marketing strategy implemented to draw traffic and increase sales. Many OpenCart store owners are beginning to turn to SEO to help increase their rankings on search engines such as Google. Certain SEO tactics you can use include creating high-quality content marketing, outstanding technical performance, and effective link-building. However, this task can be daunting when faced alone. For this reason, it is a prudent idea to get assistance with your website by hiring a qualified SEO agency with years of experience. Book a free discovery call with our SEO experts to explore how we can help you with OpenCart SEO today.
Talk to an SEO expert
We work with 100+ businesses. Book a slot now to talk to one of our experts.
---
FAQ
What is OpenCart?
OpenCart is a free and open-source e-commerce platform that facilitates the buying and selling of online products. Essentially, it allows anyone to create a website that allows customers to buy items.
Is OpenCart good in terms of SEO?
OpenCart has a variety of pros and cons in relation to e-commerce SEO. There are, without doubt, some deficiencies in the platform with its SEO capabilities. For example, there is no microdata on product pages, no auto meta generation, and no scalable tools for SEO management. However, every e-commerce platform has different pros and cons, and there are still manual tactics you can implement to conduct good SEO on OpenCart.
How do I do SEO for OpenCart?
There are numerous manual tactics you can utilise to perform SEO on OpenCart. We have divided them into three separate sections: create effective link building, high-quality content marketing, and outstanding technical performance. However, this can be very challenging to do without expertise, so we highly recommend hiring a fantastic SEO agency to help you perform SEO on your OpenCart website.