Key points
Reselling is a business strategy under which business owners purchase discounted products online or in brick and mortar stores and resell them at a markup.
There are several different types of reselling. This includes online arbitrage, retail arbitrage, selling used products, wholesale, and selling private label products.
Amazon allows business owners to use its platform for reselling. However, products by some well-known brands can be resold only by authorized retailers.
Starting to resell on Amazon is easy. All you need to do is create an Amazon Seller Account, choose a product to sell, find a place where you will purchase inventory, and list products.
Virtually everyone living in the US or Europe has visited Amazon at least once and purchased something at a great price. Whenever you open Amazon, you can easily find everything you need: unique brands, low-cost products, and a wide selection. This doesn't come as a surprise, given that Amazon is one of the largest online marketplaces, with a huge number of sellers and customers. But have you ever wondered how it is still possible to be successful in this overcrowded marketplace and how sellers can continue making a lot of money there? If so, you've come to the right place. In this article, we'll go over the basics of starting an Amazon reselling business and explain how you can profit from sourcing products and reselling them on Amazon at a markup.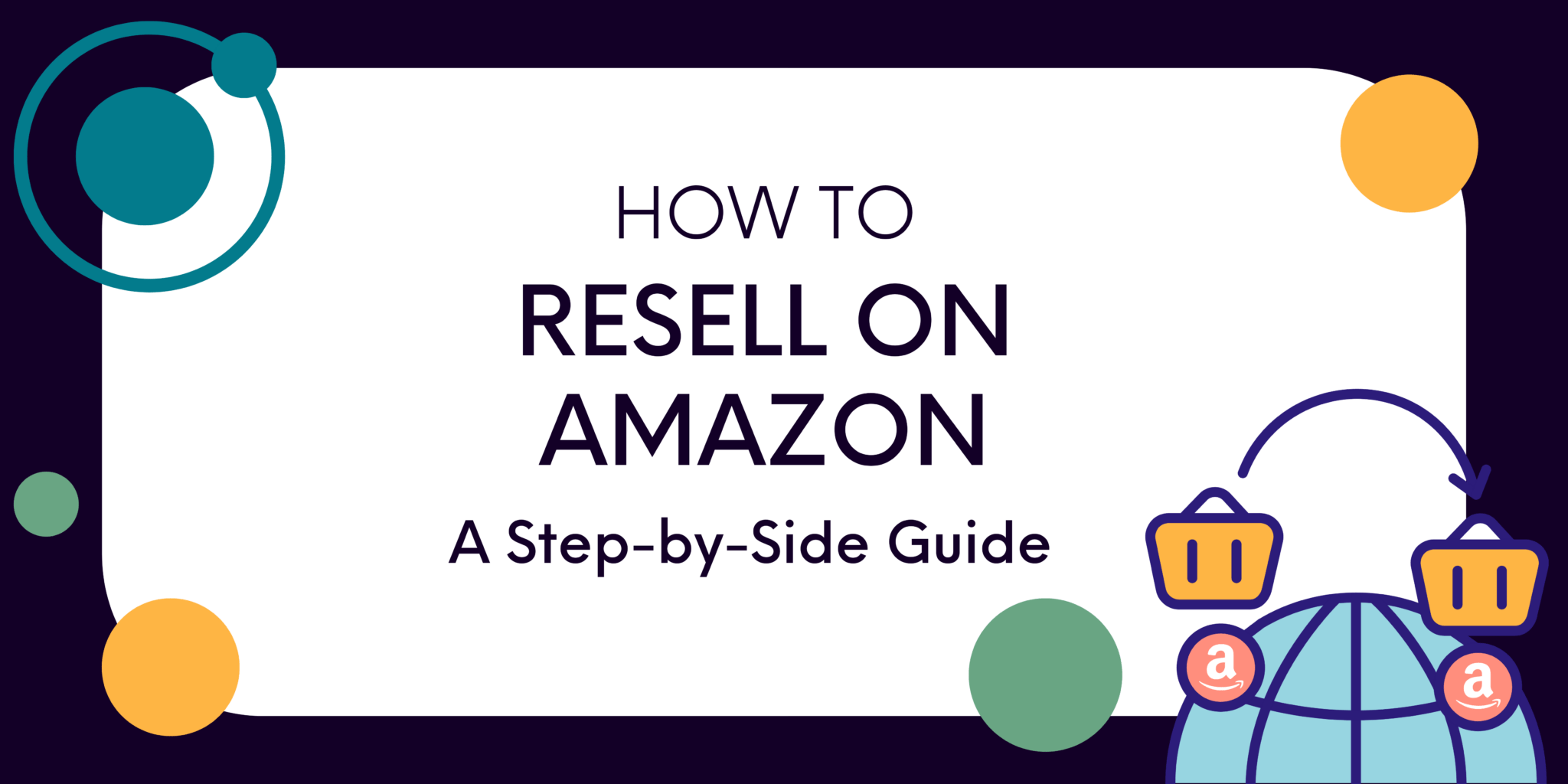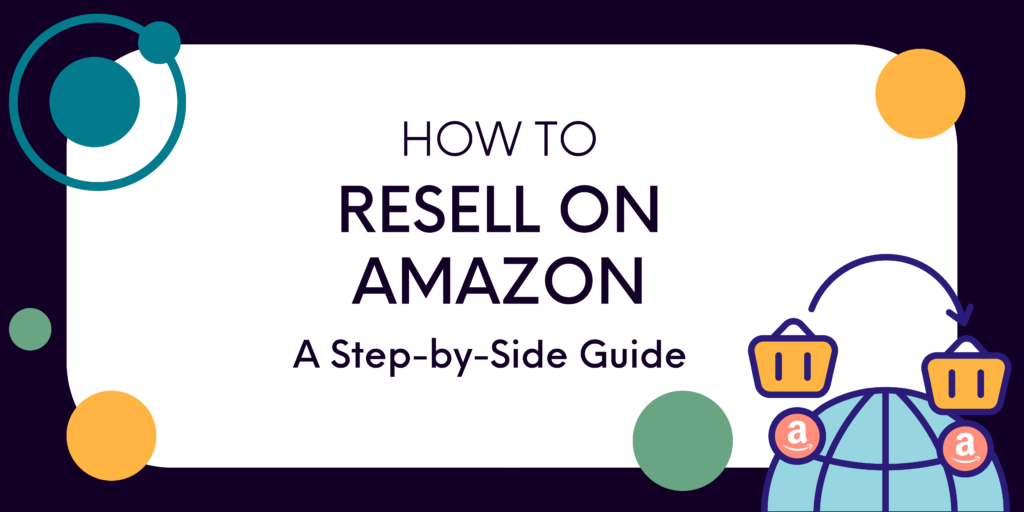 Who is an Amazon Reseller?
If you've done any research into Amazon businesses, you've probably come across the terms "FBA seller," "FBM seller," and "reseller". These terms can be confusing, but they describe different types of people and businesses operating on the Amazon marketplace. A reseller buys products from suppliers and sells them to customers. Because they usually sell pre-made items, resellers have no need for a private label. A reseller is also not the same as a distributor because distributors generally have strong relationships with manufacturers and can even influence production, marketing, and branding. Resellers may not even communicate with suppliers directly because they are interested in purchasing ready-made products.
Different Reselling Business Models
Resellers can employ a variety of business models to create a successful business. Here are a few of the most popular options:
Online Arbitrage. Sellers use this method to buy products from other online marketplaces such as eBay, Walmart.com, or Alibaba and resell them on Amazon. If you use this strategy, you may not even need to store the products in your own warehouse. Instead, simply list them on Amazon and ship them directly to your customers from another online marketplace.
Retail Arbitrage. The practice of obtaining products from physical retail stores and reselling them for a profit is known as retail arbitrage. Unsurprisingly, you'll need more time to visit different stores and find appropriate products in bulk at a discount.
Wholesale. Like the arbitrage model, you buy low-cost or discounted goods in bulk rather than looking for individual units under the wholesale strategy. Making money on bulk items is obviously easier, but there's a chance that you'll order a large number of goods that don't sell well and end up with excess stock.
Secondhand items. If you have a lot of items that are no longer useful to you and are just collecting dust, you can easily list them on Amazon and make some extra money.
Private label. If you are interested in developing your own brand, you can purchase products from manufacturers and rebrand them under your private label. Of course, running a successful private label business necessitates more time and effort.
Is Reselling Legal?
Because reselling appears to be so simple, it's natural to wonder if it's legal. After all, you're profiting from selling a product under someone else's brand. However, if you purchased the product legally, no one can stop you from selling it. It is also important to remember that receipts serve as proof of authenticity. Some brands may request this proof if you begin selling their products in large quantities, so a receipt will serve as your legal confirmation. Also, keep in mind that if you sell your own items, you must list them as "Used/Very Good Condition."
In addition, it's a good idea to avoid purchasing products from specific brands for reselling, as Amazon has some restrictions. There is no list of restricted brands, but it may include products made by companies like Adidas, Disney, Hasbro, LEGO, Samsung, and other big players. In general, you should try to avoid major brands that only allow authorized retailers to sell their products.
How to Become an Amazon Reseller
Becoming an Amazon reseller isn't as difficult as it may appear. However, there are a few steps you must take before you can start your business:
Create an Amazon Seller Account
You must first complete the registration process. When you sign up, you will need to select one of two Amazon seller account plans: Individual or Professional.
Choose an individual account if:
You're new to Amazon and are still figuring out your sales strategy.
You are not interested in using advanced tools just yet.
However, it is preferable to use a professional account if:
You want to be able to use premium tools.
You're confident in the viability of your business strategy.
You've sold products online in the past.
You are willing to pay $39.99 per month for Amazon bonus features.
Of course, you can begin selling as an Individual and then upgrade to the professional selling plan if you wish.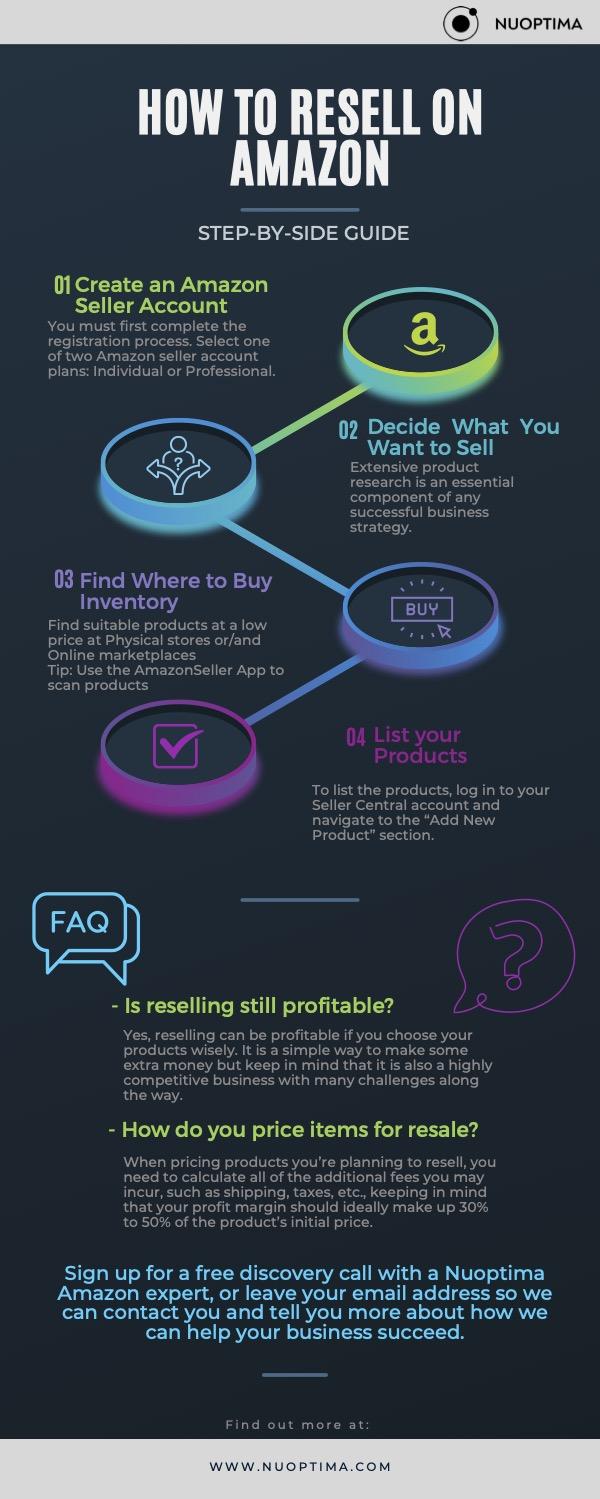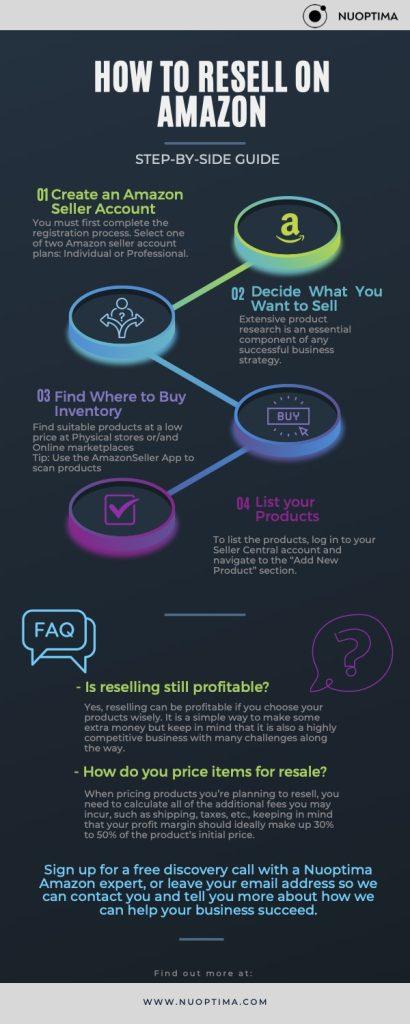 Decide What You Want to Sell
Extensive product research is an essential component of any successful business strategy. That is why you must conduct an extensive analysis of the products you intend to sell. Some products are more popular than others, but they are also more competitive. Others are inexpensive to purchase, but they are not always in high demand, which is why it is critical to weigh all of the pros and cons. Here are a few pointers on how to find profitable items to sell:
Pay attention to low competition products
Rather than looking for successful items with high competition, try to find items with low competition and no proven success record. It may appear risky, but it is a great tactic. Low-competition products can help you become the category leader and win the Buy Box on most, if not all, orders. So while selling low-competition products implies not having a proven sales track record, this is a high risk, high reward strategy that could yield great results.
Provide a low price on a high-competition product
It is generally worthwhile to offer the lowest price possible when selecting a high-competition product. Amazon strives to convert every customer, which is why it prioritizes low-priced products. This strategy will help you stand out from the crowd and increase your visibility. It can also help you win the Buy Box and attract more customers. However, using this strategy will attract mostly discount shoppers, so it will be nearly impossible to make a profit after raising your prices in the future. Also, keep in mind that if you want to make a lot of money, you must manage to maintain a high-profit margin despite low prices.
Choose high-quality products
Whether you sell low or high-competition products makes no difference if they are of poor quality. High-quality products will improve your reputation, expand your customer base, and help you become a high-end reseller. It's not a surprise that quality products result in positive feedback and a low number of returns, making quality one of the most important factors to consider when selecting inventory to see. On the other hand, poor quality products result in loss of profits from returns and a low inventory turnover rate.
Search for high margin products
It's great to have a high-quality product that sells well, but it's not so great if you only make a few cents from each item. This is why you must calculate the profit margins of the products you intend to sell in advance. Make sure to take all of the additional fees you may incur into account and keep in mind that your target profit margin should be around 30 to 50 per cent of the product's initial price.
Think about the most popular categories
While there are lots of products and product categories on Amazon, there are a few that are more popular with resellers:
Almost half of all arbitrage sellers list inventory in the "Home & Kitchen" category. This category has grown in popularity since the start of the COVID-19 pandemic as people began spending more time at home and working remotely.
The "Toys & Games" category accounts for 40% of total sales. Toys are always popular, especially during the holiday season. In the lead-up to Christmas, virtually everyone looks for a toy that will make a child in their family happy. Plus, the popularity of board games increased significantly during quarantine.
35% of sellers prefer to sell books. Nonfiction books are always in demand, and book resellers can make a good living selling them. The key is to find the right books which are in high demand and have adequate profit margins.
Other popular categories include "Health, Household & Baby," "Kitchen and Dining," and "Pet Supplies."
This is not to say that you must only work in these categories; they are simply the most likely to have profitable products. However, you can undoubtedly find something in a different category and make a lot of money.
Find Where to Buy Inventory
One of the hardest parts of reselling is finding suitable products at a low price. This can take a lot of time and dedication, but there are a few places where resellers usually go to find good deals:
Physical stores. There are numerous brick-and-mortar stores where you can look for suitable products. Walmart, Target, Ross, Marshalls, Homegoods, and other similar retailers fall into this category. Of course, there are numerous stores where you can find good deals, so you should begin your search with the stores that best meet your requirements. You can also use apps to check store deals and stock availability in various local stores.
Online marketplaces. This is a more convenient and, in some cases, less expensive way of sourcing products, as you can easily compare prices at online marketplaces from the comfort of your own home. For example, you may choose to begin your search on eBay because it is highly competitive and frequently has lower prices than Amazon. Another option is to shop online at Walmart, where some prices are significantly lower than in-store. Another option is to buy items on Chinese websites like Aliexpress or Alibaba. Because Aliexpress caters directly to consumers, its prices may be higher, whereas Alibaba works with sellers. Remember that delivery from these websites will usually be slow because these products are shipped from China.
Tip: Use the AmazonSeller App to scan products in stores and instantly see Amazon listings for the same items, seller rank, and brand restrictions (if any). The best feature of this app is that you can sell directly from it.
List your Products
To list the products, log in to your Seller Central account and navigate to the "Add New Product" section. Next, enter its ASIN number or write the item's name to find the specific product listing on Amazon. If the item has never been sold on Amazon, you will be responsible for creating a new listing. However, most products already have existing pages, so you will need to add your Amazon listing to them. After that, your products will be automatically shown to customers.
Another suggestion is to start small because you will undoubtedly require some time to get experience and become accustomed to running a business. There's no way to avoid making mistakes, so it's generally not a good idea to get a large amount of inventory to sell at once at the beginning of your reselling journey. You can expand your business whenever you want, and it is best to do so after you have established a strategy and gained confidence in your products.
Final Thoughts
Reselling on Amazon is a simple business to start, but there are many challenges you may face along the way. Rather than becoming stressed due to the enormous burden placed on your shoulders, we strongly advise you to hire a professional agency to assist you in developing your Amazon business. Sign up for a free discovery call with a Nuoptima Amazon expert, or leave your email address so we can contact you and tell you more about how we can help your business succeed.
Talk to an Amazon expert
We work with 100+ businesses. Book a slot now to talk to one of our experts.
---
FAQ
Is reselling still profitable?
Yes, reselling can be profitable if you choose your products wisely. It is a simple way to make some extra money but keep in mind that it is also a highly competitive business with many challenges along the way.
How do you price items for resale?
When pricing products you're planning to resell, you need to calculate all of the additional fees you may incur, such as shipping, taxes, etc., keeping in mind that your profit margin should ideally make up 30% to 50% of the product's initial price.