Topic
Please remember that the topic provided in the task is not a suggestion. You should write the article on that exact topic. Do NOT choose a related topic and write your piece about it – you will be required to rewrite the article if you do this.
When you choose topics for the articles yourself, you need to make sure that they haven't been covered on the website already. To do this, open Google and type in: [phrase] site:[site name] (no space between "site:" and "[site name]". For example:
SEO tools site:nuoptima.com
Google will return all pages that have that phrase as results. It's best to enter short 1-2 word phrases to account for variations in wording.
Formatting
All articles should be submitted as a Google Drive folder titled with the name of the website and the topic.
The folder should contain the Google Doc with the text and all images, which should be labelled in the order of their appearance in the article. The cover image should be named as such.
The Google Doc's access settings should be set to "Allow everyone to edit".
The document with the text should use the standard Google Doc formatting (Arial font, 11 pt, 1.15 spacing)
Use built-in styles to define the title, H1, H2s, H3s, etc. (Don't manually increase the font size or use bold font).
I recommend writing your article in a Google Doc from the start, but if you want to use Word instead, copy and paste the text into a Google Doc once you're done instead of uploading a .docx file (it messes up the Grammarly extension and makes the editing process more difficult).
Article length
The target length of the article is generally calculated as the average length of top-ranking articles on the topic on Google. Most of the articles we write for different clients fall into the 1,500-2,000 word range. It's best to avoid writing articles that are too long (over 2,500 words).
Article structure
Each article should have the following components:
A list of apx. 10 main keywords used in the article
Slug
Meta title
Meta description
H1
Key points
Body of the article with H2s, H3s, and so on
Short conclusion if necessary
FAQs
References
Images and videos
Keywords
Before starting to write an article, you need to look up the top-ranking pieces on the topic. They will be used as sources.
Next, you should choose one of those sources (usually the best ranking article written on the exact topic you've been assigned) and enter its URL on Ahrefs. You can also test different articles, paying attention to the number of organic keywords (in the top panel where it says 377 for this page). The more keywords a page has, the better. Avoid pages with less than 50 keywords.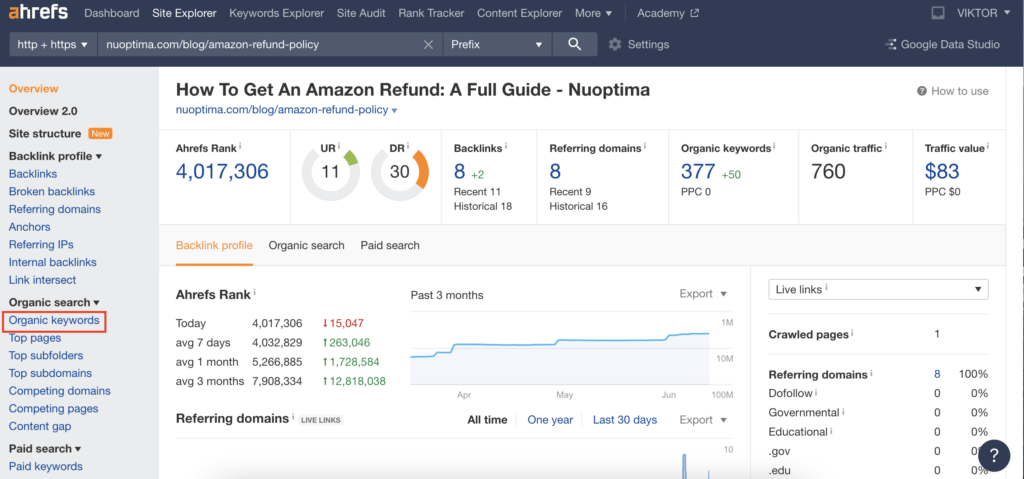 You can change the country to the UK, but usually, that's not advisable as it will return fewer keywords. Next, press Export to download a file with keywords and use that list to choose keywords for meta tags, H2s and the article in general. Include a list of 10+ keywords the article includes at the beginning of the final document.

We use the keyword clustering method to create content (you can read about it here). Thus, the keywords you use in the articles (and include at the top of the document) should be highly topical.
For example, if you are writing an article on "Why buy an EV in 2022?", "electric vehicle" will not be one of your focus keywords (but "reasons to buy an EV" will be).
Important! You should adjust keywords to avoid introducing grammatical mistakes in the article. For example, if the keyword is 'best EV app UK', you should change it to 'best EV app in the UK' or 'best EV apps in the UK'.
Slug
The slug is the part of a URL that goes after the website address. It should contain up to 5 words that convey the topic of the article. For example, in this URL
https://nuoptima.com/amazon-fba-brokers
The slug is "amazon-fba-brokers"
Metatags (meta title and meta description)
The meta title and meta description are only displayed on the search engine results page.

The meta title should be up to 55-60 characters long. It should be marked using the "Title" style in Google Docs. It should be written around 1 long-tail keyword.
The meta description should be up to 150-160 characters. It should be in italics. It should contain at least 2 different long-tail keywords (more is better).
You have to write metatags around keywords from Ahrefs. Do NOT just come up with what you think will rank on Google.
You don't necessarily need to use questions in the description, but you have to include long-tail keywords.
Aalways include a call to action in the description.
Meta description examples:
Article topic: How to start a business on Amazon?
Bad meta description: Do you want to start your own online business? Do you think selling on Amazon is a good idea? This article explains how to start a business on Amazon.
Good meta description: How to start selling on Amazon? How to become an Amazon seller? Discover how to start a business on Amazon in this article.
Note: The bad meta description shows mistakes made by 95% of copywriters. While the description seems relevant at first glance, it contains only one long-tail keyword in the last sentence. It also doesn't have a CTA. The second description is much better for SEO because it contains 3 long-tail keywords.
Article topic: How to prevent weight gain during menopause
Bad meta description: Have you gained weight during menopause? Want some advice on how to lose menopause weight? Here's what you need to do.
Good meta description: How to avoid weight gain during menopause? How to stop putting on weight during menopause? Find tips here.
Article topic: Vitamin C in skincare
Bad meta description: Vitamin C is an antioxidant nutrient that improves skin tone, reduces signs of ageing, and eliminates dark under-eye circles.
Good meta description: Is vitamin C good for your skin? What does vitamin C do to your face? How to use vitamin C on the skin? Read this article and find out more.
Note: Please check the length of the meta title and meta description EVERY TIME + make sure that the description contains at least 2 DIFFERENT long-tail keywords (more is better). Please take an extra minute or two to get these right. This is by far the most frequent issue.
Tip: To check the number of characters, highlight the title or description in Google Docs and go to Tools -> Word Count.
H1
This is the title of the article that will appear on the page. The H1 should also be written around a long-tail keyword. It should be different from the meta title.
Key points
Each article should start with a summary that more or less answers the reader's question right away. The goal of the summary is to keep the person on your page and prevent them from leaving to read other articles in search results. Your website should be the endpoint of their search – if the person sees a long article without an obvious solution to the reader's problem, he or she will leave.
This section should be comprised of 3-6 key points, 1-2 sentences each. The key points should convey the main ideas in the article.
Body of the article
Each article should be well-structured and have a logical flow to it. At the same time, it should still be different from the source articles, so you need to be careful and make sure that your piece doesn't end up having the exact same structure as other articles on the topic.
Each article should be structured using H2s, H3s, and even H4s, if necessary. The headings should include individual keywords or even long-tail keywords, if possible. Avoid using unnecessary words such as 'tip one'. You can replace these with numbers.
Short conclusion
In some cases, it's good to include a short conclusion to reiterate the main idea of the article and once again remind the reader of the client's products/services. However, keep this section brief, as we already have a key point section that acts as a summary.
FAQs
Find 3-7 questions relevant to the topic from Google's People Also Ask section and write 1-3-sentence answers to them. Avoid making the answers too long. These answers may repeat the information already provided in the article. We include these questions in the hopes that Google chooses to show our answers in the People Also Ask section, which will draw more traffic to the article. Thus, it's especially useful to find questions that don't have a very good or precise answer and provide a better one in your article.
You can use this service https://tools.alekseo.com/askey.html to find questions (choose People Also Ask, English language, United Kingdom, depth 2). Or you can enter the topic of your article in Google search, scroll down to the People Also Ask section, open and close different questions a few times to get more options and choose from those questions.
Note: Don't try to come up with questions yourself – use the wording provided by Google. The questions should be related to the TOPIC of the article and not just the field in general.
Images
Each article should have 1 cover image (landscape orientation), which will be displayed at the top of the page, and at least 3 more images in the text. Ideally, images should add value to the article. It is better to add useful infographics or illustrations to the text rather than simply filling it with useless stock images.
However, if this is not possible, you can use images we pay for (from iStock) or public domain images (from free stock image websites like Unsplash and Pixabay) in the articles. If you use sites other than iStock, make sure that they are indeed free to use before including them in the article, as some stock websites feature images with different licenses.
Please don't use anything else (images you've found on Google, screenshots, etc.). One exception is logos if you're writing about a company or software. In those cases, you can get logos from company websites.
All images should be in standard image formats like .jpg and .png when you upload them into Google Drive folders (no PDFs).
Once you have all the images, put them in their intended locations in the Google doc. Once your article is ready, create a Google Folder, title it with the client's name and article topic, and add the Google doc with the article and all image files to it. Images should be labelled in the order of their appearance in the article + the cover image should be named as such.
Videos
Try to find a video on YouTube that suits the topic of the article you're writing and include a link somewhere in the article. But only choose videos posted on channels that don't compete with NUOPTIMA (or the client you're writing for). For example, for NUOPTIMA, videos from the official Amazon YouTube channel, Ahrefs, Semrush, etc. are okay to include. However, videos from companies that provide Amazon consulting or SEO services are NOT okay.
You probably won't be able to find a suitable video for each article but at least try.
Links
The only links that should be present in the body of the article are internal links to other NUOPTIMA pages (or another client you're writing the article for).
Links to different services like Ahrefs, Google Search Console, etc. are not necessary, just naming service is enough.
When you want to reference a study (if the article uses information backed up by scientific research) or, for example, a statistic, write out the reference instead of putting a link to it in the article.
Examples:
A study conducted by a research team from Harvard University in 2020 has shown that…
In 2015, a team of researchers led by A. Brown, PhD. showed that…
A 2020 poll conducted by GlassDoor showed that 60% of people prefer to work from home.
In addition to this, please include a list of resources you used to write the article at the end of each document.
Grammarly
You should always use Grammarly Premium when writing and editing your article. We provide access to an account to all our writers.
There are two ways to use Grammarly – the browser extension and their website. You should always double-check all articles on the website because the extension often fails to check some sections of the text or misses some errors, but they always show up when you use the website.
Grammarly is fallible, so you should always evaluate the suggestions it gives you, as they are often wrong.
What information to include in the article
Our goal is to write a better article than the ones that already exist on the same topic. Simply taking an existing article and rewriting it is not going to make your article rank well, as Google will be able to detect what you did.
Instead, we want to create a page that gives the reader the most complete information on the topic. Before writing an article, take a second to think about what the reader may want to know.
For example, if the article talks about a certain medication for dogs, the reader may be looking for information about the drug's uses and effects. However, they also probably want to know the dosage instructions, side effects, drug interactions, alternatives to the drug, etc. We don't want the reader to leave our page and go back to search for more info on Google (this will result in lower rankings). Thus, it is our job to provide them with the most complete information possible.
Here's another way to look at this: if you find two sources on the same topic as your article and the 1st source contains information A+B and the 2nd source has information B+C, your article needs to have information A+B+C. If it has more complete information, there's a good chance that your article will achieve higher Google rankings than the first two.
Optics
You should always keep in mind who the client is and what they sell when writing the article. This is important to avoid accidentally writing something unflattering or harmful to the client's product or brand. For example, let's say the client sells social media likes and followers. In this case, a copywriter should not say that buying them can hurt social media profiles in SEO articles.
You should also take a moment to think about how the topic of the article relates to the client's products and services and make that connection in the article. You should also reference the client's product at least 1-3 times throughout the article where such references are relevant.
Things to keep in mind
Please set Google Docs access to "Allow everyone to edit" before you submit your tasks.
Most of our clients use British spelling on their websites, but some prefer American. Please ask your supervisor if you're not sure which one to use or if they haven't provided this information to you.
There are no specific guidelines regarding keyword frequency. However, it's crucial to use long-tail keywords when creating the meta title, meta description, H1, and H2s. You should also try to use keywords in the text of the article where applicable.
You can use quotes to highlight the main points. Highlighting key thoughts in the text using a different style will help readers perceive the article better.
Avoid plagiarism. This should go without saying, but the copywriter should be extra careful to avoid plagiarism and self-plagiarism. Even if the same thought is repeated in different articles, it needs to be phrased differently. Simply substituting words for synonyms is not enough.
Maintain a logical flow to the article. Make sure that you don't repeat the same points over and over and don't write things that contradict each other.
Talk to an SEO expert
We work with 100+ businesses. Book a slot now to talk to one of our experts.