Running a bank is not just about receiving deposits and making loans. Many other daily tasks must be undertaken to keep the business afloat. One of these tasks is attracting and gaining new customers. Therefore, many banks are optimising their websites to help draw potential customers to their company through the internet.
There are three primary methods that business owners utilise to attract people to their websites. These methods are pay-per-click (PPC) adverts, social media marketing, and search engine optimisation (SEO). While all three are viable options, it is vital to understand their different pros and cons to help you make an informed decision about what is best for your company.
Firstly, when considering SEO, it is essential to know that it can take a few months before results begin to show. However, through using an SEO strategy, you will notice that the positionings of your website will improve within search results, as well as witnessing a distinct increase in organic traffic visiting your website. Moreover, your site will keep these positions even if you cease using SEO services at some point in the future. This essentially means you can indefinitely continue receiving free traffic.
Looking at both PPC and social media marketing, these options have distinctly different pros and cons to SEO. On the one hand, using these methods will provide fast and effective results as you will witness an increase in visitors to your website as soon as you start the advertising campaign. But, these choices are costly. Plus, unlike SEO, they will not provide you with any long-term benefits. Website visitors will only keep flocking to your company website for as long as you continue paying for advertising services.
Weighing up the benefits and disadvantages, it is clear that SEO is a much better option than both PPC and social media ads, where vast sums of money will need to be paid year after year to maintain traffic. Furthermore, potential customers will trust your bank more if they locate your website organically through search engine results rather than seeing an advert pop up on the internet.
The key question to ask is, just how effective can a comprehensive SEO strategy be for a bank? This article demonstrates that a watertight SEO strategy can be invaluable for your business and its continued success.
Search Demand for Banks and Banking Services on Google

The image above presents Google search data for the keyword 'bank'. Globally, people search for this term approximately 2.2 million times a month! Roughly 608 thousand of these searches originate from the United States (US), 369 thousand in India, 200 thousand in Germany, and 90 thousand in the United Kingdom (UK). This demonstrates that a vast number of people are seeking out banks and banking services in many countries every single day. Consequently, efficient SEO work can assist you in drawing tens of thousands of visitors to your website every month. By choosing to hire an SEO agency to improve your bank's website rankings in search results, you will be in a firm position to get a high return on investment (ROIs) for many years to come. This is especially true because both PPC and social media advertisements are becoming very expensive and competitive. For these reasons, many banks find SEO an irresistible option for their business.
People Use a Range of Search Terms to Find Banks
One of the most important components of a great SEO strategy is keyword research. This is when SEO experts analyse search terms before deciding which website pages need to be created and optimised for keyword usage. This is so the maximum amount of traffic is drawn to your site. Simply put, 'bank' is just one possible keyword that might be entered by someone looking for banking services. Many other potential search terms might be used when seeking out such services. Below, we present a few examples of other queries people might enter on Google when looking for a bank:
'Banking services'.
'Bank near me'.
'Opening a bank account'.
'Bank in…' + location. For example, 'bank in Minnesota'.
'Bank for…' + reason. For instance, 'bank for a loan' or 'bank for financial advice'.
'Bank for children'.
'Banks open on a Saturday'.
There is evidently an extensive range of keywords that people use when seeking out a bank and the services they provide. Below are two screenshots that show the average monthly search volume for bank-related keywords. This presents a vast number of people entering these search terms every month.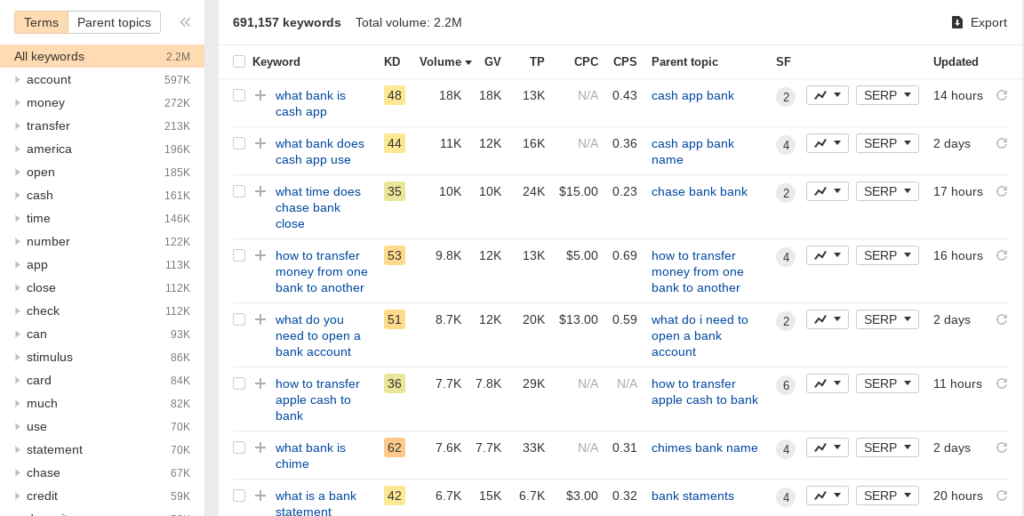 Other Banks are Already Enjoying SEO Results
Comprehensive search engine optimisation can provide incredible results. SEO can help websites show up higher in search engine results, but it also has the potential to save the company thousands of dollars on advert costs each month. To demonstrate further how advantageous SEO services can be for a bank specifically, below are two examples of bank websites that are enjoying a phenomenal return from incorporating a great SEO strategy.

Our first example is Fifth Third Bank, a prominent US consumer bank with over 1000 full-service locations. The organic traffic for www.53.com is 3 million, which is the number of people that enter the website once they have seen it show up in search results. The traffic value is a staggering $4 million! This sum of money represents what the company would need to spend months to purchase the same traffic they naturally get from contextual advertising systems, such as PPC or social media advertisements. In a nutshell, Fifth Third Bank can save a massive $4 million every single month just because it has impressive positions within search engine results. Next, we consider which pages bring the majority of traffic for this website: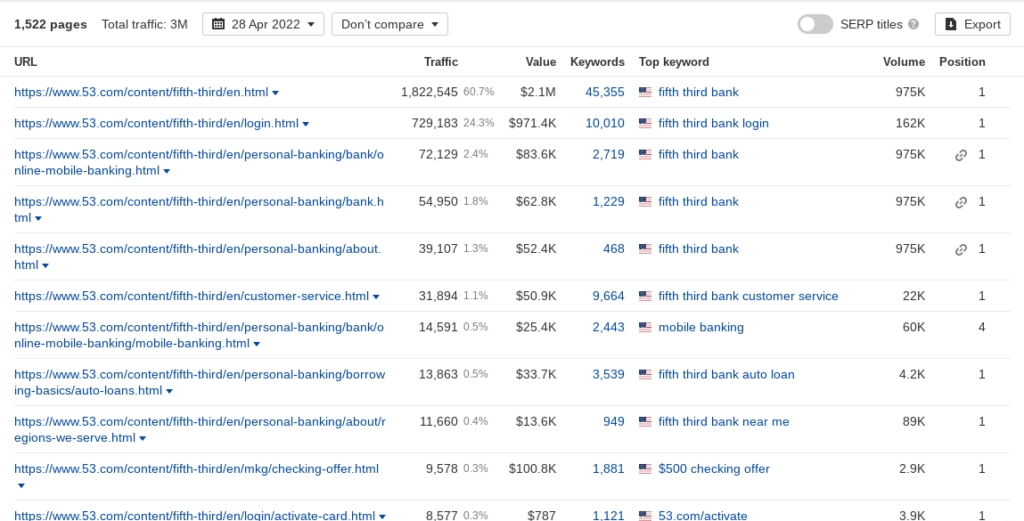 The screenshot above shows that many pages attract high traffic from Google for this website, including personal banking pages. With SEO, an expert analyses which pages are already on your website and then optimises them to obtain even more visitors to the site. They also analyse the pages on competitor sites. Furthermore, an efficient SEO expert makes new pages to draw the most organic search traffic possible. While this is an integral aspect of SEO, this is only one part of it. There are countless other tasks that SEO agencies undertake to promote businesses and websites as efficiently and effectively as possible.
It might not be surprising to see that a highly established US bank is enjoying such great results, but what about a smaller, local US bank? Can SEO work still offer exceptional results? The following example will demonstrate that it absolutely can.

Cathay Bank is a financial services business that was initially founded to support the growing Chinese American community in Los Angeles. It is a local bank in the US with just over 60 branches. www.cathaybank.com has 74.7 thousand monthly organic visitors to its website. Moreover, it has a traffic value of $83,700. This website ranks highly on Google for many keywords and draws highly impressive traffic figures. Cathay Bank gains almost $85,000 worth of free traffic. This is money that they can now save rather than spend it on PPC or social media advertising.
PPC ads involve paying money in exchange for traffic. This means that as soon as you stop paying for these advertising services, your increased traffic will also stop. For this reason, PPC is not an ideal choice as there is no longevity. However, with search engine optimisation, you can maintain your search positions and keep receiving traffic even if you no longer use SEO services. SEO is a superior option because it can equate to conserved money, boosted website rankings, and retained traffic to your website. All this without the financial cost of paying for advertising channels such as social media ads. Again, let's consider the pages drawing the most visitors to this website: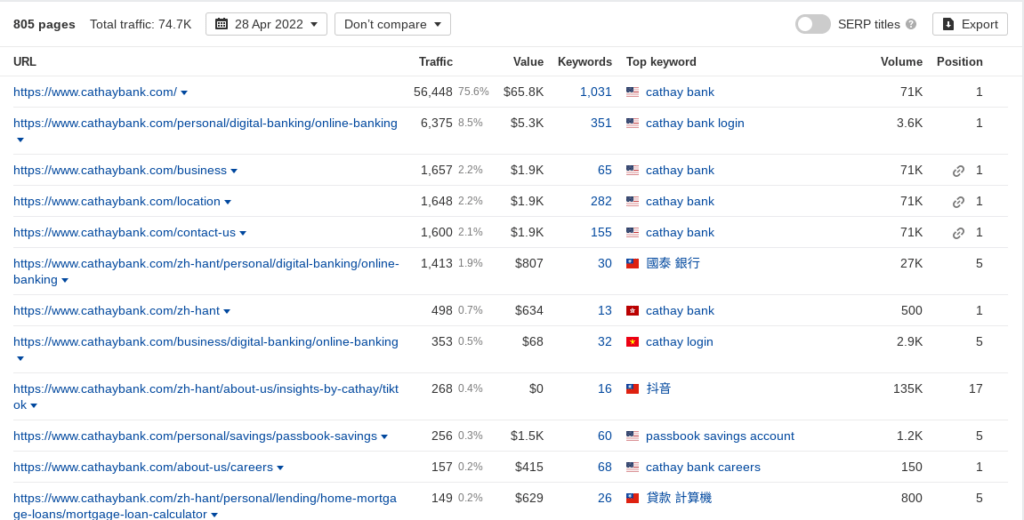 A large number of pages are collecting traffic from Google for this website. And looking at the keywords, we can see that many search terms can be used to draw free traffic on Google. Examples include 'Cathay bank', 'Cathay bank login', and 'Passbook savings account'. An excellent SEO agency can collect this information about your website and its affiliated pages to create, optimise, and promote these pages in an effective way. This will allow you to reap the rewards of a great SEO strategy and ultimately gain more business.
As we can see from our two examples, SEO can be a highly effective and desirable tool regardless of the size of the bank in question.
What is Local SEO?
Local SEO is crucial for businesses that provide certain services locally. Local SEO approaches are used to ensure that a website is displayed to someone who is within close proximity to the company. For instance, if someone searched 'bank near me' on Google, they would find websites run by banks within their local surroundings. This is key for businesses that offer services in person, including banks. Many companies choose to add their website to Google My Business and their location to Google Maps. However, while this is a possible option, it will not bring the maximum amount of traffic hoped. The only way to gain tangible results is by utilising a thorough SEO strategy. This will help your website rise in search engine rankings.
What Does an Excellent SEO Agency Do?
A fantastic SEO agency is undoubtedly a great investment for banks. However, getting exceptional results is not easy and requires much due diligence, knowledge, and skill. This is no exception for a website that offers and provides services, such as a bank. Google has very high standards to prevent poor quality websites from reaching the highest and best positions in its search results. This is why expert SEO services are required to help your website become as effective and attractive as possible.
NUOPTIMA is a well-established SEO agency that has been providing SEO services to many different companies for years. Our work has involved work for companies in various industries, including e-commerce, SaaS, startups, and financial companies. This displays our expertise across many different industries. NUOPTIMA knows what needs to be done to get your website situated confidently on the first page of Google's search results. To demonstrate what sort of work we do to improve your Google rankings, here are a few examples:
Put link placements on relevant banking directories.
Create any pages needed to help your website draw the maximum amount of organic traffic.
Optimise pages already in existence to make sure they abide by Google's best practices and rules.
Create SEO optimised content so your site can rank on Google for more keywords.
In summary, a fantastic SEO strategy can bring actual and impressive results when undertaken by SEO experts. NUOPTIMA possesses a highly-qualified SEO team that can help your bank and its website attain premium results. Book a free discovery call with our team today to further explore how SEO techniques can be used to provide incredible results for your bank.
Talk to an SEO expert
We work with 100+ businesses. Book a slot now to talk to one of our experts.