Running a crypto or blockchain company involves undertaking countless daily challenges to ensure its success. One of the most important challenges is to source and gain new customers. SEO is a great way of attracting new customers to your business.
There are numerous ways that business owners can bring people to their websites. These methods include pay-per-click (PPC) ads, social media marketing, and search engine optimisation (SEO). Each option has different benefits and disadvantages that need to be taken into account.
For instance, one of the key benefits of PPC and social media marketing is that they will give you fast results. You will begin to get new visitors to your website the moment you begin the advertising campaign. On the other hand, PPC and social media marketing are pricey and do not present you with long-term advantages or results. You will only continue to get new website visitors to your site for as long as you pay for adverts. Once you stop paying, you will stop receiving new visitors.
The third option mentioned, SEO, has different pros and cons. The main disadvantage is that it can take some months before you notice any results. However, by investing in SEO services, you will see your website's positions improve within search results, which will draw more organic traffic to the site. Moreover, your website will keep these positions even if you decide to stop using SEO services in the future (unlike with PPC and social media marketing). Essentially, you can keep receiving free traffic indefinitely after hiring SEO services for numerous months or years!
For these reasons, SEO services are seen as a much better investment than paying substantial sums of money for PPC or social media advertising constantly. A further reason SEO is so popular is that potential customers tend to have more trust in your business if they find your website organically through search engine results rather than seeing an advert for your company pop up on their screen.
Many crypto and blockchain company owners worry whether they can attract premium-quality leads to their sites and companies using SEO. The answer is a resounding yes. Below we will demonstrate just how effective a strong SEO strategy can benefit the success of your crypto or blockchain business.
Search Demand for Cryptocurrency on Google

The image above displays Google search data for the term 'cryptocurrency'. Globally, people search for this word 2.7 million times a month on average! An average of 721 thousand of these searches occur in the United States, 689 thousand in India, 197 thousand in the United Kingdom, and 101 thousand in Canada. Evidently, a huge number of people are looking for cryptocurrency and related services in your country daily. Therefore, a solid SEO strategy can help you bring tens of thousands of people to your site each month! If you hire an SEO company to help promote your crypto or blockchain business website in search results, you will be in a fantastic position to get a high return on investment (ROIs) for years to come. This is particularly true as PPC adverts and social media marketing are becoming more and more expensive and competitive.
People Use Many Search Terms to Find Crypto and Blockchain Companies
It is essential to know that 'crypto companies' and 'blockchain companies' are just a few potential keywords. People might enter many other search terms when seeking out crypto or blockchain businesses. One significant aspect of SEO is keyword research. This is where experts analyse search queries and determine the pages that need to be created on the site and optimised for keyword usage to attract maximum traffic. Below are a small number of examples of search queries people enter on Google when they seek out crypto and blockchain companies:
'Cryptocurrency'
'Blockchain for software development'
'Blockchain for…' + a particular service. For instance, 'blockchain for healthcare', 'blockchain for medical records', and 'blockchain for supply chain'.
'Cryptocurrency for…' + a particular service. For instance, 'cryptocurrency for gaming'.
Below, the screenshots show the average monthly search volume for a range of cryptocurrency-related keywords. Clearly, there are a large number of people seeking out these keywords every single month. This means that an excellent SEO-optimised crypto or blockchain website can draw thousands of free visitors on a monthly basis just by showing up on Google for these keywords.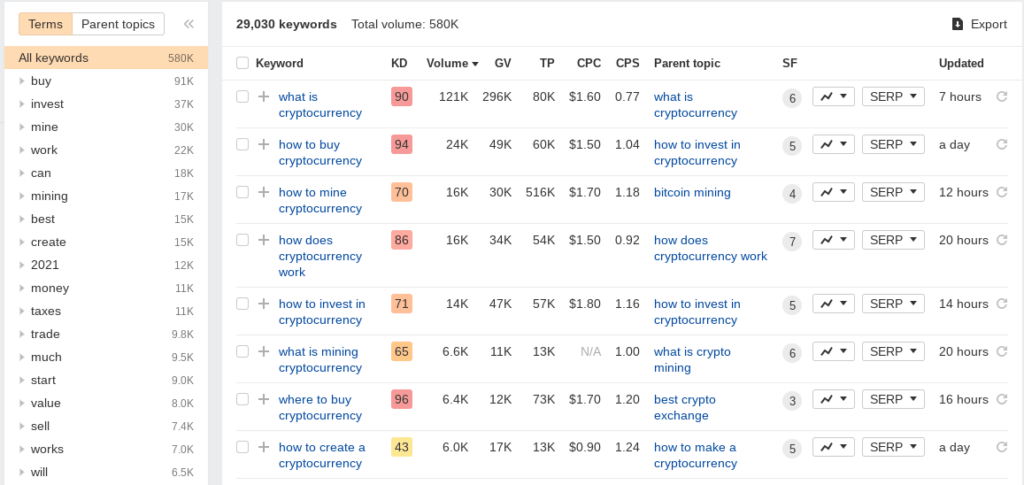 Other Crypto and Blockchain Companies are Already Getting Results from SEO
An effective and solid SEO strategy can bring phenomenal results, assisting websites in showing up higher in search results and potentially helping website owners save thousands of dollars on advertising services every month. Below, we present examples of crypto or blockchain company websites enjoying a fantastic return from their SEO efforts to demonstrate just how beneficial SEO services can be.

The first example is www.juro.com. Juro is a blockchain company and developer of a legal contract management platform designed to make the legal process faster, more intelligent, and more collaborative. The website has 27.7 thousand average monthly visitors (people who visit the site after seeing it pop up in Google search results).
The website's average monthly traffic value is approximately $76.2 thousand. This amount illustrates how much money the owner of the website would need to spend every month to purchase the same amount of traffic they get organically from contextual advertising systems, such as social media marketing. Consequently, the website owner can conserve $76.2 thousand every month because their site enjoys brilliant positioning in Google's search results.
The following screenshot displays which pages bring the most traffic for this site.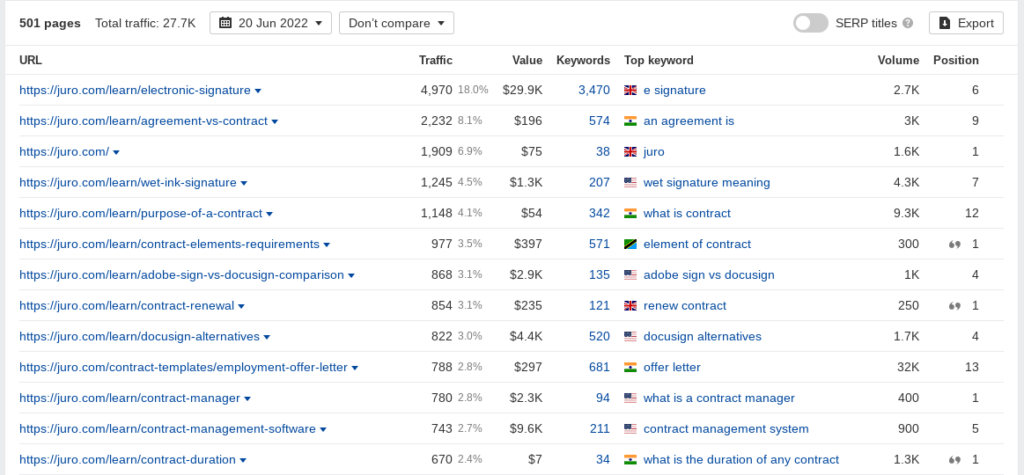 Some of the keywords bringing the majority of traffic to these pages include 'Juro', 'e signature', 'renew contract', 'element of contract', and 'DocuSign alternatives'. This displays there is a substantial range of keywords that sites can use to attract free organic traffic on Google, including brand traffic. Furthermore, there are a variety of pages that draw an impressive amount of visitors from Google. All you require is the assistance of a qualified SEO agency to create, optimise and promote those pages, bringing increased business to your company.
Let's now consider a cryptocurrency exchange company:

The second example is www.uphold.com, a UK-based cryptocurrency exchange and multi-asset brokerage platform that offers trading on over 115 cryptocurrencies. This website gets 179 thousand average monthly visitors from Google search results. The website's monthly traffic value is roughly $22.3 thousand, so this is how much money the website owner can save each month rather than spending it on PPC ads because of Uphold's fantastic positions in Google's search results.
The key factor to bear in mind is that PPC adverts essentially involve purchasing traffic in return for money. So, it follows that once you cease paying for these ads, you also stop receiving traffic. But, with SEO, your search positions will be maintained, and you will keep getting traffic even if you no longer choose to use SEO services. By hiring a qualified SEO agency and boosting your website's rankings on Google, you can save money and keep your website's traffic without needing to spend money on advertising channels such as social media marketing or PPC adverts.
Let's now explore which pages bring the majority of traffic to this website: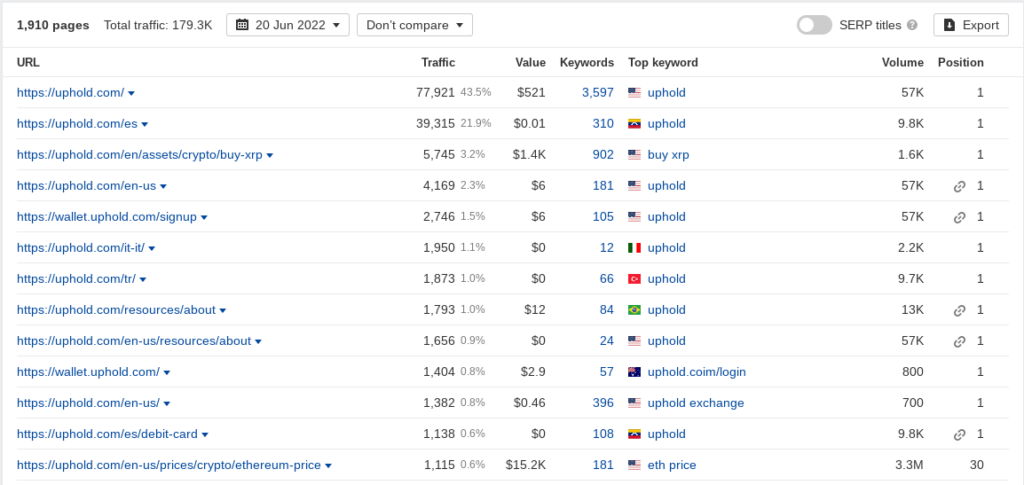 As we can see, the pages displayed in the list above draw impressive traffic. An SEO expert can examine the pages on your website currently (as well as on competitor sites), optimise existing pages to help draw even more people, and make new pages to collect as much organic search traffic as possible. Of course, this is simply one aspect of SEO work, and there are many other things that SEO agencies do to help promote websites.
What Does an SEO Company Do?
As we have shown, SEO is without question a great investment for crypto and blockchain companies. However, achieving such excellent results requires much skill, expertise, and hard work. This is no exception for sites offering and providing services. Google has strict and high standards to ensure that bad-quality websites do not reach the premium positions in search results.
But, NUOPTIMA has been working alongside brands in a whole range of industries for several years. Moreover, our experts have much knowledge in doing SEO for clients, including startups, medical clinics, SaaS, e-commerce, and more. Consequently, we know exactly what needs to be done to get your website to appear on the first page of Google's search results. Below we detail a handful of things we can do to improve your crypto or blockchain company's rankings on the search engine Google:
Create SEO-optimised content to assist your website to rank for more keywords on Google.
Put link placements on reputable crypto and blockchain company online directories and listicles.
Optimise existing pages to confirm they comply with Google's best rules and practices.
Create all the pages needed to assist your site in collecting as much organic traffic as possible.
Thorough and efficient search engine optimisation can bring excellent results if done properly and correctly by qualified SEO experts. At NUOPTIMA, we have a strong SEO team full of expertise to help your site achieve desirable results. Book a free consultation call with our expert team today to find out how we can use SEO to attain outstanding results for your site and your crypto or blockchain business.
Talk to an SEO expert
We work with 100+ businesses. Book a slot now to talk to one of our experts.