When it comes to running a cyber security company, it is not purely about protecting a client's systems and data from unauthorised access. While this is a key part of the business, there are also many other challenges that need to be tackled daily. One such challenge is finding and securing new customers. Without customers, you have no business. As a result, many cyber security companies are optimising their websites to help draw new customers to their businesses online.
When considering how to attract people to your website, there are several different methods that you can use. The three main methods are pay-per-click (PPC) adverts, social media marketing, and search engine optimisation (SEO). Each approach has differing pros and cons.
For instance, with PPC and social media adverts, a primary advantage is that they provide you with instantaneous results. As soon as you begin the ad campaign, you will start to receive website visitors. On the other hand, both these methods are costly and will not provide you with any long-term results. It is imperative to remember that with these options, new visitors will only continue visiting your website for as long as the advertising campaign is being paid for.
When weighing up the third option, there are different pros and cons. Search engine optimisation's main con is that it can take several months before results begin to show. But, critically, by using a comprehensive SEO strategy, the positions of your website in search results will improve and bring increased organic traffic to the site. Moreover, your website will also keep these positions even if you choose to stop using SEO services at some point in the future. SEO allows you to continue getting free traffic indefinitely, unlike PPC and social media marketing.
Considering the long-term, SEO services are a far superior option to paying large amounts of money for PPC or social media adverts every year. Plus, customers overall trust your business more if they see your website organically in search engine results rather than seeing an advert pop up for your cyber security services.
But, just how effective can a watertight SEO strategy be for a cyber security company? This article will demonstrate just how effective a great SEO strategy can be for both your website and your cyber security business as a whole.
Search Demand for Cyber Security Services on Google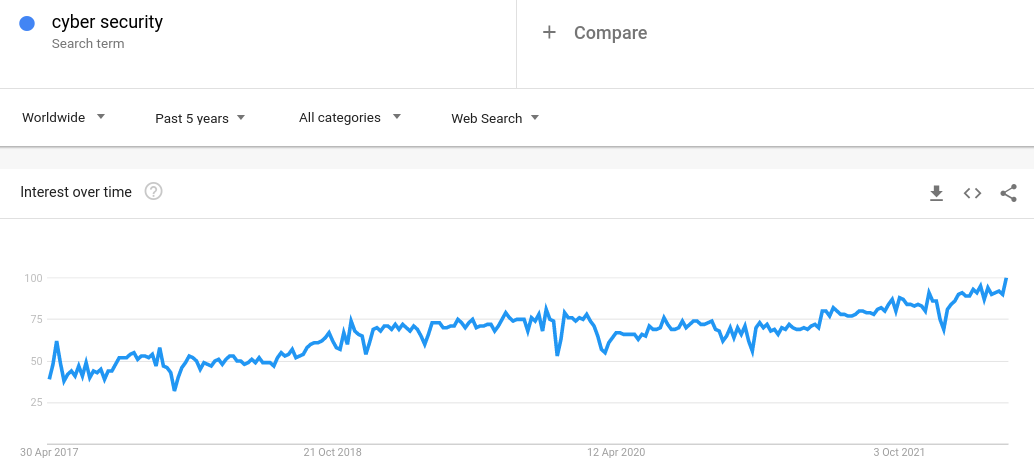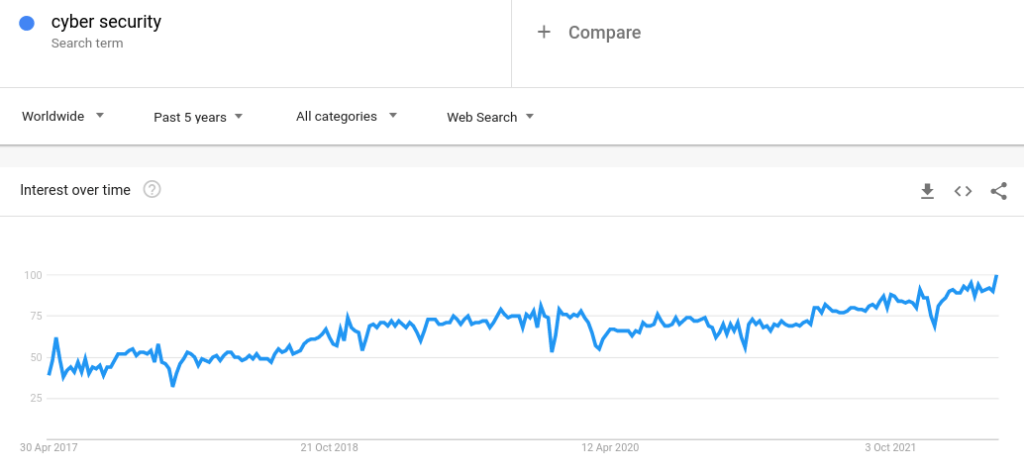 The screenshot above shows data from Google Trends on the search term 'cyber security'. Over the past five years, there has been steady and continual growth for this keyword worldwide. This means that an increasing number of people are looking for cyber security companies and their services online every year, demonstrating more popularity and interest. Consequently, this means that by choosing an expert SEO company to help your cyber security company website in search engine results, you will be in a solid position to keep getting an increasingly high return on investments (ROIs) for many years to come. This is especially true as PPC and social media adverts are becoming increasingly expensive and competitive.


The second screenshot demonstrates Google search data for the term 'cyber security'. People search for this phrase globally approximately 322 thousand times a month! Roughly 92 thousand of these searches are made in India, 65 thousand in the United States, 20 thousand in the United Kingdom, and almost ten thousand in Australia. Therefore we can conclude that a significant amount of people are seeking out cyber security products and services across many countries daily. By incorporating a great SEO strategy into your business, you can draw thousands of visitors to your cyber security site every month.
Many Search Terms are Used to Find Cyber Security Companies
A core aspect of excellent SEO work is keyword research. This is when SEO experts analyse search queries and, from this information, decide which pages need to be created and optimised on the website for keyword usage. This is so the maximum amount of traffic can be collected. Part of this process involves understanding that search terms such as 'cyber security' or 'cyber security company' are just two possible phrases that might be inserted by people looking for such services. Many other key terms might be used. To demonstrate, below are several examples of search queries that are entered on search engines when people seek out cyber security services:
'Cyber security company in…' + location. For example, 'cyber security company in Cornwall'.
'Cyber security for…' + a particular type. For instance, 'cyber security for cloud security'.
'Cyber security for…' + type of business. For instance, 'cyber security for small business'.
Descriptions of issues relating to cyber security, such as cyberattack, phishing, and malware.
The two screenshots below demonstrate the average monthly search volume for keywords relating to cyber security to further display the sheer amount of search terms used by those seeking out cyber security companies. There are tens of thousands of people searching for these phrases every month. So, through good SEO of your website, you can draw thousands of free visitors to your site each month just by popping up on search engines for these keywords.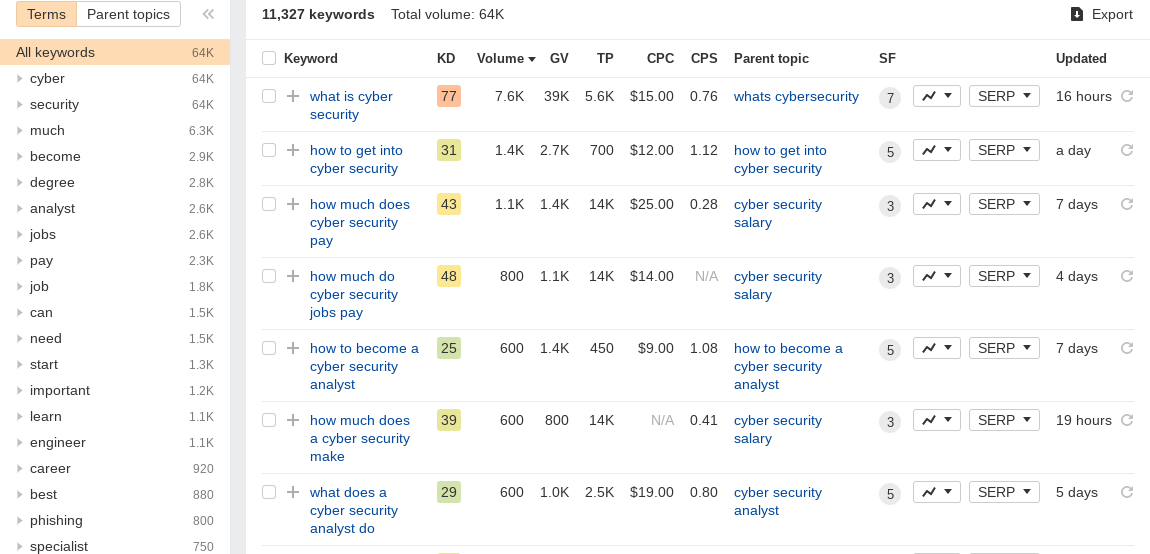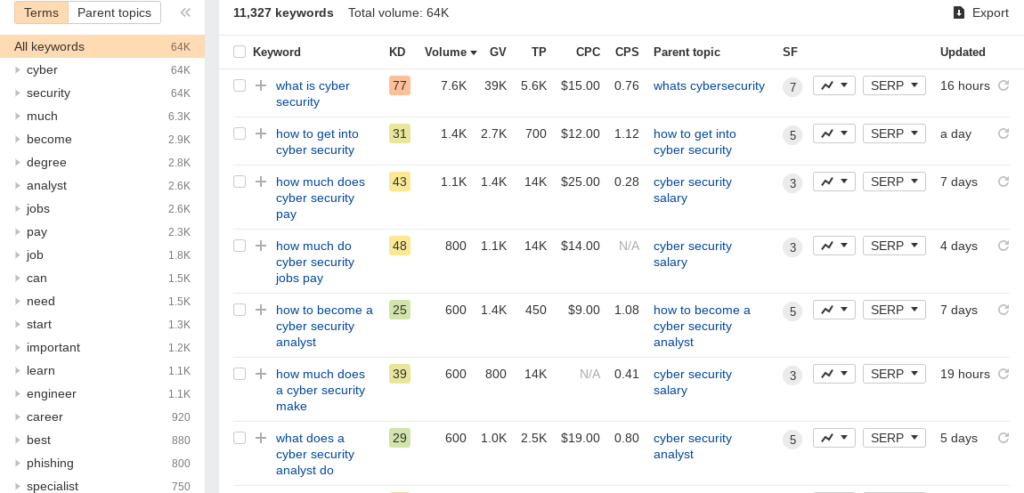 Other Cyber Security Companies are Already Witnessing Fantastic Results from SEO Services
SEO can provide enviable results. It can help websites to show up higher within search results. It also has the potential to save companies vast sums of money on advertising each month. To show how effective SEO can be for a cyber security company, below are some examples of cyber security websites enjoying an impressive return because they have utilised SEO techniques.


The first cyber security website to consider is www.akamai.com. This company is an American content delivery network, cloud service, and cyber security company founded in 1998. It provides Internet and web security services. This website has organic traffic of 148 thousand. This is how many people visit the website once they have seen it pop up in search results. The traffic value is a highly impressive $369,000. This money represents what Akamai would need to spend every month to buy the same traffic that they organically get from contextual advertising systems, such as social media marketing. This means that Akamai can save almost $370,000 every month purely because of its fantastic positions in Google's search results. The following image shows which pages bring the most traffic for this website: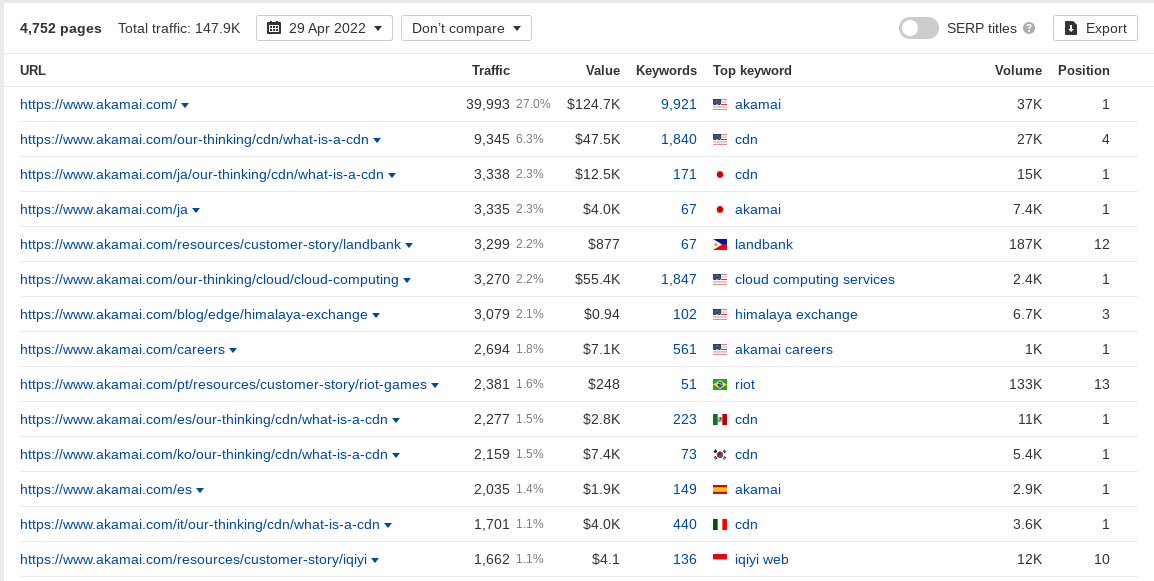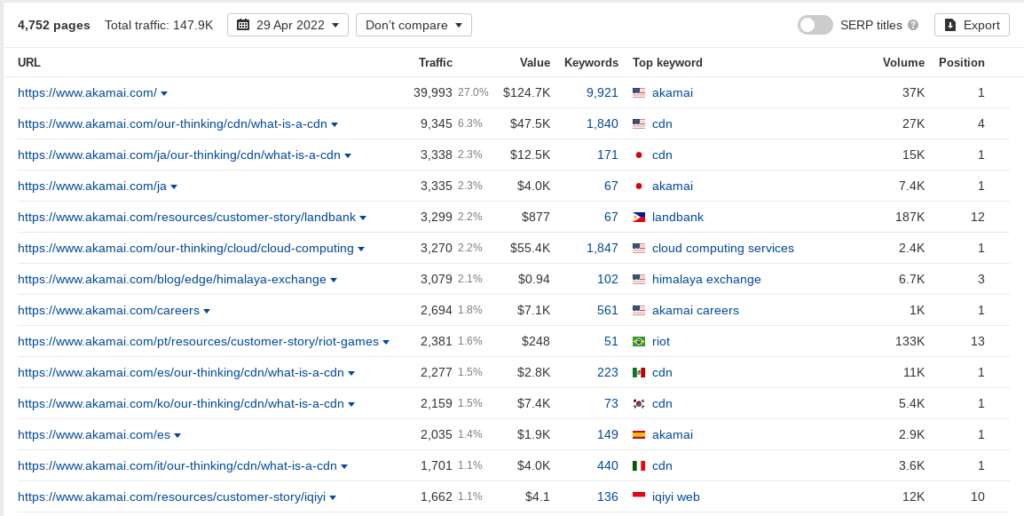 The image above shows a significant number of different pages that draw traffic from Google (and in many countries). An SEO expert can consider the pages currently on both competitor websites and your site, optimise existing pages to attract further people to your website, and create brand new pages that will bring as much natural search traffic as possible. This is a critical aspect of good SEO work, but it is just one facet of an SEO agency. There are many other tasks that an SEO agency undertakes to assist in promoting websites.
Akamai is a highly established cyber security company, so the results may not overly surprise you. But what about a more recently founded cyber security company that offers different cyber security services? Is SEO still a feasible venture? The information below displays the promising results.


Founded in 2009, www.armor.com is an American cyber defence company that offers customer-centric security outcomes for healthcare, financial, and e-commerce institutions. The results here also prove highly encouraging. Armor draws 14.2 thousand organic visitors to its website every month. It ranks highly on Google for the search term 'cyber security company Texas' and many other keywords. The traffic value is a desirable $11,300. This means that Armor gets over $11,000 worth of free traffic from Google. Therefore, the business can conserve this money that would otherwise have been spent on advertisements.
The premise of PPC adverts is that you have to spend money in exchange for increased traffic. This traffic will stop the moment you no longer pay for PPC ads. But, by choosing to use SEO services, you will maintain your search positions. Furthermore, you will also keep getting traffic to your site even if you stop using SEO services. The key takeaway here is that hiring an SEO agency can save money, keep the traffic going to your website, and boost your website rankings on Google. All this without the cost and stress of spending money on adverts regularly.
The screenshot below displays the pages that bring the majority of visitors to Armor's website: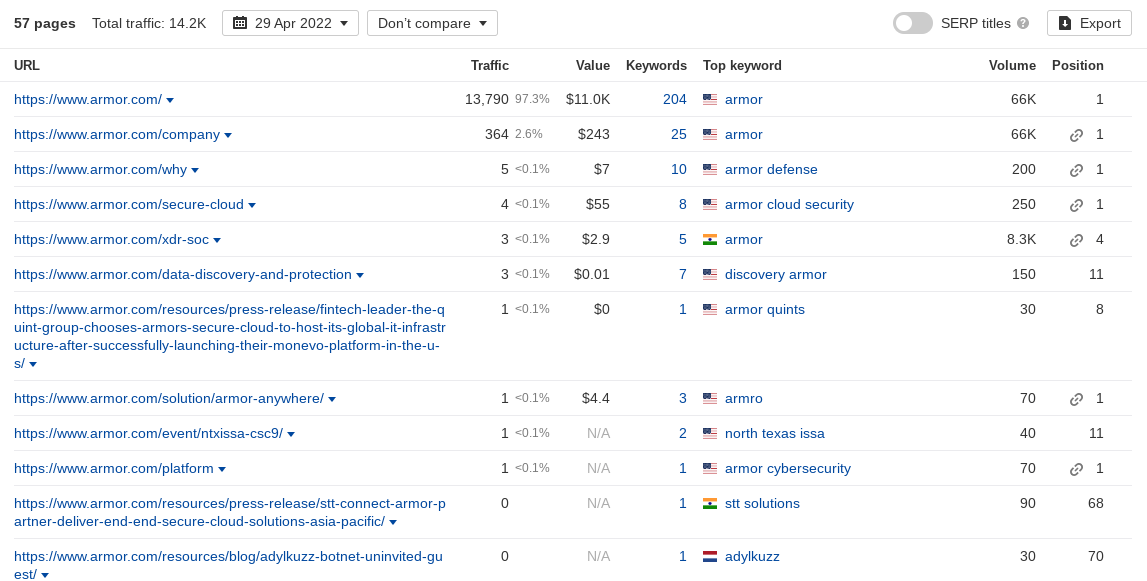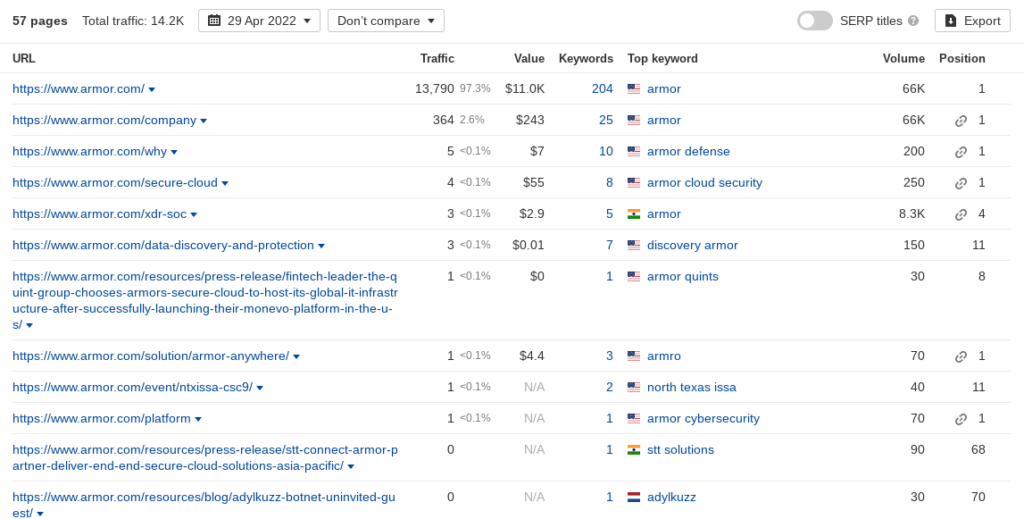 Some of the top keywords include 'armor defense', 'armor cloud security', 'discovery armor', and 'armor cybersecurity'. This displays that there is a large variety of keywords that can be utilised to attract free organic traffic on Google. Qualified SEO agencies collect this information about your website and its related pages to effectively create, optimise, and promote these pages. This will essentially help you to obtain more business.
What Does an SEO Agency Do?
While SEO is without question a marvellous investment for cyber security businesses, it is crucial to understand that it is by no means easy and involves much due diligence, knowledge, and skill. This also includes SEO for websites that provide services — including cyber security. Bear in mind that Google maintains high standards to stop websites of poor quality from penetrating the best positions within search engine results. A lot of skill and experience is required to execute successful SEO strategies, resulting in actual growth and revenue. It's not just about getting traffic, as SEO expert Adam Audette explains in their famous quote:
"Today it's not about 'get the traffic' – it's about 'get the targeted and relevant traffic." – Adam Audette, Chief Knowledge Officer at RKG ⁠
NUOPTIMA is a highly qualified SEO agency assisting brands with SEO services for many years. Our team has worked with businesses in a range of industries, including startups, e-commerce, SaaS, and AI companies. This demonstrates our widespread skills and knowledge. We know the exact tasks that need to be undertaken to get your website to show up on the very first page of Google's search results. Below are a few examples of what we can do to improve the Google ranking of your cyber security business:
Get link placements on reputable cyber security aggregator sites and directories.
Create SEO-optimised content so your website will rank for an increased number of keywords on Google.
Make all the pages necessary to help your website attain as much organic traffic as possible.
Optimise existing pages to ensure they follow Google's best practices and rules.
A comprehensive SEO strategy can bring fantastic results if done thoroughly and correctly by SEO experts. NUOPTIMA possesses a substantial and qualified SEO team that helps your website get the best results. Book a no-obligation discovery call with our reputable team today to explore how we can use SEO strategies to deliver outstanding results for both your cyber security website and your business as a whole.
Why Choose Nuoptima for Cyber Security: Client Testimonial Video
Enhancing Your Cybersecurity Impact with Nuoptima
In the fast-paced and ever-evolving world of cybersecurity, a robust online presence is a must. With the right SEO strategies, your company can boost its visibility, attract more potential clients, and establish itself as a leader in the industry.
At Nuoptima, we specialize in SEO for cybersecurity companies. Our team of SEO experts understands the unique challenges and opportunities in this sector. We use proven strategies and innovative techniques to help our clients improve their search engine rankings, drive more traffic to their websites, and grow their businesses. Reach out to us today to learn more about how we can help your cybersecurity company excel in the digital landscape.
Talk to an SEO expert
We work with 100+ businesses. Book a slot now to talk to one of our experts.
Why is SEO important for cybersecurity companies?
SEO is crucial for cybersecurity companies as it helps in attracting potential clients and establishing a strong online presence. With effective SEO, your website can rank higher in search engine results, making it easier for potential clients to find your services.
How does Nuoptima approach SEO for cybersecurity companies?
Nuoptima uses a unique approach to SEO for cybersecurity companies, focusing on keyword research, content creation, and link building. We also optimize existing pages and create new ones to attract as much organic traffic as possible.
What kind of results can I expect from Nuoptima's SEO services for cybersecurity companies?
With Nuoptima's SEO services, you can expect increased traffic to your website, higher search engine rankings, and increased client bookings. These results can lead to a significant return on investment over time.
How does Nuoptima's SEO services for cybersecurity companies differ from other SEO services?
Nuoptima's services are unique because of our specific expertise in the cybersecurity industry. We understand the unique challenges and opportunities in this field, and we tailor our strategies to meet the specific needs of cybersecurity companies.
What types of cybersecurity companies has Nuoptima worked with in the past?
Nuoptima has worked with a wide range of cybersecurity companies in the past, including startups, SaaS, e-commerce, and more. Our experience spans various fields within the cybersecurity sector, allowing us to provide tailored SEO services that meet the unique needs of each client.