As a doctor running a clinic or a business selling medical products, you want nothing more than to provide optimal care and health services to your patients and their families. At the same time, you're also responsible for managing a business in the healthcare industry that requires attention in various areas that are likely outside of your expertise. This includes implementing effective marketing strategies and constantly finding ways to attract new patients.
Digital advertising is one of the most common ways that doctors can create an online presence and build traffic volume for their businesses. Many doctors are now looking to build websites to attract more patients than ever before. However, these websites require expert marketing strategies to be able to bring in an ample amount of visitors.
There are many methods for doctors to bring in traffic to their online websites, and each has its advantages and disadvantages. Namely, PPC and social media advertisements are a tried-and-true method of achieving instant results. This method involves paying for advertising that showcases your business and links back to its accompanying website. Regardless, these ads can also be quite costly, and the results won't last very long.
On the contrary, search engine optimization tools can be used to boost the amount of traffic you receive on your website. Using effective SEO strategies will improve your website's rank position on search engines to attract large amounts of organic traffic flow through key search terms. Although this method will take a few months to start showing results, investing in SEO is a smart decision in the long run for anyone looking to grow a business in an economical yet fruitful way.
Whether they work as an eye doctor or a physiotherapist, doctors should always be invested in caring for their patients and solving their medical issues. However, doctors also need to maintain their credibility as medical professionals and market their services to various groups of people. Search engine optimization offers plenty of cost-effective opportunities for your business to grow exponentially without risking any unnecessary financial loss.
But is it really possible for doctors to attract new patients through search engine rankings? Definitely! Let's look into a few examples of doctor and medical websites that have used SEO techniques to bring in massive amounts of traffic from Google search results.
Search Demand For Doctors on Google

The image above shows Google search data for the keyword 'doctor.' As is demonstrated, people around the world search for the word 'doctor' around 2.3 million times per month. In the United States alone, 447 thousand searches occur daily, while 849 thousand searches happen in India. Australia also has a relatively high search volume of 82 thousand searches each day. This data tells us that people are actively looking for doctors in your country through search engines. By optimizing your website's SEO, you can ensure that your business shows up in their search results.

With Google Trends, we can also see a steady rise in interest in the term 'doctor near me' from 2004 to the present. This data lets us know that the number of people searching for doctors is increasing with each passing year, meaning that there is plenty of potential for market growth within the niche. Rather than purchasing costly PPC and social media ads, investing in an SEO company can help you take advantage of this interest. With an SEO expert at your belt, you can direct potential patients toward your business and ensure you receive increasingly high ROIs each year.
People Use Many Terms to Find Doctors
'Doctor' isn't the only keyword that people search to find available doctors nearby. Several other keywords are being searched on a daily basis, which requires SEO experts to analyze trends and search demand accordingly to collect traffic from Google's search results. The following list will show you just a few of the keywords and phrases people enter in Google when they are in need of a doctor:
'Doctor near me.'
'Doctor in…' + location. For example, 'doctor in Cleveland.'
'Doctor for…' + group of people. For example, 'doctor for seniors.'
Various types of doctors and medical professionals. For example, 'eye doctor' or 'therapist near me.'
Types of medical clinics and institutions. For example, '24 hour pharmacy near me' or 'Cleveland clinic.'
In the images below, we can see the various search terms used by people searching the word 'doctor.'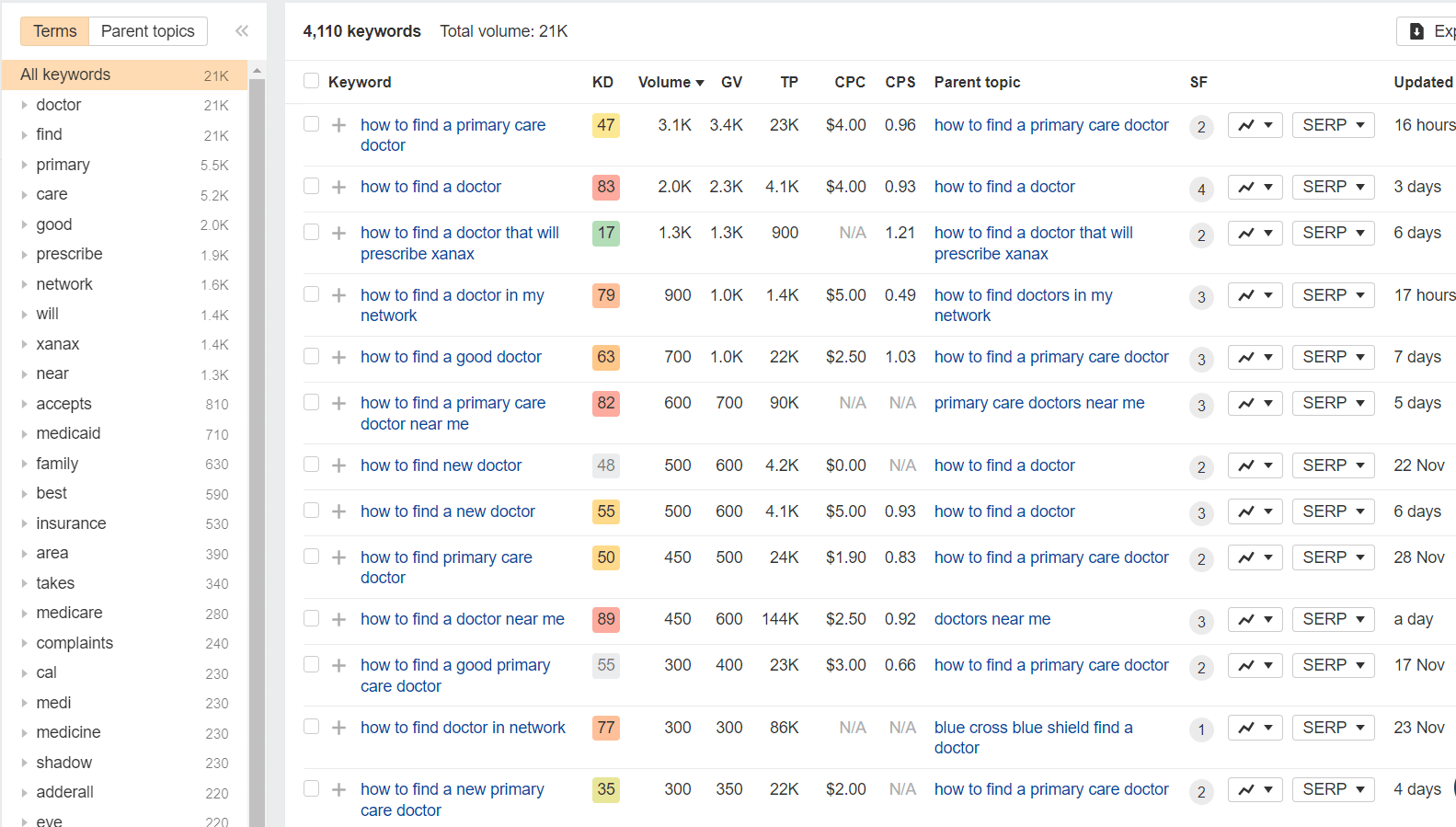 Above, we can see results for the key phrase, 'how to find a doctor.' This phrase alone reaches a total volume of 21,000 searches each month. That means if an SEO-optimized web page were to rank high enough and use this keyword, it could potentially receive a large amount of organic traffic from people visiting their website through Google search results.
Other Doctors Are Already Getting Results From SEO
Investing in search engine optimization by an expert company is an effective method of increasing traffic to your business' website. Not only does it help your website show up higher in Google's search results and increase conversion rates, but it could also potentially save you thousands each month in advertising.

In the above photo, we can see that this private family medical clinic is benefiting extensively from expert SEO services. Weston Family Medicine is an aggregator website that ranks quite high on Google search results, which offers them 530,000 monthly website visitors and $389,000 in traffic value. In other words, this business saves nearly $400,000 per month in PPC advertising costs from the free organic traffic they receive from its position in Google's search results.
The following screenshot shows the various pages on the aggregator's website that receive the highest traffic volume.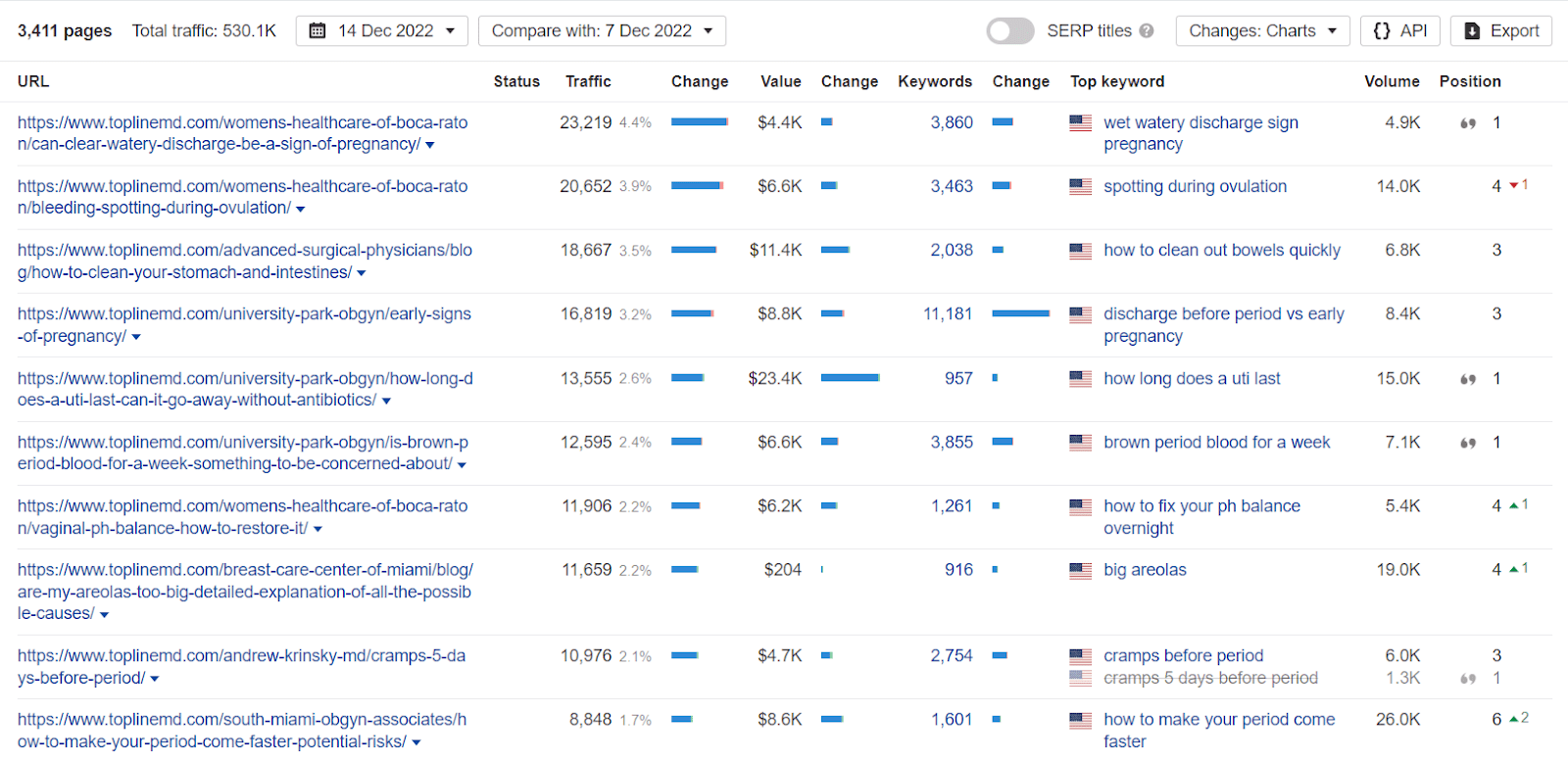 As is demonstrated, the pages on this list gain a considerable amount of traffic simply by people finding the website on Google search results with keyphrases of various medical issues. An SEO expert will be able to analyze your pages and collect data from competitor sites to see how your site ranks in comparison. They can also optimise the existing pages on your website to reflect a traffic-boosting SEO strategy and create new pages that will attract high volumes of organic search traffic.
It may seem obvious that a top-ranking website would naturally receive tons of monthly traffic, but is it a good idea for small private doctor clinics to invest in SEO? The following image will give you an example of how it can be smart for both large and small-scale businesses to use search engine optimization as a marketing tool.

As the above image suggests, a lower-ranking website can still achieve promising results from SEO. This healthcare practice in Connecticut attracts nearly 13,000 organic website visitors per month and has a traffic value of about $26,000. Bristol Health, therefore, saves a lot of time and expenses that would have otherwise been put into PPC advertising.
A key factor to consider in the investment of PPC ads is that they essentially involve purchasing traffic for money. This is money that could otherwise still be in your pocket if you invest in quality SEO services. For example, PPC ads will gather traffic until you stop paying for them. Alternatively, if you use effective search engine optimization, your site will continue attracting visitors through search engine results even long after you stop using SEO services. This allows you to continue benefitting from free traffic.
As for Bristol Health, let's take a look at the pages their website receives the most traffic for, demonstrated in the image below.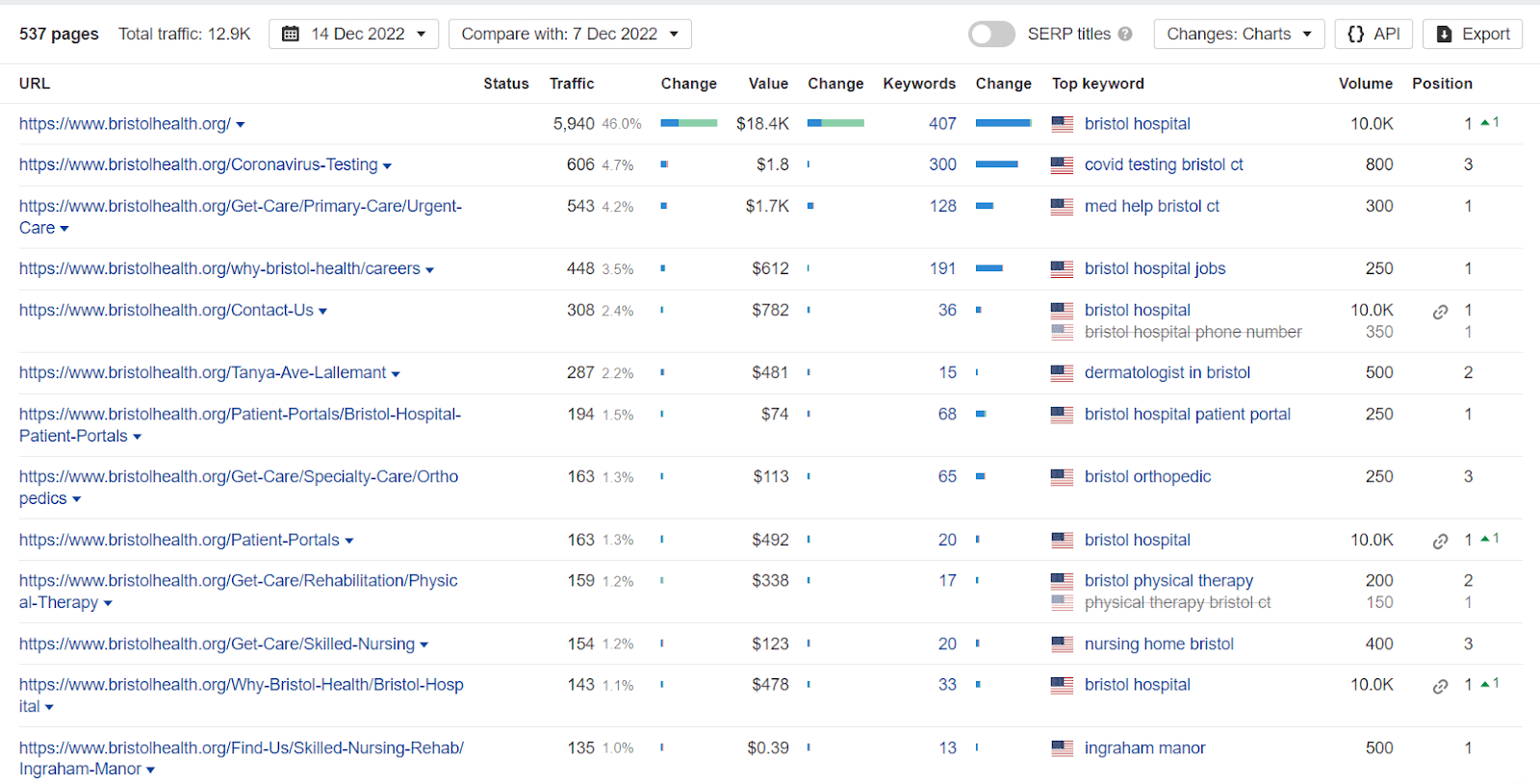 Some of the top keywords that get Bristol Health the most traffic include local SEO terms such as 'covid testing bristol ct', 'dermatologist in bristol' and 'nursing home bristol.' This is an indicator that there is a high demand for doctors in the area. It also shows there are several keywords in various topics and categories you can use on your business' website to bring in endless amounts of free organic traffic. With a qualified SEO agency to assist, you can begin to optimize your web pages and promote your services to a broad range of potential patients.
Local SEO For Doctors
A popular search term that people use when searching for doctors is "doctor near me." This allows people to find doctors based on where they reside currently. However, some people will add their location to the search term to narrow their search. For instance, a person who lives in Ohio might use the keyword "doctor in Ohio" when searching for a doctor. An SEO expert will therefore be able to implement the necessary keywords and phrases to ensure various types of people can find your business.
Local SEO is important for in-person businesses that are looking to receive primarily local attention. Simply adding your business to Google My Business may seem like a good way to go, but it isn't enough to bring in the amount of traffic that will get your business on the charts. Only effective search engine optimization will help your business garner real results and increase conversation rates tenfold with higher search engine rankings.
What Does an SEO Company Do?
Although doctors already often work in highly-demanding professions, SEO requires intense focus and expertise and can pull time away from other important aspects of the job. In this case, investing in quality SEO services should be a priority in ensuring your business runs as efficiently as possible.
However, for businesses in the health and wellness fields, it can be considerably more difficult for websites to show up on the first page of search results due to the competitive market. Google also sets high standards for websites selling products and services in this broad niche to prevent poor-quality websites from ranking higher. Consider what SEO expert Helen Pollitt says in her famous quote:
"The best source of a link is a website that is both considered authoritative and relevant to your website." – Helen Pollitt, Lead SEO at Arrows Up
Fortunately, NUOPTIMA has been working with brands in the health and wellness industry for several years. We have experience providing SEO services for medical providers, specialized clinics, companies selling products, and much more. Alongside one of our SEO experts, you can be assured that your business will rank high on Google search results to bring more potential patients to your website.
Here are a few of the many things our adept team can do for your business:
Carefully arrange link placements to ensure it is placed on reputable medical and doctor websites.
Produce SEO-optimized content designed to increase your website's rank for keywords on Google.
Optimize existing pages on your website to reflect Google's rules and regulations.
Design pages that help your website collect large amounts of organic traffic.
When SEO is done correctly by a professional, it can offer your business large amounts of free organic traffic for long periods of time. At NUOPTIMA, we proudly harbor an expert SEO team that fosters endless growth for all types of businesses. Book a free discovery call with our team today to find out how we can use SEO to bring forth amazing results for your website and business.
Elevate Your Medical Practice with SEO
In the competitive field of healthcare, establishing a strong online presence is key. With the right SEO strategies, your medical practice can rise above the competition, attracting more potential patients and driving growth. SEO is not just about increasing website traffic; it's about attracting the right kind of traffic – potential patients who are actively looking for your services. Don't let your medical practice blend into the background. Start your SEO journey with NUOPTIMA today and watch your practice flourish.
Why is SEO important for doctors?
SEO is important for doctors because it helps improve their online visibility. With the right SEO strategies, a doctor's website can rank higher in search engine results, attracting more potential patients. It's a cost-effective way to increase website traffic and generate leads.
How long does it take to see results from SEO?
SEO is a long-term strategy, and it often takes a few months to start showing results. However, once your website starts ranking higher in search results, it can retain those positions even if you pause your optimization efforts.
What is local SEO and why is it important for doctors?
Local SEO is a strategy that helps businesses rank higher in local search results. For doctors, this means appearing in search results when potential patients are looking for medical services in their local area. It's a powerful way to attract local patients and build a strong presence in your community.
What kind of SEO services does NUOPTIMA provide for doctors?
NUOPTIMA provides a range of SEO services for doctors, including keyword research, high-quality content creation, link building, and technical SEO. These strategies can improve your website's rankings, increase its relevance and credibility, and attract more patients.
How can I get started with NUOPTIMA's SEO services for doctors?
You can get started with NUOPTIMA's SEO services by booking a slot to talk to one of our SEO experts. We'll discuss your needs and how we can use SEO strategies to improve your medical practice's website rankings.