Running any kind of business — including a finance company — comes with a plethora of daily challenges. One of the most difficult of these is to gain new customers. In today's internet-obsessed society, many potential customers use the internet to locate required financial services. For this reason, many finance businesses are beginning to create and optimise websites for their companies to help locate new clients online.
There are several established ways for a business owner to draw people to their website. The three main choices are: social media marketing, pay-per-click (PPC) adverts, and search engine optimisation (SEO). All of these are feasible choices, but it is prudent to know their different pros and cons.
For example, when considering social media marketing and PPC ads, one of their primary advantages is that you will receive lightning-fast results because people will begin flocking to your website the moment your advertising campaign is launched. But, these options are expensive. Moreover, you will not observe long-term benefits or results because website visitors will only continue visiting your site as long as you continue paying for these ad services.
SEO methods have different pros and cons. The main disadvantage is that it can take several months for an SEO strategy to display results. However, you will notice that your website's positions within search results will improve and bring increased organic traffic to your site by choosing to use SEO. Furthermore, your website will keep these positions even if you decide to stop using SEO services in the future, meaning you can keep receiving free traffic indefinitely.
For these reasons, SEO is deemed a far better option than social media marketing and PPC ads, where you have to pay substantial amounts of money yearly. Plus, it has been proven that potential clients trust your business more if they locate your website naturally through search engine results instead of seeing adverts for your company pop up online.
So, just how effective can a watertight SEO strategy prove to be for your finance company? This article aims to show you just how worthwhile investing in SEO services can prove to be for your business and its success. The first thing to consider is global search demand.
Search Demand for Financial Services

The screenshot above shows Google search data for the keywords 'financial services'. Globally, an average of 55 thousand people search for this phrase every month. Searches for this term originate from different countries. 15 thousand of these searches originate in the United States (US), 13 thousand in India, 4 thousand in the United Kingdom (UK), and 3.9 thousand in the Philippines. This illustrates that there are a large number of people seeking out financial services across many countries every day. By incorporating an effective SEO strategy into your business, you can draw thousands of visitors to your finance company website each month. As 'financial services' is a reasonably generalised search term, let's consider a more specific search a customer might enter on Google relating to financial services.

The above image shows Google search data for the term 'car loan', a specific financial service. Globally, 130 thousand people search for this phrase every month. 38 thousand of these searches occur in the US, 36 thousand in India, 17 thousand in Australia, and 12 thousand in the UK. Again, this demonstrates a substantial number of people entering this search term daily, illustrating that seeking out financial services such as getting a car loan is hugely popular on Google's search engine. By using a comprehensive SEO strategy, you will be in an excellent position to get a high return on investments (ROIs) for many years to come. This is especially true as both social media and PPC advertisements are getting more and more competitive and expensive.
People Use Countless Search Terms to Locate Financial Services
When thinking about people using search engines to find certain financial services, it is important to remember that phrases such as 'financial services' and 'car loan' are just two possible search terms that might be used. Countless search terms might be entered on Google by a potential customer. This knowledge relates to one of the main aspects of good SEO work: keyword research. This is when SEO experts consider search queries and decide which pages need to be created on the website and optimised for keyword usage, helping attract the maximum amount of traffic possible. To demonstrate the point further, below are several bullet points with examples of search queries that a potential client might enter on Google when seeking out financial services:
'Financial services for…' + requirement. For instance, 'financial services for investment banking'
'Mortgage finance company in…' + location. For example, 'mortgage finance company in Southampton'
'Car loan company near me'
'Car finance providers'
'Small loan'
There is a wide range of possible search terms that might be entered by a potential customer aside from the obvious phrases. This is essential to research thoroughly. By hiring a qualified SEO company, you can draw thousands of people to your website just by showing up for these keywords on Google. Below are two screenshots of average monthly search figures for keywords relating to financial services. This shows a huge number of people looking for these phrases every month.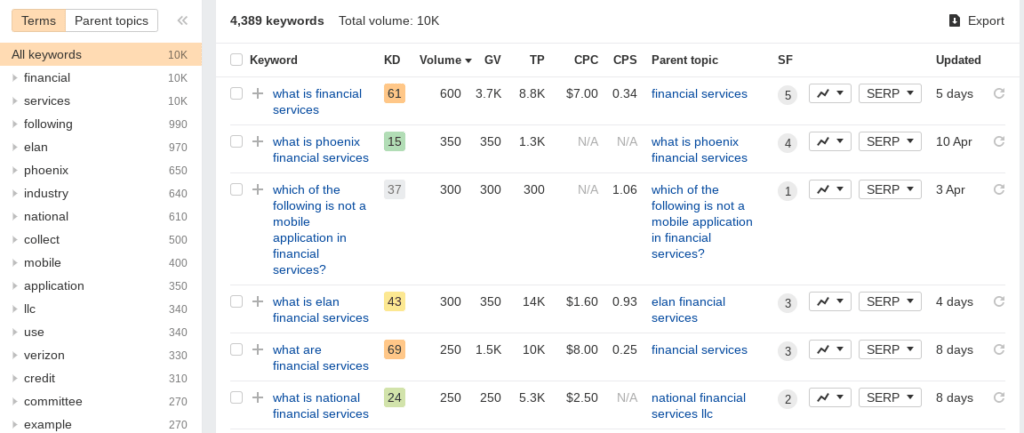 Other Finance Companies are Already Enjoying the Results of SEO
Efficient search engine optimisation can provide fantastic results. Not only can it assist websites in showing up higher in search results, but it also potentially saves the company thousands of dollars on advertising costs every single month. To display how beneficial SEO services can be for a finance company, below are two examples of finance company websites that are witnessing a great return from their SEO efforts.

The first example is DivideBuy, a UK-based consumer retailer credit provider founded in 2014. The organic traffic for www.dividebuy.co.uk is 18.7 thousand. This is the number of people who enter the website after seeing it appear on their search results. The traffic value for DivideBuy is $30,200. This represents the sum of money that this company would need to spend each month to buy the identical amount of traffic they get organically from contextual advertising systems, such as social media marketing. This means that DivideBuy can conserve over $30,000 every month purely because it enjoys impressive positioning in Google's search engine results.
The following image displays which pages attract the most traffic for this finance company website.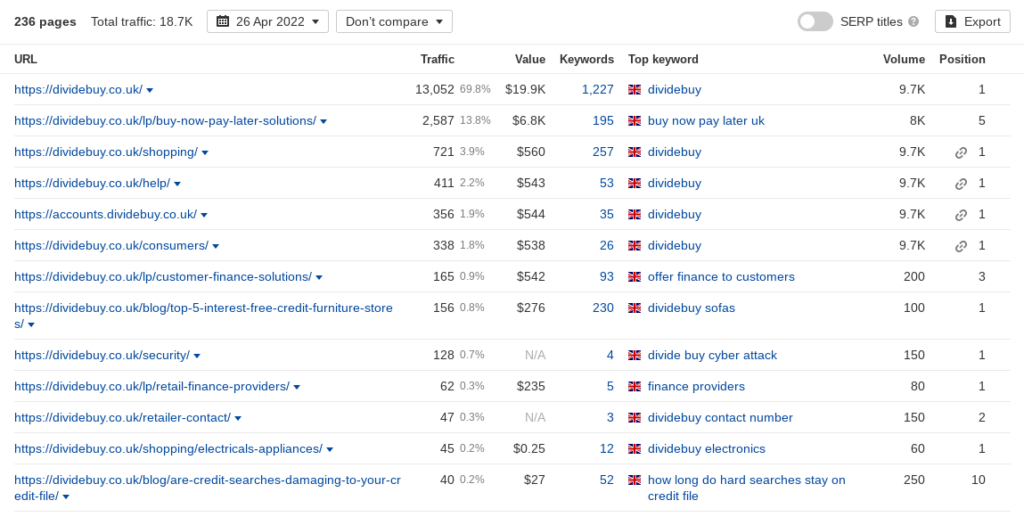 The list above shows that numerous pages attract significant traffic from Google for this website, including blog pages. In terms of SEO, an expert can analyse the pages already on your website (in addition to competitor sites) and optimise these pages to gain even more site visitors. An SEO expert can also create brand new pages to attract the maximum amount of organic search traffic. This is just one part of SEO work, and there are a plethora of other tasks that SEO companies undertake to help promote businesses and their websites.
Looking at some of the top keywords, there is a range that brings the most traffic to these pages. Examples include 'buy now pay later UK, 'Dividebuy electronics', and 'finance providers'. This shows your website can use many keywords to get free organic traffic on Google. By hiring an expert SEO agency, they can create, optimise and promote these pages, helping you bring more business to your finance company.
But what about a different type of finance company? Can an SEO strategy still provide desirable results? The following example will demonstrate that it certainly can.

Our second example is www.247money.com, a UK-based specialist car finance provider launched in 2018. 247 Money has 3.9 thousand monthly organic website visitors. It also has a traffic value of $6,300. This website ranks highly on Google for the search term 'car finance company Manchester' and can be found on financial service aggregator websites too. It also ranks well for numerous other keywords, and the company is clearly attracting fantastic traffic figures. 247 Money gains $6,300 worth of free traffic, which is money they can conserve instead of shelling it out on PPC adverts or social media marketing.
It is crucial to comprehend that PPC adverts involve purchasing traffic. Therefore, the moment you stop paying for PPC ads, you will also stop receiving increased traffic. However, when considering search engine optimisation, it allows you to maintain your search positions and continually receive traffic even if you choose not to use SEO services any longer. Basically, utilising a fantastic SEO company can mean: boosted website rankings, conserved money, and retained traffic to your website without the financial cost of spending money on advertising channels such as social media marketing.
The screenshot below demonstrates which pages bring the most visitors to 247 Money:

This website only has two top pages listed, primarily because it provides the vast majority of useful information on its main homepage. The key takeaway from these examples is that no matter what type of finance company you have, a comprehensive SEO strategy can provide you with tangible and impressive results, helping you to bring more potential customers to your website and, consequently, your business.
A Short Word on Local SEO
Local SEO techniques are used to make sure a website is shown to people looking for a particular service locally. For example, if someone entered 'financial services near me' on a search engine, they would discover websites run by companies in their local area. Therefore, local SEO techniques are paramount for businesses that provide services in person, including many financial companies. One option is to add your website to Google My Business as well as insert your location on Google Maps. But, this will not, in fact, give you the maximum amount of traffic you might wish for. Actual results can only be accomplished by thorough and expert SEO of a website, assisting your site in rising in search engine rankings.
What Does an SEO Company Do?
Utilising a great SEO company is a fantastic investment for finance companies. But, attaining outstanding results requires much hard work, knowledge, and skill. This includes websites that both offer and provide services. Google has notoriously high standards to stop websites of poor quality from gaining the highest positions in its search results. NUOPTIMA is an established and professional SEO agency that has been working alongside brands in many different industries for years. Our experts have a wide range of knowledge conducting SEO for clients, including startups, SaaS, e-commerce, real estate, and of course, finance companies. This shows a saturation of expertise across numerous industries. We know what work needs to be undertaken to get your website to appear proudly on the first page of Google search results. Here are just a few things we can do to help improve your business's Google rankings:
Arrange link placements on financial service aggregator websites and directories.
Create all the necessary pages to help your website get the most amount of organic traffic possible.
Create SEO-optimised content so your company website can rank for more keywords on Google.
Optimise existing pages to ensure they abide by Google's best practices and rules.
Efficient search engine optimisation of a website can provide brilliant results if done properly and thoroughly by qualified experts. NUOPTIMA has a substantial SEO team packed full of expertise to help your website gain the attention it deserves. To discover how we can utilise SEO techniques to achieve great results for your finance company and its website, book a free discovery call today with our professional team.
Talk to an SEO expert
We work with 100+ businesses. Book a slot now to talk to one of our experts.