Running a business is never as straightforward as it seems. Many business-related challenges need to be tackled on a daily basis. A financial advisor company is no different. While much time is spent advising clients on how best to manage their money, there are other essential aspects of the company to tackle. Perhaps the most crucial is how to find and obtain new clients. Originally, many clients could be procured from personal recommendations. But, with the present-day revolving around technology, many potential clients are turning to the internet to find expertise in finance. For this reason, many financial advisor companies are creating and optimising their websites to attract new clients to their business.
Once you have a website, you will want to find ways of attracting clients to your site, and there are several popular techniques that can be utilised. Common options include social media marketing, pay-per-click (PPC) adverts, and search engine optimisation (SEO). Every option has pros and cons, and it is for you to decide the best choice for your business.
If we consider PPC and social media marketing, one thing that they both have in common is that you will get almost immediate results. As soon as you start your advertising campaign, you will notice website visitors flocking to your site. However, there are, of course, disadvantages to these choices. Firstly, PPC and social media ads are not a cheap venture. Secondly, they will not give you benefits for an extended period because you will notice a clear drop in visitors to your website as soon as you stop your advertising campaign.
But, when we consider our other option, SEO, you will understand why this is a popular option for many businesses. Search engine optimisation's primary disadvantage is that it can take a while for results to show themselves (several months). However, this is a small con when compared with its advantages. By using SEO techniques, your website's positions in search engine results will improve and attract more organic traffic to your site. Plus, and this is a key advantage, your website will be able to keep these positions even if you no longer use SEO techniques in the future (unlike PPC and social media ads). This means that you can keep getting free traffic even if you stop using SEO services.
Weighing up the pros and cons, it is clear that, especially in the long term, SEO is a much more attractive option. It is preferable to paying hefty sums of money yearly to maintain traffic to your website as you would with both PPC and social media marketing. Plus, seeing an advert for your financial advisor company does not instil as much trust in the customer as when they find your website organically in Google's search engine results.
But, can a financial advisor company gain new clients to their business and website by using an effective SEO strategy? Absolutely. The following sections demonstrate just how worthwhile SEO techniques can be for your business. First, we consider the online search demand for financial advisors.
Search Demand for Financial Advisors on Google


Our first port of call is to consider how many people are looking for a 'financial advisor' on Google. The screenshot above shows the search data for this term, and we can see just how popular it is. Globally, people search for this term roughly 190 thousand times a month. Let's look at which countries most of the searches originate from. We can see that 107 thousand of these searches occur in the United States, 17 thousand in the United Kingdom, 13 thousand in Australia, and 10 thousand in Canada. This demonstrates excellent search demand in a range of countries daily. Therefore, if you choose to utilise an efficient SEO strategy, you can draw thousands of eager visitors to your financial advisory website every single month!
It is also important to note that PPC ads and social media marketing are becoming increasingly competitive as well as expensive. As a result, choosing an SEO strategy instead can be a great way to get a high return on investments (ROIs), and therefore many companies see SEO as the best avenue.
People Use Many Search Terms to Find Financial Advisors
One of the critical components of SEO is known as keyword research. This is when SEO experts consider search queries before deciding the pages that need to be created and optimised on your website for keyword usage. This is so the maximum traffic possible is drawn to your website. Put simply, it is important to acknowledge that phrases such as 'financial advisor' or 'financial advisor company' are only two potential search terms people might enter on search engines to find advice for their money. There are many other terms people might use when seeking out these services. To demonstrate, below, we have compiled a few examples of possible other search queries people might enter on Google when seeking out financial advisory services:
'Financial advisor near me'
'Financial advisor in…' + location. For example, 'financial advisor in Blackburn'.
'Financial advisor for…' + a particular service. For example, advisory services for mortgages, pensions, savings, investments, or tax planning.
Searches for help on particular issues such as student debt, wedding costs, etc.
As we can see, it is not as simple as focusing on the keywords 'financial advisor' but rather a much wider range of keywords. To illustrate this further, we have compiled some screenshots so you can see the approximate monthly search volume for various financial advisor-related keywords. Take a note of the huge number of people searching for these phrases every month. These are people that can be drawn to your website if you utilise these keywords on search engines well, if your financial advisor website has been expertly SEO-optimised.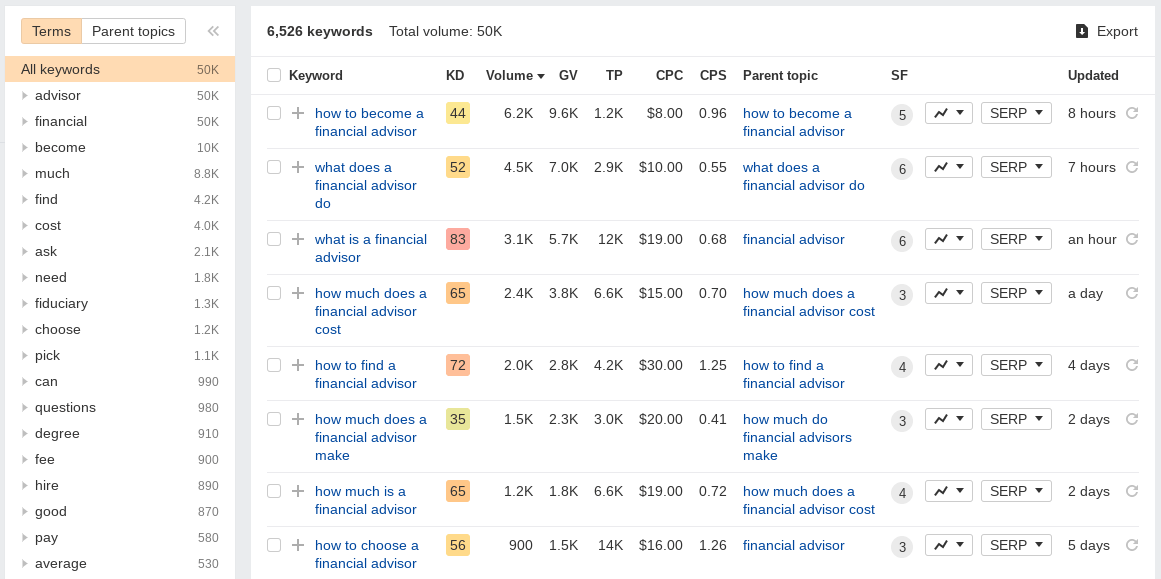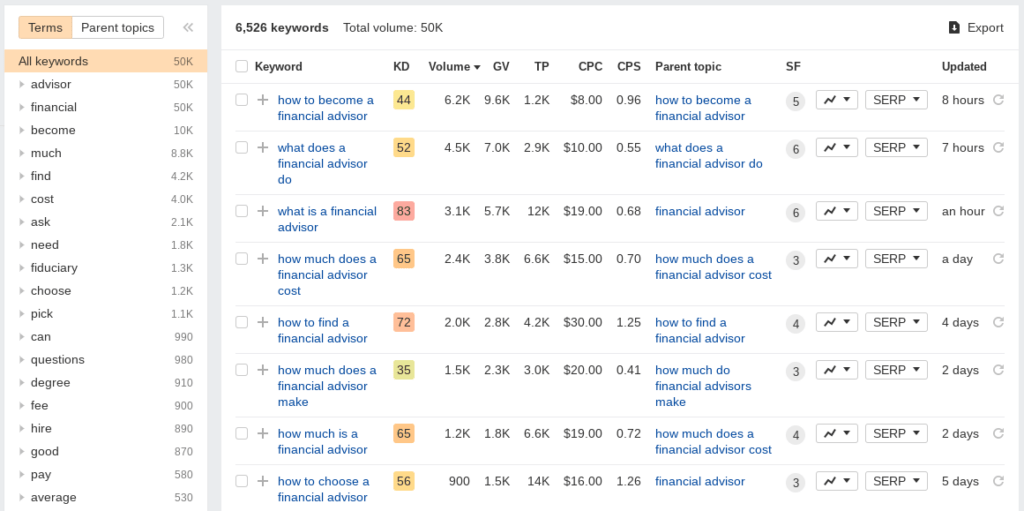 Other Financial Advisor Businesses are Already Enjoying the Results of SEO
As we have indicated several times already, effective SEO can bring highly impressive results. It can help you appear higher in search results and therefore make your website and business more visible to potential clients, but it can also help save you vast amounts of money on advertising services. In this section, we look at several examples of financial advisor companies witnessing a fantastic return because of their use of SEO techniques. This will display just how powerful efficient SEO can prove to be.


Our first website to consider is www.frazerjames.co.uk. It is a financial advisory firm based in Bristol, UK. If we first look at organic traffic, we can see that this website enjoys an average of 18.3 thousand visitors each month. This number indicates how many people visit the website once they have seen it in their search engine results. If we look across to traffic value, we can see that it is a highly impressive $29,300 a month. What is traffic value? It is how much money would need to be spent each month to buy the same amount of traffic that they naturally gain from contextual advertising systems such as social media marketing. Therefore, Frazer James can save almost $30,000 a month on the basis that its website enjoys great positions in the search results of Google. Now let's take a look at which pages for Frazer James draw the most traffic: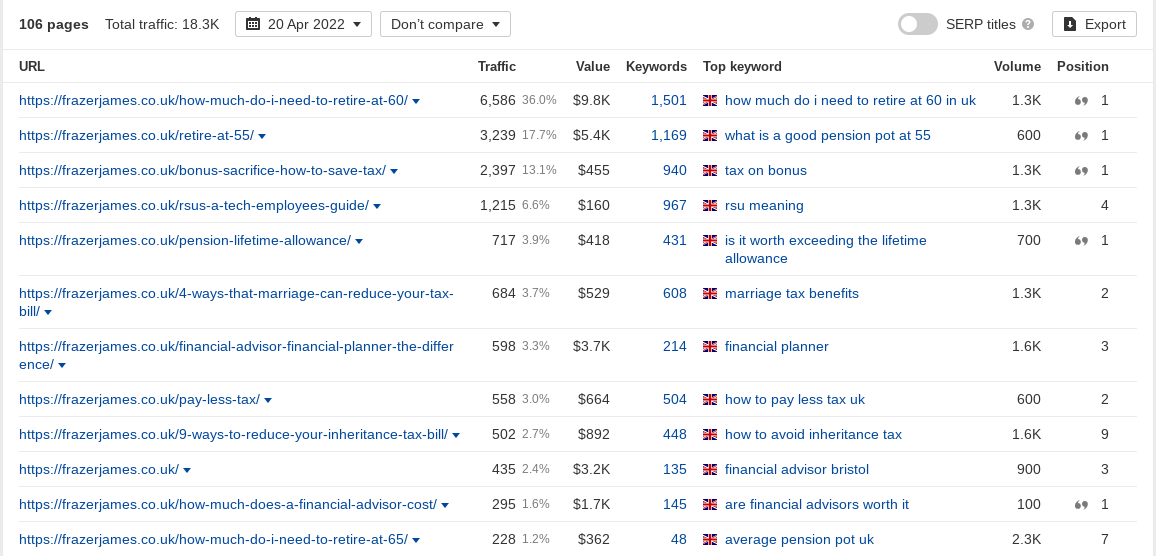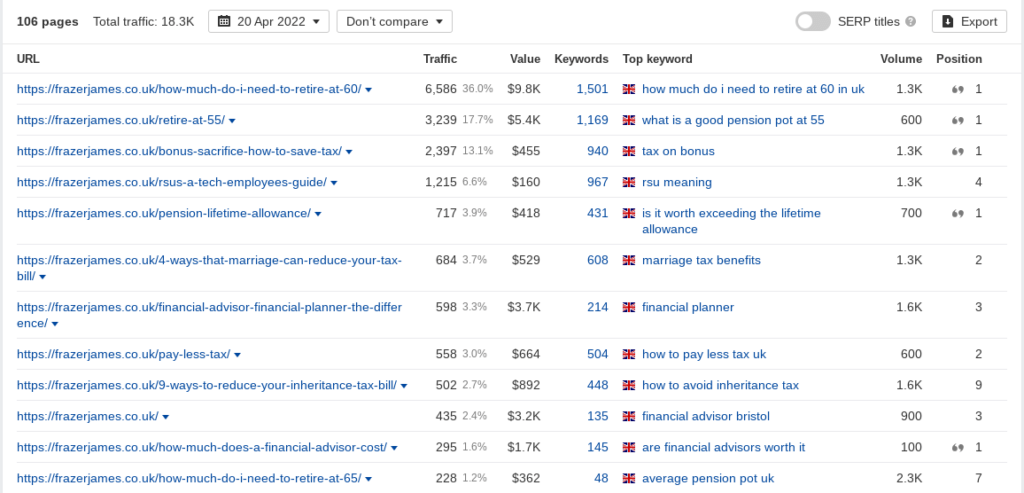 The screenshot above clearly shows that there are many pages that collect traffic from Google for this website. Why is this important for SEO? A qualified SEO agency can consider the pages on both your website and on competitor sites, optimise the pages that exist to bring more people to your site, and create brand new pages to bring as much organic traffic as possible to your website. This is just one part of SEO work undertaken to promote websites. It is also worth noting that we can see there is a range of top keywords, such as 'tax on bonus', 'financial planner', and 'average pension pot UK. This shows that many keywords can be utilised to draw traffic on Google. SEO agencies create, optimise, and promote pages efficiently so that you can gain more business and reap the rewards.
Let's now look at another financial advisory firm to see how their SEO techniques have assisted their business.


Our second example is www.theprivateoffice.com, based in Bath, with offices also in Leeds and London in the UK. And yet again, we can witness impressive results. Looking at the organic traffic, this website receives an average of 6.8 thousand monthly organic visitors. The Private Office ranks highly for the search term 'financial advisor company London' and many other search terms on Google. Then, turning to traffic value, we can see it is an eye-opening $14,700. This means that this financial advisory firm gets almost $15,000 worth of free traffic, money they can conserve rather than spend on PPC adverts or social media marketing.
When considering PPC adverts, the critical aspect to remember is that you have to spend money to get traffic. Once you no longer pay for PPC ads, you will no longer receive traffic. But, as aforementioned, SEO allows you to keep your search positions and draw traffic to your website even after you have stopped using SEO services. This essentially means you save money, maintain traffic to your site (which is what you sought out in the first place), and it will also boost your website rankings on Google. All this without the stress and financial cost of spending money on advertising channels on a regular basis.
Like before, let's look now at the pages that bring the majority of visitors to The Private Office website: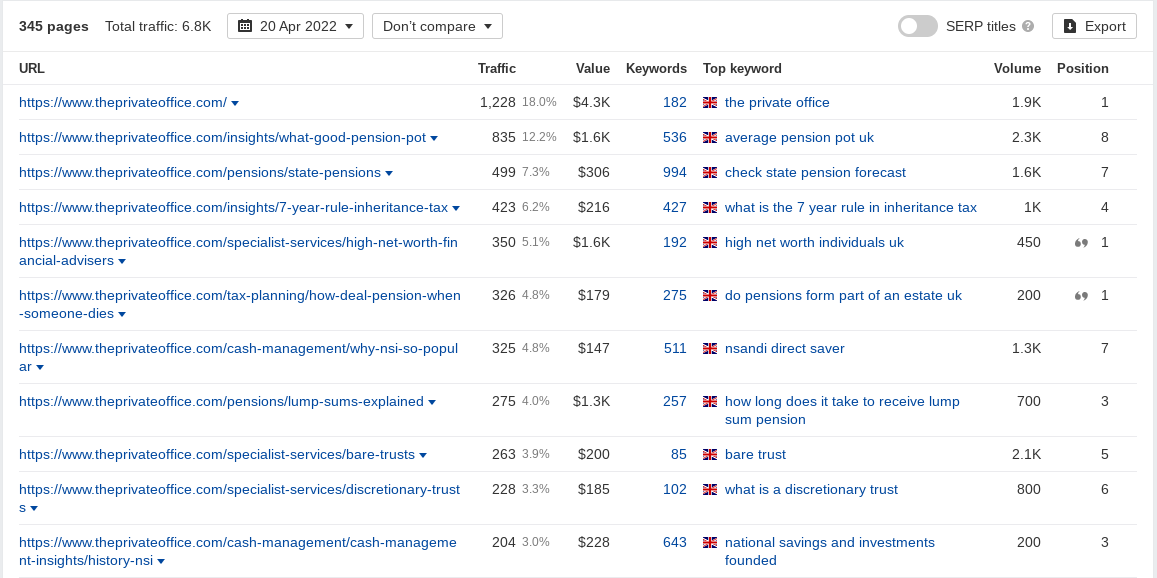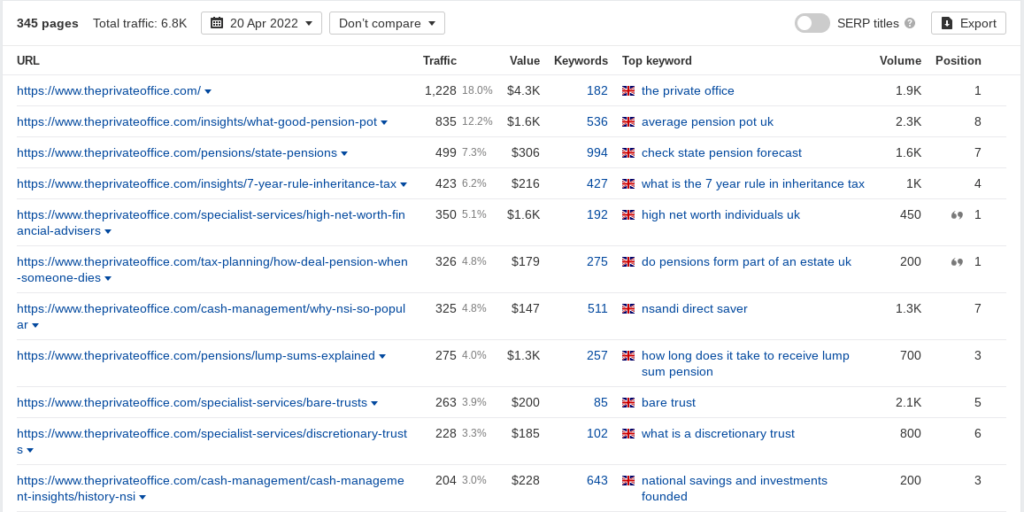 Again, many pages are responsible for collecting traffic for this site from Google. And, once more, we can see a substantial range of keywords. These include 'what is a discretionary trust', 'check state pension forecast', and 'do pensions form part of an estate uk'. These can be used to draw free organic traffic on Google. Qualified SEO experts retrieve all this information about your website and its affiliated pages so they can create, optimise, and promote your pages as effectively as possible.
A Note on Local SEO
Local SEO techniques are vital for companies that provide particular services locally. These techniques are used to ensure that a website is displayed to somebody local to the business. For instance, if someone searched 'financial advisor near me' on Google, they would find websites run by financial advisors within their local surroundings. This is a crucial part of SEO for businesses that provide services in-person, including financial advisory services. While you can add your location and website to Google Maps and Google My Business, only through thorough SEO of a website can actual results be attained, and your search engine rankings improve.
What Does an SEO Agency Actually Do?
SEO services are a highly attractive option for financial advisory firms. However, expert knowledge is required for it to be truly effective. This is because Google has very high standards to stop websites of low quality from gaining the best positions within their search results. Therefore, you will want to use an SEO agency, one that you can trust. NUOPTIMA has been providing SEO services to brands in a myriad of industries for many years now. This includes e-commerce, startups, plumbing, SaaS, and real estate companies. This demonstrates a wide range of capabilities and skills within many business sectors. NUOPTIMA knows the steps that need to be taken to get your website proudly positioned on the first page of Google's results. Below is an example of a few things we can do to help improve your financial advisor company's Google rankings:
Create SEO optimised content in order for your website to rank for more keywords on Google.
Create any pages needed to assist your website in attracting as much organic traffic as possible.
Optimise existing pages to ensure they follow Google's best practices and rules.
Put link placements on reputable financial advisor directories and aggregator websites.
To conclude, efficient SEO can bring highly desirable results if done properly and correctly by qualified experts. NUOPTIMA has a team full of SEO connoisseurs that can help your website get the very best results. To find out more on how we can use SEO to obtain incredible results for your financial advisory firm, book a free call with our team today.
SEO: A Long-Term Investment for Financial Advisors
In the digital age, financial advisors are not just competing on the basis of their financial acumen and customer service, but also on their online visibility. With more and more people turning to the internet to find financial advice, it's crucial for financial advisors to have a robust online presence. SEO is a long-term investment that can significantly enhance your online visibility, attract potential clients, and establish your brand as a leader in the financial advisory sector.
At Nuoptima, we specialize in SEO for financial advisors. Our team of experts understands the unique challenges and opportunities in the financial sector. We employ proven strategies and innovative techniques to help our clients improve their search engine rankings, drive more traffic to their websites, and ultimately, increase their client base. Reach out to us today to learn more about how we can help your financial advisory practice excel in the digital landscape.
Talk to an SEO expert
We work with 100+ businesses. Book a slot now to talk to one of our experts.
Why is SEO important for financial advisors?
SEO is crucial for financial advisors as it helps in attracting potential clients and establishing a strong online presence. With effective SEO, your website can rank higher in search engine results, making it easier for potential clients to find your financial services.
How does Nuoptima approach SEO for financial advisors?
Nuoptima uses a unique approach to SEO for financial advisors, focusing on keyword research, content creation, and link building. We also optimize existing pages and create new ones to attract as much organic traffic as possible.
What kind of results can I expect from Nuoptima's SEO services for financial advisors?
With Nuoptima's SEO services, you can expect increased traffic to your website, higher search engine rankings, and increased client acquisition. These results can lead to a significant return on investment over time.
How does Nuoptima's SEO services for financial advisors differ from other SEO services?
Nuoptima's services are unique because of our specific expertise in the financial sector. We understand the unique challenges and opportunities in this field, and we tailor our strategies to meet the specific needs of financial advisory practices.
What types of financial advisory practices has Nuoptima worked with in the past?
Nuoptima has worked with a wide range of financial advisory practices in the past, including practices specializing in wealth management, retirement planning, investment advice, and tax planning. Our experience spans various fields within the financial advisory sector, allowing us to provide tailored SEO services that meet the unique needs of each client.