If you own a hotel, you will know that success is not just about providing exceptional customer service and accommodation. While a guest-centric experience is vital in the hospitality industry, you also need to focus on growing your hotel's occupancy to drive more revenues and stay on your toes all the time.
For hoteliers, the digital era has been both a blessing and a curse. New e-commerce trends have provided endless business opportunities that also forced them to revamp their marketing strategies in order to keep up with competitive online market trends. About 60% of all hotel reservations are now done online, meaning that digital transformation in hospitality is no longer just an option. More and more hoteliers are turning to online media, including different search engines and social networks, to generate more bookings.
From pay-per-click (PPC) and social media advertising to search engine optimisation (SEO), there are numerous ways to promote your hotel business online. Paid advertising, such as PPC and social media ads, involves website owners paying a fee for every visitor that clicks on their ad listings. This method works for those who want to see instant traffic results for their website. However, you cannot expect a continuous flow of traffic if you stop paying for ad placements. That's when paid advertising becomes an expensive and risky investment.
Resorting to SEO services is more realistic than spending large sums of money on PPC or social media ads that do not give long-term results unless paid. Contrariwise, SEO combines a number of techniques designed to attract more traffic to your hotel's website from free, organic search results.
Why Is SEO for Hotels Important?
Search engine optimisation aims to boost your online presence by ranking highly on search engine results pages (SERPs). When prospective guests look for hotels online, they get a list of the most corresponding results from search engines like Google. Very often, their immediate action is to click top-ranking organic results. Many people believe those pages will give more relevant information than ads that can often be spammy—and no one likes spam! So if your website is not visible to your target audience on Google's first page, the chances of being discovered are slim. HubSpot Founder Dharmesh Shah even went as far as to say:
"The best place to hide a dead body is the second page of Google search." – Dharmesh Shah, Founder and Chief Technology Officer of HubSpot
Qualified SEO providers offer surefire techniques that can help your website outrank your competitors on search engines, giving you a steady stream of organic traffic and a promising return on investment (ROI) eventually.
Be that as it may, is SEO for hotels really worth embracing? Most definitely, it is! The following data will demonstrate exciting growth opportunities for your hotel once you start investing in SEO services.
Search Demand for Hotels on Google

The above photo indicates a reasonably massive search demand for the keyword 'hotel'. Global volume, also known as search volume, refers to the monthly average number of queries for a specific term on Google. This means that travellers across the globe are searching for 'hotel' more or less 28 million times a month. And with millions of people looking for a place to stay, there's a good chance to get your fully-optimised hotel website in front of a vast audience that may transform into paying guests.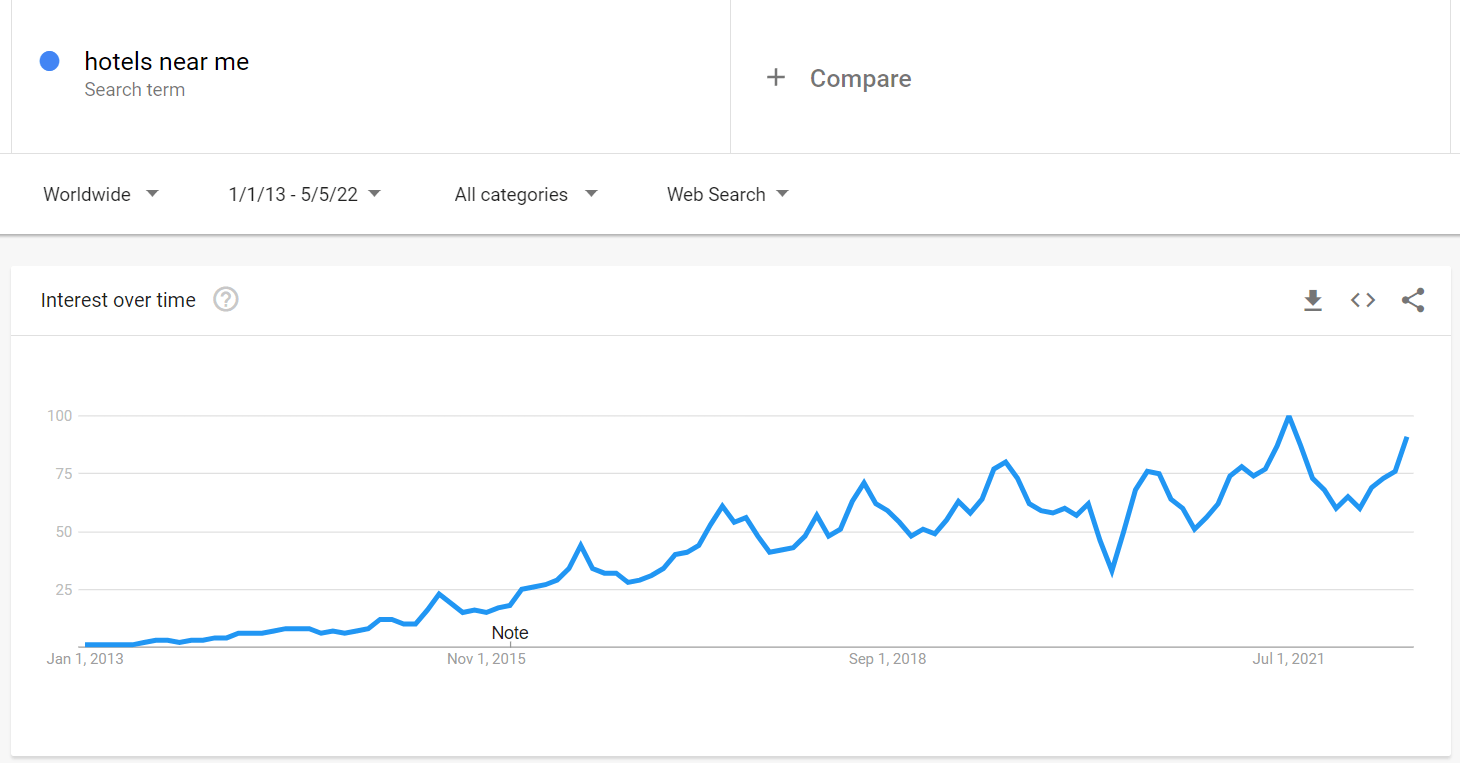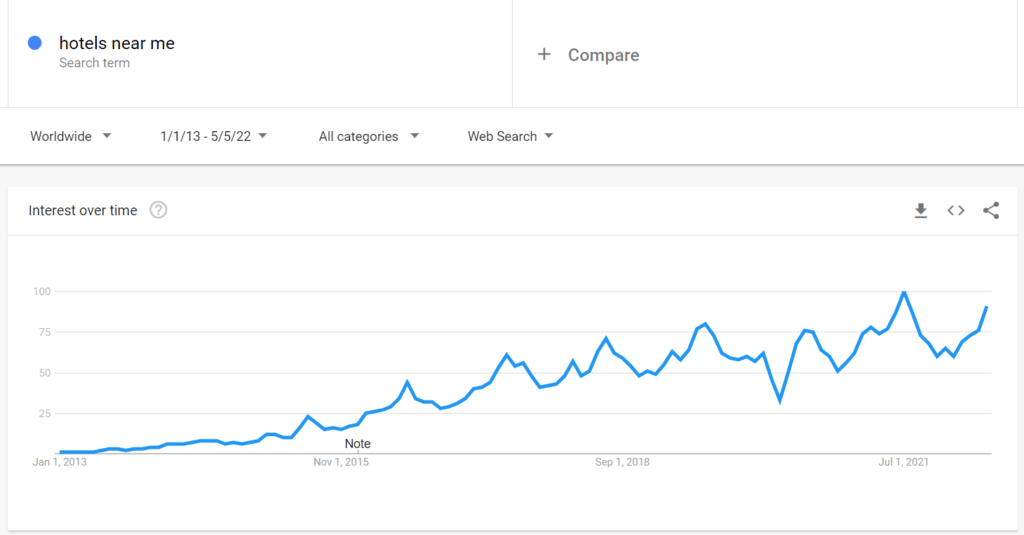 This chart demonstrates a gradual increase in search intent for the keyword 'hotels near me' over the years. As it moves up and down season after season, you will notice a dramatic downturn come 2020. We all know that the COVID-19 pandemic has brought about significant economic disruptions, with tourism and hospitality being particularly affected, among other businesses. But despite those natural declines, the data shows a surprising upward trend soon after travel restrictions are lifted. Interest in leisure trips and accommodation remains strong, with more people searching for hotels online and expecting to travel as much in the new normal. As demand increases, PPC and social media ads become more competitive and, consequently, more expensive. Seeking SEO help is the only way to boost traffic and ROIs without the rising cost of hotel marketing ads.
People Use Plenty of Keywords to Find Hotels
Keyword research is an integral part of a successful SEO campaign. This method uncovers a variety of search terms that potential guests might use when looking for hotels. Below are examples of keywords people often use to find hotels on Google:
'Hotel near me'.
'Hotels in…' + location: 'hotels in London'.
Specific types of hotels: 'boutique hotel', 'spa hotel' or 'casino hotel'.
Questions about hotels: 'what is the cheapest day to book a hotel?'.
Those are just some of the most popular terms used to locate hotels. Some people may use synonyms and even abbreviations, for example, 'inns', 'hostels' and 'B&B', which stands for bed and breakfast. Moreover, the below figures reveal the average search volume for various terms and queries related to hotel and accommodation services. Your hotel website can potentially reach millions of people as long as it ranks highly for these keywords,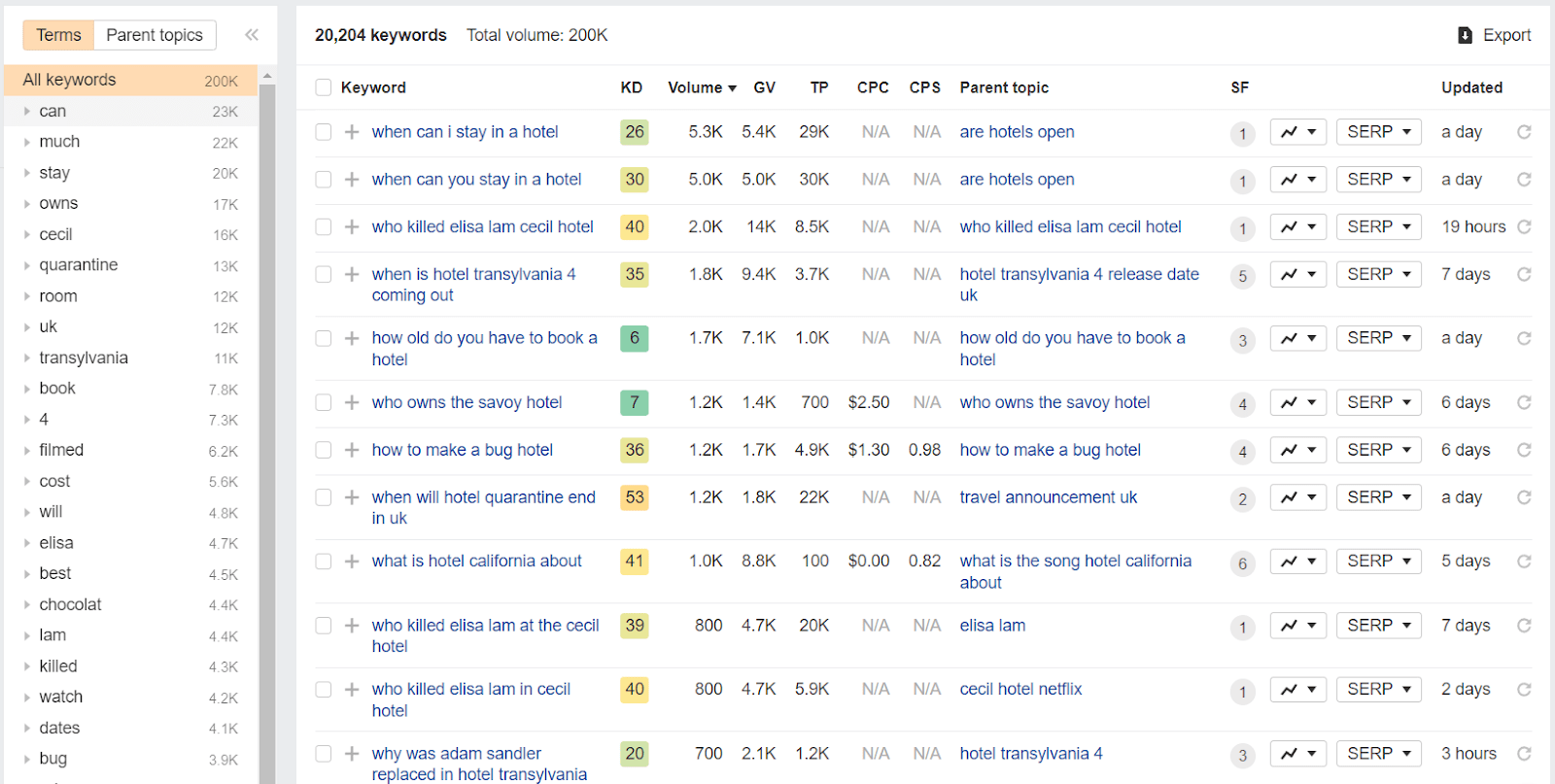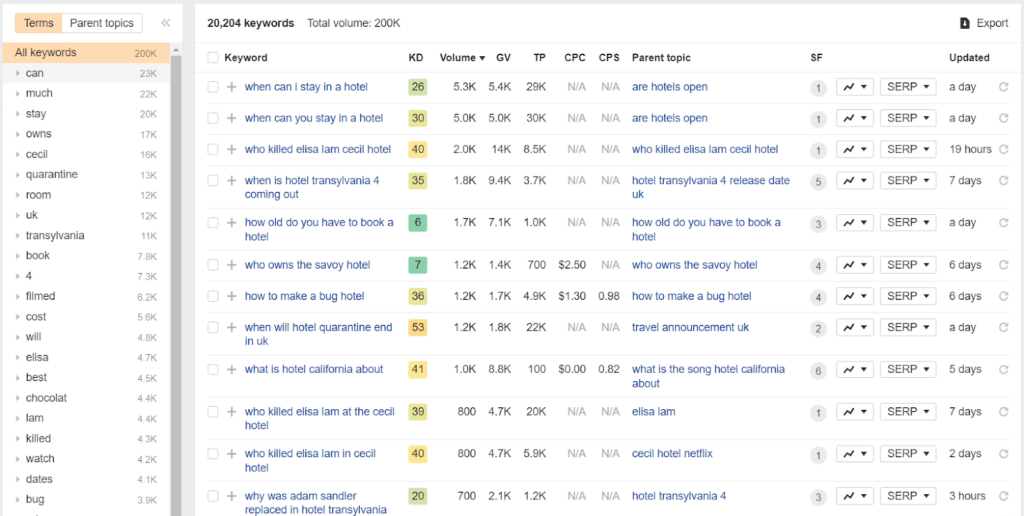 Other Hotel Companies are Already Getting Results from SEO
When SEO is done right by a team of professionals, it improves your website's authority and position on Google. This will then result in increased brand awareness, customer loyalty and ROIs for your hotel. The following examples will show you what is possible when implementing hotel SEO for your website. We have analysed a couple of hotel sites that are already celebrating a good return from their SEO efforts.


On the one hand, Trivago is a famous hotel booking site that provides extensive hotel options and price comparisons for travellers across the United Kingdom. This website receives over one million visitors per month via organic search results. By obtaining excellent rankings on Google, the Trivago owner doesn't need to spend millions of pounds on paid advertising just to get the same number of traffic they already enjoy. This saves them as much as $1,100,000 per month.
Moreover, the following list contains the pages that draw the most traffic to this website.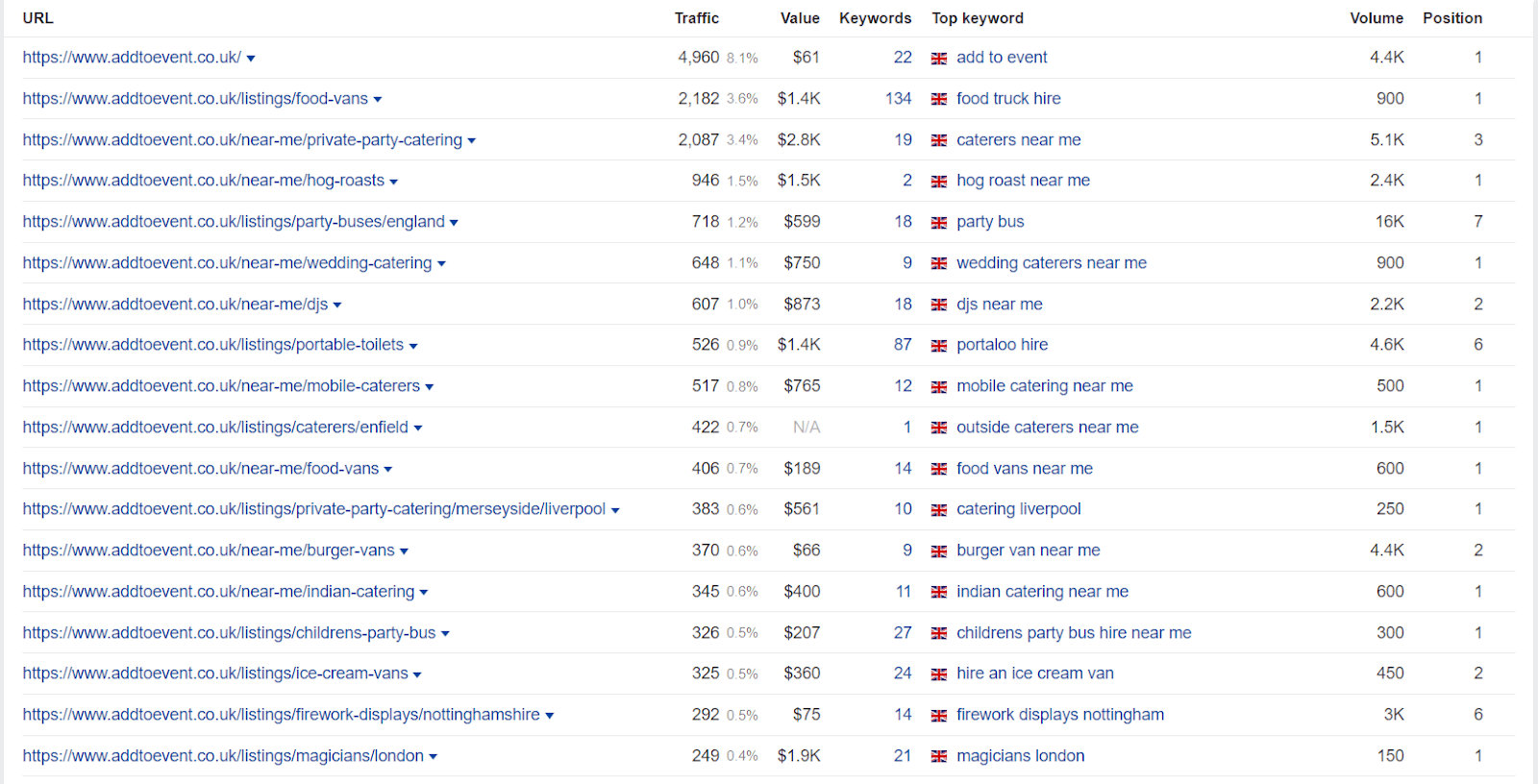 As you can see, most of these pages are top rankers. Your SEO provider will examine this data to identify which topics and keywords related to your business rank highly on Google's search results. They can then use that information to effectively optimise your existing pages and create fresh ones that will attract even more traffic to your own website.
Trivago has been live for nearly two decades now. It is just typical for older websites like this to witness such an impressive return. Let's take a look at our next example to see if novice websites can also reap SEO benefits.


Clayton Hotel, on the other hand, is a 4-star luxury hotel in London. Although the hotel's website is relatively new, it surely isn't lacking in terms of traffic. The data shows that approximately four thousand people visit the website every month. If you try to convert that into paid visitors, the owner would otherwise be spending $3,300 on PPC ads.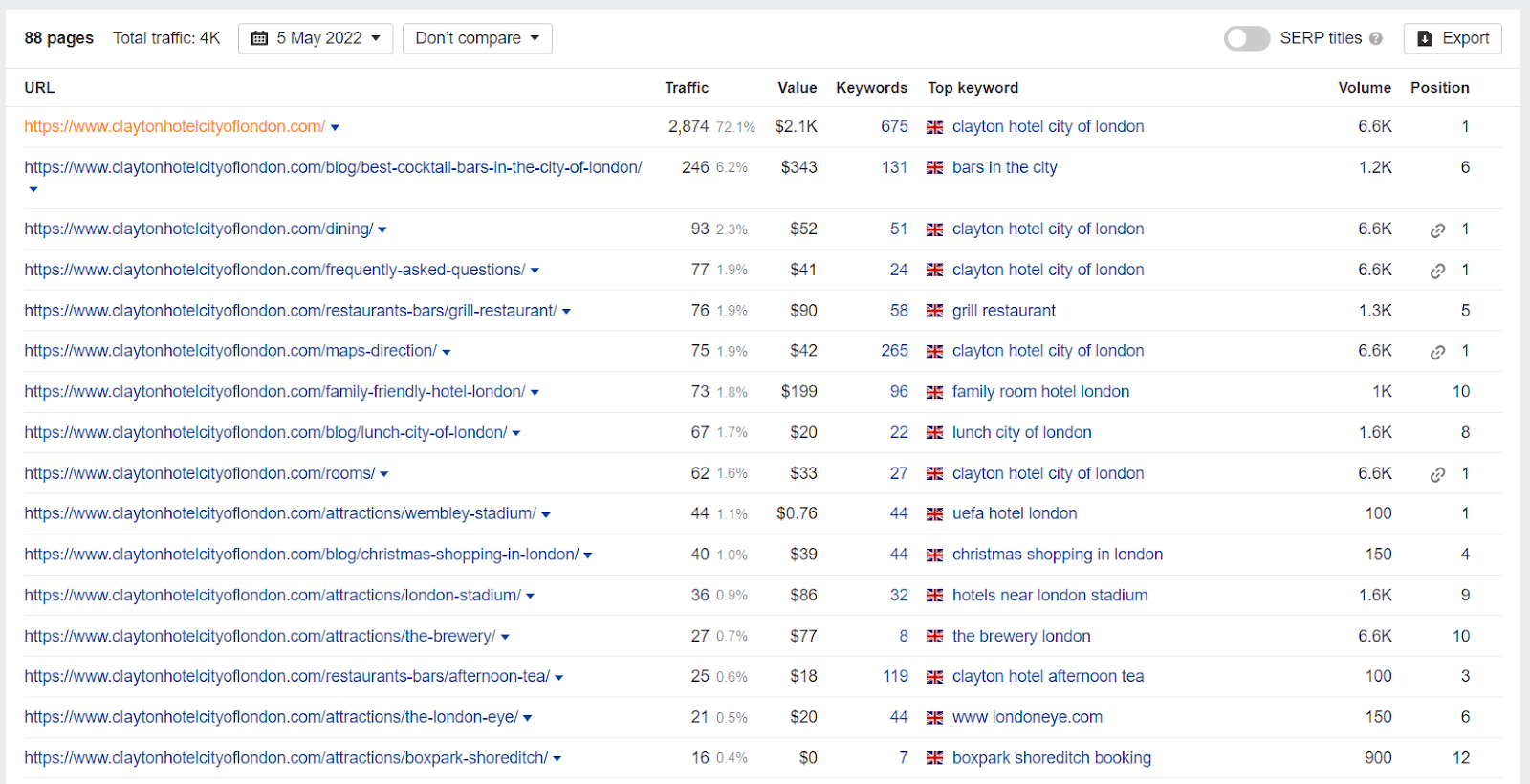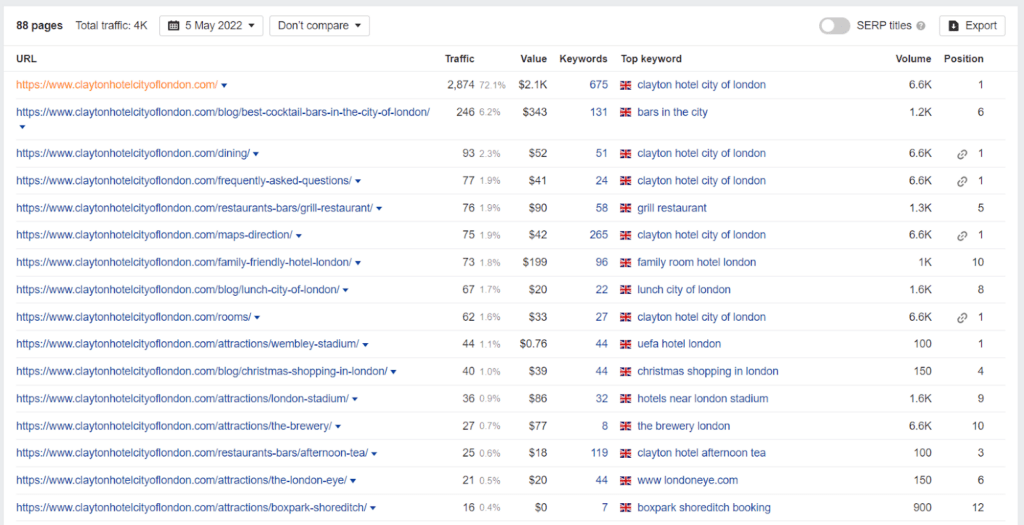 Looking at the image above, you can spot several top-ranking pages containing the keyword 'Clayton hotel city of London'. The results are very promising, even for a smaller website. The bottom line is that hotel businesses can do well with SEO, regardless of their marketing power, financial position or even the size and age of their website.
Local SEO for Hotels
Local SEO is a strategy that helps your hotel website be more discoverable in local search results. To make that possible, Google uses an algorithm that integrates a number of factors to match local queries. If someone in your area types in 'hotels near me' on the search bar, Google will pull up your website and present it to your local audience through lists of search results. Adding your hotel website to Google My Business and verifying its location on Google Maps is often the first step. But, it pays to know that doing so will not drive as much traffic as SEO could give you. Comprehensive search engine optimisation offers better visibility by targetting audiences in and outside your local zone.
What Does an SEO Company Do?
Websites are the cornerstone of hotel marketing in the digital age. It is very important for hospitality businesses to have an easy-to-navigate and aesthetically-designed website, as it largely influences the booking behaviour of potential guests. But, it won't matter how visually appealing your website is if it's hardly seen on Google. That's where effective SEO comes in. Any successful SEO campaign involves a toolkit of skills, expertise and diligence in order to deliver notable results.
For many years, our team at NUOPTIMA has been providing bespoke SEO services to businesses of all shapes and sizes. Here are just a handful of things we do to get your hotel website on the first page of Google search results:
Organise link placements on high-authority and reputable hospitality websites.
Curate SEO-friendly content to enhance your website's position for more relevant keywords on Google.
Optimise live pages to ensure they keep up with Google's rules and best practices.
Create intriguing pages to help your website attract as much traffic as possible.
Our team is knowledgeable and competent to do all the legwork while you harness the fruits of our SEO efforts. Book your free discovery call with us to learn more about our range of services that suit the different needs of your hotel business.
Embrace the Digital Transformation in Hospitality
In the hospitality industry, the digital landscape is constantly evolving. With the rise of online bookings and the importance of online reviews, it's more important than ever for hotels to have a strong online presence. SEO plays a crucial role in this, helping your hotel to be found by potential guests and stand out from the competition.
At Nuoptima, we specialize in SEO for hotels. Our team of experts understands the unique challenges and opportunities in this sector. We employ proven strategies and innovative techniques to help our clients improve their search engine rankings, drive more traffic to their websites, and grow their businesses. Reach out to us today to learn more about how we can help your hotel excel in the digital landscape.
Talk to an SEO expert
We work with 100+ businesses. Book a slot now to talk to one of our experts.
Why is SEO important for hotels?
SEO is crucial for hotels as it helps in attracting potential guests and establishing a strong online presence. With effective SEO, your hotel can rank higher in search engine results, making it easier for potential guests to find your hotel.
How does Nuoptima approach SEO for hotels?
Nuoptima uses a unique approach to SEO for hotels, focusing on keyword research, content creation, and link building. We also optimize existing pages and create new ones to attract as much organic traffic as possible.
What kind of results can I expect from Nuoptima's SEO services for hotels?
With Nuoptima's SEO services, you can expect increased traffic to your website, higher search engine rankings, and increased bookings. These results can lead to a significant return on investment over time.
How does Nuoptima's SEO services for hotels differ from other SEO services?
Nuoptima's services are unique because of our specific expertise in the hotel sector. We understand the unique challenges and opportunities in this field, and we tailor our strategies to meet the specific needs of hotels.
What types of hotels has Nuoptima worked with in the past?
Nuoptima has worked with a wide range of hotels in the past, including luxury hotels, boutique hotels, and bed and breakfast establishments. Our experience spans various fields within the hotel sector, allowing us to provide tailored SEO services that meet the unique needs of each client.