As an insurance company in today's competitive market, standing out and attracting new customers can be a significant challenge. With increased customer scepticism, complex products, and strict regulations, marketing your insurance agency can seem overwhelming. However, in this digital age, there is a solution – search engine optimisation (SEO). By utilising SEO strategies, insurance companies can increase their online visibility, establish credibility, and drive relevant traffic to their website.
In a world where most customers begin their buying journey with a search engine, we can not overstate the importance of SEO in the insurance industry. But with so many factors to consider, where do insurance companies begin? This article explores the unique SEO challenges facing insurance companies and provides actionable insights to help overcome them and stay ahead in the game.

PPC vs. SEO for Insurance Companies
SEO is crucial for insurance companies looking to reach and engage with potential customers online. Unlike pay-per-click (PPC), which relies on paid advertising to appear at the top of search engine results, SEO focuses on improving a website's organic ranking using tactics such as keyword optimisation, link building, technical fixes, and content creation. Let's take a look at the difference between these methods!
SEO Pros and Cons
Pros
Cons
– Long-term cost-effectiveness
– Build trust with your audience and search engines
– Provide genuine value across the whole customer journey
– Continues to benefit you even after you stop paying for SEO services
– Difficult to measure
– It can take a few months to start seeing results
PPC Pros and Cons
Pros
Cons
– Immediate effect
– Easy to measure
– Expensive to maintain
– Traffic stops when you stop paying
– Lack of trust
– Costs rise as demand for PPC ads in the industry increases
As you can see, using SEO for insurance companies helps build credibility and trust with potential customers and the search engine. By appearing at the top of the search engine results page (SERP) for relevant keywords, insurance companies demonstrate their expertise and establish their brand as an industry leader. In contrast, some view PPC as less trustworthy, as they rely on paid advertising to appear at the top of the SERP.
Additionally, SEO is a more cost-effective way to reach your audience. While PPC can drive traffic to a website immediately, it is expensive, as companies must pay for each click on their advertisements. When you stop paying, the traffic ceases, and your website is in no better position than when you started. In fact, as demand for your industry and relevant keywords increase, the cost of PPC also increases, making it more expensive in the long term.
In comparison, SEO improves website rankings over time, so you can reach potential customers without the rising costs of PPC. Consequently, the ROI increases year after year as your efforts continue to pay off even after you've stopped paying for SEO services. Although SEO can take a little longer to implement and see results, it's a long-term strategy for sustainable growth.
Search Demand for Insurance Companies on Google
How do you know it's worth investing in insurance agency SEO? Are there enough people searching for your services every month? The short answer is yes! Below, we'll show you how many people use Google to find insurance companies every month.

The above screenshot shows data from an SEO software, Ahrefs. This snippet allows us to see the search volume for particular keywords, which means the average number of people searching for a term each month.
Looking at the global search volume for the keyword' insurance companies,' we can see a huge demand online. On average, 138 thousand people are searching for insurance providers each month. More specifically, 87,000 searches come from the United States, 8,700 from the United Kingdom, 8,100 from Canada, and 4,100 from India. This data clearly indicates that thousands of people are searching for your services every month, and SEO is how you access this pool of potential clients. SEO professionals would analyse this information to find the best opportunities to direct organic traffic to your website.
Potential Clients Use Many Terms to Find Insurance Companies
Keyword research is crucial to ensure your SEO efforts pay off. Your chosen keywords must be relevant to your niche, target the right people, and have an appropriate search volume. An SEO expert can help you identify that sweet spot to target achievable keywords.
When you research, you'll find your customers use numerous search terms to find services like yours. The following are a few examples:

Insurance providers for particular cases (e.g., car insurance)
Local insurance providers (e.g., London insurance companies)
Questions about getting insurance, making claims, and choosing a suitable company
Understanding what terms you're targeting is essential to optimising your website. This information helps you create necessary landing pages and blog posts for different stages of the customer's journey, such as learning about insurance, comparing providers, and making a decision. It's worth considering outsourcing this to a specialist as they can cluster keywords depending on search intent and help you build Topical Authority (TA).
Creating accurate, high-quality content across the entire topic of insurance demonstrates to Google that your site is trustworthy and relevant to the search query. Becoming an authoritative source proves to Google you deserve the top spots on the results page instead of your competition. One way an SEO expert will do this is by creating very specific content that is better than other sites on the SERP.
How do you choose suitable keywords?
The below image shows keyword examples relating to the topic of insurance providers. Your aim is to identify the best terms for your website, customer, and niche. For instance, although the term 'insurance companies' has a large search volume, smaller websites should avoid targeting this initially. Industry leaders already dominate this keyword and have years of SEO experience behind them, making it very difficult to get on page one.


Instead, newer sites should focus on terms with various search volumes. For example, the keyword 'how do insurance companies pay out claims' has a search volume of 800. Although the demand is lower, it is easier to rank on page one of Google as there is less competition. The more you rank on page one for keywords in your niche, the more Google will recognise you as an authoritative source of information.
The below image shows a few more examples of insurance-related questions. Data like this will guide your SEO strategy as it'll help you understand what your ideal customers are curious about and, ultimately, what your content will focus on.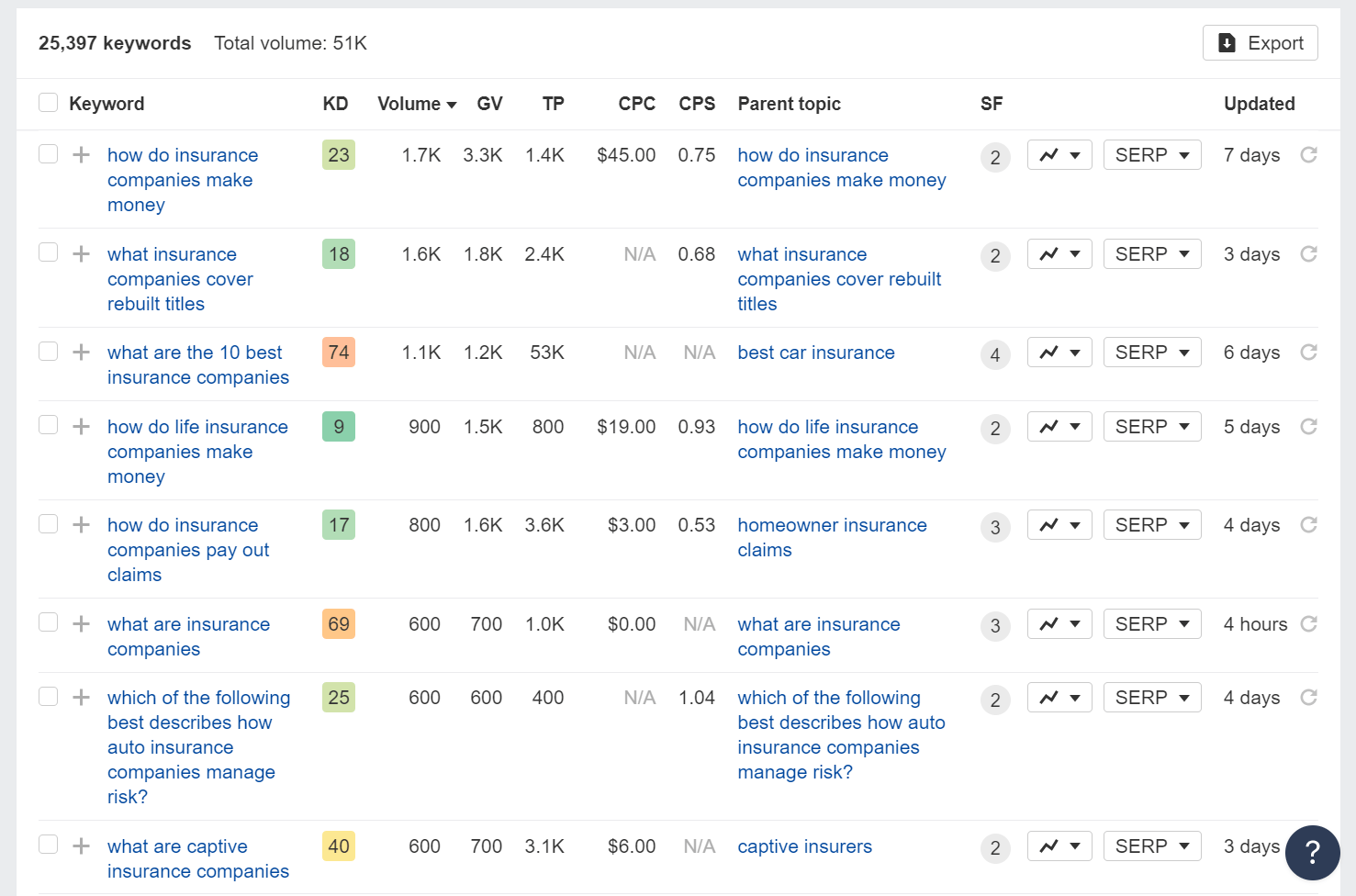 Insurance Companies Are Already Getting Results With SEO
If you're still unsure about the impact SEO can have on your insurance company, check out the following example. Below we have two websites in the insurance industry that are getting significant traffic from SEO and saving a considerable amount of money in the process.


This site analysis highlights two important figures. Firstly, this website receives 91.9 thousand visitors a month through organic search. Thanks to their SEO efforts, they get all that traffic for free. Secondly, the traffic value tells us that getting the equivalent traffic from PPC would cost them $594,000 a month. That means any SEO investment saves them an average of $594,000 every month, which they'd otherwise spend on advertisements!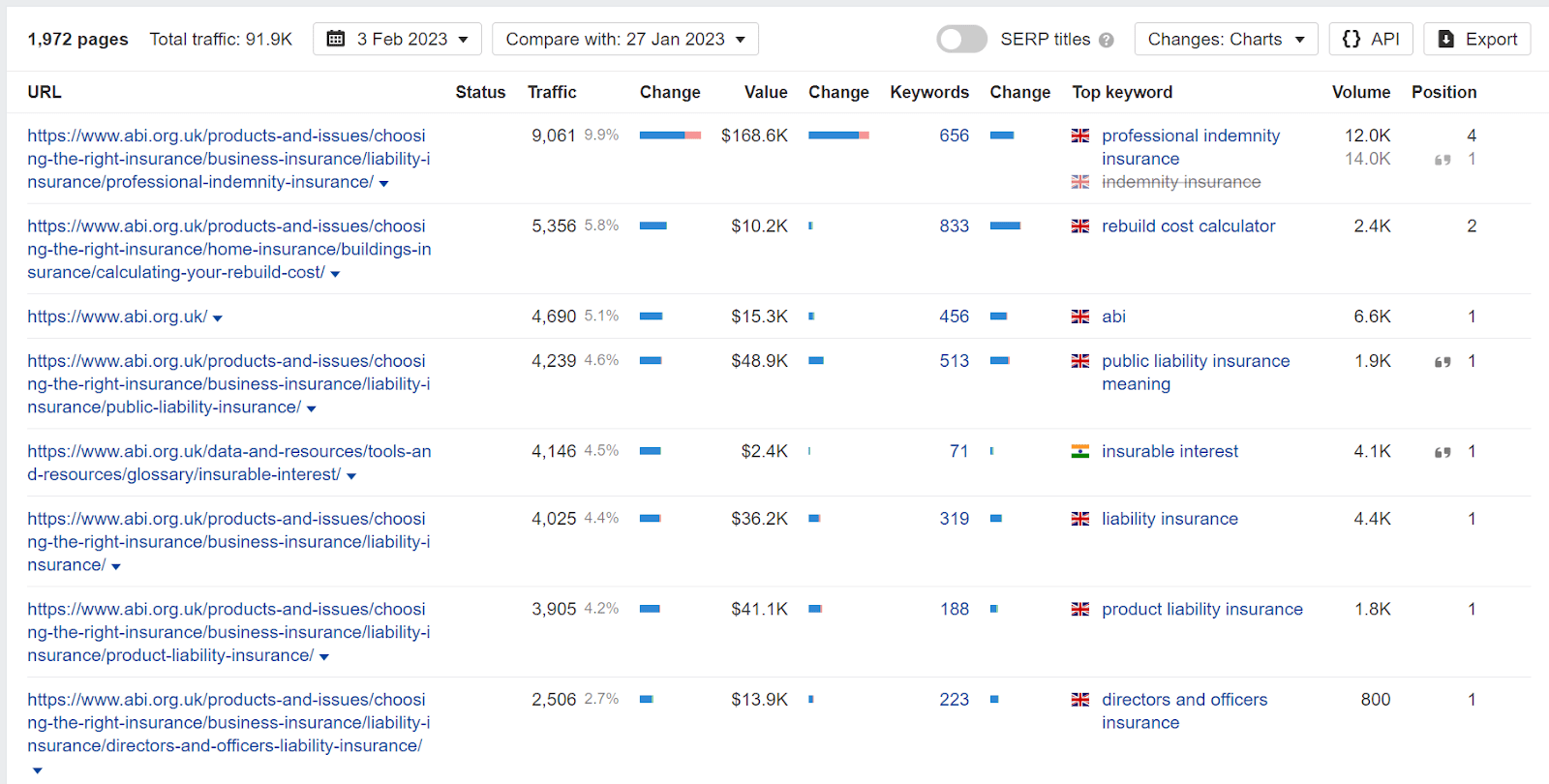 We can also assess which pages generate the most organic traffic for this brand. As you can see, they are ranking in the first position for many keywords. In this instance, much of their organic traffic comes from landing pages aiming to educate their audience and answer common insurance queries.
While the above is an excellent example of SEO at work, it's easier to see significant results as they are an industry leader. In the next example, we show you how SEO can save money even if you're working with a smaller site.

This independent insurance broker has significantly less traffic than the last website, but they are still reaping the rewards from their SEO efforts. According to the traffic value, if they wanted to attract 2,400 visitors through paid advertising, it would cost $7,600 monthly. Remember, if they choose to use PPC, they'd only see this traffic as long as they continue paying. On the other hand, implementing SEO means they get free organic traffic and set their site up for long-term sustainable growth.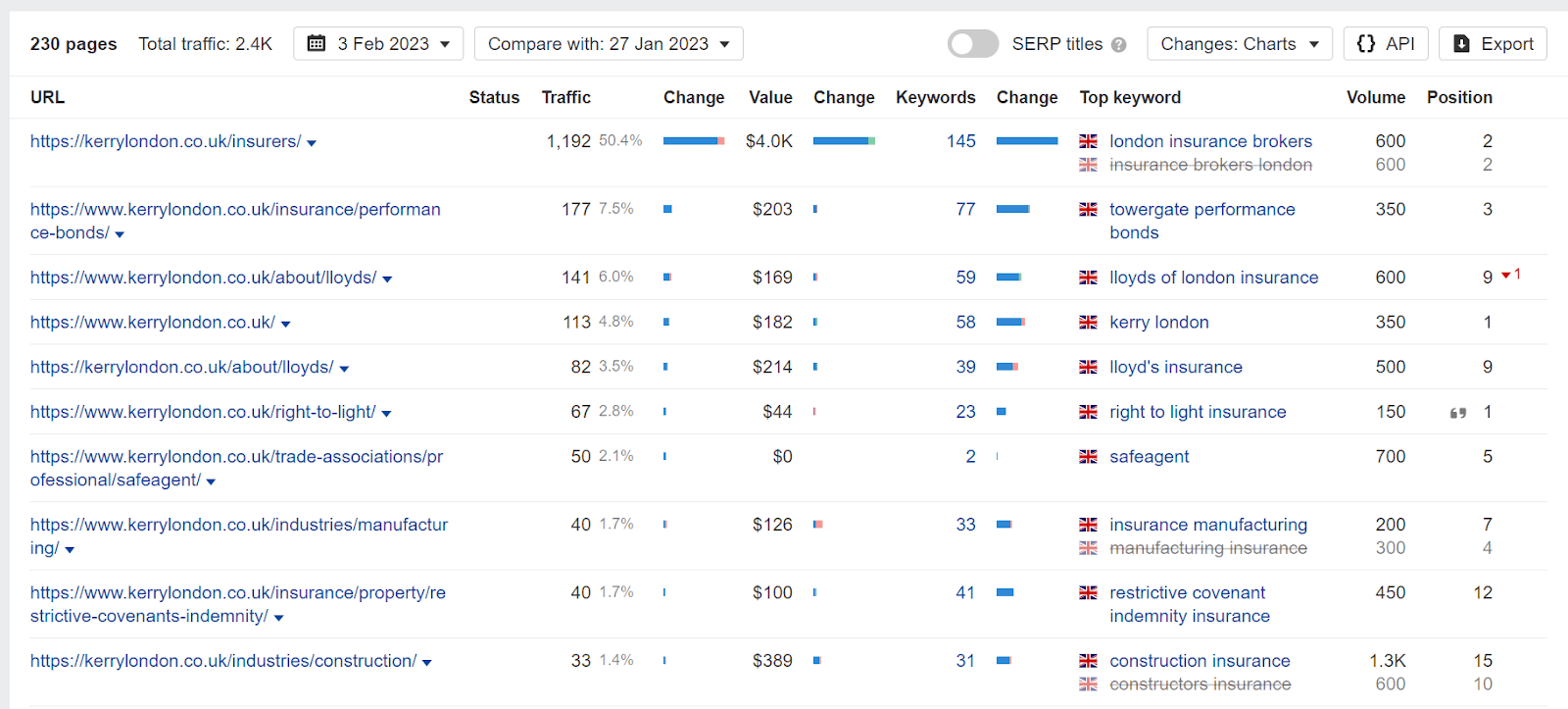 The top pages show us where they are getting organic traffic. They're ranking on page one for numerous search terms such as 'London insurance brokers,' 'right to light insurance,' and their brand name. Their content has a strong focus on connecting customers to the right insurers. If this were your site, an SEO professional would analyse where you're missing opportunities to gain traffic. They may focus on creating brand awareness, providing educational content to your customers, or creating sales pages for those ready to make a transaction. In addition, SEO professionals will consider if your site needs technical fixes or backlinks to support your online credibility.
Should Insurance Companies Outsource to an SEO Agency?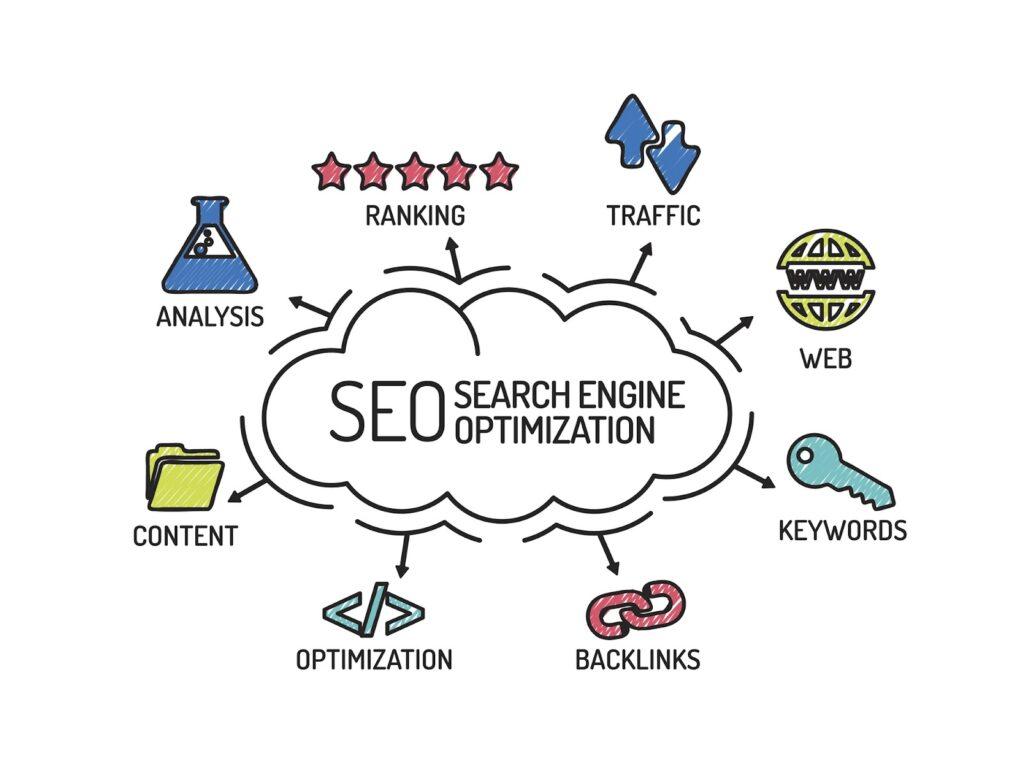 Many people attempt SEO with a DIY mindset. While there's nothing wrong with this, you should be aware that it takes time, hard work, and expertise to ensure SEO brings results. Many insurance providers don't have the luxury of time or spare expenses to experiment with SEO themselves.
Moreover, as you read at the start of this article, SEO can be difficult to measure and implement. Imagine waiting months to realise your method isn't working and you've wasted precious resources; outsourcing to professionals is one way to mitigate these challenges and ensure you get results.
Investing in an SEO agency like NUOTPIMA gives you access to industry specialists with years of experience growing businesses like yours. Our experts can create a strategy that demonstrates your expertise, authority, and trustworthiness in the eyes of Google and your target audience.
We've helped numerous businesses from various industries get on page one of Google (and stay there). That's why we understand how to measure SEO performance and track key indicators to ensure it yields results. Do you want to know how we did it? Check out our SEO case studies!
So, how will NUOPTIMA support you?:
We create a tailored SEO strategy that suits your industry, business aspirations, budget, and target market.

Keyword research and clustering

Create and publish consistent SEO content that provides genuine value to your clients
Perform a technical audit and implement fixes

Write original, relevant backlinks and place links on high-quality sites

Adhere to Google's strict guidelines and follow best practices for the insurance field
Together, these things help establish your site as the ultimate source of information in the insurance industry. With proper implementation, SEO can help you dominate insurance-related search results and stand out from the competition.
If you're ready to invest in long-term sustainable growth, book a free call with one of our specialists. We'll discuss your options and determine if SEO is the right option for you.
Talk to an SEO expert
We work with 100+ businesses. Book a slot now to talk to one of our experts.