If you run a manufacturing company, your business operations focus on making products, selling them, and improving the quality of your products. But there's one thing many manufacturers miss: reaching more customers. This can be challenging, especially if you're selling niche products or have a small advertising budget.
Back in the day, manufacturers could rely on their brick-and-mortar stores as the sole source of customers. But with the rise of online shopping and search engines like Google, manufacturers have much more competition. To stay ahead of the game, you need to attract more customers and get them to buy your products online.
You need to be found by prospective customers looking for a product like the one you offer when they do an online search. And if you're a manufacturer in a specific area, you also want prospective customers nearby to find you.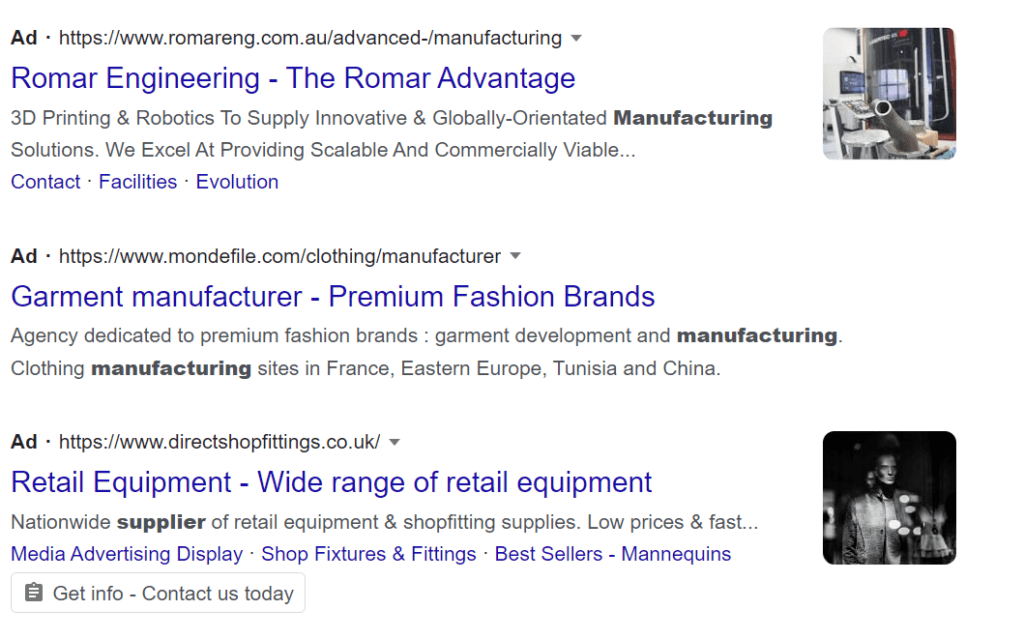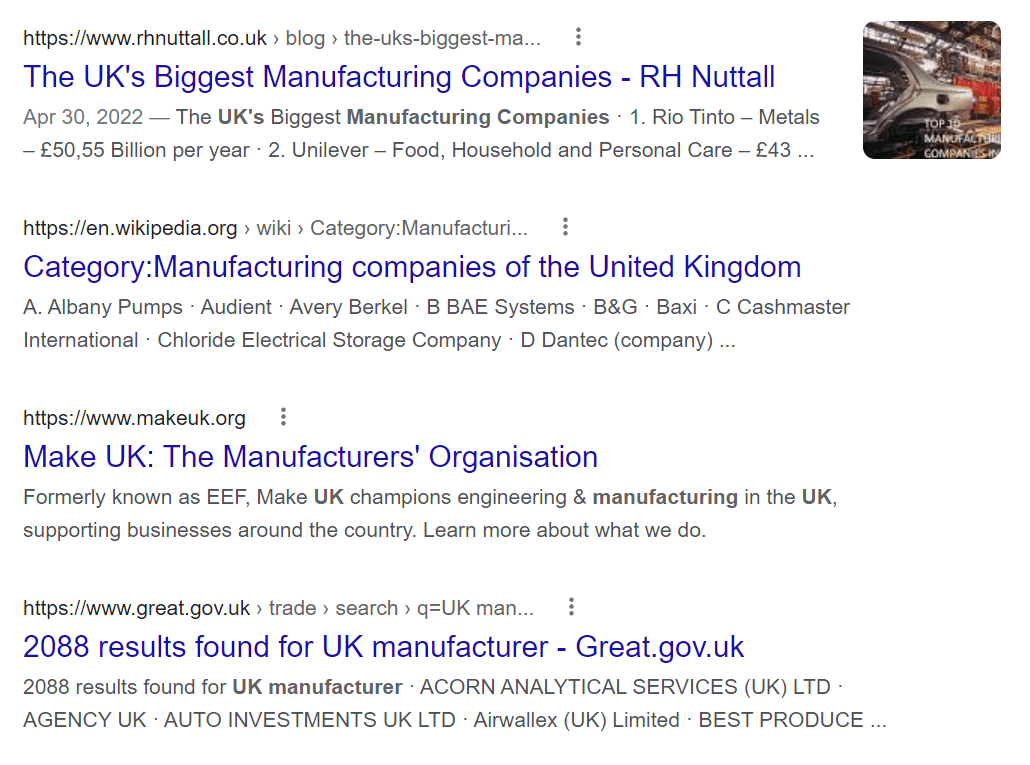 There are several ways to gain an online presence: pay-per-click (PPC) ads, social media marketing, and search engine optimisation (SEO). Each of these methods has its own unique set of benefits and drawbacks, so it's important to know what each can do for you.
PPC and social media ads give you a chance to be seen by your prospective customers as they search online. They also allow you to target a specific audience based on their demographics and interests. But PPC and social media ads are expensive—and often ineffective, especially if you're just starting. Once you stop paying the fees, your ads (and traffic) will disappear from the search engine or social media site. In addition, people can find your ads annoying and may be less likely to click on them if they see a lot of ads for similar products.
With SEO, you're building a long-term presence on the internet. As search engines crawl and index your pages, they'll be able to find them whenever someone searches for something related to what you do. This means that even if you stop paying for ads (or stop creating new ones), people will still be able to find your site simply by searching on Google or another search engine.
Why is SEO For Manufacturing Companies Important?
Manufacturers compete with each other to sell their products, so it's important to build an online presence and market your company online. You need to be found by prospective customers looking for a product like yours when they do an online search.
SEO helps manufacturers achieve both goals by optimising the content on their websites that will rank highly in search results and creating strategic links from other websites back to theirs. All of these improvements should lead to an increase in traffic, sales, and conversions. This will help you make more money from your website and grow your business.
But the big question is, can manufacturers attract more customers (and conversions) with an SEO strategy? Yes! Let's review examples of manufacturing websites implementing a successful SEO strategy and see how they have benefited.
Search Demand for Manufacturers on Google

The image above shows Google search data for the term 'manufacturer'. This allows us to review the number of searches performed on Google each month for this term. As indicated by the Global Volume statistic, people worldwide searched the term manufacturer over 280 thousand times per month.
To make things even more specific, nearly 99 thousand or 35 per cent of all searchers come from the United States alone. An additional 48 thousand were from India, 15 thousand from the United Kingdom, and 13 thousand from the Philippines. Clearly, the term manufacturer is one that people around the world use to find businesses like yours.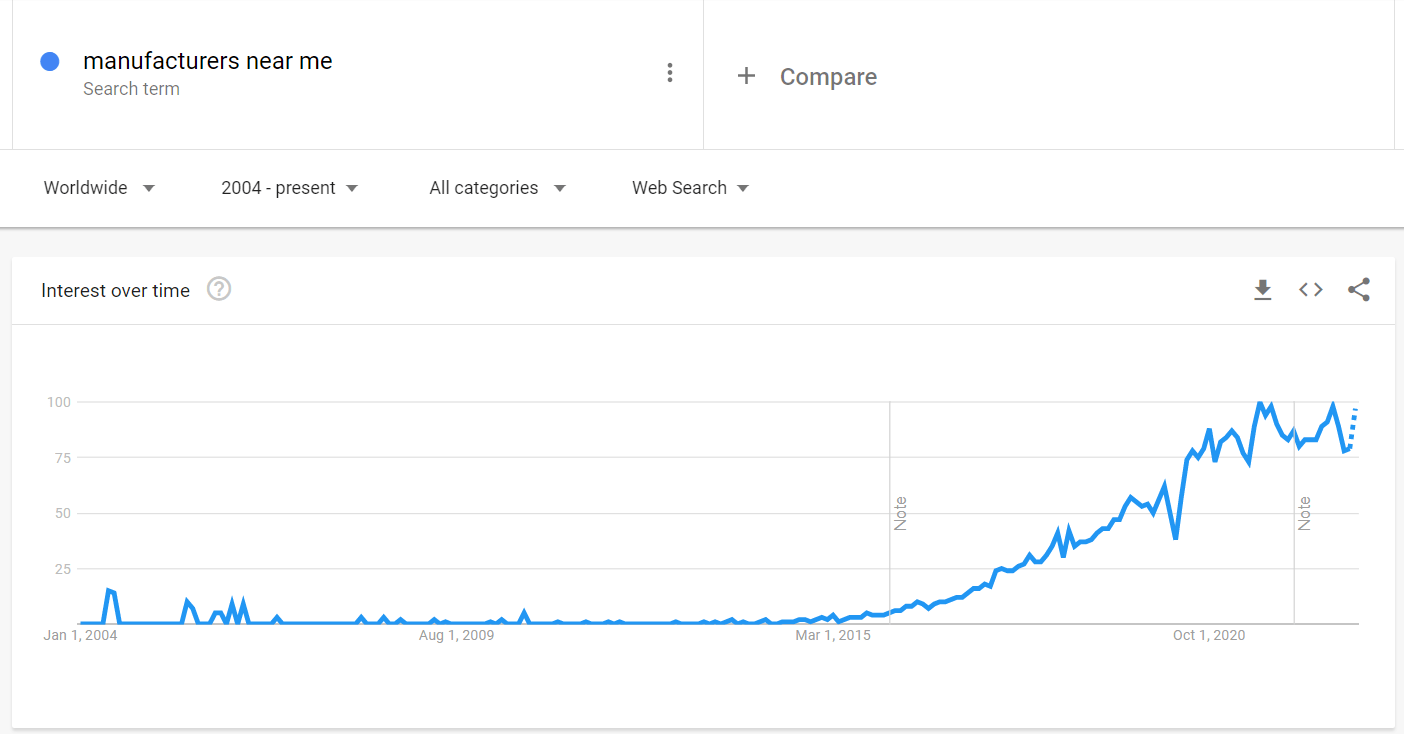 Additionally, the demand for manufacturers has grown exponentially over time. The image above is a Google Trends graph that shows how often people have searched for the term 'manufacturers near me' in the last five years. This means that more people are looking for a manufacturer than ever before. If you are in this industry and have not been actively promoting your website, you may already be losing out on potential sales and leads.
Hiring an SEO company can help position your company at the top of search results and increase your website traffic. After all, if people can't find your website in search results, they will not be able to do business with you. SEO is a long-term strategy that requires patience and consistency, but it's well worth the time and effort.
People Use Many Terms To Find Manufacturers
A key feature of SEO is that it allows you to target specific keywords and phrases. This is important because people use many different terms and phrases when searching for products like yours. Optimising your website for one term means missing out on other terms that may be even more relevant to your business.
For example, if you only optimise your website for the keyword "industrial fabrication equipment", then people who search for "metal fabrication" or "metal working machine" will not find your site in their search results.
During the search engine optimisation process, an SEO expert will look at your website and determine which keywords are most relevant to your business. Then they will create content that is optimised for those terms and phrases. This helps ensure that when people search for those terms, your site appears in the first few pages of search results when people search for those terms.
Here are a few of the search queries someone looking for a manufacturer might use:
'Manufacturers near me'
'Manufacturer in…' + location. For example, Manufacturer in Yorkshire.
Product-specific manufacturers. For example, office furniture manufacturers
Industry-specific manufacturers. For example, manufacturing hardware or manufacturing software.
The image below shows the average monthly search volume for some manufacturing-related keywords.

Some of these searches can show which manufacturing industries garner the most traffic and should therefore be targeted. For example, people searching for clothing manufacturers generate a significant amount of traffic. This shows the demand for clothing manufacturing and that it would be worthwhile to target this niche.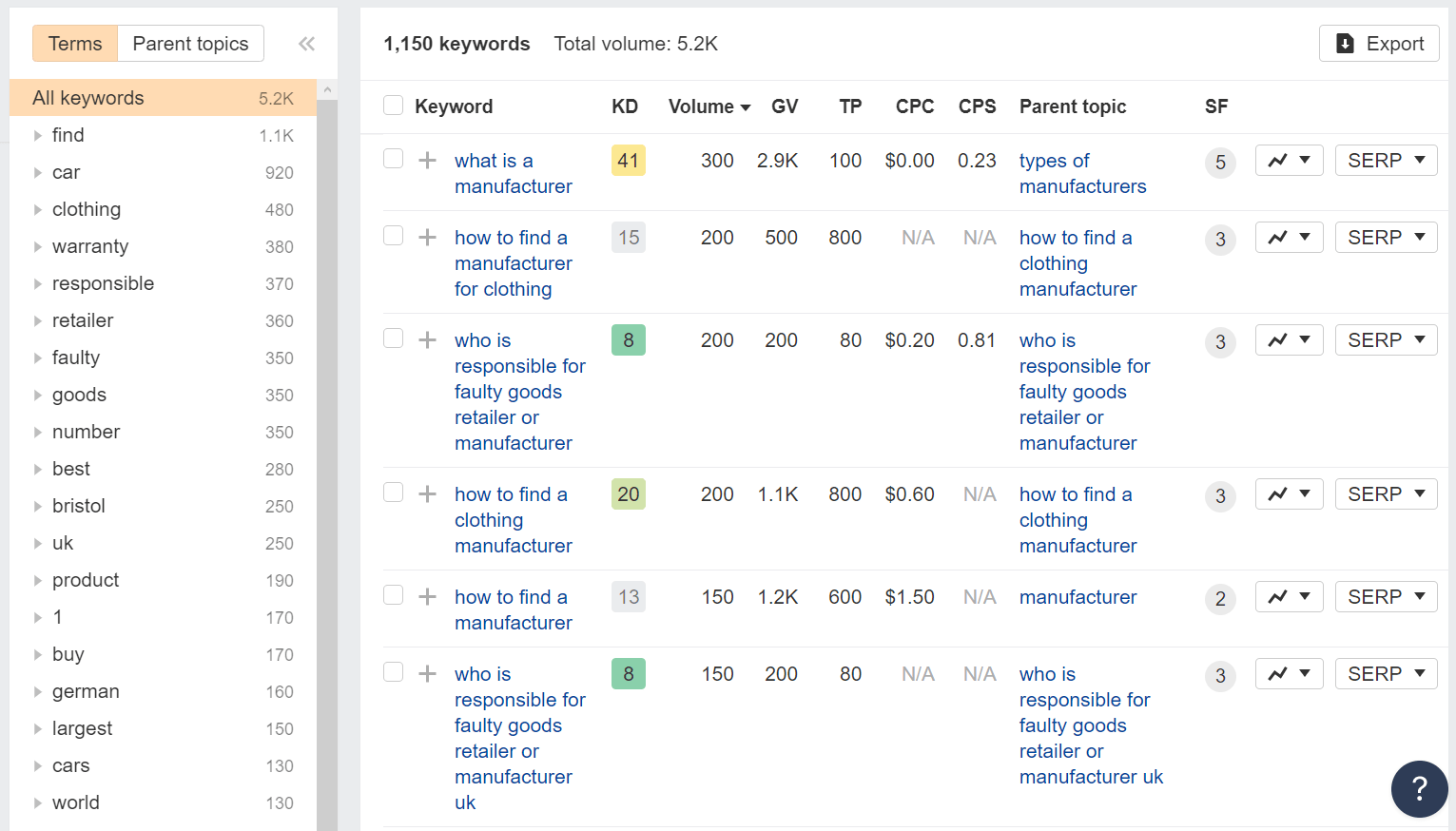 Other Manufacturers Are Already Getting Results From SEO
A well-executed SEO plan can distinguish between a successful business and one that struggles. Other manufacturers are already getting results from SEO, so it's important to take advantage of these strategies. We have reviewed manufacturing companies that found success thanks to their SEO strategies, and the results are impressive.

Our first example is www.hawthornintl.com, a leading clothing manufacturer based in the UK. The company website attracts over 15,000 organic visitors every month. These people click on the website after seeing it in their search engine results.
The website has an average monthly traffic value of $7,500 per month. This number indicates how much Hawthorn International would need to spend on contextual advertising (i.e., PPC and social media ads) to reach the same number of visitors. This means the company saves around $7,500 each month by having a strong SEO strategy in place.
Below is a screenshot showing which pages from the company sites draw in the most traffic.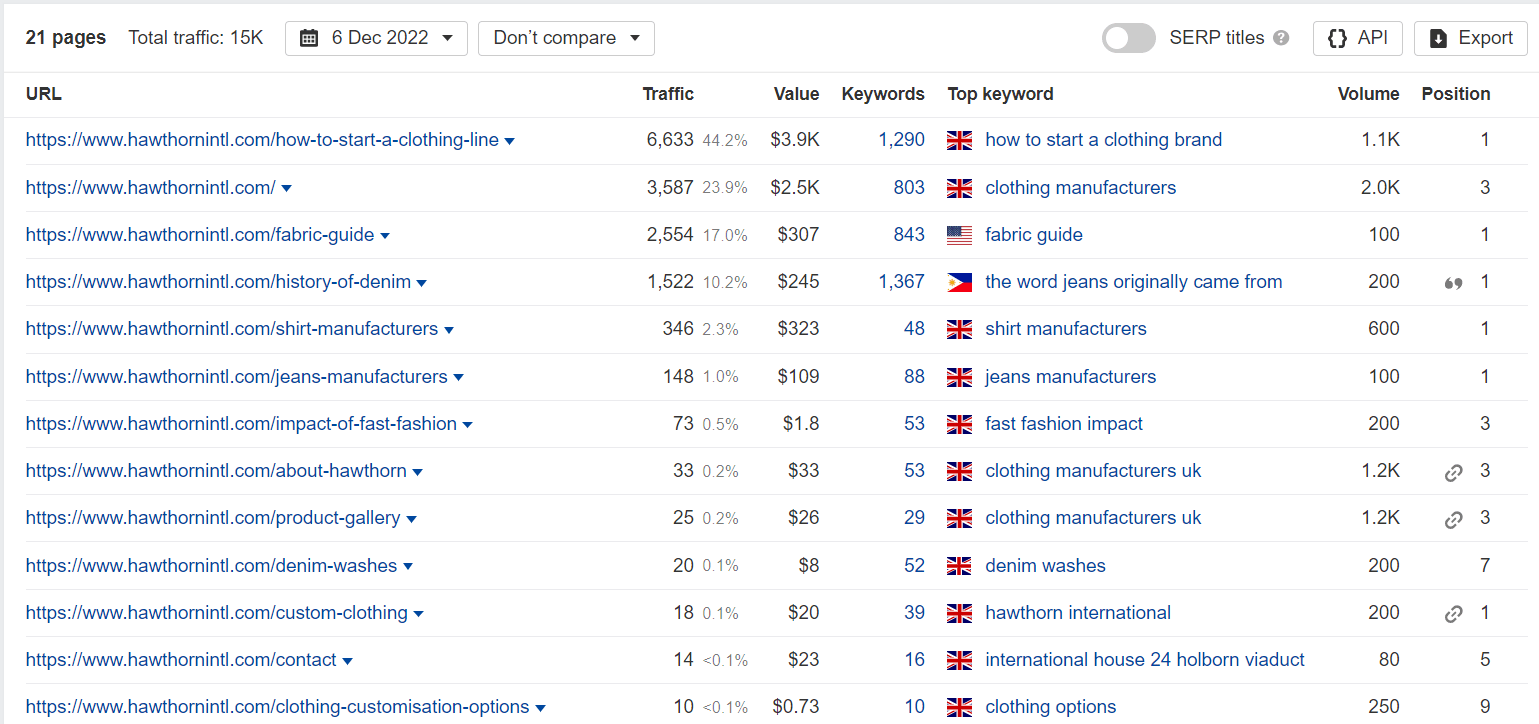 With the aid specialised SEO software, we can identify how companies position the kind of content they publish for optimum performance on search engines. From the top-ranking pages, we can see that this clothing manufacturer utilises a variety of guides and articles about the products it sells. The company also publishes a blog that covers current fashion trends and tips on getting the most out of your wardrobe. This is a great way to engage with customers and build trust by providing useful content.
As you have seen, SEO is a vital part of any online marketing strategy. Even smaller businesses can benefit from SEO if they put in the time and effort to build their website's authority. The following example proves just that.

As you can see from the image above, this clothing manufacturer attracts 2.7 thousand visitors monthly and has a traffic value of $1,600. Although it is a smaller company, this manufacturer has managed to achieve a significant amount of traffic using organic search results.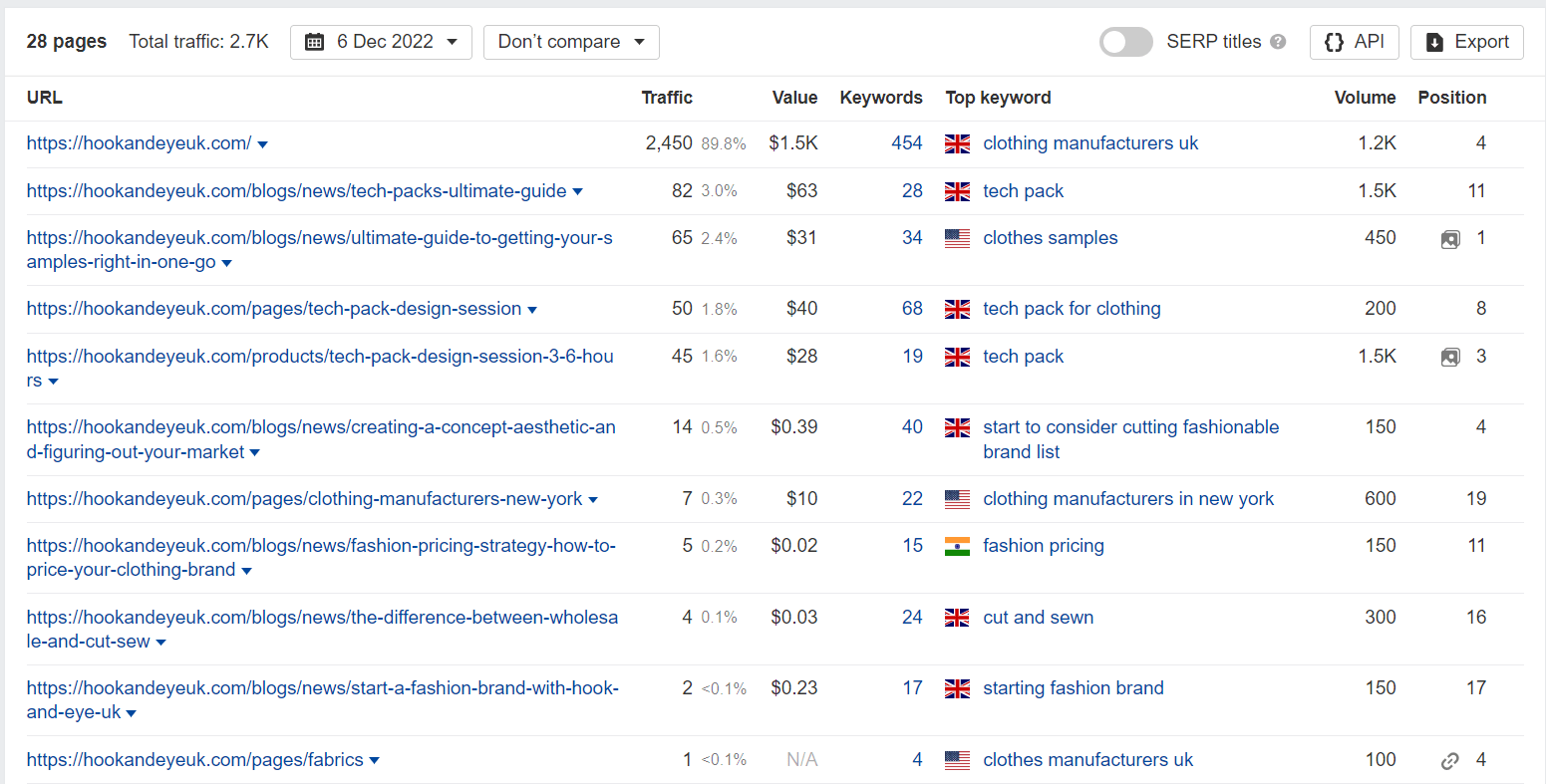 Looking at the top-performing pages, we see the same trend of how-to guides attracting the most traffic. The manufacturer has also created a blog, another example of how these small business owners can use SEO effectively. The site owner takes advantage of blog content to not only educate visitors but also to increase the site's overall searchability.
Local SEO for Manufacturers
Now that you've done the legwork on your site and its content, it's time to focus on getting people to visit it. Local SEO is essential to a manufacturer's marketing mix for attracting new customers and increasing sales.
Local SEO benefits are twofold: First, if someone searches for something in your area and you come up in the results, they're much more likely to call or visit your website than if you were nowhere near the top of the search results. Second, even if your company doesn't operate anywhere near this person's location (or anywhere within driving distance), they still might be willing to travel there because they think they'll get better deals with local businesses.
This strategy helps manufacturers land more leads by ranking them higher in Google Maps maps and shopping results pages when consumers search relevant keywords within their geographic radius.
What Does an SEO Company Do?
Though manufacturers need an SEO strategy to stay relevant, many don't know where to start. Furthermore, when you're at the helm of designing and creating a product, the last thing you want to do is learn about SEO. You have more important things to worry about, like product quality and customer satisfaction.
This is where an SEO company comes in. The experts at this type of business will help you learn how to optimise your website for search engines, increase organic traffic and boost sales. They also offer assistance with content creation (so you don't have to write keyword-heavy blog posts yourself), backlinks (that will drive traffic from reputable websites) and more.
Here at NUOPTIMA, we understand that SEO is a long-term strategy (and not a one-time fix). We work with you to build a strong foundation for your website, then we continue to improve and optimise it over time. Our team of experts is always learning about the latest SEO trends and best practices, so you can rest assured that they're always up-to-date on the latest developments in the industry.
Here are some of the ways we can help your manufacturing website get higher Google rankings:
Organise links to be placed on reputable manufacturing and industry-specific websites.
Curate optimised content to maximise the number of relevant keywords your industry targets.
Evaluate and optimise web pages to keep them up-to-date with Google's regulations and relevant to search demands.
Create appropriate new pages to educate your visitors on the industry and your manufacturing services.
When done right, SEO is a powerful way to drive traffic and revenue. That's why we're committed to helping you build an SEO-optimized website to help your business succeed. NUOPTIMA is home to SEO experts from varied backgrounds, so you get a bird's eye view of the latest SEO trends and best practices. Book a free discovery call to learn more about our SEO services and how we can help you achieve your business goals.