As a photographer, your passion lies in crafting beautiful shots, capturing human expression and honing your skills. But, as a business owner, you are also managing the challenges that come with building a successful career. Photographers used to find clients through word of mouth; now, people rely on the internet to connect with service providers. Today, photographers create visually stunning websites that not only showcase their work but also attract potential customers. But no matter how beautiful your photos and website are, they won't bring you new customers if people can't find your website online.

Fortunately, there are ways to stand out online and attract people to your website. Primary methods include PPC ads, social media marketing and SEO. Each technique has its own advantages and disadvantages.
PPC and social media ads may offer immediate results as they direct traffic to your website as soon as you start the campaign. However, ads can be expensive, and the traffic ceases when you stop paying for them. In short, you will only attract website visitors if you keep paying for PPC and social media ads day after day.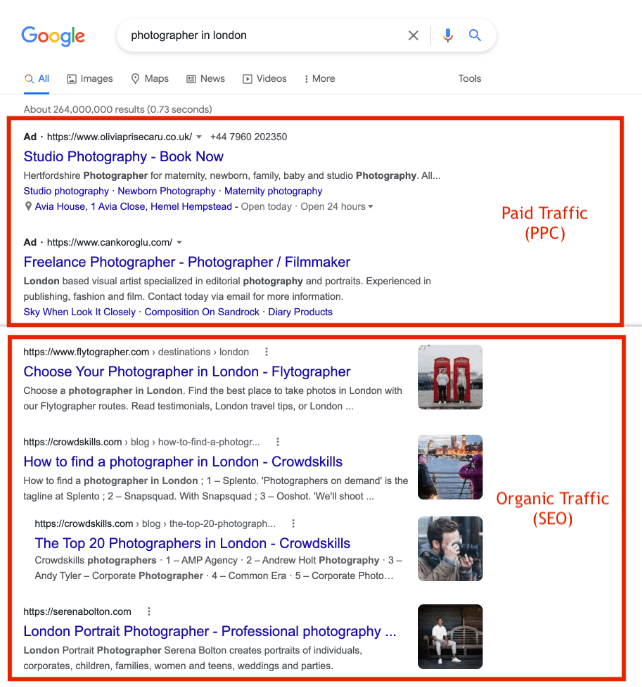 Among these options, Search Engine Optimisation (SEO) offers longevity. SEO is the process of improving a website for a search engine, like Google. When a website is optimised for a search engine, it will rank higher on search results. The higher a website ranks, the more exposure and site visits it receives. While it will usually take a few months for SEO methods to show results, investing in SEO will significantly improve your website's positions in search results over time. Even if you stop SEO efforts in the future, you will continue generating free, organic traffic.
Why is SEO for Photographers Important?
As a business owner, it is essential to make yourself (and your talents) visible online so potential clients can discover your services. Investing in SEO is more cost-effective than the other methods as you won't need to pay for PPC or social ads. What's more, people tend to trust you more if they discover your photography services through an organic search result than an ad.
When SEO is done right, you maximise your client leads by generating free, organic traffic. In short, the more traffic to your website, the more people discover your services.
However, is it actually possible for photographers to attract new clients to their website using SEO? Yes! Let's look at the data to prove this and review some photography websites already getting excellent traffic thanks to SEO.
Search Demand for Photographers on Google
The above photo displays Google search data for the keyword 'photographer'. The global volume refers to the number of average monthly searches for this term, also known as search volume (SV). As you can see, there is a global SV of 242 thousand, meaning people are searching the internet for 'photographers' an average of 242 thousand times per month. Specifically, 28 thousand of these searches come from the United States and 9.7 thousand from the United Kingdom. These figures show that a vast amount of people searches for a photographer in your country every month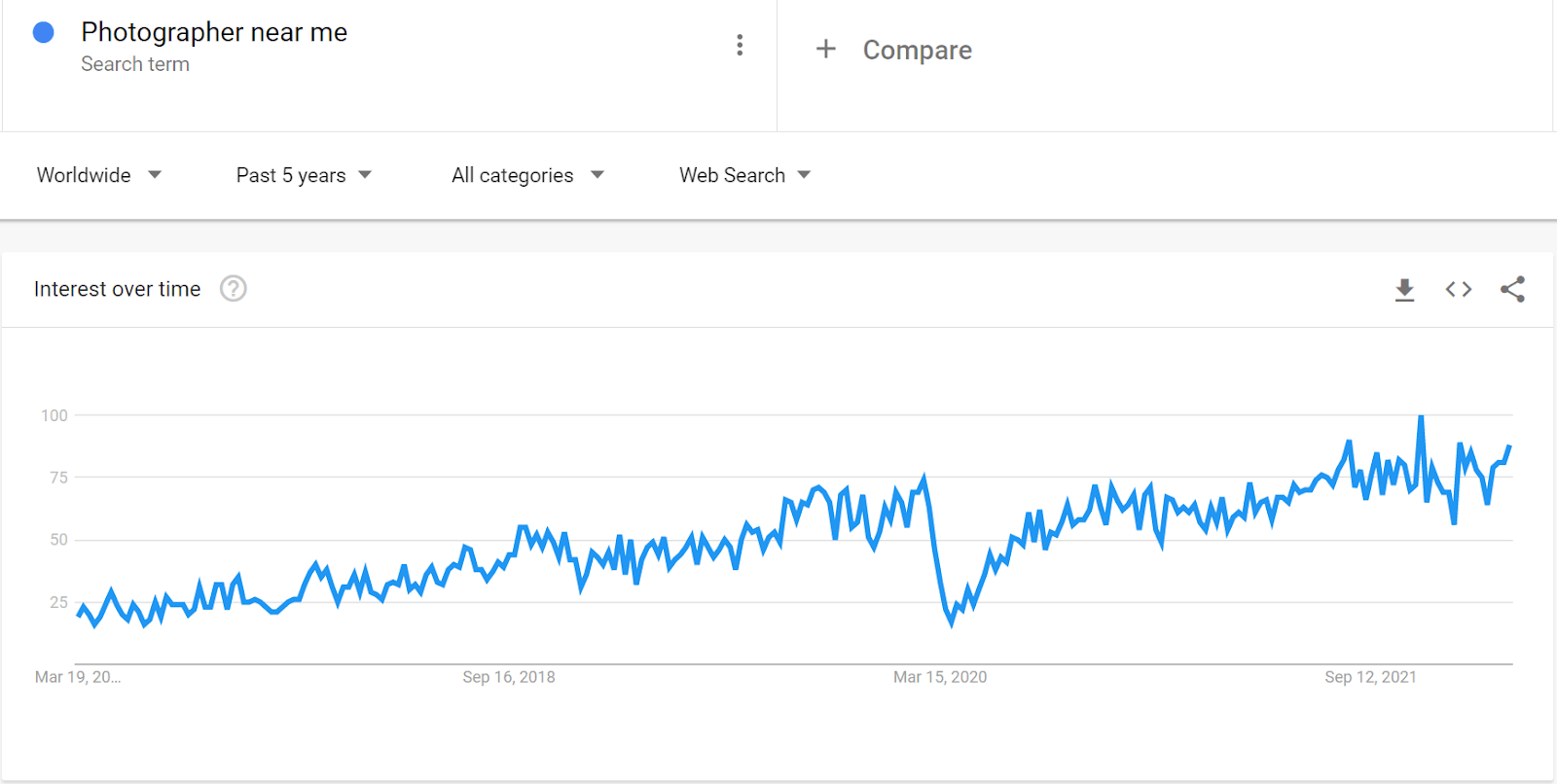 Using Google Trends, we can see in the above image how the interest for the term 'photographer near me' changes over five years. There is a clear upward trend meaning more and more people worldwide are searching for photography services in their area – with this number growing yearly. Therefore, hiring an SEO company helps you position and optimise your website so you can make the most of this increasing interest. As PPC and social media ads become more expensive, implementing SEO practices is the best way to get increasingly high ROIs yearly.
People Use Many Terms to Find Photographers
One of the most important steps of SEO is identifying appropriate keywords to target. More specifically, discover what your target audience is interested in and what they are actively searching for. When you have this information, you can tailor your website to these keywords, so it appears near the top of the search results, directly in front of potential clients.
SEO experts will analyse the data to assess the search demand of different keywords and create pages that show up in Google to help you collect organic traffic. For example, when someone is looking for a photographer service, these are some of the search queries they may use:
'Photographer near me'.
'Photographer in…' + location. For example, Photographer in South London.
Event-based photographers. For example, wedding photographers.
Photographers for specific people. For example, family photographers.
Questions about photography services.
The below image shows the average monthly search volume for some keywords related to photographers and photography services.

All these searches indicate that these people are looking to hire a local photographer within a specific niche. As you can see, there is an average of 93 thousand searches just for 'photographers near me' each month. And if your website ranks for thousands of keywords, your website can potentially reach millions of people.
Other Photographers are Already Getting Results from SEO
Expert search engine optimisation is vital to boost the credibility of your website, help it show up higher in search results and save the website owner thousands of dollars in advertising each month. We have reviewed some photography websites that see a good return from their SEO efforts to show you what's possible when you use SEO for your site.

Our initial example is www.flytographer.com, which helps people connect with photographers around the world. This website has 77,000 average monthly visitors, referring to the people who visit the site after discovering it in Google search results.
This website has an average monthly traffic value of $85,000. This figure indicates how much the owner would spend on contextual advertising, like PPC ads, each month to buy the same amount of traffic they get organically. However, as the site has good positions in Google search results, the website owner can save over $84,000 every month.
Below, you can see which pages attract the most traffic for this site specifically.

This data shows that there's a huge variety of pages that can generate significant organic traffic for your website. An SEO expert will evaluate your and your competitors' websites. They can then use this data to optimise existing pages and create new ones on your website so it can collect as much organic traffic as possible.
The example above is from a larger website, so it's natural to see great results. However, can a smaller photographer also benefit from investing in SEO? The following example shows why SEO is still an excellent, cost-effective method for attracting photography clients.
As you can see from the photo above, a smaller business can still see promising results. This photographer attracts an average of 2,200 monthly website visitors through organic Google searches, and their website has a traffic value of $3,700. Paul Wilkinson Photography ranks highly on Google for 'portrait photography', 'studio photographer' and many more keywords that attract significant traffic for this site. The website has pages covering many photography-related topics, which allows them to attract $3,700 worth of free traffic from Google that they would otherwise spend on PPC ads.

It's important to understand that PPC ads allow website owners to buy traffic for money. When they stop paying for ads, they stop getting traffic. In contrast, SEO helps build your website's credibility, improve and sustain your search positions in Google, and continue generating traffic even after you stop using SEO services. The data we have shown highlights many keywords and, thus, opportunities to generate free, organic traffic to your site. With the help of a qualified SEO agency to create, optimise and promote these pages, your website has the potential to generate free traffic and save you money on advertising.
Local SEO for Photographers
Local SEO is essential for service providers, like photographers offering in-person services. Using local SEO techniques makes sure the website shows to people searching for your service in their local area. For example, when someone searches 'photographer near me', it will show results tailored to their location. Adding your site to Google My Business is a start, but it won't bring in substantial amounts of traffic. Only expert, comprehensive optimising can dramatically increase your organic traffic and search engine rankings.
What Does an SEO Company Do?
SEO is an excellent investment for photographers, but it also requires expertise, hard work and time to implement. Creative industries are full of service providers trying to make their mark and promote their work. The sheer volume of businesses on the internet makes it challenging for photographers to show up on the first page of search results and get noticed.
Fortunately, NUOPTIMA has been working with brands for years. Our expert team has extensive experience doing SEO for various industries, so we know exactly how to get your website on the first page of Google. Here are just a few methods we can use to improve the Google rankings for your photography website:
Arrange links to be placed on reputable creative and photography websites.
Curate SEO-optimised content to help your website rank for more keywords.
Evaluate and optimise existing pages so they comply with Google's regulations and best practices.
Create all the necessary pages to improve and increase the organic traffic your website collects.
Search engine optimisation can provide outstanding results if done correctly by a professional. Here at NUOPTIMA, we have an expansive SEO team who are well-versed in helping your website achieve the best results. Book a free discovery call with our team to explore how SEO can achieve fantastic results for your website and business.
Talk to an SEO expert
We work with 100+ businesses. Book a slot now to talk to one of our experts.