Whether you run a restaurant, cafe, or bakery company, you will face many daily challenges relating to the running of the business. One of the biggest challenges is obtaining new customers. Many potential customers are now using the internet to locate eateries in today's technology-centred society. Therefore, many businesses within this industry are focusing on creating and optimising websites for their company to help attract and gain new customers effectively online.
There are numerous well-known ways that a business owner — such as one of a restaurant, cafe, or bakery — can attract people to their website. Three of the most common methods are pay-per-click (PPC) ads, social media marketing, and search engine optimisation, also known as SEO. These methods have varying benefits and disadvantages.
If we first consider PPC and social media marketing, their main pros are that you will be provided with instant results the second you start the ad campaign. You will notice an increase in visitors to your website. But, on the other side of the coin, both of these options are costly and will not give you benefits or results in the long term. You will only keep getting website visitors for as long as you pay for adverts.
Looking at the third option, SEO, it is clear it has different pros and cons. For example, SEO methods usually take a few months to produce results for your business. However, on the other hand, your website's positions will improve in search results, which will draw increased organic traffic to your company website. And your site will keep these positions even if you stop using SEO services in the future. Essentially, this means that you can receive free traffic indefinitely, unlike PPC and social media ads which only assist your business for as long as you pay for their services.
Therefore it is clear that SEO is the best option, especially when the long-term effects are considered. With PPC and social media ads, you will have to pay vast sums of money yearly. SEO is also a fantastic choice because customers will trust your company more if they find your website through search results organically instead of seeing an advert for your business.
The crucial question to ask is, how effective can a thorough SEO strategy prove to be for a food and drink business and its website? Throughout this article, we will be showing you just how advantageous SEO can be for your business. Firstly, we consider online search demand.
Search Demand for Restaurants on Google

The image above displays Google search data for the term 'restaurants near me'. Globally, approximately 29 million people search for this phrase every month! 24 million of these searches are based in the United States, 1.8 million in India, 1.1 million in Canada, and 1 million in the United Kingdom. This shows an incredible number of people looking for local restaurants in many countries daily. By using a comprehensive SEO strategy, tens of thousands of visitors can be attracted to your website every month.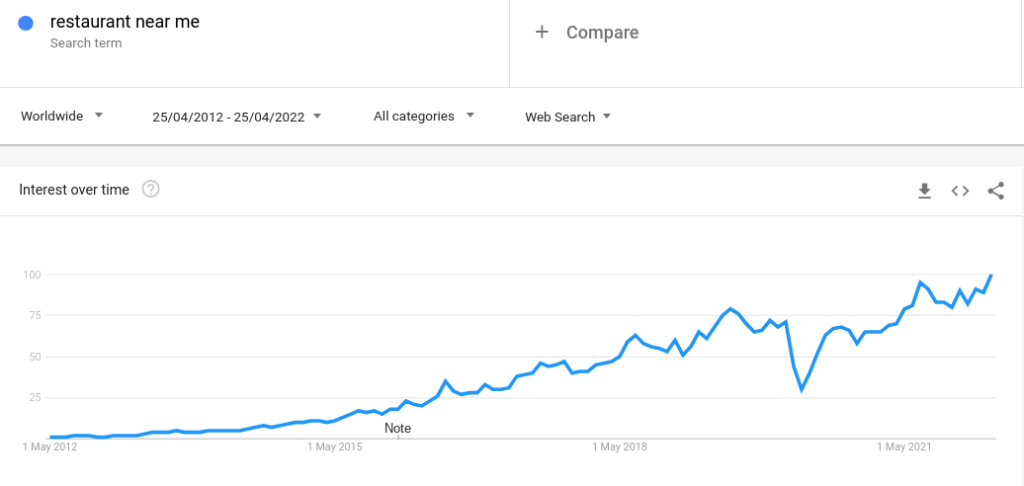 Google Trends also presents a positive picture. The image above displays evident growth for the search term 'restaurant near me' over the last ten years (with the understandable exception of 2020 when the worldwide pandemic hit). Consequently, this shows that more and more people are seeking out local restaurants on the internet every year. Essentially, this means that if you choose to use an SEO company to promote your restaurant website in search engine results, you will be in a fantastic position to gain an increasingly high return on investment (ROIs) for years to come. This is especially poignant when we consider that PPC and social media adverts are becoming more costly and are saturated with competition.
People Use Many Search Terms to Locate Restaurants
When considering your restaurant, cafe, or bakery business, you need to be aware that terms such as 'cafe' or 'restaurant near me' are simply two possible keywords a potential customer might use. It is vital to be aware that numerous other search terms might be used when people are looking for an eatery. This is important to know because a critical aspect of a good SEO strategy is keyword research. This is when SEO experts examine search queries, and they then determine which pages need to be made on the website and optimised for keyword usage. This helps to attract the most amount of traffic. To illustrate this point, we have a few bullet points below with examples of possible search queries that might be entered by a potential customer when looking for a restaurant, bakery, or cafe:
'Where to eat in…' + location. For instance, 'where to eat in Portsmouth'.
'Restaurant with a view'.
'Family-run restaurant'.
'Best place for a date…' + location. For example, 'best place for a date in London'.
'Best cafes'.
'Vegan-friendly bakery'.
'Child-friendly restaurant'.
'Restaurants open on Christmas Day'.
Clearly, there are countless search terms that might be used to find somewhere to eat or drink, including some based on location, dietary requirements, and time of year. Next, the images below show the average monthly search figures for a range of restaurant-related keywords. There is a vast number of people searching for these particular search terms each month. If you employ an efficient SEO strategy for your restaurant's website, you can draw thousands upon thousands of visitors every month purely by ensuring you show up for these keywords on the search engine Google.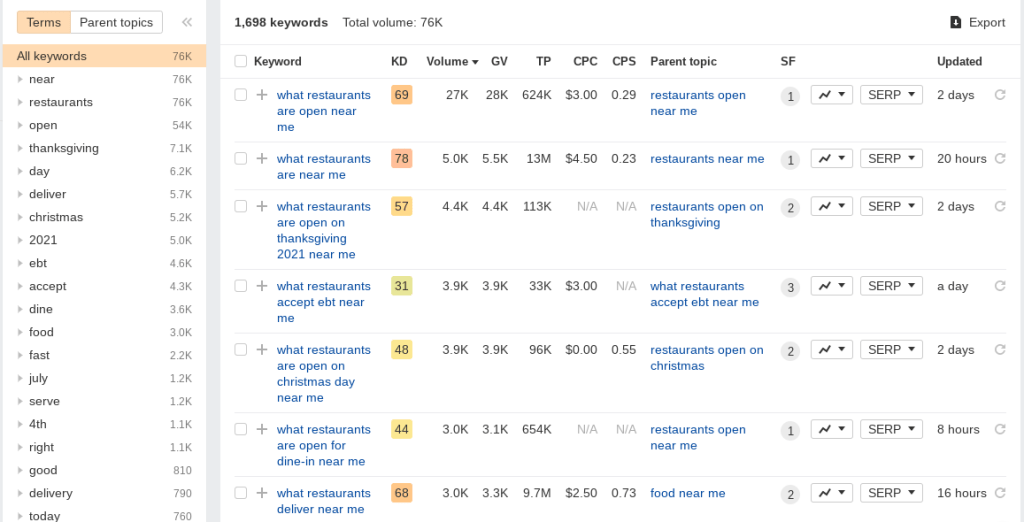 Other Restaurants are Already Enjoying Results from SEO
Comprehensive search engine optimisation can bring with it great results. Not only can it help websites to show up in enviable positions in search results, but it can also help companies conserve thousands of dollars on advertising campaigns every month. To display the positive impact that SEO can have on a restaurant, bakery, or cafe company, below are several examples of businesses that are witnessing an impressive return from their SEO strategies.

The first business to look at is www.bonedaddies.com, a Japanese restaurant chain with just over half a dozen branches city-wide across London. The organic traffic for its website is 32.8 thousand, meaning this is the number of people who click on the website after seeing it in their search engine results each month. The traffic value is listed as $24,400, which is the amount of money the company would have to spend each month to purchase the same amount of traffic that they get naturally from contextual advertising systems, PPC being a prime example. Bone Daddies can therefore save almost $25,000 every month just because it enjoys wonderful positioning in Google's search results.
Next, we consider which pages draw the highest amount of traffic for this website.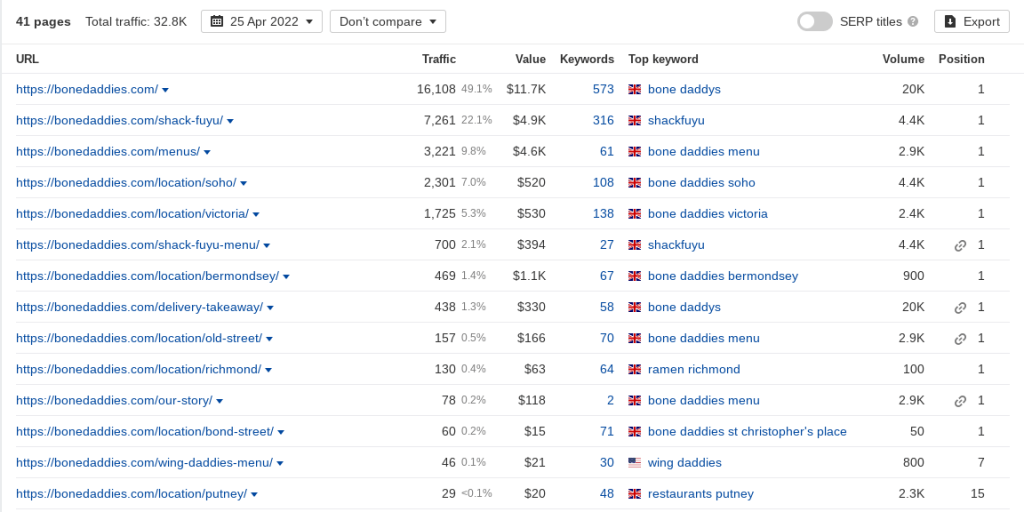 Looking at this list, we can see that many pages draw an impressive amount of traffic from Google for this website, including menu and location pages. With SEO, an expert can consider the pages that already exist on your website (and on competitor sites) and optimise these pages to obtain even more site visitors. They can also create new pages to draw as much natural search traffic as possible. This is only one aspect of SEO work, and it is important to bear in mind that there are many other things that SEO companies do to promote businesses and their related websites.
Now that a restaurant with city-wide branches has been considered, what about a cafe with two branches? Is SEO still a worthwhile venture? The following information will demonstrate that it is.

The image above demonstrates just how effective a great SEO strategy can be for your website and business. This London-based cafe or cupcake shop called Peggy Porschen has two branches, one in Belgravia and the other in Chelsea. The website has 20.5 thousand organic website visitors each month, and it has a traffic value of $5,600. www.peggyporschen.com ranks highly on Google for the search term 'Chelsea cake shop' and numerous other keywords, and this company is drawing great traffic. This means that this business gets $5,600 worth of free traffic, money they can save rather than spend on PPC adverts.
Regarding PPC ads, it is vital to keep in mind that it basically involves buying traffic. As soon as you stop paying for these adverts, you will therefore no longer receive traffic as a result of them. But, SEO allows you to keep your search positions as well as receive traffic continually even if you no longer use SEO services. In a nutshell, using an expert SEO agency means you can boost your website rankings, save money, and retain the traffic to your site without the need to spend money on advertising channels such as PPC or social media adverts.
Like before, let's consider which pages bring the most visitors to Peggy Porschen: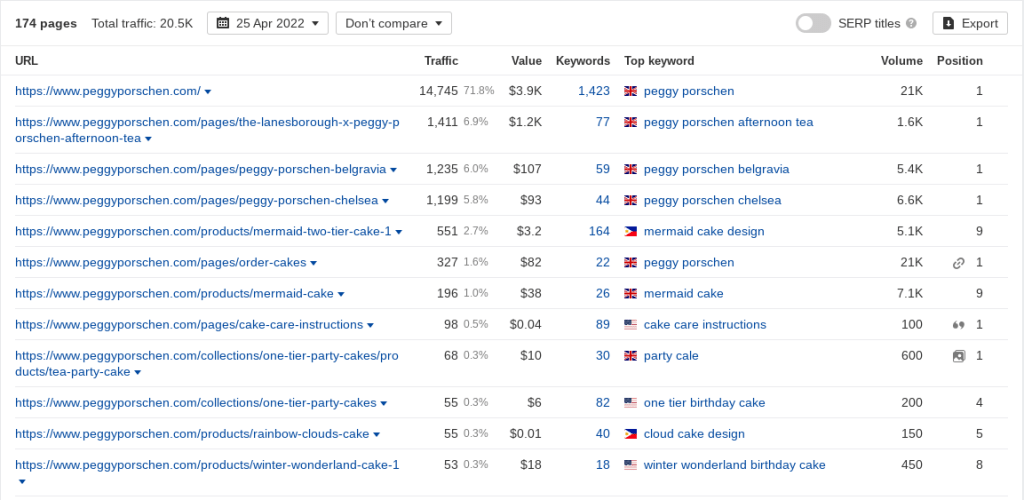 Looking at the top keywords, we can see that a variety brings the majority of traffic to these pages. These include 'Peggy Porschen afternoon tea', 'mermaid cake', 'one-tier birthday cake', and 'Peggy Porschen Chelsea'. This demonstrates that your website can utilise many keywords to gain free organic traffic on search engines like Google. By hiring an efficient SEO agency, they can create, optimise, and promote these pages, working to bring more business to your company.
The key takeaway is that regardless of whether you are a city-wide chain or own a much smaller business, and whether you own a restaurant, a cafe, or a bakery, SEO can provide excellent results for your company. You can reap the rewards as long as you employ an efficient SEO strategy with a reputable agency.
A Word on Local SEO
Local SEO techniques are incorporated to ensure that a website is displayed to people who search for a certain service locally. For instance, if a person enters 'restaurant near me' on Google, they will find that websites run by restaurants in their local area will quickly pop up. Consequently, local SEO is crucial for businesses that offer services in-person, including bakeries, cafes, and restaurants. Of course, many companies choose to place their website on Google My Business and their precise location on Google Maps. However, this will not bring the maximum amount of traffic that they might like. Tangible results can only be gained by comprehensive SEO of a website, and these can help your website rise in search engine rankings.
What Precisely Does an SEO Company Do?
SEO is without question a brilliant investment for eateries such as bakeries, restaurants, and cafes. However, attaining palpable results involves much expertise, due diligence, and raw skill. This includes websites that offer and provide services. Indeed, Google maintains very high standards to prevent low-quality websites from taking up the highest positions within search engine results.
NUOPTIMA has been working alongside brands in a range of industries for many years. Our experts possess a plethora of knowledge doing SEO for clients, such as startups, real estate, e-commerce, and plumbing companies. This demonstrates a wealth of knowledge across many industries. We know what needs to be done to get your website popping up on the first page of Google. To explain further, here are a few things we can do to improve your company's Google rankings:
Create SEO-optimised content so your website can rank for an increased number of keywords on Google.
Create all the needed pages to help your website gain the most organic traffic possible.
Optimise pages that already exist to make sure they follow Google's best practices and rules.
Arrange link placements on reputable food and drink directories.
Comprehensive search engine optimisation of a website can bring phenomenal results if undertaken well and thoroughly by qualified experts. At NUOPTIMA, we have a large SEO team with much expertise to help your website get the attention it deserves. Explore how we can use SEO to attain great results for your website and business by booking a free consultation phone call with our professional team today.
Talk to an SEO expert
We work with 100+ businesses. Book a slot now to talk to one of our experts.