A man's home is his castle, and the vital part of this castle is its roof. A roof is necessary for the safety, sanctity, and security of the home. It matters most in each residential home or commercial premise and offers both physical and psychological protection for all its residents. To serve you best, a roof needs to be monitored and maintained regularly and replaced if it gets damaged. All of these services require a qualified roofing company, and many roofing contractors are vying for the attention of potential customers today.
If you are a roofing contractor, you know how extremely competitive your industry is. According to the Bureau of Labor Statistics, there are nearly 130 thousand roofers employed in the US, while in the UK, their number has already overcome 63 thousand. This data confirms that the roofing business needs an edge to stand out from all other roofing companies and attract clients. One of the most effective techniques for roofing contractors to stand out from the competition is search engine optimisation or SEO.
Compared to other internet marketing methods like PPC ads and social media marketing, SEO has a range of advantages. This method helps your website rank well in search results for relevant keywords, bringing significant organic traffic. SEO doesn't provide lightning-fast results like SMM and PPC and may take a few months to display results, although it offers long-term benefits. With this marketing strategy, your website will keep its positions even if you decide to stop using SEO services in the future, meaning you can keep receiving free organic traffic indefinitely. It significantly differs SEO from PPC and SMM as they provide immediate results the moment your ad campaign is launched. However, the flow of visitors to your website will only continue as long as you continue to pay for these services and stop as quickly as it started when you decide to stop using this marketing strategy.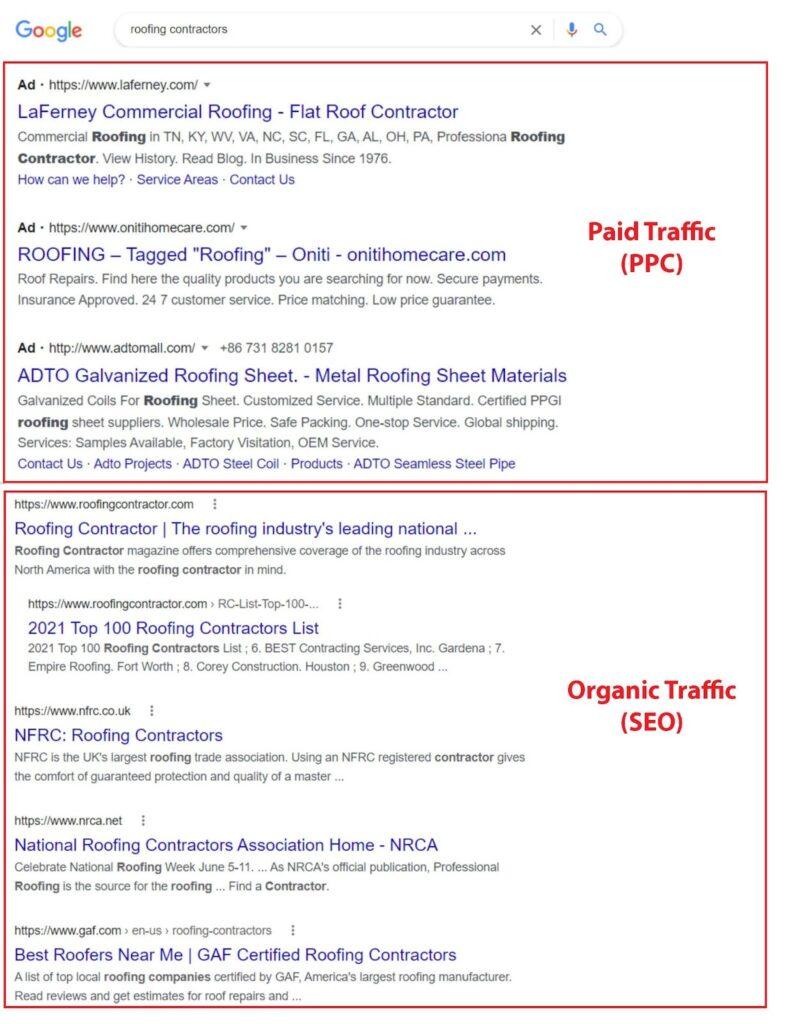 SEO stands for longevity, and if you're willing to wait longer to get significant and long-term results, this method is what your roofing company needs. This article shows you how profitable an investment in SEO services for roofing contractors can be and what heights your business can achieve with an experienced SEO team.
SEO Results for Roofing Contractors
SEO services help websites to rank highly on the search engine results page. It means when someone types into Google 'best roofer near me,' your website will show up among the first results and get most of the calls and leads. The high visibility on the search results page can significantly increase traffic to your roofing website and lead to more potential customers.


This screenshot demonstrates Google search data for the keyword 'roofing contractor.' The global volume of this search query is 46 thousand per month, with the US, the UK, and Canada leading in the search volume. The global search volume demonstrates that nearly 50 thousand people across all countries search for this term and professional certified roofing services each month. While evaluating the Google Trends data, you will see a similar picture with a sustainable growth of the 'roofer near me' search term popularity worldwide from 2004 until the present day.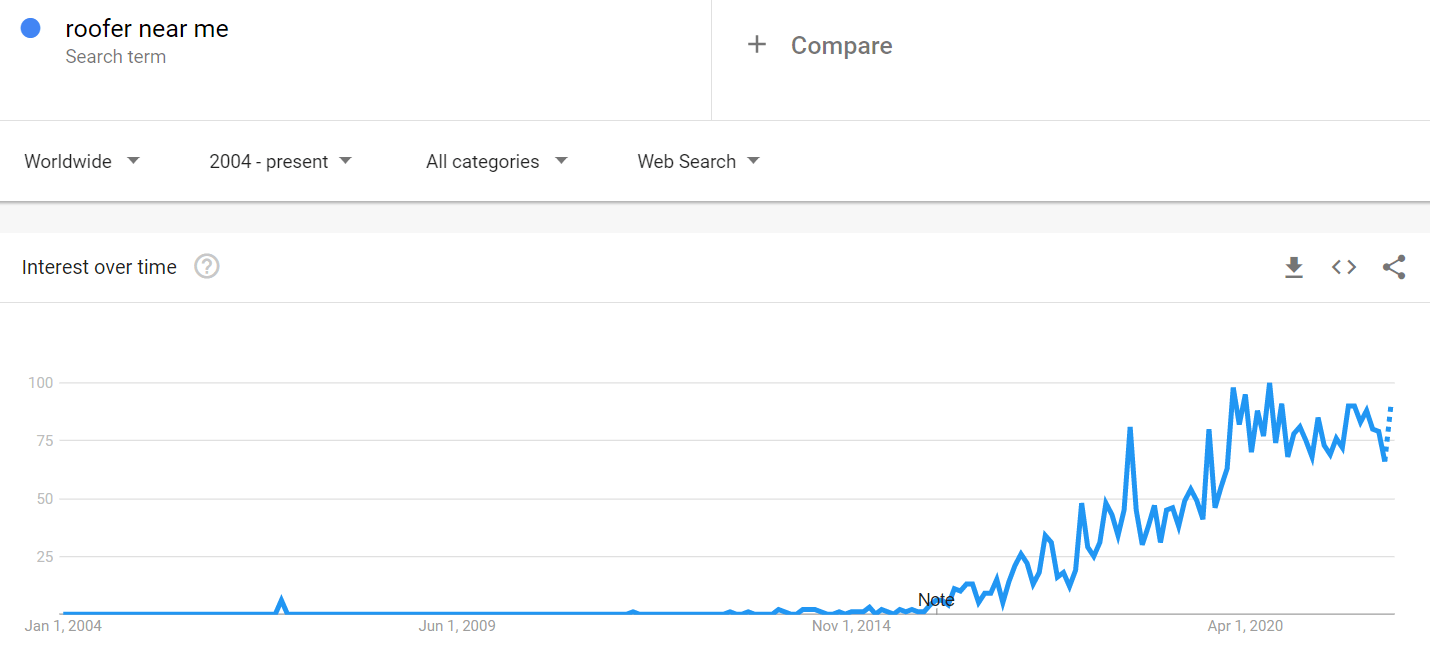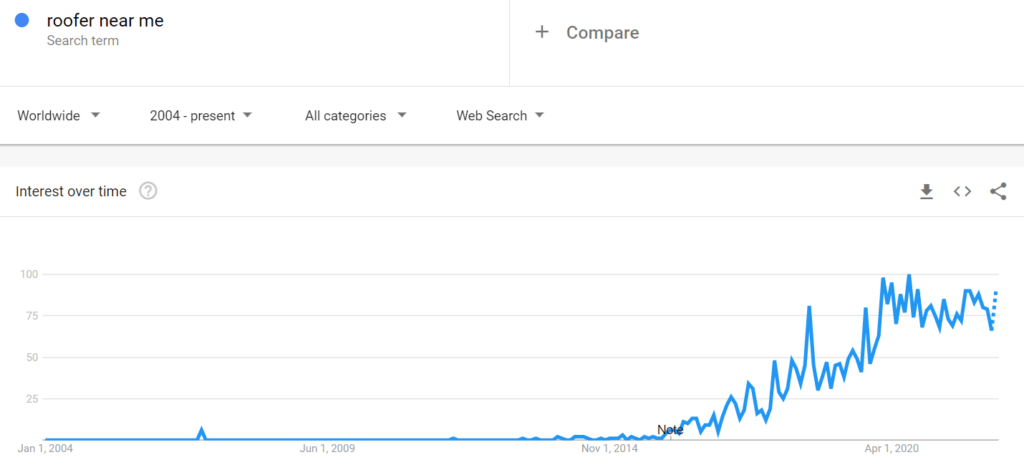 The highest interest by the region for this keyword is represented by the UK, the US, and South Korea.

What does this data mean for roofing company owners? A high search demand and an evident growth in the search term popularity signalise there are lots of people worldwide searching for high-quality roofing services, and your company can be the one that suits all their needs if all these people would be able to see your website on the top positions on Google.
People Are Searching Differently for Roofers
Keyword research is a vital part of roofing SEO as it helps your roofing website get recognised by search engines. Carefully researching the words and phrases people commonly use to search for roofing services and further integrating those keywords into your content can bring more visitors to your website and improve its rankings. When people go to Google to find a roofing company for their needs, they not only search for 'roofer' or 'best roofer near me,' they also may specify 'commercial roofer' or 'residential roofer' and search for 'licensed roofer' or 'certified roofer' to be sure of the quality of the services provided. Your potential customers may also be more detailed and use terms like 'sheet metal roofer' or 'thatched roofer.' Below you can see the average monthly search volume for different roofing services-related keywords.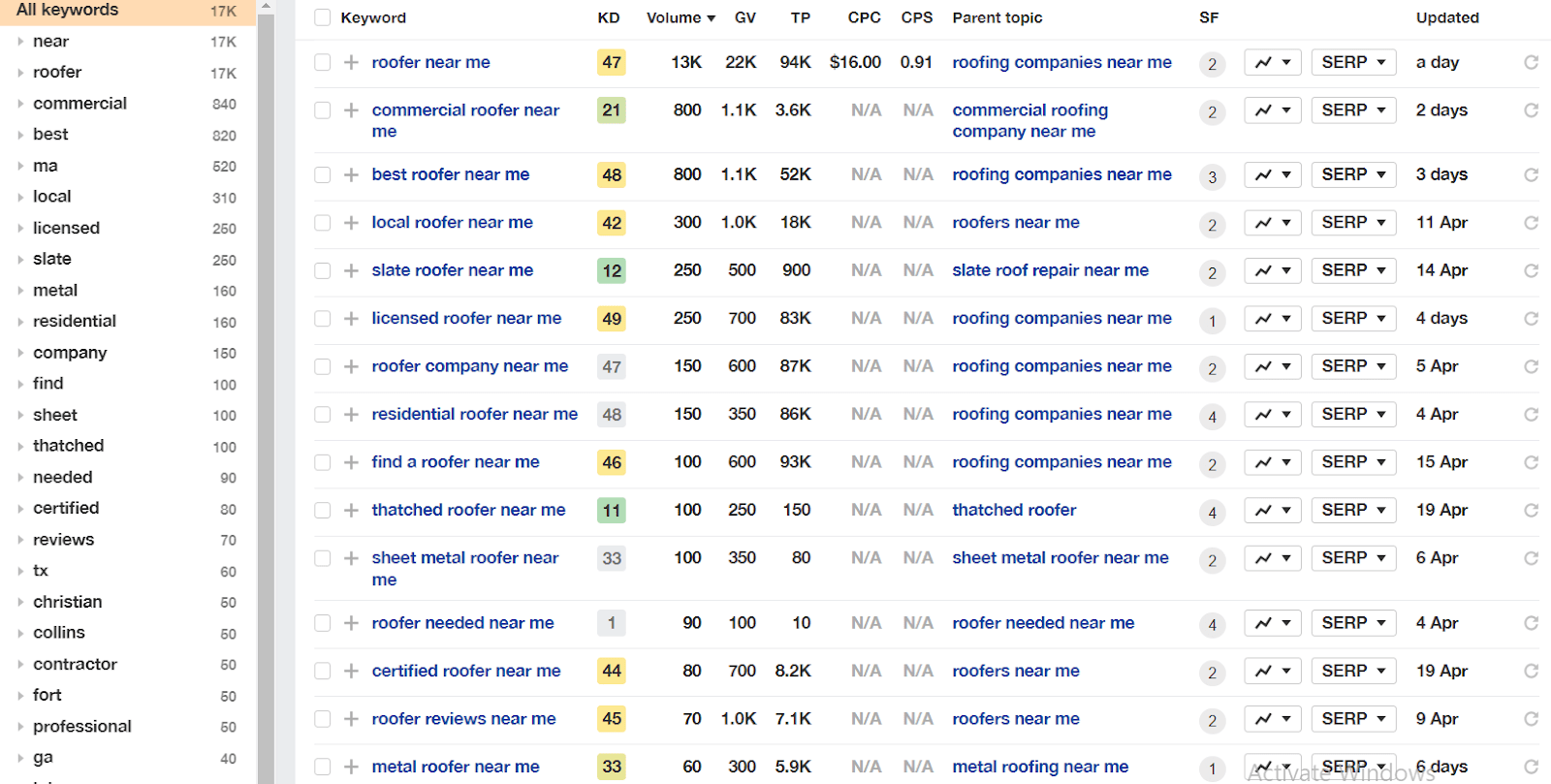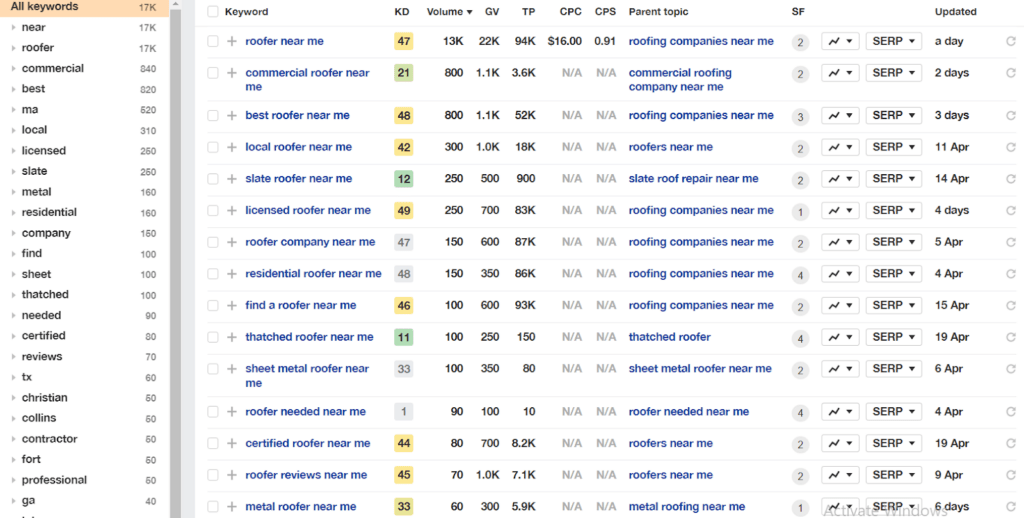 People may also use questions when searching for roofing companies: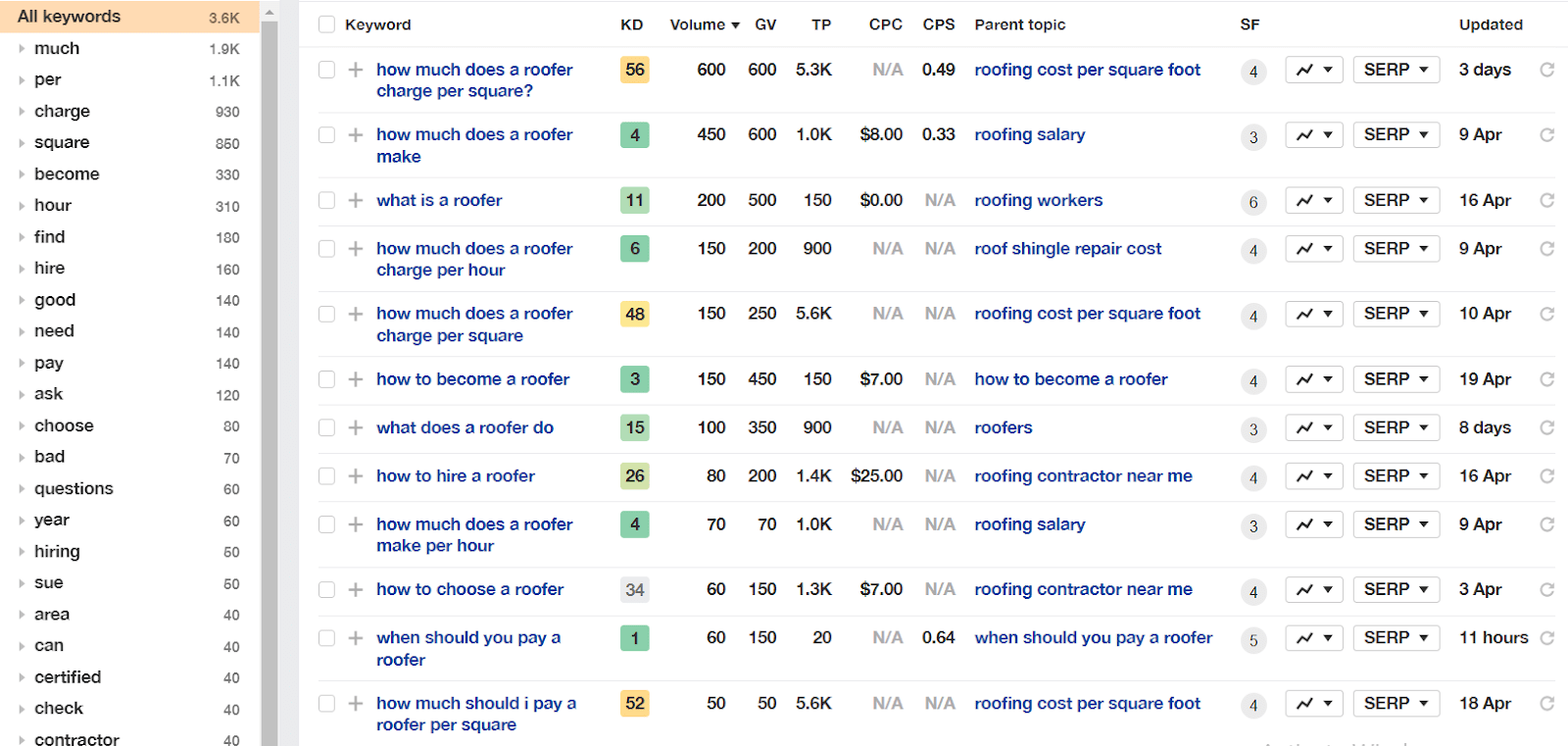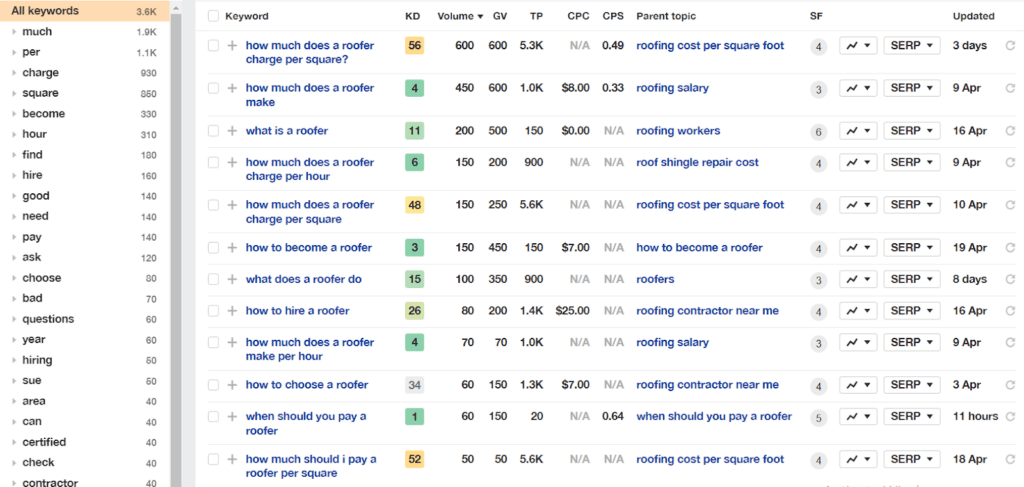 An experienced SEO company will analyse all the search queries and questions people often use and incorporate them into your website content to maximise organic traffic. What's more, they will add them in a natural way that speaks to your target audience and takes SEO expert Carolyn Lyden point into consideration:
"Ensure you're writing content the way that you'd explain it to someone over the phone."- Carolyn Lyden, Lead SEO at Search Hermit
SEO Results for Roofing Companies
To implement a successful SEO campaign for your roofing business, you'll need the services of an experienced SEO company. Let's check some case studies we collected to show how effective SEO can be for your roofing services website.


Our first example is www.gaf.com – a roofing company with a 136-year history. GAF is a leading roofing manufacturer in North America and offers a wide range of roofing services for commercial and residential premises. As you can see from the image, this company's website has a monthly traffic value of nearly 73 thousand visitors. The GAF company website occupies top positions on Google for the search term 'roofing contractors' and has an estimated traffic value of $547 thousand, which means the website owners can save more than half a million dollars each month as they don't have to buy that many visitors with contextual ads. Along with significant organic traffic, this traffic value represents the effectiveness of the SEO strategy developed for this website. The top pages bringing the most traffic to this website include: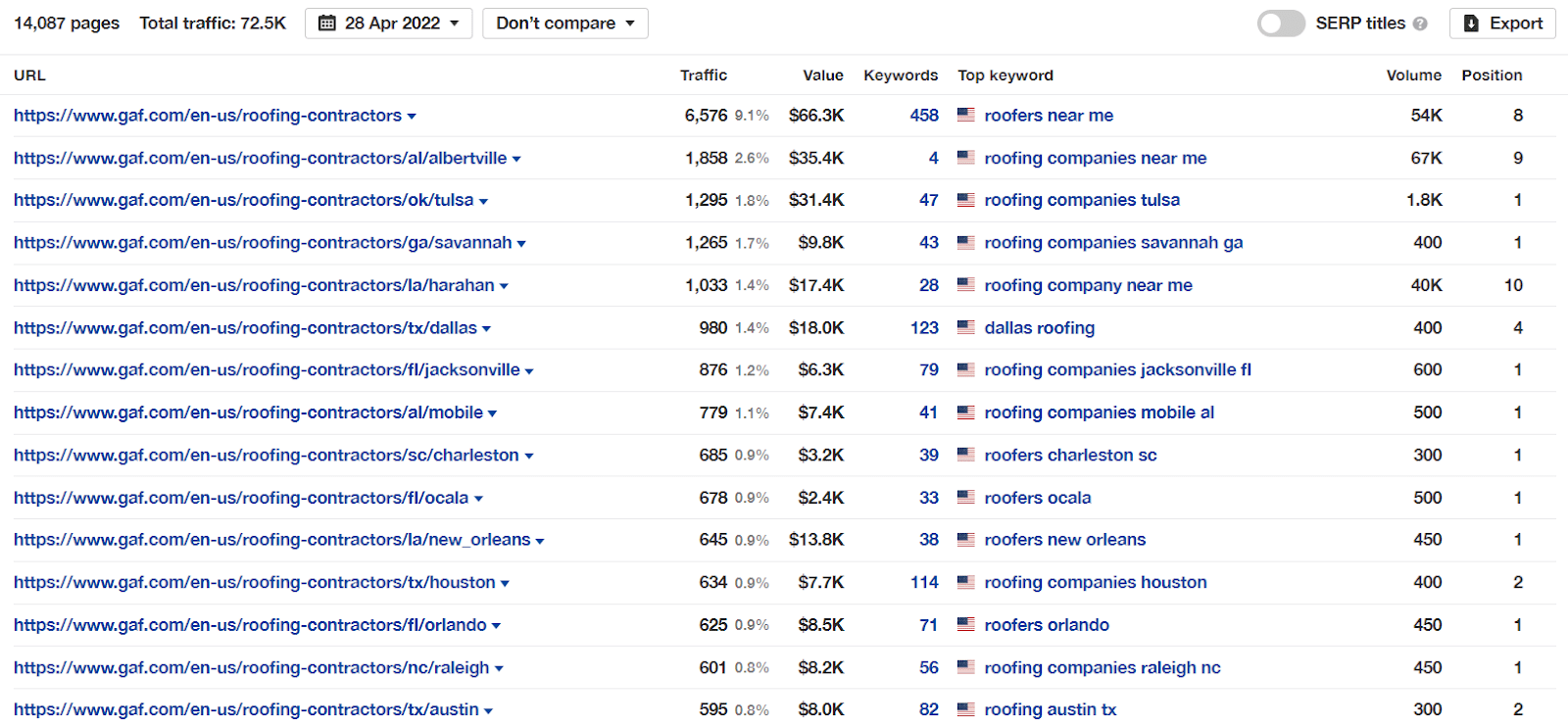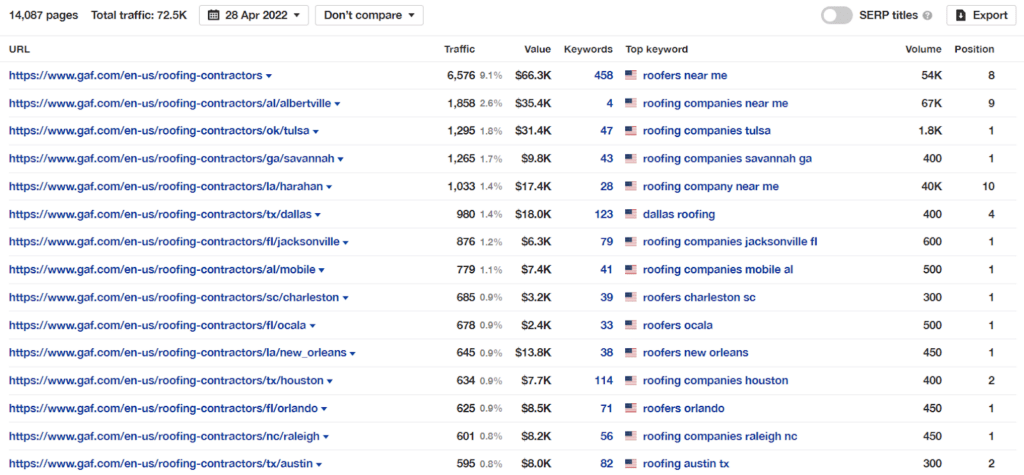 Among the top keywords on the pages, you can see popular search queries like 'roofers near me' and 'roofing companies near me,' as well as terms including location, such as 'Dallas roofing' and 'roofers Ocala.' These keywords represent thousands of search ideas people use to search for roofing services.
Our second example is www.nfrc.co.uk – the UK's largest roofing trade association with over 125-year history. NFRC offers certified roofing contractors for commercial and industrial buildings and domestic properties. All NFRC members provide high-quality services through a strict code of practice and adhere to the Government endorsed standards.


The image above displays traffic data to the NFRC website. As you can see, the website has 14.3 thousand visitors each month and a traffic value of more than $32 thousand. This website is smaller than our first example, although it can boast successful SEO results. The website owners can save over $32 thousand per month as they don't need to purchase this amount of traffic via PPC ads or SMM because they have already gained it organically through SEO tools. Among the top pages bringing the most traffic to this website are: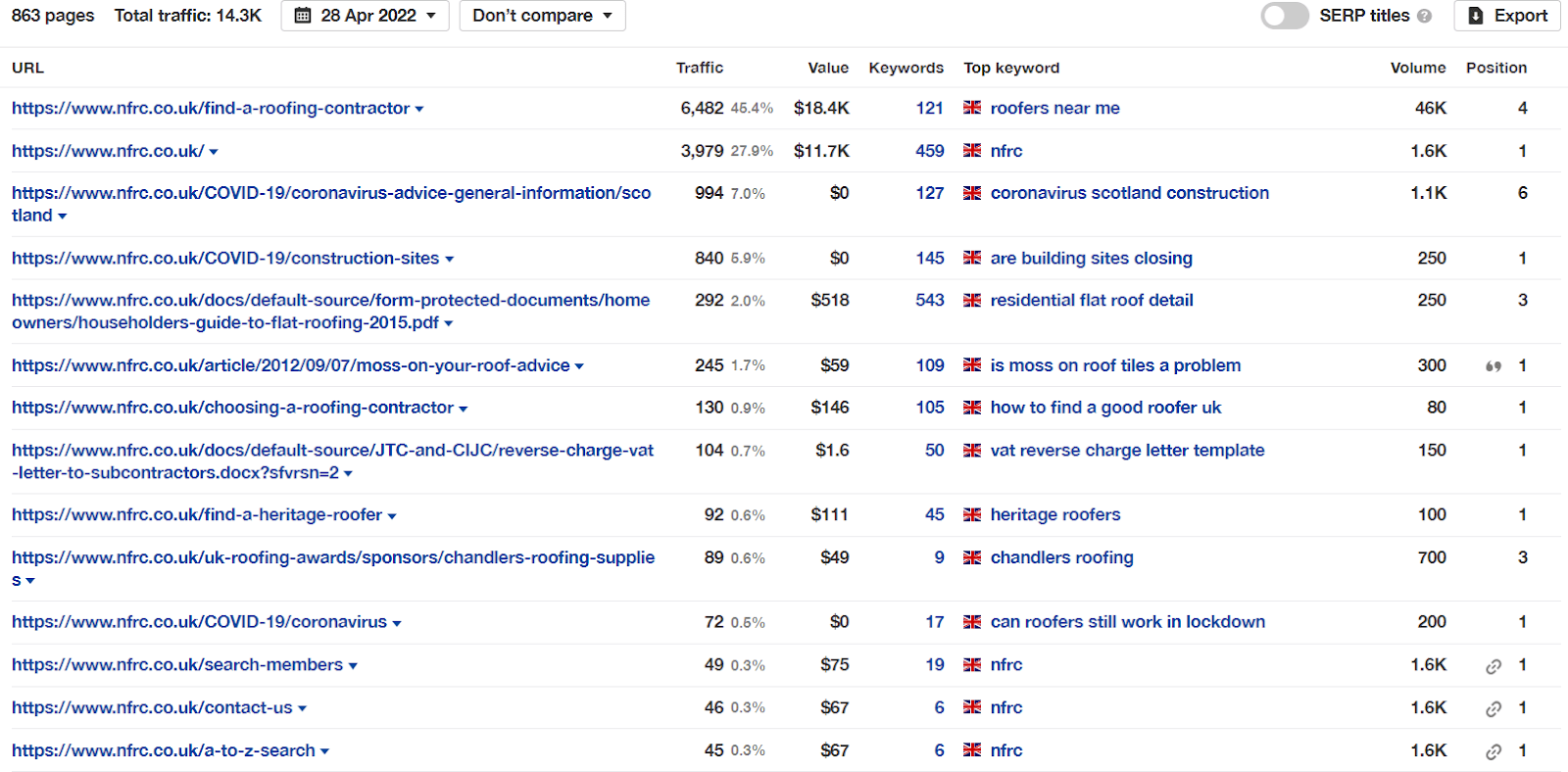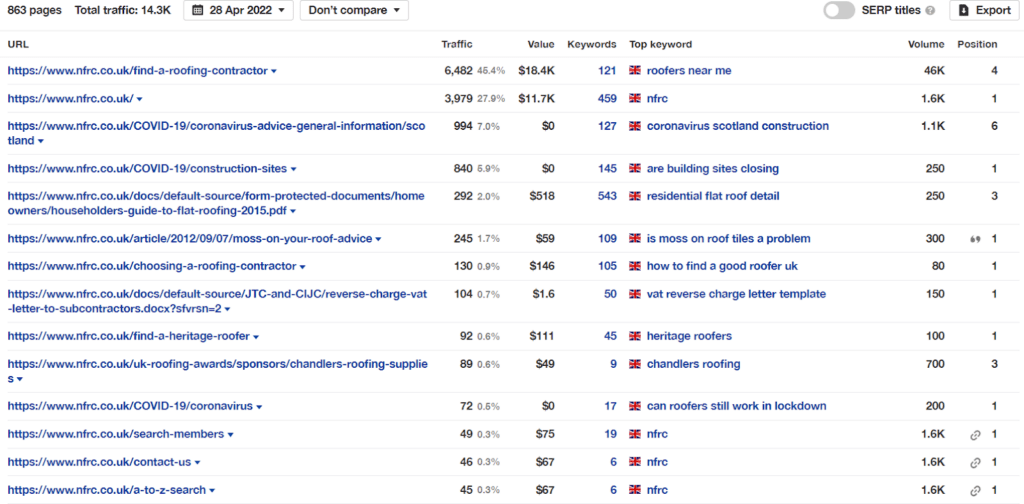 Besides 'roofers near me,' top keywords include 'heritage roofers' and questions like 'is moss on roof tiles a problem' and 'how to find a good roofer UK.' An experienced SEO team will consider all these keyword ideas and integrate them into your roofing company website to help you attract more visitors and boost the search rankings.
How Does Roofing SEO Work?
SEO for roofing companies offers business owners a cost-effective way to attract leads and generate sales. However, managing an effective SEO strategy is almost impossible on your own and takes time and expertise. NUOPTIMA offers top-notch SEO services to all people deciding to take their roofing business to the next level. We have a skilled team of SEO specialists who know all the roofing business features and can develop a personalised marketing strategy for your website. To provide you with fruitful results, we offer the following roofing SEO services:
Keyword research. The thorough keyword research will help your roofing website get recognised by the search engines and boost the traffic flow.
Website optimisation. This part of SEO comprises many different factors, each of which makes your website attractive and easy to use. Website optimisation at NUOPTIMA includes fast load speeds, good UX and UI, responsive design, etc.
Content creation. The high-quality content of your roofing website keeps users informed and engaged, helping with lead generation and customer conversion. We'll make sure your website's content provides visitors with all the services your roofing company offers.
Link building. With backlink building, your roofing website will be regarded as an authority in the roofing industry by both users and search engines. It means your website will have a higher chance of being selected when a person searches for the services your roofing company can offer.
A professional SEO agency like NUOPTIMA has all the tools needed to implement and monitor a successful SEO campaign helping you get maximally effective results from your investments. It will allow you to maintain your edge over the competition and achieve outstanding results in your roofing business.
Enhancing Your Roofing Company's Online Presence with SEO
In the competitive field of roofing services, attracting new customers can be a significant challenge. With the rise of the digital age, more people are turning to the internet to find roofing services. SEO can be a powerful tool for your roofing company, enhancing your online visibility, attracting potential customers, and establishing your brand as a leader in the industry.
At Nuoptima, we specialize in SEO for roofing companies. Our team of experts understands the unique challenges and opportunities in the roofing sector. We employ proven strategies and innovative techniques to help our clients improve their search engine rankings, drive more traffic to their websites, and ultimately, increase their customer base. Reach out to us today to learn more about how we can help your roofing company excel in the digital landscape.
Talk to an SEO expert
We work with 100+ businesses. Book a slot now to talk to one of our experts.
Why is SEO important for roofing companies?
SEO is crucial for roofing companies as it helps in attracting potential customers and establishing a strong online presence. With effective SEO, your website can rank higher in search engine results, making it easier for potential customers to find your roofing services.
How does Nuoptima approach SEO for roofing companies?
Nuoptima uses a unique approach to SEO for roofing companies, focusing on keyword research, content creation, and link building. We also optimize existing pages and create new ones to attract as much organic traffic as possible.
What kind of results can I expect from Nuoptima's SEO services for roofing companies?
With Nuoptima's SEO services, you can expect increased traffic to your website, higher search engine rankings, and increased customer acquisition. These results can lead to a significant return on investment over time.
How does Nuoptima's SEO services for roofing companies differ from other SEO services?
Nuoptima's services are unique because of our specific expertise in the roofing sector. We understand the unique challenges and opportunities in this field, and we tailor our strategies to meet the specific needs of roofing companies.
What types of roofing services has Nuoptima worked with in the past?
Nuoptima has worked with a wide range of roofing services in the past, including commercial and residential roofing, sheet metal roofing, and thatched roofing. Our experience spans various fields within the roofing sector, allowing us to provide tailored SEO services that meet the unique needs of each client.