If you run a travel agency business, you give people a chance to see how beautiful our planet is and give them new memories and emotions that will stay with them forever. However, besides enjoying the romance of this business, you also have to deal with numerous challenges related to running a successful company daily. One of the main challenges here is attracting new customers. You can have an excellent website with exciting tour programs and stunning photos of travel destinations, but what's the use of all this if customers can't find your website online?
Fortunately, there are several ways that a travel agency owner can attract people to their website and not get lost among other companies. The most common methods include PPC ads, social media marketing, and search engine optimisation (SEO).
PPC and social media ads offer you immediate results as they direct traffic to your website right after you start the ad campaign. However, while sounding tempting, these options are costly and don't provide you with long-term results as the traffic drops when you stop paying for ads. SEO could be a better option if you're aimed at more long-lasting results. SEO methods often take a few months to start showing results, although your website will rank higher in the search results and retain those positions even if you stop your optimisation efforts. Another SEO benefit is credibility since people will trust you much more if they find your website through organic search results rather than seeing ads for your services. Also, thinking in the long-term, investing in SEO services is much better than regularly spending vast sums of money on PPC or social media ads.
The possibilities of SEO sound alluring but can travel agencies attract new customers to their websites using SEO methods? Yes! Let's look at the data we've collected and check how successful your travel agency business can be after employing an effective SEO strategy.
Search Demand for Travel Agencies on Google


The above screenshot displays Google search data on the term 'travel agency'. As you can see, people worldwide search for this term on average 205 thousand times per month. Specifically, 64,000 of these searches happen in the US, 42,000 in India, and 9,300 in Canada. This data displays that many people are looking for a travel agency in your country every day. It also means that by conducting SEO for your website, you can ensure that tens of thousands of people can find the website from organic search results every month and visit it.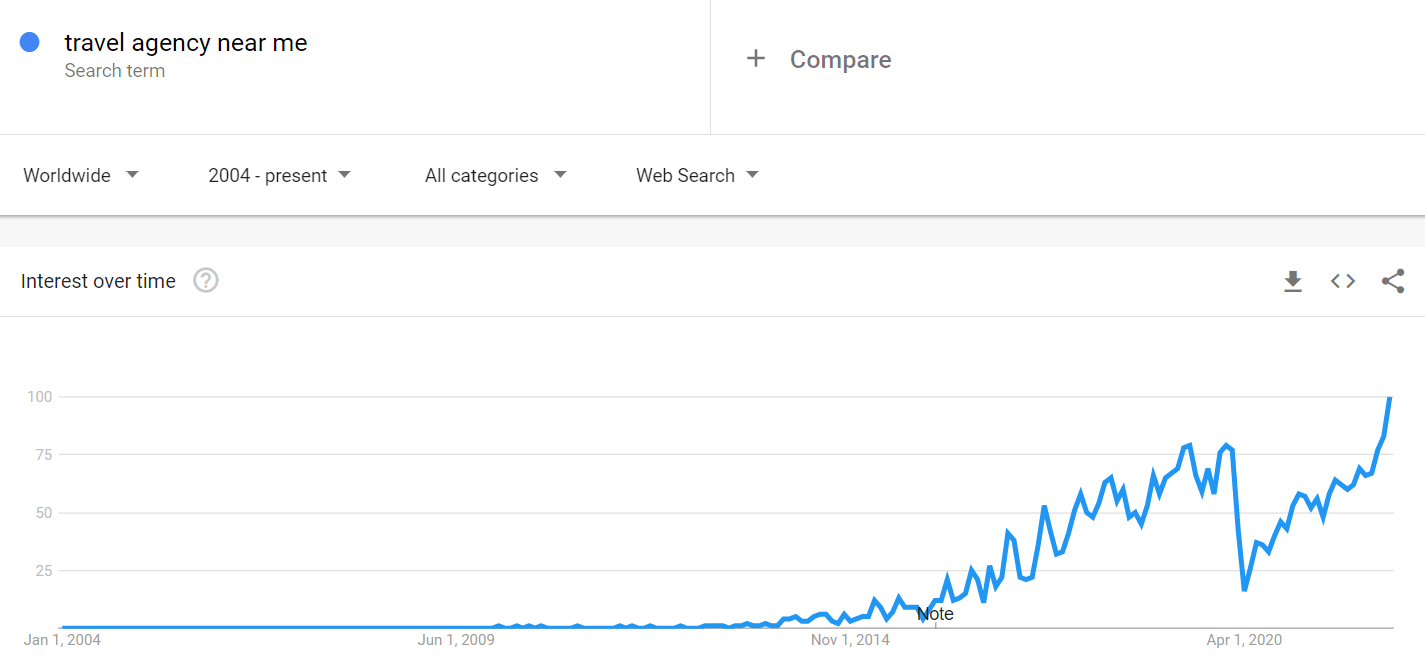 Google Trends shows a similar picture. The screenshot above demonstrates evident growth in the 'travel agency near me' search item's popularity from 2004 until the present. For business owners, this data means that more and more people are searching for travel agencies online every year. Therefore, if you decide to use SEO services to promote your website in search results, you can make the most of this increasing interest. Moreover, as PPC and social media ads become more competitive and expensive, implementing SEO tools is the best way to keep getting higher ROIs for years in the future.
People Use Lots of Search Terms to Find Travel Agencies
One of the critical SEO steps is identifying appropriate keywords to target. Keyword research is an essential part of SEO, and discovering what your target audience is interested in and what they are actively searching for is highly effective for determining which pages need to be created on the website and optimised to drive maximum traffic. SEO experts will analyse this data to tailor your website for these keywords so that it appears at the top of search results. For example, in the case of searching for a travel agency, other search queries people enter on Google may include:
'Travel agency near me.'
'Travel agency in…' + location. For example, 'travel agency in South London.'
'Travel agency for..' + group of people. For example, 'travel agency for college students' or 'travel agency for family.'
Description of different travel agencies such as 'travel agency for leisure' or 'business travel agency.'
Questions about travel agencies' services.
The image below demonstrates the average monthly search volume for various travel agency-related keywords. As you can see, there are millions of people searching for these keywords every month, which means a good SEO-optimised travel agency website can attract thousands of free potential customers every month just by showing up these keywords on Google.


Other Travel Agencies are Already Getting Results from SEO
Effective SEO can efficiently boost the credibility of your website, helping it show up higher in search results, and save you thousands of dollars on ads every month. To show you what's possible when using professional SEO for your website, we collected some examples of travel agencies' websites enjoying fruitful results from their SEO efforts.


Our first example is www.southalltravel.co.uk, a website providing different types of travel services, including family holidays, honeymoons, and worldwide tours. This website gets around 112 thousand average monthly visitors. These are all people who visit this website after seeing it in Google search results.
At the same time, this website has an average monthly traffic value of around $104 thousand. This amount demonstrates how much money this company would spend per month to buy an identical amount of traffic they get organically by purchasing contextual advertising systems such as PPC ads. Therefore, this means that the website owner is saving $104 thousand every month because the website has good rankings in Google's search results.
The image below shows which pages bring the most traffic to this website.


As we can see, various pages on this list can generate impressive organic traffic for your website. A qualified SEO expert can evaluate the pages currently present on your website, optimise them to attract more people and create new pages to collect as much organic search traffic as possible. They will also take it another step further and optimise the site for conversions. SEO expert Aaron Wall explains:
"The success of a page should be measured by one criteria: Does the visitor do what you want them to do?" – Aaron Wall, SEO expert and author
The example above is from a larger website, and you may think it's unsurprising to see it get such a significant amount of traffic. But what about smaller websites? Will SEO still be a good investment for them? Let's look at the following example.


As you can see, this website is smaller, but the results are still promising. This travel agency attracts roughly 10 thousand organic visitors per month and has a traffic value of around $8 thousand. TravelHouseUk is ranked highly on Google for the search term 'travel agency London' and many other keywords and is attracting significant traffic. This website gets $7.8 thousand worth of free traffic from Google, which means its owner is saving that money they would otherwise spend on PPC advertising.


We can see from the screenshot that TravelHouseUk ranks highly on Google for 'umrah package', 'pay monthly flights', and many other keywords that attract significant traffic to this website. The website has pages covering many flight-related topics, which allows it to collect impressive traffic on Google. This example again confirms that there is a range of keywords your website can use to generate free, organic traffic. All you need is to find a qualified SEO agency to effectively create, optimise, and promote these pages and bring your business to the next level.
Local SEO for Travel Agencies
Local SEO techniques are incorporated to ensure the website is shown to people searching for specific services in their local area. For example, if you enter 'travel agency near me' on Google, you'll see websites run by travel agencies in your area. However, simply adding the website of your company to Google My Business and putting its location on Google Maps won't bring as much traffic as you want. Only complex SEO of the website can lead to noticeable results and help it rise in search engine rankings.
What Does an SEO Company Do?
SEO is undeniably an excellent investment for travel agency owners, although achieving sizable results requires a lot of expertise, skills, and hard work. Google sets high standards to prevent low-quality websites from reaching the top positions in search results. Take into consideration what SEO expert Simon Ensor says:
"Focus on searcher intent. This should underpin all of your activities—research, creation and distribution. What is the searcher really trying to achieve and how is your content helping them reach this goal?" – Simon Ensor, Managing Director at Yellowball
NUOPTIMA is a team of professionals that have been working with brands in various industries for many years. Our experts have extensive experience in SEO for different clients, including travel agencies. We know what to do to get your website to the top positions in the Google search. Here are a few methods we can use to improve your travel agency's Google rankings:
Arrange the placement of links on reputable travel websites.
Create SEO-optimised content to help your website rank for more keywords on Google.
Evaluate and optimise existing pages to comply with Google's rules and best practices.
Create all the necessary new pages to help your website get as much organic traffic as possible.
Effective SEO performed by qualified professionals can bring excellent results to your business. Here at NUOPTIMA, we have an expansive experienced SEO team that will help your website achieve significant results. Book a free discovery call with our professionals today to discover how we can use SEO tools to achieve fantastic results for your business.
Harness the Power of SEO for Your Travel Agency
In the digital age, the importance of a robust online presence cannot be overstated. As a travel agency, leveraging SEO strategies can significantly enhance your visibility, attract more potential customers, and ultimately increase your revenue. With the right SEO techniques, your website can become a powerful tool that works 24/7 to bring in new business. Don't let your travel agency get lost in the vast sea of online competition. Start your SEO journey with NUOPTIMA today and watch your business reach new heights.
Talk to an SEO expert
We work with 100+ businesses. Book a slot now to talk to one of our experts.
What is the importance of SEO for travel agencies?
SEO is crucial for travel agencies as it helps improve their online visibility. With the right SEO strategies, a travel agency's website can rank higher in search engine results, attracting more potential customers. It's a cost-effective way to increase website traffic and generate leads.
How long does it take to see results from SEO?
SEO is a long-term strategy, and it often takes a few months to start showing results. However, once your website starts ranking higher in search results, it can retain those positions even if you pause your optimization efforts.
What is local SEO and why is it important for travel agencies?
Local SEO is a strategy that helps businesses rank higher in local search results. For travel agencies, this means appearing in search results when potential customers are looking for travel services in their local area. It's a powerful way to attract local customers and build a strong presence in your community.
What kind of SEO services does NUOPTIMA provide for travel agencies?
NUOPTIMA provides a range of SEO services for travel agencies, including link placement on reputable travel websites, creation of SEO-optimized content, evaluation and optimization of existing pages, and creation of new pages to attract more organic traffic.
How can I get started with NUOPTIMA's SEO services for travel agencies?
You can get started with NUOPTIMA's SEO services by booking a free discovery call with our professionals. We'll discuss your needs and how we can use SEO tools to achieve fantastic results for your business.