You trust your heart to a cardiologist, vision to the ophthalmologist, and digestive system disorders to the gastroenterologist. We regularly encounter a wide range of specialists to take care of our health, but when we talk about our four-legged friends, the only person we can rely on is the veterinarian. And, of course, he has to be the best. Pet owners choose veterinarians carefully to ensure their pets are taken care of properly and live a long and healthy life.
When running a veterinary business, you must understand that you will be an essential partner for all the people you work with to ensure that their pets receive the highest quality professional care. However, for pet owners to rely on your services, your veterinary practice must be visible to them, as there is high professional competition across many countries. Thus, in 2022, more than 126 thousand veterinarians are currently practising in the US. In the UK, their number has exceeded 29 thousand and continues to rise. Each month, around one million pet owners search for veterinary services on Google, and the higher your website ranks in the search results, the greater the likelihood these potential clients will find your veterinary practice.
To improve your visibility online, you need a professional SEO strategy. SEO tools can optimise your website's content to make sure your practice shows up when people search online for veterinary care services in your local area. In addition to visibility and organic traffic increase, SEO contributes to your authority in your field. It means you'll attract new clients and deepen your business's relationship with them through established trust. Another significant SEO benefit is its longevity and helping you achieve the marketing dream highlighted in SEO expert Peter Drucker's quote:
"The aim of marketing is to know and understand the customer so well the product or service fits him and sells itself." – Peter Drucker, management consultant, educator, and author
In contrast to other types of digital marketing like PPC ads and social media marketing that offer immediate results, SEO methods may take months to bring you results, although they provide long-term effects. PPC and SMM deliver visible results until you stop paying for the services, while SEO allows keeping the website's positions even if you decide to stop using the services. It makes search engine optimisation strategy the most effective for business owners aimed at long-lasting results.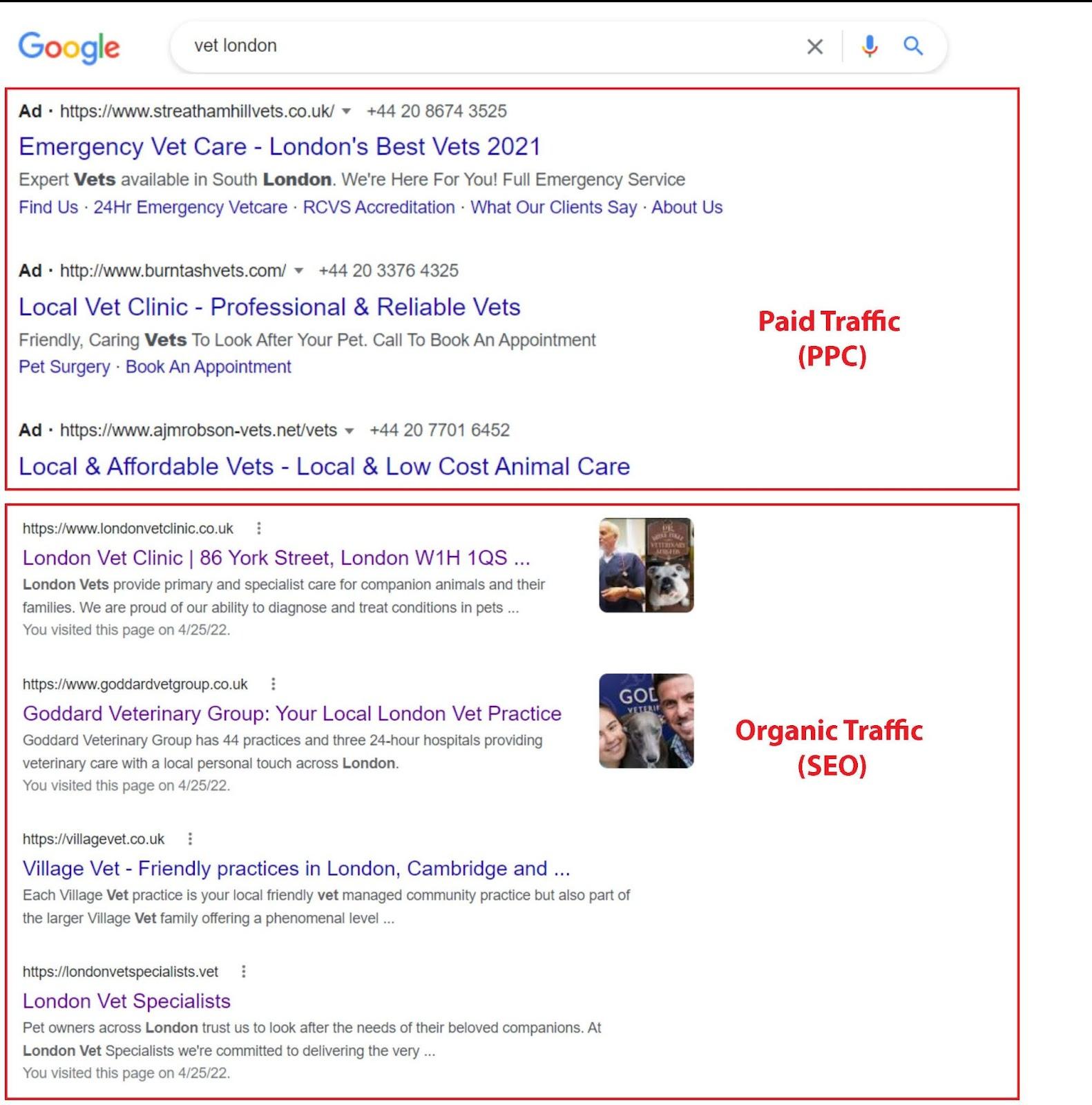 Search Demand for Veterinarians on Google

The above photo displays Google search data for the keyword 'vet near me.' The global search volume of this term is 915 thousand searches per month. This data demonstrates that nearly a million people worldwide search for this keyword and professional veterinary services each month, while the US (660 thousand searches), the UK (75 thousand searches), and Australia (62 thousand searches) represent the top three countries on this search volume. Analysing the Google Trends picture shown below, you can also see the evident growth of the 'vet near me' search term popularity worldwide from 2004 until the present day.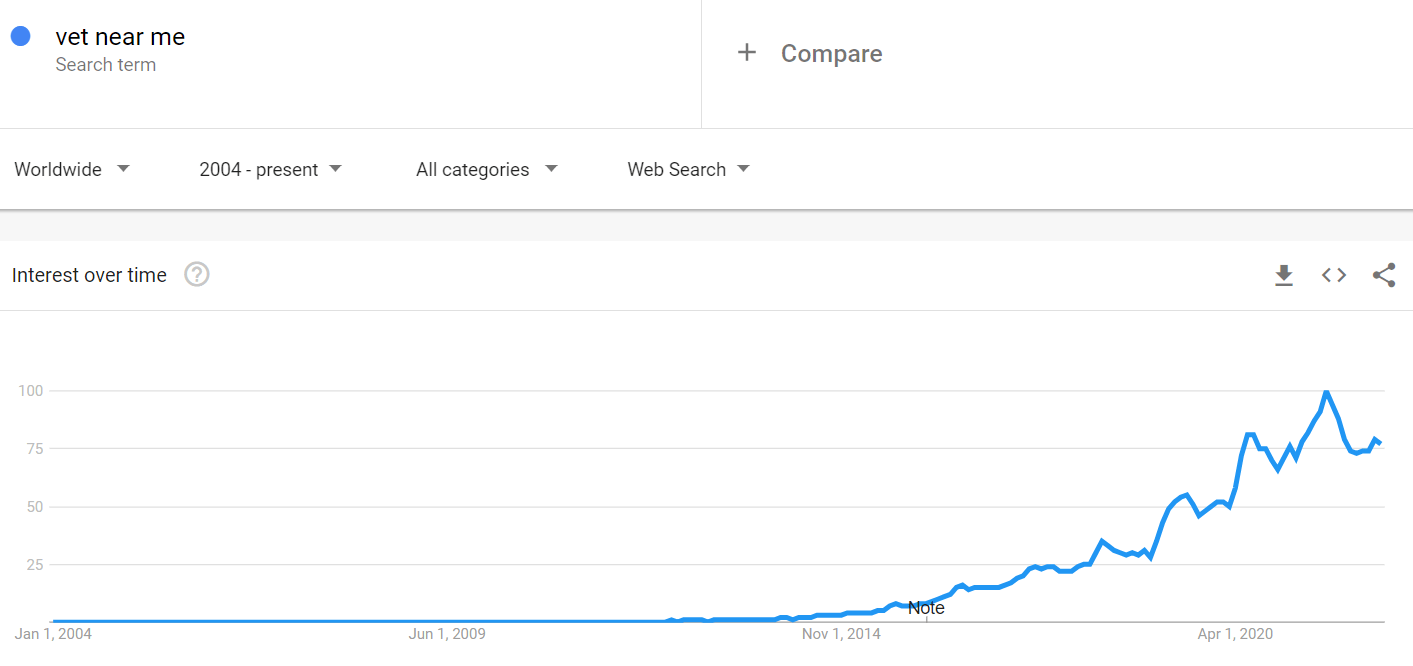 In Google Trends, the highest interest by the region is represented by the US, Australia, and South Africa.

For all veterinary clinic owners, this data means that an increasing number of people in many countries are regularly looking for high-quality veterinary services, and using a professional SEO strategy for your website will help you become visible to all these people and get more website visitors.
People Use Different Search Terms to Find Veterinarians
Words are powerful, and some of them have the power to control your website's rankings online. Single keywords or phrases that people frequently use to find veterinary services need to be researched and strategically placed in your content to attract more visitors to your website. Besides frequently used 'vet near me' or 'veterinarian,' people's search queries may include 'emergency vet near me' or specific vet services like 'reptile vet,' 'avian vet,' or 'exotic vet.' People may also search for '24 hour vet near me' as pets may need qualified medical assistance at any time of the day. The screenshot below demonstrates the average monthly search volume for different veterinary services-related keywords.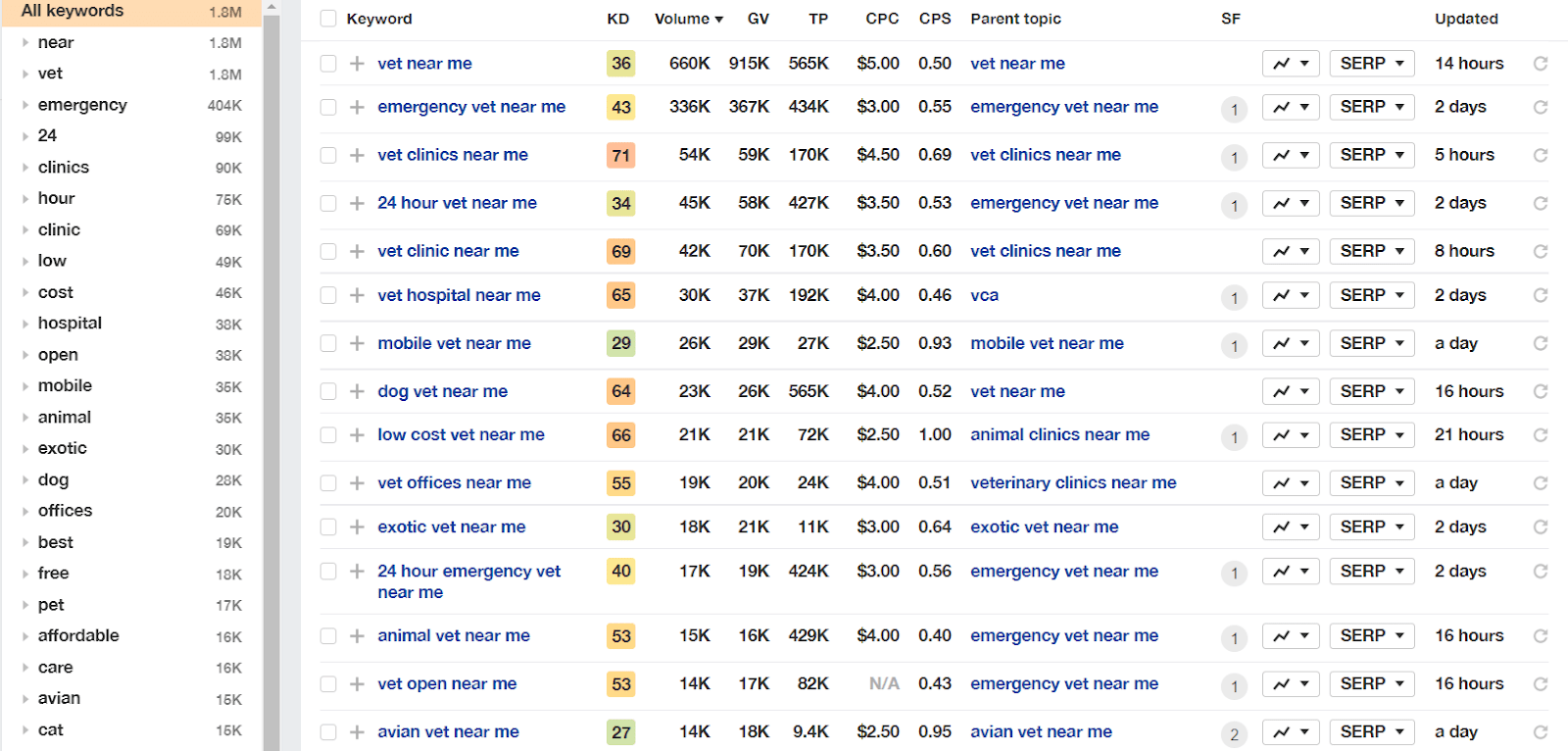 You can also see the most common search queries that are phrased as questions.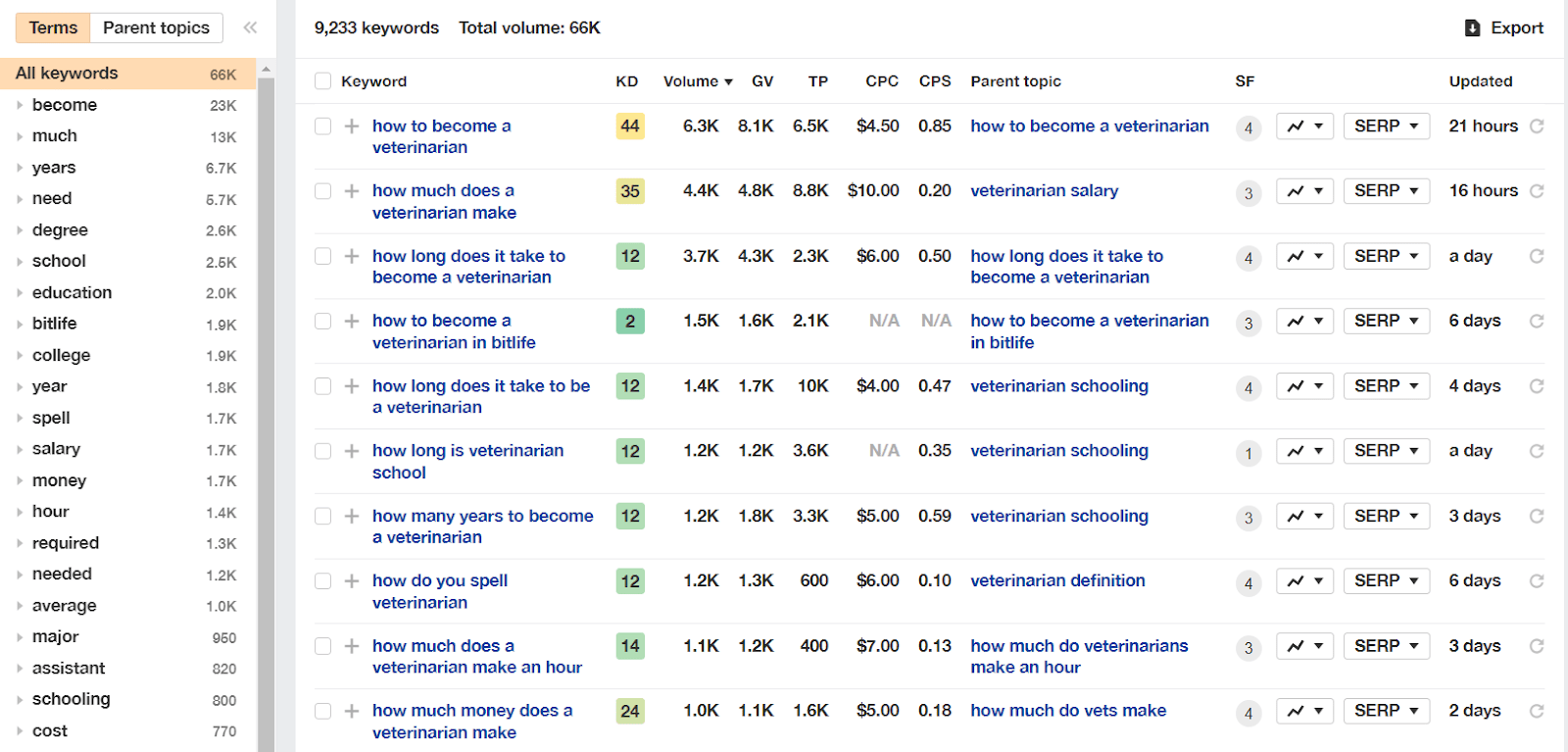 A qualified SEO team can use all these keywords and questions for your website to maximally increase organic traffic and help you achieve your business goals.
SEO Results for Veterinary Websites
SEO is a path to visibility that allows potential leads to see you, which means the engagement process can begin. Although this marketing strategy takes a lot of deliberate analysis and is a complex, ever-changing practice, it can significantly improve your business, making it worth the time invested. Let's look at the case studies we collected to see how effective SEO can be for your veterinary clinic website.

Our first example is www.vethelpdirect.com – an aggregator website providing accurate and detailed information for pet owners and helping them to find the best local vet from verified veterinary clinics. Vet Help Direct is the trusted online source of veterinary advice for pet owners, horse owners, and farmers. This website has a significant monthly traffic of 662 thousand visitors and occupies top positions on Google for the search term 'vet near me.'
You can also see on the screenshot above that the estimated traffic value of this website is $1.2 million, which means that website owners can save the same amount of money each month since they don't have to buy that many visitors with contextual advertising. The number of organic visitors and the significant traffic value represents the effectiveness of SEO services applied to this website. The top pages bringing the most traffic to this website are presented below.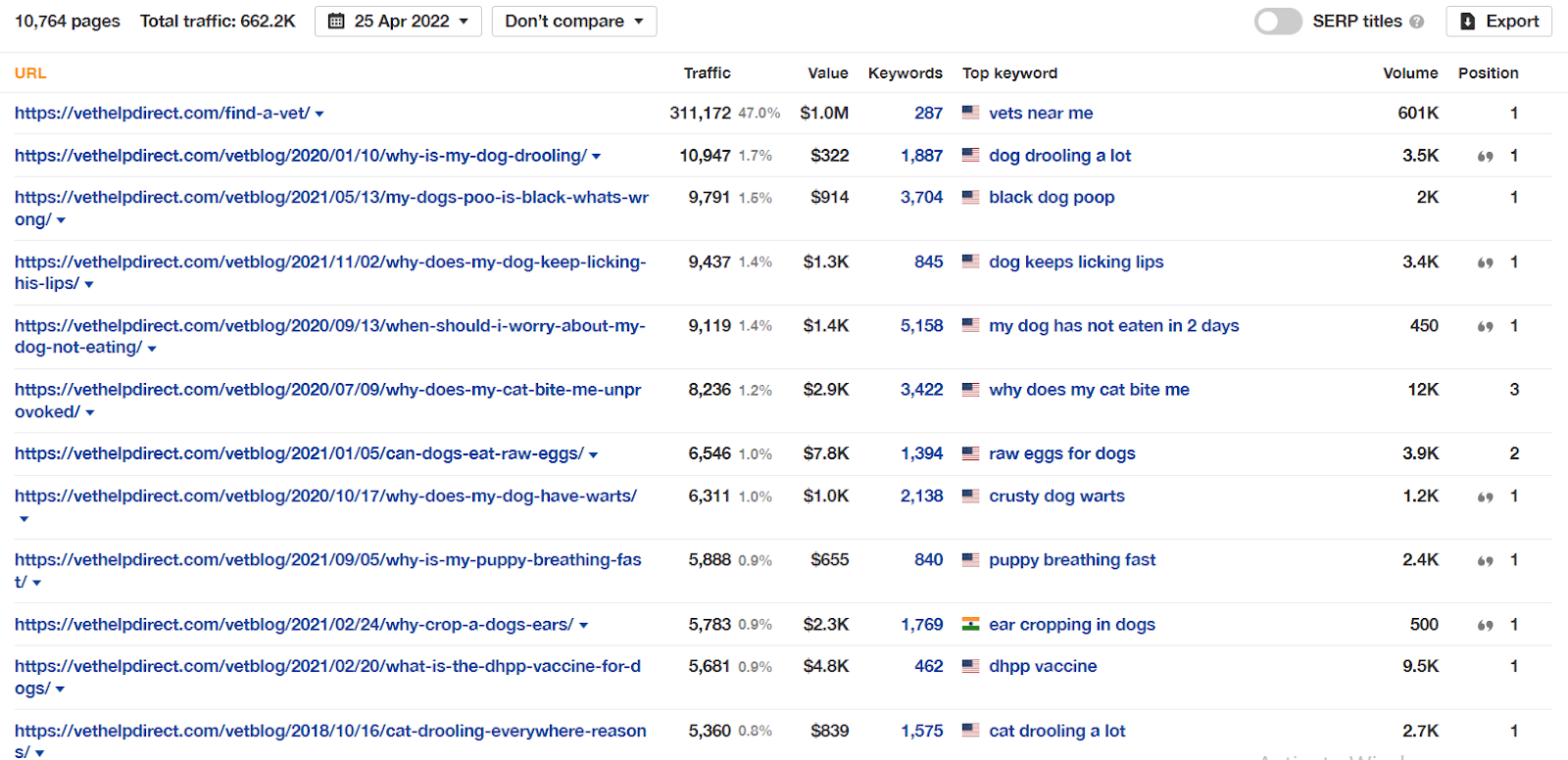 You can see pages with common keywords like 'vets near me' and more specified search queries, such as 'dog keeps licking lips' or 'puppy breathing fast.' These keywords are successfully implemented in the website content and do their job excellently, attracting thousands of visitors to the website with the help of a skilled SEO team.
Our second example is www.goddardvetgroup.co.uk – a smaller website operating in Greater London and demonstrating effective SEO results with top positions on Google for the search term 'vet London.' The Goddard Veterinary Group provides 24-hour emergency care and various services, from surgery and vaccination to routine tests and procedures.

The screenshot above demonstrates the website has 22 thousand monthly visitors and a traffic value of nearly $16 thousand. These results demonstrate the effectiveness of SEO services and allow website owners to save $16 thousand per month that they would otherwise spend on contextual advertising to generate similar organic traffic.
The top pages that bring the most visitors to this website are shown below.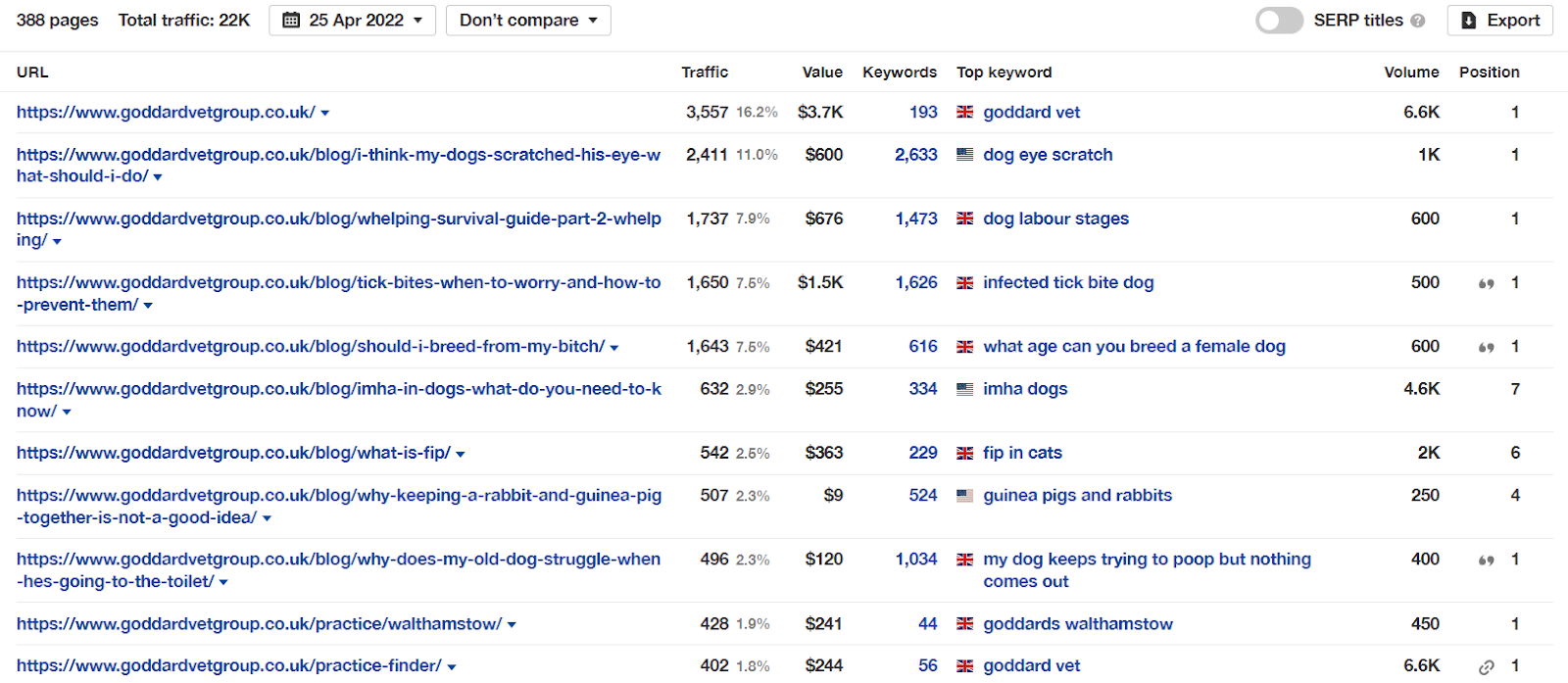 The top keywords here include specific pet conditions like 'imha dogs' and 'dog labour stages' that can also be used in your website with other search queries to boost its search rankings and increase free organic traffic.
Our Approach to Veterinary SEO
SEO is essential for veterinary practices as part of a marketing strategy because it drives new business if done the right way. According to statistics, over 90% of people considering using a local business (and veterinarians are not an exception) do an online search first. If you're not showing up on the common keywords used for searching veterinary clinics, you're missing out on a significant opportunity for your veterinary practice.
At NUOPTIMA, we know how to develop a customised SEO strategy for your veterinary business and increase your website's rankings on Google to attract more visitors. Our approach to helping you achieve your business goals includes the following strategies:
Keyword analysis ensures your content contains the words and phrases most frequently used by customers. We also use local SEO tools that, along with keyword research, will increase your visibility and drive action on your website, making your veterinary practice the authority in your area.
Backlink building. Building backlinks is one of Google's most significant ranking factors in search engine results as it improves the credibility of your website. The more influential and authoritative websites that link to yours, the better.
Content marketing. The content of your veterinary clinic website allows you to communicate directly with your audience and help potential clients learn about all services you can provide their pets with. Comprehensive articles on your website drive traffic by informing pet owners about topics they search on Google.
Technical SEO. In NUOPTIMA, we perform all necessary tasks that help a website move up in the search results. Our team ensures that there are no "broken" pages, your website is fast and secure, it is crawlable for search engines, has structured data, proper formatting of the content, and more.
Having a skilled SEO team is essential to succeed in your veterinary business's digital marketing. If you want SEO results to be effective and produce fruitful results, your best bet is to hire a qualified SEO company that is experienced in veterinary SEO and can improve your website rankings with all the features of this business in mind. NUOPTIMA experts have a wealth of experience and will help you get your veterinary practice to the top of Google search results delivering significant ROI.
Harness the Power of SEO for Your Veterinary Practice
In the world of veterinary services, having a strong online presence is no longer optional. It's a necessity. With the rise of online search and the importance of online reviews, SEO plays a crucial role in helping your veterinary practice be found by potential clients and stand out from the competition.
At Nuoptima, we specialize in SEO for veterinarians. Our team of experts understands the unique challenges and opportunities in the veterinary sector. We employ proven strategies and innovative techniques to help our clients improve their search engine rankings, drive more traffic to their websites, and ultimately, increase their client base. Reach out to us today to learn more about how we can help your veterinary practice thrive in the digital landscape.
Talk to an SEO expert
We work with 100+ businesses. Book a slot now to talk to one of our experts.
Why is SEO important for veterinarians?
SEO is crucial for veterinarians as it helps in attracting potential clients and establishing a strong online presence. With effective SEO, your website can rank higher in search engine results, making it easier for potential clients to find your veterinary services.
How does Nuoptima approach SEO for veterinarians?
Nuoptima uses a unique approach to SEO for veterinarians, focusing on keyword research, content creation, and link building. We also optimize existing pages and create new ones to attract as much organic traffic as possible.
What kind of results can I expect from Nuoptima's SEO services for veterinarians?
With Nuoptima's SEO services, you can expect increased traffic to your website, higher search engine rankings, and increased client acquisition. These results can lead to a significant return on investment over time.
How does Nuoptima's SEO services for veterinarians differ from other SEO services?
Nuoptima's services are unique because of our specific expertise in the veterinary sector. We understand the unique challenges and opportunities in this field, and we tailor our strategies to meet the specific needs of veterinarians.
What types of veterinary practices has Nuoptima worked with in the past?
Nuoptima has worked with a wide range of veterinary practices in the past, including small animal clinics, large animal practices, and specialty veterinary services. Our experience spans various fields within the veterinary sector, allowing us to provide tailored SEO services that meet the unique needs of each client.