Read NUOPTIMA's article on elevating YouTube video rankings to increase audience pipelines through SEO. We offer a FREE 30-minute consultation call if you are interested in hiring a savvy SEO agency that can help turn your YouTube channel into a success.
Key Points
YouTube is a video-sharing platform that allows users to watch and/or upload their own audiovisual content for free. More or less three billion users visit YouTube each month, making it the second most powerful search engine behind its parent company, Google.
Search engine optimisation (SEO) is an ongoing process of boosting websites and pages in order to rank well in search results and gain more visibility and conversions.
YouTube SEO is designed to enhance video content according to YouTube's best practices to improve its search scales. YouTubers can optimise their videos to rank in YouTube's search results and other search engines so that people can stumble upon their videos through Google, Bing, Yahoo and many others.
Creating a successful YouTube channel requires arduous legwork, but it should be painless when you hire a reliable SEO company that can walk with you from start to finish.
To understand the gist of YouTube SEO, one must recall the meaning of search engine optimisation. In simple terms, search engine optimisation (SEO) is a continuing practice of optimising a website to rank on search engine results pages (SERPs). This includes methods like keyword planning, link building, content optimisation, competitor analysis and more.
Perhaps Google is the first thing that comes to mind when we hear "SEO". But in case you missed it, there are other search engines where you can gain more visibility and conversions. Having access to them allows you to reach people who might be less active on Google. Yandex, for example, is the most popular search engine in Russia, while Baidu is a leader in China.
When it comes to video content, YouTube is the go-to portal of nearly three billion monthly active users across the globe. Its market share (42.9%) is a lot larger than that of Bing (3.08%), Ask.com (2%), Yahoo (1.3%) and AOL (0.03%) combined. No wonder YouTube is celebrated as the second-largest search engine next to Google. Since 2006, the video platform has been operating as one of Google's subsidiaries.
Whether you are a business owner or a budding influencer, YouTube is such an incredible place to reach a massive pool of audiences. If you want to achieve more views, subscribers and organic traffic from YouTube, this article is right for you.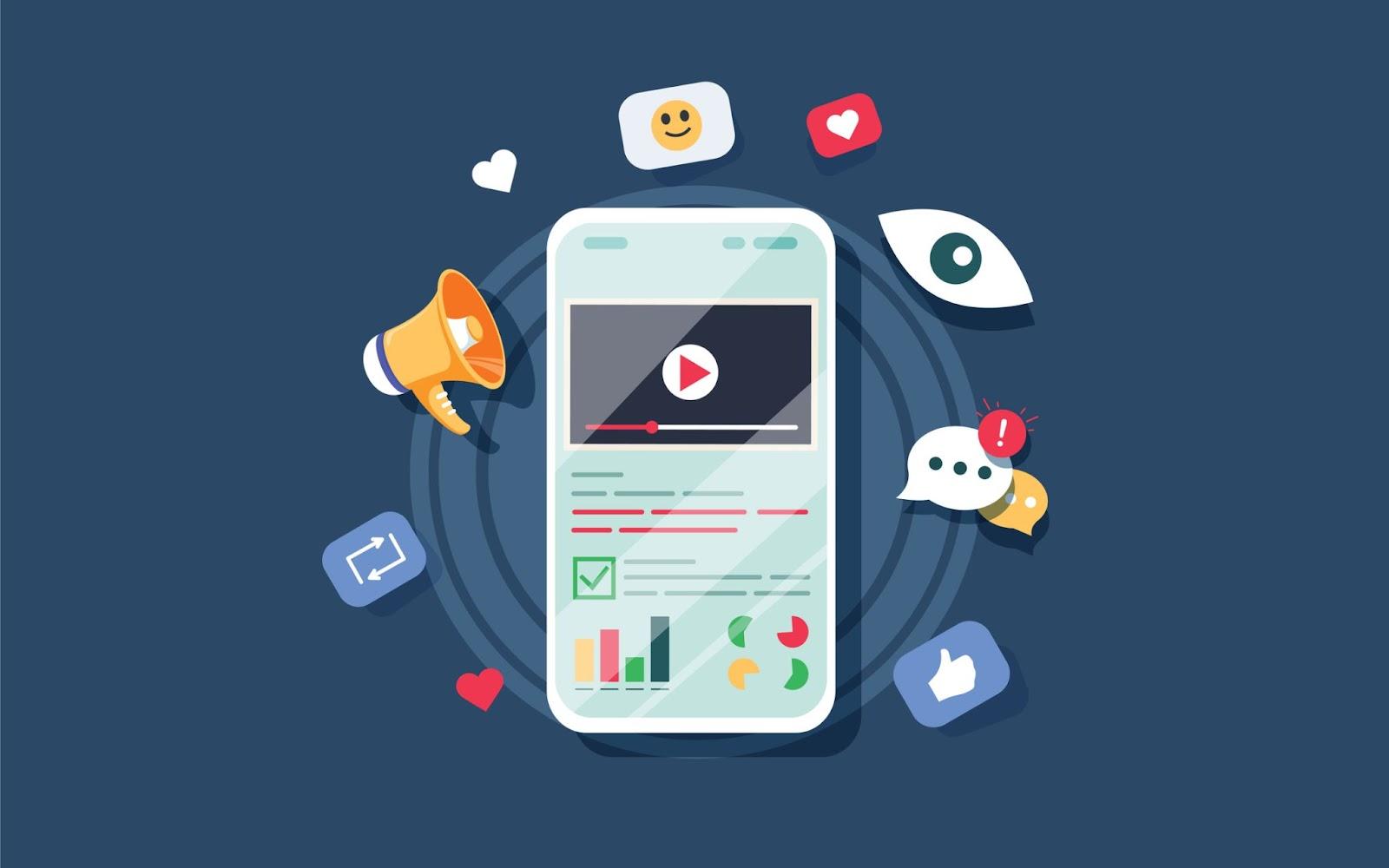 What Is YouTube SEO?
Youtube shares the same premise with Google when it comes to ranking search results. For instance, users enter a query on YouTube's search bar, and videos of most relevance will appear in search results. While the optimisation process for web pages and YouTube videos may appear similar, there are some slight differences. Unlike Google, YouTube pays more attention to engagement than backlinks and other aspects of SEO.
Optimising keywords, titles, descriptions and content for videos definitely holds a lot of value in terms of ranking because search engine bots cannot crawl videos without logical text data. But beyond that, YouTube also looks at videos with longer watch times and better impressions. These metrics depend on how long a video can keep the viewers watching and how many views, likes, comments and shares they receive. The more compelling the videos, the higher they rank on YouTube and other search engines.
Why Is YouTube SEO Important?
Long gone are the days when the most dominant form of content on the web was written blog posts and articles. Today, many content marketing strategies include various media, such as infographics, podcasts, webinars and videos.
According to Wyzowl's latest video marketing statistics report, about 86% of marketers agree that videos make the best option for generating leads and positive returns on investment. However, that doesn't necessarily suggest that you should leave your website behind and switch to a working YouTube channel right off the bat. The best form of content still depends on the interests and preferences of your targetted audience. Whether you consider an article or a video, optimising your content should be a top priority.
People watch approximately one billion hours of videos on YouTube every single day. That's a mindboggling number that just proves how powerful videos can be as a source of information online. And with the rise of competition among video creators comes the need to optimise videos for ranking. You'll love YouTube SEO because it helps enhance your videos for better search positions within and outside of YouTube. This means that if you're a top-ranker on YouTube, there's a high possibility that you can be found on other search engines for a specific query, too. Like hitting two (or more!) birds with one stone, eh?
NUOPTIMA's Best Tips for Optimising YouTube Videos
It's time to increase your odds of hitting the #1 spot on YouTube search trends. Here are some major SEO techniques for business owners and video producers alike.
Choose A Fitting Keyword
First of all, you need to select a keyword or phrase that will best describe your video. YouTube crawlers like to see keywords in video titles, meta descriptions, and subtitles. Keywords make it easier for them to understand what your video is all about and whether it correlates with a searcher's query.
When choosing the right keyword, you must look for search terms that viewers commonly use to find video content like yours. Ahrefs is a fantastic SEO tool that lets you discover keyword ideas for your targetted topics. Just enter your intended keyword or topic in Ahrefs' Keyword Explorer bar and hit the search icon. Make sure the right search engine and country you would like to see data for are properly selected.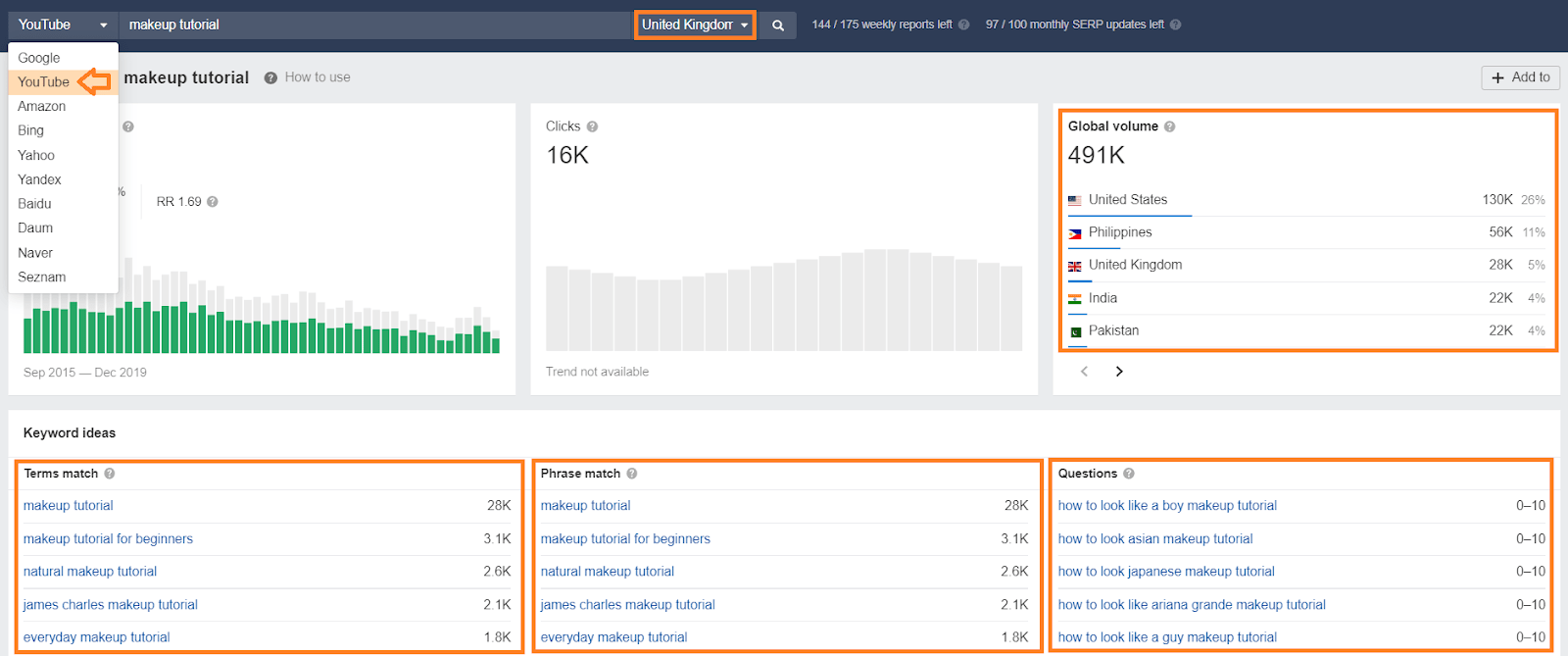 Let's say you have a makeup line to promote and consider uploading a makeup tutorial video to reach your focus group. The above screenshot presents the monthly global search volume and suggested keywords for the topic "makeup tutorial". According to it, people around the world look for makeup tutorials almost 500,000 times a month. That means masses of viewers can come across your video if you include the keyword "makeup tutorial" in your metadata.
Another easy way to conduct keyword research is to utilise YouTube's automated search suggestions. That is, when you type your primary keyword in the search bar, it will automatically display some of the most commonly searched terms related to your industry. Not only you will see various keyword suggestions for your video, but you can also get an idea of what other topics to cover in your next vlog.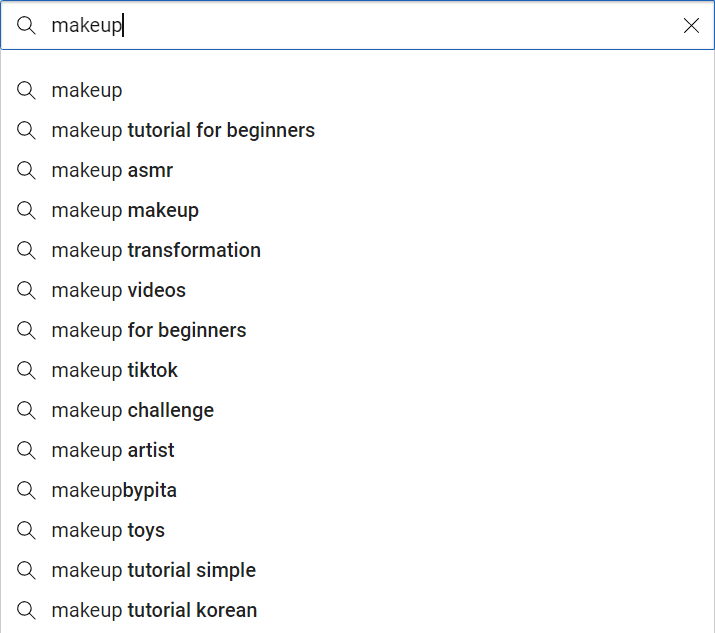 Optimise Video Description
YouTube's video description box is a powerful yet underrated SEO tool. Many people think it's just a random space to fill a bunch of words that describe your video. But that's precisely the point of writing a video description. It tells YouTube what your video is all about and to whom it is recommended, which highly determines how it will be positioned in search results. Thus, writing an engaging and well-optimised video description is a must if you want to rank as highly as you deserve.
A video description box can accommodate up to 5,000 characters, equivalent to more or less 800 words. It's important to use every bit of it and make sure to include essential details, such as:
Keywords: Add rich keywords in the first sentence of your video description to ensure YouTube can easily recognise your topic.
Timestamps: These are links to specific parts of a video typically used to split up videos into sections in order to provide viewers with a sneak preview of each scene. That way, viewers won't have to wait for an entire video to run from the first second to the very part they want to see. They just need to click on a timestamp to jump to the part where it is linked.
Website/Social Media URLs: A call to action that includes your website or social media links is a perfect hack to drive YouTube viewers to other platforms you may have. That's an absolute win-win for SEO.
Contact Information: Adding a business email or phone number to your video description makes it easier for your viewers or other brands to connect with you whether it be for product inquiries, brand deals or sponsorships.
Things Mentioned In the Video: It's good to provide links to any products, shops, websites and other important things you have mentioned in the video. Your audience will likely find your piece very useful and even thank you in the comment section.
If you want any of this information to show up in each of your featured videos, for example, a CTA that includes your websites, socials and contacts, write it into the default description box found in your YouTube channel's settings.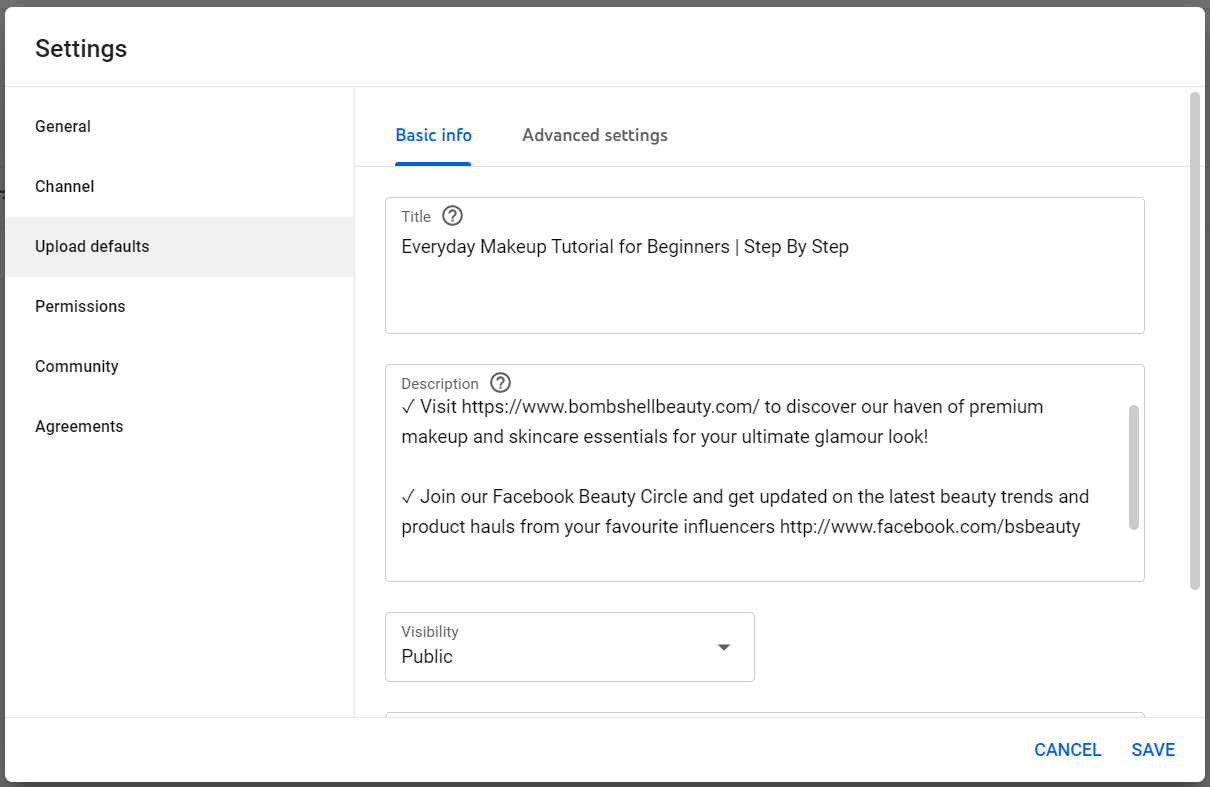 Provide Multi-lingual Subtitles
While English is a universal language, about 60% of YouTube's monthly viewers use a different mother tongue. Many of them prefer to watch videos in their own native language. So if you speak English in your vlog, a whopping 1.8 billion non-English speakers will likely move from your video to another. Adding subtitles in another language is a great step to expand your videos' reach and enable a diverse set of viewers to understand and engage with your content. Plus, you have better opportunities of ranking for non-English keywords since the competition is much lower.
To add subtitles in another language, go to your video's edit page and click "Subtitles". From there, you can select any language you want to use. Some content creators are hiring an expert for multi-lingual subtitling so viewers with different linguistic backgrounds can enjoy watching their videos in real time.
Use An Eye-Catching Thumbnail
Thumbnails are not an official YouTube ranking algorithm, but they make a big difference in click-through rates. People can quickly decide which video to watch just by looking at its thumbnail. The more clicks you get, the higher you'll rank. Always choose high-quality and aesthetically-pleasing images that are compatible with YouTube's ideal aspect ratio. Most importantly, your thumbnails must provide an accurate visual representation of what your video is all about. For instance, facial close-ups and before-and-after shots make a great thumbnail for makeup tutorial vlogs.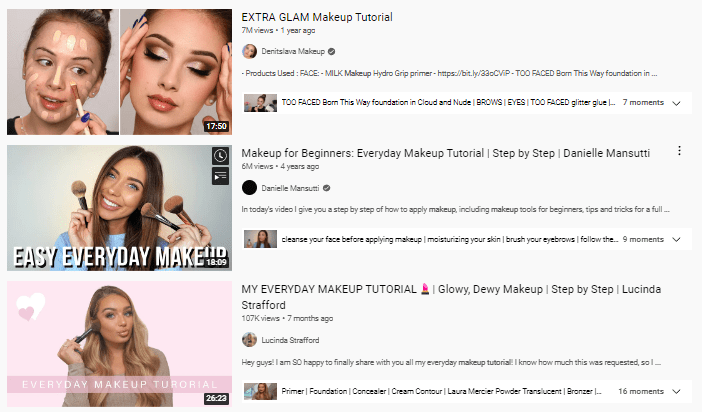 Boost Audience Engagement
YouTube can tell your videos are popular when they get a lot of views, likes, comments and shares. But if there's one thing you should emphasise more, that's your subscribers. People subscribing to your channel get to see your videos first-hand, which increases the likelihood of your videos being watched. It's a good idea to make a CTA that encourages your audience to subscribe so they can always get your latest video updates. Having a Q&A portion at the end of your vlog is another strategic way to build engagement. Ask your audience relevant questions like "What's their favourite shade of lipstick?" and let them drop their answers in the comment section to get the discussion started.
Aside from impressions, watch time is another metric that matters on YouTube. It refers to the amount of time people spend watching a video. YouTube recommends videos with higher watch times because it indicates positive audience engagement.
Key Takeaways
As you embark on your YouTube SEO journey, here are some important reminders that will lead your way to success:
Always create well-structured content that does not only focus on pro-level video production but also tackles issues that people want to see.
Put your audience at the centre of any optimisation strategies you make, as YouTube's ranking factors are primarily user-centric.
Perform regular keyword research to gain insights into current video marketing trends and help align your content with relevant keywords that match your branding.
Pay attention to metrics that determine how appealing your videos are to the viewers. These include the number of views, likes, shares, comments and subscribers.
Follow the tips you learned from this article to get your videos on top of YouTube search results.
Want to know how we can help you with all of that? Reserve a 30-minute meeting with one of our specialists to get an insight into NUOPTIMA's YouTube SEO services!
Talk to an SEO expert
We work with 100+ businesses. Book a slot now to talk to one of our experts.
---
FAQ
What is YouTube SEO?
Search engine optimisation for YouTube is the practice of ranking videos and channels in search results for specific keywords.
Why does audience retention matter?
Videos with consistently high watch times and audience retention rates are more likely to appear in YouTube search results and video suggestions. It's vital to always give your audience a reason to stay on YouTube so that crawlers will rank your video higher.
Can YouTube videos rank on Google?
Yes. Videos are eligible to rank in Google search results as long as they have optimised keywords and metadata. The number of views and impressions are also important ranking factors.