Shopify is a Canadian e-commerce platform for online stores and first launched in 2006. It is commonly regarded as one of the best e-commerce platforms available. But what are some important statistics to know about it in 2023? For instance:
How much of its total traffic comes from mobile devices?
What percentage of all Shopify stores are based in the United States (US)?
What percentage of merchants use Shopify apps?
This article answers all of these questions and more with our top 22 Shopify facts.
Top 7 Shopify Statistics
Number of Stores on Shopify
To date, there are more than 4.5 million Shopify stores online, and the platform is used by merchants in more than 175 countries worldwide.
In 2021, merchants on the platform generated over $444 billion in global economic activity. This figure is a 45% increase from the previous year. This formed the globe's second-largest business in revenue, beating Apple, Volkswagen, BP, and Amazon.
Shopify generated $4.6 billion in total revenues in 2021. This is a decided increase from the previous year when $2.9 billion was generated. Shopify's total revenue has increased by over $4 billion since 2015, demonstrating how quickly and substantially its revenue has grown.
In 2022, a significant 79% of all Shopify traffic came from mobile devices. In recent years, there has been a huge increase in mobile traffic to online shops. To illustrate, in 2014, just over half of Shopify store visits came from mobiles (50.3%), but now this figure has increased by almost 30%.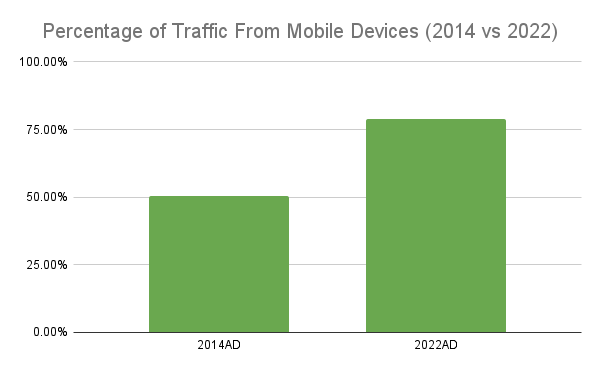 While Shopify is designed for people looking to set up small- and medium-sized businesses, Shopify Plus is designed for enterprise-level businesses. Well-known brands using Shopify Plus include Gymshark and Kylie Cosmetics. As of March 2023, more than 14 thousand businesses are using Shopify Plus.
Top Online Shopping Categories
The latest data forecasts that fashion will be the top online shopping category worldwide in 2023, with consumers predicted to spend $990 billion. Other highly ranked categories include Electronics ($910 billion) and Toys, Hobby, and DIY ($780 billion). Therefore, there is a high proportion of Shopify e-commerce stores that sell products within these categories to meet the high demand.
Largest Stores on Shopify
Some of the most successful Shopify stores include Kylie Cosmetics, ColourPop, Fashion Nova, Gymshark, and Steve Madden. All of these businesses generate a minimum of $5 million in yearly sales. Other notable businesses using Shopify include Tesla and Nestlé.
Top Shopify Statistics Summarised
Total Number of Stores
Over 4.5 Million (Shopify Merchants in Over 175 Countries)
Global Economic Activity
$444 Billion Generated in 2021
Shopify Revenue Generated
$4.6 Billion (2021)
Traffic From Mobile Devices
79% (2022)
Number of Businesses Using Shopify Plus
Over 14 Thousand
Top Online Shopping Categories 2023
Fashion ($990 Billion)Electronics ($910 Billion)Toys, Hobby, and DIY ($780 Billion)
Biggest Stores on Shopify
Kylie Cosmetics, ColourPop, Fashion Nova, Gymshark, Steve Madden, Tesla, Nestlé.
2 Important Shopify Growth Statistics
In 2022 alone, approximately 649 million people made a purchase from a Shopify store. This figure has increased year on year, with 572 million customers in 2021, 457 million in 2020, 300 million in 2019, and 216 million in 2018. There are predicted to be over 700 million customers in 2023. Therefore, more and more people are making their purchases from a store on Shopify.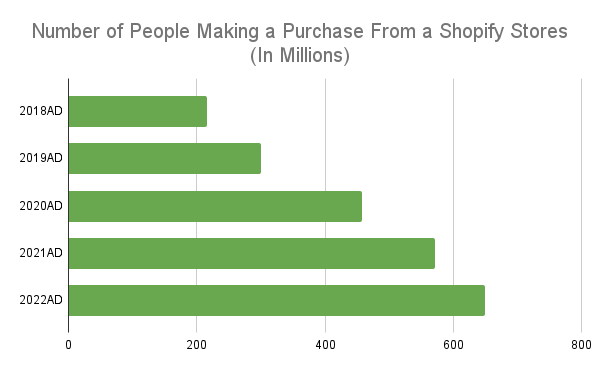 Merchant Growth and Global Distribution
As of December 2022, millions of merchants use Shopify. With just 42 thousand merchants in 2012, there are now more than two million. According to Shopify's 2022 annual report, this is how the merchants were geographically dispersed:
North America – 55%
Europe, Middle East, and Africa – 25%
Asia Pacific, Australia, and China – 15%
Latin America (Mexico and South America) – 5%.
Shopify Growth Statistics Summarised
Number of Buyers on Shopify
649 Million in 2022 Compared to 216 Million in 2018
Number of Merchants on Shopify
Over 2 Million in 2022 Compared to 42 Thousand in 2012
5 Interesting Shopify United Kingdom (UK) Statistics
Shopify's popularity accounts for 22% of the market share in the UK, ranking second. As of April 2022, WooCommerce was the most-used software for e-commerce sites in the UK, amounting to 25% of the market share.
As of March 2023, there are over 156 thousand live Shopify stores in the UK. Most of these are based in England, amounting to almost 136 thousand stores. Furthermore, there are more than 2,500 Shopify Plus stores in the UK.
Top Categories for UK Shopify Stores
Apparel is the most popular category in the UK, accounting for over 40 thousand stores. The second most popular is Home and Garden (24.5 thousand), followed by Beauty and Fitness (17.1 thousand), and Food and Drink (11.8 thousand).
Shopify Stores Growth in the UK
UK Shopify stores increased 38% year-over-year in the last quarter of 2022. Moreover, stores increased 12.2% quarter-over-quarter in Quarter 4 of 2022.
E-commerce businesses often use social media websites to interact and engage with countless customers, and this is no different for Shopify brands. In the UK, 53.2% of Shopify stores use Instagram, 42.9% use Facebook, and 16.8% use Twitter.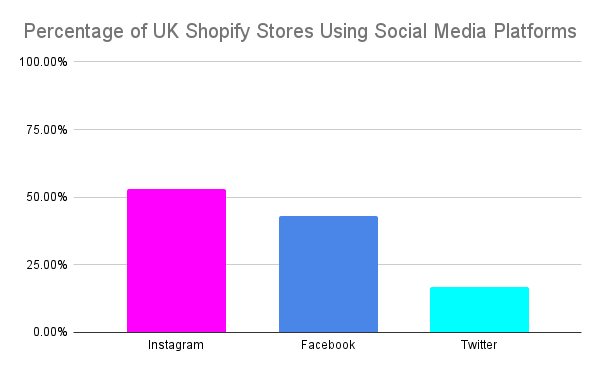 Shopify UK Statistics Summarised
Market Share
22%
Number of Shopify Stores in the UK
Over 156 Thousand
Top Category for Stores
Apparel
Shopify Stores Growth
38% Increase Year-Over-Year12.2% Increase Quarter-Over-Quarter(Q4 2022)
Social Media Use
53.2% of Stores Use Instagram42.9% of Stores Use Facebook16.8% of Stores Use Twitter
3 Insightful Shopify Global Statistics
US E-Commerce Stores Using Shopify
According to Kinsta, there are more than nine million e-commerce sites in the US alone, and 28.51% of these use Shopify. Therefore, more than a quarter of US e-commerce sites use Shopify.
Number of US Shopify Stores
As mentioned earlier, there are more than 4.5 million Shopify stores online, and according to BuiltWith, 64% of these are based in the US. Consequently, almost two-thirds of all Shopify stores are US-based.
Daily Active Users (DAUs) on Shopify
As of January 2023, there are more than 2.1 million DAUs on Shopify. Peak times that people use Shopify are weekends and vacations.
Shopify Global Statistics Summarised
Percentage of US E-Commerce Stores Using Shopify
28.51%
Percentage of Shopify Stores Based in the US
64%
DAUs
2.1 Million (January 2023)
3 Absorbing Shopify Business Statistics
Average Revenue Per Customer
As of December 2022, Shopify's average revenue per customer is $72. High-paying Shopify stores earn $149 per customer, whereas low-earning stores earn $44 per customer.
In Shopify's Future of Commerce Trend Report 2022, it stated that 58% of people made repeat purchases from a specific brand over the previous twelve months. This statistic demonstrates that when a consumer buys from a brand once, there is a good chance they will return and buy from them again.
Research found that for Shopify stores, email generates the best conversion rate (4.29%). The search conversion rate is 3.04%, direct is 2.93%, and social is 1.81%. This shows that emails can be a particularly effective approach to marketing Shopify stores.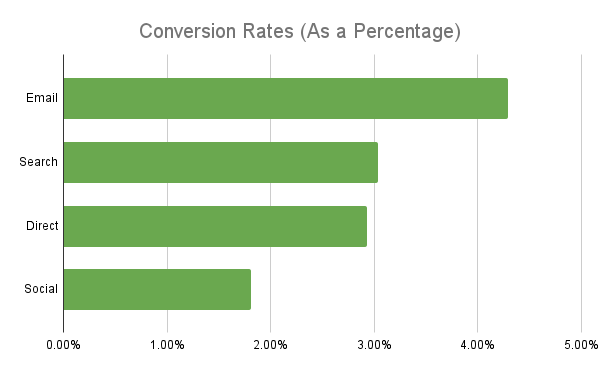 Shopify Business Statistics Summarised
Average Revenue Per Customer
$72
Percentage of People Making Repeat Purchases
58%
Conversion Rates
Email – 4.29%Search – 3.04%Direct – 2.93%Social – 1.81%
2 Revealing Shopify App Statistics
Shopify apps add features and extra functionalities to Shopify stores. There are currently more than eight thousand Shopify apps on the Shopify app store. Out of these, roughly 59% are free to use.
Percentage of Merchants Using Shopify Apps
87% of merchants use Shopify apps to help them run their e-commerce company. Additionally, the average merchant instals six apps. Clearly, many merchants on Shopify see the benefit and value of using apps to optimise and customise their online stores.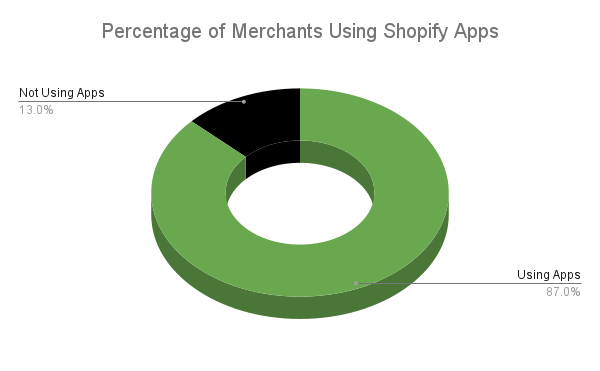 Shopify App Statistics Summarised
Number of Shopify Apps
Over 8 Thousand
Percentage of Merchants Using Shopify Apps
87%
References
https://news.shopify.com/shopify-merchants-support-worlds-largest-workforce-contributing-5m-jobs-and-444b-in-economic-activity-in-2021
https://www.statista.com/statistics/1075158/total-revenue-shopify-worldwide/
https://magenest.com/en/shopify-statistics/
https://www.shopify.com/enterprise/mobile-commerce-future-trends
https://s27.q4cdn.com/572064924/files/doc_financials/2022/ar/4cdd44db-ca94-4d2a-ae03-4dad70a72c58.pdf
https://www.statista.com/statistics/685438/e-commerce-software-provider-market-share-in-the-uk/
https://storeleads.app/reports/shopify/GB/top-stores