Key Points:
Technical SEO is a crucial component of a business's broader SEO strategy that aims to improve crawlability and indexation of a website.
Like most algorithms, Googlebots prefer certain technical characteristics. Therefore, it's essential to address technical SEO to make sure the search engines not only crawl and index your website but also rank it accordingly.
Using an SEO technical audit, experts will identify urgent technical fixes to optimise one's website or server. These suggestions aim to improve organic search rankings by speeding up page load time, fixing broken links and securing the internet connection using SSL.
An SEO agency will include technical SEO in its strategy to grow your website. Due to the complex nature of these optimisations, it's best to get a professional to implement the suggested changes. Book a free call with the NOUPTIMA team and discover how a holistic SEO approach can help grow your online presence.
Search engine optimisation, or SEO marketing, is the most effective way to increase organic traffic and grow your eCommerce website sustainably. Among the various SEO processes, technical SEO is one facet that you cannot ignore. The parameters that we'll explore in this article form the backbone of your entire SEO strategy; they set your site up to be indexed and make the most of your SEO efforts. This article outlines the foundations of technical SEO, what methods it uses and why it's essential for search engines.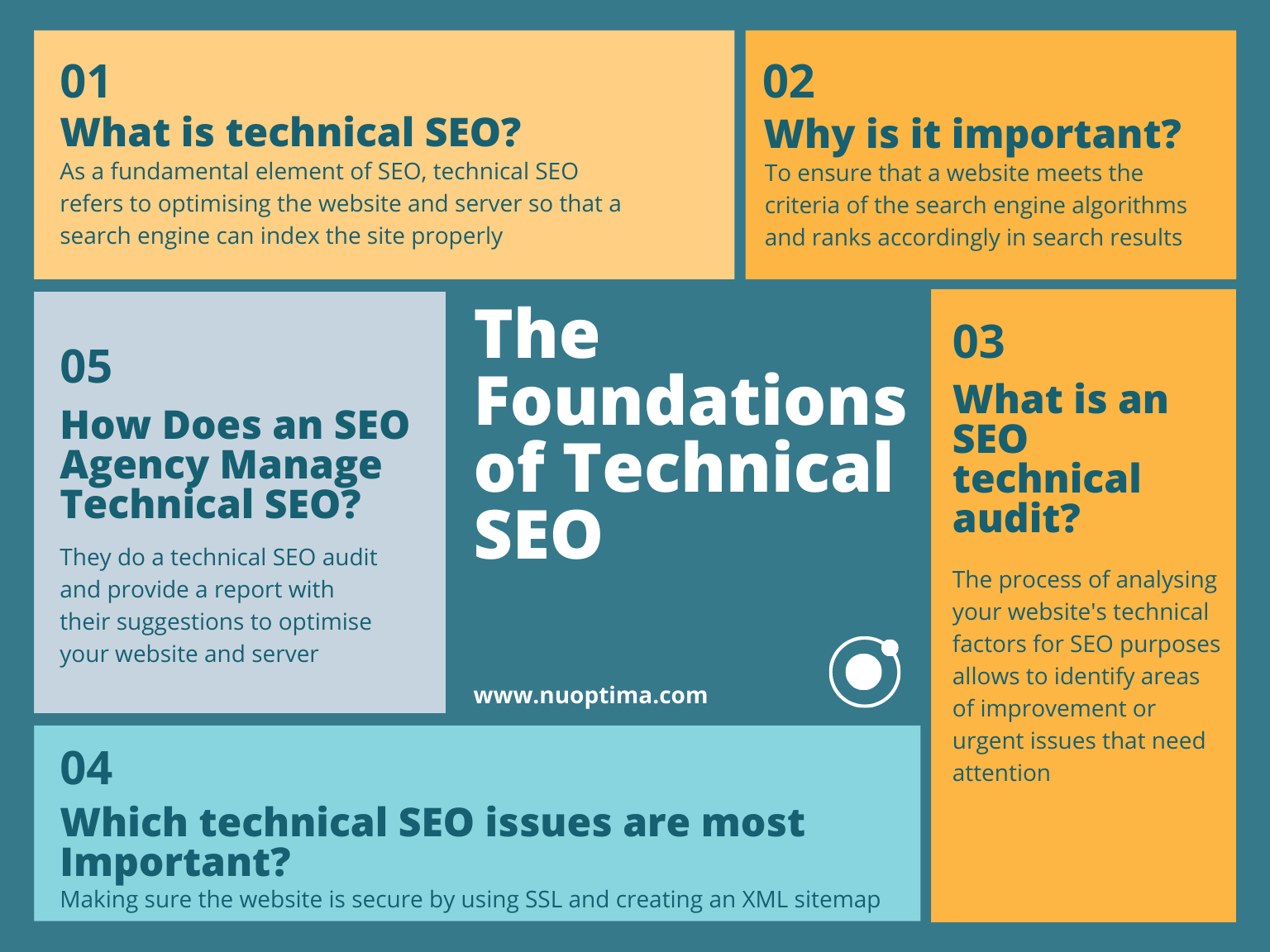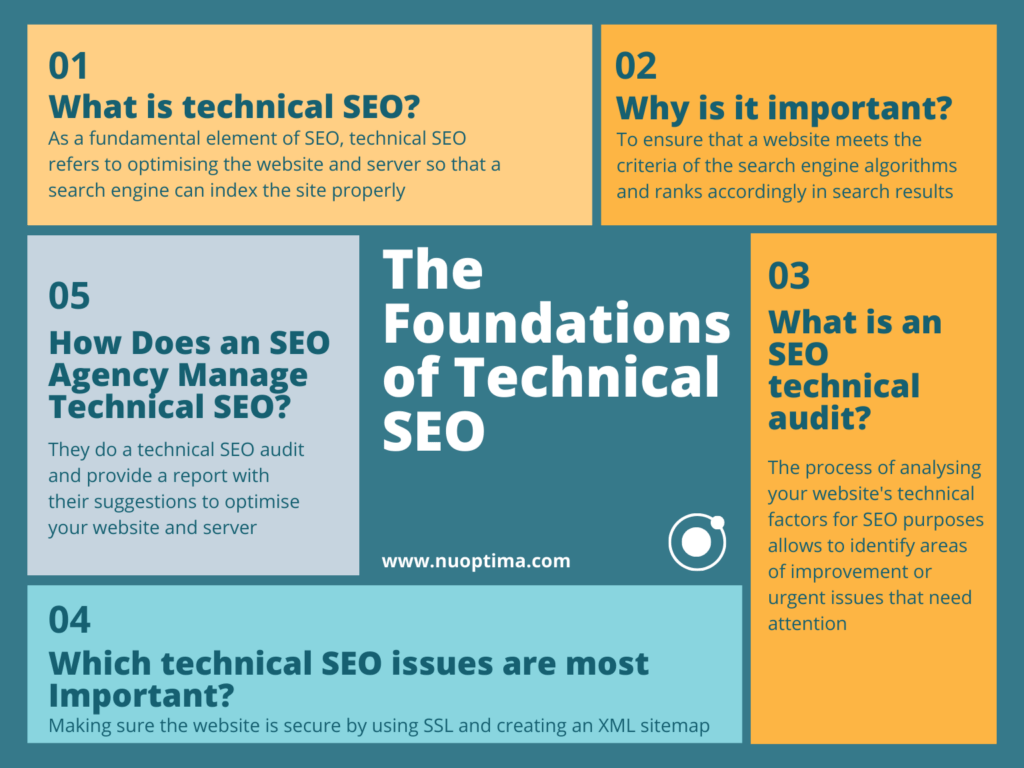 What is Technical SEO?
Technical SEO is a fundamental element of search engine optimisation. It refers to optimising the website and server so that a search engine can index the site properly.
Take Google, for instance. The Googlebot "crawls" your web pages to evaluate the quality and relevance of your website for the keywords you're trying to rank for. Technical SEO fixes allow Google spiders to read and index your site effectively, thus, improving organic rankings.
Why is Technical SEO Important?
As you may have guessed, your other SEO efforts won't go far without technical SEO fixations. Despite having compelling, optimised content across your website for humans to read, it doesn't mean much for organic rankings if search engine spiders cannot read it or crawl your site.
Through a series of security and structure optimisations, you ensure your website meets the criteria of the search engine algorithms and ranks accordingly in search results. Technical SEO is crucial because, like other algorithm criteria, search engines prefer particular technical characteristics.
For instance, sites using JavaScript may experience indexing issues, which can, in turn, negatively impact search rankings. In this case, Google will crawl non-JavaScript rendered pages first before looking at JavaScript pages a few days (or, in some cases, a few weeks) later. Consequently, some SEO-critical changes may not get indexed and drastically affect the performance of your website. This is particularly crucial for new sites or pages.
Understanding technical SEO and implementing a strategy to improve it is critical. In some circumstances, it can be the determining factor for ranking on the first page of Google.
What is an SEO Technical Audit?
A technical SEO audit is the process of analysing your website's technical factors for SEO purposes. Essentially, it's a 'health check' for your site and allows you to identify areas of improvement or urgent issues that need your attention.
Why Should You Ask for a Technical SEO Audit?
If you're investing time, resources and capital into your SEO strategy but fail to address technical SEO, you could be unintentionally sabotaging your efforts to rank in organic searches. Whether you're doing your SEO in-house or hiring an agency, asking for a technical SEO audit is imperative. The audit report serves as a guide to optimising your website, so search engines view it as a secure, trusted source and boost your search rankings. A team of experts analyse numerous details, including the structure of your website, security, loading time, metadata, XML sitemap and more.
Technical SEO Checklist
Technical SEO implementation can prove complex for anyone who lacks the experience. While this technical SEO checklist highlights some areas to look out for, we recommend an expert implement your technical fixes.
There are considerable components to consider in an SEO technical audit. Below are some issues your development team may look for to optimise your site or server.
Fast Website Speed: Page speed refers to the time it takes for all the content on a webpage to load, and it is something Google considers a ranking factor. If your website takes too long to load, people will get bored or frustrated quickly and click off your site. Every time someone lands on your webpage and then leaves quickly, it negatively impacts your bounce rate and thus, decreases traffic and sales. Optimising your website with technical SEO in mind is one way to improve your site speed; and, consequently, bounce rate and sales. A technical audit may address some of the following:
Poorly optimised images
Too many CSS image requests
Content compression
A slow web host
If your website isn't caching information
Complex design with lots of plugins
Improve Crawling and Indexing: It's crucial for search engine bots to crawl your website; otherwise, it won't appear in the search result. In a technical SEO audit, an expert will ensure you have an XML sitemap the search engine can read. It's vital to have an experienced professional monitor the Coverage and Crawl report in Google Search Console. If you hire an SEO agency, they can quickly respond to indexing and crawling issues to prevent them from negatively impacting your organic rankings.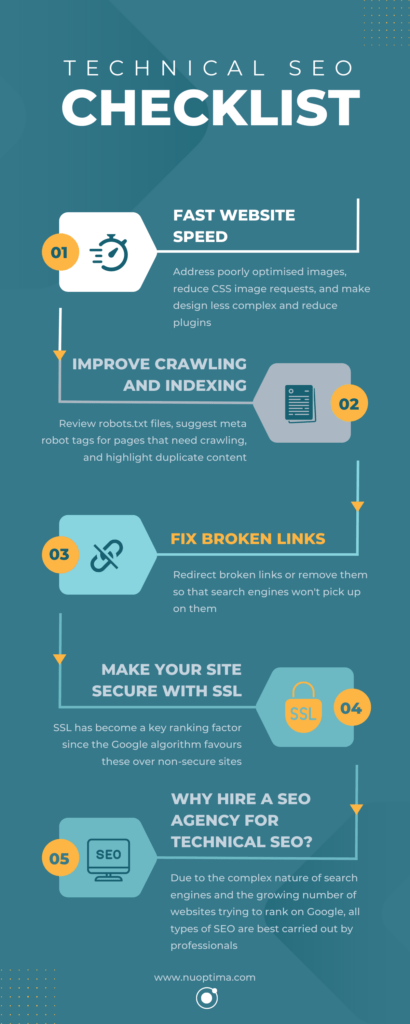 Review robots.txt files, which give the search engine bots directions for indexing the correct pages.
Suggest meta robot tags for pages that need crawling but don't need to appear in the search results.
Highlight duplicate content which can confuse search engines and affect your rankings.
Fix Broken Links: Not only is it frustrating for a person to land on an error page, but search engines don't like it either. It's normal to have some broken links as external websites may shut down or remove a page. Unfortunately, search engines will pick up on every dead link on your site, so it's essential to redirect these or remove them. A technical audit should highlight what links need to be addressed.
Make Your Site Secure with SSL: Secure Sockets Layer (SSL) is a standard security technology protecting sensitive data shared between systems. It keeps the internet connection secure by creating an encrypted link between a server and a browser. A secure site will have 'https://' at the start of the URL instead of 'http://'. Google previously shared that they wanted to see secure HTTPS websites everywhere. Thus, it became a key ranking factor as the Google algorithm favours these over non-secure sites.
Which Technical SEO Issues are Most Important?
Making sure your website is secure by using an SSL and creating an XML sitemap are among the more important aspects of technical SEO. That said, there are many factors impacting how well a site is indexed, and it's best to address as many as possible in a holistic SEO approach. Consequently, an expert team should implement technical SEO methods alongside your primary SEO strategy.
The technical SEO checklist above covers a few common areas experts look out for in a technical audit to make the most of your SEO efforts. It's essential that experienced professionals carry out these implementations, whether an internal development team or an agency that knows how to manage the backend of the website, as seemingly small mistakes can have a significant impact.
How Does an SEO Agency Manage Technical SEO?
Depending on the type of partnership you have with an agency, most will do a technical SEO audit and provide a report with their suggestions to optimise your website and server.
While some agencies will make their suggestions complex and difficult to implement, NUOPTIMA believes in providing valuable, actionable steps that your development team can implement. While we are able to implement technical SEO suggestions, some businesses prefer their own teams to manage this, so we make it as accessible as possible. Our SEO case studies highlight some technical SEO optimisations we identified for our previous SEO clients and showcase some of our previous SEO successes.
Technical SEO forms an integral part of the entire SEO strategy. Due to the complex nature of search engines and the growing number of websites trying to rank on Google, all types of SEO, including technical SEO, are best carried out by professionals. Many business owners consider hiring a growth agency to save them time trying to learn SEO and gain access to industry experts who know how to make your website stand out.
As a leading eCommerce growth agency, NUOPTIMA offers various packages to support your marketing strategy. From copywriting and backlink builders to full-stack SEO support to promote sustainable growth. Our extensive team of SEO specialists have proven experience scaling eCommerce brands and knows how to curate a strategy that suits your business and industry.
Key Takeaways
Technical SEO aims to improve the way search engine bots crawl and index a site. As search engines prefer some technical attributes, it's essential to consider the role of technical SEO in your broader marketing strategy. A professional SEO agency addresses technical issues alongside other SEO methods to create a marketing strategy that works seamlessly across various channels.
Technical fixes are fundamental to your overall SEO objectives and improve the way search engines crawl your site. Book a free discovery call today and learn how NUOPTIMA can help grow your business.
Talk to an SEO expert
We work with 100+ businesses. Book a slot now to talk to one of our experts.